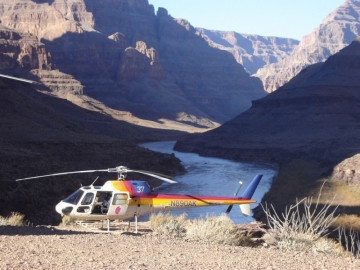 NEW SPRING GRAND CANYON TOURS TAKE FLIGHT
PAPILLON AIRWAYS, INC. LAUNCHES PRIVATE TOURS, SHOWCASING THE GRAND CANYON, LAS VEGAS STRIP AT SUNSET
New Tours Originate from McCarran International Airport and Available in 10 Languages
This spring, it's champagne and stunning sunsets. 
Papillon Airways, Inc.
now offers new tours, each designed to give the ultimate in personalized service by enabling guests to book private flights from McCarran International Airport's Papillon terminal.
The tours showcase the grandeur and beauty of not only the Grand Canyon, but also the Las Vegas Strip.  Guests will receive round-trip complimentary limousine service from most major Strip and downtown hotels.  This accentuated with Papillon's true, personalized service.
The tours are available in 10 languages including Mandarin, Cantonese, Dutch, French, German, Italian, Japanese, Korean, Portuguese and Spanish via digital audio narration.
Only three Grand Canyon Helicopters will be at the terminal, making the tours ultra-exclusive to book. 
"High rollers, families, brides and grooms – these are the guests who will love this service.  They asked for this service and we provided it," says Robert Graff, vice president of marketing, Papillon.  "This is the ultimate in customer service for guests wishing to experience the Grand Canyon and be away from the crowds.  We're able to take any special occasion and make it that much more special."
Guests will fly in Grand Canyon Helicopters' state-of-the-art Star B2 Model Series which comfortably seats up to six guests. 
GOLDEN EAGLE PRIVATE TOUR
Set to choreographed music and educational narration, discover the wonders of the West Rim of the Grand Canyon.  On your way to the Grand Canyon, guests will take in the engineering feat of Hoover Dam.  Soar over the Grand Wash Cliffs, Grapevine Mesa and Black Mountains.  As soon as the helicopter approaches the West Rim of the Grand Canyon, guests are immersed in the magnificent sights of the canyon's rock formations.  The flight concludes with a trip down the famous Las Vegas Strip.
Total time for the tour from hotel pick up to drop off is approximately three hours.  Pick up is approximately 45 minutes to one hour prior to departure.*
The price: $1,884.
GRAND CELEBRATION PRIVATE SUNSET TOUR
This is popular classic Papillon tour but now offered privately with a sunset departure time beginning at 5 p.m.
On this tour, in addition to seeing Hoover Dam, Lake Mead, Grand Wash Cliffs and extinct volcanoes, the helicopter descends 4,000 feet into the depths of the West Rim of Grand Canyon.  Guests will touch down by the banks of the historic Colorado River in time to explore the pristine Native American Hualapai lands.  The landing concludes with a champagne picnic served under an authentic Hualapai Indian shelter known as a "Ramada."  The picnic includes turkey sandwiches, chips, fruit and cookies with an option for vegetarian.  The flight tours the Las Vegas Strip before returning to McCarran.
Total time for the tour from hotel pick up to drop off is approximately nearly four hours.
The price: $2,754.Departure times for tours are: 7 a.m., 9 a.m., 12 p.m. and 4 p.m. with the sunset departure time of 5 p.m.All tours originate from the Papillon Las Vegas McCarran Atlantic Terminal at 275 E. Tropicana Blvd.For more information or reservations, go to
www.papillon.com
or call (888) 635-7272.
*Hotel pick up times are based on hotel location, time of day and traffic conditions. 
---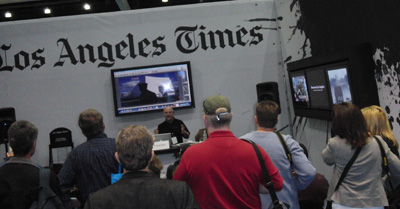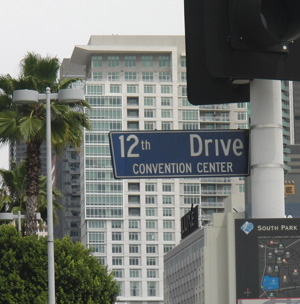 LA TIMES TRAVEL & ADVENTURE SHOW 
Researching Your Next Trip . . . Finding Bargains for 2011
by Bonnie Carroll
Walking from the Metro station, following a two hour Amtrak train ride into Union Station in LA, I found myself stunned by all the incredible changes between 7th & Figueroa Street and the LA Convention Center. The beautiful Ritz Carlton & J.W. Marriot Hotels and the LA Live, along with all the additional street improvements just blew my mind. Congratulations to the Angelino's who I'm sure are extremely proud of the outstanding improvements made on this six square block area.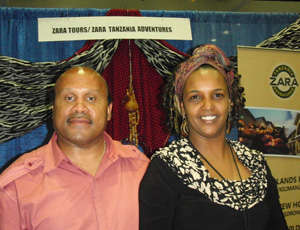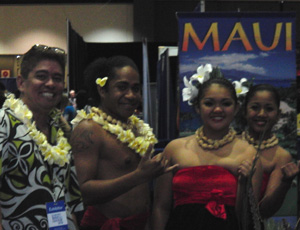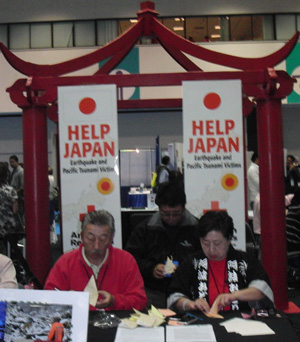 My visit was a journey to investigate what new travel destinations would be represented at the show this year, particularly with all the financial challenges being experienced around the world. For many years I drove down to this event when it was sponsored by KTLA-TV, and I enjoyed talking with the travel representatives, local TV talents, charity representatives, chamber of commerce members from throughout the country, sport/health and fitness experts, creators of new products, travel celebrities and all the people who jammed through the doors to learn what was new and hot in travel, as well as win valuable prizes. For the past few years the LA Times has been producing the annual event in Long Beach, and next year it will be moved back to Long Beach for the 2012 event. For information visit: www.latimes.com.

Many of the people I spoke with this year were from California and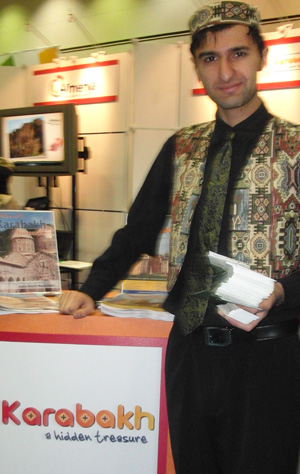 US destinations, others from Europe, Turkey, South Africa and Asia. There were a bevy of small vacation representatives, as well as sporting destination booths.  I love trains and was delighted to see the Fillmore & Western Railway Co at the show promoting their 2011 schedule of fun train excursions. The entertainment was great, and featured International dancers and musicians; I especially enjoyed the Irish dancers and Middle-Eastern dancers, and thank Ethiopia for coming to the show, and for the outstanding Ethiopian coffee sample they gave me; what magnificent coffee they grow. The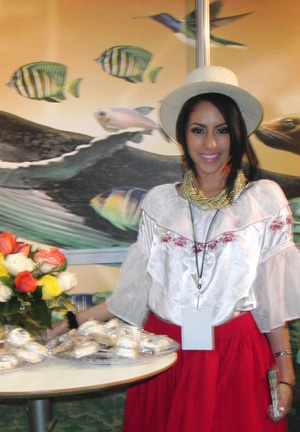 Morongo Casino gave a deck of cards to anyone who would play black jack with them, and the LA Times had a wheel of fortune with some fantastic prizes, including two round trip tickets to Europe and weekends at luxury resorts. I was pleased to see friends from the Santa Barbara Best Western Hotels there. A rock climbing wall provided a fun diversion for the brave of heart, and a scuba demonstration drew a huge crowd. AAA was the major sponsor and had a huge presence at the show where they offered information on travel and insurance opportunities to attendees.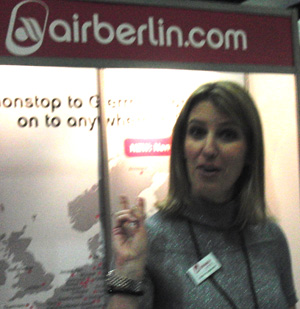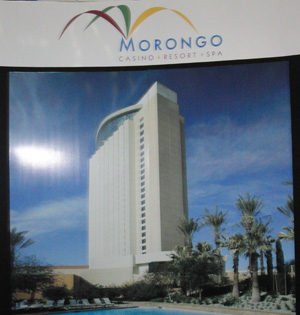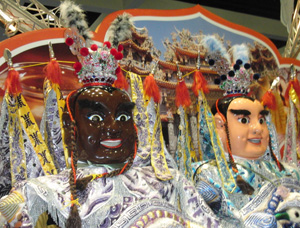 My ongoing complaint about these shows is that there is no affordable healthy food. Unless it happens to be a food & beverage show the food service in the convention center is all that's available, and it is very costly. When I finally sat down at a table and took my healthy lunch from my purse, which consisted of sliced apples, a hard boiled egg, almonds and a bottle of green tea, I was quite comforted to find those sitting at the table with me had done the same, and that they had also learned from past experience that taking along a lunch to these venues is a smart move. Perhaps an international food court of some kind could be considered by the show producers for inclusion at the 2012 event?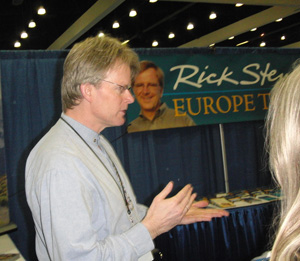 Rick Steves, European travel expert, TV personality, and author was just one of the many professional travel aficionados who spoke at the event, and Rick was busy at his booth talking with visitors to help them plan their trips, and to discuss his videos, books and upcoming trips for 2011. I truely enjoy how accessible he makes himself to anyone seeking his advice. He's a real pro.
All in all, it was a fun experience and I will try to attend in Long Beach next year.
---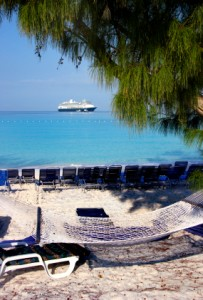 New River Cruise Ships For 2011
Russian Art Museums, the Rhine and Danube Rivers, European Countrysides on Boutique River Cruises
River cruises, a favorite among seasoned travelers, are a wonderful way to explore the countryside on a beautiful stretch of water. The small ships and hotel barges of these lines offer an intimate experience for travelers who wish to see villages, medieval towns and the lovely European countryside in an up-close and uniquely personal way.
The river cruise lines are improving their ships and amenities with every new cruise season, so what's in store for the river cruise ships debuting in 2011?
The experts at
AllThingsCruise
offer information on what the new ships will be showcasing:
AmaWaterways

will offer two new ships.

The first, AmaVerde, which will cruise the Rhine, Mosel and Danube, will launch in late March. A sister ship to the AmaBella, the 162-passenger AmaVerde will offer bow-to-stern Wi-Fi, fine dining restaurants and "infotainment" systems in every cabin.
AmaWaterway's
AmaLotus debuts in September, accommodating 124 passengers, and will include an impressive 624-square-foot suite. It is a companion ship to the popular La Marguerite and will feature authentic Vietnamese-style dining as an option. The AmaLotus will cruise the Mekong River from Vietnam's Ho Chi Minh City to Cambodia's Siem Reap. In addition to the new ships, the AmaKaterina has been completely redesigned, as well, and will replace the Tolstoy to enter service on the Volga River May 10th.
Avalon Waterways

has already sold out its inaugural cruise for its new ship, the Avalon Panorama, May 13th. The sought-after Panorama will feature two full decks of suites (200 square feet, much larger than the industry standard), each with a wall-to-wall panoramic window that transforms the living space into an Open-Air BalconyTM. This 166-passenger
Avalon
ship will cruise the Danube, Rhine and Main rivers.
Pandaw River Cruises is adding a new ship, the Saigon Pandaw, to its fleet of Asian river cruise vessels in November.
Pandaw's
new ship will cruise through Vietnam and Cambodia, and will feature large cabins (nearly 200 square feet) with French doors and a common terrace. The ship will sail charter only through the end of 2011, then begin a regular season in 2012.
Tauck Small Ship Cruising is introducing its new ship, the 118-passenger m/s Treasures, in August. This small ship offers many amenities not seen on some of the other small lines, including 14 suites (300 square feet) that have French balconies, walk-in closets and marble baths.
Tauck
has also added 400 thread-count Egyptian cotton sheets and Hungarian down pillows to all of Treasures' cabins, which also feature plasma TVs, mini-bars, terry cloth robes, radios, safes, individual air conditioning and L'Occitane toiletries.
Uniworld Boutique River Cruising will introduce two new ships this year, starting with the 164-passenger S.S. Antoinette on March 27th. Uniworld works with Red Carnation hotels to make each
Uniworld
ship unique, and the Antoinette will include rich woods, Russian paintings, marble bathrooms and a Blue Straus

Baccarat

chandelier. This new

"super ship

" (the largest in the fleet), which will cruise the Rhine River, will also feature a swimming pool, movie theatre (

with state-of-the-art flat screen)

and top-deck suites with private balconies. Secondly, the Douro Spirit, sailing April 28 with a capacity of 128 passengers, will cruise the Douro River as a replacement for the Douro Queen. This ship's focus will be on

providing the private ship ambiance preferred by Uniworld's experienced travelers

while visiting vineyards, monasteries and ancient port cities. In addition, the completely refurbished River Victoria will enter service on the Volga River in May; the ship will feature

individual climate-control thermostats and flat-screen TVs with satellite.

Viking River Cruises is debuting its 188-passenger Viking Prestige on March 19th. The ship, which will cruise the Danube, will have two spacious 310-square-foot suites and 97 staterooms (six of which are singles), most of which feature French balconies or picture windows. The Prestigewill feature a streamlined shape and this new
Viking
vessel is a "green" ship, operating on hybrid diesel-electric engines that produce 20-percent less emissions. The

264-passenger

Viking Emerald also enters service in China in 2011. She will replace the Viking Century Sun on the Yangtze River and will sail three Viking itineraries. The Emerald will feature the largest suites in river cruising; Presidential suites will span 840 square feet with separate sitting/sleeping areas, flat-screen TVs, panoramic windows and balconies.
---
CoSport initiates ticket sales in unison with 500 day countdown
to Opening Ceremony  
CoSport, the authorized ticket reseller and official hospitality package provider of the U.S. Olympic Committee (USOC), announced today the timeline for the launch of ticket sales for the London 2012 Olympic Games. Ticket sales will begin on March 15 - the 500 day countdown to the Opening Ceremony - and pre-registration is currently open for U.S. residents at www.cosport.com .
The first phase of ticket sales will be handled exclusively through an online request process, which begins March 15  and runs through April 22, 2011, at 12 midnight Eastern. During this request phase, all applicants will have an equal chance of being awarded their requested tickets. CoSport will begin to fulfill ticket requests from available inventory once this initial request phase has concluded. In the case that ticket requests exceed available inventory for any session, a lottery process will be conducted by CoSport at the end of April.
"The London 2012 Olympic Games promises to be one of the most compelling, exciting sporting events of the decade, and we are thrilled that fans will be able to watch the action live and in person by getting tickets through CoSport," said USOC Chief Communications Officer Patrick Sandusky. "Early interest in tickets for these Games tells us that America's athletes will be well supported in London as they strive to realize their Olympic dreams and represent the U.S. with pride."
For the initial ticket launch, more than 58,000 tickets will be available for purchase to more than 650 sporting sessions. More than 56 percent of tickets offered during this initial request phase will be priced under $150.
CoSport currently plans to commence a second phase of sales in June 2011, which will be first-come, first-served for any tickets unsold during the first phase of sales, and will also include any additional tickets that CoSport acquires from the London Organizing Committee in the future.  
For customers interested in hospitality packages, CoSport expects to begin online sales of these packages later in March 2011. The hospitality packages will combine hotel rooms with Olympic tickets, allowing customers a single purchase to create their Olympic experience in London. Unlike ticket sales, there will be no request phase, and all sales phases of hospitality packages will be live sales on a first-come, first-served basis.
In recognition of Visa's support of the Olympic Games, the USOC is proud to accept only Visa for London 2012 Olympic Games ticket purchases. 
Fans should visit www.cosport.com for more information or to register for future updates. 
About CoSport and Jet Set Sports
Jet Set Sports, the parent company of CoSport, is a leading provider of Olympic Games hospitality packages and Olympic Games event tickets to corporate clients. Since 1984, Jet Set Sports has provided clients with hospitality packages at Olympic Games through its VIP Hospitality Programs and Hospitality Management Services. Leveraging Jet Set Sports' experience gained from past Olympic Games, CoSport offers the same quality experience to individual consumers through its hospitality packages, premium ticket packages and individual ticket sales. 
Jet Set Sports and CoSport are Official Sponsors of various National Olympic Committees throughout the world, including Australia, Austria, Bulgaria, Canada, Norway, Sweden and the United States. The company was also an Official Sponsor of the 2010 Olympic Winter Games in Vancouver, the 2008 Olympic Games in Beijing, the 2006 Olympic Winter Games in Torino, the 2004 Olympic Games in Athens, the 2002 Olympic Winter Games in Salt Lake City, the 2000 Olympic Games in Sydney, and the 1996 Olympic Games in Atlanta.  For 2012, Jet Set Sports and CoSport have been appointed by LOCOG as Authorized Distributors of London 2012 Hospitality.
About the USOC
The USOC is recognized by the International Olympic Committee as the sole entity in the United States whose mission involves training, entering and underwriting the full expenses for the U.S. teams in the Olympic, Paralympic, Pan American and Parapan American Games. In addition to being the steward of the U.S. Olympic Movement, the USOC is the moving force for support of sports in the United States that are on the program of the Olympic, Paralympic, Pan American and Parapan American Game
London 2012 Olympic Games tickets go on sale March 15
---
AVOID THE ROUGH AND DRIVE STRAIGHT WITH A TAYLEUR MAYDE GOLF PACKAGE
TEE TIMES FOR 2011 CURRENTLY AVAILABLE ON ST ANDREWS OLD COURSE
It is hard to imagine that in the 15th Century there was a period in time when the Scots were banned from playing golf. History tells us their obsession with the game was so great military training was neglected in favour of driving down their handicap. James II was concerned golf could be one of the greatest causes for failing to hold off an English invasion!
A mere 0.014% of the earth's surface is devoted to golf. Yet the fact that Scotland has more courses per capita than any nation on earth tells us two things. Firstly, that there is a wonderful array of the worlds leading courses to choose from, and secondly, that the Scots firmly ignored the counsel of King James!
There is a third factor that tourists to the ancient kingdom of Caledonia should consider: if they want to play golf on the hallowed turf of The Royal and Ancient course of St Andrews, the home of golf, pitching up and asking for a rate for 9 holes after 6PM will not find you sauntering on to The Old Course and teeing off on The Burn. Booking a tee time needs to be done months in advance and is not without its obstacles. Enter Jeremy Findlay - Managing Director of one of the leading golf tour operators in the UK. 
Jeremy moved was previously with the Scottish Golf & Travel Service for 5 years before going it alone in 1999 and starting Tayleur Mayde Golf Tours after gaining his MBA from The University of Edinburgh. Tayleur Mayde have been arranging bespoke golf tours for the discerning golfer for 10 years.
With specialist knowledge of the finest courses in Scotland and Ireland the burden of booking tee times, flights, hotels and car hire, can quite literally be lifted from your shoulders. As regular users of hotels and car hire companies, they are able to negotiate excellent rates passing that on to the customers, taking the sting out of the expense associated with many commercial tour operators.
Tayleur Mayde offers six different Scottish based tours and five Irish based tours. Each is unique and offers different course and hotel combinations ensuring all your possible golfing aspirations are met. Whether it be Scottish Links golf, Highland golf, or the rugged west coast of Ireland, Jeremy Findlay has spent years ensuring he has the best golf in the UK there is to offer. 
Currently Tayleur Mayde have tee times available on St Andrews Old Course for 27th April, 30th May and 18th July. Bookings can be made by calling Tayleur Mayde on 0131 524 9554 or by visiting the website which can be found at www.tayleurmayde.com.
---