Travel & Leisure
CANARY HOTEL – FINCH & FORK
New Tastes & New Life for Downtown Hotel
By Bonnie Carroll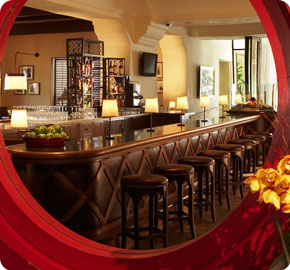 Over the years Santa Barbara has watched the Canary Hotel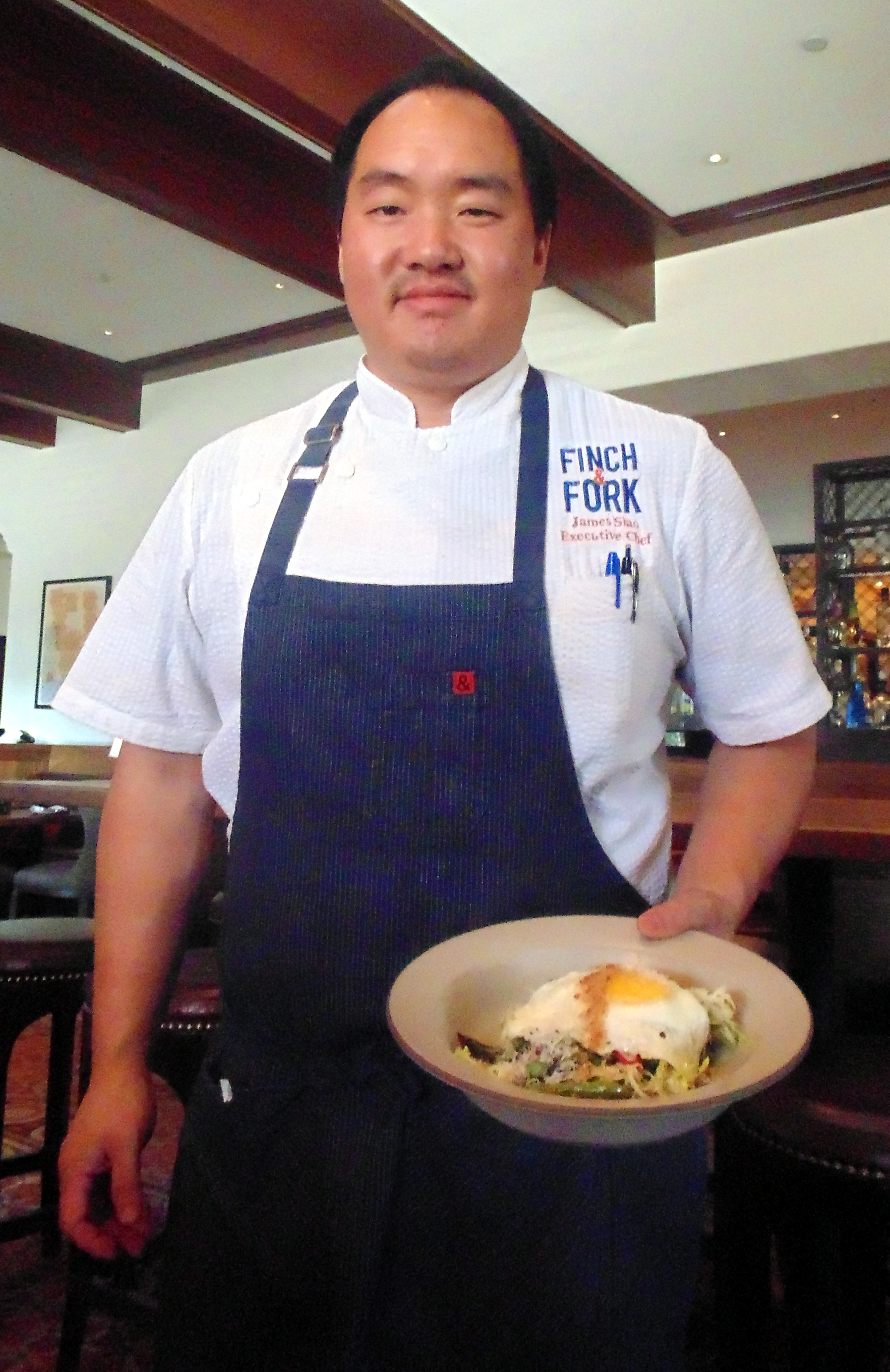 property go through many changes, but with the improvements the Kimpton Hotels is implementing it seems they finally have it right for this local hotel. At any rate, the Finch & Fork restaurant and bar are doing it right, and the Executive Chef James Siao brings a whole lot of menu imagination to the table!
Chef Siao grew up learning about food in his father's Chinese restaurant in Ohio. He attended culinary school in Pittsburgh and later joined the Kimpton family at Taggia in Kimpton's resort in Arizona. In 2009 he assisted a friend with the opening of restaurant in Italy. Siao returned to become the executive chef of Coast restaurant in Santa Barbara, and then Finch & Fork in 2013.
The bar and restaurant have become a more approachable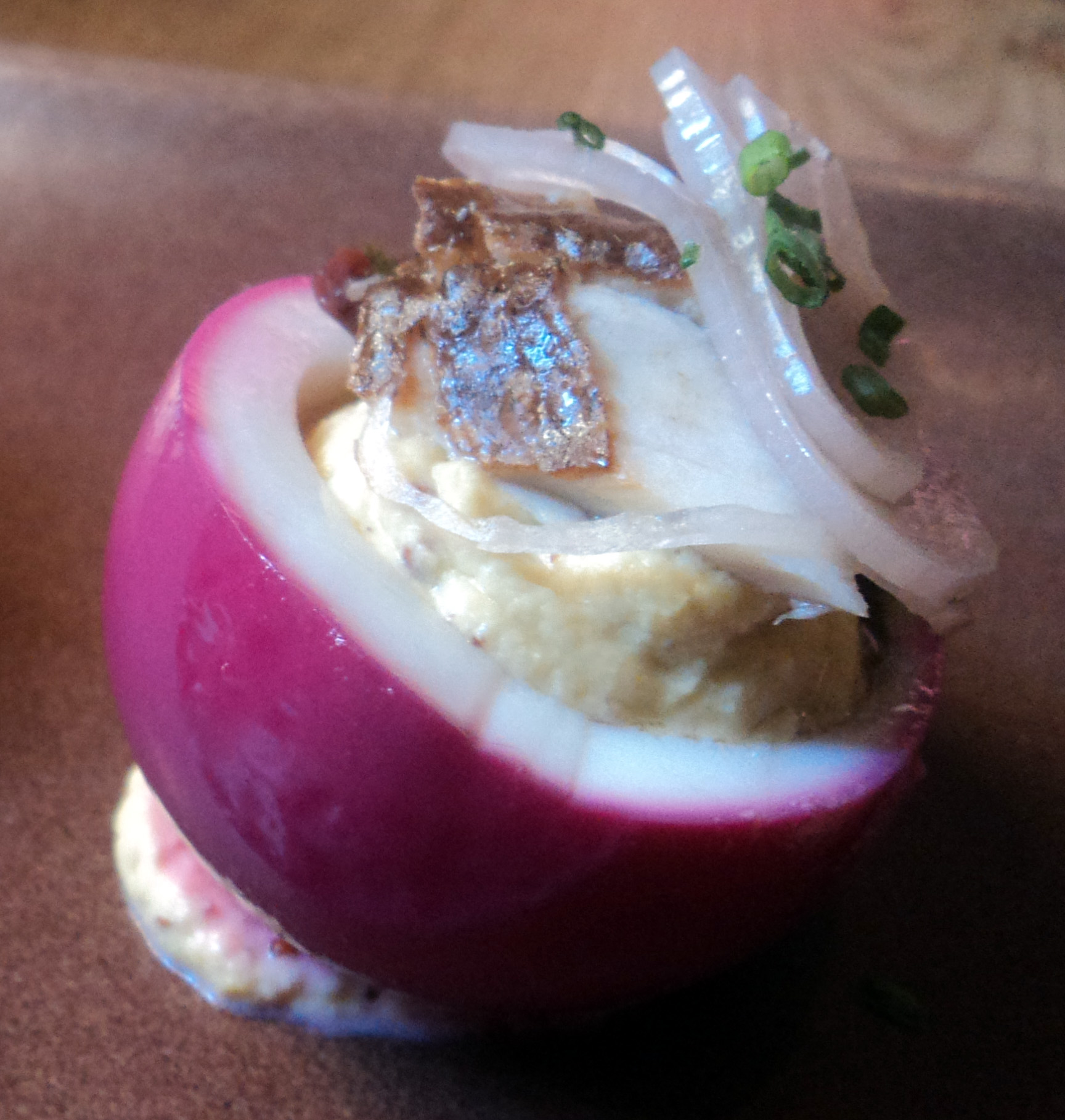 venue for locals and hotel guests alike. The menu in the Finch & Fork Restaurant is new, exciting and offers something for everyone.  Their chef crafted farm to table items offer the best produce and products available in the area for guest enjoyment, adhering to the Monterey Bay Aquarium Seafood Watch program guidelines.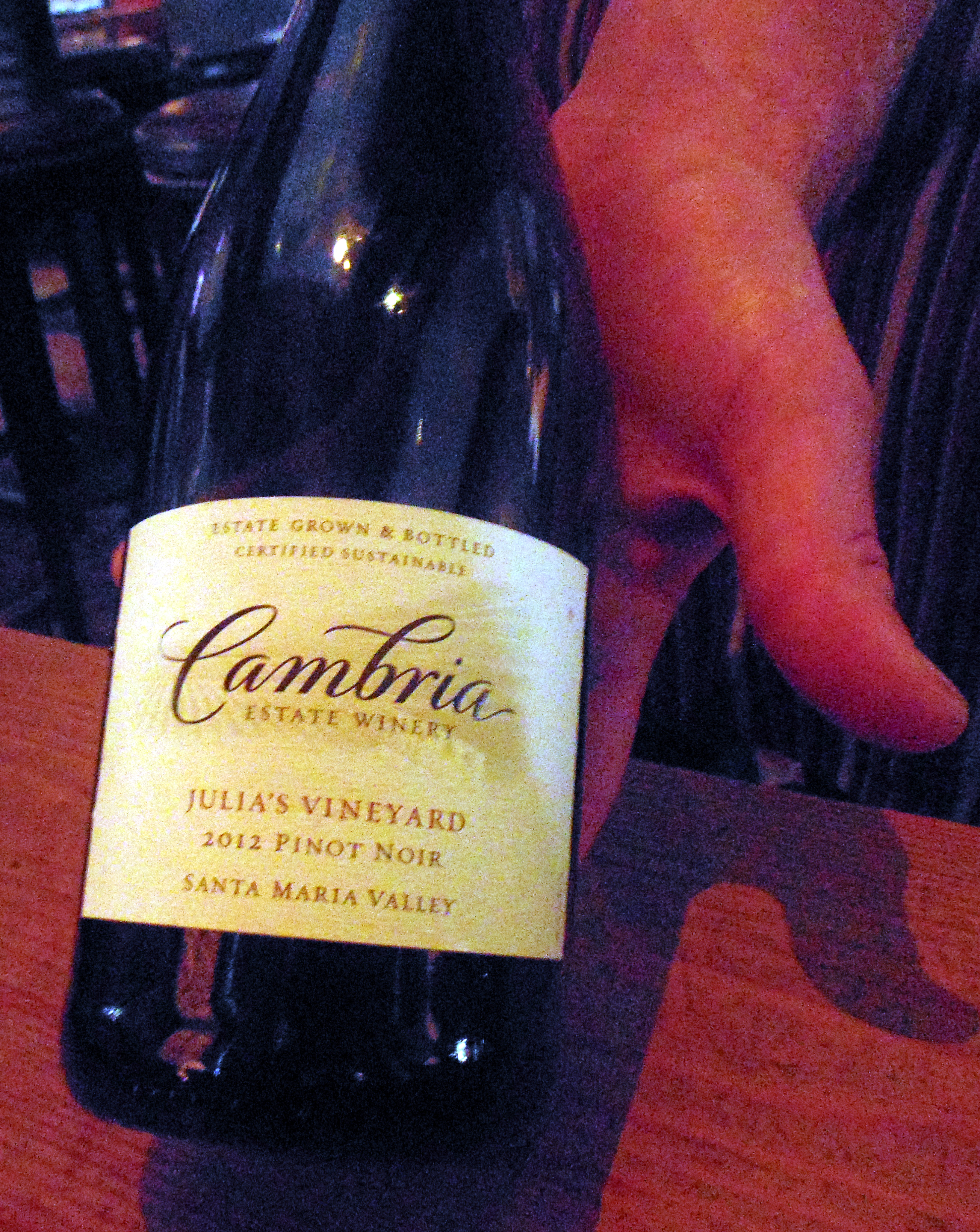 Deviled eggs have made a big comeback of late and Chef Siao'sversion has a delightful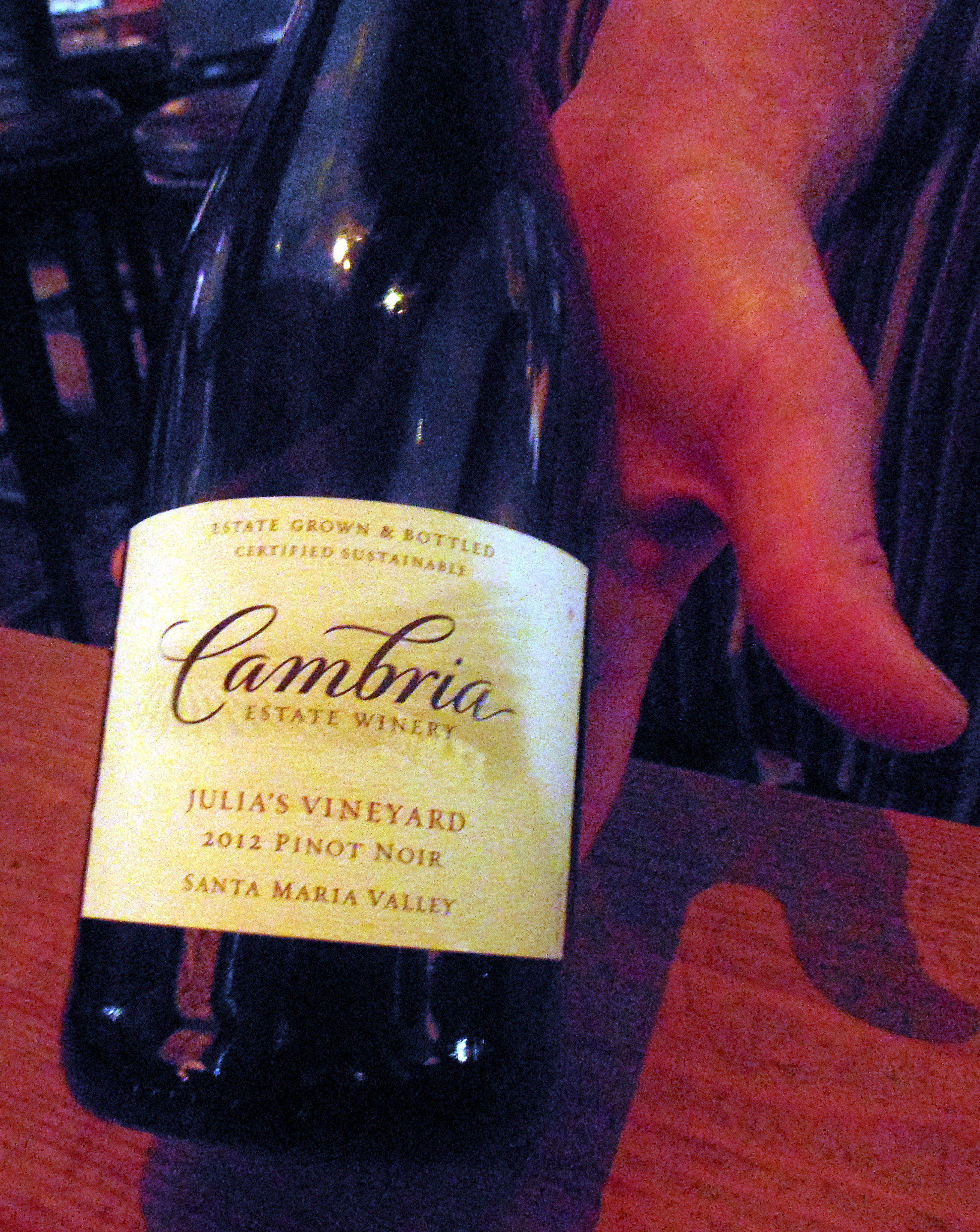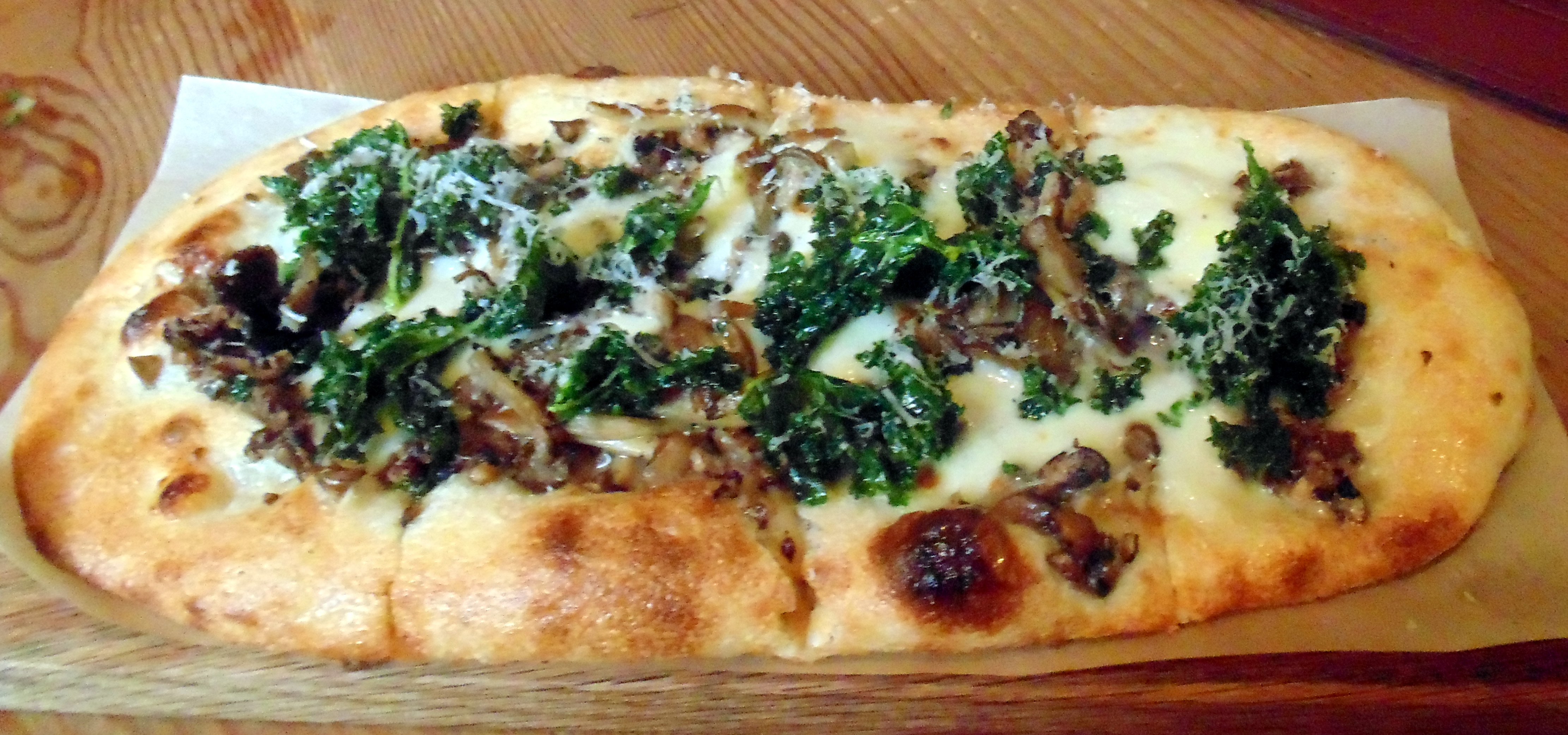 Asian twist. Their farm to fork roasted beet salad and grilled asparagus with frisee, sunny egg, bacon vinaigrette and Parmigiano are uniquely delicious. They serve original and creative flatbreads, and the wild mushroom with mozzarella, Parmigiano and kale pairs perfectly with a glass of Cambria Pinot Noir.
The 'loup de mer' style Sea Bass served with sweet potatoes and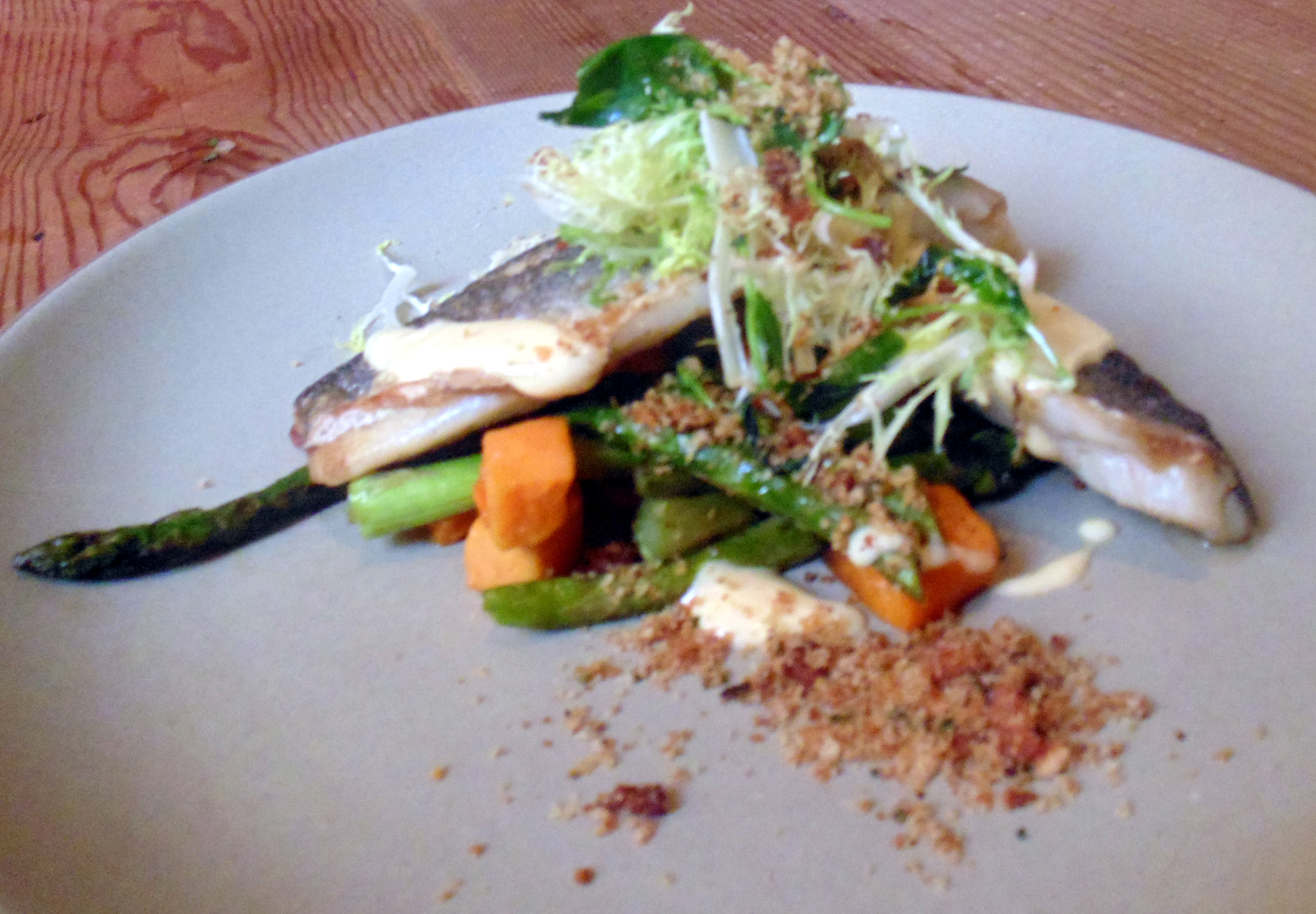 asparagus in hollandaise reminded me of a recipe I enjoyed when Le Merigo Hotel in Santa Monica opened and the dish was prepared by their renowned French chef of the day. I was impressed with the versatility of style implemented by the chef in the various dishes we savored.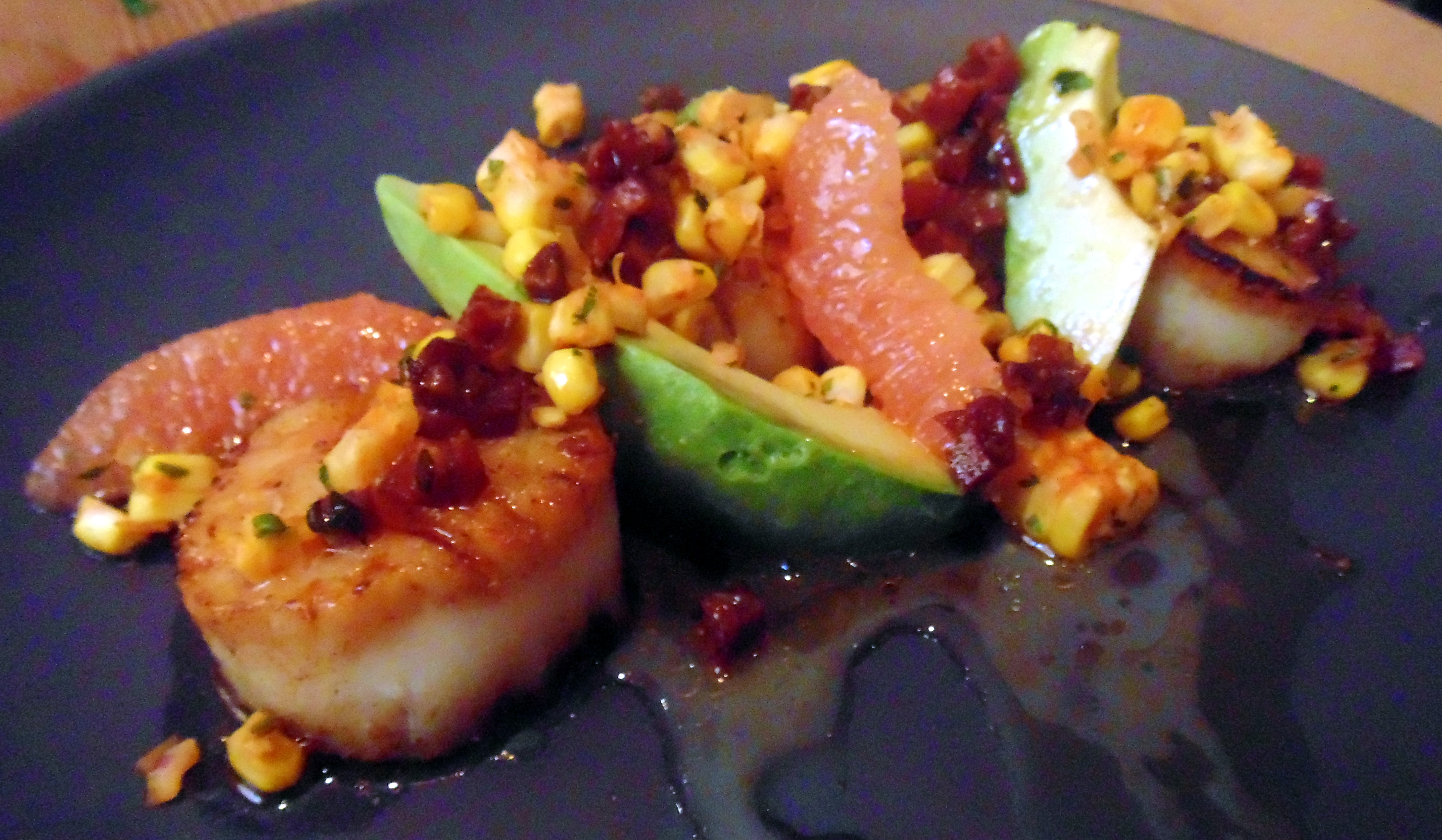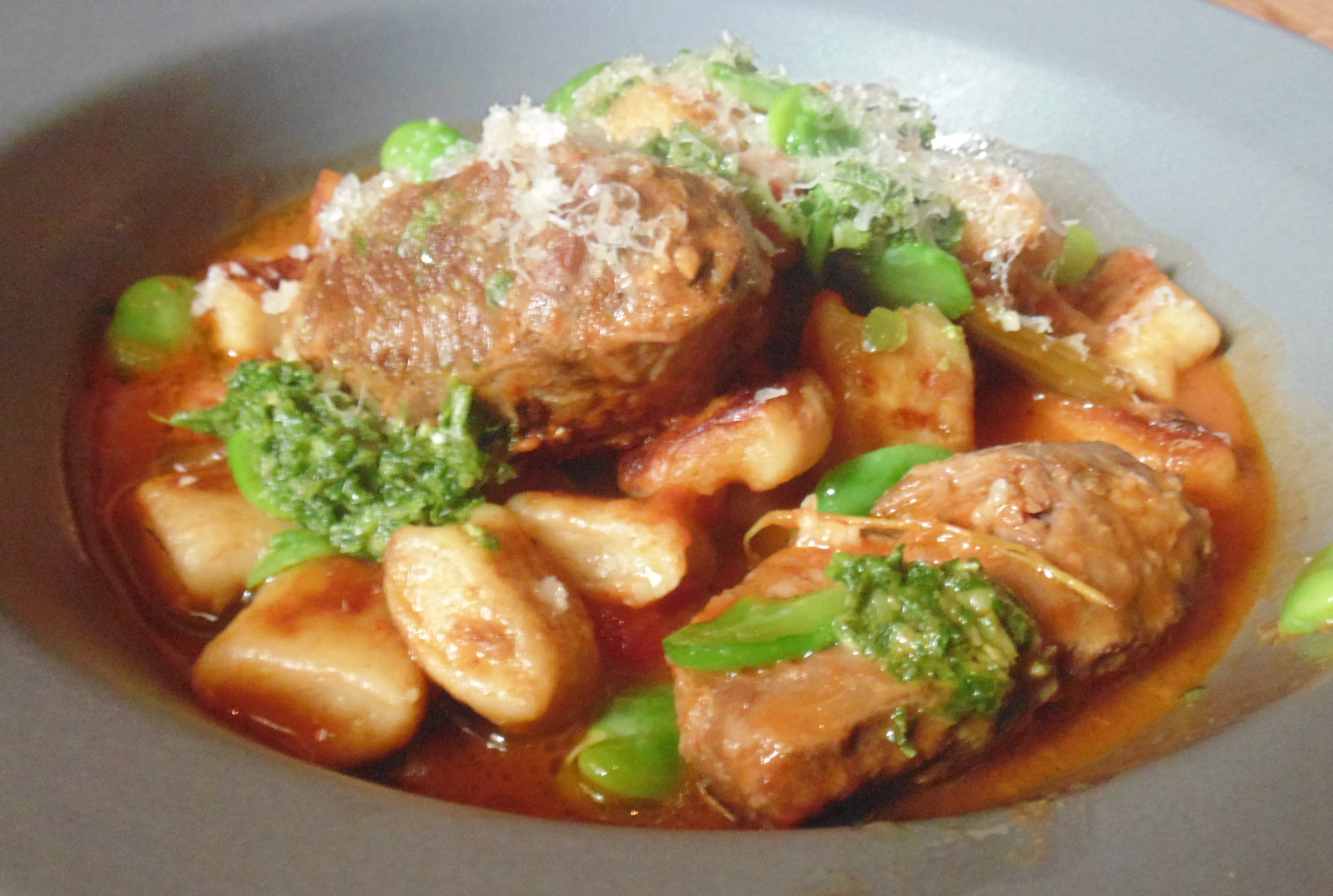 The sea scallops with avocado, ruby grapefruit, corn salsa and chorizo vinaigrette is a perfect plate selection for hot summer days, and the braised pork cheek gnocchi dish with crushed tomato, fava beans, kale pesto and parmigiano was an extremely original take on an old Italian classic. The restaurant offers a collection of daily specials and I'll go back on Wednesday for Bouillabaisse. 
Appealing to a younger and hipper set, the hotel has been renovated to reflect this change, and has beautiful yellow bicycles parked in front of the lobby for guests to cruise around the downtown Santa Barbara area, or travel to the beach for a picnic. The bar has regular specials to welcome guests, local business people and locals, where oysters have become a signature staple, and the shucking goes on! 
Good cocktials are paramount at their busy bar, and mixing up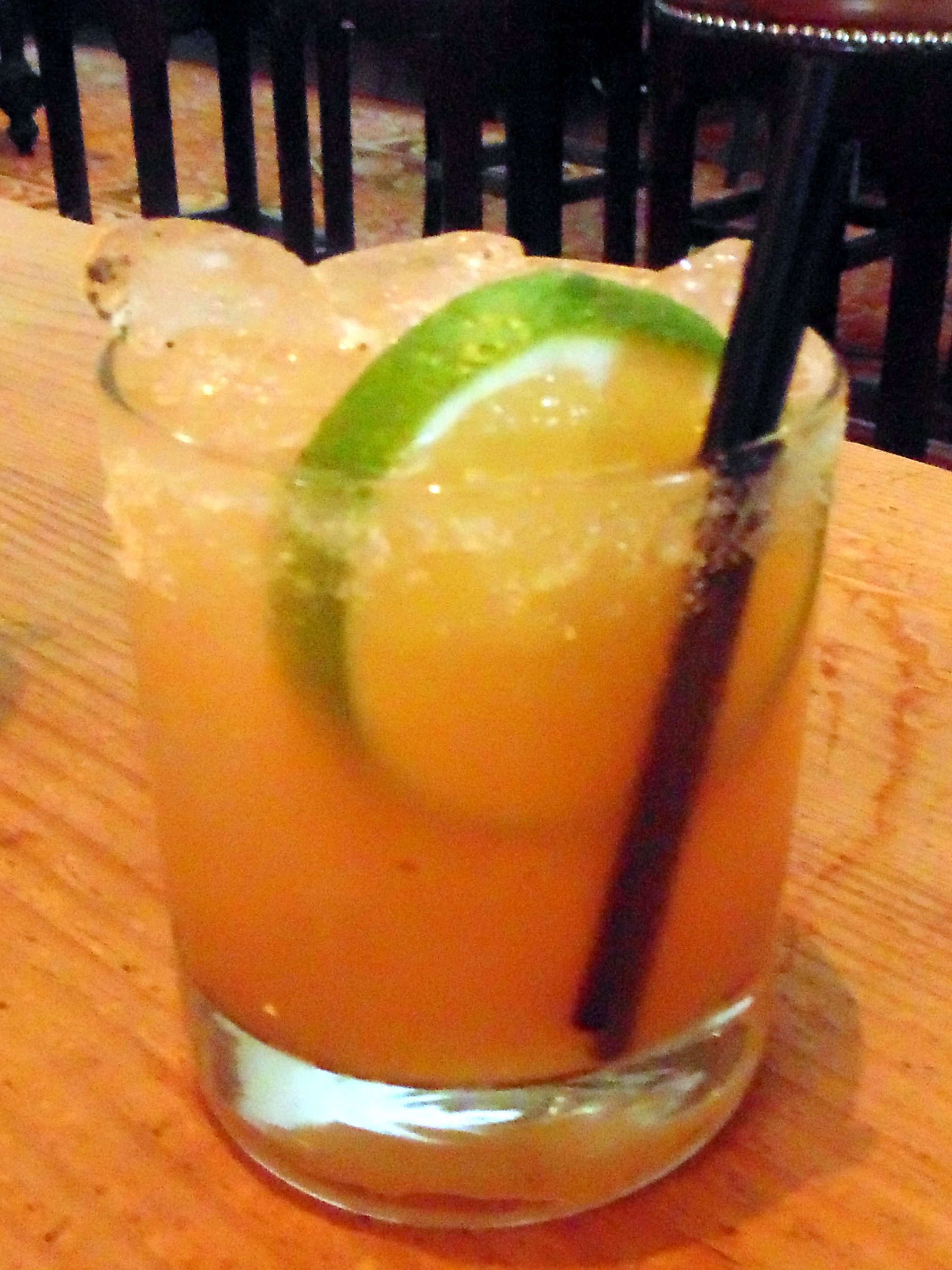 healthy drinks has become the hot thing to do, along with all the traditional favorites. According to Aloys Scheer, Restaurant Operatons Manager, "we have our mixologist making cocktails that are essentially created with fresh and healthy ingredients from our local farmers markets. Guests may make special requests, and we will try to meet their needs," he said. 
The sinful endings at Finch and Fork may include a perfect crème brulet or their unconventionally delightful blueberry crumble cake with cream and carmel corn. Any way you look at it, there have been some really positive changes that are worth a visit at The Canary.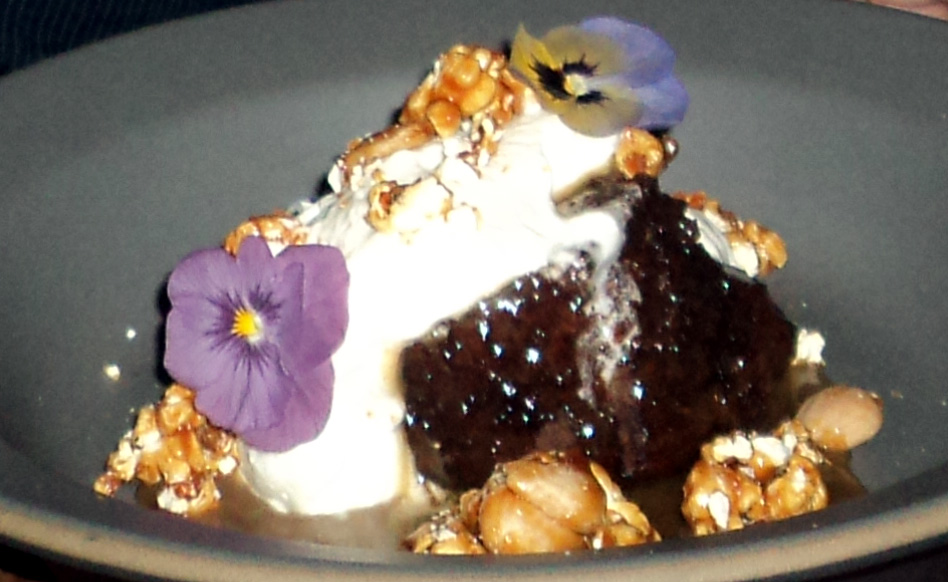 When Bill Kimpton introduced the boutique hotel concept to America in 1981 he pioneered the revolutionary relationship between one-of-a-kind hotels and restaurants led by acclaimed chefs. Today, Kimpton offers guests a chance to dine like a local. Common property cornerstones are chef-crafted, seasonal menus celebrating local farms and purveyors, along with striking interiors. Each Kimpton restaurant, including Finch & Fork in Santa Barbara is a reflection of its location.
Finch and Fork at the Canary Hotel
31 West Carrillo Street
Santa Barbara, CA 93101
805-879-9100
www.Finchandforkrestaurant.com
___________________________________________________________________
New Hotel Opening . . .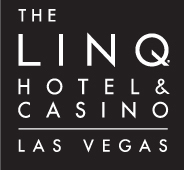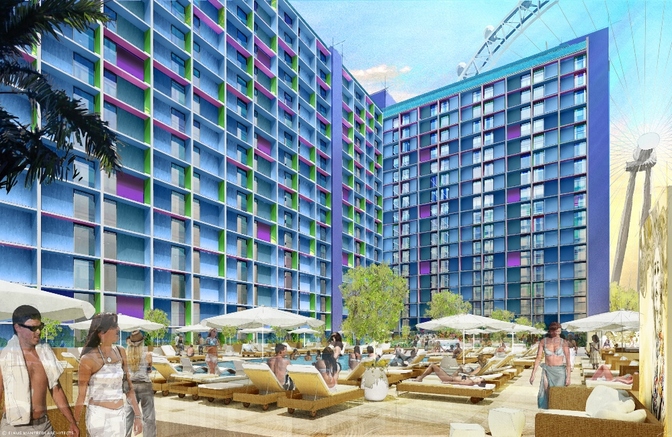 The New $223 Million LINQ Hotel & Casino Will Incorporate The LINQ Promenade and The High Roller Observation Wheel to Create Iconic Center Strip Social Hub
 2,256 Urban, Modern Rooms and Suites Featuring a Reimagined Pool, New Spa, Gathering Spaces, Bars and Lounges – Introductory Rates Starting at $89
 Caesars Entertainment announced its newest property today, unveiling The LINQ Hotel & Casino as the latest addition to its portfolio of iconic Las Vegas resorts. Located at the heart of Center Strip at 3535 Las Vegas Boulevard, the LINQ Hotel & Casino is a complete re-imagination of the current Quad Resort & Casino.  The Las Vegas hotel will feature 2,256 brand new rooms and suites, a completely renovated welcome experience built around a signature lobby bar, all new retail and spa amenities and a dynamic new pool deck to deliver an entirely new guest experience. Combined with the world's largest observation wheel, the High Roller, and The LINQ retail, dining and entertainment promenade, The LINQ Hotel & Casino is set to become the new social center of Las Vegas and will welcome its first guests beginning on Oct. 30, 2014. Guests can now book reservations online at TheLINQ.com or by calling 855-891-6863.
The LINQ Hotel & Casino will be the premier portal to the LINQ promenade, which offers 12 restaurants, 8 bars, 14 retail shops and two concert venues and is anchored by the tallest observation wheel in the world, the High Roller, recently named by Travel & Leisure as the "World's Coolest New Tourist Attraction."
 "With The LINQ, we pioneered the creation of a new type of space for the changing Las Vegasconsumer," said Tariq Shaukat, Executive Vice President and Chief Marketing Officer of Caesars Entertainment. "The LINQ Hotel & Casino will continue this revolutionary approach by offering a complete lifestyle experience at one of the best locations in Las Vegas.  The resort will provide guests with a highly social and connected environment, with all the great restaurants, shops and experiences available at the LINQ promenade right at their fingertips." 
The LINQ Hotel & Casino will feature design details and elements with an eye towards social interaction and catering to the "connected" consumer.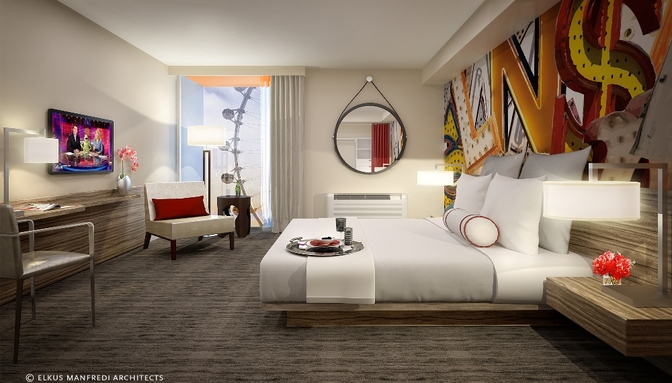 DIGITALLY CURATED RESORT EXPERIENCE 
The guest arrival experience will be centered around an automated check-in process, and a concierge touchscreen option for immediate bookings of favorite dining and entertainment offerings.  At the heart of The LINQ Hotel & Casino, the all new lobby bar experience will feature a unique beverage program with wines on tap, and table games. High speed Wi-Fi will be available throughout the resort in all common areas, hotel rooms and on the gaming floor with guests able to stay connected seamlessly between The LINQ Hotel & Casino and the LINQ promenade. For more details on the resort amenities and unique touches visit: www.caesars.com/thelinq/news
"The LINQ Hotel & Casino will immerse guests into social lifestyle experiences through provocative yet approachable modern offerings," said Bob Morse, President of Hospitality of Caesars Entertainment. "This new hotel is bold, graphic, social and digital with dynamic community spaces designed for the socially engaged traveler." 
RETAIL, RESTAURANT AND ENTERTAINMENT OFFERINGS 
The new hotel will also incorporate a redesigned north entry complete with retail and quick-service dining concepts. The resort will continue to offer the best in entertainment and dining. 
For a complete listing of restaurant and entertainment options available at The LINQ Hotel & Casino visit:www.caesars.com/thelinq/news
THE LINQ HOTEL & CASINO 
Website: www.TheLINQ.com 
Total Vegas Blog: blog.totalrewards.com/las-vegas/
Phone Number: (855) 891-6863
___________________________________________________________________
Hotel News . . . 
THE PENINSULA CHICAGO GOES FRENCH FOR EUROPEAN DÉBUT 
[Source:The Peninsula Hotels]
THE PENINSULA CHICAGO GOES FRENCH FOR EUROPEAN DÉBUT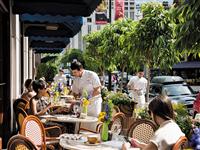 Top-rated luxury hotel brand, The Peninsula Hotels, is marking its début into Europe and the opening of its Paris hotel with a worldwide celebration of "All Things French". The Peninsula Chicago will kick off the celebration on Bastille Day on July 14, 2014, with a special Bastille Day menu in Pierrot Gourmet and continue with festivities through the end of the year.
The Peninsula Paris will open its doors for the first time in the French capital on August 1, 2014 – more than eight decades after the flagship hotel was opened in Hong Kong. "Paris epitomises elegance, sophistication and romantic charm, closely embodying what we do at The Peninsula," says Peter C. Borer, Chief Operating Officer of The Peninsula Hotels. "In celebrating 'All Things French', we escalate the guest experience, giving our guests a chance to explore the rich history of French culture no matter where they are in the world."
On August 1, 2014, hotel guests of The Peninsula Chicago will receive a French-inspired, special welcome amenity. The public areas within the hotel will reflect the Parisian city, with colors and décor depicting the French flag. As guests make their way through the hotel's gallery, the hotel will showcase French décor and photography of the new Parisian property. The Peninsula's house vehicle, a bespoke MINI Cooper, will announce the arrival of Peninsula Paris with eye-catching graphics illustrated on the side panels of the car.
The Lobby:
On top of an array of French-themed food promotions celebrating the birthplace of haute cuisine, The Peninsula Chicago's Lobby restaurant will offer a brasserie-inspired menu and French-themed Afternoon Tea with French delicacies. Items on the menu will include gâteau opéra – coffee soaked sponge, coffee buttercream and chocolate ganache; tartelettes aux fruits – fresh fruit tart; and Fraises au vin et son sorbet – wine macerated strawberries and strawberry sorbet. Bite-size sandwiches include pâté de campagne - country pork pate, mustard and bruschetta; jambon-beurre - French ham, sweet butter with baguette; and summer vegetable vol-au-vent - assorted squash, heirloom carrots and velouté, in addition to the regular à la carte menus. Guests can sample delectable French fare with a glass of Champagne or other popular French drinks such as the pre-dinner apéritif.
Paying homage to the many pâtisseries that dot villages and cities around France, "Maître Pâtissier" classes will be conducted by the hotel's Chocolate Sommelier and Executive Pastry Chef Dimitri Fayard. Budding chefs will be able to try their hand at making pastry classics that are staples of French life. In addition to the pastry classes, Chef Dimitri will create a 4-ft tall Eiffel Tower made out of chocolate, to accompany Chicago's premier "Chocolate Bar." The French Chocolate Bar will include French classics such as éclairs, entremets (large mousse cakes) and assorted macarons. "Chocolate at The Pen" is served at The Peninsula's Lobby every Friday and Saturday evening from 8:00 pm to 12:00 am. "Chocolate at The Pen" is US$ 40 per guest or US$ 50 including a chocolate martini.
__________________________________________________________________________________________
One of Paris' iconic "Grand Hotels" is restored to its former glory by the World's leading luxury hospitality brand, The Peninsula Hotels
The Peninsula Paris is officially open for business, making its grand entrance into Europe for the first time. 
Located just steps away from the Arc de Triomphe and the Champs Elysée, The Peninsula Paris features 200 luxurious rooms, including 34 suites with five featuring their own private rooftop, six restaurants and bars including a panoramic rooftop bar L'Oiseau Blanc with a 360 view of Paris; luxury boutiques, the Peninsula Spa, private reception rooms and Paris' first above ground Cigar lounge.
The property is located in a late 19th century classic French-style building, dating back to 1908, when it first opened as the Hotel Majestic, one of Paris' most famous historic landmarks. Following the wartime occupation of Paris, the hotel was converted into UNESCO's headquarters in 1946 then in 1958 became the conference centre for the French Ministry of Foreign Affairs, used to host high profile events until 2009.
For more information please contact Alicia Manji
---