BVLGARI HOTEL & RESORT
A Delightful Blending of Contemporary Elegance and Italian Tradition
by Bonnie Carroll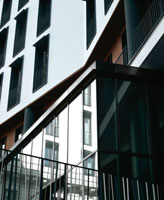 The sleek and elegant Bulgari Hotel opened on May 8, 2004, and represented the entrance of the Bulgari Group, a major player in the luxury business, into the hospitality sector. The unique location, contemporary design and unlimited first class services have contributed to its reputation of world renown as a distinguished hotel property. The original garden of the Bulgari Hotel dates back to the 1300s, and is mentioned in Piero de Cresceza's treatise of 1305, De Ruralium Commodorum.
General Manager Attilio Marro oversees a staff of more than 100 employees, who provide impeccable service, much of it custom designed, to guests in their 58 rooms and suites. The stunning architectural design by Antonio Citterio and Partners combines use of black Zimbabwe marble, Vicenza stone, Turkish Aphyon for the spa, solid teak and durmast and oak in the guest rooms. The contemporary Italian furniture and all details were done by Citterio. The exquisite artworks displayed in the hotel gallery Massimo De Carlo have included the work of John Armleder, Rudolf Stingel, Piotr Uklanski and Sam Samore.
The restaurant, bar and terrace lounge in the garden, private diningroom, cigar room and spa were planned with the local Melanese residents in mind and they have become a local social destination since the opening two years ago. Francesco Trapani, Chief Executive Officer of the Bulgari Group believes that this hotel represents perfectly their vision of contemporary luxury in the hospitality sector, and further enhances the Bulgari image of innovative spirit and prestige throughout the world.
Chef Elio Sironi represents the Bulgari Hotel standard of elegance in the restaurant, which is based in Italian tradition, and a focus for the finest ingredients, refined techniques and creativity. Italian plates are embellished with new ingredients to create "salsa verde", which is flavored with avocado and vanilla oils, or gorgonzola and roasted peaches, or uses saffron to create an exalted vin brule. Fresh herbs from the hotel garden provide freshness and colors of the season. Chef Sironi's breakfast includes delights like Iranian caviar, champagne and lobster and Mediterranean favorites, as well as carpaccio and some American and Japanese selections. Appetizers and cocktails are inspired by Italian tastes and colors, and are whimsical in nature. A signature drink is the Martini Feng Shuei, which is dipped with a smooth stone.
The menu of eleven dishes, which was created for the lounge and garden include club sandwiches, caviar, and caprese or pate of Mortara. The hotel offers 24 hour room service, and has a children's menu. Wines can be purchased by the glass, and feature the outstanding selections from Campania, Sardinia and Sicily, as well as a selection of champagne and sparkling wine from elite labels like Saint James from Antilles, dated 1885 for 960 euros per glass.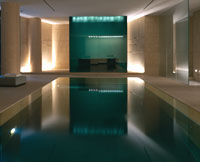 The Bulgari Spa was conceived as an urban shelter for the mind and soul. The elegant architecture offers a unique setting for your search to experience harmony and equilibrium. A long swimming pool tiled with shining gold and emerald mosaic dominates the main hall, and overlooks an open air lounge through a bright glass window. The specialists from Espa provide treatments from around the world, including Bali and Hawaii, and oriental rituals that encompass aromatherapy, ayurveda, shiatsu and reflexology. There is also a treatment to rebalance the "chakra" seven centers of human energy. A variety of "Day Ritual" escapes are available for guests enjoyment that include lunch served in a fine Japanese box.
I believe the services at the Bulgari Hotel may present the most amazing aspect of your visit. The beyond five star services include packing or unpacking, personal trainers, personal shoppers, makeup and hair consultants, luxury car rental (Lamborghini, Porsche, Bently, Maserati), private tours of "secret" villas and museums in Milan, trips to Lake Como or Lake Maggiore by seaplane or helicopter, plane, limo or yacht rentals, a visit to gourmet food and wine producers in Northern Italy, rally driving school in Monza, as well as all the other things every other fine hotel does to make your stay memorable.
Let us not overlook Milan, a city that is overflowing with exquisite design, art, history, music and more. The Galleria, Duomo, La Scala, and endless museums provide some of the most beautiful and unforgettable venues for tourists to enjoy, along with so many wonderful restaurants to visit, and ofcourse shopping safari's. But, at the end of a frantic day trying to see everything and do everything, it is nice to know there is the Bulgari Hotel to go home to, where you are assured the ultimate comforts. This hotel is managed by Bulgari Hotels & Resorts utilizing new service and operational standards developed in collaboration with the Ritz Carlton Hotel Company. For reservations call -39.03.805.805.1, or see www.bulgarihotels.com.
---
Four Seasons Hotel Hong Kong—Now Open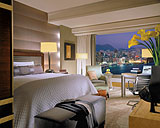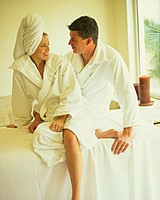 Located within the new International Finance Centre, Four Seasons Hotel Hong Kong places you just steps from Hong Kong Station and within minutes of key business addresses, entertainment and shopping.
Spacious guest rooms with unrivalled views of the city, Victoria Harbour, Kowloon and the Peak. Three restaurants creating a range of culinary delights including Cantonese, French and Japanese cuisine. Inspired Eastern therapies in the destination spa. And of course, the attentive service of Four Seasons. See www.fourseasons.com.
---
THREE NEW HOTEL PROPERTIES PREMIERE IN PILAU
by Bonnie Carroll
Jackson Henry, chairman of the board of Palau Visitors Authority proudly announced three new hotel and resort properties in Palau's main city of Koror, adding 197 rooms to help accommodate Palau's anticipated growing numbers of visitors. The Palau Plantation Resort is an impressive development with wood and bamboo bungalows, and a larger building with suites and offices. A charming boardwalk branches out to stone pathways that lead to all bungalows, where marble bathrooms and Jacuzzi-style bathtubs, AC, cable television and VCR, as well as kitchenette and mini bar are standard. Their Villas, Superior Cottages, and Premium Cabins offer ultimate comforts. Please see www.palau-resort.com.
Palau Royal Resort is a five-star international resort on the east coast of Malakal Island, famous for diving. The Royal Hotel Group is operated by Nikko Hotels International, and boast top of class amenities for travelers seeking leisure and relaxation. Multifunctional facilities include gyms, on-premise dive shop, swimming pool, spa, table-tennis room, badminton and tennis court, mini golf course, children's game room, private docks and beach, internet library, sundries and gift shop, duty-free shop, meeting rooms, business center, outdoor bars and restaurants serving varieties of international cuisine. For information see www.palau-royal-resort.com
The Rose Garden Resort, located on Meyuns Island, is perched on a hilltop overlooking the Pacific and the bays of Koror. 10 cottages feature 24 mahogany décor rooms, each with private balconies and spectacular views of Koror and the Rock Islands. Air conditioning, mini bars and fine bath amenities are featured. Handicap accessible rooms are also available. The 10,500 sq. ft. complex included a full-service restaurant. Please email pva@palau.com for additional information.