WAKING UP IN ITALY
Eurofly Now Goes Direct to Pescara
By Bonnie Carroll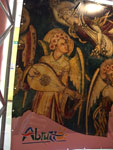 Eurofly with nonstop flights from JFK to Rome, Lamessa Terme, Naples, and Bologna now takes travelers direct to Pescara, where visitors can lose themselves in the culture, food, history, and vacation fun of this 'best kept secret" area, which is located in the Abruzzo region, between the Adriatic sea and the exquisite mountains. Abruzzo is only two hours by car from Rome, and offers such a varied menu of travel adventures. The Eurofly flights are available April 19, 2007 through November 13, 2007.
Established in Turin in 1989, Eurofly was recently acquired by Meridiano Group, and this is one beautiful looking fleet of aircraft. The Fiorucci designed interiors have every luxurious amenity for comfort, including Recaro seats that become comfortable bedlike lounges. Personal TV monitors offer nonstop current films to view during the flight, and these personal units also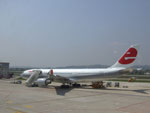 provide a bevy of music channels for listening enjoyment.
The total experience on Eurofly is a bit reminiscent of the Delta flights in the 70s that had drop dead gorgeous stewardesses, donning Emilio Pucci costumes. However, the stunning designer uniforms of the Eurofly attendants are equally spectacular, and the overall attention to detail, along with the fine service is like having a pleasant de je vous experience from a time gone by, especially the food & beverage service, which is wondrous. The authentic Italian meals are outstanding, and the wines are equally good.
It is helpful to know that all business class flyers have a direct check-in line, and Eurofly also offers a lovely lounge where travelers may rest and enjoy food and beverages between flights. Congratulations to the executives of Eurofly on creating this beautiful way to wake up in Italy. For additional information visit www.eurofly.com or call 800-459-0581.
---
DOMINICAN REPUBLIC RESORT REDEFINES THE ALL-INCLUSIVE IMAGE OFFERING TRAVELERS AN UPSCALE, BOUTIQUE HOTEL EXPERIENCE FOR LESS

-The newly renovated four-star, "all- inclusive" Victoria Golf & Beach Resort offers guests deluxe amenities and personalized services to meet the sophisticated yet budget-conscious travelers' needs-
Upgrading the current image of all-inclusive resorts in Puerto Plata, Victoria Golf & Beach Resort offers the look and feel of a sophisticated boutique property at a fraction of the cost. Set within the grounds of the enclosed 250 acres of golden sand beaches of Playa Dorada on the Dominican Republic's sparkling north coast, Victoria Golf & Beach Resort provides its guests with amenities synonymous with upscale properties such as newly renovated accommodations, fine dining choices and customized services for a significant value.
Renowned Dominican architect Sarah Garcia is transforming the image of all-inclusive hotels in the Dominican Republic from budget properties to a more sophisticated offering with Victoria Golf & Beach Resort's classic architecture and hand-made designs from materials such as cool marble, rich woods and elegant cottons and fabrics. Understanding each guest's desire for affordable accommodations that do not compromise taste, style and comfort, Victoria Golf & Beach Resort has included the option of an "All-Inclusive" meal plan, providing visitors with an easy and economical way to coordinate a vacation.
Summer and fall rates begin at $130 per room per night based on double occupancy from May 1-June 30, 2007 and Sept. 1-Oct. 31, 2007, and $170 per room per night based on double occupancy from July 1-Aug. 31, 2007 for the resort's "Bed & Breakfast" option. For an additional $20 per person per night, guests can upgrade to the convenient "All Inclusive" option.

The recently renovated four-star 190-room property delivers a stylish yet comfortable ambience with custom-designed Caribbean furnishings and décor. The stately Spanish-colonial marble lobby provides guests with a formal entrance and welcome to the property, reminiscent of a classic Dominican plantation estate. The romance-inspired guestrooms, classically decorated in natural whites and beiges and accented in cool aqua tones with tiled terracotta floors, provide the all-inclusive property with a tailor-made, boutique atmosphere, perfect for those guests who seek beautiful accommodations.
Unlike many budget all-inclusive choices in the surrounding area, Victoria Golf & Beach Resort offers guests the option of four restaurants, including upscale, gourmet dining in the "Jardin Victoria Restaurant". The resort also has four beach and pool bars, tennis courts and two pools (one for adults only) with Jacuzzis at each pool. Golf lovers will delight as the property provides an ideal backdrop for travelers looking for the lush tropical setting of the Dominican Republic with access to the renowned Robert Trent Jr. Golf Course, named one of the best golf courses outside of the United States by Golf Digest. Guests at Victoria Golf & Beach Resort will also receive 20 percent discount on individual green fees during their stay.
The resort's rooms and suites feature two double beds or one king bed, a balcony, bathroom, telephone, color cable television, air conditioning, safe deposit box, mini-bar, hair dryer and impeccable room service. Designed to make each stay relaxing and enjoyable, guests of the resort have two meal plan choices – the "All Inclusive" or the "Bed & Breakfast" which allow guests to select custom-designed meal and entertainment options at the resort's exceptional dining venues.
For guests looking for the ultimate in pampering, the Bagua Spa at Casa Colonial, the nearby luxury, five-star sister property of Victoria, is available to all guests whether they look to relax with a Vichy shower with salt scrub, unwind with a warm stone massage or enjoy the romance of a couples suite massage and Jacuzzi. The 12,400 square foot state-of-the-art spa, also designed by Garcia, is built on the concept of the ancient practice of Feng Shui. The spa features 10 tranquil therapy rooms and three outdoor oceanfront treatment gazebos set over a tropical pond with waterfalls. Guests at Victoria receive 10 percent off all spa services at The Bagua Spa.
Whether it be beautiful accommodations, gourmet dining, personalized service, world-class spa services or first-rate golf, Victoria Golf & Beach Resort offers each guest the highest quality with the affordability and ease of an all-inclusive resort in an idyllic setting.
For reservations or more information about Victoria Golf & Beach Resort please call (809) 320-1200 or visit www.vhhr.com.
---
Dolphin Days Summer Fest at Hilton
Waikoloa Village heads into its 13th year
Four-day festival benefits Hawaii Shriners Hospital for Children and the Pacific Marine Life Foundation
The 13th Annual Dolphin Days Summer Fest returns to Hilton Waikoloa Village June 14 through June 17, 2007. Guests at this remarkable festival experience creative Hawaiian cuisine, dolphin encounters, jazz all-stars, benefit auctions, golf and tennis tournaments and the grand finale - The Great Waikoloa Food, Wine & Music Festival held under the stars. Dolphin Days Summer Fest benefits the Hawaii Shriners Hospital for Children and the Pacific Marine Life Foundation. Over the past twelve years, Hilton Waikoloa Village has donated over $500,000 to these two highly deserving charities.
THE 13th ANNIVERSARY DOLPHIN DAYS LINEUP
Mahalo Party & Blessing
Thursday, June 14: 7 p.m. – 9 p.m.
Experience a traditional Hawaiian blessing to commence the start of Dolphin Days. Then Bravo Network's "Top Chef" finalists Marcel Vigneron and Elia Aboumrad showcase their culinary talents in Water's Edge Ballroom along with specialty tastings from Hilton Waikoloa Village chefs, tropical martinis, a silent auction and live entertainment. The cost is $85 per person.
Also celebrate the release of the latest edition of the "Thirty Four Chefs" cookbook, featuring the chefs of Dolphin Days.
Radio Remote Broadcast
Friday, June 15: 6 a.m. – 10 a.m.
Stop by Water's Edge Ballroom and meet tennis and golf professionals, jazz entertainers, representatives of Hawaii Shriners Hospital for Children, Dolphin Quest personnel, and Big Island radio personalities broadcasting live. Complimentary.
2nd Annual "Adopt a Rubber Dolphin Race"
Friday, June 15: 1 p.m.
Adopt a rubber dolphin and watch it race along the waterslides and gentle river current in the Kohala River Pool. Great prizes! The cost is $5 per dolphin or five for $20.
Dolphin Program
Friday, June 15: 5 p.m.
Set your beach towel on the oceanfront lawn and watch playful Atlantic bottlenose dolphins perform a special 30-minute program at the Dolphin Quest Learning Lagoon. Dolphin Quest, who independently owns and manages dolphin programs at the Hilton Waikoloa Village, is world renowned for its dolphin research and education with interactive sessions for children, adults and families. Special guests at this event include Big Island children serviced by Hawaii Shriners Hospital. Complimentary.
Hot Rocks Luau at Volcano Bar
Friday, June 15: 6 p.m. – 9 p.m.
Friday's celebration continues into the evening with the exclusive Hot Rocks Luau on the Palace Lawn. Make sure to catch the ceremonial removal of the pig from the imu (underground oven). Tihati Production's Polynesian drummers, dancers, and chanters will create an array of high-energy entertainment. Feast upon a bountiful buffet of traditional luau-style Hawaiian foods and sip on exotic tropical drinks from the Volcano Bar. Don't forget to check out the benefit silent auction with items from sports memorabilia to vacation packages. The cost is $85 per adult and $42 per child (5-12 years of age). The price includes buffet dinner, two drinks, and entertainment.
Chef & Winemaker Dinner
Friday, June 15: 6 p.m.
Dine at Donatoni's and discover an exquisite evening featuring "Top Chef" finalist Marcel Vigneron and wines from Cordorniu Napa, Domaine Napa and Ridgeline Vineyards.
Dolphin Days Golf Tournament
Saturday, June 16: 7:30 a.m.
Dolphin Days goes full swing on Saturday at Waikoloa Kings' Course. Golfers will be greeted with a continental breakfast and gift bag before beginning their 18-hole scramble. Enjoy a post-tournament lunch with great prizes. The cost is $150 per person.
Dolphin Days Grand Prix Tennis Tournament
Saturday, June 16 & Sunday, June 17: 8 a.m.
Kohala Tennis presents the Dolphin Days two-day tennis tournament. Saturday and Sunday men's and women's tournaments invite all-comers at 3.5, 4.0, 4.5 and Open skill levels. All ages are welcome.
Dolphin Program
Saturday, June 16: 1:15 p.m.
Set your beach towel on the oceanfront lawn and watch playful Atlantic bottlenose dolphins perform a special 20-minute program at the Dolphin Quest Learning Lagoon. Dolphin Quest, who independently owns and manages dolphin programs at the Hilton Waikoloa Village, is world renowned for its dolphin research and education with interactive sessions for children, adults and families. Complimentary.
The Great Waikoloa Food, Wine & Music Festival
Saturday, June 16: 6 p.m. – 10 p.m.
Dolphin Days culminates with its signature event - The Great Waikoloa Food, Wine & Music Festival, held under the stars on the Palace Lawn. Over two dozen of Hawaii's most talented chefs will prepare culinary specialties, paired with a wide selection of fine wines, boutique brews and spirits.
World-class jazz entertainers keep the audience on their feet with headliners Deniece Williams and Kenny Rankin as lead vocalists and Paul Jackson Jr. on lead guitar. Several more talented musicians include Michael Paulo, saxophone; Clifford Coulter and Kiki Ebsen, keyboards/vocals; Pauline Wilson-McClees and Margo LeDuc, vocals; Mitchell Sanchez, percussion; Andrew Ford, bass; and Greg Karukas, keyboards. While enjoying the best smooth jazz under the Hawaiian skies, partygoers will be able to stroll through the benefit silent auction to bid on vacation packages, sports memorabilia, fine art pieces, and much more! A dazzling fireworks display will punctuate the close of the 13th Anniversary Dolphin Days Summer Fest.
The cost is $125 per adult April 1 – June 10, 2007, and $150 per adult June 11 – June 17, 2007. Tickets are $75 per child (5-12 years of age).
The After Party Jam Session at Malolo Lounge
Saturday, June 16: 10 p.m. – 1 a.m.
The food and wine fest celebration continues well into the night at Malolo Lounge adjacent to the Main Lobby. The After Party is great way to wrap up "the party of the year," gather with friends, enjoy tropical drinks, and dance the night away with live entertainment.
To purchase tickets call restaurant reservations at 808-886-1234, extension 54. Tickets will also be available online at www.dolphindays.com on April 18, 2007, and on May 15th, 2007 tickets will be available at Mele Kai Music, Kona Brewing Company, Kona Wine Market, Kohala Essence in the Main Lobby of Hilton Waikoloa Village, and Waikoloa Village Market. Tickets to the Chef & Winemaker Dinner on Friday, June 15 will only be available through Hilton Waikoloa Village restaurant reservations.
Be sure to check out the Platinum Pass which is $420 per person and includes the following:
A 10% discount on Dolphin Days retail items
One ticket to the Mahalo Party on Thursday evening
Preferred seating at the Dolphin Quest Learning Lagoon Dolphin Program on Friday
One ticket and preferred seating for the Hot Rocks Luau at the Volcano Bar Friday night
Priority admittance to the Great Waikoloa Food, Wine and Music Festival on Saturday
A photo and autograph session with the jazz all-star band after Saturday night's performance
There is also a special Keiki Platinum Pass for children ages 5-12 for $275 per child. There are two options.
Option One includes the following:
A 10% discount on Dolphin Days retail items
One dolphin plush toy
Three nights of a children's turn-down amenity
One admittance to Twilight Adventure Camp with Dolphin Quest, 4:15 p.m. – 9:00 p.m., on Thursday evening
Preferred seating at the Dolphin Quest Learning Lagoon Dolphin Program on Friday
One ticket and preferred seating for the Hot Rocks Luau at the Volcano Bar Friday night
The special children's program Saturday evening 5:30 p.m. – 10:30 p.m. at Camp Menehune
Option Two includes the following:
A 10% discount on Dolphin Days retail items
One dolphin plush toy
Three nights of a children's turn-down amenity
One admittance to Camp Menehune, 5:00 p.m. – 9:30 p.m., on Thursday evening
Preferred seating at the Dolphin Quest Learning Lagoon Dolphin Program on Friday
One ticket and preferred seating for the Hot Rocks Luau at the Volcano Bar Friday night
One ticket and priority admittance to the Great Waikoloa Food, Wine and Music Festival on Saturday evening
The Dolphin Days Summer Fest event benefits the Hawaii Shriners Hospital for Children and the Pacific Marine Life Foundation. Hawaii Shriners Hospital touches more than 21,000 children from the Hawaiian Islands and the entire Pacific Basin. Keiki have received quality orthopedic care at no cost through Hawaii Shriners Hospital since 1923. This year the funds raised for Hawaii Shriners Hospital for Children will contribute to their exciting Capital Campaign, which has the vision of a new world-class hospital on Oahu with state-of-the-art medical services. For more information visit www.shrinershq.org.
Pacific Marine Life Foundation is a nonprofit organization created out of concern for the pressures on wild dolphins, whales and their fragile marine ecosystems with a mission to work for real solutions by supporting marine education, conservation and research. For more information visit www.pmlf.org.
Over 2,000 guests attend the four-day event and nearly 500 individuals, team members, and businesses donate merchandise and services each year. Please contact Bambi Lau at 808-886-1234, extension 2605 to join the fun and volunteer.
For more information visit www.dolphindays.com. For digital images contact Marketing/PR Coordinator Meredith Wertz at phone: 808-886-2867, email: meredith_wertz@hilton.com for a link to the Dolphin Days online media library.
Events and dates are subject to change.
---
Jacquier Selected as Chairman of Maison de la France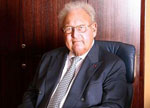 On April 3, 2007, Alain Jacquier, French tourism and travel executive, became the new Chairman of Maison de la France during a special session of the MDLF Board of Directors presided by Léon Bertrand, French Minister of Tourism. Mr. Jacquier was chosen to succeed Paul Dubrule, who was nominated as honorary Chairman during the session.
Mr. Jacquier brings decades of experience acquired during his long and successful career in the hotel and travel industries which originated in his home region of Burgundy. In addition to being president of the Central Hotel Company since 1954 (a group of nine hotels in Burgundy), and president of the Hotel and Tourism Investment Company since 1976, Alain Jacquier has chaired or advised the boards of an impressive number of private and public institutions related to tourism and finance in France.
Most notably, he served as president of the Burgundy Hotel Association, Vice-President of the Burgundy Chamber of Commerce and President of the Burgundy Tourism Board. He has been on the boards of several private banks as well as an advisor to the Banque de France (the French Federal Reserve). Mr. Jacquier has been a Maison de la France board member since its inception in 1987.
Alain Jacquier was awarded two of France's highest distinctions: Chevalier de l'Ordre du Mérite in 1984 and the French Legion of Honor in 1988. In 1997, h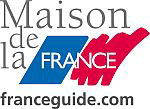 e was awarded the rank of "Officier" in the French Legion of Honor.
Maison de la France, (the French Government Tourist Office), is headquartered in Paris with over 30 offices worldwide—including three offices in the U.S.: New York, Los Angeles and Chicago. MDLF is the promotional arm of the French Ministry of Tourism and celebrates its 20th anniversary this year.
The official website of Maison de la France: www.franceguide.com
---
London goes al fresco

Now that the weather is warming up, it's time to get out there and experience the fantastic al fresco dining opportunities London has to offer. While the sun is shining, grab your shades and head to one of the many cafes, bars or restaurants that have outside areas in which you can soak up the rays while enjoying some food and drink. These and many other suggestions can be found on the Visit London website, www.visitlondon.com.
Even in central London there are a huge number of venues that are taking advantage of every outside space available to provide open-air areas for their customers. In Leicester Square alone there are almost 1,000 seats outside the world renowned hotels, bars and restaurants where you can watch the world and the stars go by. As the home of British cinema, Leicester Square is the perfect place to catch an afternoon matinee, followed by a cappuccino and conversation outside one of the many cafes and bars.
Roof terraces offer great outdoor eating and drinking combined with fantastic views of the city. No. 5 Cavendish Square will open its new roof terrace in June. The wrap-around terrace offers sumptuous views over Marylebone and the West-End and is the ideal way to escape the bustle of the streets below and enjoy a cocktail, after-dinner drink, or canapés. The rooftop at the Trafalgar offers similarly impressive views but this time over Trafalgar Square and the surrounding areas.
Terraces are also a great place to while away a few hours in the sun. Chelsea Physic Garden's café has a terrace area with seating for 50 and a beautiful view across London's oldest botanic garden. Perhaps you've had a day's shopping and fancy a chilled glass of wine? The Sheraton Park Tower hotel in Knightsbridge is located just minutes' walk from Harvey Nichols, Harrods and Sloane Street and has a Parisian-style café, The Terrace at Knightsbride, which is open from breakfast until late and has heaters, enabling guests to dine outside into the evening.
Perhaps one of the most well-known terrace restaurants is the OXO Tower top floor bar, where guests can enjoy extensive views of London as well as their imaginative bar menu and drinks list.
Along the Thames are a multitude of venues that take advantage of their waterfront location and have outside areas that offer magnificent views along the River Thames. The south side of the River offers a multitude of al fresco dining opportunities. Southbank and Bankside are both teaming with restaurants, bars and cafes in which to enjoy a snack or meal with family or friends. At Bankside, The Founder's Arms pub has an outside terrace with spectacular views of the Thames. Alternative dining options in the area include Pizza Express and The Real Greek. In addition, the redevelopment of the 21 acre Southbank site has a pedestrian area bulging with bars and restaurants.
It doesn't just have to be at the weekend when you can enjoy an outdoor lunch, there are many places, for example in the City, that have open air areas where workers can have a break from the office and get some fresh air whilst having a business lunch. Dion, situated near to St. Paul's underground station, boasts of an award-winning wine and champagne list and has a newly extended outside seating area where customers can enjoy views of St. Paul's Cathedral. Another option within the city is the bar at Addendum, at the Apex City of London Hotel.
Alternatively, you could just pack a picnic and enjoy one of London's many parks. A third of London is made up of green land so you are never too far from a patch of grass on which to stretch out on. Central London parks include Regent's Park, Hyde Park or St. James Park, alternatively try South London's Richmond Park which comes complete with herds of deer, Victoria Park in East London, which is host to various fun fairs and music events over the summer or Regent's Park in North London, which is just a stones throw from London Zoo.
ABOUT VISIT LONDON
Visit London is the official visitor organization for London. Its role is to promote London as the world's most exciting city, targeting domestic and overseas leisure and business visitors as well as Londoners. Visit London works in partnership with the Mayor, the London Development Agency and the commercial industry.
www.visitlondon.com.
---
SUN SHINES BRIGHT ON CHATEAU MONTELENA
SUSTAINABLE ENERGY PLAN
Historic 19th Century Napa Valley winery converts to 21st Century solar power
Chateau Montelena Winery, the venerable Napa Valley winery that helped bring California wine to global prominence, today announced that 100 percent of its electricity needs will henceforth be met through solar power. A new 220 kilowatt solar electric system was installed on winery property by Premier Power Inc. of El Dorado Hills, Calif. The new system will run all operations at the nearly 125-year old chateau, which has been Chateau Montelena's hallmark since its 1972 revival by the Barrett family.
"According to Galileo, wine is light held together by water," noted Chateau Montelena winemaker Bo Barrett. "Thanks to this new solar system, the same light that nourishes our grapes will power the machinery that helps us convert them into wine. So in a very real sense, there's sunlight in every bottle we produce. And yes, it's pleasing to our bottom line. We like that too."
While Chateau Montelena has always held fast to Old World winemaking values, the recent conversion to solar power is testament to the Barrett family's belief that properly applied environmentally sustainable technology is totally consistent with even the most traditional winemaking philosophy. However, the winery emphasizes that while new technologies can be useful, they cannot replace terroir and technique.
"At the end of the day, we're all about the juice," Barrett continued. "Adopting solar power was an easy decision since it's a responsible action both environmentally and fiscally. But I can also assure our clients that we will continue to deliver the winemaking excellence they have come to expect from us."
Chateau Montelena's new 220 kilowatt system will reduce carbon dioxide emissions by 6,625 tons – an emission reduction equivalent to the air-filtering power of 40,000 trees - over the next 25 years alone. As a forward-thinking producer in an industry that depends on climate stability for continued survival, Chateau Montelena is demonstrating its commitment to the long term.
About Chateau Montelena
Established in 1882, Calistoga-based Chateau Montelena is credited for helping California wine earn worldwide recognition. In 1976, Chateau Montelena was one of two Napa Valley wineries to come out on top in a blind tasting held for a who's-who of the French wine and food establishment gathered at the Inter-Continental Hotel in Paris. Chateau Montelena produces Chardonnay, Cabernet Sauvignon, Zinfandel and Riesling varieties. The winery has been owned and operated by the Barrett Family since 1972.
---
JetBlue Brings More Low Fares to Boston:
Flights to Bermuda and Charlotte Start Today

Logan's Fastest-Growing Airline Now Offering 27 Nonstop Destinations
BOSTON, May 1, 2007 (PRIME NEWSWIRE) -- JetBlue Airways (Nasdaq:JBLU) continues to expand its presence at Logan International Airport with today's launch of new low-fare service between Boston and Bermuda and Boston and Charlotte. The award-winning low-fare, low-cost carrier will offer one daily flight to Charlotte Douglas International Airport year-round and one daily flight to Bermuda International Airport for the peak season through October 31.
Today's flights are part of an ongoing expansion of service in Boston that has made JetBlue the fastest-growing airline at Logan International Airport. From its newly renovated home in Terminal C, JetBlue offers low-fare, high-frills service to 27 popular destinations in the United States, Aruba, the Bahamas, Bermuda, and Mexico. In addition, convenient connecting service operated by JetBlue's marketing partner, Cape Air, is available through Boston for customers traveling to Martha's Vineyard, Nantucket, Provincetown, and Hyannis, MA from most domestic JetBlue cities.
"This is an exciting time for our customers as we continue to add new service in Boston," said JetBlue CEO and Founder David Neeleman. "Our customers love JetBlue's award-winning friendly service and onboard amenities, including the most legroom in coach(a), comfy leather seats, and the most live entertainment options available on any airline. We look forward to serving customers with everyday affordable fares on our new routes to Bermuda and Charlotte."
---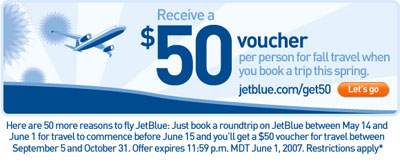 ---
BRITISH AIRWAYS OFFERS THOUSANDS OF FREE HOTEL NIGHTS
Airfare, hotel and a Taste of London from $638


British Airways today launched its most popular leisure offer, 'London for Free' with two nights' free hotel in London.
'London for Free' offers travelers two nights' free hotel accommodation at select three and four star hotels in central London when purchasing roundtrip airfares between the U.S. and the U.K.
Roundtrip airfares begin at $638 between New York (JFK or Newark) and London. Comparable airfares are available from all 19 British Airways' U.S. cities. Travelers also have the option to upgrade to World Traveller Plus, the airline's premium economy cabin from an additional $200 each way based on New York departures.
Prices are available for sale through Wednesday midnight (EDT), May 16, 2007. Travel is valid from May 28, 2007, through Sep. 5, 2007.
London hotels participating in 'London For Free' include the Premier Travel Inn Wembley, Premier Travel Inn Kensington, Royal National, Central Park, Jury's Inn Chelsea, Shaftsbury Hyde Park, Kensington International, Thistle Kensington Park and Park Inn Hyde Park. The two free hotel nights are based on double occupancy; single occupants are offered one free hotel night.
In addition to free nights in London, there are plenty of free, fun things to do in London, including:
visiting the Tate Modern
taking in the sights of street markets
listening to summer concerts in South Kensington
walking along the Thames
watching the "Changing of the Guard" at Buckingham Palace

World Traveller roundtrip fares must be booked and purchased seven days in advance and are non-refundable. World Traveller Plus roundtrip fares must be booked and purchased 21 days in advance. Fares may be higher for other travel dates and from other U.S. departure gateways. Weekend (Thursday-Sunday) surcharge applies at $30 each way. Fares are subject to government approval and do not include government fees and taxes from approximately $165 and a $2.50 September 11 Security Fee. Minimum stay of Saturday night is required and maximum stay is 11 months. Other significant restrictions apply.
Free London hotel offer valid for a maximum of two nights based on double occupancy for travel between May 28, 2007, through Oct. 24, 2007. Rates for additional nights, other room types and other travel periods will be higher. Hotel accommodation must be booked and purchased with British Airways roundtrip published airfare originating in the U.S. during the promotional period.
Further information on this promotion, other worldwide destinations and a London destination guide are available by visiting the airline's website,
www.ba.com/maylondonforfree
---
PEARL SEAS CRUISES ANNOUNCES LARGER SHIP

Pearl Seas Cruises announced today that its first ship built for world service would be a larger design with a passenger capacity of 210 and 330 feet in length. The ship is currently under construction and is proceeding quickly and on schedule.
The first ship is scheduled to begin cruise service in August 2008. The 109 staterooms and suites will have a size range of 240 to 460 square feet and all 109 stateroom suites will have private verandas. Pearl Seas Cruises is creating the optimum ship, small enough to sail intriguing places unavailable to most of the larger vessels while also providing a smooth, comfortable ride in deep-water cruising. In addition, these ships will offer the intimacy and service expected on a small deluxe cruise ship while also affording all of the modern amenities of a larger cruise ship. The first ship will begin with international cruises in the Canadian Maritimes, St. Lawrence Seaway, Great Lakes, Nova Scotia, Newfoundland and New England, and followed later in the year with itineraries in the Caribbean and Mexico Riviera.
The ships have been designed with the most innovative advanced designs including state of the art technologies and modern amenities: including a spa, elevators to all six decks, Internet access throughout the ship, and oversized suites all with private verandas and large opening picture windows offering spectacular views. Every stateroom is fitted with many modern conveniences and amenities expected by the discerning traveler. The ship is fully stabilized, and meets the newest and most stringent safety and environmental standards. The atmosphere is relaxing and inviting, much like that of a fine private club, offering "Luxury Adventure™" with every cruise experience.
For more information on Pearl Seas Cruises' 2008 and 2009 schedule call 1-800-983-7462 or visit www.pearlseascruises.com.
---
TICKETS NOW ON SALE FOR TOP-NAME PERFORMANCES AS THE LAKE TAHOE MUSIC FESTIVAL CELEBRATES 25 YEARS
**High-resolution photography is available
Tickets to the Lake Tahoe Music Festival, one of the longest running summer traditions at Lake Tahoe, are now available online at www.TahoeMusic.org. Celebrating its 25th anniversary season, the Festival has assembled a lineup of top-name performers to fill its summer program including American music icon Kenny Loggins, jazz great David Benoit, award-winning saxophonist David Sanborn, multi-platinum-selling instrumental guitarist Craig Chaquico, Broadway luminary Franc D'Ambrosio and world famous opera star Federica von Stade.
The Festival's "Season of Classics" presents nine concerts at five venues throughout North Lake Tahoe from July 14 through Aug. 4.
Lake Tahoe Music Festival individual ticket levels include:
General admission: $25*
Preferred seating: $50*
Lawn seating at Homewood Mountain Resort: $15*
Youth tickets: No cost for youth under the age of 16 thanks in part to a grant from the Rotary Club of Tahoe City.
* July 24 performance an additional $5
Season passes are available, providing a convenient and affordable option for those planning on attending several performances. Passes are numbered and may not be used for more than one admittance per event. No refunds will be given on unused portions of the pass.
Season pass levels include:
Lawn Passes: $75 per person includes tickets to any of the five concerts at Homewood Mountain Resort.
General Passes: $165 per person includes tickets to all seven concerts with the exception of the Festival Gala.
Preferred Pass: $225 per person includes tickets to five concerts with the exception of the Festival Gala and July 21 and 24 performances.
Purchase tickets online at www.TahoeMusic.org or at the Music Festival office, located at 425 North Lake Boulevard, Suite 6 in Tahoe City, Calif. Tickets are also available at the Incline Village Visitors Bureau in Incline Village, Nev., the Tahoe City Chamber of Commerce in Tahoe City or the Truckee Chambers of Commerce in Truckee, Calif.
For additional information on the 25th annual Lake Tahoe Music Festival, visit online or call 530- 581-1184.
The Lake Tahoe Music Festival celebrates 25 years of timeless masterpieces during its "Season of Classics," July 14 – Aug. 4, 2007. Founded in 1982 by Edgar Braun, conductor of the San Francisco Chamber Orchestra, the Lake Tahoe Music Festival presents nine concerts at five scenic venues throughout North Lake Tahoe including historic Donner Lake, Tahoe City's Commons Beach, The Resort at Squaw Creek in Squaw Valley, Tahoe Donner in Truckee and its new home venue, Homewood Mountain Resort. The Lake Tahoe Music Festival is a 501(c)(3) non-profit organization that presents quality, diverse musical experiences and creates educational and performance opportunities for aspiring young musicians. Funds for the Festival are raised through individual memberships, corporate sponsorships, grants and advertising revenues from its Festival program.
---
THE MIRAGE DOLPHIN HABITAT EARNS PRESTIGIOUS HONOR
Dolphin Care Facility Recognized for Excellence
in Marine Mammal Care, Conservation and Education
The Mirage Dolphin Habitat has earned accreditation by one of most respected marine care and conservation societies, the Alliance of Marine Mammal Parks and Aquariums. Collectively, the Alliance represents the greatest expertise in caring for marine mammals in the world.
"Members of the Alliance are committed to standards of care that surpass current regulatory requirements of the U.S. Department of Agriculture's Animal Welfare Act," said Alliance Executive Director Marilee Menard. "The recent accreditation of The Mirage Dolphin Habitat indicates the facility excels in providing care for their dolphins."
To become accredited, The Mirage Dolphin Habitat underwent a stringent on-site inspection. During the two-day examination, reviewers evaluated the facility on a wide range of criteria including training, husbandry, veterinary care, enrichment and food preparation. Education and research programs also were assessed. Like all Alliance-accredited institutions, The Mirage Dolphin Habitat will face recertification every five years.
Scott Sibella, president and COO of The Mirage, said "Excellence in animal care is the first priority of The Mirage Dolphin Habitat. This prestigious accomplishment shows the ongoing commitment and dedication to care, research and public education by our entire animal care staff. We are extremely proud to join one of the world's most esteemed voices in marine mammal care."
The Mirage Dolphin Habitat is home to a family of Atlantic bottlenose dolphins. Specialists from around the world lent their expertise in creating a safe, healthy environment for their care. The size of their aquatic home exceeds government regulations by more than eight times.
The general public is invited to explore the habitat at their leisure. Educators are located poolside to answer questions and provide narratives on dolphin/trainer interactions.
Dave Blasko, director of animal care for The Mirage, said, "The dolphins and animal care staff of The Mirage provide an unequalled educational experience to the local community as well as to visitors from around the world. By providing an up close and personal experience, we touch hundreds of thousands of people every year and make a real impact in promoting wildlife conservation."
To help further advance awareness, a special "Trainer for a Day" program allows guests the unforgettable opportunity to work side-by-side with Mirage animal experts. During the daylong session, participants take part in the daily care and training of the dolphins while learning about their health and behavior.
Another educational program, developed by The Mirage animal care staff and the Clark County School District, provides kindergarten through 12th grade students the chance to visit the Dolphin Habitat and learn about the fragility of the planet's marine ecology.
Menard said, "Dave Blasko has been on the Alliance Board of Directors since 2006. A valued member of the marine mammal community, he is highly respected for taking the lead on international conservation issues."
Founded in 1987, the Alliance of Marine Mammal Parks and Aquariums is the first and largest organization in the world dedicated to the concerns and issues that affect the public display of marine mammals.
---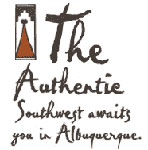 Albuquergue
Come immerse yourself in rich customs and heritage rooted in ages past. Soak in blue skies and sun that shines more than 310 days a year. Try hot air ballooning, explore living history museums, enjoy events and festivals, sample local cuisines, or hit the golf courses and spas. Albuquerque has vast experiences waiting for you. It's a trip you'll never forget.
---
Punta Cana's Luxury Beachfront Retreat
Announces Summer 2007 Rates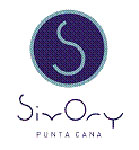 Sivory Punta Cana, the Dominican Republic's 55-room all-suite resort, has announced their summer 2007 rates for travelers to one of the Caribbean's most pristine coastlines of golden-sand beaches. Featuring Caribbean and Indonesian-inspired influences, Sivory Punta Cana offers an extraordinary range of cuisine in their three restaurants ranging from casual to fine dining, as well as a sophisticated cigar bar and lounge, luxurious treatments in their serene spa and personal butler service to cater to guests' every need. Wine enthusiasts will revel in the 8,000 bottles of the finest vintages from around the world housed in the hotel's renowned wine cellar. Whether guests are looking for a romantic getaway or a sun-soaked holiday, Sivory Punta Cana provides an upscale option in island vacations.
The above rates are valid through December 21, 2007. Rates are per room, per night, either single or double occupancy and are based on Sivory Punta Cana's EP plan. For an additional $150.00 per person per night, guests can upgrade to the Sivory Plan. Rates are based on availability and do not include taxes or gratuities.
For reservations, please contact Sivory Punta Cana's Reservations Department at (809) 552-0500 or reservations@sivorypuntacana.com.
---
EXPERIENCE THE INVIGORATING MEDITERRANEAN LIFESTYLE UNDER THE TUSCAN SUN
-Terme di Saturnia invites guests to pamper themselves with a true taste of the Tuscan lifestyle during their Italian summer holiday with daily rates ranging from €200 to €310 or $272* to $421* and weekly seven-night rates ranging from €917 to €1,869 to $1,246* to $2,541*-
Located at the foot of the medieval village of Saturnia, Terme di Saturnia Spa & Golf Resort invites visitors to get off the beaten path during their summer travel explorations to experience this world-class destination. With 140 luxurious guestrooms and a state-of-the-art medical spa, the resort features six outdoor and two indoor pools, a traditional Roman bath house, a fitness center, a tennis court, a hair salon, a practice green, a boutique and an art gallery. Terme di Saturnia is surrounded by Tuscany's picturesque and natural, untamed scenery of the Tuscan Maremma region of Italy.
Throughout their stay, guests will experience Italy's true Mediterranean lifestyle with programs, cuisine and a daily mantra geared toward the promotion of a fulfilling and healthy lifestyle. This unique way of living is centered on three different elements; balance, activity and diet. Terme di Saturnia Spa & Golf Resort has created personalized and specialized programs, treatments and cuisine to help guests strike the equal balance between each of these elements, resulting in total relaxation and well-being.
Terme di Saturnia's daily summer rates range from €200 to €310 or $272* to $421* per person based on double-occupancy room accommodations, and weekly seven-night summer rates range from €917 to €1,869 or $1,246* to $2,541* per person based on double-occupancy. Listed below is Terme di Saturnia's price breakdown for the summer months of May, June, July and August.
Daily Rates:
CLASS ROOM

PRESTIGE ROOM

JUNIOR SUITE

SUITE

Double

€200

$272*

€240

$326*

€275

$374*

€310

$421*

Single

€255

$347*

€295

$401*

€385

$523$

€420

$571*
Weekly Rates:
June 2007

Double

€1,001

$1,361*

€1,281

$1,741*

€1,526

$2,075*

€1,771

$2,408*

Single

€1,386

$1,884*

€1,666

$2,265*

€2,296

$3,122*

€2,541

$3,455*

July 2007

Double

€917

$1,246*

€1,281

$1,741*

€1,526

$2,075*

€1,771

$2,408*

Single

€1,386

$1,884*

€1,666

$2,265*

€2,296

$3,122*

€2,541

$3,455*

August 2007

Double

€1,099

$1,494*

€1,379

$1,875*

€1,624

$2,208*

€1,865

$2,541*

Single

€1,484

$2,018*

€1,764

$2,398*

€2,394

$3,255*

€2,639

$3,588*
*Conversion rates to American Dollars as of April 23, 2007 are subject to changes.
Daily and weekly seven-night rates are person with bed & breakfast accommodations and include:
Use of thermal pools
Use of Roman bath with sauna and steam bath
Golf driving range
Guided morning hike
Use of thermal water falls
Reserved deck chair and sun umbrella in the pool's park
Use of the gym, classes not included
To book a stay at Terme di Saturnia or for more information on the resort, please visit www.termedisaturnia.com or call +39 0564600111.
---
KICK OFF THE SUMMER WITH 50% OFF HERTZ WEEKEND RENTALS
- Special Offer is Available at Hertz Airport and Local Edition Locations -

To kick off the summer season, Hertz is offering travelers special savings to help get their weekends off to a great start with 50 percent off weekend rentals at Hertz Local Edition and airport locations nationwide.
At the airport, the 50% off is valid on all car classes, including Hertz's popular Fun, Green and Prestige Collections. Just mention Promotion Code (PC#) 104182 at time of reservation. At Hertz Local Edition locations, where Hertz offers pick up and delivery service, this offer is good on Economy through Full-size car classes and Midsize SUVs. Just mention Rate Code (RQ Code) FIFTY.
"As we head into Memorial Day weekend and begin the summer travel season, we are pleased to offer this special savings to Hertz customers," said Frank Camacho, Hertz Staff Vice President, Marketing. "Available for rentals at Hertz airport and Local Edition locations, customers can rest assured that they will be driving one of the youngest fleets in the industry and will be able to get the products and services they need for their trip, including NeverLostÒ and SIRIUS Satellite Radio."
Both the Local Edition and Airport offers apply to three-day Standard and Leisure Weekend Rate rentals starting Friday and ending Monday. Advance reservations are required, and blackout periods may apply. The Hertz Local Edition offer is subject to availability and is redeemable at participating Hertz Local Edition locations in the United States, excluding Hawaii. The Airport offer is not available in the NY Metro area and Hawaii. Hertz age, driver and credit qualifications for the renting location apply and the car must be returned to the renting location. The 50 percent savings is not valid on NeverLost and SIRIUS satellite radio rentals and does not apply to taxes, fees and other optional services. At the airport, the 50 percent off is valid through June 30, 2007 and at Local Edition, the offer is valid through December 31, 2007.
Hertz, the world's largest general use car rental brand, operates from approximately 7,700 locations in 145 countries worldwide. Hertz is the number one airport car rental brand in the U.S. and at 69 major airports in Europe, operating both corporate and licensee locations in cities and airports in North America, Europe, Latin America, Australia and New Zealand. In addition, the Company has licensee locations in cities and airports in Africa, Asia, and the Middle East. Product and service initiatives such as Hertz #1 Club GoldÒ, NeverLost customized, onboard navigation systems, SIRIUS Satellite Radio, and unique cars and SUVs offered through the company's Prestige, Fun and Green Collections, set Hertz apart from the competition. Hertz also operates one of the world's largest equipment rental businesses, Hertz Equipment Rental Corporation, offering a diverse line of equipment to customers ranging from major industrial companies to local contractors and consumers through more than 360 branches in the United States, Canada, France and Spain.
To make car rental reservations or for more information, customers can call their travel agent, or call Hertz toll-free at 1-800-654-3131. Information and reservations are also available on the web at www.hertz.com. For information on Hertz Equipment Rental, visit the company on the web at www.hertzequip.com.
---
Showcase Highlights New Zealand Luxury
Tourism Industry

It was a particularly hectic weekend for the luxury tourism industry as over 1700 individual business appointments were conducted between New Zealand based product exhibitors and international travel agents at the PURE LUXURY New Zealand 2007 trade show.
The event was held at Treetops Estate & Lodge in Rotorua, 19-20 May.
PURE LUXURY New Zealand 2007 opened at noon on Saturday (19 May) and delegates were welcomed by Fiona Luhrs, Chief Executive of the Tourism Industry Association New Zealand (TIA), the organisation that managed the event. "There were 43 New Zealand companies exhibiting and the same number of international luxury travel agents. So each agent met with each New Zealand company during the course of the event", says Ms. Luhrs.
Prior to the business meetings many of the international buyers took the opportunity to enjoy activities organised by the Rotorua Luxury Cluster Group. These included flights to White Island (a live volcano), Mt Tarawera and over the spectacular geo-thermal areas in the region, including Orakei Korako. Some chose to indulge in spa treatments and massages at Polynesian Spa. "By the time the agents arrived at Treetops Estate & Lodge they were relaxed and, importantly, they had already had a preview of the high calibre of New Zealand's luxury product. It was a credit to the Rotorua Luxury Cluster Group as the warmth and hospitality they extended to the international agents ensured they arrived at the venue with positive impressions," adds Ms Luhrs.
The location of Treetops Lodge & Estate contributed to the success of the event, due to its remote location and close association with its surrounding environment. It is set within 2 500 acres of game reserve and within a 800 year old forest.
In keeping with the sophistication of the venue, each appointment area was stylishly set-up and they were located through all main rooms of Treetops Estate & Lodge. "We had devoted the entire Lodge to the event", comments Manager, Heiko Kaiser. "There were appointment areas set up in our Great Room, Villa & Lodge rooms, Day Room and even the Library", he adds. New Zealand exhibitors deliberately took a minimalistic approach to their display areas and presented each agent with an elegant folder of information sheets about each of the luxury properties, transport and activities. In particular the focus was on personal one-on-one relationships during very focused but relaxed business meetings. The communication 'clutter' was avoided in favour of nurturing personal, durable relationships with the international agents.
In order to maximise the time for meetings, there were no scheduled morning or afternoon tea breaks but rather a continuous flow of light, easy to eat food and refreshments. "Our staff moved throughout the Lodge providing tray service. We also had a food buffet, continuous tea and coffee and our resident barista was particularly busy", adds Mr. Kaiser.
International travel agent Meinhard Hiller from Windrose Fernreisen Touristik GmbH in Germany felt privileged to be hosted at Treetops Estate & Lodge during the PURE LUXURY 2007 New Zealand event. "The weather has been settled, the warmth of the hospitality has been overwhelming and I was very impressed with the sightseeing activities. In addition, I felt very privileged that I was hosted at the venue, Treetops Estate & Lodge as it is so beautiful and the setting is very spiritual" says Mr.Hiller.
The social highlight of the busy weekend was on Saturday evening where the PURE LUXURY New Zealand 2007 delegates enjoyed a social evening at the Blue Baths in Rotorua city. Chairman of the Tourism Industry Association, and Air New Zealand's Group General Manager, Norm Thompson emphasised the importance of the luxury sector to the New Zealand industry and importantly noted that New Zealand is well equipped to provide savvy and sophisticated service, at a world class standard.
As part of the entertainment during the evening, New Zealand's fine wine and cuisine were profiled during presentations by Philip Bothwell of Pernod Ricard while Chef Charles Royal focused on indigenous cuisine.
International travel agents were invited to remain in Rotorua today and attend the official welcome and Pohiri that will signal the opening of TRENZ, which is also being held in Rotorua. Of the 43 international agents at PURE LUXURY New Zealand 2007, 24 will stay on to attend TRENZ.
There was a strong representation of international travel agents from the United States, but the event also attracted agents from Australia, Canada, United Arab Emirates, Hong Kong, Singapore, United Kingdom and Norway.
New Zealand exhibitors travelled from all corners of New Zealand to the event. The strongest contingent was from the accommodation sector, with 28 exhibitors. There were eight activity operators, four transport companies and three sales and marketing groups all exhibiting.
For full details on the PURE LUXURY New Zealand 2007, including all the New Zealand exhibiting companies, please visit www.pureluxury.co.nz
---
Experience Euro 2008 with travel packages
from Roadtrips

Soccer fans are anxiously anticipating Euro 2008 after the soccer world converged on Germany in the summer of 2006 for a wildly successful World Cup. Roadtrips, the Ultimate in Sports Travel, has released travel packages for all Euro 2008 games, including the Euro 2008 Championship Finals in Vienna, Austria.
Big saves and unbelievable goals are mixed with national pride and pure fan passion as Europe's best players pull on their country's jersey and play for more than just bragging rights. While billions will watch the tournament on TV, only a special few will be there to witness in person the passion, excitement and drama on the world stage.
"We experienced the excitement of the World Cup in Germany first hand last summer," said Dave Guenther, Roadtrips' President. "We know that soccer fans want great seats and first class accommodations. Our travel packages in each of the cities give fans options on what matches they want to see, where they want to sit, and where they want to stay."
All Roadtrips' Euro 2008 travel packages include guaranteed tickets to the chosen UEFA EURO 2008 match, 3 days/2 nights accommodations in a choice of 3-Star, 4-Star, and 5-Star Hotels, 3 Day Unlimited Use Local Transportation Pass, plus the expert travel and concierge services of the Roadtrips At- Your-Service Desk. Com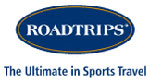 plete Euro 2008 Round Robin and Quarter Final Packages available from $1965, while packages for the Euro 2008 final start a $5965 (prices based on double occupancy).
For more information, call one of our sports travel experts at 1-800-465-1765 or visit www.roadtrips.com.
A recognized leader in the sports travel industry, Roadtrips has been creating memorable experiences to exciting sporting events and games for over 16 years. Roadtrips offers a wide variety of sports travel packages to the biggest events in sports, including trips to the Beijing Summer Olympic Games, Super Bowl, World Series, and 'Getaway' packages to all major league regular season games in 89 North American cities.For more information call 1-800-465-1765 or visit www.roadtrips.com.
---
SKY E ALITALIA. INSIEME PER DARTI ANCORA DI PIU'

Grazie al nuovo accordo di partnership tra Alitalia e SKY, da oggi puoi accedere a nuove interessanti promozioni dedicate ai clienti Alitalia.
Fino al 30 giugno 2007, se sei già cliente SKY o ti abboni ad almeno 2 pacchetti, SKY ti aspetta con un'offerta esclusiva:
SKY HD gratis per un anno, l'alta definizione si vede. Solo su SKY
Per richiedere questa offerta ti basterà aver volato almeno una volta con Alitalia negli ultimi 6 mesi.
Visita il sito www.skylife.it/alitalia oppure contatta il Call Center SKY al numero 199 115566*, per richiedere le offerte di SKY, una TV pensata per te.

* Tariffa max pari a 0,15 €/min IVA inclusa da rete fissa. Il costo della chiamata da telefono cellulare è legato all'operatore utilizzato.
NON SEI ANCORA SOCIO MILLEMIGLIA?




Iscriversi è gratuito e puoi ottenere biglietti premio per le tue mete preferite.
Accumula miglia volando con noi o con le altre compagnie aeree Partner, o anche utilizzando i servizi offerti dai Partner commerciali del Programma.
Per festeggiare i suoi 15 anni, il Programma MilleMiglia ti aspetta con un benvenuto speciale che ti dà la possibilità di accumulare fino a 10.000 miglia di bonus. Scopri tutti i dettagli.