ITALIA IN MINIATURE
A Magical Visit to Venice
By Bonnie Carroll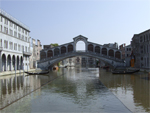 'Italia in Miniature' is approximately 10 minutes away from the beach resort of Rimini, and is the most ingenious and magical way to teach your children about all that is worth seeing and knowing about in Italy. The miniature buildings are a journey through the history of Italy that children and adults find fascinating. The actual architectural design and artwork are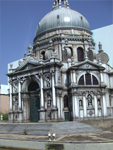 awe inspiring. A woman riding on the boat down the 'Grand Canal in Venice" exhibit with me said "I can't believe how completely authentic it is, down to the smallest detail." This boat ride through the canals was one of my favorites. It was the very next best thing to being in a gondola.
According to the owner, the building of the miniatures began in his garage and it has just grown into this amazing adventure. It is obviously a labor of love for the people i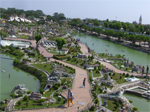 nvolved, and is a perfect venue for families vacationing in Rimini to share a memorable experience.
The park is very well kept and has fun interactive rides and games for children, as well as inviting kiosks to enjoy an affordable family lunch in a shaded area. Along with miniatures of the airport with moving planes and cars, there is also a water park, which is included in the price of entry, approximately 16 euros per person. An overhead tram offers visitors an aerial trip above the park that is perfect for taking photos, and the panoramic view offers an option to those who cannot walk the whole park. For more information visit: www.italiainminiatura.com.
---
JARDIN NELSON
Best in French Crepes for Visitors to Montreal
by Bonnie Carroll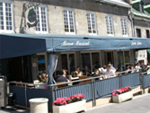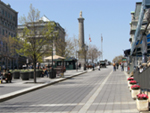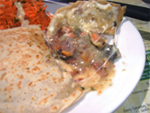 The Jardin Nelson is located in a very busy tourist area in the old town section of Montreal. Visitors to this delightful garden restaurant experience the best of outdoor dining, while enjoying the music of a live jazz trio. The name indicates what to expect, and the Jardin is filled with flowering trees and pots that fill the patio with color.
The menu for lunch includes some delicious fresh fruit or vegetable salads, fish or fowl entrees, and a bevy of delicious home-made crepes. The luncheon crepes feature vegetable, chicken, beef and cheese. They also offer some delightful dessert crepes with powdered sugar, and the home-made soups are wonderful.
I have visited this restaurant many times during past trips to my favorite French city, and never tire of the atmosphere or the food. It is in the center of an area surrounded by activity, yet the patio is a relaxing place to enjoy great food and people you love. The here waiters are all tres handsome, and are very helpful. They also speak English, which helps!
On your next tour of the Montreal old town area be sure to stop by and treat yourself to the surprises in this special garden. Bon Appetit!
Jardin Nelson
407 Place Jacques-Cartier
Montreal, Quebec, Canada
(514) 861-5731 
---
PURE BIG SUR SWEEPSTAKES
Bask in the beauty of Big Sur this fall with a top-flight getaway that's free.  The Pure Big Sur Sweepstakes includes a two night stay at the world-class Ventana Inn & Spa, dual spa treatments at Allegria Spa along with complimentary hiking and yoga sessions, picnic lunch for two in the river chairs at the Big Sur River Inn, dinner for two above the sea at Nepenthe Restaurant and a $1,000.00 gift card. 
To enter, visit www.SeeMonterey.com/Sweepstakes. 
No purchase necessary.
---
AMERICAN TRAVELERS:
YOUR DOLLAR CAN TAKE YOU FARTHER
THAN YOU THINK - IF YOU SPEND IT
IN NEW ZEALAND
1 US Dollar buys 1.4 New Zealand Dollars
 
Despite the dollar's decline, Americans who plan to travel abroad may find that their currency packs more punch than they expect – depending on where they choose to spend it.  While Europe is one of the most popular – and expensive – overseas destinations, for dollar-wielding Americans New Zealand offers exceptional value for their money and surprising resilience for the U.S. greenback.
Recently examined data comparing what an American visitor would pay for travel-related services and amenities in Europe – Italy, France and Spain – measured the dollar's spending power against comparable items in New Zealand and the United States.  The informal country-by-country survey looked at the starting nightly room rate at a recognized five-star international chain hotel, the average price for an entrée at an established restaurant associated with an international celebrity chef, the green fee for 18 holes at a championship golf course, average rate for a one-hour signature spa treatment at a luxury hotel, and the average rate for a typical cooking class.
While it is difficult to make exact comparisons, the survey found that on average, the U.S. dollar today retains greater purchasing power in New Zealand versus these three European countries and the United States. 
"Everyone knows the dollar has weakened on the world stage – but what is less well known is that in New Zealand it still buys first-class experiences that would be significantly more costly in Europe or even the U.S. in some cases," said Annie Dundas, Regional Manager, North America.  "With our dramatic landscapes, luxury lodges, world-class wines and culinary delights, adventure sports and authentic cultural encounters providing compelling holiday choices, we're delighted that Americans still get a lot of bang for their buck in New Zealand."
Country-by-Country Comparison

New Zealand




converted from NZ$

United States

Italy


converted from EUR

France




converted from EUR

Spain


converted from EUR

Average starting room rate at a 5-star international hotel chain
*Basic starting room rate per room, per night, single occupancy for month of August.  Rates obtained on August 5, 2008 and subject to change

US$203

US$259
US$448
US$431
US$332
Average price for one entrée at a restaurant affiliated with a celebrity chef
US$26

US$29

US$62

US$85

US$77

One round of golf at 18-hole championship golf course

US$96

US$210
US$145
US$116
US$255
Average rate for a one-hour massage at luxury hotel spa
US$100
US$160
US$147
US$170
US$117
Average rate for a typical cooking class**
* Includes cooking lesson, meal and wine
US$139
US$120
US$180
US$170
US$170
** Based on an exchange rate of $1USD = 0.646EURO / $1USD = $1.4NZD 
*** Conversions were calculated to the nearest dollar  
---
NATIONAL WILDLIFE FEDERATION SELECTS
THE 30 BEST 2009 WILDLIFE-VIEWING TOURS
An internet search for "wildlife tours" can yield over 650,000 results, so the National Wildlife Federation (NWF) is providing a service to make picking a trip easier for the eco-traveler. After reviewing hundreds of itineraries to nearly every major wildlife-viewing spot on the globe, NWF has selected the 30 best wildlife-viewing tours of 2009.  
The 30 selected tours range from whale-watching in Baja to hiking in Acadia National Park in Maine, to looking for tigers in India. There are research trips to study predators in Yellowstone and dolphins in Belize. There are world-famous wildlife destinations such as the Galapagos Islands, southern Africa's game reserves, and the Alaskan tundra; however, selected programs also feature some lesser-known gems like the biologically diverse Big Bend National Park in Texas,  the Arctic reaches of Svalbard in Norway, and the 588,000-acre Vermejo Park Ranch in New Mexico, a private ranch owned by Ted Turner.
NWF considered a variety of factors in selecting these trips. The conservation group only selected trips operated by tour companies that believe in traveling responsibly and sensitively, bringing economic benefits to local communities. They also selected the most experienced tour operators that use some of the world's best nature guides. Trips were also considered with an eye towards terrific values, so that in every case travelers would be getting their money's worth with great wildlife viewing opportunities.
Once the trips are hand-picked, NWF works with the tour companies to designate a specific date just for NWF members and friends.  NWF is hoping to attract a great group of people to each tour. NWF members are curious and adventurous, and treasure the natural world. A group of like-minded travelers with a belief in protecting wildlife for our children's future promises to be a wonderful feature of every trip.
But NWF is doing more than just selecting the best tour operators, the best destinations, and the best values. In keeping with its mission to travel responsibly, NWF has teamed up with NativeEnergy to offset the carbon emissions generated by all 2009 trips. Carbon emissions are a primary source of global warming pollution. This dramatic step towards a carbon-neutral travel program is unprecedented among conservation organizations because not only is NWF offsetting the carbon footprint of all 2009 Expeditions travelers, it is doing so without raising the cost of the trip. 
visit www.nativeenergy.com/traveloffsets

---
HIP BARCELONA LOBBY LOUNGE HIGHLIGHTS
CLASSIC FILMS, DJ AND CEVICHE MENU
Hotel lobby lounges are increasingly becoming the place to see and be seen. Casanova by Rafael Hotels' chic Lobby Bar is part of Barcelona's fashionable social scene, serving up DJ's spinning the latest beats and a succulent ceviche menu, against a cinematic backdrop of classic black and white films to the latest music videos. The glowing, back lit pistachio-hued glass bar is the centerpiece of this hip, comfortable lounge for enjoying cocktails such as the "Casanova," a festive signature drink of strawberries, lime juice, Cinzano, Lillet and sugar created by the hotel's on-site "restaurant choreographer."  The bar menu features many local favorites, a highlight being a selection of seafood ceviches inspired by Mexican and Mediterranean ingredients. Playful overhead lighting fixtures add a whimsical note to the retro furniture which pay homage to the designs of Catalan born artist Joan Miro. 
Through September 15th, Rafaelhoteles' "New Currency" program promises a set exchange rate of just 1.3 for U.S. travelers.  The nightly rate per room at Casanova starts at $197 USD. The special exchange rate is available for room only and does not include taxes and service charge.  The rates after September 15th start at $250 USD a night (160 Euros).   For reservations, please call 1 866 849 6396 or visit www.casanovaBCNhotel.com
Casanova Hotel by Rafael Hotels
As a member of Small Luxury Hotels of the World, the refashioned Casanova Hotel debuted in Barcelona in November 2007.  Like its namesake, this hip yet elegant establishment exudes charisma, style and sex appeal with 124 rooms and suites that feature retro-inspired furnishings with modern luxuries.   Mexiterranée restaurant features an in-house choreographer to change the scene monthly.  Coming in the summer of '09, a rooftop pool and lounge complete with hammocks.  Within walking distance of Las Ramblas, famed Gaudi creations and top cultural attractions, Casanova blends modern design with theatrical flair, mirroring the city itself. 
---
PACIFICA HOTELS DEBUTS
GIRLS GET-AWAY PACKAGES ON THE CENTRAL COAST
Two of Pacifica Hotel Company's Central Coast hotels have introduced girls get- away packages, perfectly assembled for best friends to spend quality time together.

THE COTTAGE INN in Pismo Beach
  
The Cottage Inn embodies English country warmth with the quality touches of a fine, modern hotel in a California coastal setting.  Its Girls Just Wanna Have Fun package includes:
One- night accommodations in a traditional deluxe, two-bed room, with rates beginning at $264 per night, double occupancy.

One hour massage for two (additional massages at $75 per person)

Free parking
Tax and gratuity additional.  Package must be booked at least three days in advance.
The Cottage Inn is reminiscent of an English country house, with stunning views, an inviting sundeck and pool overlooking the ocean.  The Inn features spacious, cozy guest rooms, generous amenities and location convenient to the varied attractions of San Luis Obispo County, setting a new standard for hotels in Pismo Beach.  Guests enjoy a pristine stretch of prime beachfront property where flip-flops are the footwear of choice and surf wear is the prevailing fashion.
For information and reservations at The Cottage Inn, call 888-440-8400 and ask for the "Girls Just Wanna Have Fun Package" or log onto www.cottage-inn.com and enter "girls" in the promo code field when making your reservation.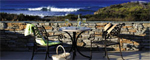 THE FIRESIDE INN in Cambria
 
The Fireside Inn in Cambria is a snug hotel on California's Central Coast where visitors relax and experience stunning coastal beauty.  The Fireside Inn is offering a midweek package to entice those desiring a few days of heaven with the "Coastal Calm Package".
Applicable Sunday through Thursday, rates beginning at $368, per room, based on double occupancy.  Guests enjoy:
A $40 voucher for dinner for two at Moonstone Beach Bar and Grill

Thirty minute massage for two

Bottle of wine
Additional guests can join at $55, each.
The Fireside Inn in Cambria has the romantic charm of a seaside village.  The seaside hotel is surrounded by breathtaking natural beauty including uncrowded beach and bluff-top nature trails.  The sunsets overlooking the shimmering Pacific Ocean are nothing short of captivating and the local points of interest are said to be both educational and thrilling.
For information and reservations at the Fireside Inn, call 888-910-7100 and ask for the "Coastal Calm Package" or log onto www.bestwesternfiresideinn.com and enter "girls" in the promo field when making your reservation.  
---
BRITISH AIRWAYS OFFERS FREE PASS IN LONDON
$482 roundtrip fares between New York and London includes two day London Pass
British Airways launched a sale fare today to London, including the free London Pass.
Roundtrip airfares begin at $482 between New York (JFK or Newark) and London.  Travelers purchasing roundtrip tickets within this period will also receive a free two day London Pass, offering a choice of top London attractions, including London Zoo, St. Paul's Cathedral, Hampton Court Palace (including their famed garden and maze) and Tower of London.
World Traveller Plus, the airline's premium economy cabin, is also on sale, with fares beginning from $898 roundtrip from New York (JFK or Newark). World Traveller Plus cabin offers customers wider seats and more space and privacy.  Comparable airfares are available from all British Airways' U.S. cities to London.
Fares are available for sale through Thursday midnight (EDT), Sep. 4, 2008. Travel is valid from Oct. 23, 2008, through Dec. 17, 2008.
World Traveller roundtrip fares must be booked and purchased seven days in advance and are non-refundable. World Traveller Plus roundtrip fares must be booked and purchased 21 days in advance.  Fares may be higher for other travel dates, from other U.S. departure gateways and to other worldwide destinations. Weekend (Thursday-Sunday) surcharge applies at $30 each way. Fares are subject to government approval and do not include government fees and taxes from approximately $165 to $250 and a $2.50 September 11th Security Fee. A minimum stay of Saturday night is required and maximum stay is permitted up to 11 months.  Other significant restrictions apply.
Further information on this special offer is available by visiting the airline's website, www.ba.com/labor.
---
HOW TO MANAGE YOUR EXPENSES
WHILE TRAVELING 
Whether you're traveling within the U.S. or overseas, credit cards can provide extra protection that other payment options don't.
Here are some simple tips from Citi's free credit education program, Use Credit Wisely, to help you travel safely this summer:
Set a Daily Budget: It's exciting to visit a new place but between the sightseeing, dining out and buying souvenirs for you and your loved ones, it's easy for expenses to get out of hand. Set a daily budget for yourself by dividing your budget for the entire trip by the number of days you'll be away. You will get a clearer understanding of exactly how much money you can spend per day.

Only Pack What's Necessary: From clothes to your credit cards, try to streamline what you take with you on your trip. Limit the number of credit cards you carry. Be sure to take an extra credit card with a separate account number and leave it in your hotel safe as a back-up.

Keep Your Credit Card Issuer Informed: Before traveling abroad, let your credit card issuer know when and where you'll be going for added protection and access to your credit overseas. Also, familiarize yourself with the overseas terms of your credit card.

Paper or Plastic? In this situation, it's better to go with "plastic." Credit cards offer great benefits for travel. They are safer than carrying cash, can be replaced if lost or stolen, and are accepted at millions of location worldwide.

In Case of Emergency: Credit cards can provide added protection such as emergency travel assistance, travel accident insurance and account monitoring against fraud.


Travel Comfortably: Do you really want to sit on the plane for hours with a wad of cash in your back pocket? Rest assured, traveling with a  credit card will alleviate the stress of having to travel with hundreds of dollars with you.
Traveling with a credit card also means you can keep a close eye on your recent transactions by accessing your statement online 24/7, from anywhere with internet access.
For more information about using your credit wisely,
visit www.usecreditwisely.com
---
37th ANNUAL BALLOON FIESTA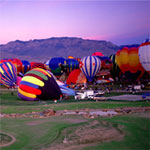 The 37th annual Albuquerque International Balloon Fiesta runs October 4-12, 2008 featuring more than 600 hot air balloons from all over the world, including eight new special shape balloons and 43 new Balloon Fiesta pilots. For more information on this year's Balloon Fiesta view entire balloon fiesta media release. This year Albuquerque has the pleasure of hosting an international  gas balloon race: Gordon Bennett Coupe Aeronautique Gas Balloon Race thanks to last year's winners Richard Abruzzo and Carol Rymer Davis of Albuquerque. The object of the Gordon Bennett is to fly the greatest distance from Albuquerque while competing within the event rules.  The team that travels the greatest distance wins and brings the event to their home country the next year.  To find more information about the Balloon Fiesta visit: www.itsatrip.org/balloonfiesta.
---