GREAT GUIDES IN SWITZERLAND
Let the Professionals Show You the Highlights
By Bonnie Carroll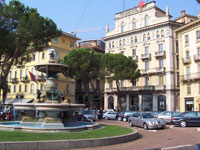 Visiting the cities in Switzerland is something no world traveler should miss. From Lake Lugano, to Locarno, Ascona and Geneva my guides included Maria Pia Aerne, Eliana Franchini-Richina and Mrs. Gianna Mestermann,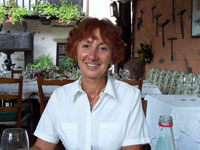 three very well versed guides who shared all the secrets of this beautiful country.

I had the good fortune to be escorted through the Ticino area by Mrs. Eliana Franchini-Richina, a professional guide who works for the Ticino Tourism Office, and she introduced me to so many Swiss wonders, including unique food venues, historic buildings, a fun funicular ride, lunch with five star chef Jose De La Jglesia at the lovely Motto del Gallo Taverne. We also spent time perusing the village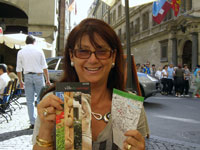 shops, bakeries, open markets and churches. Eliana was not only a fun person to get to know, but her knowledge and ability to communicate information to me was amazing.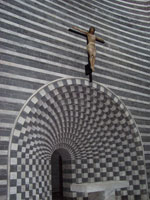 Maria Pia Aerne guided me through the many cathedrals, and art museums of the Ascona area, and took me on an unforgettable early morning ride through the mountains and the Lavizzare Valley to visit St. James the Baptist Church, designed by renowned architect Mario Botta. We visited the Grotto Pozzasc for a typical tavern lunch of polenta cheese and salami. It was a rainy day, and the warmth of the burning fireplace in the tavern by the rivers edge was a welcome spot to enjoy some wonderful home cooked food and regroup.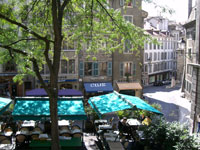 My guide in Geneva was Mrs. Gianna Mestermann from the Geneva Tourism and Convention Bureau, who was equally charming, and we had a fabulous time going from 'Old Town' to Ville de Carouge, a canton brimming over with skilled craftsman, where I discovered more secrets of the areas 2,000 year history and strolled through their remarkable open market. On the way to our delightfuloutdoor lunch at Restaurant del' Hotel de Ville in 'Old Town' I noticed a winery in the middle of Geneva, and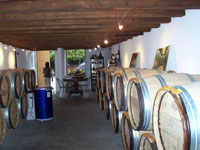 we stopped to meet the owners, who happened to be holding an open house. This winery was so precious, with their beautiful vineyards just next door. The bottling and label designs of their many varieties of wine and grappa were so attractive, and the work areas were immaculate. Gianna and I had much in common personally and professionally and I appreciated all the assistance she gave me in gathering some fantastic material for my readers. She is a great public relations person for this area.
The moral to my story is . . . take the time to get a guide, especially if you are going to an unfamiliar city. The Tourism Offices of every city can assist you in finding the perfect guide.This is a resource that people forget about, but it is the most efficient way toensure you will see the sights of special interest to you in th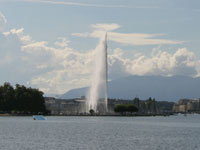 e time you have to spend in their location.
Many thanks to the guides who struggled to understand my poor Italian, French and German, for without them I would have been lost in a sea of miscommunications and precious time lost. Grazie Mille - Merci - Danka and God bless them all!
For tour assistance contact www.ticino.ch or www.geneva-tourisme.ch.
---
Holland America Line Completes Signature of Excellence® Enhancements
Further Upgrades to Vista-class Ships Increase Capacity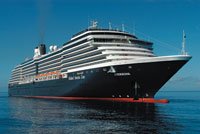 When Holland America Line recently added a new Culinary Arts Center to the final ship in the fleet, all structural changes originally envisioned for the company's $225 million Signature of Excellence initiative were complete. The comprehensive Signature of Excellence upgrades announced nearly three years ago in November 2003 triggered an industry trend of fleet rejuvenations and enhancements to meet the demands of an expanding set of discriminating cruise vacationers. Signature of Excellence features and amenities are evident in every aspect of the Holland America Line cruise experience, offering guests more luxurious accommodations, more enticing destinations, enhanced dining experiences, more creative activities and even higher levels of service. "We invested to realize a vision, and that vision was to make our brand experience even more relevant to today's and tomorrow's premium traveler," said Stein Kruse, president and CEO of Holland America Line. "I believe we've not only delivered on our promise, but exceeded expectations." Signature of Excellence by the numbersAll told during the two-year implementation, 12 Holland America ships spent nearly 200 days in drydock receiving enhancements such as the Mariner's Dream stateroom experience with premium comfort appointments, the Culinary Arts Center presented by Food & Wine magazine, Explorations Cafe – powered by The New York Times, exclusive Pinnacle Grill restaurant, refurbished Crow's Nest observation lounge, expanded youth facilities and enhanced Greenhouse Spa and Salon. A broad range of employees led by Mike Novak, vice president, marine operations, was involved in every aspect of Signature of Excellence, from conception to the final products. Novak's team oversaw the work of nearly 2,000 people, including shipyard workers, contractors and ship personnel. They tested and retested hundreds of items to ensure quality, coordinated delivery schedules and oversaw complex installations. Other statistics on Signature of Excellence include:
10 million hours worked in dry dock – the equivalent of 387 years.
1.2 million pounds of steel installed on the ships.
695,743 luxury items added to staterooms, from sheets to bathrobes to make-up mirrors.
49,372 pieces of electronic equipment, from televisions to CD players, DVD players to computers, installed on the 13 ships.
27,000 book titles added to Explorations Cafés. At one book a week, it would take more than 500 years to read them all.
If you stacked all the new Euro-Top plush mattresses end on end, they would reach
18,985 feet high – just 1,300 feet lower than the summit of Alaska's Mt. McKinley.
254 nautical miles of electrical cable installed on the ships – enough to reach from Ft. Lauderdale to just off shore of Half Moon Cay, Holland America's private Caribbean island.
170 new ways to explore destinations on Medallion/Signature excursions.
60 nationalities represented by people working in the shipyards – a virtual United Nations.
More excellence to come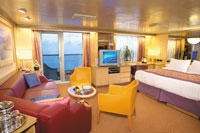 The premium line also is making additional enhancements to the first three Vista-class ships, carrying on the spirit of Signature of Excellence. The fourth Vista-class ship, ms Noordam, was delivered in February with all Signature of Excellence enhancements installed, including an Explorations Café and Pinnacle Bar. These venues, which have been enthusiastically received by guests on Noordam and the rest of the fleet, will be added in the next few years to ms Westerdam, ms Zuiderdam and ms Oosterdam. Those ships also will receive new aft staterooms, increasing their guest capacity to 1,918 — the same as Noordam. All of these changes go beyond the original scope of the Signature of Excellence program. The spirit of excellence also is reflected in the new namesake Signature-class ship, which will be named in the near future and debut in the summer of 2008. For more information on Holland America Line and the Signature of Excellence initiative, travel agents can call 1-800-544-0443 or visit the travel agent headquarters at www.hollandamerica.com.
---
NEW DESTINATION FOR THE NEW YEAR
Opening Soon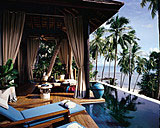 Four Seasons Resort Koh Samui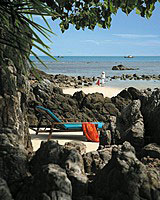 Now Accepting Reservations Set atop the north-western hillside of Laem Yai Bay, overlooking the beaches of the Gulf of Siam, Four Seasons Resort Koh Samui is a private oasis of breathtaking vistas amidst swaying coconut palms.
Offering spacious villas and residences, each with private pools and sundecks, a spa surrounded by a forest of exotic flowers, and exquisite tropical cuisine, this new Resort imparts bliss and serenity. Visit a hidden waterfall on an elephant's back. Embark on a treetop canopy adventure. Or simply enjoy the afternoon stretched out on pristine beaches. With the opening of our newest resort in Thailand, Four Seasons invites you to redefine your idea of getting away from it all.

Contact your travel consultant
---
SKI RESORTS DRESS TO THRILL THIS WINTER WITH
SEDUCTIVE GETAWAYS AND LUXE AMENITIES

-- The forecast calls for fashionable white
from the East to the West to the Alps --
White is going to be in this season, dahling, and nowhere more so than on the slopes. From the peaks of the east to the jewels of the Rockies to the legendarily challenging runs of the Swiss Alps, the world's most enticing mountain-based resorts are dressing to thrill with seductive packages for skiers of every ability. With enticing amenities such as ultra-luxury accommodations, multi-day lift tickets, top-flight instruction, cultural curiosities and more, they're the only way to experience winters best at the most generous rates. Don't forget to accessorize with black diamonds – double, if you dare:

Go for the Gold: While the next Winter Olympics is four years away, travelers with a hankering for icy competitiveness can experience the Games at The Whiteface Lodge in Lake Placid, New York. An exceptional venue for winter sports aficionados, the award-winning "Great Camp"-style lodge offers easy convenience to Whiteface Mountain – the greatest vertical east of the Rockies. The Lodge's Experience the Olympics Package puts you on the ice and the slopes at Lake Placid where the 1980 and 1932 Winter Games un-spooled, including: Three-day lift ticket at Whiteface Mountain, adult group ski lesson, National Standard Race (NASTAR) run, afternoon cross-country skiing trail pass, ice skating on the Legendary Olympic Oval, $10 off a bobsled ride, admission to the Ski Jumping complex, with an elevator ride to the top of the 120-meter jump, and admission to the Winter Olympic Museum. All accommodations at The Whiteface Lodge are dressed up with the finest Adirondack-style furnishings: couples enjoy two-nights in a private one-bedroom residence with fireplace and two-person Jacuzzi, while families of four score two-bedroom residences. From $1,600 per couple or $2,475 for a family of four, including Daily Resort Fee, excluding tax; available December 1, 2006-April 16, 2007. For reservations and information: (800) 903-4045, www.thewhitefacelodge.com.

- Rocky Mountain Highest: There's no better place to revel in the glory of Aspen than in an ultra-luxury residence from Villazzo. The Miami-based VillaHotel operator recently opened two new properties amid the Rockies' most glamorous local, both graced with five-star hotel-style services and amenities that have made Villazzo so renowned. Set in the exclusive hills of Smuggler Mountain just minutes from town, VillaHotel La Niche is a splendid location for families or couples, with five bedrooms, six full and one half baths, separate guest house, indoor Jacuzzi and outdoor barbeque area overlooking the Aspen mountains (from $4,200/night for seven nights). VillaHotel Bear's Creek (from $5,400/ night for seven nights) is a magnificent, 4,000 square-foot mansion on one acre with stunning views of Aspen mountain as well as four bedrooms, four full and one half baths and a gourmet kitchen. The VillaHotel's jaw-dropping master suite has a fireplace, large Jacuzzi and sitting room with mountain views, while another Jacuzzi outdoors, barbeque area with teak furniture and lush landscaping are welcoming whatever the season (from $4,200/night for seven nights). For reservations and information: (877) VILLAZZO, www.villazzo.com.

- Romancing the Slopes: Recently named the World's Leading Ski Resort by the World Travel Awards, Badrutt's Palace in St. Moritz, Switzerland is living up to the hype with a season full of savings and events. When the historic grand palace hotel opens for winter on December 5, 2006, winter sports lovers can toast the world's most challenging Alpine skiing at Le Bistro, a new and stylish French restaurant with menu by Executive Chef Frédéric Breuil. For romantics they can heat things up at Badrutt's with ski packages offering savings of more than 50%. Try the two-night Romantic Getaway for two with accommodations in a Deluxe Room, daily buffet breakfast, complimentary mini-bar, one bottle of Champagne upon arrival, one candle-light dinner in Le Restaurant including wine, non-alcoholic beverages, one after drink in the King's Club, a one-day ski pass valid for the entire region, one herbal steam & Cleopatra skin bath for two at Daniela Steiner Beauty Spa, horse-drawn carriage ride to Fex Valley with transport to Sils and back, complimentary shuttle to ski lift and free entrance to the King's Club (from CHF 2,120/double – a 56% discount on rack rates.) For information or reservations: Badrutt's Palace (800) 745-8883, or www.badruttspalace.com.

- Take it from the Top: As anybody who has ever faced a black diamond run knows, skiing can seem the most solitary of sports. So wouldn't it be nice to have a little help before you hit the slopes? The complimentary Ski Concierge Service at Topnotch Resort and Spa in Stowe, Vermont assures that everything will be ready and waiting for you, from top-of-the-line boots, skis and bindings to lift tickets at area ski locales including nearby Smugglers Notch and Stowe – both rated in the Top Ten in the east by readers of SKI magazine – and much more. And should you not fare so well on the mountains, the newly renovated Spa at Topnotch has 30 treatment rooms and more than 120 rejuvenating and exotic treatments and services to give you back your edge. Winter rates at Topnotch start at $295/night for a deluxe double. For information or reservations: (800) 451-8686, or www.topnotchresort.com
---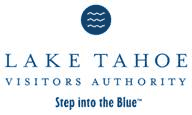 THE BLUE WORLD TURNS WHITE WITH NEW WONDER
FOR WINTER 2006-2007
South Shore Lake Tahoe Boasts New Nightlife, A New Casino & Spa, Winter Lodging Packages, Property Renovations, Mountain Ski Resort Enhancements and More!
Winter welcomes South Shore visitors and locals with more than fresh powder! Along with some of the best snowfall in the country comes headliner concerts, holiday entertainment, festivals, a brand new casino, Tahoe's own Film Festival, gay ski weeks, ongoing regeneration, first-class skiing and riding and a multitude of outdoor winter recreation. These are just some of the options going on at South Shore Lake Tahoe this winter.
WHAT'S HAPPENING ON THE SKI FRONT Last year, Travelgirl Magazine named South Shore Lake Tahoe number ten in its top 13 "Favorite Winter Wonderlands" (Winter 2005). "This year recognition of winter in South Shore Lake Tahoe will be at its all time best," says Patrick Kaler, executive director Lake Tahoe Visitors Authority. "Our ski resorts along with lodging properties and casinos continue to expand their offerings making winter a most-experience season." For upcoming schedule and resort accomodations please visit www.BlueLakeTahoe.com.
---
HACIENDA PETAC, YUCATAN, MEXICO OFFERS
THE BIRDER'S PACKAGE - THE ROAD LESS TRAVELED
Often the road less traveled is the one preferred by birds and birders around the globe. Each year the Audubon Society promotes an annual Bird Count -- a three-week period during which thousands of avid bird watching groups convene on designated days and count every bird they see or hear within a specific range. The state of Yucatan is home to 442 of the 543 bird species registered for the entire peninsula.
To highlight this fact, Hacienda Petac, in the Yucatan has designed a special package for the months of November and December featuring a day in the region with an ornithologist, including a coastal excursion to either Celestun or Chicxulub - depending on migration of birds, or preference of guests. A five night minimum stay at the luxury Hacienda Petac is for 5 individuals or a family group of 10. It also includes a full service staff of 20 with concierge/manager, all meals and non-alcoholic beverages, one round-trip ground transfer by van between Mérida and Hacienda Petac, evening serenade by traditional Yucatan Trova, day at the beach with a guided tour of bird sanctuary, excursion to Mayan ruins of Uxmal, daily laundry/nightly turn-down, all government taxes (17%). Cost for 10 people double occupancy is $150 per person per night. Cost for groups of 5, single occupancy is $240 per person per night.
This gracious estate has been restored exquisitely, respecting its historical and cultural legacy. The original exterior walls have been painstakingly preserved and the interiors in peach, terra cotta and cornflower blue recall its 400-year-old splendor. Colonial antiques and custom-designed furnishings lend authentic charm and warmth. The sweet and attentive Mayan staff adds to the feeling of a luxurious, private home. This is a perfect place to enjoy an authentic Mayan and Mexican experience in a stylish, home-like setting.
There are five spacious guest rooms from which to choose, located in three buildings surrounding the main house. Each room has soaring ceilings and beautiful, native-stone bathrooms with shower and tub. The two Master suites hold king-size beds. Two other rooms have queen-sized beds, and one room has two double beds. There is air conditioning in each room, but if you prefer the abundant natural breezes, there are ceiling fans and large windows. The absence of televisions and telephone in the rooms enhances the Hacienda's serenity.
Hacienda Petac is located approximately 30 minutes from Merida International Airport, which is served by frequent flights from Houston, Miami, Atlanta and Mexico City. From Cancun, the Hacienda is a three-hour drive. For guests who wish to explore the diverse attractions of this region, several of the world's finest Mayan archeological sites, wildlife reserves, and underwater caves are within an hour.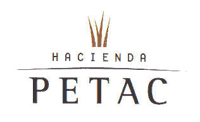 For reservations and information, call toll free (800) 225-4255 or (203) 602-0300. Hacienda Petac's website is www.haciendapetac.com