TRAVEL ADVENTURES  .  .  .
VILLA D' ESTE CELEBRATES 147TH ANNIVERSARY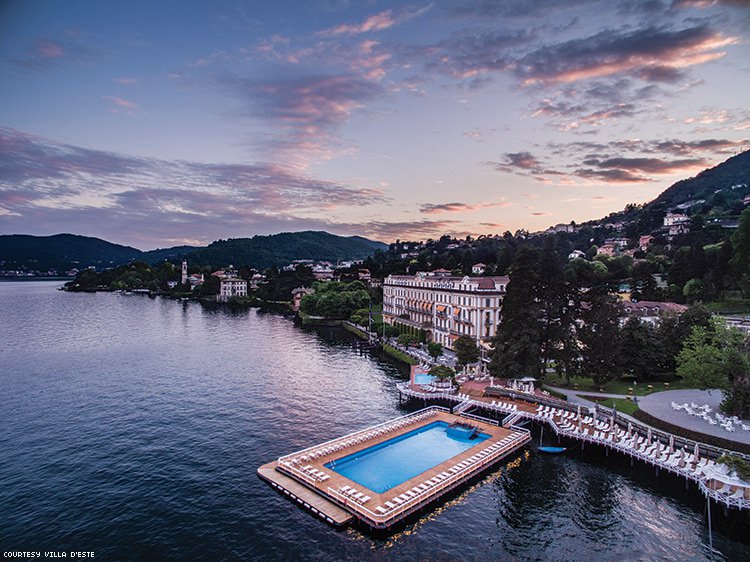 The exquisite Villa d' Este Hotel is celebrating 147 years on Lake Como, Italy this month. The hotel has been the respite of Kings, Cardinal's and was once a convent in it earlier times. Royalty and film mogels spent private vacation time at the peaceful and beautiful destiation where Italian service and excellence in food are renowned. This property is my favorite in Italy and I think will always be. Congratulations Villa d'Este - Happy Birthday!
___________________________________________________________________
The Clement Hotel in Palo Alto, CA Named Four-Star In 
Forbes Travel Guide's 2020 Star Awards
The Clement Hotel Earns Prestigious Accolade; 
All Ratings Showcased on ForbesTravelGuide.com
Forbes Travel Guide ("FTG"), the world-renowned and only global rating system for luxury hotels, restaurants and spas, today announced its annual Star Rating list, presenting The Clement Hotel with a new Forbes Travel Guide Four-Star hotel award. The Clement Hotel will be showcased with all of the Star Award winners on ForbesTravelGuide.com. 
The all-inclusive hotel of the future has arrived with The Clement Hotel, where a personal chef and concierge come standard and everything is customized to your individual preference. Everything from room service, to a 24-hour guest pantry (grab local favorite Tin Pot Creamery ice cream from the freezer whenever the urge hits you!), to valet parking and gratuities are included with your stay.
You'll find the upscale 23-suite boutique hotel centrally located across from Stanford University with Downtown Palo Alto's chic shops, tasty restaurants and soothing spas just a short walk away.
The Clement Hotel strives to be a home away from home and invites you to think of the shared spaces — a living room, dining room and kitchen — as your own. Here, everything will be taken care of for you and you won't have to lift a finger. Staff members are your welcoming hosts, greeting you by name with your preferred beverage.
"This is such an honor and validation of the commitment of our ownership to be Silicon Valley's best hotel experience. The guest experience is what we take pride in, this is a wonderful acknowledgment of those efforts, " said The Clement Hotel's General Manager, Sebastian Royce Stacey.
"We have been committed to championing genuine Five-Star service for more than 60 years, and this year's winners, as always, exemplify the very highest standards in hospitality," said Filip Boyen, CEO of Forbes Travel Guide. 
"It is difficult to earn a Forbes Travel Guide rating, and all our Star-Rated winners have shown how incredibly deserving they are of their accolades by demonstrating sheer dedication in their passion for service. We congratulate them all." 
To view the full Star Ratings for 2020, visit ForbesTravelGuide.com.
I have visited this hotel  during a travel trip from Santa Barbara to San Francisco for Chinese New Year and it was a delightful hotel in a charming community with a bevy of great restaurants and fun shopping. I'm sure the new changes will make it even more satisfying. For people from Santa  Barbara you might enjoy knowing the Amtrak will take you to a connecting CalTrans train that stops 1 block from the Clement and its a short ride to San Francisco to spend the day shopping, museum hopping or dining in China Town.   BC
__________________________________________________________________
Downtown Grand Hotel & Casino Reaches Milestone Topping Out of Expansive, Third Tower
Newly-Released Renderings Highlight Stylish Studio and Suite Design
NEW TOWER ON TRACK TO OPEN SEPTEMBER 2020
Thirteen months after breaking ground, the Downtown Grand Hotel & Casino has topped out on its expansive, third hotel tower. The announcement comes in conjunction with newly-released room renderings highlighting the stylish design of the studio king and one-bedroom suite offerings. Boasting over 250,000 square feet of additional hospitality space the new tower is on track to begin booking this spring for stays starting in September 2020.

Anchored by seven guest-room floors and adding 495 new rooms to the property's existing inventory of 629, the Downtown Grand's third tower, located on the east side of the property and flanked by Stewart and Ogden, will redefine the intersection of 4th and Ogden with clean-lines, contemporary architecture and modern suites. The sleek, detailed exterior coupled with a strengthened pedestrian view will give the property an increased street-level presence and a dynamic new entrance to the hotel's casino floor.

With an emphasis on providing a boutique hotel experience for the modern traveler in Las Vegas, guests will also experience a significant increase in the suite life with a premier room list that includes 67 studio units, 20 one-bedroom suites, and three Presidential Suites each complete with nearly 1,500 square feet of living space.
To accommodate the additional room inventory, the property has also begun work on expanding the footprint of its current fitness center. Located in the existing casino tower, the upgraded gym will offer over 1,500 square feet of workout space and provide guests with a state-of-the-art setting featuring a healthy combination of machines and free weights.
"The topping out of our newest tower is an energizing milestone for all of us at the property," said John Culetsu, VP and Managing Director of the Downtown Grand. "We are in the final phases of development and closer to the ultimate goal of extending our revered guest experience to many more travelers. We look forward to delivering the city's newest room product this fall."
The Downtown Grand reimagined the downtown traveler when it opened in 2013. Defined by its industrial chic aura and highlighted by open ceilings, ornate fixtures, and heavy structural elements the hotel was at the forefront of the Downtown Las Vegas resurgence along with the relocation of Zappos headquarters, the development of the Fremont East District, and Life is Beautiful Music Festival. Six years later, the property continues to serve as a central hub to both tourists and locals alike for all of Downtown Las Vegas' events and happenings.
About Downtown Grand Hotel & Casino:
Awarded the 2019 TripAdvisor® Certificate of Excellence, Downtown Grand Hotel & Casino is a unique hospitality and entertainment destination right in the heart of revitalized downtown Las Vegas. Located on 3rd Street between Ogden and Stewart, Downtown Grand encompasses an entire urban block of hotel, casino and dining amenities. With its third hotel tower under construction and set to open in 2020, the property currently features an 18-story and 25-story tower adjoined by a walking bridge elevated over 3rd Street, with 629 guest rooms and suites offering luxury accommodations that set a new standard for sophistication and style in downtown Las Vegas. Downtown Grand's casino offerings include 25,000 square feet of gaming space with nearly 500 of the hottest slot machines, table games and a fully featured sports book powered by William Hill. Restaurants, bars and entertainment options include Freedom Beat, Furnace Bar, Art Bar, Sidebar, The Spare Room Showroom, and the award-winning Las Vegas steakhouse Triple George Grill. Partnering venues include the famous Hogs & Heifers saloon and Pizza Rock, renowned as one of the best pizza restaurants in the city. Downtown Grand features Citrus Grand Pool Deck, a rooftop pool experience with more than 35,000 square feet of entertainment and special event space, an infinity pool, restaurant and bar, semi-private cabanas, a fire pit and a grass seating area.
Downtown Grand Hotel & Casino is a member of the Preferred Hotels & Resorts Connect Collection. All guests of are eligible to enroll in the
I Prefer
hotel rewards program, which extends points redeemable for cash-value Reward Certificates, elite status, and special benefits such as complimentary Internet to members upon every stay at more than 700 participating Preferred Hotels & Resorts locations worldwide.
For more information, call (702) 719-5100 or go to DowntownGrand.com.
---