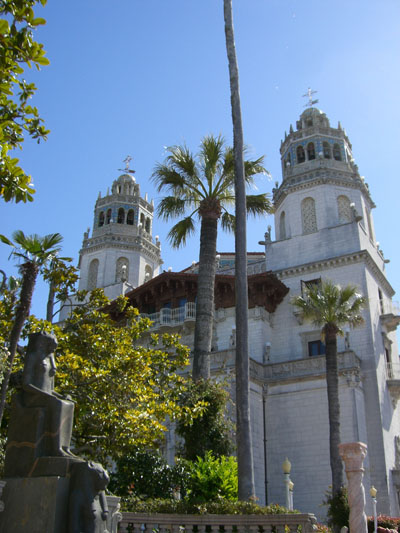 ON 'THE LIST' AT HEARST CASTLE
Favorite Bites Enjoyed by Guests of William Randolph Hearst
By Bonnie Carroll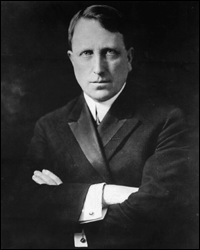 The parties William Randolph Hearst and Marion Davies threw at the Hearst Castle generated volumes of news stories, and an invite to dine at Hearst's table was considered an honor, and could make or break the career of any aspiring film star. Hearst's remarkable parties were also attended by political leaders, renowned writers, industrialists, award winning actors and anyone else of world interest. Costume parties were a favorite of the couple during their life together at 'the ranch' as it was referred to by Mr. Hearst.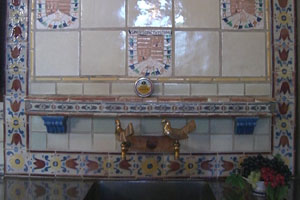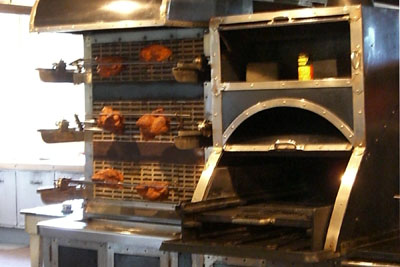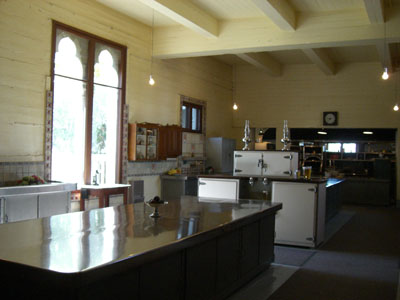 Food Preparation was done in a huge kitchen by a staff of fifteen employees, many of whom lived in buildings on the property. Vegetables and fruits used for menus were grown on the ranch, and beef, lamb, venison, pheasant, chicken, turkey and squab were also raised there for eating purposes.  The kitchen was an artwork in itself, with golden bird faucet's on the sink, and a French style roasting area that would put any brasserie in Paris to shame.
An automatic egg cooker prepared perfectly done eggs, and the latest food service equipment for the time was available to the staff, including a huge refrigerator that held large amounts of perishables. Dairy products were abundant from ranch cows on the property. Only eggs, lobster, seafood and fresh clams were brought up for special menus.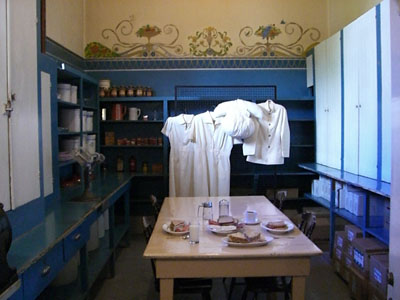 The staff pantry, which was where the staff ate and kept their uniforms, was a recipe center where Hearst's favorite dishes were kept on record for preparation. Two women who worked at the Castle, Marjorie Collord and Ann Miller Lopez subsequently wrote "The Castle Cookbook" from which the recipes in this story were taken, and I thank them.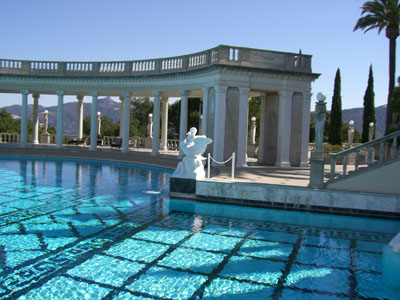 Breakfast was a 'come and get it when you wake up' agenda, where special dishes could be ordered or a table of cold items was available for individual selection. Guests would be summond to lunch by a brass cowbell the butler would ring each day, and a buffet would be served on a long grill for guest to select the items that appealed to them. All guests were welcome to use riding clothes to take a ride after lunch, swim in the outdoor pool, or play tennis.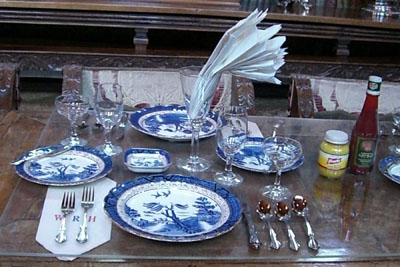 The dining hall, later referred to as the Refectory, was an enormous room that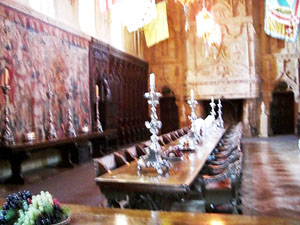 looked like the place King Arthur and his knights gathered in the days of old, complete with flags bearing royal crests hanging from the artistically carved ceiling. The back wall was a massive fire place decorated with ornate sculptures, and huge tapestries graced the side walls. Large silver antique candlesticks provided light, and by each setting of Old Willow English china was a bottle of Heinz catsup and French's mustard. This was a quirky request of Mr. Hearst, and people seemed amused by it.
At 7:00 each evening guests would gather in the Assembly Hall for cocktails; they were carefully mixed and served by the butler's. This room provided a social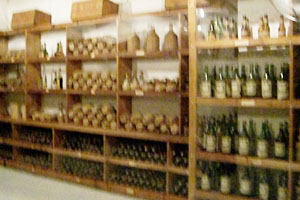 gathering place where games such as bingo, Monopoly and dominoes could be enjoyed. At 9:00 sharp Joseph Kennelly, the butler announced dinner and guests entered the dining hall. Menus served were primarily Mr. Hearst's favorites; some simple, and some from abroad. The wine cellar was stocked well with valuable wine from around the world as well. Below are a few favorite dishes enjoyed at "the ranch" by Mr. Hearst and his guests.
PRESSED DUCK (Favorite Recipes of William Randolph Hearst)
Prepare duck for roasting. Have it at room temperature. Place in a very hot oven. 500 degrees. Roast for 12 minutes. Remove from oven. Remove breast from carcass in one piece: place on a warm platter. Keep warm. Remove legs and joints from carcass and place carcass in a warm duck press. Press duck., removing all blood and juice from carcass. Strain into a warm dish, and add ½ teaspoon soy sauce, ½ teaspoon Worcestershire sauce, salt and pepper.  Pour a small amount of blood and juice around breast on hot platter. Garnish with spiced crab apples and small white onions; cooked. Duck for this dish should be slaughtered in a manner so there is no loss of blood.
POACHED EGGS IN RAREBIT
Contents: 11/2 tablespoons butter, ¼ cup flour, little salt, pinch dry mustard, dash cayenne pepper, toast, 6 eggs, ¼ teaspoon Worcestershire, 2 cups milk, 1 cup grated, sharp natural American cheese.
Method: In double boiler, melt butter. Stir in flour and seasonings, then the milk. Cook, stirring, until thickened and smooth. Add cheese and stir until melted. Break eggs into the rarebit. Cover and cook over simmering water until eggs are set. Serve on toast.
According to William Randolph Hearst, Jr. Mr. Hearst would often go to the kitchen late at night and make this dish rarebit for his guests.
Mr. Hearst was notorious for not approving of alcohol consumption, and for those who choose not to drink a NEARLY CHAMPAGNE cocktail was served which contained apple juice, light corn syrup, sparkling water, lime juice and maraschino cherries. But, for those who like a drink the CASTLE COCKTAIL was made with the following recipe: 2 jiggers vodka, juice of ½ lemons, 1 ½ oz. grenadine, 1 oz. brandy. Fill a 12-oz. glass with ice. Add the vodka, lemon and grenadine. Fill with sparkling water or soda to one inch from the top of the glass. Stir. Float 1 oz. brandy on top and garnish with ½ orange slice and a cherry.
The newspaper tycoon's favorite dessert came from Prudence Penny, a food editor at the Hearst newspaper, which she sent him by teletype.
BOILED APPLE DUMPLINGS (Favorite dessert of Mr. Hearst)
Peel, core and slice apples. Make a rich biscuit dough. Roll out to ½ inch thickness. Lay the slices on the dough. Roll up, tuck in the ends, prick deeply with a fork. Two methods of cooking may be employed. 1. Lay in a steamer and steam hard for 1 ¾ hours, or 2. Wrap in a piece of cheesecloth, well floured. Tie in the ends. Baste up the sides, plunge into boiling water and boil for 1 ½ hours.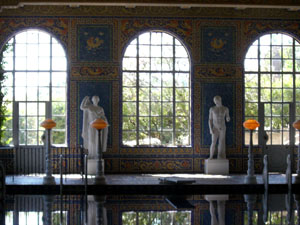 Following dinner guests would go to the theatre to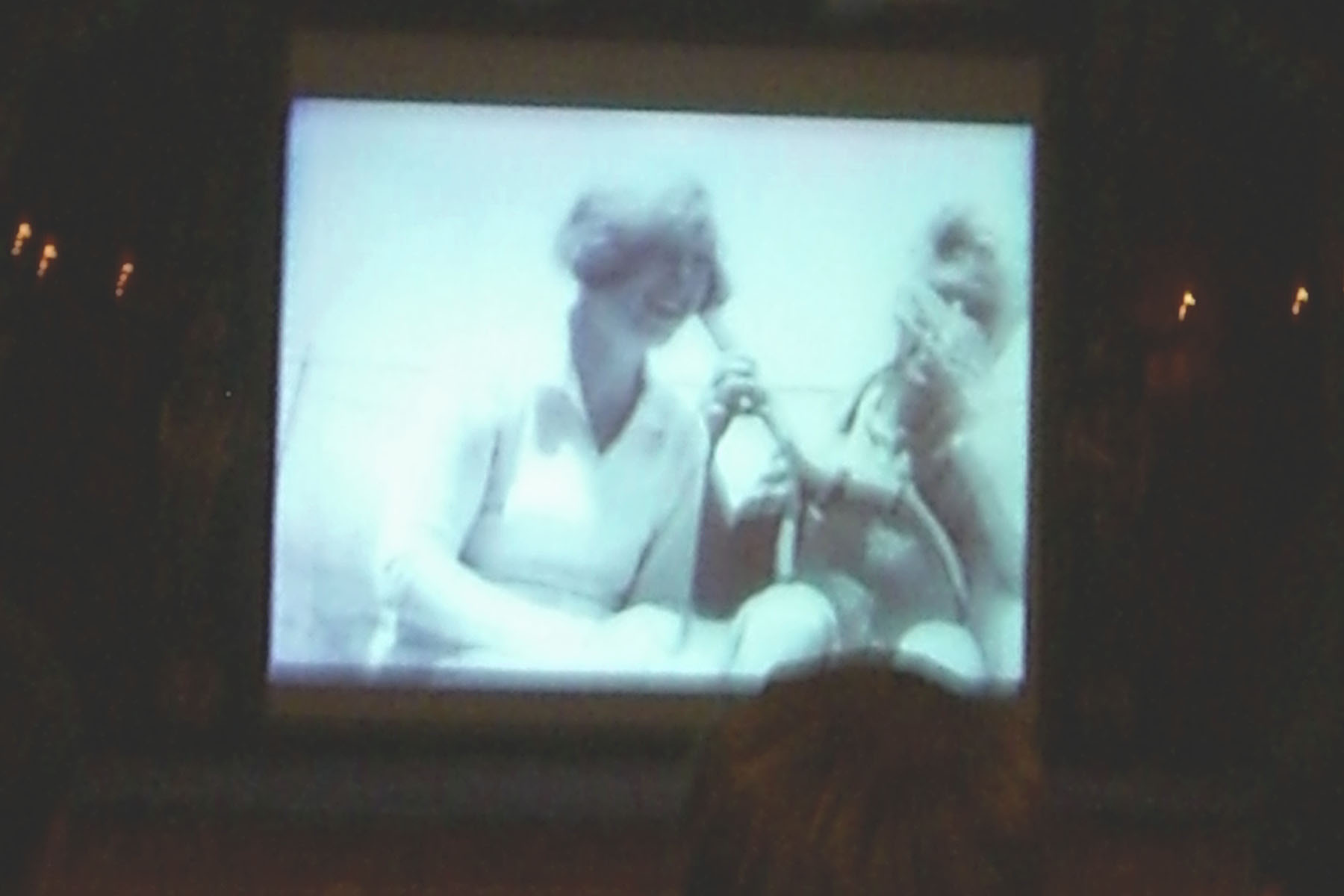 watch a film, with musical accompaniment, that Mr. Hearst had requested flown in from Los Angeles for their evening enjoyment. Each morning a new film and the daily papers would arrive by air. Some guests preferred to take a swim in the Roman Pool or play pool after dinner.
William Randolph Hearst, Jr. disclosed in 1970 that on his father's bedroom wall in the Gothic Suite there is a framed and illuminated quotation from Sir Edward Bulwer-Lytton's play, The Lady of Lyons, which was sent to Mr. Hearst following a visit he had to what he called La Cuesta Encantada (the Enchanted Hill).
La Cuesta Encantada (A description of the California home of Mr. Hearst)
                         The Lady of Lyons, by Sir Edward Bulwer-Lytton
If thou wouldst have me paint
The home to which, could love fulfill its prayers,
This hand would lead thee, listen!
A Palace lifting to eternal summer
Its marble walls, from out a glossy bower
Of coolest foliage musical with birds –
And when night came . . . the perfumed light
Stole through the mists of alabaster lamps,
And every air was heavy with the sighs
Of orange groves and music from sweet lutes,
In the midst of roses!
Dost thou like the picture?
It was indeed a magical journey and a magical place for those who made 'the list' at Hearst Castle, and each morning the beautiful dream would begin again.  I can relate to Sir Edward Bulwer-Lytton's poem for I have been to 'the ranch' many times, and doubt I will ever tire of visiting this majestic flash from the past venue. For reservations or book information visit: www.hearstcastle.com.
                                                                                                                         HEARST CASTLE
Hearst San Simeon State Historical Monument
750 Hearst Castle Road - San Simeon, CA 93452
800-444-4445
Getting to Hearst Castle
It is located on the Central Coast halfway between San Francisco and Los Angeles and is approximately four hours either way. Please visit the website for detailed information
---
ALITALIA JOINS AIR FRANCE-KLM GROUP, DELTA AIR LINES IN INDUSTRY'S LEADING TRANS-ATLANTIC JOINT VENTURE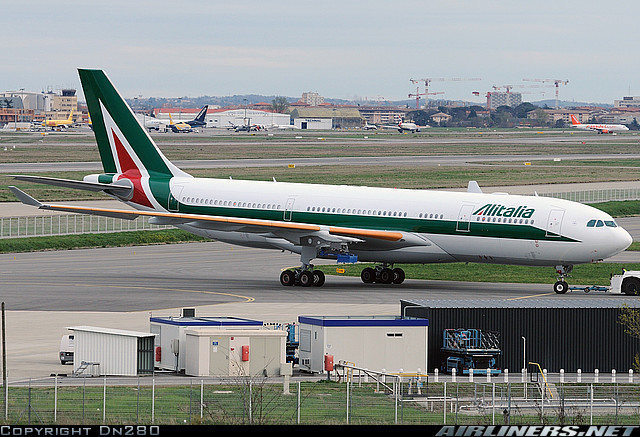 ROME – Alitalia, Italy's leading airline, recently joined the Air France-KLM Group (OTC: FLYY) and Delta Air Lines (NYSE: DAL) as a member of the airline industry's leading trans-Atlantic joint venture. Launched in April 2009, the multi-party agreement created a single, coordinated network for customers flying across the Atlantic, allowing the member airlines to share revenues and costs on their trans-Atlantic routes.

Through the four-way joint venture, passengers have convenient access to the world's largest trans-Atlantic network, which offers almost 250 flights and approximately 55,000 seats each day, now including 20 daily trans-Atlantic flights to five U.S. destinations from Rome and Milan Malpensa airports. With Alitalia's addition, the joint venture represents approximately 26 percent of total trans-Atlantic capacity, with annual revenues estimated at more than $10 billion USD.

Rome joins Amsterdam, Atlanta, Detroit, Minneapolis, New York-JFK and Paris-CDG as the core hubs of the joint venture, with additional trans-Atlantic service from Cincinnati, Milan Malpensa, Memphis and Salt Lake City. Wherever traffic rights permit, the airlines offer customers codeshare service between the United States and the European Union, and in many cases beyond, creating one network for seamless airline-to-airline connections between points in North America and the European Union.

The joint venture's geographic scope includes all flights between North America and Europe, between Amsterdam and India and between North America and Tahiti.

"Today marks an important milestone in Alitalia's development plan," said Alitalia's CEO Rocco Sabelli. "Trans-Atlantic traffic is the most strategic and competitive marketplace. We are proud to be partnering with the world's leading airlines in a joint venture which the whole industry looks at as the benchmark. Such an achievement highlights the valuable results obtained so far by Alitalia, and further opens-up opportunities for our industrial and commercial growth."

"Delta's partnership with Europe's leading airlines has been a great success and has enabled us to add new destinations and convenience for customers across the United States and Europe," said Delta CEO Richard Anderson. "The addition of Alitalia to our joint venture will further bolster our ability to optimize resources, protect revenues and provide more benefits for our employees and shareholders."

"The trans-Atlantic joint venture has been strengthened by the arrival of Alitalia, which adds the Italian market, the third biggest in Europe, to the JV and also gives it access to the Rome- Fiumicino hub," said Air France-KLM CEO Pierre-Henri Gourgeon. "The Italian airline, a SkyTeam member, is a strategic partner of Air France-KLM with which it already has joint venture agreements on its Italy-France and Italy-Netherlands routes. It is therefore natural that this successful partnership should continue with Alitalia's participation in the trans-Atlantic JV."

"The inclusion of Alitalia is an important step for the joint venture and will strengthen the position of the other JV partners in the very important Italian market," said KLM President and CEO Peter Hartman. "Our customers can now choose between multiple gateways in the U.S. as well as in Europe, via Amsterdam Schiphol, Paris Charles de Gaulle and Rome Fiumicino."

Governance of the joint venture will be equally shared between Alitalia, the Air France-KLM Group and Delta. Alitalia representatives will immediately join the joint venture's 11 working groups responsible for implementing and managing the agreement in the areas of network, revenue management, sales, product, frequent flyer, advertising/brand, cargo, operations, information technology, communications and finance. Alitalia also will be included in all joint venture initiatives, including joint sales contracts, which launched in January 2009.

Alitalia's addition to the joint venture is effective April 1, 2010 as part of a long-term agreement effective until at least March 31, 2022.

The long history of cooperation among Air France, KLM and Delta dates to 1997, when KLM signed a joint venture agreement with Northwest Airlines. Delta, which merged with Northwest in 2008, signed its own joint venture agreement with Air France in 2007 following eight years of close trans-Atlantic cooperation. In 2009, both joint ventures were combined into one following the Delta-Northwest and Air France-KLM mergers.

The alliance of the four airlines, which is enabled by trans-Atlantic antitrust immunity granted by the U.S. and European governments, has delivered a number of benefits to consumers over the last decade. Dozens of new routes have been created as a result of the airlines' cooperation, including Delta's first service to London-Heathrow from Atlanta, Minneapolis-St. Paul, Detroit and New York-JFK. New nonstop service has also been launched between mid-sized cities such as Portland, Ore. and Amsterdam; Pittsburgh and Paris; and Salt Lake City and Paris.

Key facts and figures on the expanded joint venture
• Nearly 250 daily trans-Atlantic flights
• Almost 500 destinations in Europe and in North America
• Annual revenues estimated at more than US$10 billion
• More than 100,000 employees at Air France KLM
• More than 70,000 employees at Delta
• More than 14,000 employees at Alitalia

About Alitalia
Alitalia - Compagnia Aerea Italiana started operations in January 2009, following the acquisition of assets from Alitalia - Linee Aeree Italiane, and of Air One. Today Alitalia is Italy's leading airline, serving 22 million passengers with its 158 aircrafts fleet, and operating more than 700
daily flights across a network of 83 destinations. In 2010 Alitalia positioned Air One as a low fares, yet high quality carrier operating from the Milan Malpensa airport. Alitalia is a member of the SkyTeam alliance. Further information is available on www.alitalia.com.

About Air France-KLM
The Air France-KLM Group was set up in 2004 and comprises a holding company and two airlines that have retained their separate brands and identities. Together, Air France and KLM serve an extensive global network structured around their hubs at Paris-Charles de Gaulle and Amsterdam-Schiphol. Currently, the group has a workforce of over 104,000, carries 71.4 million passengers annually to 244 destinations worldwide, and operates a fleet of 594 aircraft. This ranks it first worldwide by turnover, which stood at 21 billion euros in IATA 2009/2010. Air France and KLM are members of the SkyTeam Alliance, whose services span the world. Air France was founded in 1933, KLM in 1919. Full information on corporate.airfrance.com and www.klm.com

About Delta
Delta Air Lines serves more than 160 million customers each year. With its unsurpassed global network, Delta and the Delta Connection carriers offer service to 369 destinations in 67 countries on six continents. Delta, headquartered in Atlanta, employs more than 70,000 employees
worldwide and operates a mainline fleet of more than 700 aircraft. A founding member of the SkyTeam global alliance, Delta participates in the industry's leading trans-Atlantic joint venture with Air France-KLM and Alitalia. Including its worldwide alliance partners, Delta offers customers more than 13,000 daily flights, with hubs in Amsterdam, Atlanta, Cincinnati, Detroit, Memphis, Minneapolis-St. Paul, New York-JFK, Paris-Charles de Gaulle, Salt Lake City and Tokyo-Narita. The airline's service includes the SkyMiles frequent flier program, the world's largest airline loyalty program; the award-winning BusinessElite service; and more than 45 Delta Sky Clubs in airports worldwide. Customers can check in for flights, print boarding passes, check bags and review flight status at delta.com.

About the Joint Venture
With nearly 250 daily trans-Atlantic flights and a fleet of 144 aircraft, the joint venture between Air France-KLM, Alitalia and Delta Air Lines provides customers with the benefits of a vast route network offering more frequencies, competitive fares and harmonized services on all trans- Atlantic flights. The JV network is structured around seven main hubs: Amsterdam, Atlanta, Detroit, Minneapolis, New York-JFK, Paris-CDG and Rome Fiumicino, together with Cincinnati, Lyon, Milan, Memphis and Salt Lake City. The JV offers customers access to 300 destinations beyond the 26 North American gateways and 200 destinations beyond the 33 European gateways throughout Europe, Asia and Latin America. The JV represents 26% of total trans- Atlantic capacity and generates $10 billion in annual revenues. Under the terms of this agreement, the partners jointly operate their trans-Atlantic routes, thereby sharing revenues and costs. For more information on Air France-KLM, Alitalia or Delta go to the respective corporate websites.

---
New Hotels Across England Offer Visitors Unrivaled Luxury From Which to Explore the Country's Most Unique Attractions
Developments Include York's First Five-Star Hotel & Spa, Stratford-upon-Avon's First Boutique Style Hotel and London's Largest Hotel Opening in a Generation
New York (July 27, 2010) – boutique style hotel in Shakespeare's Country, to London's largest hotel opening in a generation with more than 1,000 rooms, travelers to England can benefit from an abundance of options to meet every accommodation need. Including chic and contemporary urban ­­­hotels, sophisticated countryside estates and manor houses featuring imaginative golf courses and spas, properties across England are being created to cater to the most discerning traveler's tastes. Throughout England, significant new hotel openings, situated by some of the country's most iconic attractions, are set to make the destination even more appealing for visitors looking to enjoy luxurious accommodation while exploring England's unique history, heritage, culture and countryside. From the historical city of York's first five-star hotel and spa, to the first
Following the £20 million conversion of the city's old North Eastern Railways Headquarters, Cedar Court Grand Hotel & Spa, which opened in May, 2010, is York's first five-star hotel. Retaining the original features and beauty of the building, the hotel was designed to restore the feel of the Golden Age of travel, while providing visitors with modern and state-of-the-art amenities. In addition to providing guests with electrical outlets that accept British, European or North American plugs, the hotel receives television channels from around the world and when a customer checks in with their credit card, the TV in their room is activated to receive channels from their home country. Furthermore, for guests staying in one of the hotel's four lavish suites, a 24-hour butler service is provided, offering an unparalleled level of personal service. At The Grand restaurant, Head Chef David Sharp sources as many ingredients as possible from local suppliers in Yorkshire ensuring guests enjoy a fresh, local menu. Complete with107 rooms, the hotel will include a swimming pool, gym and Jacuzzi as well as an open-air roof garden that will open later this summer. www.cedarcourthotels.co.uk
Having opened this month after a multi-million pound renovation, The Arden Hotel, operated by the Eden Hotel Collection, is Stratford-upon-Avon's first boutique style hotel. Located opposite the Royal Shakespeare and Swan Theatres and overlooking the River Avon, The Arden Hotel is an ideal choice for travelers visiting the world-renowned Royal Shakespeare Company as well as key attractions in Shakespeare's Country including the birthplace of the world's most famous bard. The hotel's 45 elegant rooms seamlessly combine contemporary design and amenities with timeless luxury, while the new brasserie offers year-round al fresco dining and a stylish Champagne Bar. www.theardenhotelstratford.com
Located on London's South Bank, the Park Plaza Westminster Bridge Hotel, which opened in March of this year, is London's largest hotel opening in a generation. Boasting uninterrupted views of the Houses of Parliament and Big Ben, the 15-story, 1,021-room contemporary hotel, close to the London Eye, includes 54 spacious suites and penthouses, 545 studio rooms and 422 superior rooms as well as five dining and entertainment experiences and a 24-hour concierge. In summer 2010, the hotel will unveil its spa featuring eight treatment rooms, a fitness center, and a 15-meter swimming pool. www.parkplaza.com/hotels/gbwestmi  
Timeless, elegant, sophisticated and luxurious, suitably describe the newly renovated Georgian Coworth Park, part of the prestigious Dorchester collection, opening in Ascot in late summer 2010. Conveniently located just a 20 minute taxi ride from Heathrow Airport, the five-star hotel will offer 69 lavishly appointed guestrooms in three different locations on the property comprised of The Manor - the main house offering extensive views over the pristine gardens and parkland, the stable and 11 private cottages. John Campbell, one of the UK's most celebrated and talented chefs, will oversee all three of the property's restaurants including the Manor House gastronomic restaurant, the converted Barn restaurant adjacent to the stable block, and the Spa restaurant ensuring menus of fresh and seasonal cuisine. Partially built into the landscape, a luxury eco-spa will house eight treatment rooms, including two doubles, a manicure/pedicure salon, relaxation rooms as well as a restaurant serving snacks, light meals, cocktails and Champagne, while a gym and indoor pool with glass walls will lead out to the sun terrace. In keeping with Coworth Park's equestrian history, the property is the only hotel in the UK to have its own polo fields and offers guests horse riding lessons along with the opportunity to learn to play polo. www.coworthpark.com
Recently opened in May 2010, the modern ABode Chester is one of several new properties in Northwest England, featuring 85 guestrooms offering extraordinary views of Chester and the Welsh hills including three opulent suites each with a private balcony. Guests can chose from four room category levels titled "comfortable," "desirable," "enviable" and "fabulous" – all offering well-appointed amenities. The hotel offers several dining choices from Michelin-starred Chef Michael Caines including The Michael Caines Restaurant, Champagne Bar, MC Café Bar & Grill and ABarMC, a late-night lounge bar, which is quickly becoming one of Chester's most desirable venues. Located next to Chester's popular "Roodee" racecourse, the hotel provides a chic base for travelers to explore the city's attractions including Roman ruins, Chester Cathedral and trendy boutiques that dot The Rows. www.abodehotels.co.uk/chester/about
Slated to open in October 2010, Casa Hotel, in the East Midlands, will be Chesterfield's first 4-star hotel, located at the gateway to the Peak District National Park, England's first National Park. Welcoming guests into the brand-new £20 million hotel, the grand reception finished with Spanish marble will set the tone of the property's subtle Spanish theme. In line with its name, Casa Hotel is designed for guests to feel as if they are at their home-away-from-home in one of the 96 guestrooms or four luxurious suites, while in the intimate restaurant guests can enjoy traditional Spanish tapas. www.casahotels.co.uk
Bath's newest townhouse-style hotel, The Halcyon, which opened in February 2010, offers visitors contemporary amenities in a traditional setting convenient for exploring the historic Georgian city that is a UNESCO world heritage site. The hotel offers 21 modern and sumptuously appointed rooms that feature state-of-the-art technology and luxury products as well as an inviting coffee bar that turns into a cozy bar in the evening. Housed in a Grade I listed Georgian townhouse, The Halcyon offers luxury appeal in a straightforward manner. Only minutes away by foot from the train station, the property is set in the heart of the city center allowing guests to easily explore the city's rich history and attractions such as the Roman Baths, Bath Abbey, Pultney Bridge, Thermae Spa and the Royal Crescent. www.thehalcyon.com
Set on a beautifully restored 18th century estate on the banks of the River Tees, Rockliffe Hall, which opened in early 2010, is the newest and most exciting hotel resort to open in North East England, boasting a luxury hotel, a world-class golf course and a state-of-the-art spa. Each of the 61 handsomely appointed rooms offers guests beautiful views of the grounds and golf course, which is one of the longest and most challenging courses in Europe. Guests will instantly unwind as they enter the 50,000 square foot spa that offers a wide range of relaxing treatments, a fitness center and a 20-meter pool where spa butlers keep guests refreshed with Champagne and freshly squeezed juices. www.rockliffehall.com 
Ideal for travelers who love the countryside and properties with history and character, yet hate to lose urban luxuries,   the charming boutique hotel, Heacham Manor in Heacham, West Norfolk, is situated in a converted manor house, offering 14 luxurious bedrooms overlooking the Heacham Manor 18-hole golf course. Re-opened in late 2009, Heacham Manor was originally built in 1580 during the reign of Elizabeth I and features a celebrated 400 year old mulberry tree on the property. The family managed, four-star luxury hotel retains its country charm while affording guests the splendor expected in the finest hotels. Perfect for golfers, Heacham Manor offers guests the opportunity to take a golf lesson from a PGA qualified professional before taking advantage of the picturesque course. The hotel's fresh and seasonal menu is created by Head Chef Neil Rutland who locally sources ingredients to create seasonal dishes of exceptional quality. www.heacham-manor.co.uk
---