HISTORIC BURLINGAME
by Bonnie Carroll
I will begin by telling you that my visit to Burlingame was an accident. My daughter was there for a business meeting over Mother's Day weekend, and invited me to fly to San Francisco and visit with her for the night. It is a short flight from Los Angeles, and the Hyatt shuttle dropped me at the hotel door, where I then spent some time eating dinner and visiting with my eldest child.
In the morning we took a little shuttle to Burlingame for breakfast, and found STACKS, a wonderful fifties type restaurant filled with memorabilia on the good old Route 66 days. But, what I enjoyed most about the restaurant was the friendly service and the delicious seafood crepes and eggs Benedict. After fortifying ourselves with our home style breakfast, we began to walk around this charming little business community, which is home to a surprising number of very trendy shops and novelty stores.
It was great fun picking out some makeup at Sephora, and looking for clothes and jewelry in the many women's boutiques. We spent a good part of the day wandering through the shopping district, and finally headed for the Burlingame Train Station, an historic treasure of the community that is being turned into a museum. Below please read some information on the spot where history was made, and where so many people played their part in the past, future and every day life of the quaint structure that overlooks a park filled with elegant old trees. Burlingame is known as "The City of Trees."
The Burlingame Train Station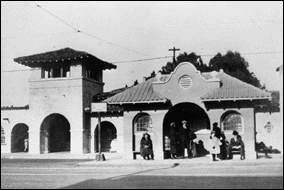 The Burlingame Train Station first opened for service on October 10, 1894. It was the first permanent building of the "Mission-Revival" style, inspired by California's Spanish missions. The train station was built with funds from the Burlingame Country Club, and the architects were George Howard and Joachim B. Mathisen.
Mr. George Gates was the station master in 1895. He and his family lived in the south wing of the station. During his stay, the train station also doubled as the Post Office. Mr. Gates left the station in 1906. By 1903, United Railroads of San Francisco had installed electric streetcars that stopped at the train station. This area was called Burlingame Square. The words " Burlingame Square" are embossed in the pavement surrounding the train station.
The Burlingame Woman's Club, organized a "village improvement" in 1907, and met inside the train station. The club raised money for a "safety station", built in 1908, for passengers of the electric street cars. It was torn down in 1937 to make way for growing automobile traffic. On his way to the Burlingame Country Club, President Theodore Roosevelt arrived at the Burlingame station May 12, 1903, and met with Henry T. Scott, a prominent Hillsborough resident and chairman of the board of directors of Pacific Telephone and Telegraph.
In 1897 a palm tree was planted by Julius Kruttschnitt, and the same palm tree still stands today!
I am delighted that fate gave me a surprise visit to this community of 28,000 people, who represent ancestries of Irish, German, Italian, English, French and Russian. Where the local library has 23,774 books and private education is prevalent. Where the average household income is $69,000, and the average house value is $685,900. Where there are so many delicious looking eateries that I'm sure I will have to make a return gastronomique trip, and the people are busy and alive in a surprisingly natural way. The park near the train station has huge magnificent trees, and is a peaceful place to sit on a bench and wait for the trolley, and absorb the good feelings of a community that has clearly played its part in California history.
Following our quick trolley ride back to the hotel, we had a snack by the pool and said our goodbyes. By 7:00 p.m. I was back on an American Airlines flight to Los Angeles, and by 9:30 I was resting my head on my pillow and thinking about the wind blowing through those big beautiful trees. I was remembering how lovely my daughter looked with the sun shining on her blonde hair, and I was glad to be an American, with full right of passage through a community like Burlingame, and share a memorable day with my dear daughter, while discovering one more city that is an integral part of the beautiful and strong tapestry that blends us all into one great Country. If you wish to visit Burlingame please go to www.Burlingame.com and let your spirit be with the trees!
---
Hot Off The Rocco Forte Hotel Press
Exciting Happenings in Europe for June
Antique lovers have the perfect opportunity to stay at the Hotel Amigo whilst attending the third Brussels Antique Fair in Brussels from June 8012. For information go to www.baafbc.com.

The Hotel Astoria and Angeleterre Hotel have joined forces to form "The Hotel of St. Issac's Square", offering a combined total of 500 bedrooms and meeting facilities for up to 400 delegates in the heart of St. Petersburg - via one booking contact. Visit www.isaac-hotels.ru.

The Chateau De Bagnols has just acquired four bicycles for guests to enjoy a ride around the grounds and explore the Beaujolais country side.

ROME is hosting a special summer program between June 21 and September 21 with open air events, music, concerts, plays and films held in historic venues around the city.

Edinburgh: 2005 Gardening Scotland Show will run from June 3-5 at the Royal Highland Centre, Ingliston. The Royal Highland Show will run June 23-26. Elton John will perform at Easter Road on June 25. Watercolors and drawings from the collection of Queen Elizabeth The Queen Mother will be on display at the Palace of Hollyroodhouse during June.
---
"FOLLOW ME HOME"

Hawaiian Airlines, serving island visitors since 1929, not only offers menus by a Hawaii Regional Cuisine chef, Beverly Gannon, who was a 2004 James Beard award-nominee as "Best Chef Hawaii/Northwest Region," but the airline offers "Hele On", a web site and check-in service for "Baggage Direct", which was launched in September of 2004. The mobile skycap service picks up and delivers bags so customers can go straight to the gate; pre-assigned interisland seating, and Drive-Thru Check-In service for customers departing from Honolulu, both launched in March of 2005. Go to The Nations' #1 on-time carrier at HawaiianAirlines.com.