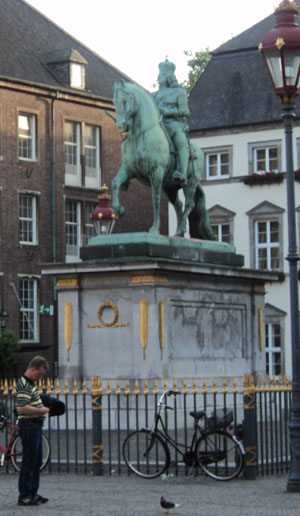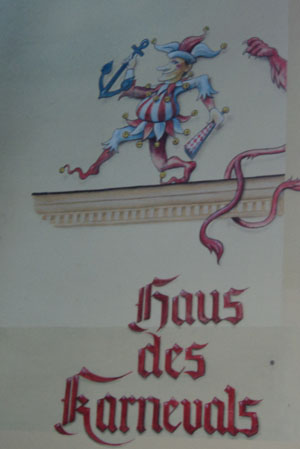 DUSSELDORF . . . A Colorful Stream of Conscious Joy
by Bonnie Carroll
This delightful city is one of Germany's best kept secrets, and what an adventure it was to discover some of the history, gastronomy and fun it has to offer visitors from California who are flying in on Airberlin's non-stop flights from San Francisco and Los Angeles. Dusseldorf was founded in 1288, and is filled with historic reminders of its proud past and thriving future.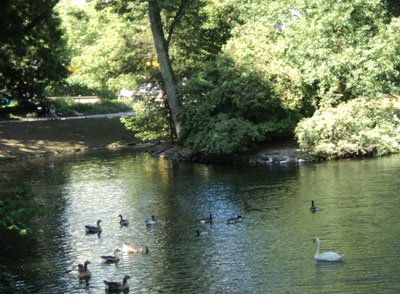 Excellent transportation makes it easy to move around Dusseldorf, and walking through the lovely Hofgarten, Germany's first and oldest public park created in 1769, where visitors have the instant opportunity to synergize with Dusseldorf residents.
The park, which was redesigned by Maxmilian Weyhe in the the 1900s, is filled with families, and children enjoying the lake, where beautiful ducks and swans offer ongoing entertainment, as well as open areas that showcase modern and historic works of art by artists like Henry Moore and Vadim Sidhur that are proudly on display a few feet from one of the city's most historic monuments. From this lovely world of green, referred to as "The Green Lung of Dusseldorf" visitors can easily walk to the Farmer's Market, the chic shopping boulevards, historic churches and a bevy of delightful dining venues.  I was intrigued by the old fashioned telephone booths that line the upscale shopping areas.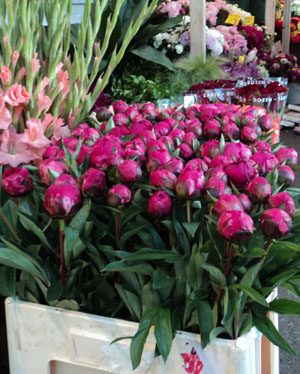 The Farmer's Market in Dusseldorf is overflowing with delicious German fare, produce, spices, flowers, gift items and offers an outdoor dining area where locals may grab a quick lunch or take a break from their marketing. The beautiful presentation of the products was so impressive, and the entire market is a photographer's dream location. Another photo worthy point are the art pillars in various locations honoring outstanding citizens of Dusseldorf.

Shopping here is wundebar, from all the world renowned designer shops to a grand department store Kaufhof in der

KO, founded in 1907. This is an Art Nuevo building that houses a delightful upscale cafeteria called Dinea. It is a very pleasant lunch venue. The food included hot and cold favorites, from specialty German dishes to a selection of wonderful vegetable or fruit salads with all the extras. Soups, egg dishes, sushi, and divine desserts. Beverages included everything from imported coffee to sparkling champagne. The design of the restaurant was simple, efficient and chic, and the staff were very pleasant. A lunch of white asparagus, pickled beets and cucumber salad with iced tea was $12.00. This beautiful store also houses an immaculate grocery store on the lower level that is filled with colorful fresh produce.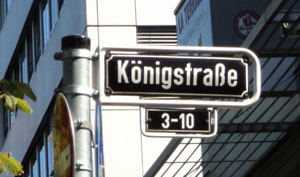 The Konigsalle or "Ko" shopping boulevard is divided by a small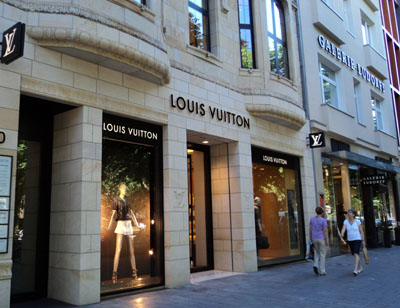 canal, shaded on each side by beautiful old trees. It is a classical European boulevard, and sculpted historic bridges provide walkways from one side to the other. Many areas of the city were completely destroyed during the war, but were rebuilt either to resemble their original architectural style or redesigned in totally contemporary designs that all blend together in a way that's quite appealing to the eye. Although I love historic architecture, I was in awe of the brilliant contemporary design techniques being implemented externally and also for interiors designs of hotels and business structures throughout the city.
Two must see shops in Dusseldorf are the mustard shop Lowensenf, where they demonstrate how to make mustard, and offer tastes of the most delicious and

unusual mustard samples on the planet. Their mustards are packaged in smart jars and tubes that look like toothpaste that are easily transported when returning from your vacation. My other very favorite shop was the Killepitsch store which has a historic looking and inviting tasting bar, located next to a beautiful gift shop at Fluger Strasse 1 in Altstadt, where a bevy of exquisitely packaged liqueur and herbal digestives can be purchased as gifts for friends. I tried the rich red colored Killepitsch, a signature drink, which is said to contain 98 essences including herbs, berries, fruits and 42% alcohol. This famous Dusseldorf digestive is served in restaurants throughout the city and on Airberlin airlines. I found it to be a helpful in recovering from too much rich and delicious German food.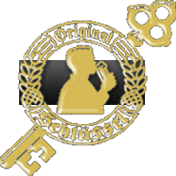 A dining experience at the Zum Schlussel in the heart of Dusseldorf is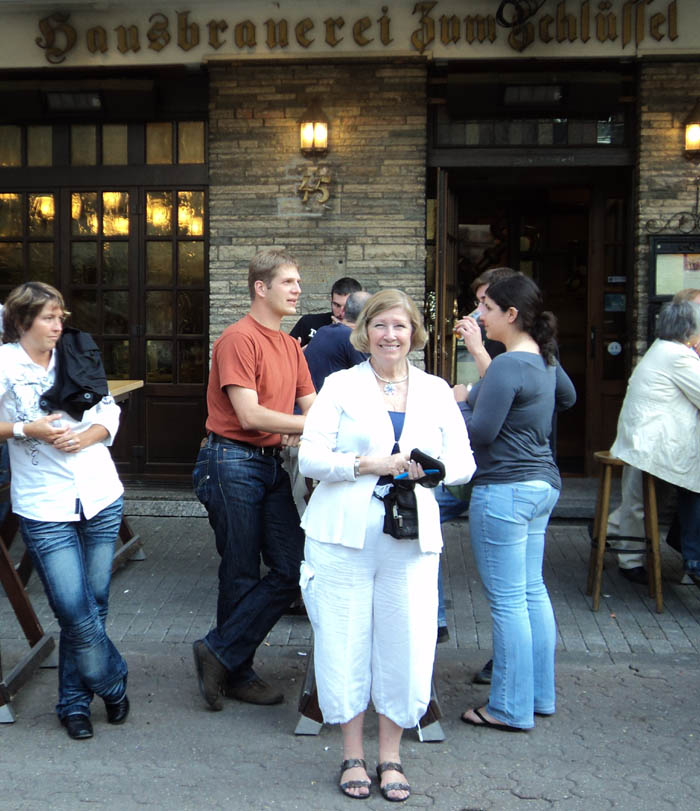 one stop you don't want to miss during your visit. This is the place to dine if you want the real German gastronomique experience in a historic brewery that serves an award winning ale. A menu sample platter offers three varieties of pork preparations including one covered with caraway sauce, and accompanied with sauer kraut, red cabbage, potatoes and apple sauce. The portions are large and this combination proved to be more than a large group could finish.
I enjoyed a plate of Rheinischer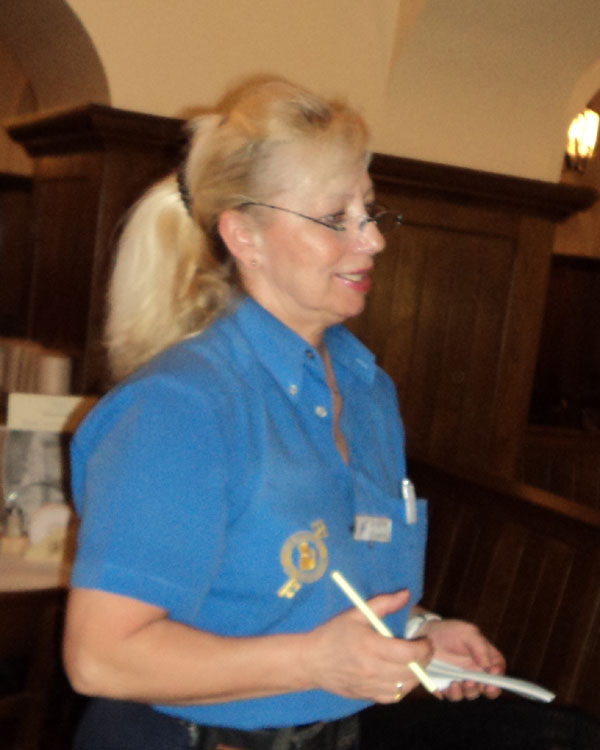 sauerbraten with raisin sauce, red cabbage and potato dumplings that was outstanding. Another great looking dish was a white asparagus plate that featured huge white asparagus with Hollandaise sauce. This delicious white asparagus has a short window of availability in Dusseldorf during the spring and is coveted by the locals. Home made soups on the menu were so appealing and included a potato soup with sausage, a cream of mustard soup Dusseldorf with beet root and boiled egg, and a goulash soup; all served with freshly baked German bread and butter. Apple strudel with vanilla ice cream is a sensational finish to any meal at Zum Schlussel. We so appreciated server Brigette Kastin who was so helpful in assisting us in selecting our dinner items.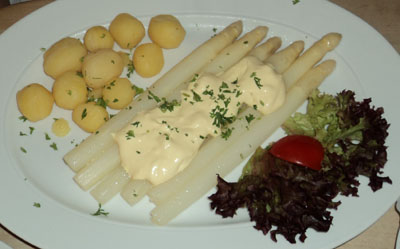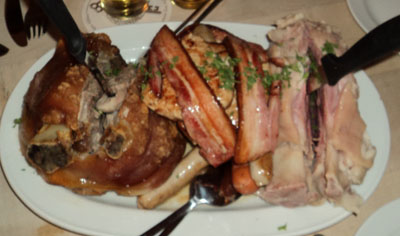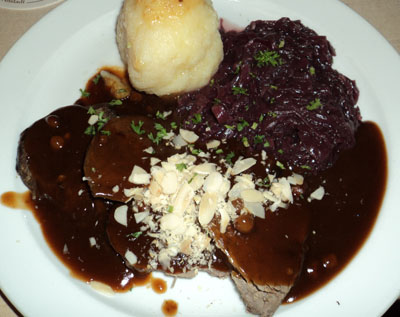 White Asparagus                  Pork Trio                      Sour Braten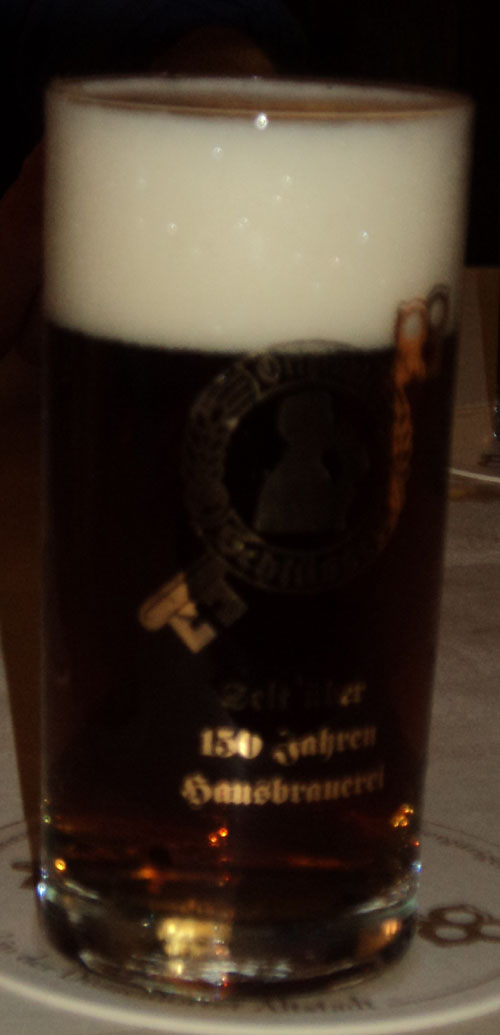 Zum Schlussel Brewery and Restaurant, established in 1850, is the home of a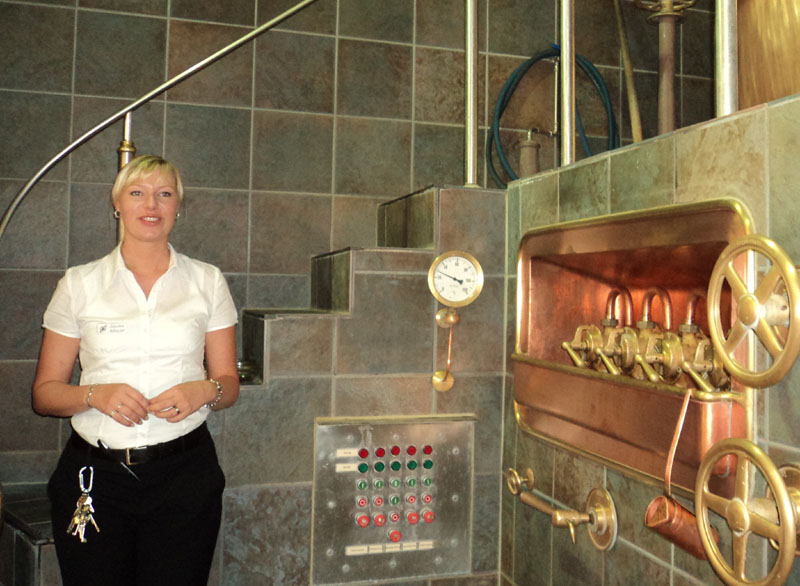 brewery that offers fresh from the barrel renowned German ale. Prior to one of their authentic German home cooked style dinners groups and international visitors are invited to experience a special tour of the brewery beneath the building that is given by restaurant manager Keike Meyer who cheerfully takes guests through the brewery revealing every detail of the art of fine German brewing. Her enthusasism, knowledge of Zum Schlussel and love for this beer was entertaining and inspiring.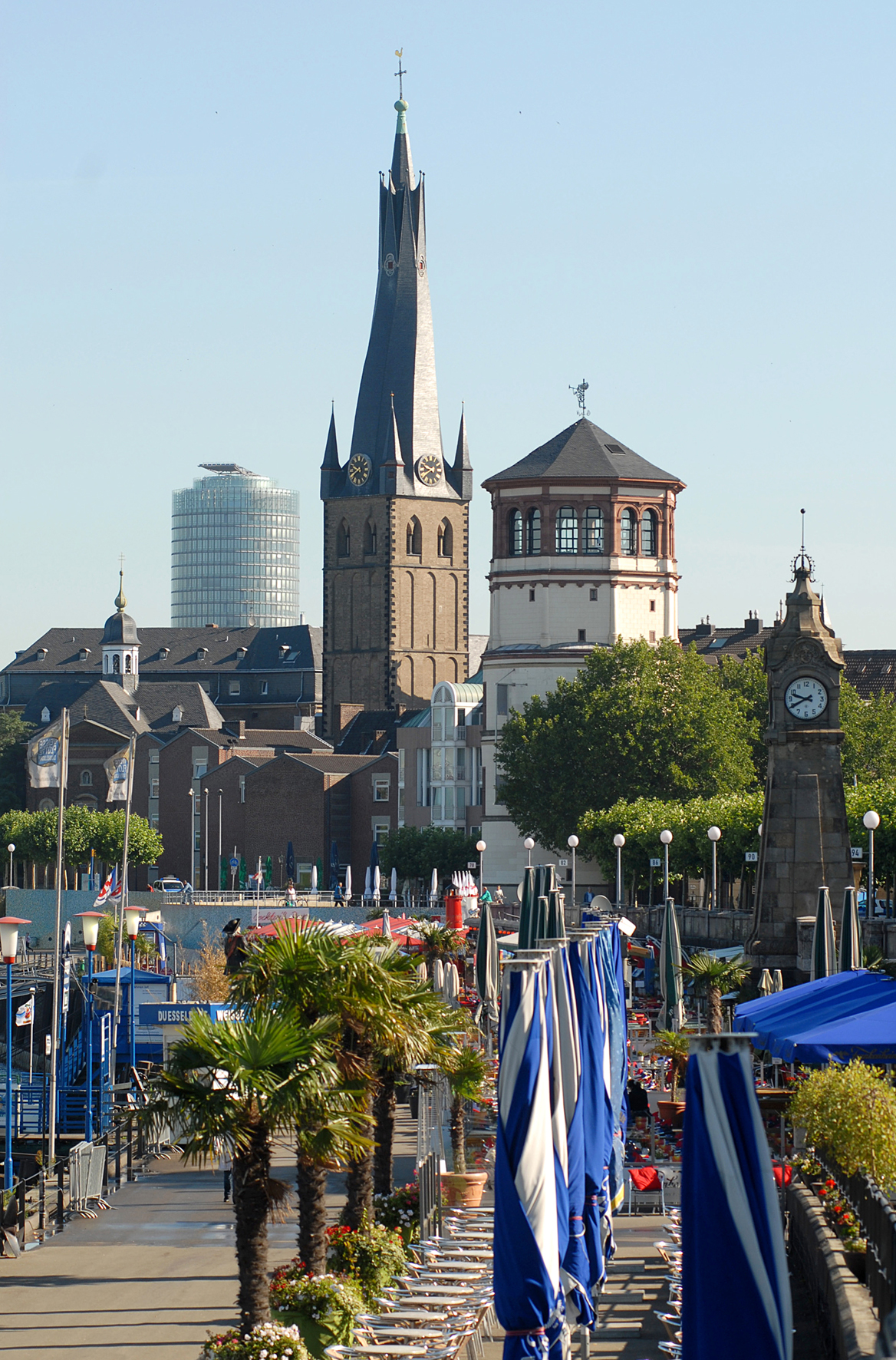 The Altstadt is lined with a bevy of outdoor café's that are packed to the brim with well dressed people all talking and dining.  You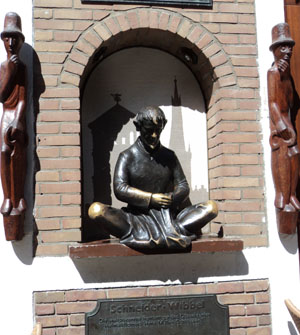 will find a café respresenting practically every country in the world on this street. It is a very international dining district where we visited a delightful Spanish section off the beaten path that has many restaurants featuring very authentic Spanish plates. The café's are named for famous artists and musicians. A walking tour will reveal that courtyard art was very popular and sculptures of famous residents can be found attached to buildings in tucked away places. This is where a good tour guide comes in very handy and will save you time. A Dusseldorf welcome card will also make moving around the city simple. These cards can be obtained from the tourism office. Visit:www.visitduesseldorf.de for 9 euro.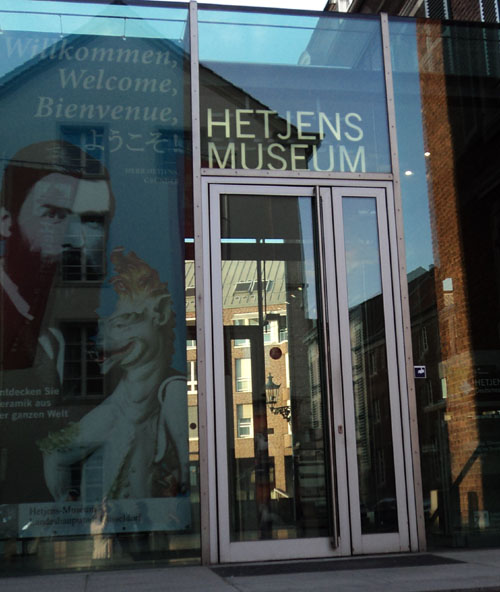 On the walk to the old town area and the fish market by the river's edge we passed one of the most renowned restaurants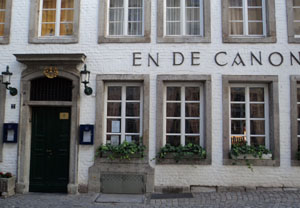 in Dusseldorf, En De Canon, which belonged to a German who married a De Medici. The story goes that when he died she went back to Italy taking her huge collection of Italian art with her, a collection that would have made Dusseldorf a renowned art center had she remained in the city. Museums abound in this city and some include Benrath Palace, Museum of European Garden History, Museum of Natural History, Neanderthal Museum, Goethe Museum Dusseldorf, Heinrich-Heine Institute, Kunst Palace,The Hetjens Museum and Kunstverein established in 1829.
The Rhine promenade in Dusseldorf is a tourist meca, where people enjoy the best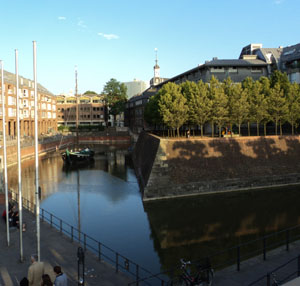 of Rhenish lifestyle on lazy evenings before sunset as they stroll along the cobble stone walkways taking photos, dining in one of the many scenic restaurants or just people watching. This is a fantastic place to view the city, and pick up historic information. A bevy of wonderful little art and jewelry shops can be founding in this area, including a fun shop called Bla Bla Bla. This is a very intriguing art design shop that reminded me of some to be found in Los Angeles.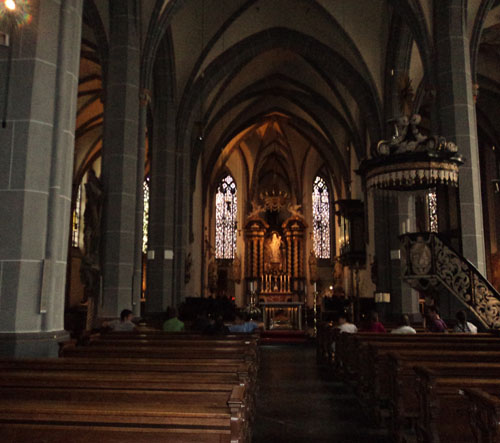 The Cathedrals in Dusseldorf are so beautiful and strong. Basilica St. Lambertus is

renowned for its working organ and is one of the largest in the world. The interior of this cathedral is filled with art and sculptures that tell its great history in the city. St. Andrew's church is a Dominican Parish and was the former Court of the Jesuit church. It is one of the most interesting buildings of late German Renaissance and early Baroque architecture. A Jesuit college was constructed next to this church in the seventeenth century. The organ loft created in 1780-1782 and the Cross by Gabriel de Grupello as well as the exquisite sculpture and artwork throughout this religious venue make it a special place to visit for those with an interest in church history. It is a very beautiful place of worship.
Flying with Airberlin is like a de je vous of former first class flights in bygone days, with all the little finishing touches that can make a flight not only extremely comfortable, but memorable. For information on Airberlin direct flights from California to Dusseldorf visit: www.airberlin.com.
---

Ottawa Canada Day Royal Celebration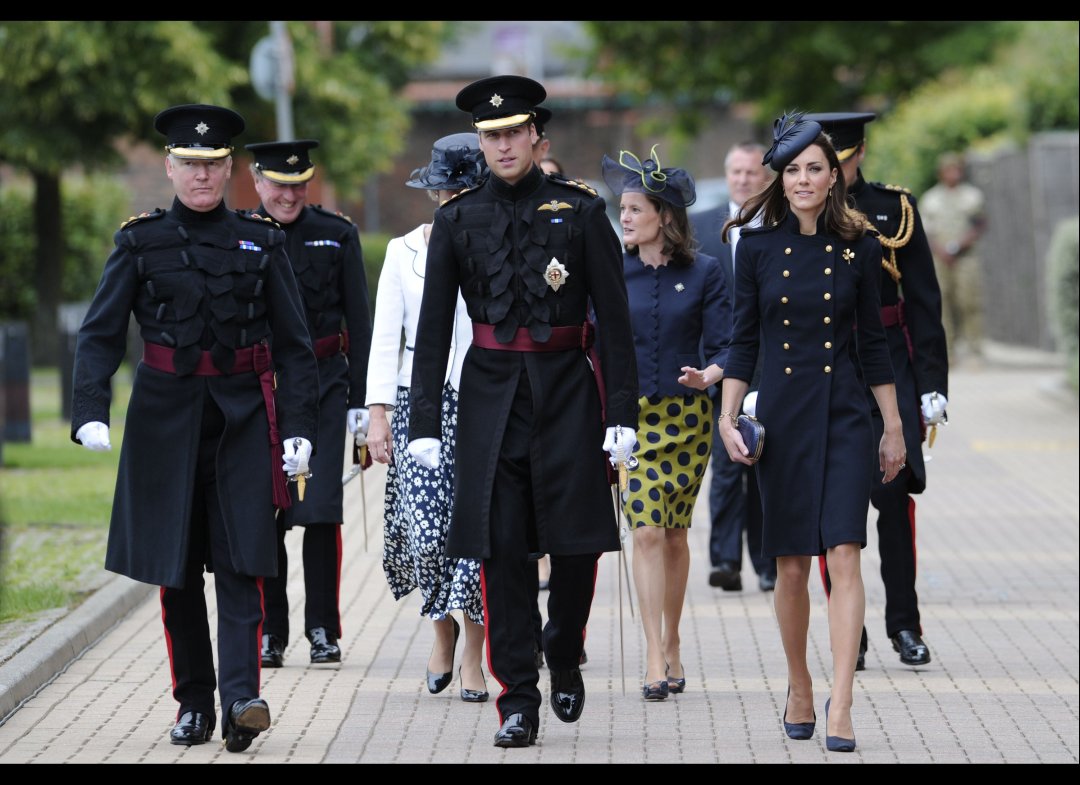 Join newlyweds the Duke and Duchess of Cambridge in Ottawa on July 1st to celebrate Canada's 144th birthday. Watch the royal couple as they voyage along Wellington Street to Parliament Hill for an afternoon of festivities. Listen to performances by Canadian musicians and bands, lunch at the country's Biggest BBQ event and enjoy spectacular fireworks show fit for a king! Delve into the heart of Canada's capital with an expert private walking tour. Featuring elegant accommodations, private transfers & even more, this great escape promises this will be a Canada Day to remember.
---
Stuck at the Airport Doesn't Mean Stuck at an Airport Hotel
Five Hotels Within 15 Minutes of Chicago's O'Hare
 From the unnecessary stress to the interruption of your schedule, flight cancellations and delays can quickly put a damper on any trip, business or pleasure. Instead of camping out on the carpeted floor of your terminal, a quick cab ride can whisk you away to some of the best hotels in Chicagoland. With one of these five hotels located 15 minutes or less from O'Hare, you can't go wrong!
Hyatt Rosemont

With plush down bedding in every one of the 206 luxurious, boutique-style guestrooms, you will feel right at home at the Hyatt Rosemont. The complimentary shuttle to and from O'Hare is perfect for guests looking to get back to the airport on short notice. The Hyatt Rosemont is located at 6350 N. River Road, Rosemont, IL.
Chicago

Marriott Schaumburg

Keep entertained at this hotel with the many attractions nearby such as Woodfield Mall and the Arlington Park Race Track. Onsite Italian eateries, like BlueFire Grille and Bevande Lounge, are the perfect places to unwind after a stressful day of travel. The Chicago Marriott Schaumburg is located at 50 N. Martingale Road, Schaumburg, IL.
InterContinental Chicago O'Hare

Five minutes from O'Hare International Airport and just 14 miles from downtown Chicago, the InterContinental is all about convenience.  Enjoy the in-lobby art gallery and several on-site dining options, including The Capital Grille. The InterContinental Chicago O'Hare is located at 5300 N. River Road, Rosemont, IL.
Hilton Rosemont

The newly renovated Hilton Rosemont offers an oasis for travelers, including the Liberty Tavern, Liberty Tavern Lounge, pool and fitness center. Rest easy on one of Hilton's signature serenity beds before heading out to catch your flight. The Hilton Rosemont is located at 5550 N. River Road, Rosemont, IL. 
 The Renaissance Schaumburg Hotel and Convention Center
With 500 luxurious guest rooms and multiple onsite eateries including acclaimed Sam & Harry's Steakhouse and the newly opened Terrace, The Renaissance Schaumburg Hotel and Convention Center is the perfect spot to unwind. Take a few laps in their mineral pool, one of the only in Illinois, before heading on your way. Located at 1551 N. Thoreau Drive, Schaumburg, IL.

---
SUMMER ALFRESCO WITH FOUR SEASONS HOTEL PRAGUE

                                                                                                              
New package invites discovery this summer with special tours and experiences from Four Seasons
For the summer season, Four Seasons Hotel Prague has created a Summer Alfresco package including two nights accommodation, daily breakfast and lunch for two at Allegro, the only Michelin star restaurant in the city. The package is available from June 26 to September 6, 2011 from EUR 340.00 per night.
Petr Zezula, Chef Concierge at Four Seasons Prague and President of Clef d´Or for the Czech Republic, comments: "Our concierge team is ready to advise on new and exciting activities for individuals, couples and also family getaways. There is so much to do in Prague that can be enjoyed in the outdoors - from classical music concerts to boat trips on Vltava River, historical tram tours and alfresco terrace dining, a summer must-do in the city."
Unique tours
For those passionate about photography or just wanting a different view of the city, the Hotel has created a private Prague at Dawn tour that takes in the early morning sights in the city, including a wonderful breakfast at a traditional art deco restaurant popular with Czech locals - Café Savoy.
A Vintage Car Tour gives guests the opportunity to discover Prague and the surrounding countryside in a stylish vintage car from the 1920s. The city tour can be combined with a half day trip to the medieval Karlstejn Castle where an after-hours tour can be privately arranged or a trip to Nelahozeves Castle. Perhaps a picnic basket from Four Seasons completes the perfect outdoor day. For those who have fantasised about driving a vintage car, 30 minutes of self-driving outside the city can be arranged.
Golfing, running and biking around Prague
Another options for visitors addicted to sport: concierge Peter is a big fan of golf and ready to take guests to the best fields and play. Stanislav, another Concierge team member, regularly participates in the Prague marathon and knows the best running tracks in the city. Hotel guests are invited to join him and explore Prague on the run. Another staff member, Martin, participated in the most difficult bike marathon in Europe – 206 km long in Alps. For guests enjoying cycling, he will prepare the map and take them for ride.
                      DIARIO DE MALLORCA, SPAIN  6/1/11

Petra
Periodistas de EEUU recorren el museo Junípero Serra para ´vender´ el atractivo turístico en América y unir lazos históricos
Las nuevas conexiones aéreas con California provocan gran satisfacción general y no se descarta hermanar el pueblo con la ciudad de Santa Bárbara
La secretaria de la Asociación de Amigos Fray Junípero Serra, Catalina Font (izq.), con dos periodistas. T.O.
 MULTIMEDIA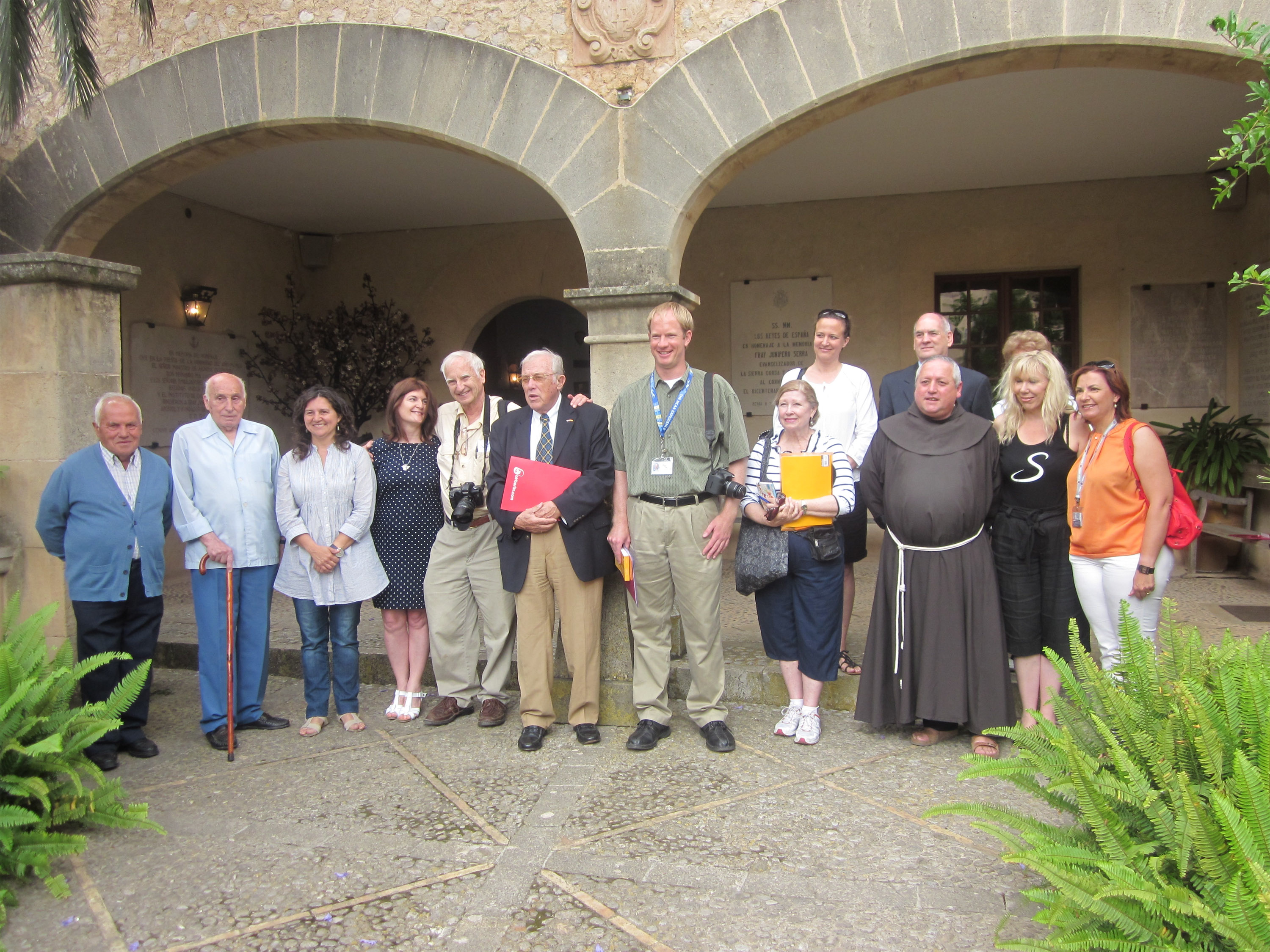 T. OBRADOR "Reactivar un enlace histórico y estimular el flujo de turistas norteamericanos a Mallorca". Estos son algunos de los objetivos de la Asociación de Amigos de Fray Junípero Serra, que también quiere que los ciudadanos de Mallorca y del mundo entero conozcan más y mejor al hombre que protagoniza el museo de Petra. Ayer, un grupo de periodistas de EEUU recorrieron las instalaciones y promocionarán en distintos medios de comunicación de América el atractivo turístico en sí de Petra y de Mallorca en general, estrechando así los "lazos históricos".

El presidente de la asociación, Bartolomé Bestard (excónsul de EEUU en Mallorca) recibió junto a otros miembros de la entidad y la alcaldesa petrera, Catalina Mas, a los periodistas norteamericanos que volaron con Airberlin para encontrar las raíces mallorquinas de California. En concreto se desplazaron Alina Larson, de Guideposts; Sandra Margolis, Show Biz Reporter, LA Splash; Bonnie Carroll, Life Bites News, Food & Home, Beverly Hills Times Magazine; Jeff Barnes, Mission Times Courier, y Dave Bartruff, Marin Magazine. Llegaron el pasado fin de semana y mañana se marcharán, tras visitar Palma, Lluc, Petra y otros puntos, highlights, de la isla.



Una experiencia "excitante"
Los rostros de emoción tras comprobar in situ las ´huellas´ del beato (museo de la calle Barracar Alt, casa pairal y Convent de Sant Bernardí) constataron la importancia del personaje, objeto de mucho estudio en EEUU y ensalzado con una estatua en el Capitolio de Washington. El ilustre franciscano ´Evangelizador de California´, Miquel Josep Serra Ferrer (Petra, 1713-Carmel, 1784), ´Apóstol y Civilizador´, fundó misiones que dieron lugar a ciudades tan importantes como San Diego, Los Ángeles, San Francisco, Santa Clara, San Luis Obispo y Carmel (San Carlos Borromeo).

Las periodistas Sandra Margolis y Bonnie Carroll se expresaron tremendamente felices, destacando la "amabilidad" de los mallorquines. "Todo esto es precioso, muy interesante, con información clara y directa, no deformada. Estamos excitadas por el hecho de estar aquí". Carroll apuntó que en Santa Bárbara hay frailes con igual indumentaria que la del rector Joan Martí, que también asistió al acto de ayer en el museo.

En 2013 se celebrará el 300 aniversario del nacimiento de Junípero Serra. Se prevén expediciones a California y no se descartan publicaciones y hermanamientos del pueblo de Petra por ejemplo con Santa Bárbara, cuya alcaldesa "es joven y tiene mucha energía", comentó Carroll a Catalina Mas.
Airberlin, con las nuevas conexiones de verano, conecta por primera vez Mallorca con Los Ángeles y San Francisco, vía la ciudad germana de Düsseldorf. El precio por el trayecto simple arranca a partir de 348 euros. La aerolínea informa que hay un vuelo diario de Airberlin vía Düsseldorf a Nueva York. También existe la posibilidad de volar a dos ciudades en California. Los Ángeles (cada lunes, jueves y sábado) y San Francisco (cada martes), así como el Caribe mexicano con vuelo a Cancún (despega cada lunes).
http://www.diariodemallorca.es/part-forana/2011/06/01/periodistas-eeuu-recorren-museo-junipero-serra-vender-atractivo-turistico-america-unir-lazos-historicos/674569.html
---
VIRGIN ATLANTIC ANNOUNCES A NEW ROUTE
BETWEEN LONDON AND MEXICO FOR 2012
New Flights are Predicted to Deliver $25 Million of
Revenue to the Cancun Market Each Year
 Today, Virgin Atlantic announced the launch of a new route between London and Cancun, Mexico. The twice-weekly service will begin on June 12, 2012 and will see up to 94,000 customers traveling between London and Cancun in the first year.

The Mexico route is one of Virgin Atlantic's 33 destinations worldwide. The new route is predicted to deliver around US $25 million of tourism revenue to the Cancun market each year and has the potential to create up to 650 jobs in aviation and tourism in Mexico.

The service will be operated by a Boeing 747-400, which will be configured with 14 Upper Class Suites, 58 Premium Economy seats and 379 Economy seats.


---
NEW FACE FOR OLD LONDON LANDMARK LOCATION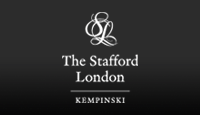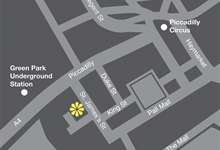 ---
---