Ring in the New Year while Soaking Up the Caribbean Sun on a Windstar Cruise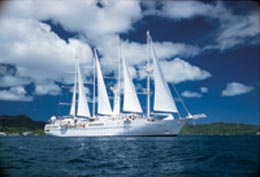 Wind Surf and Wind Spirit Sail Itineraries from Barbados
and St. Thomas

Party hats, noisemakers and champagne are traditional for ringing in the New Year. Add an elegant Windstar Cruises' motor sailing yacht in the sparkling azure waters of the Caribbean and the stage is set for a memorable holiday celebration. "Choosing to go cruising during the holidays can be a liberating experience," says Diane Moore, Windstar's vice president of marketing and sales. "An elegant sailing ship in the Caribbean provides the perfect setting, whether they are looking to escape the pressures of the holidays or simply spend quality time with a significant other. Guests can relax and let other people do the cooking and cleaning. " The 308-guest msy Wind Surf sails an eight-day cruise departing December 30 roundtrip from Bridgetown, Barbados. A get-away-from-it-all itinerary first visits Castries, St. Lucia where the ship will stay until 2:00am to ring in the new year. Continuing on, the ship visits Charlotteville, Tobago; Bequia, The Grenadines; Roseau, Dominica; Kingstown, St. Vincent; and Mayreau, The Grenadines. The 148-guest Wind Spirit sails a seven-day cruise departing December 30 from St. Thomas. New Year's Eve day is spent at the lush island of St. John. The ship departs at 6:00pm for a New Year's Eve celebration at sea with the next day spent at sea for optimal relaxation. Other islands visited include St. Barthélemy, Tortola, Jost Van Dyke and Virgin Gorda. At the New Year's Eve party, a champagne toast in the lounge is accompanied by a ship tradition. The ship's bell is brought from the Bridge to the lounge where the oldest member of the crew rings out the old year, and the youngest rings in the new year. Party hats and noisemakers are festive accompaniments. Lazing in the sun on a white sand beach, snorkeling among colorful schools of fish, exploring islands and enjoying gourmet dining aboard the ship fill the days. Complimentary water sports activities from the water sports platform include kayaking, wind surfing, sailing, water skiing and ski tubing. Snorkeling gear may be checked out for the week. Scuba diving excursions for novice and experienced divers are available for a fee and organized shore excursions are available in most ports. As part of the line's Degrees of Difference initiative, a multi-million dollar investment will be made in all three ships in 2006 and 2007. For the Caribbean season, the Wind Surf will be fresh from a five-week work period in the fall. Work on the Wind Surf will include improvements to the WindSpa, the creation of two new suites, renovated bathrooms, and a new gathering spot on the main deck called the Yacht Club. Rates for the Wind Surf's eight-day New Year's cruise begin at $2,549 per person, based on double occupancy. Rates for the Wind Spirit's seven-day New Year's cruise begin at $2,349 per person, based on double occupancy.
About Windstar Cruises

Seattle-based Windstar Cruises operates three sailing yachts known for their pampering without pretense and their ability to visit the hidden harbors and secluded coves of the world's most treasured destinations. Carrying just 148 to 308 guests, the luxurious ships of Windstar cruise to nearly 50 nations, calling at 100 ports throughout Europe, the Caribbean and the Americas. For more information including brochures, rates and itineraries contact a professional travel agent or call Windstar at 1-800-258-7245. Visit Windstar Cruises online at www.windstarcruises.com.
---
THE BAUER HOTELS MAKES HISTORY BY LAUNCHING THE FIRST
ELECTRO SOLAR-POWERED VAPORETTOTO RIDE THE WATERS OF THE GRAND CANAL AND FIGHT POLUTION IN
VENICE, ITALY; October 5, 2006

Setting an unprecedented example in eco-friendly efforts, THE BAUER, Venice's first luxury hotel and one of the most prestigious family-run properties, has purchased a revolutionary energy-efficient nautical system for its new B MARE shuttle boat. Created by Posidonia Srl and MW Lugano, leaders in Europe for their electric propulsion and solar-energy MW Line™ of boats, this electro solar powered system will allow theB MARE vaporetto (Bauer of the Sea) to operate with NO POLLUTION, NO NOISE, and NO WAVES between the BAUER's main hotel near St. Mark's Square and the new BAUER Palladio Hotel & Spa on Giudecca Island, just across the lagoon. BAUER HOTEL Chair & CEO, Francesca Bortolotto Possati, is the first in Venice to make a substantial effort in providing clean-energy water transportation. Bortolotto Possati a passionale Venetian who works tirelessly to maintain her birthplace and home as a top travel destination, and to prevent Venice's disappearance. "I feel it is my duty to help maintain and preserve the architectural integrity and atmosphere of this unique city for years to come," says Bortolotto Possati. "My family has lived in Venice for many generations and it is my goal to keep our city preserved to every extent possible. I am proud to be the first to introduce solar electric powered travel to Venice with the launch of the B MARE on the Grand Canal." Bortolotto Possati dedicates this gift of environmental preservation to the BAUER's worldwide clientele. This clean-energy initiative will be presented at a press conference and launch ceremony in Venice on October 5, 2006 at 12:00pm. The press conference will be followed by a cocktail reception on the grand terrace at the BAUER HOTEL, located in the historical center of the city, San Marco 1459 Venice, Italy. The electro solar-powered technology of the MW Line™ of Boats and the special features designed specifically for the B MARE lend itself well to being a new water taxi for the future of Venice. Using accumulated solar energy captured through roof panels, the boat can transport 12 passengers at a maximum speed of 9 mph with no pollution, no noise and no waves. It is 28 feet long and designed with maximum safety and style. COST & ENVIRONMENTAL IMPACT: It is estimated that, with this new electro solar-powered system, the B MARE will be nearly 98% more cost-efficient and 84% more energy-efficient than traditional oil/diesel fueled water buses, and will have ZERO carbon dioxide emissions. TECHNOLOGY: The system technology is designed to control all components of the system minimizing user error with manual elements consisting of contact key and electrical cable only. The operator screen is digital and follows all standard electronic regulations. There is no need for external lubrication of components, no combustible parts, the mechanics are simple, and there is no battery maintenance aside from the need to change it once every 7 years. COMMERCIAL IMPACT: MW Lugano debuted this innovative technology at an expo in Lake Morat, Switzerland. The results were based on 12 hours of activity for 160 days and 1 million passengers. Successful examples of the system's usage in commercial tourism have taken place in Lake Geneva, Switzerland and two lakes in France, effectively demonstrating a new opportunity to control our environment while continuing economic enterprise at a greater cost savings. For many years the city of Venice has fought to sustain a balance between nature (in this case, the sea) and man. The BAUER HOTELS' B MARE sets a revolutionary precedent in travel and tourism to help prevent the damage caused by waves, noise and pollution. Bartolotto Possati's efforts are part of a positive and forward-thinking movement toward environmental sustainability, economic savings and growth, and the reduction of dependency on imported energy.
---
THIS HOLIDAY SEASON, MAKE SHOPPING YOUR VACATION AND ESCAPE THE HOLIDAY HUBBUB WITHUNIQUE VACATIONS ONLYFROM THE HISTORY TRAVEL!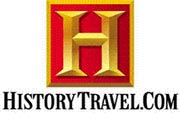 This season make shopping a vacation and get out of town with one of many unique travel packages from History Travel (www.historytravel.com)! Visit the famous markets in Salzburg or spend the holidays on the Danube. This is a perfectopportunity for a single, couple or family to experience the rich and wonderful celebrations in Europe…the perfect opportunity to put the magic back into Christmas. Offering distinctive trips merchandised around the award-winning programming of the History Channel®, History Travel proudly
presents its holiday portfolio – offering something for
every traveler at every price point.

Famous Christmas Markets of Europe (8 Days)
Innsbruck * Zurich * Strasbourg,
Departure, November 28, 2006
Prices starting from $1,785 per person double occupancy

Shop for ornaments, nibble on baked goods, sip hot refreshments, and soak up the festive atmosphere of the Christmas Markets of Innsburck, Zurich, and Strasbourg!

Visit the famous the Swarovski Crystal Worlds in Wattens, Vaduz, the capital of the Principality of Liechtenstein and of course in Zurich, shop the Christmas Markets in one of the most famous shopping streets in Europe
www.aetntravel.com
Enchanted Christmas Markets (8 Days)
Rothenburg * Nuremberg * Munich * Innsbruck
Departure: November 24, 2006
Prices starting from $1,875 per person in double occupancy

Visiting the traditional Christmas markets of Europe is becoming increasingly popular for tourists due to their enchanting festive atmosphere and the unique handiwork of the craftsmen. Not only will you be able to escape the commercialism of the holiday season, but you'll really be able to find some high quality and unique gifts for your family and friends. Make Germany and Austria a can't-miss stop on your Christmas shopping list this year!
www.aentravel.com
Christmas in Europe (9 Days)
Munich * Oberammergau * Innsbruck * Black Forest
Departures: Nov. 24, 28, Dec. 4, 8
Prices starting from $1,529 per person in double occupancy

Our festive holiday program features the traditional Christmas markets, historic towns and spectacular scenery of Europe. Each stop will beckon you with unique handcrafted gifts like Hummels, Cuckoo clocks, and wood carvings. Highlights include a visit to the magical village of Oberammergau which owes its fame to the internationally known "Passion Play," as well as guided tours of Innsbruck, Austria; Munich, Germany; Strasbourg, France; and Lucerne, Switzerland. Enjoy a traditional Black Forest dinner and a concert inside an 850-year-old church; enjoy a picture stop at Wies Church, proclaimed a World Heritage Site; view the most famous castle in Bavaria, Neuschwanstein; and traverse the vineyard fields of the Alsace. There will be plenty of time on this tour to explore the many specialty markets, enjoy the amenities offered at your hotel, or simply savor the breathtaking Alpine scenery.
www.aentravel.com
Mozart's Christmas (8 Days)
Salzburg * Linz * Vienna * Prague
Departures: Nov. 24, 26, 28, 30, Dec. 2, 6, 2006
Prices starting from $1,029 per person in double occupancy

Related Programming on A&E®:
Breakfast with The Arts, airs Sundays @8amET/PT
Join us for a unique holiday celebration in the Imperial cities of Salzburg, Linz, Vienna and Prague. Visit castles and palaces of former emperors and royal families. Enjoy beautiful Gothic, Renaissance and Baroque architecture of a by-gone era. In Salzburg, you will see Mozart's birthplace and tour Mirabell Gardens - a location used in the movie "The Sound of Music." Throughout your tour, you'll have plenty of opportunities to shop for those special holiday gifts in the many Christmas markets. Included with your tour is an unforgettable classical music concert in Vienna.
www.aetntravel.com


Christmas on the Danube (6 Days)
Vienna * Duernstein * Passau * Regensburg * Nuremburg...
Departure: Dec. 23, 2006
Prices starting from $765 double occupancy

Join us in the spirit of the season aboard the MS AMADEUS for 5 nights sailing along the Danube. Enjoy guided tours at each port, Christmas concerts, holiday meals, and special galas aboard your ship. Celebrate the timeless holiday traditions of these European cities while creating new ones for your family.
www.aetntravel.com


A&E Television Networks (AETN), a joint venture of The Hearst Corporation, ABC, Inc. and NBC, is an award-winning, international media company offering consumers a diverse communications environment ranging from television programming, magazine publishing, web sites, books, music CDs to DVDs/home videos, as well as supporting nationwide educational initiatives. AETN is comprised of A&E Network, The History Channel, The Biography Channel, History International, AETN Consumer Products, and AETN International. The A&E web site is located at www.AETV.com, BIOGRAPHY® at www.Biography.com and The History Channel atwww.HistoryChannel.com
---
ANGUILLA WINTER UPDATE: ISLAND'S FIRST GOLF COURSE,
NEW ACCOMMODATIONS AND RESTAURANTS COMPLIMENT THE PRISTINE CANVAS OF THE CARIBBEAN'S MOST BEAUTIFUL BEACHE

The Caribbean island of Anguilla will be hotter than ever this winter with the opening of it's first 18 hole championship golf course, increased airlift, new luxury villas, restaurants and attractions to indulge the most discriminating traveler. Some of the world's best beaches, delicious cuisine, and accommodations to suit every budget put Anguilla on the top of the warm weather getaway list this winter. Highlights of special packages and what's new island wide for the 2006/2007-winter season include:
ANGUILLA'S FIRST GOLF COURSE OPENS THIS WINTER… November 2006 marks the long anticipated grand opening of Anguilla's first ever 18-hole championship golf course, the exclusive Temenos Golf Club. Created and designed by golf legend Greg Norman, the course is an integral component of the magnificent St. Regis Resort, Temenos Anguilla, scheduled for completion in winter 2008. This ultra-luxe hotel, residential and golf oasis is nestled along a mile of pristine beach.

BLANCHARD'S SECOND OUTPOST…New also on the scene is the opening of a second outpost of the world-renowned Blanchard's Restaurant in the architecturally stunning 28,000-square foot Clubhouse at Temenos Golf Club. Best known for their unique and innovative cuisine, Bob & Melinda Blanchard's new restaurant is timed to coincide with the grand opening of the island's first-ever golf course which is destined to be one of the world's finest.

AMERICAN EAGLE WILL INCREASE FLIGHTS TO ANGUILLA…American Eagle, the regional affiliate of American Airlines, will increase its number of flights to Anguilla. Commencing December 14, 2006, there will be two daily flights leaving San Juan - one in the afternoon at 2:00 pm and one in the evening at 8.55pm; and departing Anguilla to San Juan at 8:15am and 3:45pm. Flights will be via the ATR72 turbo-prop aircraft with capacity for 64 passengers.

NEWCOMER ON ANGUILLA'S CULINARY SCENE…Laurie and David Brods, New Jersey restaurateurs for over 25 years have partnered with Armel Harrigan and Chef Shawn "Fresh" Hodge both well known, popular personalities in Anguilla's culinary world to open SUNSETS in Sandy Ground. The quartet have transformed the former Ship's Galley and put together a menu of "Island Tropical Cuisine." Soups, burgers, salads and a great snapper hero at lunch. At dinner, grills galore --- pork loin, sirloin steak, 24 oz Porter House steak, crayfish, chicken breast and lobster along with goat stew, a special butterfish and lots more. Appetizers: $7-$15 Mains: $20-$34. Happy Hour 3:30 to Sunset. Closed Saturdays. Major cc. Sandy Ground, Tel: 264-498-0177.Find Wines…Find Wines, a new wine boutique; cigar and espresso lounge is scheduled to open November 2006. This discount boutique wine shop offers a selection of fine wines from around the world to suit any aficionado. The lounge --- which features an outdoor patio -- serves a selection of cigars, including Davidoffs, and espresso and lattes. Find Wines services will also include delivery of wine baskets to hotels and villas for in-room enjoyment and gift giving.

NEW ART GALLERY OPENS AT ISLAND HARBOUR…Art Café is Anguilla's newest gallery located in the Coconut Paradise Building at Island Harbour. Owned by Elizabeth Chronicka-Pavluk and Janus Pavluk, the building has undergone considerable renovations and is a spacious gallery with the lighting specially designed for maximum effect. Visitors can relax at the café for coffee, breakfast or lunch served on the balcony under umbrellas. Exhibits will showcase the work of local artists from Anguilla and St Maarten, as well as glass and wood sculpture.

OCEAN TERRACE CONDOMINIUMS…An intimate private residence club consisting of one and two bedroom luxury condominiums has completed a series of upgrades. Nestled on a hill overlooking the Caribbean, Ocean Terrace has added six new 2-bedroom condos and will be offering a special winter rate of $450.00 per night, including tax and service charges from November 1 - April 20th, 2007 and a weekly rate of $3,000.00. They will also be offering a special rate of $375.00 for their one-bedroom condos and a weekly rate of $2,500 from November 1 - April 30, 2007, also including tax and services charges. Additional development includes a new 6-hole, 40-foot circular putting green, new landscaping and on-site car rental. Their new front desk and full gym will be completed by January 1, 2007. http://www.oceanterracecondos.net.

TRANQUILITY JAZZ FESTIVAL…One of the Caribbean's fastest-growing annual musical traditions is ready for its encore. The 2006 Tranquility Jazz Festival returns to Anguilla from November 9-12 with a star-studded array of international talent. The event will once again be co produced by The Anguilla Tourist Board and BET Event Productions, a division of BET Networks.The Tranquility Jazz Festival brings some of the finest musicians to this pristine paradise for four days of jazz in its purest form - straight up! Festivities get underway on Thursday, November 9 with a concert by Nnenna Freelon at the CuisinArt Resort. Friday brings a power-packed triple bill featuring Eddie Palmieri, Pharaoh Sanders and Robert Glasper. Saturday the action is at LA Cafe with the McCoy Tyner Trio, Javon Jackson and another artist to be confirmed. On Sunday, it's the return of the popular "Jazz on the Beach" series. Visit www.anguilla-vacation.com.

THANKSGIVING SPECIAL AT EDEN HOUSE…Eden House Villa is offering a Thanksgiving special for one-week rentals. The luxury villa sleeps eight and is located in Little Harbour. The special weekly rate of $4,500 includes a car rental for the entire stay, inclusive of taxes and service charges. Rates are effective November 18 - 30, 2006. www.edenhousevilla.com.

NEW CHEF, NEW MENU, NEW WINE CELLAR AT CUISINART RESORT & SPA…Lots happening on the epicurean front at CuisinArt.

Chef Michael A. Goodman - Focus 2007 - With Chef Goodman's background there's more to cuisine than meets the eye. His journeys East have influenced his style of cooking to bring flow and technique to his creations as well as a balanced environment in which his staff works together as a unit. At Santorini Restaurant, Chef Goodman will focus on fusing ingredients to create a culinary explosion of tastes. Café Mediterraneo with the ambience of a Mediterranean brasserie, will combine culinary influences of the entire region from Morocco to Spain, France, Italy, Greece, to as Far East as Turkey and Lebanon! The resorts new 300 bottle wine cellar offers an award winning international selection. For reservations call 800.943.3210 or 2121.972.0880 or visit www.CuisinArtResort.com.

CUISINART PACKAGES
Tranquility Jazz Festival Package…The host hotel for the island's Tranquility Jazz Festival is offering special packages of any four nights/five days accommodations based on double occupancy; airport greeting; Caribbean welcome drink upon arrival; complimentary in-room bottled water; daily continental breakfast; special dinner and concert tickets for two on Thursday, November 9, 2006; dinner for two featuring Chef 's Tasting Menu at Santorini Restaurant; two 50-minute spa treatments. Starting at $2,215, package valid from November 7-13, 2007. Subject to availability at time of reservation. Service & government charges apply.

Thanksgiving Special…Enjoy your Thanksgiving holiday Caribbean style. Relax and enjoy pampering, beaches and five-star cuisine. Package includes: Any four nights/five days accommodations based on double occupancy; airport greeting; Caribbean welcome drink upon arrival; complimentary in-room bottled water; daily continental breakfast; special Thanksgiving dinner for two; two lunches for two at Café Mediterraneo; two dinners for two at Santorini; two 50-minute spa treatments. Starting at $2,455, package valid from November 20 -27, 2006. Subject to availability at time of reservation. Service & government charges apply.

Tee Up & Revive Package…Get all the best, putting and getting pampered in paradise! Tee off at the newly built Temenos Golf Club, conveniently located next door to CuisinArt. Package Includes: three nights/four days accommodation in beachfront suite based on double occupancy; airport greeting; Caribbean welcome drink upon arrival; complimentary in room bottled water; daily continental breakfast; two rounds of golf and transfers; two 50-minute spa treatments; one lunch for two at Café Mediterraneo; one dinner for two at Santorini or Theme Dinner. Starting at $1,980, package available after November 6, 2006 and is subject to availability at time of reservation. Service & government charges apply.

Bird of Paradise...A spectacular new "Super Villa" named after the rare and exotic bird of Papua New Guinea is now available for holiday rental. Designed by the architectural firm that designed the Amandari in Bali, Four Seasons in Hawaii, the Atlantis in the Bahamas and Las Ventanas in Cabo San Lucas, The Bird is designed in an Asian Tropical style with meandering, lagoon-style pools that weave between the four buildings to create an intimate compound lush with vegetation and a path to a long and lovely crescent beach. A sunken verandah, indoor living area and outside living room with a fireplace, large sun porch, indoor/outdoor dining, and Indonesian bale, or day bed, all increase the intimacy and warmth of this exquisite villa. Bird of Paradise offers four master suites, each with its own balcony and panoramic views, and an office that can serve as a 5th bedroom. The furniture and the intricately carved stone tables, planters, and wall murals were all custom-designed in Bali. The villa also showcases an oceanic and African art collection gathered over the past 20 years. Frette Linens, robes and slippers; Voss water, Bvlgari amenities; and Kona coffee enhance the luxury of this tropical retreat. The secluded property is located above Sandy Hill Bay with stunning views from every room.Special introductory rates now through December 14, 2006 are US$1,750 per night for 4 bedrooms including tax, fees and service charge; December 15-April 14, 2007 are US$2,200 per night, and for December 20-January 5, 2007 per night is $4,200 per night. Rates are also available for 1, 2 and 3 Bedrooms; children in Optional 5th Bedroom US$100 each. For bookings and additional information email anguillabird@yahoo.com or contact Jackie Pascher, Island Dreams, Anguilla, at 264-498-3200.

PARADISE COVE…A lovely small hotel and a member of Anguilla's Charming Escapes Collection has just completed a major refurbishment of the pool deck area. Enhancements include new buff colored artistic pavers over the entire pool area, repainted pool railings and new landscaping around the pool deck. Visit www.paradise.ai.

SCILLY CAY OWNERS OPEN DESERT ROSE --- Villa Renters Have Exclusive Use Of Scilly Cay For Total Privacy…Sandra and Eudoxie "Gorgeous" Wallace, owners of the renowned Scilly Cay, have designed and built a luxurious three bedroom villa on Captains Ridge in Island Harbour. Located on 4 acres, the 11,000 sq ft villa was built completely out of Anguillian rock. Amenities include an Infinity pool, tennis court, Italian marble floors and bathrooms, fireplace, internet, flat screen televisions, high impact glass windows, king size beds, and Jacuzzi in the master bedroom. Butler or chef services at an additional cost. Available for rental November 1, 2006. Fulfill your fantasy - Stay at Desert Rose and enjoy a one day private island retreat at Scilly Cay. 3,500 a day + 10% service charge and 10% room tax - November 01-April 15
2,700 a day + 10% service charge and 10% room tax - April 16 - August 31
50,000 per week (minimum stay of 2 weeks during Christmas & New Years) + 10% service charge and 10% room tax This villa is ideal for couples and families, no children under 11 allowed. No pets. Non smokers preferred. Ph: 498 -8777/ 497-5123, Fax: 498-0777, Email: desertrose@anguillanet.com

VILLA VIEW FORT… is one of Anguilla's newest luxury villas, located on the highest elevation of the island at Crocus Hill, Anguilla. From its cliff-side vantage point there are spectacular views of the Atlantic Ocean and the Caribbean, boasting the island's only 360-degree view of the island and its surrounding cays and neighbors. Villa guests receive a special "thank you" --- a trip to gorgeous Little Bay for swimming and snorkeling, a picnic basket and a full Caribbean-style breakfast on the first morning of their stay. The Villa is characterized by an intriguing marriage of "old-world" Caribbean charm and modern architecture, and features cutting edge technology and state of the art equipment and appliances. No detail has been left unchecked, including the quality of service, which is tailored to the wishes of the client, whether it be daily housekeeping duties, or discreet and professional butler and private chef service. www.villasatviewfort.com.

ARAWAK BEACH INN…is the perfect getaway in a casual and relaxed atmosphere. Comprised of just 17 accommodations painted in pretty pastel shades, a home-away-from-home atmosphere prevails with a distinctly Caribbean flavor. The Inn features a pool, the Arawak Beach Inn Café, a bar, and oceanfront accommodations boasting a balcony or deck with spectacular views, a king- or queen-size bed, a refrigerator, and a private bath. Most oceanfront deluxe rooms also include cable TV and four-poster beds. But the best part may be Maria Hawkins, Arawak's exuberant innkeeper extraordinaire who offers chauffeured rides around the island in the inn's pick-up truck and invites guest into the kitchen to whip up their favorite meal. For reservations contact 1-877-4-ARAWAK or e-mail relax@arawakbeach.com. For information visit www.arawakbeach.com.

Escape Package ·
The four night Escape package is priced seasonally and starts at $399* per person, offering savings of over 30%. The package includes daily American breakfast, two dinners at the Arawak Beach Inn Cafe, private day excursion to a secluded beach on an uninhabited island including gourmet lunch, one-day car rental and all transfers.

Passport to Paradise
Arawak Beach Inn is offering a special rate and a complimentary day-trip to a private island when guests book the four-night Passport to Paradise package. Just in time for the December 31, 2006 implementation of the passport initiative, the package is available to first-time passport holders priced seasonally. Rates start at $240* per person, based on double occupancy and includes accommodations for four nights, a complimentary private day excursion to a secluded beach on an uninhabited island, including gourmet packed lunch. The package is also valid for those veteran passport holders with two or more Anguilla stamps. This incredibly priced getaway, which works out to just $60 per person, per night, is reason enough to have people lining up for passports! * Rates are subject to availability and do not include tax and service

KÚ…Kú, which opened Oct. 2005, is a 27-suite hotel that strikes just the right balance between the minimalist cool of South Beach and the relaxed sophistication of St. Barts. It brings a unique approach to the island, combining sophistication with surprising affordability, and is on Shoal Bay East, a beach that is very often on the 'best of' lists. The 775 sq. ft. suites have a bedroom, living/dining room, full kitchen, and balcony.

From Nov. 1 daily rates are $160-$200 for two, depending on type of accommodation. Winter rates are $295-$395 and include the Christmas season. Special packages offered:
Love at Ku -- room for two, Continental breakfast daily, four dinners (drinks not included), bottle of wine on arrival, one-hour massage for two, sunset cruise, one day car rental, welcome rum beverage, accommodation tax, service charge and arrival and departure taxi transfers. Per couple rates range from $2,270-$2,540 until Dec. 14 and $3,180-$3,850 from Dec.15-April 8, 2007.

Escape to Ku -- double accommodation, two dinners for two (drinks not included), bottle of wine on arrival, sunset cruise, welcome rum drink, accommodation tax, service charge and arrival/departures taxi transfers. Per couple rates until Dec. 14 range from $1,205-$1,360 and from Dec. 15-Apr. 8, 2007, $1,725-$2,110.

Ku does not accept children under 6 years. Reservations: 1-800-869-5827; e-mail, ku@anguillanet.com; web site, www.KuAnguilla.com.

CAP JULUCA…Ten spa packages, and more, have been added to the already extensive spa treatment menu and include Caribbean Coma, Jet Lag, Serenity and Tropical Delight; new body polishes (brown sugar rub, e.g.) and wraps; and new aromatherapy essential oils and herbal treatments. Also, a Pilates class has been added to the already existing Tai Chi, Yoga and Beach Fitness classes.
The Romantic Rendezvous Special Program from Jan. 3-April 17, 2007 will range from $9,520-$13,765, depending on type of accommodation. Includes: 7 nights accommodations for two, champagne and flowers on arrival, four dinners for two at any of the hotel restaurants or from room service (not including beverages), continental breakfast daily, one hour massage for two, all day snorkeling trip with BBQ lunch and beverages, one day car rental (insurance not included), arrival and departure taxi transfers from Anguilla's airport or ferry terminal.

The Quick Getaway for the same period will be from $5,690-$7,630 and includes four nights accommodations for two, four dinners for two (as above), wine and hors d'oeuvres on arrival, continental breakfast, half day snorkeling trip, including beverages, arrival and departure taxi transfers (as above).

In addition, new offerings at Cap Juluca are Le Grand March Culinary Challenge and additions to the spa services menu:

Le Grand March is held each Monday night at George's restaurant. Food is prepared 'a la minute' at four 'market' stations, anchored by a team of the hotel's chefs from the Caribbean, Indonesia, Italy and India. It is set up as a market type dining experience to showcase the chefs' talents. Guests can watch the chefs at work at each station preparing dishes from a set menu and sample the offerings. At the end of the meal, guests are encouraged to vote for their favorite dish and provide comments. Cap Juluca's sommelier selects wines appropriate to each main dish.For further information and reservations, contact Cap Juluca, 1-888-858-5822, direct to the hotel, 264-497-6779; e-mail, capjuluca@anguillanet.com; or visit www.capjuluca.com.

EXCLUSIVITY VILLA… Holiday home to celebrities, royalty and the affluent traveler, the all inclusive luxury villa affords its clients the utmost in privacy and the island's only heliport. Villa rates include three meals per day plus evening hors d'oeuvres and cocktails. A pampering staff includes an award winning Executive Chef, concierge, bartender, laundress, housekeeping, gardener, maintenance and evening security. Rate are $40,000 per week now through December 15, 2006, $60,000 for 1/1/07 - 4//15/07 and $75,000 per week with a two week minimum for the Christmas holiday 12/16/06 - 1/6/07 www.exclusivityvilla.com.

KOKOON VILLAS CREATES THE PERFECT ISLAND FAMILY ESCAPE…Offering unique vacation escapes for large families looking to reconnect away. A collection of special properties provides the space, facilities and comforts for the perfect family reunion. The Coves features Caribbean breezes and breathtaking views of the sea and St. Martin. 5 bedrooms spread across three pavilions on a lush property that can accommodate up to 10 adults and children; an infinity edge pool highlights expansive covered and uncovered deck areas that run between the three property structures: Casa Grande, the main house has two master bedroom suites along with a gourmet kitchen, living room, dining area and covered dining area by the pool. Each of the bedrooms has its own private entrance and ensuite bathroom. Casa Bella provides two additional bedrooms under one roof with an open concept living room and kitchen. Casita, is its own little hideaway - a full studio with ensuite bathroom with large walk in shower, a kitchenette and living area. Childcare and kids activities are organized such as treasure hunts, arts and crafts and sand castle competitions, which allow the adults day and night time activities on their own. Rates at the Coves vary by season with entire complex available weekly for between $7,000 and $11,000 per week, providing true value when compared to a 4-5 bedrooms within a hotel or resort property. Call 1-264-497-8888, email info@kokoonvillas.com or visit www.kokoonvillas.com.

MY ANGUILLA WEDDING AND HONEYMOON REGISTRY
MyCaribbean.com, a villa rental service on Anguilla, has created a special bridal registry for couples seeking a unique honeymoon or wedding --- in the privacy of their own luxury villa. My Anguilla Wedding and Honeymoon Registry allows wedding guests to give the wedding or honeymoon of your dreams by contributing to the cost of the special occasion as their gift.

A web page will be created for couples with a precise list of what they would like as wedding gifts. Family and friends can then purchase the gifts that will make your honeymoon dreams come true --- villa rentals, hotel stays; restaurant dining; fabulous Scilly Cay; boat charters/fishing trips; day trips to neighboring islands; snorkeling or scuba packages; island tours; horse back riding; tennis and lessons; spa services; photography; wine, liquor and cigars…For information call 1+877-471-2733, fax 1+815-301-1771.

MALLIOUHANA HOTEL & SPA EXTENDS THE FRIENDS AND FAMILY PACKAGE - NOW AVAILABLE IN NOVEMBER…
Effective Nov. 1-19, 2006 couples booking a minimum of 5 nights in an ocean view double room will receive an additional ocean view double room free of charge for accompanying friends or family. The 5 night Friends and Family package is priced at $2430 EP (no meals) with additional nights available at $486 per night. Tax and service charges are included in the rate. The air-conditioned ocean view double rooms have covered terraces and command sweeping views of the ocean. Included in the package are complimentary windsurfing, water-skiing, Sunfish, Laser and Prindle catamaran sailboats, snorkeling gear, access to the fitness center and tennis courts plus a daytime cruise aboard Malliouhana's 40ft. day cruiser to a deserted bay for swimming, sunbathing or snorkeling. For families taking advantage of this offering, the Children's Playground provides supervised care between 9:00 AM - 5:30 PM at no extra charge. Dramatically perched on a bluff overlooking the ocean, the 55 room Malliouhana Hotel & Spa is owner managed by Leon and Nigel Roydon. The Malliouhana Hotel & Spa is a member of Small Leading Hotels of the World. For Reservations and information contact the Resort toll free from the USA: 1 800 835-0796 or visit the website at www.malliouhana.com.

Fall into an Oasis Embrace
Spa special at malliouhana Hotel & Spa… a 5 night Oasis Embrace Spa Special effective Nov. 1 - Dec. 15, 2006. Priced at US$4210 (Nov. 1-18) and $5290 (Nov. 19 - Dec. 15 ) for 2 persons the package includes: 5 nights accommodation in an ocean view room with terrace; continental breakfast daily served in the room/terrace; 3 course dinner each evening selected from the full a la carte menu; daily 60 minute or two 30 minute treatments per person (guests may select from either a therapeutic massage treatment, body polish or facial treatment menus); an oasis manicure and pedicure per person; a warm oil scalp massage per person; roundtrip airport/ferry transfers; a daytime cruise on the hotel's 40' day cruiser "Dakota" to a deserted bay for swimming, sunbathing or snorkeling. Also included are complimentary windsurfing, water-skiing, Sunfish, Laser and Prindle catamaran sailboats, snorkeling gear, access to the fitness center and tennis courts plus a daytime cruise to a deserted bay for swimming, sunbathing or snorkeling.

To learn more about Anguilla, call the Anguilla Tourist Board at 1-877-4 ANGUILLA or visit www.anguilla-vacation.com.
---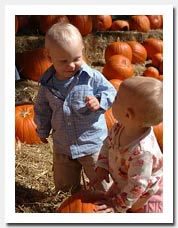 Our Pumpkin Patch is Filled
with Great Fall Fares!

Fly Southwest Airlines
for $109 or less one-way
in select markets
with 7-day advance purchase.
Purchase through September 25 for
travel October 1 - October 31, 2006.



Terms and Conditions:
Available only on southwest.com.
7-day advance purchase required.
Purchase September 22 through September 25, 2006, midnight Central Time.
Travel October 1 through October 31, 2006.
Travel on Monday, Tuesday, Wednesday, Thursday, and Saturday only.
Available on published service only. Some flights operated by ATA Airlines.
Federal tax of up to $3.30 per takeoff and landing,
airport taxes of up to $9, and government-imposed September 11th Security Fee of up to $5 one-way not included.
Fares are one-way.
Fares may be combined with other combinable fares.
Fares are not combinable with Senior Fares.
When combining fares, all rules and restrictions apply.
Fares are nonrefundable but may be applied toward future travel on Southwest Airlines.
Seats are limited and won't be available on some flights that operate during very busy travel times and holiday periods.
Any change to this reservation (flights, dates, cities, and/or names of passengers) may result in a fare increase. Standby travel requires an upgrade to the full unrestricted fare. See Complete Detail
---
FOLIAGE EXPERTS SAY EARLY AUTUMN WEATHER KEY TO
SOUTHERN APPALACHIAN LEAF SEASON

Leaf peepers hoping to find the perfect time for fall foliage this year might be surprised to learn that experts in the Southern Appalachians don't always know when the leaves will peak. "So many factors can effect color development," explains Dan Pitillo, a retired Western Carolina University Biology Professor with 40 years experience in observing Appalachian tree species. "Weather patterns during September play a prominent role in determining brilliance and length of this year's show," he said. "The color usually develops five to 10 days after the first light frost, so timing of the onset of color will be predicted by this." Blue Ridge Parkway Management Assistant Phil Noblitt agrees."Stress is the main factor," he adds. "In general, an early fall with cool, but not freezing, nights and sunny days will jumpstart the onset of color, but on the other hand, an unusually warm September and October will tend to delay it." "The good news is that the trees seem to be in fine shape," adds Gary Walker, a biology professor at Appalachian State University. "The mountains have not experienced any major weather patterns earlier this year that would hinder the leaves from producing lively colors."

Due to the differences in elevations, the mountains of Western North Carolina typically enjoy a lengthy fall color season. Ranging from 2,000 feet in the valleys to 6,684 feet at Mount Mitchell, the highest peak east of the Mississippi River, the mountains surrounding Asheville boast a range of microclimates and tree species that create one of the most extended fall foliage seasons in the nation. "This means it doesn't happen all at once," Chimney Rock Park Naturalist Ron Lance explains. "The higher mountains peak about two to three weeks ahead of the lower mountains. So it's easy to see a display of fall color any time during a five or six week period, just by adjusting the choice of leaf-peeping drives." In an effort to assist travelers in crafting their fall getaway, Asheville is streamlining the leaf-peeping process by utilizing one of the fastest-growing trends – a downloadable free audio file that visitors can transfer to their personal MP3 players, cell phones and PDA's from their home computers before heading out into the Blue Ridge.

Starting mid-September and continuing through November, local acclaimed photographer J. Scott Graham will chronicle his leaf-seeking experiences on www.exploreasheville.com/fall.asp, detailing the progress of the leaf change and providing tips on photographing the Blue Ridge landscape.Graham has been capturing this region's autumn beauty for more than 17 years and knows off-the-beaten path locations that the average tourist may not. In addition, weekly fall color reports will be posted on the site to tip off visitors to the best fall color and scenic drives, using advice gathered from Blue Ridge Parkway, U.S. Forest Service officials and a cadre of leaf spotters throughout the mountains. Visitors can access useful fall getaway tips by visiting www.exploreasheville.com or calling (800) 921-9698. The site will provide a calendar of events and a place for avid leaf peepers to log on and share their favorite spots in the North Carolina mountains. The information will be available through early November.
---
ONE MONTH COUNTDOWN BEGINS FOR OCTOBER 17TH UNVEILING
OF SAN DIEGO'S THE US GRANT™, A LUXURY COLLECTION HOTEL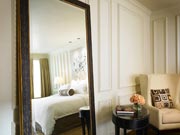 SAN DIEGO, Calif. (Sept. 21, 2006) – Downtown San Diego's landmark, THE US GRANT re-opens to celebrate it's 96th anniversary Tuesday, October 17, following a meticulous 20-month, $52 million renovation and restoration as the newest member of Starwood Hotels & Resorts' elite Luxury Collection®.

With surprising splashes of modern élan accenting the traditional décor, this landmark hotel can now be defined as historically chic and technologically advanced. Commissioned works of art, hand-made silk carpets, exotic woods and marbles, white gold leafing and custom-designed furnishings bring excitement and opulence to the spectacular interiors of this lavishly restored 11-story Beaux Arts beauty located in the heart of downtown San Diego.

THE US GRANT, which was built in 1910 by Ulysses s. Grant Jr. to honor his Civil War hero father and is now owned by the Sycuan Band of the Kumeyaay Nation, the Native American tribe that originally settled the land that includes Downtown San Diego. Sycuan's purchase and careful restoration of the hotel represents an ancestral tribute to their legacy, as it was President Grant who in 1875 passed an Executive Order setting aside 640 acres of land in San Diego County for the Tribe, granting them sovereignty.
The hotel offers 270 luxurious custom-designed guest rooms, 47 of which are suites, including a pair of two-level Presidential Suites; and a Penthouse Technology Suite. Public spaces are enhanced by original bronze sculptures and custom carpets – including a $250,000 silk rug hand-loomed in Thailand, especially designed and made for the hotel's stunning lobby and featuring a repeating primrose pattern as a subtle tribute to Sycuan since the tribal name means "yellow primrose" in the language of the Kumeyaay.

All the guest rooms all have nine-foot ceilings, which are accented with detailed crown molding. In addition, original art by Native American artists decorates each foyer and bath and large one-of-a-kind works by noted French artist, Yves Clement, have been blended into the headboard of each bed. Furthermore, all rooms feature imported custom tapestry carpets; Luxury Collection beds with rich white-on-white Italian linens; imported bath amenities; plush robes and slippers; 32-inch flat screen televisions; dual-line cordless phones with voice mail; data ports with high-speed Internet (WiFi); as well as stone counter vanities, basin sinks and spacious marble showers in bathrooms.

THE US GRANT is distinguished by 33,000 square feet of elegantly restored interior function space plus the addition of two 4,000-square-feet, 8th-story rooftop terraces providing guests with breath-taking views of San Diego. Additional features include the Grant Grill and Lounge, 24-hour room service, in-room spa services by Spa Velia and on-site valet parking. The hotel's public areas and function rooms are glamorous, luxurious, as well as state-of-the-art -- ranging from the most intimate spaces for small gatherings to the grand 9,300-square-foot Presidential Ballroom for large formal celebrations or events.

Also re-opening on Oct. 17, the legendary Grant Grill and its equally iconic urban Lounge have been re-imagined for the 21st Century while retaining the aura of prestige and excellence from which their legend emerged. The 95-seat dining room and its adjoining lounge are now havens of cosmopolitan chic and comfort with welcoming booths, a soothing color palette of Espresso Brown and "US GRANT Blue," original artworks, dramatic lighting, and a beguiling menu of market fresh Native Californian regional cuisine and a wine program showcasing local wineries.

For additional information, please call (619) 232-3121, or visit THE US GRANT online at: www.luxurycollection.com/usgrant.

THE US GRANT™ is the world-class embodiment of the history, vitality and singularly dynamic character of downtown San Diego. The landmark hotel re-opens in November 2006 as a member of the elite Starwood Luxury Collection after a meticulous $52 million renovation and historic restoration by its owner, the Sycuan Band of the Kumeyaay Nation. Located at 326 Broadway, San Diego, Calif., 92101, THE US GRANT opened in 1910. The 11-story hotel has been listed on the National Registrar of Historic Places since 1979. When completed, the historically chic hotel will offer 270 guest rooms, including 47 suites; 33,000 square feet of ballroom and special event space weaving elegance and history with 21stcentury technology; and a contemporary interpretation of the legendary Grant Grill and Lounge. The hotel is steps from the city's trendy Gaslamp Quarter, theater and financial districts, and minutes from San Diego Bay, Balboa Park and the area's famed visitor attractions. With new custom-designed furnishings, décor and original works of art in both public spaces and guest rooms, THE US GRANT is an urban sanctuary in the heart of one of America's most cosmopolitan cities. For additional in information, please call (619) 232-3121, or visit THE US GRANT online at: www.luxurycollection.com/usgrant.

Starwood Hotels & Resorts Worldwide, Inc. is one of the leading hotel and leisure companies in the world with approximately 850 properties in more than 95 countries and 145,000 employees at its owned and managed properties. Starwood® Hotels is a fully integrated owner, operator and franchisor of hotels and resorts with the following internationally renowned brands: St. Regis®, The Luxury Collection®, Sheraton®, Westin®, Four Points® by Sheraton, W®, Le Méridien® and the recently announced aloftSM. Starwood Hotels also owns Starwood Vacation Ownership, Inc., one of the premier developers and operators of high quality vacation interval ownership resorts. For more information, please visit www.starwoodhotels.com.
---
Toast To The New Year Aboard A Hornblower Yacht!
There is no better way to ring in the New Year than aboard a Hornblower yacht! On December 31, Hornblower is offering a unique way to celebrate the New Year by offering a celebration cruise that will surely be an unforgettable night. Hornblower's New Year's Eve Dinner Gala Celebration includes a four-hour cruise,
four-course seated dinner, holiday decorations, party favors, a boarding glass of champagne, and DJ entertainment on each deck. New Year's Eve Dinner Menu includes a delicious seafood martini appetizer, vintners's salad, entrée of petite filet mignon and grilled lobster served with the seasons best baby vegetable and dauphinoise potatoes with English cheddar. Dinner Gala Celebration cruise departs from both Newport Beach and Marina del Rey. Boarding begins at 8:30pm and cruises from
Hornblower's Long Beach New Years Eve Celebration includes a three-hour cruise, a boarding glass of champagne, delicious hors d' oeuvres, holiday decorations, party favors, and DJ entertainment on each deck. Celebration Cruise departs from Long Beach port only. Boarding begins at 9:30pm and cruises from 10:00pm-1:00am. Tickets are $99 per person (gratuity included, tax is additional). Reservations for this cruise can only be made by calling 800-ON-THE-BAY.
Celebrating 25 years of excellence on the water, Hornblower has 28 charter yachts throughout California in Newport Beach, Marina Del Rey, Long Beach, San Francisco, and San Diego. Hornblower's popular Newport Beach and Marina del Rey port offers private charters, Public Weekend Harbor Dinner Cruises, and Sunday Champagne Brunch Cruises. To make reservations or for more information, call 800-ON-THE-BAY or cruise by our website www.hornblower.com.


---
HOTEL MELA DEBUTS EAST OF BROADWAY WITH COOL WEB SITE
AND INTRODUCTORY RATE OFFER
Stylish, eclectic hotel offers 15 percent off best available rates
through October 20, 2006

At Home Sophistication', stylish and eclectic will be the concept and décor of the 230-room Hotel Mela when it debuts on New York's hotel and university club row – West 44th Street in October 2006. In preparation of its opening, the hotel has launched a Web site celebrating the vibrant style and energy of New York. Additionally, Hotel Mela has begun pre-opening activities with an unbeatable offer of 15 percent off its best available rates. Reservations must be made between now and October 20, 2006 for hotel stays through 2007. The offer is based upon availability and exclusive of tax and subject to change. To purchase log onto www.hotelmela.com. The new Web site designed and programmed by Open Ocean Creative, a Chicago-based graphic design firm offers a fresh and visually exciting view of New York. The site features a brilliant flash introduction leading to images of the hotel, live weather conditions, Podcasting, neighborhood photos and general information about the city. Additionally, travelers will find the Web site easy to navigate providing timely rate information and availability. Taking the end user into consideration, the Webmaster designed a hassle-free reservations page that provides prompt service and timely confirmation.

Highlights of the site include the ability to view upcoming cultural events, browse through the floor plans of various room types and plan desired activities prior to a trip through the use of the Podcast module. The latest hotel information can be downloaded to iPods for future use. "Our goal is to enable the traveler to gather as much information about the hotel and availability and reserve the dates they desire within seconds," said David Lopez, general manager. Hotel Mela's interior design was created by the award-winning Wilson Associates in New York. Hotel Mela celebrates the sophistication of New York and the high-style and fine art of Italian living. In fact, the name Mela when translated means "Apple". The name Hotel "Mela" honors the significant role Italian culture has played in New York City's history. New York's influence is apparent throughout the public spaces and includes hand-selected artwork of landmark buildings and historic districts. 'At Home Sophistication' begins upon entering the lobby which functions both as a reception area and gathering place for guests. White faux leather banquettes and red mohair sofas accentuated by overstuffed pillows situated in the center of the lobby provide an atmosphere of comfort, sophistication and warmth. The black trimmed marble flooring against Venetian plaster walls support retro yet modern seating, providing an eclectic feel that is both stylish and comfortable. Chandelier lighting of glass beads encased in handmade red Duboni silk lampshades create an orange glow that compliments the eclectic seating and produces an atmosphere that is sophisticated and chic. Luxury and comfort are evident in the specialty pillow-topped mattresses, 400-thread count sheets, sumptuous 310-thread count Egyptian cotton duvet covers and plush pillows in all of the guestrooms and suites. This opulence carries through to the accessories and special touches such as lush chenille throws, neck pillows and fabric-covered bed benches that transcend the typical guestroom to create a chic residential bedroom. Complimenting the decadent soft goods are custom-designed furnishings in rich mahogany and window treatments and carpeting in vibrant shades of greens and browns. Other accents include mohair-covered sitting chairs and overstuffed pillows ideal for lounging. In keeping with the 'At Home Sophistication' concept the hotel offers in its guestrooms smart technology, electronic equipment and home office amenities commonly found in most private residences, including flat screen LCD televisions, CD alarm and MP3 player, cordless phones with dedicated lines, ergonomic seating and desks designed for comfort and productivity. Among the many services Hotel Mela will offer is the complimentary intimate state-of-the-art fitness facility. A signature full-service restaurant will be unveiled first quarter 2007.
* * * *For more information visit the website at www.hotelmela.com

Tecton Hospitality provides a wide range of management services to both institutional and individual owners of hotels in the United States and Caribbean. The Miami-based company operates branded hotels, including full-service properties and resorts under the Sheraton, Marriott, Hampton Inn, Holiday Inn and Best Western names, as well as boutique hotels through the Desires boutique-hotels division. The Desires portfolio currently includes the award-winning 84-room San Juan Water & Beach Club Hotel in San Juan, Puerto Rico, the 93-room Sagamore Hotel, the 66-room Wave Hotel, the 83-room Circa 39, the 40-room Hotel Astor, the 61-room Betsy Ross Hotel and the 87-room condo hotel The Strand Ocean Drive in Miami Beach, Fla., and the 110-room Glenn Hotel in Atlanta, Ga. For more information about Tecton Hospitality, call (305) 577-8484 or visit www.tectonhospitality.com or www.desireshotels.com.
---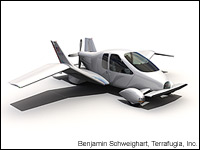 A FLYING CAR???
A hot new concept for a flying car is Terrafugia. According to Carl Dietrich, CEO Terrafugia, the Transition™ is combining the two for the best of both worlds.

---
Nevada's 2006 Governor's Conference on Tourism
Will Be 'All About You'

"All About You" is the theme of this year's Governor's Conference on Tourism, Dec. 11-13, at the Silver Legacy Resort Casino in downtown Reno, Lt. Gov. Lorraine Hunt, chair of the Nevada Commission on Tourism (NCOT), announced today. "The conference will present ideas and information that every individual can use in their business or profession," Hunt said. "Being 'all about you' reflects Nevada's attitude toward our visitors. Whether you enjoy a mountain trail, dazzling show, exotic shop or lively casino, you'll find it in Nevada because we're 'all about you.'" NCOT produces the conference, which attracts tourism industry delegates from around the world. "Our speakers will delve into leadership, motivation and strategies for the individual," NCOT Director Bruce Bommarito said. "The hundreds of tourism industry movers and shakers who attend the Governor's Conference are always seeking information that will help them to achieve greater success, and this year's gathering will have the individual sharply in focus." Speaking Dec. 12, in addition to Hunt and Gov. Kenny Guinn, will be retired Air Force Gen. Lance Lord, who until April directed the U.S. Air Force Space Command and missile development and operation; Bommarito; Ellen Oppenheim, president and CEO of the Reno-Sparks Convention and Visitors Authority; Terry Jicinsky, senior vice president, marketing, for the Las Vegas Convention and Visitors Authority; and Howard Putnam, who steered Southwest Airlines on its successful course before co-founding an aircraft interior company, which he now heads. Lord, who led nearly 40,000 space professionals at the Space Command, also will conduct a separate breakout session on leadership. Punam Mathur, senior vice president of MGM Mirage, will lead a breakout session on workplace diversity, a program she directs for the hotel corporation.

Guy Kawasaki, a venture capitalist, computer industry entrepreneur and author of "How to Drive Your Competition Crazy" and other books, will present the keynote address Dec. 13, followed by breakout sessions by travel journalist and screenwriter Steve Jermanok and motivational speaker, author and mountain climber Jennifer Webb.

In addition to speakers, the conference will feature a welcome reception Dec. 11, and on Dec. 12 will present Tourism Development Awards to those who opened, improved or expanded tourism industry businesses. There also will be a gathering for Nevada's tourism "territories" and international representatives in China, the United Kingdom, Japan, France and South Korea. Delegates may register online at www.governorsconference.org.
Registration is $395, but delegates can save $50 by registering before Nov. 1. Silver Legacy hotel rooms are available for conference delegates for $69 until Nov. 8, after which the prevailing rates and availability will apply. Call 800-687-8733.
---
RENO RIVER FESTIVAL URBAN ART MURAL ON DISPLAY
AT NEVADA MUSEUM OF ART
Meet the Artists Oct. 6 at 12 p.m.

The sprawling 60-foot Urban Art mural developed and created by five local, contemporary artists from the University of Nevada, Reno as part of the 2006 Reno River Festival's art project, is on display now through Oct. 22, 2006 at the Nevada Museum of Art, Nightingale Rooftop Gallery. Supported by the Reno-Sparks Convention and Visitors Authority (RSCVA), this dynamic urban mural combines elements of Punk Rock, Hip-Hop, graffiti and pop culture to capture the essence of the Truckee River Whitewater Park and the annual river festival. Artists Anthony Alston, Rob Brown, Caedron Burchfield, Nick Larsen and Brian Porray will meet with patrons on Friday, Oct. 6 at 12 p.m. for a discussion on the vibrant mural and the impetus for its creation and evolution. Admission for the discussion is $5. Log on to www.nevadaart.org for more details. "The amazing color, lines and images of the urban art mural capture the spirit of the Reno River Festival and the Reno-Tahoe, America's Adventure Place brand perfectly," said Tracy Legarza, special events manager for the RSCVA. "In Reno-Tahoe, we are all about adventure and experiencing new and exciting activities. Urban art is a perfect demonstration of the Reno-Tahoe lifestyle in that it embraces the non-traditional, adventuresome side of life and communicates that message beautifully." The mural, which stands 8 feet tall and was created over a period of four days as Festival attendees watched it transform from a blank wall into a massive piece of artwork, is a mix of styles, disciplines and formal practices that materialized as the artists interacted with each other to create in organic and spontaneous ways. "The talent of these young artists is unbelievable," said Tamara Scronce, University of Nevada, Reno art professor and director of the Urban Art Project. "Today's artists have watched urban art develop from an underground movement into a full-blown, mainstream art form. And with it, their artistic method has developed. These artists grew up watching the Transformers, reading comics, listening to Punk Rock and Hip-Hop music and taking in urban, graffiti-covered environments. These cumulative experiences spawned a new and exciting visual vocabulary that expresses individuality through interpretations of influence, surroundings and interaction. It is truly amazing to watch them work collaboratively on such a huge project while still honoring the individuality that is vital to creating works of urban art." The rapidly emerging style of urban art has undergone a thriving metamorphosis during the past 25 years. Evolving from its early associations with graffiti into an aesthetic genre all its own, urban art's visual style is rich, abundant and eclectic, combining and re-contextualizing elements of lowbrow culture, Punk Rock, Hip-Hop, graffiti, pop culture and mass media consumerism. The 4th annual Reno River Festival takes place May 10-13, 2007 at the $1.5 million Truckee River Whitewater Park at Wingfield, located in the heart of the booming business and arts district in downtown Reno. The park is both Nevada's and the region's first whitewater park and kayak slalom racing course and totals 2,600 feet in length. The park is rated a class 2 to 3 for difficulty (on a scale of 1 to 6) and features north and south channels that surround a city park on an island in the river, 11 "drop pools" and boulders for kayaking maneuvers, a slalom racing course and 7,000 tons of smooth flat rocks along the shores for easy river access and spectator seating.
For more details about the annual Reno River Festival, please visit www.RenoRiverFestival.com. For more information about Reno-Tahoe, America's Adventure Place, logon to www.VisitRenoTahoe.com or call 800-FOR-RENO
(800-367-7366).
---
LUXURIOUS PLUNGE POOL SUITES SPEARHEAD $2.5 MILLION RESTYLING OF
TREASURE BEACH HOTEL IN BARBADOS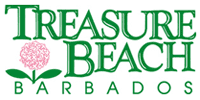 "No one in Barbados gives you plunge pool suites closer to the beach than we do," says General Manager Hamish Watson. "If we were any closer, we'd be in the sand."

Treasure Beach Hotel on Barbados's storied Gold Coast is right on target for its November 4th opening after a six-month, $2.5 million upgrading and restyling.

The all-suite boutique hotel will reopen with three premium one-bedroom suites sporting private plunge pools on verandas opening to a wonderful vista of sand and sea and sunsets.

All 35 air-conditioned suites are designed with a beguiling blend of contemporary flair and traditional elegance. "We wanted to retain the resort's West Indian ambiance, created by the original coral stone walls and hardwood floors," notes designer Simone St.Rose. "At the same time, we've perked up the rooms with cool, creamy whites and brightly colored furnishings. Specially designed mosaics, artworks and sculptures hand-picked in Guyana add an extra layer of Caribbean flavor."

The new contemporary touches include plasma-panel televisions, wireless Internet access, coffee/tea makers and minibars; the bathrooms now feature light ceramic tiles, separate tubs and oversize showers, twin vanities and nice touches like Temple Spa bathroom amenities.

In its 29 years, Treasure Beach on Paynes Bay has been especially popular because of its quiet, oasis-like location on the fashionable Gold Coast. The new, improved Treasure Beach is still the prime choice for discerning vacationers and honeymooners who want an intimate retreat, friendly atmosphere and personal, manor-house-style service.

"Although we are now offering our guests much more luxury and boutique charm," notes the resort's esteemed General Manager, Hamish Watson, "we are still a welcome contrast to the numbing globalization of so many of today's 'hot' resorts – and at rates a notch below the island's more glamorous resorts."

High-season rates begin at $765 a night for two, while the three premium suites are $1,750, double, including full English breakfast, tax and service charge. During the holiday period, 22 December 2006 through 5 January 2007, there is a mandatory MAP Plan (breakfast and lunch or dinner) of $63 per person per day (including a 10% service charge and 15% value added tax and dine-around privileges at two luxury resorts nearby). For the low season, seven full months mid-April to mid-December, Treasure Beach rates begin at just $265 double and the premium suites are just $750, the rate for a suite in winter.

"As you can see, we are still one of the best values on Barbados," claims Hamish Watson, "even with all the new luxury amenities and the beachside pool suites that make us one of the island's outstanding beach resorts."
Visit: www.treasurebeachhotel.com