IL CIBREO, Florence Italy
Ristorante - Trattoria Cibreo - Caffe Cibreo and Teatro Del Sale Alimentari
Story and Photos by Bonnie Carroll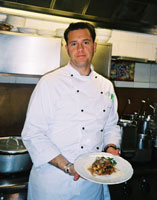 The Firenze based food dynasty of Fabio Picci includes a stunning ristorante, trattoria, caffé/bar, Teatro Del Sale Alimentari and a gift shop that is stocked with wonderful traditional products and beverages form Tuscany, including a Cibrio cookbook featuring signature recipes.
The show in the Il Cibrio Ristorante is as exciting as the entertainment in the nearby Teatro Del Sale Alimentari, where a wonderful buffet dinner and wine are served prior to each performance at the subscription supported entertainment venue. In the waiting area next to the teatro, where guests mingle over a caffe or wine before and after the dinner performances, Picci has created a gift shop.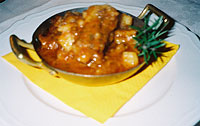 The Trattoria Cibreo, which has a dozen tables, is open for lunch, and the same menu is offered at dinner, which includes a items such as classic Cibreo tomato aspic that is a delightful combination of tomato and basil, as well as crostini Tuscana, vegetable timbale, farinata con cavolo nero, and shish kebab Toscana, followed by insalata mista with olive oil and vinegar.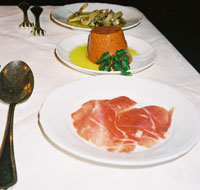 Il Cibreo Ristorante was a delightful surprise. The lovely room has an at-home charm about it, and the open kitchen allows diners to view the chef at work preparing the specialties associated with the internationally renowned eatery. Fabio Picci spent some time personally selecting items for us, and answering questions. This big handsome host has an electrifying personality and a marvelous sense of humor. I was very pleased he was there during my visit. There is not a printed menu, the servers sit at the table and explain the dishes being served that evening, along with specific preparation information. A charming Irish woman, who is a manager for the Cibrio compound, was extremely helpful.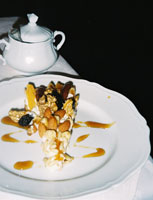 When I asked Fabio how he would describe his menu he replied with a big grin "it's peasant food," however, this is absolutely a fun exaggeration on his part. Our dinner was nothing short of amazing; from beginning to ending it was truly Tuscan and truly delicious. The Italian style oxtail, and roast pigeon with a sweet and sour sauce, were outstanding entrees. My dessert selection was a cream cheese style pie, with a crisp crust and was covered with almonds and dried fruit. A most memorable finale was a simply perfect cappuccino.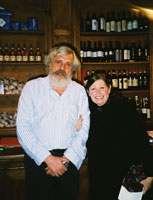 Florentia, the name given this area in the middle of the 1 st century B.C., means flowering, and the rich and delicious produce from this area that overflow in the recipes created by Fabio Picci and his talented chef is no doubt a major contributing factor to the unforgettable flavors that keep visitors coming back for more. Picci offers a dining option to please every traveler; from a very fine ristorante, where people are dressed for the best, to a trattoria environment, where traveling cyclist stop on their way through the Tuscan countryside to enjoy a casual lunch. The dinner theatre is brilliant, and is something to look forward to on your next trip to Florence. Mangia Bene!
The Cibrio Ristorante and Caffé are located at Via A. Del Verrocchio #5 r & #8 r. Telephone: 055 234 58 53. The Cibrio Trattoria and Teatro Del Sale Alimentari are located at Via de' Macci, 111 r & 122 r. Telephone 055 200 14 92. Reservations requested. Email: cibreo.fl@tin.it.
---
"FOLLOW ME HOME"

Hawaiian Airlines, serving island visitors since 1929, not only offers menus by a Hawaii Regional Cuisine chef, Beverly Gannon, who was a 2004 James Beard award-nominee as "Best Chef Hawaii/Northwest Region," but the airline offers "Hele On", a web site and check-in service for "Baggage Direct", which was launched in September of 2004. The mobile skycap service picks up and delivers bags so customers can go straight to the gate; pre-assigned interisland seating, and Drive-Thru Check-In service for customers departing from Honolulu, both launched in March of 2005. Go to The Nations' #1 on-time carrier at HawaiianAirlines.com.
---
TRAVELING ALONE? Life Bites Helpful Hints for Singles
by Bonnie Carroll

If you are a traveling lady like me, someone who moves from place to place without a guy to carry your luggage, park the car, hold the money, hail the taxi or drive you in and out of airports, perhaps the following suggestions will provide a traveling safe check list for use on your next trip.

The key word here is ALERT! Many police departments offer classes in personal safety to neighborhoods watch groups, and the one thing they keep repeating is to be very aware of your surroundings. Develop the skill of being aware of what is happening around you at all times. Don't do things that will attract thieves, and place you or a traveling companion in danger. Expensive jewelry, designer luggage, furs and flashy handbags without secure clasps can be an advertisement for disaster.

Parking lots in airports can be dangerous. I prefer to park my car in one of the hotel parking lots, one with a van that take me to my airline for check-in, and the van takes me back to the hotel when I return. Whenever possible have a friend drive you to the airport, or take a taxi or airport van service.

When arriving at your hotel destination hand over the keys to valet with caution. At check-in it might be wise to leave the Ms. or Mrs. selection void. Try registering under your first initial and last name only. Check out your room thoroughly, while the bellman is still there. Bad guys can be lurking under the beds, in the closets, bathroom, on the patio or behind the drapes. Be sure all the door locks work for in-room safety, and lock the door when the bellman leaves. Try to avoid staying on the ground level in a room with sliding glass doors. A room close to the elevator is generally considered a safe bet, and one close to a back staircase or entrance should be avoided. Use the hotel safe for your valuables, and get your own personal insurance policy on your good jewelry. Place valuables in a sealed envelope or container and get a receipt with the valued amount written on it. Many state and country laws have different liability limits for loss, but if you specify in writing the full value when you make the request for your safe deposit box, the hotel may opt to increase the liability.

Make photocopies of all important documents; passport, travelers checks, credit card numbers, prescriptions to keep at home. Carry a second copy with you, but do not carry them in your purse. Make a list of important contact numbers for any unexpected emergency scenario that includes allergies, prescriptions, medicines and numbers of contacts, as well as the emergency 800 number for your travel agency. A money belt can be worn, out of sight under a sweater, and is recommended by seasoned travelers as the best way to carry credit cards, passports and other valuables; carry only a small amount of money in your purse when out sightseeing or shopping.

The hotel concierge is your friend. As well as making dinner reservations, and getting theatre tickets, he will tell you the best routes to and from desired destinations, as well as the average taxi price for the ride. Many will give you a map, and draw out a direct route to be taken. Whenever possible take a limo or taxi, and unless you know the city well do not rent a car. Discretion is key here, place your purse or briefcase on the floor of the taxi next to you, but not in the view of pedestrians who are passing by.

Bon Voyage!