MONTREAL - HOW SWEET IT IS!
LA FETE DU CHOCOLAT - Sampling the Sweetness of Quebec
Story and Photos by Bonnie Carroll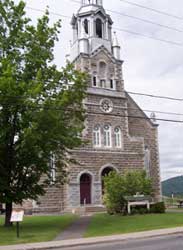 La Fete du Chocolat in Bromart, Quebec is an experience that no chocolate lover should miss. This sweet event is held in a picturesque town, only forty-five minutes from Montreal on Highway 10, where historic churches and rolling farmland create memorable visuals. The main street is lined with cozy antique stores, family owned restaurants and of course, bakeries that are filled with a variety of outstanding breads that would please the most critical pastry chef.
A bevy of exhibitors display their work and products in a huge sports arena, transformed into a wonderland of sweet surprises, where every kind of chocolate food product becomes available for the tasting, sampling, and viewing. Products on display represent chocolate tea, mustards, liqueurs, and of course, the most decadent and delicious candy samples imaginable. Ferreira and Belle de Brillet wines could be sipped from tiny chocolate cups.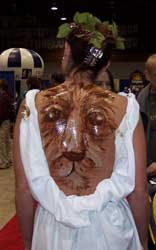 Exquisite chocolate body art paintings were viewed on live models, and an area devoted to children gave youngsters an opportunity to create their own chocolate masterpieces. The two day event also high-lights the artworks of local artists, attracting crowds of area attendees and visiting tourists to admire their colorful collections. Lodging for visitors is available at a variety of charming bed & breakfasts, and nearby hotels, and a new spa featuring chocolate body treatments recently opened at the Auberge Madrigal, a family owned lodge in the area.
A main attraction at Le Fete du Chocolat is the Musee du chocolat, where artists compete for a sculpting prize by creating Greek and Roman style busts from huge blocks of chocolate in the hope of being awarded a blue ribbon at the gourmet finale dinner. The finale dinner is a gastronomique meal comprised of chocolate inspired recipes.Throughout the event members of the French Quebec Trade Commission are on hand to welcome visitors, and provide them with literature explaining their ongoing efforts to promote international trade.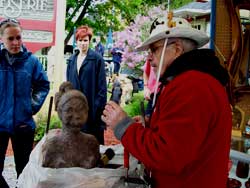 Boulangerie L'ame du Pain is a cozy and charming cafe for a quick luncheon with family and friends. The café overflows with the aroma of homemade foods. The Healthy fare menu offers delicious daily pasta and fish specials, as well as homemade soups, served with fresh vegetable salads and a variety of freshly baked breads. The desserts in this commuinity are a must for a memorable ending to any lunch or dinner , and are bountiful at the many delightful eateries on Main Street.
The history of Bromart, and overall charm of its residents, is a contributing factor to the continued success of this annual chocolate lovers event. Having been a city dweller for so long, I was fascinated by the scenic drive from Montreal; traveling past miles of open farmland filled with grazing cows and sheep. I highly recommend this unique weekend adventure in Bromart. It is the perfect destination for a family outing or romantic get-a-way. I look forward to my next visit to Quebec, and an encore to this sensational chocolate adventure, overflowing with sweet Canadian hospitality.