TERAMO, ITALY
Center of Ceramics in Abruzzo
By Bonnie Carroll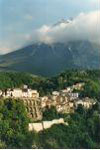 Rising from a rock dominated by Mount Camicia is a small village set between the Rio and Leomogna rivers. Its beauty and the friendliness of the locals make it a favorite destination place for tourists. It is home of the Art Institute and a fascinating Ceramics Museum, and is located on the eastern side of the Gran Sasso.
Teramo has existed since pre-Roman times, and in the XI century flourished under the influence of the Benedictine Abbey of San Salvatore. The monks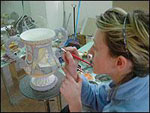 introduced the local people to ceramics, and since the XVI century has been acclaimed by the Grue Brothers, Gentili, and Pompei families, who are considered masters in the art of ceramics. Elegant dinnerware by Castelli was commissioned by noble families, including the Aragona, Orsini, Farnese and others.

Archeological research is ongoing in this area, and the Museo del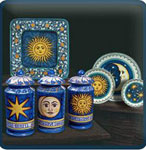 le ceramiche is located in the cloister of an ancient convent just outside the town. The San Giovanni Battista contains a XII century wooden statue of St. Anne and XVII century ceramics works. Frescos by renowned Italian artists are also visible in many of the local village venues.

This is an exquisite area to visit, especially if you enjoy climbing and feeling one with nature. In August there are to major events for tourist enjoyment: August 15 features the Lancio del piatto on the river Leomogna, and it is a traditional popular game that Italians enjoy. The second is a festival that runs from August 1-31 August a Castelli, a Market Fair of traditional ceramics along the streets of the village.
This lovely Castelli village area is also home of Simonetti Ceramics, a place of business that was a perfect spot for a quick visit to watch craftsmen at work creatin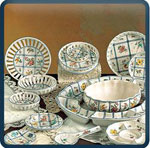 g their beautiful and artistic designs before our eyes.
From the awesome expanse of the Gran Sasso to the intimate restaurants with delicious local fare, and the various sites filled with local history, this is simply not a part of Italy you would ever want to miss. Be sure to include Teramo on your traveling schedule when you book your next vacation to the Abruzzo are in Italy. It is enchanting. For information visit: www.Italiantourism.com. For direct flights to Pescara in Abruzzo visit: www.euroflyUSA.com
---
SANTA BARBARA IN SUMMER
American Riviera is Alive with Activity
By Bonnie Carroll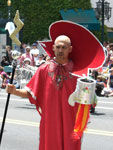 Summer in Santa Barbara is one great celebration after another. This week was the culmination of six months work to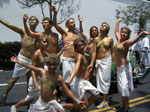 present the Solstice Parade down State Street. For months dance groups have been rehearsing, costume designers have been sewing, and float builders have been hammering and painting. The unity of community spirit for this event is awe inspiring. This event started over 30 years ago, and today attracts more than 90,000 visitors.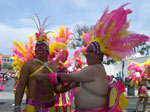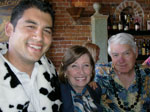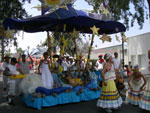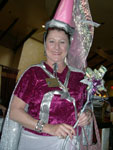 Preceding the Solstice is the Mission Art Show, where artists draw on the walks in front of the Old Mission with colored chalk, and create outstanding designs and paintings for the public to view. The squares are secured by local businesses and organizations to show their support. It is an Italian inspired event, and Pizza and Gelato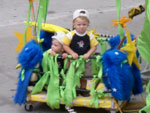 by Via Maestro 42 is enjoyed by visitors.
Fiesta is another huge event that happens in the City of Santa Barbara, and also draws huge crowds to join in the fun. Following summer, in September the Santa Barbara Film Festival brings movie lovers and hopeful film producers to find the best in film for the year, and honor greats in the entertainment industry.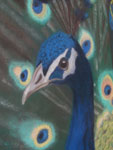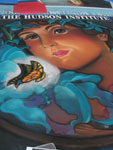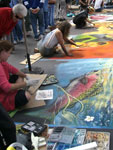 ---
WHAT'S HAPPENING IN SEATTLE
by Bonnie Carroll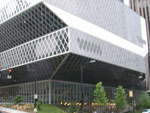 Always in the past when I was in Seattle it was too overcast to go up in the Seattle Space Needle to see the view, but on this last trip I made it, and it was worth the wait.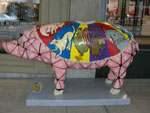 Despite a light drizzle, I was able to get some photos, and just enjoy watching all the other tourists' excitement as the monorail approached the needle.
This is a great way to spend an afternoon. The Space Needle has a qui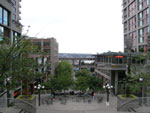 ck food café and a dining room that serves brunch on weekends. It also has a great gift shop, and is surrounded by a bevy of amusement rides for kids and adults. This is a fun place, and no one should miss it.
The Pike Place Market in Seattle is great fu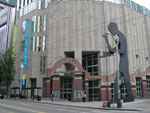 n very early on Sunday morning. There are endless varieties of fresh seafood, fresh fruits and vegetables, flowers, honey products and gifts to send home. There is a pier to go and take photos of the great ferries that transport cars and people a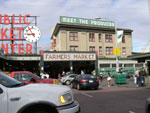 round the Puget Sound. As you can imagine, cruises are very popular, as are dinner cruises in the evening.
Across the street from the market there are a variety of delicious specialty shops, including a great cheese shop, bakery, Hispanic market, fishing gear compa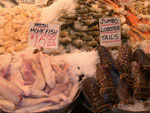 ny, and a variety of gift shops.
The Seattle Art Museum is another great place to spend the best part of a day. Just looking at the building from the street is interesting. This could also be said of the Seattle library buildi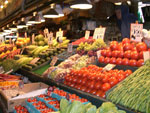 ng, which is spectacular looking, and a great contrast to the older historic building surrounding it.
The Olympic Sculpture Park at the Seattle Art Museum (SAM) opened on January 20, 2007, and has drawn rec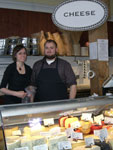 ord crowds. It includes the work of Richard Serra, Alexander Calder and Mark di Suvero. Visit: www.seattleartmusuem.org.
In 2008 the Four Seasons Hotel is opening a property at 2nd Avenue and Pi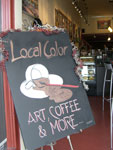 ne on the water near the Farmer's Market and I'm told that Hyatt will also open in 2008. The Starwood Capital Group will build a hotel called "1" which will be Eco-Friendly. The building will be built to meet nationally accepted standards for the design, construction and operation of "green" buildings, as defined by the U.S. Green Building Council. The building will include 97 condominium units and 110 guestrooms.
You can purchase a Go Seattle Card that will provide the "full Seattle experience" with free entry to many exhibits and destination points. For tourist information on Seattle visit: www.seeseattle.org or www.citypass.com.
---
WHAT'S SIZZLIN' IN JUNE ON HAWAI`I'S BIG ISLAND
HAWAI`I'S ISLAND OF ADVENTURE
Come to the Big Island and discover "Everything Hawai`i, from chill to sizzle."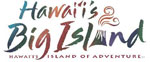 The season is heating up on Hawai`i's Big Island, from family-friendly outdoor concerts to one-of-a-kind adventures above and below sea level. Hawaii's Big Island is Hawaii's Island of Adventure.
Adventures, Events and Activities
Discover the secrets of Wailuku River with Hawaii Forest & Trail's new Waterfalls Pinztrek adventure. Carved a century ago on the banks of Hawai`i's longest river, the trail reveals hidden waterfalls and compelling sites, and guests can savor exotic fruits and spices from a nearby orchard. Interpretive guides share legends and stories on the way to an intimate view of Hilo's famous Waiānuenue (Rainbow) Falls. The two-and-a-half hour tour launches July 1, with morning and afternoon tours departing daily from downtown Hilo. Bottled water and light snack included. Adults $79, children $69, plus taxes. For more information, call (808) 331-8505 or visit www.hawaii-forest.com.


The deep, cobalt waters off the Kona Coast offer some of the richest big-game fishing in the world, and this year is off to a splashy start. In March, Kona's first "grander" for 2007 was recorded - a 1,011-pound Pacific blue marlin. The spring run of big yellowfin tuna (`ahi) arrived early, with catches up to 191 pounds being reeled in. All this leads up to the most prestigious fishing tournament of them all - Kona's 48th annual Hawaiian International Billfish Tournament, Aug. 6 -10. Teams from Hawai`i, the U.S. and around the world compete for five days to catch prized Pacific blue marlin and win the coveted HIBT Governors Trophy. No cash prizes are given, and most marlin caught are tagged and released to promote conservation. For information call (808) 836-3422 or log onto www.hibtfishing.com. For more information about fishing off the Kona Coast, log onto www.FishingHawaiiOffshore.com.


The East Hawai`i Cultural Council presents the 18th Annual Big Island Hawaiian Music Festival, July 21 - 22 from noon to 5 p.m. This two-day music extravaganza features performances in slack key and steel guitars, `ukulele and falsetto by top local entertainers, including Sonny Lim, Pekelo, Brittni Paiva, Darlene Ahuna, Bradda Smitty, Harold Kama, Sr. and more. $12, children under 11 free. For more information, call (808) 961-5711 or go to www.ehcc.org.


The annual Parker Ranch Rodeo is a celebrated Big Island tradition on the Fourth of July, offering action-packed rodeo events, keiki (children's) activities, ono (delicious) food and more. Parker Ranch paniolo (Hawaiian cowboys) are joined by other Big Island paniolo for a corral of traditional rodeo events from 9 a.m. - noon, July 4, at Parker Ranch Arena in Waimea. Call (808) 885-5669 or visit www.parkerranch.com.


Turtle Independence Day is held purposefully every year on July 4. This "liberating" event educates people about endangered Hawaiian green sea turtles, or honu. Guests cheer as officials give the honu - which have grown up in the ponds at Mauna Lani Resort - their freedom by releasing them back into the ocean. Call the Mauna Lani Resort at (808) 885-6622 to learn more.


The famous Waikoloa Rubber Duckie race turns 16 this year and The Kings' Shops at Waikoloa Beach Resort is throwing a Sweet 16 party to celebrate. The daylong Fourth of July event, running 10 a.m. to 9:30 p.m., features Hawaiian entertainment, crafts, demonstrations and, of course, the annual Rubber Duckie race capped off by a spectacular 15-minute fireworks display. Rubber ducks can be adopted and entered into the race for $5 each, with 100 percent of the proceeds benefiting the United Cerebral Palsy Association of Hawai`i. Call (808) 886-8811 or visit www.waikoloabeachresort.com for more information.


Hula Kai's Summer Snorkel & Sunset Barbeque celebrates the arrival of summer by visiting secluded stretches along the Kona coast aboard a 55-foot Teknicraft power catamaran. Passengers explore stunning underwater lava arches, historic lava flows, sea caves and more. Four-hour seasonal cruises run through August, depart at 3 p.m. and include two hours of snorkeling, snorkel gear, a barbeque and exotic refreshments. Visit www.fair-wind.com for more information.


Hawaiians have a rich oral tradition, perpetuated through mele (poetry, song) and oli (chants). Learn four distinct oli and their background at Volcano Art Center's Papa Oli: Hawaiian Chant Workshop, Sat., July 7, 10 a.m. to 3 p.m. No previous Hawaiian language experience necessary. $45 (financial aid available). Call (808) 967-8222 or visit www.volcanoartcenter.org.


The Lyman Museum in Hilo presents a rare opportunity to view civilian World War II propaganda fashion with its special exhibit, Wearing Propaganda: Textiles on the Home Front in Japan, Britain and the United States, 1931-1945. The exhibit runs from 9:30 a.m. to 4:30 p.m., Mon. to Sat. until Aug. 24. $10 adults, $8 seniors, $3 children. Call (808) 935-5021 for more information.


See Kona's vast underwater world through a photographer's lens at the Kona Underwater Photographers Club exhibit at the Outrigger Keauhou Beach Resort, July 25, Aug. 22 and Sept. 26 from 7 p.m. to 8 p.m.. Meet members of the club and enjoy recent photography of local marine life found in the pristine waters off the Kona reef. Free and open to the public. For more information, contact Craig Duncan at (808) 324-2553.


Whether piping hot or with a cherry on top, Mountain Thunder Coffee Plantation's award-winning 100 percent Kona coffee is guaranteed to be the best however it's served. The superior brew can now be found at Maui Wowi Hawaiian nationwide franchise locations, on the shelves of Costco's Kona store, and as the star ingredient in Meadow Gold Hawai`i's new Kona Coffee Premium Ice Cream, available at retailers across the state. For more information or to purchase any of Mountain Thunder's products, visit www.mountainthunder.com.


See traditional hula and chant performed outdoors on the hula platform overlooking Kīlauea Crater at Hawai`i Volcanoes National Park's fifth 2007 Na Mea Hawai`i Hula Kahiko performance, Aug. 25 from 10 a.m. - 11 a.m. The show will be held in conjunction with Aloha Festivals' Royal Court Investiture Ceremony at noon at Halema`uma`u crater. Free, park entrance fees apply. Call (808) 967-8222 for more information.


The Daughters of Hawai`i present free summer concerts at Hulihe`e Palace in Kailua-Kona in honor of the late John Adams Kuakini on July 15, and King Kamehameha III on Aug. 26, both at 4 p.m. Enjoy the voices of the Merrie Monarchs and Hawaiian performing arts by Kumu Hula Etua Lopes and his Halau Na Pua Ui O Hawai`i. Call (808) 329-1877 or visit www.huliheepalace.org for more information.


Ready to discover how to improve your life, leadership or bottom line? Executive Purpose™ Training and Retreats introduces dynamic vision and success development programs on the beautiful and inspiring shores of Hawai`i's Big Island . Curriculums benefit individuals and groups seeking to ignite a sense of passion and mission in their lives and work, and elevate their business and personal life goals. The next Big Island workshop is Discover Your Power to Create, a half-day training with motivational leaders Mark and Desiree Watson, June 30 and July 28 at the Hapuna Beach Prince Hotel. Visit www.executivepurpose.com or call (808) 883-1199 for more information and prices.

Hotels, Resorts & B&Bs
---
Cooking Vacations' Property Of The Month
ROMA -FOOD LOVER'S COOKING TOUR
In Superior Suite Overlooking The Roof-Tops Of Roma
Join Chef Eugenio Rossi for 6 days of hands-on cooking and culture in the Eternal City of Rome. Learn classic Roman recipes from one of Italy's most applauded chef. Walk through ancient Roma with your personal guide Stephano who brings you to the best food stop's in the Eternal City.

Rome, the largest city in Italy, overflows with spectacular beauty, robust flavors, and romance. Three thousand years of history are on display in this open-air museum, featuring ancient ruins, Renaissance palaces, Baroque fountains and the Vatican.

Visitors can't help but be swept up in the Eternal City's vibrant energy. Modern Rome blends in with the city's centuries-old architecture, as Vespas hurry by and busy Italians of all ages chatter on their cell phones.

Life has always been lived passionately here. Passion has inspired world-renowned treasures like Michelangelo's Sistine Chapel, Bernini's fountains, and timeless culinary traditions. A traveler who experiences Rome, experiences La Dolce Vita (the sweet life) - whether they are admiring the view from one of its Seven Hills, discovering a trattoria in a quiet alley, rubbing elbows with the fashion set on Via Condotti, lingering in a cafe near a gushing Baroque fountain, standing awestruck before a masterpiece in a church, or enjoying a delicious gelato.

Hotel
While in Rome, you will be welcomed to our charming jewel-box hotel located between the 18th century Spanish Steps and the famed Via Veneto. The conveniently located hotel, named after the Italian painter and sculptor Amedeo Modigliani, has been newly renovated, while preserving its old world charm. Your program includes the top-floor and panoramic suite for 2.

The family-owned hotel has welcomed travelers since the days of the Grand Tour. Gracious owners, writer Marco Di Tillo and his musician wife Giulia, cater to their guests' every need with a winning combination of welcoming warmth and high professional standards. Elegantly furnished rooms, a quiet inner garden, and a rooftop offering a spectacular view of the historical city, make this home-away-from-home a haven of relaxation in bustling Rome. Each spacious room offers a private bathroom, modern amenities and attractive furnishings. This pristine hotel is centrally located and minutes from the Spanish Steps and Via Veneto.

Itinerary
Day 1
Pickup from the Rome Airport and transfer to the hotel where you will meet your hosts. Check in, freshen up and relax.

When ready, we suggest a self-guided exploration through the neighborhood. Visit Bernini's Fountain of Triton and Fountain of Bees, the Spanish Steps, and Borromini's church masterpiece: San Carlo alle Quattro Fountain. Directions and maps to these easy-to-find attractions are available at the front desk.

Suggestion: stop for lunch at one of the local trattorias in the environs by the Spanish Steps, minutes from the hotel.

After lunch visit the designer stores on Via Condotti, taking a break at the 18th century Antico Caffe Greco. Watch the sun set over the Vatican from the top of the Spanish Steps.

Evening dinner included.

Day 2
Breakfast is served at the Hotel (breakfast is included each day)

Cooking Class 1:
Join Executive Chef Eugenio Rossi in Rome for this exclusive hands-on cooking class in his authentic Roman kitchen. Chef Rossi knows food and cooking and shares his secrets with you. He leads his classes with passion and love. A talented and highly celebrated chef, he shares his knowledge, technique and history in the making of antipasto, pasta, main dishes, and more. Learn the tastes and traditions with Italy's most colorful and acclaimed chef in the heart of Rome.

Your fun-filled day starts off with an early morning visit to the colorful outside Testaccio marketplace in Rome. Chef Rossi personally picks you up at your hotel for the market tour. You will visit rows of stands selling prized vegetables, fruits, fish, meat, and cheese. Upon leaving the market, Chef Rossi, brings you to the kitchen for a full course cooking class.

Testaccio Market:
Rome's fresh-produce markets are treasured reminders of a more traditional way of life. There's a dazzling array of fresh fruit and vegetables, often meat and fish stalls. The Testaccio market on Piazza Testaccio, is the most Roman of all the city's markets. It is noted for its excellent quality and good prices. The Testaccio market is where the baby chicory shoots, broad beans, and Roman artichokes are both fare for the Roman dinner table and good reason to socialize in the morning. The late actor Marcello Mastoianni's cousin's stand, with Marcello's face on the sign, sells fresh fish.

Itinerary 8:30am: Early morning pick up from your hotel. Your morning starts off with a one-hour tour of Rome's historic and colorful Testaccio marketplace. Return to the restaurant for a hands-on cooking class, which consists of a demonstrative preparation of "primi piatti" (first courses) and two "secondi piatti" (second courses). Everyone enjoys the dishes prepared in class together, accompanied by a delicious glass of regional wine. (Drinks excluded)

In the afternoon: Self-guided tour, walking through the heart of Old Rome: highlights include the Pantheon, San Luigi dei Francesi church (featuring Caravaggio masterpieces), Piazza Navona, the Via Giulia, and Palazzo Farnese. Visit the Trevi Fountain. Throw in a coin to ensure your return to Rome! Dinner on your own. Suggestions provided at the hotel.

Day 3
Breakfast is served at the Hotel

Cooking Class 2:
The morning class starts at 9:30am with a welcome and introduction. There is a brief historical and cultural introduction on the traditions of the Italian Mediterranean kitchen. Chef Rossi hails Italy as the "the great kitchen", as he ensues historical and social evolutions of food, followed by instructions and the preparation of hand-made "pasta all'uovo" (egg pasta).

Two types of home-made sauces are included. Lunch follows, and everyone eats the fruits of their labor together with the recipes prepared in class. Everyone toasts the delicious pasta dinner with a glass of traditional, regional wine.

In the afternoon: On your own sightseeing. Don't miss –must sees!

A visit to the Barberini Gallery, Doria Pamphilj, or Palazzo Altemps. Head to Termini and hop on "the Red Bus" for a complete tour of Rome. Your excursion ticket allows you to get off all day long and re-enter at your leisure. Tickets can be purchased at the Termini Station. Dinner on your own. Suggestions provided at the hotel.

DAY 4
Breakfast is served at the hotel

Cooking Class 3 ~ Pizza School
Chef Rossi's pizza class shows you how to mix, knead, and roll dough into an award-tasting creation. Pizza, also one of Italy's most celebrated food, is served with tomatoes, fish, vegetables, and even an egg in the middle. The morning class starts at 9:30am with a welcome and introduction. There is a brief historical and cultural introduction on the traditions of the Italian Mediterranean kitchen and the history of pizza. Chef Rossi hails Italy as the "the great kitchen", as he ensues historical and social evolutions of food, followed by instructions and the preparation of authentic Italian pizza. Join Chef Rossi for this intense pizza cooking class as he takes you through the technical steps of making perfect Italian pizza. Lunch follows, and everyone eats the fruits of their labor together with the recipes prepared in class. Enjoy a glass of wine to toast your delicious pizza. (Drinks excluded).

In the afternoon: On your own sightseeing.

Don't miss –must sees! Visit the Vatican museums, featuring classical sculpture (the Lacoon, the Belvedere Torso, and Apollo Belvedere), the Stanzas of Raphael and Sistine Chapel.

Visit Saint Peter's Basilica, featuring Michelangelo's Pieta, Bernini's altar, and the Pope's tombs. Optional: climb to the top of the dome for a panoramic view of the Eternal City!

Dinner on your own. Suggestions provided at the hotel.

Day 5
Breakfast is served at the hotel.

Roma's Food Lover's Tour
9.00 Meeting at the hotel with our professional guide
Walking tour of Roma including monuments and the Food Lover's Tour
Trevi fountain
The quaint small fruit and vegetable market
Pantheon
Navona square
The big market of campo dei fiori

2.00p.m -Basilica of Saint Peter, with a visit inside.

4.00pm In the later afternoon, you will reach the area of Cola di Rienzo, where we will visit two shops, one special for coffe-made(torrefazione) and one special for cheese. Following and with a transport, we reach TRASTEVERE AREA -where we will visit the most ancient salami, ham, cheese, bread, wine shop of the area, opened since 1800.

6.00pm End of the visit and return to the hotel

Day 6
Breakfast is served at the hotel

Transportation to the Rome Airport

Arrivederci Roma! (until you return...)

Program Includes:
6 days/5 nights accommodations in the Superior Roof-Top Suite with expanded space and private bathroom overlooking Roma. Daily breakfast
3 hands-on cooking classes with lunch or dinner following. Ingredients included, recipe booklets, and cooking certificate.
Maps for self-guided walking tours of Rome.
A full day with private guide
One outside dinner.
Round trip transfers to and from Rome Airport.

Program Price

$3145 per person/based on double occupancy.
Lauren Birmingham
---
CERULEAN VILLA TEAMS-UP WITH THE ANGUILLA CHILDREN'S
FUND TO BUILD ISLAND'S FIRST-EVER YOUTH CENTER
-- Cerulean Villa will offer guests one complimentary night in return for donation to Anguilla's Children's Fund from October 2007 through April 2008--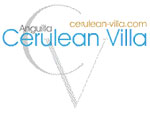 Anguilla's premier villa hideaway, Cerulean Villa, is enlisting the assistance of its guests in a fundraising initiative to construct the first-ever Anguilla Youth Centers which will provide programs and activities for children aged 6 to 16, as announced by Villa Proprietor Laurie Weltz.
Weltz hopes to raise $100,000 over the next few months (October 2007 - April 2008) by offering a complimentary night stay to guests of Cerulean Villa when they make a tax-deductible donation of $15,000 to the Anguilla Children's Fund in support of its initiative to build youth centers across the island. In return for their contributions, guests receive one complimentary night during their visit, a cost savings of $7,900 (based on weekly rates starting at $50,000).
The Anguilla Children's Fund was created to provide the young people of Anguilla with the tools needed to realize their full potential as productive, responsible and caring citizens. Plans call for several youth centers to be built in the communities of West End, South Hill & Blowing Point, The Valley, and East End & Island Harbour, that will offer programs and activities to approximately 2,600 children. The centers, which will be similar to the Boys & Girls Clubs of America, will focus on after school programs, as well as weekend and school vacation programs. The diverse program offerings will include an art center for photography, painting and drawing, a family room for community events, an outdoor recreational center that will offer basketball courts, volleyball and a swimming pool. Heading up the centers' programs are educators, professionally trained staff volunteers and education interns, and professionals from abroad.
Anguilla Children's Fund, which is a non-profit Anguilla-based organization, was founded by Bob and Melinda Blanchard in April of 2003. The Blanchards are longtime residents of Anguilla and own and operate Blanchards and Zurra restaurants on the island. The Blanchards created the fund to provide the island's youth with a dynamic environment in which to learn and enrich their lives.
"Anguilla has gone through an enormous growth in high-end tourism in the ten years since we have been a part of the community, and with that growth comes inevitable changes. We felt it was very important to try to preserve some of the things that made us fall in love with Anguilla, most importantly the people. The island is now at full employment, with many people working more than one job. With so many parents out working long hours we wanted to provide the children of Anguilla with a safe and productive environment to come after school. We think the Blanchard's idea of building youth centers is a fabulous way to try and combat some of the problems that can occur in a community where children have too much free time and not enough supervision. The children are the future of Anguilla, and we are deeply committed to trying to improve their lives," said Laurie Weltz, owner of Cerulean Villa.
Cerulean Villa is a 13,000 square-foot luxury villa located directly on the pristine white sand beach at Barnes Bay. The villa features seven spacious bedrooms with outdoor terraces overlooking the sparkling cerulean blue sea, a freshwater swimming pool, Jacuzzi, tennis court, fitness center, indoor and outdoor dining and living areas and an exceptional staff of 14. In addition, guests will enjoy a wide range of culinary offerings during their stay, prepared exclusively to the guest's tastes and preferences by Cerulean's executive chef. The villa also offers a host of recreational activities including children's programs featuring pony rides on the beach and dolphin excursions, customized spa treatments using indigenous essences and extracts, an array of water sports, and for golfers, tee times can be arranged at the newly completed Greg Norman golf course.
For reservations or more information on Cerulean Villa please call (212) 285-2070 or visit our website at www.ceruleanvilla.com. A complimentary night is available on minimum stays of 7 days and a tax deductible donation of $15,000. Based upon occupancy maximum of 14 guests, exclusive of tax, gratuities and food.
Cerulean Villa opened in 1997 as the first 'super villa' on Anguilla and quickly became one of the Caribbean's most popular properties. This beautiful private home offers all the amenities of a five-star resort, including a staff of 14 catering to every whim and need. Praised by Vogue, Travel+Leisure and Playboy, this villa brings elegance effortlessly to any holiday or special event. Cerulean Villa is a member of The Crown Collection; an exclusive selection of 32 luxury hotels, resorts, villas and sea cruises in the U.S., Caribbean and Europe.
---
Traveling Solo?
Six Ways Anchorage Makes it Easy to Go It Alone in Alaska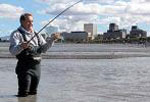 Alaska is no stranger to welcoming solo travelers. Nearly 20 percent of visitors to Alaska travel alone for either business or pleasure. Those who love to vacation alone know that going solo offers unique opportunities for spontaneous discovery unburdened by the demands of others. Travelers looking for a big adventure in the great outdoors or the intimate experience of a immersing themselves in a place steeped in beauty and rich with culture find Anchorage makes it easy to vacation on their own. Here's why solo travelers want to make Anchorage their base camp to adventure:
Adventure on a shoestring – Alaska may be large, but the best the state has to offer is easy to experience on a solo budget, especially from Anchorage. In fact, there's no need to leave Anchorage to experience Big Wild Life. Embraced by six mountain ranges and warmed by a maritime climate, Anchorage is alive year round with recreation, seasonal festivities, wildlife and sightseeing opportunities. In the Anchorage area solo travelers can go bear viewing, bird watching, whale watching and watch for other Alaska wildlife, including moose, Dall sheep, black bear, brown bear, grizzlies, orca whales and more. Unarguably the state's most scenic highway, the Seward Highway, leads from Anchorage to the bedroom community of Girdwood and the Alyeska Ski Resort. Glaciers surround the Girdwood valley, which features numerous scenic hiking and biking trails, parasailing and horseback riding activities, dog mushing in winter and a visual arts center.
Culture without a cab ride – One of the most compelling joys of going it alone on vacation is the chance to immerse oneself in the culture of a place without the distractions of traveling in a large group. Anchorage's many museums and cultural heritage centers are designed to encourage one-on-one interaction with Alaska Native artists and craftspeople. Numerous free shuttles between cultural attractions provide remarkable access to Alaska's cultural heritage. It is entirely possible to visit Alaska's largest museum, it's Native heritage center and numerous attractions offering films and educational programs on the state's history within one or two days and without ever having to take a taxi or rent a car.
Self-guided made simple – In downtown Anchorage alone there are dozens of self-guided walking tours of the city's surrounding wilderness and recreation areas and culture and heritage venues. Anchorage's extensive trail system is one of the best in the United States, according to a past issue of "Bicycling Magazine." The American Hiking Society agrees, naming Anchorage second on a recent list of Top Trail Towns. Anchorage's well-kept trail system offers 120 miles (193 km) of paved and 300 miles (482 km) unpaved and wilderness trails. Every trail is accessible via public transportation. The Anchorage Convention & Visitors Bureau offers free walking maps of the city and trail system at www.anchorage.net. For those wanting a guide, Alaska's Public Lands Information Center offers guided walks to historic downtown sights daily in summer and has information on all of Alaska's public lands, including national and state parks, national forests, and wildlife refuges.
Clean, safe and friendly – Anchorage has a reputation for the congeniality of its residents as well as its walk-able and tourist-friendly downtown center. Committed to the philosophy that a clean, attractive and vital city enhances its public safety and enjoyment, this self-proclaimed City of Lights and Flowers is filled with thousands of twinkling lights in winter and colorful blooms in summer – in fact, city gardeners plant 461 flowerbeds and hanging baskets at 81 sights—to the delight of visitors. The presence of the city's team of friendly security ambassadors clad in bright yellow jackets enhance safety and security downtown, patrolling streets, welcoming and assisting thousands of visitors and helping keep the city clean.
Base camp to adventure - Anchorage is the perfect base camp for solo travelers who want to venture farther into the great outdoors. Denali National Park, Kenai Fjords National Park and the Chugach National Forest are all within a few hours drive from the city's downtown area. Alaska has the nation's greatest concentration of glaciers, covering almost 30,000 square miles, and Alaska's top visitor attraction featuring Alaska glaciers is just a short, spectacular drive away from Anchorage - Portage Glacier and the Begich, Boggs Visitor Center are located just 50 miles south of Anchorage. Dependable operations offer year-round charters from Anchorage via floatplane, fixed wing and helicopter. Flights depart from the Anchorage International Airport, Merrill Field, and Lake Hood Air Harbor – the world's busiest floatplane base.
Planning Tools - The Anchorage Convention & Visitors Bureau's award-winning Web site ( www.anchorage.net ) is the perfect tool for travelers to plan itineraries step-by-step and learn about travel packages, local events and activities. The city's cartoon moose mascot, Seymour of Anchorage, leads online visitors through a seven-day Anchorage adventure with recommendations for morning, afternoon and evening activities based on seasons and interests. Explore the virtual visitors guide or order the Official Anchorage Visitors Guide.
The Anchorage Convention & Visitors Bureau's mission is to attract and serve visitors to the Municipality of Anchorage. ACVB's marketing functions are funded by one-third of the bed tax collected by the lodging association. One-third goes to the Municipality's general fund and one-third goes to the Anchorage Civic and Convention construction project. ACVB receives no state or federal funds.
---
RENOWNED TUSCAN SPA INVITES GUESTS
TO EXPERIENCE THE TRUE MEDITERRANEAN LIFESTYLE
IN A UNIQUE PACKAGE OFFERING
-Terme di Saturnia Spa & Golf Resort offers guests the perfect balance between work, relaxation and enjoying the pleasures of life with its Mediterranean Package-
Surrounded by picturesque and natural, untamed scenery at the foot of the medieval Tuscan village of Saturnia, Terme di Saturnia Spa & Golf Resort offers guests a unique and enlightening travel experience with programs, cuisine and a daily mantra geared toward the promotion of a fulfilling and healthy lifestyle. Through the resort's Mediterranean Lifestyle Package, with rates starting at just €2,974 or $3,998* for double-occupancy for a four-night stay, guests will experience a true taste of this unique lifestyle.
Finding the perfect balance of work and leisure, food and friends is the goal with an age-old idea of the Mediterranean way of life, promoting physical activity and taking the time to enjoy the small pleasures of life. The Mediterranean lifestyle is centered on three different elements; balance, activity and diet, and Terme di Saturnia Spa & Golf Resort has created customized programs to help guests strike the ideal balance between each of these elements, resulting in total relaxation and well-being. With this unique package guests will enjoy several of Terme di Saturnia's signature spa treatments, delicious cuisine, tours of the surrounding Tuscan towns, morning hikes and much more.
Mediterranean Lifestyle Package Includes:
Four nights accommodation in a junior suite for two
Breakfast featuring local products served daily
One Specific Face Treatment, Full Body Massage, Four-Hand Massage Shower
Complimentary use of thermal pools, Roman Bath, reserved deckchair in the pool's park, tennis court, golf-driving range, bikes, gym equipment
Afternoon tour to surrounding towns in Tuscan Maremma
Guided morning hikes
One complimentary bottle of wine served with dinner
One complimentary dinner at the resort's Tuscan restaurant All'Acquacotta
Welcome gift
Airport transfers
The resort features 140 guestrooms, including 65 junior suites and eight suites, state-of-the-art spa with 60 treatment rooms, two restaurants, an Aldo Coppola Hair Salon, a conference center with meeting room for up to 250 people, six outdoor and two indoor pools, a replica of a traditional Roman bath house, fitness center, tennis court, practice green, boutique and art gallery, and an 18-hole golf course that will be completed by the end of 2007.
A true medical spa with a staff of 45 therapists and five medical doctors, the spa features therapies for beauty, stress management and thermal and hydrotherapy treatments based on the area's unique thermal waters which date back to the Etruscan period. The 3,000-year old thermal pool has been flowing continuously into the natural crater nestled at the center of the resort, containing precious minerals and salts which were found to have healing effects on aches and pains of the ancient Romans.
Rates are per couple based on a double occupancy for three nights.
Rates are valid through December 24, 2007.
Rates are subject to availability.
*Conversion rate to American Dollars as of June 1, 2007 is subject to changes.
**Cost savings are calculated based on standard rates and package contents.
To book the Mediterranean Lifestyle Package or for more information on the resort please visit www.termedisaturnia.com or call +39 0564 600111.
Terme di Saturnia is an exclusive resort and member of Leading Hotels of the World located in the heart of the Tuscan Maremma region of Italy in the medieval village of Saturnia. The four-star hotel consists of 140 rooms, which includes 8 suites and 65 junior suites, two restaurants, two bars, fitness center, an art gallery, an Aldo Coppola hair salon, a meeting room for up to 250 people, and the 3,000-year-old thermal pool nestled in the center of the resort. Terme di Saturnia is a leading spa resort dedicated to providing quality spa treatments and to promote complete well being has 60 rooms for beauty, stress management, thermal and hydrotherapy treatments. The spa also offers diet and fitness programs. For more information, please visit our website at www.termedisaturnia.com.
---
SEABOURN 2008-09 CRUISE ATLAS DEBUTS
Ultra Luxury Yachts to Visit 200+ Ports on 127 Voyages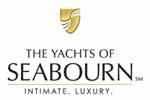 Small-ship specialists The Yachts of Seabourn has mailed a new 2008-09 edition of its distinctive "Seabourn Yachting Life" cruise atlas to the company's large and loyal following of repeat guests and their travel agents.
From January 2008 through April 2009, the line's three 208-guest, all-suite vessels will visit over 200 ports in 55 countries on 127 voyages. The Mediterranean, Northern Europe, Scandinavia & Russia, Asia, Africa and the Americas will all be explored on cruises of five to 18 days or longer.
Seabourn Legend provides a series of dazzling two-week winter voyages of Belize, the Panama Canal and Costa Rica, then spends the summer cruising the picturesque harbors and glittering resorts of Spain, the French Riviera, and Italy, including Trapani, Sicily, a new port for 2008.
Seabourn Pride will venture from Cape Horn at South America's most southerly tip to the North Cape. Spring cruises of the Mediterranean include new calls at Genoa, Italy, and Koper, Slovenia. Along with popular cruises in Scandinavia, Russia and Norway's fjordlands, the ship will operate several new Western European itineraries encompassing ports in France, the British Isles, Belgium and the Netherlands.
Seabourn Spirit explores Thailand, Vietnam, Malaysia and makes two eight-day voyages to China, including Xiamen, Zhangjiagang (for Wuxi), Nanjing and Shanghai. India, Oman, Dubai, Egypt and the Red Sea are seasonal highlights. Spring, summer and early autumn are spent exploring Greece, Turkey, Italy and the Black Sea. Several new 2008 itineraries concentrate on the Adriatic's beautiful Dalmatian coast, including Split, Dubrovnik, Hvar and Rovinj, Croatia and Kotor, Montenegro.
Early booking savings entice travelers to reserve well in advance. Travelers who have previously cruised with Seabourn, or any other lines which are members of the World's Leading Cruise Lines (Carnival, Costa, Cunard, Holland America and Princess), enjoy Club Signature Value savings of up to 50 percent off brochure fares on a selection of voyages throughout the year.
Privileged guests aboard Seabourn yachts enjoy "Signature Delights," a myriad of thoughtful touches that includes complimentary fine champagne, wines and spirits throughout the cruise; gourmet cuisine designed by celebrity chef Charlie Palmer; Vintage Seabourn, a premium wines pre-purchase package; Seabourn to a Tea, a menu of rare estate teas, unique blends and herbal tisanes being served on board; Seabourn's Personal Shopper service providing luxury cars and shopping guides in various ports worldwide and Seabourn's innovative Personal Valet luggage shipping service.
Seabourn's new cruise atlas can be ordered free of charge from the line's award-winning website at www.seabourn.com or by calling 1-800-929-9391 and following the prompt for ordering a brochure. For information about 2008-09 Seabourn cruises, contact a travel agent or call Seabourn at 1-800-929-9391.
The Yachts of Seabourn provides the ultimate in ultra luxury cruise vacations to the most desirable destinations on earth and is a proud member of the World's Leading Cruise Lines. Our exclusive alliance also includes Carnival Cruise Lines, Holland America, Princess Cruises, Cunard Line, and Costa Cruises. Sharing a passion to please each guest, and a commitment to quality and value, our member lines appeal to a wide range of lifestyles and budgets. Together we offer exciting and enriching cruise vacations to the world's most desirable destinations. Seabourn is a brand of Carnival Corporation and plc (NYSE/LSE: CCL; NYSE:CUK), and supports the Ocean Conservation & Tourism Alliance, dedicated to education and promotion of best practices for protecting the marine environment.
---
THE CARLTON ON MADISON AVENUE CELEBRATES SUMMER IN THE CITY WITH SPECIAL SEASONAL PACKAGE
~Summer in the City package features reduced room rates and invites guests to experience New York during this spectacular season ~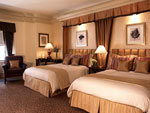 The temperatures are warm, sidewalk cafes are filled and Central Park is bustling, signifying summer in New York City. In honor of the season, The Carlton on Madison Avenue has unveiled a special "Summer in the City" package inviting guests to savor all that New York has to offer at reduced prices starting at just $264 per night.
The Carlton on Madison Avenue offers deluxe accommodations with added amenities at a fraction of the price. With the "Summer in the City" package, guests will enjoy The Carlton's spacious and sophisticated guestrooms, as well as a $50 hotel coupon that can be used towards the final bill. With this coupon, guests may choose to enjoy an exquisite meal at the Michelin-star Country, Geoffrey Zakarian's visionary restaurant or put it toward the general room rate. The "Summer in the City Package" is valid Friday, Saturday and Sunday from June 22 through August 15 and is valid every day from August 16 through September 5.
Located just minutes from area attractions including The Empire State Building, Grand Central Station, Union Square, Macy*s at Herald Square, Madison Square Garden and the shops on fashionable Madison Avenue, The Carlton on Madison Avenue is the perfect hotel to enjoy all that the city has to offer. This summer, hotel visitors can experience the city's plethora of cultural events and activities including Central Park's famed "Shakespeare in the Park," held June through September, and The Metropolitan Museum of Art's exhibition, "Frank Stella on the Roof, which will be on display through October 28. Guest are also encouraged to visit some of the cultural sites just a few steps from the hotel including the Morgan Library & Museum, which is showcasing the "Berlin to Broadway" exhibition through September 2 and Madison Square Park, which will host Madison Square Music with Crooked Still featuring authentic bluegrass music on July 4.
Summer in the City Package (Valid June 22-September 5) visit website for details.
After completing a multi-million dollar renovation and refurbishment process, the 316-room Carlton on Madison Avenue opened its doors with a completely new look that marries old world elegance with a modern New York feel. Luxury accommodations feature mahogany furnishings detailed with rich soothing earth tones that exude serenity and tranquility with a touch of elegance and modern luxury. Plush new bedding adds an element of comfort, drawing guests into the warmth of beautiful duvets and soft pillows. Elegant, spacious bathrooms also help to create an ambience of refinement. Guest amenities include luxury Penhaligon's bath products and Apple iHome® alarm clocks that offer guests the convenience of listening to their personal music library by docking their Apple ipod®.
---
BOOK 4TH OF JULY SPECIAL AND ROOM RATE
INCLUDES SNORKEL TOUR, DINNER AND SPA CREDIT
AT MARQUIS LOS CABOS IN MEXICO
Available from June 30th to July 9th 2007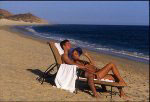 For just the price of a Private Pool Casita, Marquis Los Cabos Beach, Golf, Spa and Casitas Resort is offering a 4-night 4th of July special with a snorkel tour aboard Novia Mia, Marquis' 80 foot Turkish Schooner; one dinner for two at Vista Ballenas restaurant and $100 USD credit at Spa Marquis. Accommodations on land include a stay in a one-bedroom Private Pool Casita, mere steps from the beach. Guests also receive the Marquis continental breakfast, unlimited access to the gym and Jacuzzis, and a Marquis Los Cabos signature welcome drink upon arrival. The 4-night 4th of July special is $3,140 for a Private Pool Casita per person from June 30 until July 9, 2007. Guests can also choose a Junior Suite for $1,520 per person without the snorkel tour. Taxes and service charges are additional. For reservations, call 1-877-238-9399 or visit www.marquisloscabos.com.
The snorkel tour aboard Novia Mia comes complete with signature cuisine from the resort's Michelin star and Maitre Cuisinier de France chef, unlimited drinks, Marquis butler, staff and snorkeling and kayaking equipment. Dinner at Visita Ballenas features Mexican and California cuisine and includes a bottle of house wine. Spa Marquis, a member of Leading Spas of the World, is a 15,000 square foot holistic spa and fitness center. In addition, all suites at Marquis Los Cabos feature Bulgari amenities, imported Italian Frette linens and hydro-massage bathtub.
The 237-suite Marquis Los Cabos Resort, a member of the prestigious Leading Hotels of the World and only member of Leading Spas of the World in Los Cabos, features dramatic water highlights and an extensive Latin American art collection. The beachfront property is located in the "Cabo Real" section of Los Cabos, 18 miles from the airport and only six miles from San Jose del Cabo. Marquis Los Cabos has been named as a 2007 Gold List Resort by Condé Nast Traveler and Canto del Mar, its gourmet restaurant, has been honored with the Five Star Diamond Award by the American Academy of Hospitality Sciences.
---
Flying High At Five: JetBlue's TrueBlue Program Turns Five,
Registers Five Millionth Member

JetBlue Airways Corporation (Nasdaq:JBLU) today celebrates the fifth birthday of TrueBlue, the award-winning low-cost carrier's customer loyalty program. TrueBlue,which offers fliers easy-to-earn, easy-to-redeem awards for travel across JetBlue's network of 54 popular destinations, reached another milestone this week as it registered its five millionth member.
"For five years our customers have come to love TrueBlue's simplicity and the ease with which they can find and book award seats," said Dave Canty, JetBlue's Director of Loyalty Marketing. "As TrueBlue turns five, we want to thank our five million members for their continued loyalty. We look forward to continue recognizing our most faithful fliers with exciting new enhancements to the TrueBlue program in the coming months."
TrueBlue, which launched in 2002, has experienced a nearly 40% year-over-year membership growth rate since its inception. Unlike traditional frequent flier programs, TrueBlue members earn points instead of 'miles' for flights flown. Each JetBlue routes is classified as short, medium or long-haul, and customers can earn points for each one-way trip: two points for a short flight; four points for a medium flight; and six points for a long flight. Points are automatically doubled when TrueBlue members book via www.jetblue.com. A free roundtrip flight, valid for travel to any of JetBlue's destinations across the U.S., Bermuda, Mexico and the Caribbean, is awarded immediately after a customer reaches 100 points(a).
Customers can earn TrueBlue points even faster by using the JetBlue Card from American Express. Every time Cardmembers purchase JetBlue travel with the Card, or earn at least one TrueBlue point through other purchasing using the Card, all TrueBlue points in the member's account automatically extend for another 12 months. The low-fare airline also offers the JetBlue Business Card from American Express, which allows small business owners to save 5% on JetBlue flights when payment is made with the JetBlue Business Card(b). Now, in addition to providing consumers a way to earn TrueBlue points when they are not flying, JetBlue's American Express Card products makes it possible for them to accrue points without worrying about point expiration dates. Currently, only the primary JetBlue Cardmember has the ability to extend their TrueBlue point expiration dates.
For more information about TrueBlue, or to register to become a member,
visit www.jetblue.com/trueblue.
---
Celebrate the Fourth of July Aboard a Hornblower Yacht!

Hornblower Cruises & Events is offering a perfect way for families to celebrate 4th of July– on the water! Choose between a delicious 4th of July Dinner Cruise or a spectacular Fireworks Observation Cruise.
Hornblower's Fourth of July Dinner includes a three-hour cruise with breathtaking views of fireworks, a delicious four course seated meal, boarding glass of champagne and DJ entertainment. Your meal features a smoked salmon bouchee appetizer, green apple walnut salad, a duet of grilled swordfish and flat iron steak served with season's best vegetables, roasted fingerling potatoes, and a chocolate raspberry torte for dessert. A Fourth of July Dinner Cruise departs from Newport Beach and Marina del Rey. Price is $90 per person (tax additional) and cruises from 7:00pm – 10:00pm.
Hornblower's Firework's Observation Cruise includes a two-hour cruise, displayed hors d' oeuvres selection, and a cash bar. The Observation Cruise departs from Marina del Rey only. Price is $55 per person (tax additional) and cruises from 8:00pm-10:00pm.
Reservations are required as these special holiday cruises do sell out. To make reservations or for more information, call 800-ON-THE-BAY. Feel free to cruise by Hornblower on
the web at www.hornblowerhotsummer.com.
Celebrating 27 years of excellence on the water, Hornblower has 32 charter yachts throughout California in Newport Beach, Marina Del Rey, Long Beach, San Francisco, and San Diego. Hornblower's popular Newport Beach and Marina del Rey port offers private charters, public weekend Harbor Dinner Cruises, and Sunday Champagne Brunch Cruises. For more information call our Newport Beach office at 949-646-0155 or our Marina del Rey office at 310-301-6000.
---
DOLPHIN CALF BORN AT THE MIRAGE
Duchess, a bottlenose dolphin at The Mirage Dolphin Habitat, gave birth Friday night at 11:27 p.m. Both mother and calf appear to be doing well. Shortly after the delivery, the calf swam to the water's surface, took its first breath and began to swim and bond with its mother.
The calf began to nurse a short time later, successfully marking another of several critical challenges in the first hours and days of its life. It must still overcome a number of other important milestones in its first months.
Knowing the dolphin was near full-term in her pregnancy, Duchess had been under 24-hour watch by Dolphin Habitat Animal Care staff for the week leading up to the birth. Mother and calf will remain under 24-hour observation for several weeks.
Animal Care staff will not handle the calf for several weeks, so precise weight and measurements are not available. Staff has determined the calf is a male.
The Mirage Dolphin Habitat is accredited by the Alliance of Marine Mammal Parks and Aquariums. The veterinary and marine mammal staffs at The Mirage are utilizing knowledge gained through their successful dolphin breeding program, as well as from other institutions to help Duchess and her calf through these important first weeks.
"Everyone at The Mirage is thrilled about the news," said Jim Hudson, Curator of Dolphin Care at the Mirage Dolphin Habitat. "We're happy to have a new member of our family, but we must remain cautiously optimistic right now. Dolphin calves are very delicate through their entire first year of life. Duchess is an experienced mother and she appears to be bonding well with the new calf. We have excellent facilities and staff at The Mirage and we stand ready to assist both mother and calf in any way we can."
Duchess is one of five adult dolphins at The Mirage. She came to the Dolphin Habitat in 1990. The calf's father is Lightning, a dolphin that arrived at The Mirage in 2006, from Gulf World Marine Park in Panama City, Fla., specifically to breed with the female dolphins at The Mirage.
Duchess and her calf will remain in the Mirage Research and Birthing pool, which is the most familiar and comfortable environment for them. The pool is open to the public and visitors to the Dolphin Habitat can see both mother and calf immediately.
---
JOIN THE KITANO NEW YORK FOR A FOURTH OF JULY ROOFTOP CELEBRATION FEATURING THE MACY*S FIREWORKS DISPLAY, ACCOMODATIONS AND MORE
-Fourth of July Week Package features luxurious accommodations, complimentary breakfast and a spectacular penthouse view of the fireworks –
The Kitano New York, Manhattan's first and only Japanese-owned hotel, is offering a Fourth of July Week Package for guests traveling between June 29 and July 8, 2007. With rates starting at just $299, the special offer includes a discounted room rate, a complimentary breakfast for two, a 15 percent discount at the hotel's Garden Café, exclusive access to The Kitano's rooftop penthouse for the Macy*s July 4th Fireworks display, complimentary late checkout at 1 p.m. and discount coupons for area department stores including Macy*s and Bloomingdales. With its convenient location and luxurious newly refurbished accommodations, the 149-room Kitano New York, is the perfect choice for a Fourth of July week escape.
Package Prices Available June 29- July 8, 2007:
| | | |
| --- | --- | --- |
| Room Type | Double Occupancy | Percent of Savings |
| King/Double Superior | $299.00/per night | 47 percent |
| King/Double Premier | $349.00/per night | 45 percent |
| King/Double Junior Suite | $399.00/per night | 42 percent |
*An extra bed and third person charges excluded
The Kitano features traditional East and West services and amenities that are unmatched anywhere in the world. Asian hospitality merges seamlessly with New York style for an ambience that is pure Kitano. Awarded the AAA Four-Diamond rating, The Kitano New York is distinguished by a contemporary interior that is both elegant and supremely comfortable. The newly-refurbished guestrooms feature custom-made mahogany and cherry furniture, down comforters, exquisite artwork and Roman pleated shades with windows that open to views of the historic Murray Hill, Grand Central Terminal, the Empire State Building and other New York landmarks. The renovation was designed to bring the same sense of serenity combined with the maximum of comfort and service for which the hotel is known to the guestrooms. The hotel is also home to the Michelin-rated Hakubai, which serves traditional Japanese Kaiseki delicacies. For hotel reservations, visit www.kitano.com or call 212-885-7000.
Rates are subject to availability. Package is exclusive of taxes and gratuities.
For more information and reservations, please contact The Kitano New York Hotel at 1-800-548-2666 or log onto www.kitano.com.
---
HILTON HOTEL WASHINGTON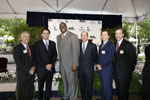 Earvin "Magic" Johnson surrounds himself with his newest dream team at a recent meet and greet for hotel employees at the Hilton Washington, the legendary hotel he in partnership with Canyon-Johnson Urban Fund and Loews Enterprises Investors purchased for $290 million. Magic talks to hotel workers about the future and his passion for his newest venture. "This is my new home in DC", he told the audience of over 300 team members. "You are the dream team and what makes this hotel great," he said.
---
LOS ANGELES AREA ONLY: ITALIAN FOR ADULTS
Fondazione Italia - Summer 2007
Whether or not your are off to Italy this Summer, this is the perfect time to learn or brush up on your Italian.
Join a stress-free 6 or 8-week beginning or intermediate level class in Redondo Beach or Van Nuys and you'll soon speak the language of La dolce vita.
For details,find the attached brochures.
Lunch-time classes at your office can also be arranged.

For our other activities, please visit www.fondazione-italia.org or contact us at (310)691-8909.
---
cFARES PICKED BY TRAVEL & LEISURE AS
"BEST ONLINE DEAL FOR AIRFARES"
Annual Hotel Issue Spotlights T+L's Favorite Websites for Best Online Deals
cFares, the first online travel site to offer travelers real-time access to discounted consolidator airfares and one-of-a-kind deals direct from airlines, announced that Travel & Leisure recently picked it as "best for airfares" category in its annual issue on hotels, also featuring best online deals.
cFares is a new entrant in online travel sites that is raising the bar in the industry by providing the deepest savings on airfares for travelers. cFares works like a Costco warehouse membership; people pay an annual fee but the savings more than pays for the membership cost after just one or two trips.
cFares offers both Gold and Platinum membership. Gold memberships are free and give consumers access to some of the lowest domestic and international airfares, but a Platinum membership gives members some additional unique perks. For starters, a search for domestic or international airfares on cFares will in almost all cases yield a traveler the lowest airfares available anywhere online. The site will also present a range of the lowest fares available from other online travel sites, providing the traveler with a direct link to competing sites, if they should choose to purchase an alternative airfare.
"We were very pleased that Travel & Leisure chose cFares as a favorite website for best airfares," stated cFares' Vajid Jafri, founder and CEO. "Travel & Leisure is viewed as a preeminent source where travelers can go to learn about all things travel. We are glad to see an increasing level of industry recognition around the exceptional offers cFares is providing to travelers."
Published by American Express Publishing Corporation, Travel & Leisure is a highly-regarded magazine, covering the newest and the best in travel, including a broad range of relevant subjects such as food, shopping, business travel and technology.
About cFares, Inc.
cFares is the first travel service offering exclusive worldwide discounted fares to its members. The company's relationships with the world's top airlines and ticket consolidators allows cFares to search for and deliver fares not typically available on other online travel sites. As a result, cFares consistently delivers better fares and frequently saves travelers hundreds of dollars. The company's proprietary persistent search and dynamic pricing technologies enable cFares to offer benefits for both travelers and airlines. For more information about cFares, visit www.cfares.com.
---
Hertz Offers a Free One Car Class Upgrade In Europe

United States and Canadian residents traveling to Europe can take advantage of a special offer from Hertz designed to make renting a vehicle even easier and more affordable.
U.S. and Canadian customers who rent a Compact through Intermediate vehicle at any participating Hertz location in Europe can receive a free, one car-class upgrade. The offer is valid on qualifying Hertz Affordable Europe® rentals of one or more days in more than 25 European countries, including the United Kingdom, Germany, France, Spain, Ireland, Luxembourg, Macedonia and Belgium. Reservations must be booked between June 15 and September 30, 2007 and vehicles picked up between September 1 and October 31, 2007.
To take advantage of this offer, customers can call Hertz International Reservations at 1-800-654-3001 and must mention Promotion Code 103843 at the time of reservation, or visit www.hertz.com and enter the Promotion Code in the appropriate field during the online reservation process. For both phone and online reservations, customers must also present the offer page found in the "To Europe, Middle East, Africa" tab of the "Special Offers" section of hertz.com at time of rental pick up. Customers may also make reservations through their travel agent. Travel agents can make reservations by logging on to hertzagent.com, calling Hertz's toll-free International Ambassador Line, 1-800-654-8881, or accessing Hertz's DRS pages, keyword INTL. Agents must give their clients a copy of the offer page, which can be found in the "Client Offers" tab of the "Special Offers" section of hertzagent.com, to present at time of rental pick-up.
Standard rental qualifications, rental periods and return restrictions in effect at time and place of rental apply. Reservations must be made at least 8 hours in advance from the U.S. or Canada. This offer cannot be combined with any other offers, discounts, coupons or promotions, and the offer cannot be applied to completed rentals. All cars are subject to availability. Blackout periods and other restrictions apply.
For further savings and value, the Hertz Affordable Europe Program offers U.S. and Canadian residents traveling to Europe:
Flexible payment plans, including the option to lock-in and prepay in U.S. or Canadian currency
Inclusive rates with Theft Protection (TP) and Collision Damage Waiver (CDW)
Free unlimited mileage
Free drop-offs between major cities within the country of rental, with the Rent-It-Here,
Leave-It-There Program
Refunds on unused portions of prepaid vouchers and no fee for cancellations
Instant return service to expedite vehicle drop-off, available in most European cities.
New to the 2007 Hertz Affordable Europe Program are online driving itineraries that allow customers to plan travel for more than a dozen popular locations including, Paris, Oslo, Tuscany, Catalonia, and Dublin.
Hertz customers can also take advantage of a wide range of other programs and services available in Europe, including:
NeverLost® in-car GPS navigational system, available in 16 European countries
Hertz Green Collection of environmentally-friendly vehicles that get 42-65 miles per gallon. Green Collection vehicles are available at approximately 50 locations in Belgium, France, Germany, Italy, the Netherlands, Spain, Sweden, Switzerland and the United Kingdom.
Hertz Prestige Collection of luxury and high-performance vehicles, available in France, Germany, Ireland, Sweden, Switzerland and the United Kingdom
24-Hour Emergency Roadside Assistance
Toll-free Affordable Europe Customer Helpline
Free hotel delivery and collection within many European cities
English-speaking personnel at Hertz locations
Long-term rentals and chauffeur-drive programs available
Hertz #1 Club Gold®, which provides members with expedited travel.
Hertz Affordable Europe is available at more than 2,000 Hertz locations in 53 countries.
Hertz, the world's largest general use car rental brand, operates from approximately 7,700 locations in 145 countries worldwide. Hertz is the number one airport car rental brand in the U.S. and at 69 major airports in Europe, operating both corporate and licensee locations in cities and airports in North America, Europe, Latin America, Australia and New Zealand. In addition, the Company has licensee locations in cities and airports in Africa, Asia, and the Middle East. Product and service initiatives such as Hertz #1 Club Gold®, NeverLost® customized, onboard navigation systems, SIRIUS Satellite Radio, and unique cars and SUVs offered through the company's Prestige, Fun and Green Collections, set Hertz apart from the competition. Hertz also operates one of the world's largest equipment rental businesses, Hertz Equipment Rental Corporation (www.hertzequip.com), offering a diverse line of equipment, including tools and supplies, as well as new and used equipment for sale, to customers ranging from major industrial companies to local contractors and consumers through more than 360 branches in the United States, Canada, France and Spain.