LA QUINTA RESORT MOUNTAIN COURSE
Designed With Designing Women In Mind
Story and Photos by Bonnie Carroll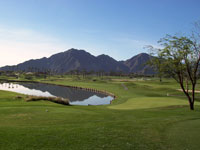 Driving a golf cart from the La Quinta Resort & Spa entrance, through the quiet and pristine residential area leading to the Mountain Course early in the morning, could only be described as a spiritual experience, and one not to be missed. The expanse of green fairways, kissed by a crystal blue sky, filled with puffy white clouds, is quite a welcome to the new day at this Pete Dye designed 72 par golf course. This historic resort is celebrating its 78 th year of elegance and grace at the base of the majestic Santa Rosa Mountains. This course is renowned for having the most picturesque finishing nine holes in golf, and has won more than 100 awards, including Golf Digest's "100 Best Courses" and "Top Ten in California."
Real golf devotees revel in the opportunity to enjoy 90 holes of their favorite game at this memorable property, because the La Quinta Resort & Club is also home to PGA WEST, the Jack Nicklaus Tournament course at PGA WEST and the Greg Norman Course at PGA WEST. The Greg Norman Course at PGA West lies in sea bed 40-feet below sea level surrounded by an immense crescent of terra-cotta Mountains. After three months of major renovations, the course reopened on September 9 with the majority of work surrounding the playability of the course. PGA West worked with Matt Dusenbery, of Norman Golf Course Designs who was the original designer, to add turf, widen the playing corridor, add green in surrounding areas and remove some native vegetation. The Norman Course will host the first stage of the PGA Tour Qualifying School in October and the Prestige Tournament in November.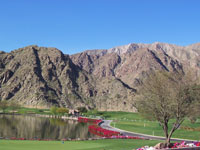 According to the club manager, the Mountain is a favorite course of lady golfers. Recently, Academy Award winning actress Queen Latifah was visiting the resort and came over to take some lessons. She was described as a very talented golfer by people at the club, and they said she would be a great golfer if she could play more. Another actor of renown Joe Pesci, who also enjoys visiting La Quinta with his daughter, is reported to have played in club tournaments. It is easy to understand why elebrities and polite society meet happily on the greens of this divine desert retreat.
During an unforgettable dinner at AZUR by Le Bernardin, the resorts four-star restaurant that is operated by maguey Le Coze and Chef Eric Ripert, I had a conversation with a couple from Seattle, Washington, and the husband had come to La Quinta to go through the clubs golf clinic. He said his pro in Seattle had taken him as far as he could go, and after four days in the clinic at the resort he could hardly believe the improvement in his swing and overall game. That's quite a testimonial, but I think next year I will put them to the true test and see if they can perform magic on this lady golfer.
Another major attraction at this golf venue is the Spa La Quinta, a 23,000 square-foot desert retreat offering a pampering and rejuvenating spa experience unique to its environment. A bevy of services and treatments are featured in 35 treatment rooms, including 18 massage rooms, seven facial rooms; nine wrap rooms; one hydro tub suite; eight private whirlpool baths; three inhalation rooms; two steam rooms; four open air signature celestial showers, and top it all off with a cut and blow dry at Yamaguchi Salon. What could be better?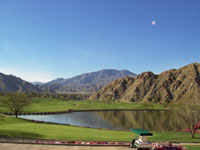 So, to all you ladies who have always wanted to master this tricky game that men consider to be their private domain, grab your sun screen, practice saying "four" and sign up for a few lessons at the Mountain Course. I have always loved golf, but really what I love most is no cell phones, no noise, just some blissful time spent in a simply gorgeous natural retreat.
For information see www.laquintaresort.com
---
"FOLLOW ME HOME"

Hawaiian Airlines, serving island visitors since 1929, not only offers menus by a Hawaii Regional Cuisine chef, Beverly Gannon, who was a 2004 James Beard award-nominee as "Best Chef Hawaii/Northwest Region," but the airline offers "Hele On", a web site and check-in service for "Baggage Direct", which was launched in September of 2004. The mobile skycap service picks up and delivers bags so customers can go straight to the gate; pre-assigned interisland seating, and Drive-Thru Check-In service for customers departing from Honolulu, both launched in March of 2005. Go to The Nations' #1 on-time carrier at HawaiianAirlines.com.
---
TRAVELING ALONE? Life Bites Helpful Hints for Singles
by Bonnie Carroll

If you are a traveling lady like me, someone who moves from place to place without a guy to carry your luggage, park the car, hold the money, hail the taxi or drive you in and out of airports, perhaps the following suggestions will provide a traveling safe check list for use on your next trip.

The key word here is ALERT! Many police departments offer classes in personal safety to neighborhoods watch groups, and the one thing they keep repeating is to be very aware of your surroundings. Develop the skill of being aware of what is happening around you at all times. Don't do things that will attract thieves, and place you or a traveling companion in danger. Expensive jewelry, designer luggage, furs and flashy handbags without secure clasps can be an advertisement for disaster.

Parking lots in airports can be dangerous. I prefer to park my car in one of the hotel parking lots, one with a van that take me to my airline for check-in, and the van takes me back to the hotel when I return. Whenever possible have a friend drive you to the airport, or take a taxi or airport van service.

When arriving at your hotel destination hand over the keys to valet with caution. At check-in it might be wise to leave the Ms. or Mrs. selection void. Try registering under your first initial and last name only. Check out your room thoroughly, while the bellman is still there. Bad guys can be lurking under the beds, in the closets, bathroom, on the patio or behind the drapes. Be sure all the door locks work for in-room safety, and lock the door when the bellman leaves. Try to avoid staying on the ground level in a room with sliding glass doors. A room close to the elevator is generally considered a safe bet, and one close to a back staircase or entrance should be avoided. Use the hotel safe for your valuables, and get your own personal insurance policy on your good jewelry. Place valuables in a sealed envelope or container and get a receipt with the valued amount written on it. Many state and country laws have different liability limits for loss, but if you specify in writing the full value when you make the request for your safe deposit box, the hotel may opt to increase the liability.

Make photocopies of all important documents; passport, travelers checks, credit card numbers, prescriptions to keep at home. Carry a second copy with you, but do not carry them in your purse. Make a list of important contact numbers for any unexpected emergency scenario that includes allergies, prescriptions, medicines and numbers of contacts, as well as the emergency 800 number for your travel agency. A money belt can be worn, out of sight under a sweater, and is recommended by seasoned travelers as the best way to carry credit cards, passports and other valuables; carry only a small amount of money in your purse when out sightseeing or shopping.

The hotel concierge is your friend. As well as making dinner reservations, and getting theatre tickets, he will tell you the best routes to and from desired destinations, as well as the average taxi price for the ride. Many will give you a map, and draw out a direct route to be taken. Whenever possible take a limo or taxi, and unless you know the city well do not rent a car. Discretion is key here, place your purse or briefcase on the floor of the taxi next to you, but not in the view of pedestrians who are passing by.

Bon Voyage!