SAVOR A TASTE OF THE FRENCH ALPS IN THE HEART OF SANTA BARBARA
Visit Secret Garden Inn and celebrate the Bastille Day Weekend French Festival (July 14-15)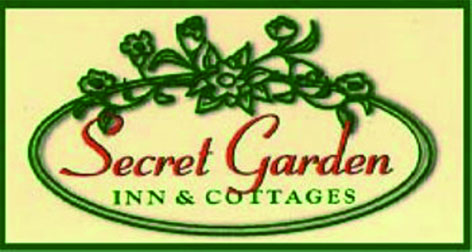 1908 Bath Street - Santa Barbara, CA 805-687-2300
 Nearly thirteen years ago Dominique Hannaux opened her charming bed and breakfast, located at 1908 Bath Street in Santa Barbara. Her personal style and taste are seen and experienced in every nook and cranny of this delightful historic house built in 1905, as well as the cozy cottages in the garden area behind the main house. Each room and cottage is an original design and fulfills different requirements for guests. The walls of the main area and family dining room of the house tastefully display Dominique's paintings, some inspired by great French artists.
Five of the cottages in the garden area have private deck Jacuzzi's that are surrounded by beautiful flowers and trees. The many fruit trees and herb plants on the property provide the source and flavor accents of the many home-made food items served daily at the Secret Garden Inn & Cottages. This garden becomes a lively breakfast spot for guests in the morning and throughout the day as guests enjoy reading in the shade of a tree or just relaxing after a Jacuzzi or following a massage in their room. Area massage therapists are on call to provide treatments to guests at the Inn.
Guests thoroughly enjoy the outstanding home-made breakfasts created and presented by their multi-talented hostess each day. Her European style cuisine was learned from the grandmother who raised her in the French Alps, and her amazing quiche and casserole dishes are requested in advance by returning guests and visiting friends. They include an original artichoke inspired egg dish, a broccoli with two cheese quiche and a treasure trove of additional family favorites and recipes she has collected throughout the years. Along with her outstanding entrees guests rave about her home-made bread pudding. An inviting daily buffet displays fresh fruit, coffee, tea, juices and a collection of fresh baked scones, croissants and bagels served with home-made jams that provide a memorable beginning for guests heading out to a busy day of sightseeing, wine country trips, shopping adventures or an early morning visit to the Santa Barbara Farmer's Market.
Dominique's kitchen is the place to find true country French warmth and hospitality, where guest sometimes enjoy a cup of coffee and share 'best of the best' tips on where to dine or shop, while watching her prepare the morning buffet. They are welcome to enjoy a leisurely breakfast in bed, sit outside on the flower filled patio or join other guests in the indoor dining room, where a bevy of brochures on places to go and things to see in Santa Barbara can be found, along with valuable discount coupons. Upon their return to the Inn at 4:00 guest will find a lovely wine and cheese presentation waiting for their enjoyment.
Some people prefer the sleek and quick paced environment of modern hotels, but some people still adore and seek the casual comfort of a bed & breakfast where they can truly savor a European style experience in very relaxed setting.; a place where the personal touch and presence of the proprietor can be seen and felt throughout their stay, and this is the true essence of the thirteen year success of Secret Garden Inn and Cottages.
__________________________________________________________
Spirit of '76 Association
Santa Barbara to Celebrate July 4th with 50th Annual Parade and Concert
The all-volunteer Spirit of '76 Association will share a major milestone with Santa Barbara residents and guests this year as it presents its 50th annual 4th of July Parade. The theme of this year's parade is "The Gift of Individual Liberty." The events of the day will celebrate Liberty and its place in the heart of America.
"Liberty is the essential quality of a free person who is dependent upon no other," says Paul Lamberton, President of Spirit of '76. "A founding principle of the American Revolution is that every man and woman is to be as free as possible from external control over his or her life and property. Our nation's history contains many shining examples of those who struggled to increase our Liberty, those who used their Liberty toward great achievements, and those who defend our Liberty."
The parade will take place on Wednesday July 4, 2012. The grand march begins at 1:00 p.m. at Micheltorena Street and proceeds down State Street to Old Town Santa Barbara, concluding at Cota Street. Potential participants are invited to contact Spirit of '76 at Spirit_1776@yahoo.com.
Later that day, Spirit of '76 and Santa Barbara Music Events will present the annual Independence Day Concert at the Santa Barbara Courthouse Sunken Gardens. The concert will take place after the parade (Wednesday July 4th), at 4:00 p.m.. It will be open to the public and there will be no admission charge. The Santa Barbara County Historic Courthouse is at the corner of Anacapa Street and Anapamu Street. Bring chairs, blankets and a picnic dinner.
Classical concert pianist Bryan Tari will be the Event Director and Coordinator of all musical acts in the 4th of July concert. Tari has performed on stages, television, and radio throughout the world, including at the opening ceremonies of the 1984 Summer Olympic Games in Los Angeles. 
"We are very excited to have Bryan Tari directing the concert this year," Lamberton said. "He is a highly respected Santa Barbara artist who will help make this beloved annual event more memorable than ever." The event, a long-running favorite of locals and visitors, will once again fill the Sunken Gardens with the sounds of traditional music celebrating America's Independence Day. It will feature prominent musicians from the community, including artists from The Music Academy of the West.
The public is invited to visit http://spiritof76sb.org/ for more information about this year's 4th of July celebration as details evolve. Spirit of `76 is a non-profit organization. The group is non-partisan and non-political.
_____________________________________________________________
SWISS CHOCOLATE, SUSHI DAILY AND SWISS FOLK MUSIC

Badrutt's Palace Hotel celebrates the summer season in St. Moritz
with an abundance of culinary highlights
When Badrutt's Palace Hotel opens its doors for the summer season on Friday June 22, everything will be set for a season of appetizing affairs. After months of careful preparation to arrange surprises and highlights for Badrutt's guests, the result is a varied program of non-stop flights of fancy in the legendary luxury hotel in the Engadin.

The season gets off to a soaring start with the grand Summer Opening; hosted within two restaurants and a bar, it's guaranteed to be an evening to remember. During the summer, the hotel is inviting guests to join them on a gastronomic journey through the Far East, to discover the fine oriental delicacies of East Indian cuisine right through to the end of the season on September 9.

Throughout the season, the hotel has filled the whole summer calendar with special epicurean events:
Palace Gourmet Safari – Come July 4, guests can feast their way through the hotel. Starting with a cocktail in Le Grand Hall, a delicious sampling of risotto in the wine cellar awakes taste buds for the main course in Le Restaurant. For dessert it is off to the hotel's own patisserie kitchen for some sinful sweet creations by Stefan Gerber.
Palace Chef's Table – On July 12, Executive Chef Mauro Taufer invites guests into the heart of the main kitchen. Diners will see chefs hard at work while savouring the delicacies created before their very eyes.
Wine & Dine – July 18 brings an evening of fine summer dining, beginning with an aperitif in the wine cellar, followed by an exclusive dinner and choice of fine wines in Le Relais restaurant.
Swiss National Day – Badrutt's Palace Hotel is marking Swiss National Day on August 1st. A buffet brimming with Swiss specialties awaits in Le Restaurant, accompanied by the traditional sound of Kolleggers Huusmusig, the largest family music group in Switzerland.
Via Serlas Summerfest – Come August 5, the tiny, yet exclusive shopping street in St. Moritz is transformed into a pleasure mile. Badrutt's Palace Hotel entertains guests with a variety of buffets and an extensive array of sumptuous surprises in collaboration with the shops and boutiques.
Palace Chocolate Cult – From August 10-12 guests will be led to sweet temptation during the annual Chocolate Cult. The hotel's Head Patissier presents chocolate creations of every shape and size in Le Grand Hall.
Beyond a jam-packed culinary calendar, Badrutt's ongoing daily highlights are not to be missed. The wellness-focused restaurant La Diala serves the finest sushi and sashimi every day, which guests can enjoy on the stunning panoramic terrace. Le Grand Hall serves Traditional High Tea daily from 2pm to 5pm, with no less than 38 varieties of teas to choose from. Sweet pastries and delicious sandwiches elegantly complement this classic English teatime.

The luxury hotel then closes its doors on September 10, 2012, only to enable a timely re-opening fresh for the coming winter season on December 1, 2012, ready for a dazzling winter in St. Moritz. For further information and reservations please go to www.badruttspalace.com