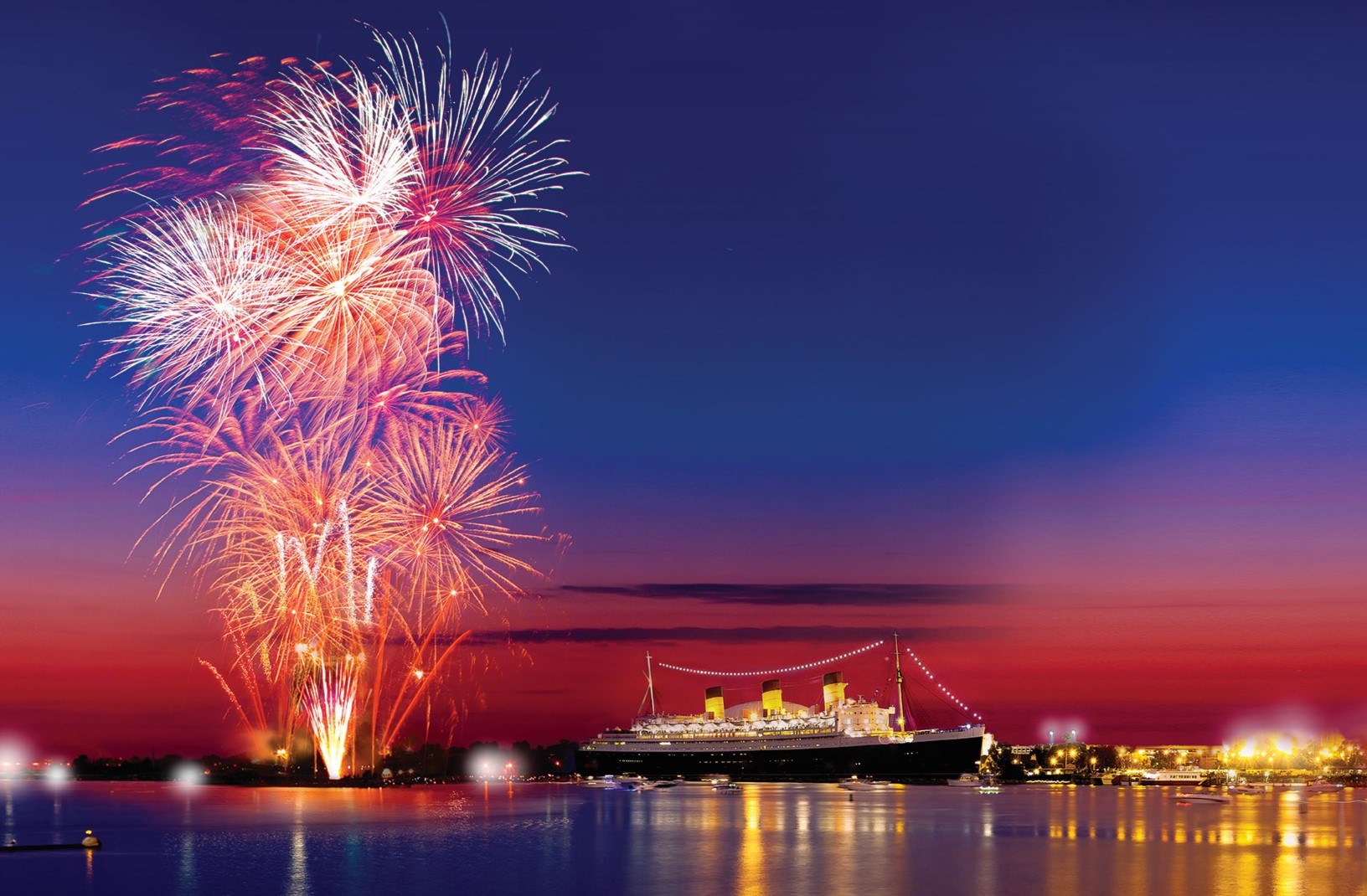 All-American 4th of July
Celebrate an All-American 4th of July aboard the Queen Mary. Choose your favorite era of Independence to salute or stroll from decade to decade with the entire ship as your playground.
Listen to live music, learn your favorite American jig, and lounge all day enjoying family-friendly activities. With a giant fireworks extravaganza and unforgettable family fun, 4th of July aboard the Queen Mary is the ultimate Southern California tradition.
Please note: You MUST have an All-American 4th of July ticket to board the ship on July 4th.
TICKET INFORMATION
General Admission (All-American) $44 online / $49 door - Ticket includes access to the World Famous Queen Mary on July 4 with a view of one of the best fireworks shows in Southern California. Catch your favorite era's entertainment spanning the 1940's – 2000's including a vintage traveling circus & carnival.
Child General Admission (All-American 4 – 11) $24 online / $29 door - Ticket includes access to the World Famous Queen Mary on July 4 with a view of one of the best fireworks shows in Southern California. Catch your favorite era's entertainment spanning the 1940's – 2000's including a vintage traveling circus & carnival.
VIP Admission (Patriot) $99 - Ticket includes access to the World Famous Queen Mary on July 4 with a premiere view of one of the best fireworks shows in Southern California. Catch your favorite era's entertainment spanning the 1940's – 2000's including a vintage traveling circus & carnival.
PLUS an exclusive trip back to the golden era with exclusive access to the 20's Gatsby Garden, 30's Hush Hush Cotton Club, and 2010's Country themed Ranch Tailgate.
VIP sells out months in advance each year - so buy early!
HOTEL PACKAGE SPECIAL
Why not take the elevator home? Includes 2 VIP Adult Tickets to 4th of July Celebration. Book Hotel Package
_________________________________________________________________
Hilton Anaheim To Elevate The Leisure Travel Experience With Center of SoCal – Random Acts of Summer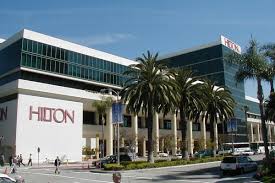 Leisure guests from around the globe will enjoy being at the center of it all this summer, when Hilton Anaheim—the largest hotel in The Anaheim Resort District and one of the largest in the region with 1,572 guestrooms and 100,000 square feet of meeting space—kicks off Center of SoCal —#Randomactsofsummer, beginning in early June, 2015. The three-month campaign will focus on enhancing the  guest experience by delivering  Summertime traditions and passing along an exclusive savings of more than $300 per person to a variety of Southern California activities for travelers of all ages, all summer long. For more information, visit:randomactsofsummer.com. 
"Our goal is to enhance our guest experience, inside and outside of the hotel," explained Matt Kovac, director of sales and marketing, Hilton Anaheim. "By creating a package with robust inclusions, savings to some of Southern California's best attractions and delivering unexpected summertime experiences at the hotel, we think we have done just that."  
Hilton Anaheim's Center of SoCal package features savings of more than $140 per night, with breakfast for four, complimentary high-speed WiFi, and unlimited access to the hotel's Health Club + Spa, plus an endless summer of savings. Room rates start at $154 per night, tax not included. For the full experience, please visit randomactsofsummer.com.
_________________________________________________________________
20,000 Attended Massive Dance Event in Düsseldorf Airport Terminal on June 7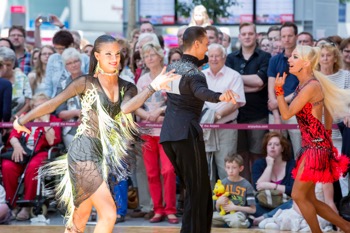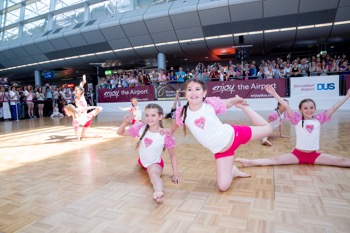 The success of Düsseldorf Airport (DUS) is showing in more areas than ever – increasing record numbers in airline traffic alone – and its popularity as mass event location is another.  An all-day dance showcase and championship called "Dance, Terminal, Dance" grew into a mega event at DUS, and 20,000 visitors at the 6th event on June 7 proved again that airline terminals can attract more than just travelers.
Düsseldorf, Germany – DUS terminal was once again the location of a major European dance event and show on June 7, 2015. Teeming with both travelers and dance enthusiast that day, the championship called "TanzTerminal, tanz" (Dance, Terminal, Dance) brought 20,000 additional visitors and 5 dance floors to the busy airport terminal.  The dance event has taken place at DUS six times so far and is also part of a monthly DUS series of public interactive events called "Airlebnis" (air event experience), with themes in many different categories, including sports and family entertainment.  The wide acceptance of these events at DUS reflects the ever-growing evolution of DUS and other airport terminals as spaces of experience beyond travel, shopping and food.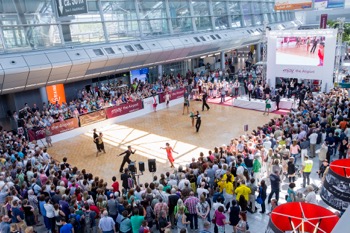 "Dance, Terminal, Dance" is a comprehensive all-day event (11:00 am to 6:00 pm) free to all visitors. The last event included a Latin Dance championship in which professional dancers competed for the "Düsseldorf Airport Cup."  Another part was a dance showcase with stars of the current season of the TV Show "Let's Dance." Last Sunday featured audience favorites: couples Minh-Khai Phan-Thi/Massimo Sinató and Enissa Amani/Christian Polanc.  Performances took place on one main dance floor and 4 smaller floors. Headliners included Australian step group "Tap Dogs," children's dance group "Rejoice" and current Discofox world champions Martha Wermann and Igor Pokasenew.
Moreover, visitors were invited to participate. Workshops in various dance styles included cha-cha, waltz, hip hop, rock 'n' roll, and the current popular dances Bachata, Dirty Dancing Discofox, and West Coast Swing.  A new interactive feature for visitors was the first Discofox Championship, and the three winning couples received gift cards for the airport's extensive shopping area.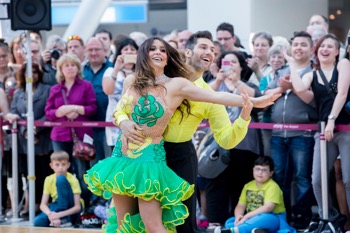 The monthly DUS public terminal events feature a variety of themes and attractions, but DUS arranges the following features at most of its "Airlebnis" days:  Behind-the-scenes airport tours, airport scanvenger hunts, sweepstakes, child care, parking specials, and Sunday shopping in the airport's 60+ stores, restaurants, and bars.
Find more information online about Düsseldorf Airport and future events, please visit www.dus.com.

In League with New York, London, Paris and More
Düsseldorf Airport is connected nonstop with the many airlines serving seven airports in the United States: Atlanta, Chicago O'Hare, Fort Myers, Los Angeles, Miami and two airports in New York – JFK and Newark. Passengers who are continuing their journey beyond Düsseldorf Airport find a modern and convenient airport providing easy transfer to destinations in Germany – such as Berlin, Munich, Stuttgart, Hamburg, Dresden, Leipzig, Nuremberg or Frankfurt – as well as all major European destinations –  from Stockholm in the North to Rome in the South, from Lisbon in the West to Moscow in the East. Throughout the year, more than 60 airlines offer more than 190 destinations in almost 50 countries. Düsseldorf Airport's attractive layout offers short passageways and a compact architecture. Just one terminal building connecting to three gates guarantees a smooth and easy path to and from the aircraft, with a connecting time of as little as 35 minutes.
The airport is at the center of the Rhine Ruhr area, a bustling network of 53 connected cities and 18 million residents within 40 miles. It is the EU's third largest market in volume and spending and equal to major metropolitan regions like New York, London and Paris. 500,000 companies are located in the area, including 5,000 offices of foreign corporations, the majority from the Netherlands, Japan and the USA. Many major international industry players, including Fujifilm Europe, Nokia Siemens, Novell, Ericsson, Deloitte & Touche, McKinsey, and Toshiba, are headquartered in Düsseldorf, which is a first-rate location for high-tech concerns.  International presence and fast accessibility – guaranteed by DUS being one of Germany's major hubs – make the location highly attractive.
Düsseldorf and North Rhine-Westphalia, ranked 17 in GDP among the world's major industrial centers, are also home to some of the most significant exhibitions and trade shows in the world. Of the 50 annual events at Düsseldorf's Exhibition Center, 23 lead their industry worldwide, for example, printing technology ("drupa"), plastics and rubber ("K"), medicine ("MEDICA" and "REHACARE INTERNATIONAL"), leisure time ("boot") or packaging ("interpack"). For more information on Düsseldorf Airport, visit www.dus.com
___________________________________________________________________
VIKING OCEAN CRUISES UNVEILS FOUR NEW ITINERARIES
AND OPENS 2017 SAILING SEASON
Nearly Sold Out Maiden Season and Strong Demand Lead to Additional Options
in 2016 and 2017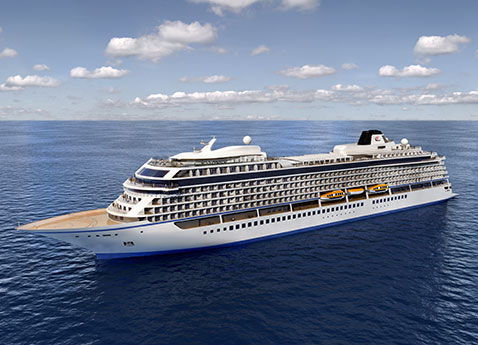 The christening of its first ship, the 930-passenger Viking Star®, Viking Ocean Cruises® (www.vikingoceancruises.com) today announced that four new itineraries and 2017 departures for Viking Star—and sister ships Viking Sea® and Viking Sky®—are now open for booking. The 2017 program includes sailings on Viking's most popular itineraries in the Mediterranean, Western Europe, Scandinavia and the Baltic. Viking's guests now have even more opportunities for destination-focused cruises in 2016 and 2017 that span from ancient empires to the towering fjords of Norway and beyond. 
                 "We are encouraged by the overwhelmingly positive response Viking Star has generated among our guests and travel industry partners," said Torstein Hagen, chairman of Viking Cruises. "We made a commitment to reinvent ocean cruising, and we are well on our way. By 2017 we will have two more ships designed to enable our guests to better experience their destination. We will also have four new itineraries that offer our guests more time in port and enriching, cultural experiences at a better value than our competitors." 
New Mediterranean & Holy Land Itineraries
                Not only is Viking adding sailing dates to existing itineraries, but the company has also created four new enrichment-filled programs that will take guests from the sun-soaked region of the Mediterranean to the cultural capital of St. Petersburg.
·         NEW FOR 2016: Ancient Empires & Holy Lands (15 days; Rome to Istanbul)—This 15-day itinerary offers the opportunity to explore historic destinations in the Eastern Mediterranean and experience some of the sacred sights of the Middle East while traveling through the heart of the Holy Land. Guests will have the chance to spend three days in Israel, making stops in Jerusalem and Haifa, gateways to Bethlehem and Nazareth, and will also be able to explore the ancient cities of Rome, Athens and Istanbul. Introductory 2-for-1 pricing starts at $4,199 per person with discounted airfares from $695 per person. 
·         NEW FOR 2016: Bergen to the Bosphorus (15 days; Bergen to Istanbul)—This epic journey begins in beautiful Bergen before cruising south to the Mediterranean, stopping in Paris and Lisbon along the way. Once in the Mediterranean, travelers visit Tunis, Valletta and Athens before concluding the trip in the ancient cosmopolitan city of Istanbul. Introductory 2-for-1 pricing starts at $3,699 per person with discounted airfares from $895 per person.   
·         NEW FOR 2017: Secrets of the Southern Mediterranean (8 days; Rome to Barcelona)—Guests will set sail through the southern Mediterranean, departing from glorious Rome and continuing on to some of North Africa's most historically significant destinations, including Tunis, a dazzling city that mixes North African tradition and French colonialism, and Algiers, home of the Notre Dame d'Afrique. The itinerary also stops in Valletta, Sardinia and Valencia before concluding the trip in beautiful Barcelona. Introductory 2-for-1 pricing starts at $1,999 per person with discounted airfares from $595 per person. 
·         NEW FOR 2017: Barcelona, the Baltic & Beyond (22 days; Barcelona to Stockholm)—This voyage travels through the waterways of Western Europe and the Baltic, giving guests the opportunity to explore iconic world-class cities such as Barcelona, Lisbon, Paris, Amsterdam and St. Petersburg. Introductory 2-for-1 pricing starts at $5,999 per person with discounted airfares from $695 per person. 
Viking Star, Viking Sea and Viking Sky
                Recently christened in Bergen, Norway, the 930-passenger all-veranda Viking Star—as well as her two sister ships under construction, Viking Sea (2016) and Viking Sky (2017)—is engineered at a scale that allows direct access into most ports, so guests have easy and efficient embarkation and disembarkation. Classified by Cruise Critic as "small ships," Viking's ocean fleet features understated elegance and modern Scandinavian design. Highlights include:
·       All Veranda Staterooms: Guests can choose from five stateroom categories, starting from a 270 sq. ft. Veranda Stateroom, all with private verandas, king-size beds, large showers and LCD TVs.
·       Explorer Suites: The ships feature 14 Explorer Suites, which are two-room suites ranging from 757 to 1,163 sq. ft. that offer sweeping views from wraparound private verandas as well as the most amenities and privileges of any category on board.
·       Two Pool Choices: In addition to the Main Pool with a retractable dome permitting any-season swimming, the ships feature a glass-backed Infinity Pool off the stern, allowing guests to swim surrounded by their destination.
·       The Spa: In keeping with Viking's Nordic heritage, The Spa on board is designed with the holistic wellness philosophy of Scandinavia in mind—from the centuries-old tradition of the sauna to a Snow Grotto where snowflakes gently descend from the ceiling through chilled air.
·       Explorers' Lounge and Wintergarden: Spaces designed to facilitate mingling and storytelling, the two-deck Explorers' Lounge at the bow is the perfect spot for taking in scenery through double-height windows over a glass of aquavit or pint of local craft beer; and the Wintergarden is a serene environment in which to relax and enjoy afternoon tea service complete with a hand-selected teas.
·       Dining Choices: Viking's ships offer multiple restaurant locations and food choices—from The Restaurant and the World Café, serving a variety of global cuisines and regional specialties and Mamsen's, which serves Norwegian deli-style fare—to intimate dining experiences at The Chef's Table, Manfredi's Italian Restaurant and The Kitchen Table, all serving meals prepared with fresh, local ingredients. Furthermore, with multiple choices for outdoor seating during meals, Viking's ocean ships offer more al fresco dining than any other ships.
·       Enriching Entertainment: Connecting guests to their destinations through authentic experiences is central to Viking Cruises, and onboard venues include a dramatic three-deck atrium where guests can enjoy musicians playing regional and classical music; the Theater, home to enrichment lectures from scholars and experts; an onboard cooking school where guests can learn how to prepare local specialties; and Torshavn, a piano lounge where guests can relax, mingle, and exchange stories after a day of exploring.
·       Sustainable Features: Designed with the environment in mind, Viking's ocean ships feature energy-efficient hybrid engines, hydro-dynamically optimized streamlined hulls and bows for maximum fuel efficiency, onboard solar panels, and equipment that minimizes exhaust pollution and meets the strictest environmental regulations.' For more information, images and b-roll, contact vikingpr@edelman.com.  toll-free at 1-855-8-VIKING (1-855-884-5464).
_______________________________________________________________________
Culinary delights on board a ship


The Lake Lucerne shipping association SGV offers the chance to enjoy excellent food out on the lake. Whether morning, midday or evening lake lovers and culinary enthusiasts will find just what they are looking for with SGV, from the Brunch Steamer to the Hacktätschli Ship (Hacktätschli Swiss meatballs) and the Candlelight Trip. Bon appétit! Visit: www.luzern.com.
_________________________________________
---