HOTEL MAR MONTE
HOSPITALITY WITH A HISTORY
by Bonnie Carroll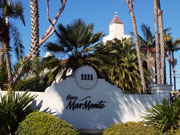 This lovely ocean side hotel has played a major role in the hospitality history of Santa Barbara over the past two decades. During the Presidency of Ronald Reagan, the hotel was known as the Western White House, where world press filled the rooms to report news of the President and First Lady. This relaxing property has also has a past history of hosting countless celebrities and dignitaries.
The hotel Mar Monte, was flying under the Radisson banner for many years, but has returned to its origins of name, and has made some guest services and amenities upgrades to provide even more comfort to their patrons. Located steps away from the Pacific Ocean, on Santa Barbara's East Beach, the hotel continues to be a favorite of business or leisure visitors to the waterfront area. The Mediterranean climate contributes to Santa Barbara's reputation as the "walking town." There is an electric shuttle that takes guests from the hotel to a variety of points of interests. They are also located across the street from the beautiful Sunday Art Show, which displays the work of talented area artists.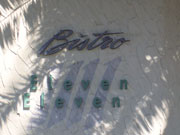 An outdoor heated pool, fitness center, hair salon and the Hotel Mar Monte Marketplace, which is filled with souvenirs, logo apparel, and sundries are conveniently located for guests enjoyment. Soft drinks, newspapers and snacks are also sold in the market. Rooms are equipped with a coffee maker, microwave, and five star beds by Serta to insure all your needs are met, including a wonderful nights sleep.
For at least twenty-five years that I can remember, a fire is always burning in the beautiful fireplace in the lobby entry, where tourist information is abundant to help guests plan their vacation itinerary, choices. The Bistro 1111 is a perfect place for family or romantic dinners, and overlooks the ocean, and the Lounge has live entertainment seven nights a week. The food at Hotel Mar Monte has always attracted visitors and Santa Barbara locals alike. I have enjoyed many family brunches at this hotel that have left me with special memories. Obviously, this is why the hotel specializes in weddings and unique social functions; beach ceremonies are included in their wedding packages.
For wedding or special event packages, weekend reservations or information call 805-962-0985 or visit www.hotelmarmonte.com.
---
TRAVELERS HISTORIC GUIDE TO NEW YORK CITY
by Bonnie Carroll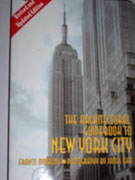 The Architectural Guidebook to New York City by Francis Morone, with photography by James Iska is a fantastic way to tour around New York City, if you are into the history that has created this wonderful American venue. The research and specific information, along with great photographs, are a good read all by themselves, but for travelers who want to know the who, what, when, where and why of the development of New York it is a treasure trove of data. For purchase visit www.gibbs-smith.com.
GOVERNOR: I LOVE NEW YORK CELEBRATES CENTENNIAL OF LETCHWORTH STATE PARK

Governor George E. Pataki today announced I LOVE NEW YORK will celebrate the Centennial of Letchworth State Park's designation as a New York State Park with a series of special events from May to September. Letchworth State Park, located in Castile and also known as the "Grand Canyon of the East," was given as a gift to New York State from William Pryor Letchworth in 1906."This year marks a special celebration of the benevolence of William Pryor Letchworth and the great legacy he bestowed upon the State of New York," Governor Pataki said. "One hundred years later, Letchworth State Park continues to attract visitors from around the world who are awestruck by the majesty and beauty of this amazing natural jewel."Charles A. Gargano, Chairman of Empire State Development, which administers the I LOVE NEW YORK campaign, said, "I LOVE NEW YORK celebrations are a great means by which New York communities can partner with state government to promote special attractions and events that create jobs and assist local economies. They are indicative of the high priority that Governor Pataki places on the state's vital tourism industry."
Letchworth State Park provides New Yorkers with some of the most spectacular scenery and varied recreational opportunities in the world," said New York State Office of Parks,Recreation and Historic Preservation Commissioner Bernadette Castro. "From its rich Native American history and magnificent structures built by President Roosevelt's Civilian Conservation Corps to its plunging waterfalls and lush forests, Letchworth is one of the crown jewels in our remarkable state park system to be enjoyed by patrons and families well into the future."Letchworth State Park is located between the Allegany foothills and the Finger Lakes. The more than 14,000 acre park offers a wide variety of family activities and accommodations, including cabin rentals, campsites and the historic Glen Iris Inn. The park has two swimming pools and over 60 miles of hiking trails. Activities within the park include hot air ballooning over three waterfalls, whitewater rafting through the Genesee River Gorge and horseback riding. The Centennial Celebration begins May 26th (Mr. Letchworth's birthday) with the rededication and grand reopening of the William Prior Letchworth Museum and the start of the park's Council Ground Tours. The tours run until the end of October and will showcase buildings on the park's Council Grounds, which have been restored to their late 19th century appearance, and the park's rich history. Also, throughout the park's 2006 season, the Glen Iris Inn will be offering dinner menus reflecting recipes from Mr. Letchworth's era, along with the Glen's favorite dishes.
For more information about the 2006 I LOVE NEW YORK Celebration of the Letchworth State Park Centennial, call (585) 493-3600 or visit www.nysparks.com. For information about travel in all of New York State's vacation regions, dial (800) CALL-NYS, or visit the I LOVE NEW YORK Web site at iloveny.com.The following is a list of scheduled Centennial events: May 21-21 – Fire on the Genesee: Civil War Encampment, Living History And Battle Re-Enactments:
May 26 – Centennial Celebration Opening Ceremonies
May 26-Oct. 31 – Council Grounds Tours
May 27 – Centennial Concert And Fireworks Display
May 26-29 – Red, White and Blue Balloon Rally
May 31 – William Pryor Letchworth Birthday Celebration
June 3 – Free Learn To Catch A Fish Family Picnic
July 8 – Highbanks Celtic Gathering
July 11-Aug 29 – Learn About Letchworth Lecture Series
Aug. 26-27 – Stone Tool Technology Show: Flintknapping
Sept. 3 – Summer Farewell Festival.
Sept. 9 – 11th Annual Glen Iris 5K Run
Sept. 16 – Native American Heritage Days
Sept. 30 – 2nd Annual 10K Spice Trail Run
Oct. 7-9 – Letchworth Arts And Crafts Show and Sale
---
Big Blue Bargains!
JetBlue Marks 6th Anniversary With Big Fare Sale
Northeast-to-Florida Fares Start at $74(a) each way
Coast-to-Coast Fares Start at $84(a) each way
JetBlue Airways (Nasdaq:JBLU) is celebrating its sixth anniversary by offering Big Blue Bargains to their favorite destinations.
"We want to thank our customers for six great years of business by offering more low-fares to their favorite destinations," said JetBlue CEO David Neeleman. "With great fares to Florida and the West Coast, customers have every reason to escape from the winter blues."
All sale fares must be purchased by February 13, 2006 for travel beginning March 1, and completed by May 24, 2006. JetBlue's anniversary sale fares require a seven-day advance purchase to/from Florida, New Orleans and Caribbean destinations. All other cities require a fourteen-day advance purchase(a). Customers can save an additional $5 each way by purchasing online at www.jetblue.com.
In the six years since its launch, JetBlue Airways has focused on creating a new airline category - a value airline with values. Based out of New York City, the low-cost carrier currently serves 34 destinations with more than 370 flights daily. Onboard JetBlue, customers enjoy roomy leather seats and 36 channels of free DIRECTV(r) programming, the most live TV available on any airline. On flights longer than two hours, a selection of first-run movies and bonus features from FOX InFlight(tm) is also available(b). JetBlue offers customers generous brand name snacks and beverages, including freshly brewed Dunkin' Donuts coffee, and delicious wines selected by the airline's Low Fare Sommelier, Josh Wesson from Best Cellars. With JetBlue, all seats are assigned, all travel is ticketless, all fares are one-way, and an overnight stay never required.
For special reduced flight information visit www.jetblue.com.
reservations call 1-800-JETBLUE (1-800-538-2583)
---
REVOLUTIONARY TRAVELING BLANKET PROVIDES
COMFORT FROM HEAD TO TOE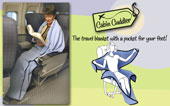 Designed by a commercial pilot, The Cabin Cuddler is no skimpy blanket
Finally, a travel blanket with a pocket for your feet! The Cabin Cuddler, patented lightweight fleece blanket, conveniently offers a unique design where shoulder flaps wrap around the body while feet stay enclosed inside a pocket for added comfort.

Keeps passengers warm on long car trips, airplanes, or even curled up at home with a book. An added benefit: it comes packaged in a fashionable tote that can be carried right inside a carry-on bag.
More information at www.cabincuddler.com
---
WIN A TRIP TO SCOTLAND AND MEET THE MAN OF YOUR DREAMS!
VISITSCOTLAND LAUNCHES "DATE A HOT SCOT"
WEB SWEEPSTAKES

Don't have a date? Don't mope around at home with a tub of ice cream! Instead, log onto www.DateAHotScot.com and you and your best girlfriend can win a grand trip to Scotland to meet the men of your dreams.

On February 10, VisitScotland will launch the "Date A Hot Scot" web sweepstakes where some lucky participants will win a trip to Edinburgh to experience Scotland and meet a "Hot Scot." Lasting through the end of March, this promotion will feature images of 20 dashing Scotsmen including a doctor, an entrepreneur, a film actor, the bagpiper that played at Madonna's wedding and a television presenter. Contestants must enter as a pair (eg: you and a girlfriend) by voting online for who they think is the "Hottest Scot." The grand prize will include a trip for two gal-pals to travel to Scotland in June to meet these handsome men at a fabulous party at Edinburgh Castle, and experience the country at large. Accommodations and air are included.
If you're not one of the lucky winners, you can find yourself a Hot Scot on your own. With more than 450,000 single men between the ages of 20 and 40, where better to find the love of your life . . . or at least drink whisky with some cute guys in kilts? From slick city dwellers and artistic musicians to hunky farmers and burly rugby players, the choice is endless!
Your search can begin in either Edinburgh or Glasgow — the two largest Scottish cities — by visiting hip haunts, trendy shops and historical sites. If the cities fail to produce Mr. Right, move on to the beautiful Scottish countryside.
Here are some of the top HOT SPOTS for HOT SCOTS, according to VisitScotland:
Bars and Clubs
Edinburgh and Glasgow boast some of Europe's most fashionable bars and clubs. Edinburgh has the sleekly designed Opal Lounge, elegant Dragonfly or laidback lounge The Villager. In Glasgow it's all about the height of design and style with the incredibly opulent Corinthian or Bargo in the trendy Merchant City area. Glaswegians take clubbing to a completely different level with hip clubs such as The Arches or the legendary Buff Club. Edinburgh's club scene is no less buzzing as you can party into the wee small hours in Ego or Cabaret Voltaire.

Music Venues
The Scots love their music – and Glasgow and Edinburgh are fast becoming hotbeds of new rock talent. The Barrowlands is a Glaswegian institution, and a favorite amongst bands due to the liveliness of the crowd. Or if you want to scout out the next Franz Ferdinand, head to Glasgow's King Tut's Wah Wah Hut or The Liquid Rooms in Edinburgh for upcoming talent. Another hot tip would be to check out the Students' Union at The Glasgow School of Art, a place where many of Scotland's band members first met. It's your chance to get in on the scene before anyone else.
Retail Therapy
Edinburgh and Glasgow have an array of shops and stores that would give any fashion capital a run for its money. Glasgow's city center is high street heaven, from uber-trendy designer stores in Princes Square to vintage gems in the emporiums of Glasgow's hip West End.

In Edinburgh you'll find everything, from the fabulous Harvey Nichols to the weird and wonderful independents. Ready for a budget-busting shopping spree, then Edinburgh's Multress Walk and George St are the places to shop 'til you drop – Louis Vuitton, Emporio Armani, Soto and G Star Raw. On the Royal Mile amongst the souvenir shops, you'll find NESS, specializing in Vivienne Westwood-esque twists on tartan and knitwear. Funky fellas will love 21st Century Kilts, a hit with celebs, including Robbie Williams.

The greatest thing with both cities is the fact that they're so easy to get around, and it's even easy to skip from one city to the other. If you're one of those dedicated retail junkies, you'll find everything you need in Edinburgh and Glasgow.
Eating Out
Glasgow, Scotland's biggest city, offers a huge variety of cuisine with new restaurants popping up every week. The scene is fashionable, glamorous and daring especially in the Merchant City and West End. Satisfy your appetite with innovative cuisine at ArtHouse Grill, or an intimate dinner at the Ubiquitous Chip. Cap a perfect day by savoring a whisky with the locals beside the fireplace at the cozy Uisge Beatha.

With more Restaurants per head than any other UK city, you'll be spoiled for choice in Edinburgh. Satisfy your appetite with traditional Scottish fare at Stac Polly, or Asian cuisine at the colorful Thai Orchid. Enjoy an intimate dinner at the Secret Garden in The Witchery, or the eclectic cuisine and stunning views at Oloroso.

Cities – Glasgow and Edinburgh
Scotland's capital, Edinburgh, is the UK's festival city, with the world's biggest arts festival, the Edinburgh Festival and Fringe, taking place during August. Edinburgh also hosts the world's biggest New Years celebration at Edinburgh's Winter Festival.

Edinburgh has something going on pretty much every day of the year, and not just for those three weeks in August. Books, science, art, you name it; there's an event for you. Attractions will keep you busy, with Edinburgh Castle, Palace of Holyrood House and the Royal Mile in the Old Town. Visit the National Museum of Scotland and the Royal Yacht Britannia for some culture and royal history.

Glasgow is big on personality, bigger on partying, and even bigger on style. See why its one of UK's best cities for shopping and nightlife.
For the last two decades, Glasgow has carved out a reputation for architecture and design, fuelled by a ridiculously well-dressed (and notoriously friendly) population. Visit the Glasgow school of Art, The Gallery of Modern Art or the Burrell Collection for a little culture. And you'd be right to expect incredible shops, earning Glasgow its reputation as the UK's favorite shopping city outside London.

T in the Park
There are a whole string of music festivals in Britain over the summer – but Scotland's award-winning T in the Park is one not to miss. Held in July at Balado in Kinross (near to both Edinburgh and Glasgow), up-for-it Scots have been enjoying fantastic line-ups here since 1994 when bands like Oasis and Blur got on stage in the upcoming band tents. In the last twelve years huge bands such as The Pixies, The White Stripes, Coldplay, The Strokes and Radiohead have all entertained some very lively Scottish crowds – who get to enjoy comedy tents, funfairs and lashings of beer as well as the music. Just remember your gumboots!
Edinburgh Festival
Throughout the entire month of August, Edinburgh is jam-packed with actors, comedians, musicians and even jugglers taking part in one of the most outstanding celebrations of art and culture the world over. It's actually seven overlapping festivals including the International Festival, the Fringe Festival, Film Festival, Book Festival, the Jazz and Blues Festival, Mela and the Edinburgh Military Tattoo. And this year it's the 60th anniversary of the International Film Festival – so expect the revelry, and the celebrity-count, to be even higher.

Rugby in Scotland
Weekend afternoons in Edinburgh are absolutely buzzing with energy – mainly due to energetic rugby matches at the world famous Murrayfield Stadium that run all the way from spring through to late fall. Get in on the scrum at one of the Six Nations games throughout February and March, or at the increasingly popular Melrose Sevens Tournament in April in the Scottish Borders – and carry on the spirited, patriotic party with a very burly and very amiable rugby crowd.

Highland Games
Highland games are a big tradition in Scotland. It would be difficult to experience anything more Scottish than these games, such as the Braemar Gathering in September, near Balmoral on Royal Deeside, or the Black Isle Show in August, near Inverness in the Highlands. There are pipe bands, Highland dancing, and a good selection of men in kilts throwing cabers and hammers! And try to make it to a ceilidhs held in one of the tents at the end of the games – that's when you'll be able to experience some good old-fashioned, unfiltered Scottish fun.

Ceilidhs
These traditional dances are not to be missed if you find yourself at one of Scotland's many Highland Games. Don't fret if you can't get to one of those gatherings. There are plenty of other ceilidhs in Scotland throughout the year. Try out Edinburgh's Assembly Rooms on a Friday night or Glasgow's legendary Riverside Club and dance the night away. Even if you are completely unaware of dances such as Strip the Willow, the Eightsome Reel, or the Gay Gordons – there will always be a willing local nearby to teach you the steps. A word of warning though, things can get very high-paced indeed; this is not one for the fragile!

This is just a taste of some HOT SPOTS where HOT SCOTS regularly visit year round. It doesn't end here -- there are plenty of other music festivals, adventure sports and world-renowned parties, including the country's traditional Hogmanay celebrations to welcome in the New Year, to meet the man of your dreams.
To find out more, visit www.toscotland.com.
---
VILLA KENNEDY OPENS IN FRANKFURT
The Villa Kennedy is a luxury five-star hotel in the centre of Frankfurt nestled just off the south bank of the Main River in a wonderful villa landscape on Kennedyallee. A wonderful combination of tradition and innovation, the hotel's three newly constructed buildings are built around the traditional 1904 Villa Speyer, setting the stage that for this luxurious downtown retreat.

Close to the hotel is Frankfurt's residential area, Sachsenhausen, with its bustling bars and restaurants and Frankfurt's many museums are easily accessible. Villa Kennedy is just eight minutes from Frankfurt's main train station and approximately 30 minutes from Frankfurt Airport.
Guests feel instantly at home in the Villa Kennedy's minimalist deluxe 163 bedrooms and suites where the furniture and lighting have been explicitly chosen to make guests feel truly comfortable.
With nine private rooms and a 330-square-metre ballroom with its own entrance and lobby, Villa Kennedy offers modern and superior facilities with the latest technology for meetings and special events in Frankfurt.
The picturesque central inner courtyard makes Villa Kernnedy an escape and meeting place in one. With its elegant and refined atmosphere the hotel's restaurant, GUSTO, leads onto the courtyard garden which provides a wonderful setting to meet and dine during the summer months.
The Villa Spa comprising an indoor pool, gymnasium, sauna, steambath as well as eight treatment rooms offering a range of health and beauty treatments is a tranquil haven with relaxing views onto the attractive spa garden.
Villa Kennedy will truly be your private garden when in Frankfurt!
Villa Kennedy | Kennedyallee 70 | 60596 Frankfurt | Germany
Tel: +49 69 7171 20 | Fax: +49 69 7171 21010
E-mail: enquiries.villakennedy@rfhotels.com
---
Take a Ride Back in Time at New York State's
Historical Amusement Parks
Amusement Parks Combine Modern Advances with Historical Rides For visitors to New York State's historic theme parks, the best ride of all may be a trip back in time. While amusement parks have grown and expanded to keep thrill-seekers coming back for more, several in New York State still operate original rides and attractions – dating back decades. These historic amusements offer parents and grandparents a whimsical reminder of their own childhood and continue to delight children of all ages:
Enchanted Forest Water Safari—Old Forge, N.Y.With 31 water rides with heated water, Enchanted Forest Water Safari is New York State's largest water theme park. It is also one of the oldest and best preserved storybook attractions in the country. Built in 1956 "for the young and young at heart," Enchanted Forest opened with a fairytale theme featuring characters from favorite children stories. At 19-feet tall, Paul Bunyan welcomes guests at the park's entrance and visitors can still stroll through the original Storybook Lane to visit Sleeping Beauty, Little Bo Peep, Cinderella's House, and Snow White and the Seven Dwarfs. The 2006 season opens on June 14. To learn more about Enchanted Forest Water Safari, call 315.369.6145 or visit www.watersafari.com. For information about camping packages at the nearby Old Forge Camping Resort located next to the park, visit www.oldforgecamping.com or call 1.800.CAMPING.
Playland—Rye, N.Y. Since opening its doors in 1928, Playland has always been a favorite destination for nearby New York City families. Grandparents, who once enjoyed the historic rides at Playland, now bring a new generation to experience the same attractions. Situated along Long Island Sound, just north of New York City, Playland is an old-fashioned seaside amusement park, complete with the original boardwalk and pier. Along with modern amusements and thrills, the park still operates seven original rides that pre-date 1930.
Other Historical Theme Parks in New York:
SeaBreeze—Rochester, N.Y. – Open to the public 1879, SeaBreeze is the fourth oldest amusement park operating in the United States. Originally a picnic area near Lake Ontario with a few mechanical amusements, in the 1900's it grew into a popular amusement park. It has since added modern thrills and attractions, but is still home to several original rides, including the Jack Rabbit wooden roller coaster—the fourth oldest coaster in the country. SeaBreeze opens on May 20. For more information, visit www.seabreeze.com or call 585.323.1900 or 1.800.395.2500.

Deno's Wonder Wheel Amusement Park—Brooklyn, N.Y. – Built in 1920, the 150-foot high Wonder Wheel is the highlight of Deno's Wonder Wheel Amusement Park on Coney Island. An official New York City landmark, the Wonder Wheel has a diameter of 140 feet and holds up to 144 people at once. The "Kiddie Park" features 17 rides for children and their parents. Deno's Wonder Wheel opens on April 8. For more information, visit www.wonderwheel.com or call 718.372.2592