THE BRILLIANT BLUES OF KAUAI
by Bonnie Carroll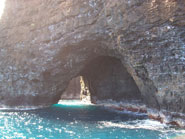 The Island of Kauai is known as 'the garden island' and rightfully so. Kauai consists of a lush terrain that is filled with the most beautiful assortment of rare tropical plants and trees you will find anywhere in the Hawaiian Islands. The hues of blue, from the sky to the sea, generate a feeling peace that is so healing. This lovely spot is still relatively unspoiled and peaceful. In a way Kauai reminds me of Maui in the 70s, when you landed on a small airstrip, where your luggage was dumped on the ground, and you flagged down a guy driving a funky old truck to take you to your vacation accommodation. I found the simplicity of Kauai irresistible.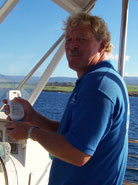 I would highly recommend a catamaran tour of the Kauai coast on a Blue Dolphin Charter. It will not only prove to be a fun social outing, complete with wonderful food, beverages, and service, but it will also provide an up close and personal experience of the coastline and the beautiful sea creatures that live there.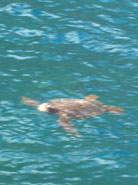 All the visiting sailors on the Blue Dolphin Charter were overjoyed to see the huge sea turtles and spinner dolphins that nearly jump in the boat, and the divers and snorkelers found themselves in fish heaven! This is such a relaxing and educational outing. Our captain gave regular reports on the historic spots we were sailing past, and he knew exactly where the sealife action was to accommodate amateur and professional photographers.
During my recent visit I also spent an exhilarating morning in an Island Helicopter snapping photos and basking in the glorious beauty of this Hawaiian Island from above. Our Kauai from the sky hosts, Bonnie and Curt Lofstedt, have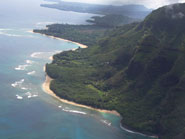 been giving personalized helicopter tours to visitors on the island since 1980. They are proud of their F.A.A. Certified Air Carrier history and the perfect safety records of their pilots. Our ride was smooth, comfortable and provided everyone onboard a memorable view of areas that cannot be visited on foot.
The panoramic views of the Na Pali Coast were amazing. To see the entire island from the air, with such a detailed view of the valleys and beaches gives you an unforgettable total experience of the magnificent beauty and magic of Kauai. The Manawaiopuna water falls, Mt. Waialeale crater and Hanalei Bay are spectacular from the air, and It is easy to understandable why this island was selected for the film location of "Fantasy Island," Jurassic Park and King Kong, along with many others.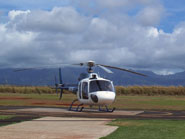 The six passenger Aerospatiale ASTAR helicopter has room for six passengers, with all seats facing forward. Ceiling to floor glass windows and doors provide photography opportunities to all, and a Bose X stereo and communications system can be enjoyed by all who wear headsets. The system enables passengers to ask Curt questions while in flight.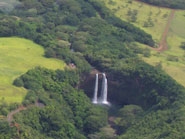 No one in our group had any air sickness, but I had taken the precaution of a pre-Dramamine, and I always wear my pressure point wrist bands, just to be safe. The trip was one hour in length, and is considered to be the most ecologically friendly way to see the island. It was so relaxing that we all hated to see it come to an end. Along with cookies and soft drinks following the tour, passengers were given a complimentary screen saver as a momento of their aerial adventure, and everyone agreed they could hardly wait to go up again!
Flights depart daily from 8:00 a.m. to 4:30 p.m. at Lihue Airport and the cost for 60 minutes is $250.00 per person. VIP and group rates are available. Pickups are available in the Lihue and Kapaa area. The toll free number is 1-800-829-5999 or visit www.islandhelicopters.com. For Blue Dolphin Charters visit www.kauaiboats.com or call 808-335-5553.
---
SEPTEMBER SECRET
BedandBreakfast.com reveals the secret about September B&B travel
Everyone loves to travel when it's peak season for value and off-season for crowds, so BedandBreakfast.com has a secret to share: September is a perfect value season. The kids are back in school, and fall foliage is still around the corner. Visit www.BedandBreakfast.com and click on the Specials badge located in the left-hand corner for a complete list of great values with September Secret Specials.Remember, B&Bs add value with complimentary breakfasts and other extras; these B&Bs, listed alphabetically by state, have added additional treats for September travelers. Nightly B&B rates listed below are for two people, exclusive of tax and service. Midweek rates are available Sunday through Thursday nights.Hunt Placer Inn, Breckenridge, CO: Oktoberfest in September? Grab your stein, pull on your lederhosen, and get ready for Breckenridge's 12th annual Oktoberfest, September 15-17, 2006.
The festival celebrates the town's German heritage and offers 'oompah' music, Bavarian foods, and of course, hot and cold running beer. Stay a minimum of two nights and receive two complimentary one-liter commemorative steins. Rates: $149-199. Inn at Cascade, Cascade, CO: The "Fall in Love with Colorful Colorado" package offers a packed itinerary. Upon arrival, you'll enjoy baked Brie en croute with raspberry chipotle sauce, fresh fruit, warm French bread, and chilled sparkling cider brought to your room. Throughout your stay, take in wine tasting at nearby Wines of Colorado with a certificate for a free bottle of red or white Colorado wine. Then, ride the world's highest cog railway to the 14,115-foot summit of Pikes Peak. More scenery awaits on a two-hour horseback ride through the spectacular red rock formations at Garden of the Gods Park. Explore Colorado's Roads to Riches with a picnic lunch on a self-guided driving tour of the Gold Belt, a National Scenic Byway, where fall color is abundant. Top it off with two relaxing hour-long massages and a four- to six-course gourmet dinner at the award-winning Black Bear Restaurant.
Offered through November 4, this package costs $275 per person added to the rates of $105-165; three-night minimum stay required. Centennial House, St. Augustine, FL: It's hard to keep a secret for 420 years, but some would say that St. Augustine qualifies. You can enjoy the historic charm of this delightful city, founded in 1586, with great values offered every day of the week. Stay two nights anytime between September 5-30 and the second night is 50% off the regular rate; stay three nights and the third night is free. Rates: $125-255. Primrose B&B, Bar Harbor, ME: Stay four nights and a picnic lunch for two in the innkeepers' secret picnic spot in Acadia National Park is included, along with a champagne welcome, plus breakfast and afternoon tea each day. Rates: $135-215. Historic Inns of Rockland, Rockland, ME: The "Seniority Has Its Privileges" package includes a 25% lodging discount for September travelers, with accommodations for three nights at your choice of the Captain Lindsey House, Berry Manor Inn or LimeRock Inn.
The package includes: two Discovery Coast Museum Passports, offering admission to six museums including the renowned Farnsworth Art Museum; a choice of two tickets to Captain Jack's Lobster Adventure Cruises offering the chance to pull lobster traps (and keep your haul), or two tickets on the Maine State Ferry to Vinalhaven Island. Guided tours of the Maine Lighthouse Museum, Rockland's Historic Breakwater Lighthouse, and a private walking tour of Rockland's Historic District add to the itinerary. Wednesday evening discussion groups presented by the Rockland Historical Society and a tour of the three premier Historic Inns of Rockland are all part of this package, offered throughout September for $460-705 for single or double occupancy. Emerson Inn by the Sea, Rockport, MA: Baby Boomers will enjoy this package offered throughout September and October for travelers 55 and older. The package includes two nights midweek lodging, full breakfast daily, complimentary dessert, $10 gift certificate to the inn's gift shop, and an afternoon whale watching boat trip for two. Be sure to bring or rent bikes for a self-guided bike tour on the Atlantic Pathway to Halibut State Park (bike storage provided).
Rates of $280-315 represent a 25% discount on lodging. Inn at Danbury, Danbury, NH: Stay midweek September 18-30, when leaves start to turn color, and enjoy the two-night package including accommodations, hot cider and yummy treats upon arrival, a leaf-peeping lunch for two, and dinner for two at the inn's Bavarian Bistro (Wed.-Thurs. only) plus a take-home gift, starting at only $225 per couple. Old Parkdale Inn, Parkdale, OR: Stay anytime September through November, mention the September Special, and receive a free Hood River Valley's Harvest Gift Basket filled with fruit, wine, and lavender products plus discount coupons good at local businesses. Take a self-guided tour using the inn's signature map of the "Fruit Loop" and experience fruit stands, vineyards and all of the Valley's agri-tourism hotspots. Rates start at $185. Vogt Farm Inn, Marietta, PA: Stay three nights September 4-21 and receive a 10% discount off room rates of $99-150, including a hearty farm breakfast, plus a complimentary thermos of hot chocolate or coffee and treats to enjoy while exploring the back roads of Pennsylvania Dutch Amish Country. Huckleberry Inn, Sevierville, TN: Kids are back in school, and now it's time for Mom and Dad to have a "Secret Rendezvous." Plan to stay in this hand-built log inn, and enjoy a room with a private whirlpool bath and fireplace. Stay two nights during the month of September and a complimentary "Secret Surprise Romance Basket" is awaiting your arrival. Rates: $99-150. Carriage House of Woodstock, Woodstock, VT: September 1-21, follow the treasure map through Woodstock collecting clues about this picture-perfect Vermont town and learn about local history, town secrets and trivia along the way. Find all the secret clues, and win a gift basket featuring products from stores and stops along the way. The September Secrets package includes two nights' accommodations, breakfast each morning, treasure map, and the gift basket for $300 per couple. Arlington's River Rock Inn, Arlington, WA: We'll let you in on a secret – September is the very best month to vacation here! Stay September 5-30 for two nights, and luxuriate in a spa suite with double air-jetted tub, waterfall showers and private balcony. Add to the fun with a two-hour bass fishing trip and a one-hour kayak trip on a private lake with views of the Cascades for $435-495. For more information on these September Specials and B&Bs worldwide, visit www.BedandBreakfast.com.
BedandBreakfast.com is the leading online bed and breakfast Internet directory and reservation network, listing over 6,000 B&Bs and inns throughout the United States and internationally. A variety of search functions and extensive maps enable inngoers to find the perfect B&B. Travelers can make reservations online, purchase gift certificates welcomed at over 3,200 U.S. bed & breakfast inns, subscribe to free newsletters, and post questions on expert-hosted message boards. In a newly announced partnership, BedandBreakfast.com has become the exclusive B&B aggregator for Expedia, Inc. and Expedia will serve as BedandBreakfast.com's exclusive online travel agent. See http://www.bedandbreakfast.com/about/press.aspx?year=2006&article=04032006 for details. Additionally, for information on a range of independently-owned distinctive lodging, visit BedandBreakfast.com's sister site, www.Inns.com
---

Opening Soon
Four Seasons Resort Lana'i, The Lodge at Koele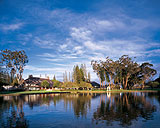 Now Accepting Reservations Located in the dramatic central highlands of the private Hawaiian island of Lana'i, this is a gracious retreat amidst manicured gardens and towering Cook Island pines. Currently undergoing an extensive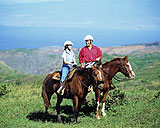 renovation, it will re-open later this year as Four Seasons Resort Lana'i, The Lodge at Koele.
Offering activities such as horseback riding, hiking and world-class golf - as well as watersports at our companion resort, Four Seasons Resort Lana'i at Manele Bay - the new Resort will deliver a one-of-a-kind experience embracing highlands and ocean.
---
Travel Security:
United Spinal Association Recognizes TSA Security Measures
For Persons with Disabilities
With today's heightened security measures to protect our international and domestic air travel, United Spinal Association, a national membership organization for people with spinal cord disabilities, clarifies regulations at airport checkpoints for people who use wheelchairs and have medical conditions. "While we understand that security measures have to be taken to ensure the safety of all air travelers, we also want to ensure the rights of people with disabilities," said Kleo King, United Spinal Association's associate executive director, Accessibility Services. According to the Office of Screening of Persons with Disabilities at the Transportation Security Administration (TSA), people with disabilities and medical conditions should know:

Shoes DO NOT have to be removed during this heightened security level nor has this been the case during routine travel times. Transportation Security Officers are trained to allow all persons with disabilities to keep their shoes on.

Those who keep their shoes on will be subjected to additional screening that includes a visual/physical and explosive trace detection sampling of their footwear.

The TSA, who had previously banned all liquid medications, now will allow up to 4 ounces of liquid nonprescription medicine, including KY Jelly for medical purposes.

Gel wheelchair cushions ARE allowed. For more information on hassle-free travel for individuals with disabilities, United Spinal has produced a pamphlet, Accessible Air Travel: A Guide For People With Disabilities, which can be obtained by calling the Association's publications request line at 1-800-444-0120, or can be downloaded online at www.unitedspinal.org. Celebrating 60 years of service, United Spinal Association has been a leading organization in advocating for accessible transportation nationwide through its work on the transportation provisions of the Americans with Disabilities Act. United Spinal was also instrumental in drafting portions of the Air Carrier Access Act, and promotes compliance with these laws and educates the public and the travel industry about them through publications and workshops held across theUnited States. The Association also offers new travel service for members of United Spinal called ABLE to Travel. Membership in the Association is free and open to all people with spinal cord disabilities. For more information, please visit: www.unitedspinal.org or call 800-404-2898.
---
Sink or Swim: Hostelworld.com
Lists Its Eight Best Water Hostels

Dublin, Ireland - August is upon us and the very thought that the fall is only around the corner freezes the soul all the way down to our flip-flops. It is time to make best use of dwindling 80-degree days and spend quality time on the water. Whether ocean, a lake or a river, Hostelworld.com can help travelers find great, affordable lodging at water-oriented hostels.
Ocean Beach Backpackers, Perth, Australia: Highly rated by travel publications such as Lonely Planet and Let's Go, Ocean Backpackers has a lot going for it, but the highlight is location, location, location. Just a stones throw from the picturesque Cottesloe Beach, guests spend their days surfing and your evenings taking in the stunning views.
Rooms start at $17.00 for eight- bed dorm and $26.00 for private twin ensuite when booked at www.hostelworld.com.
Surfpackers, Jeffery's Bay, South Africa: For the true surf enthusiast, Surfpackers bills itself at "the only hostel on the supertubes." Take advantage of this prime location to catch some of the most intense waves in Africa. If that is too radical, take a quick jaunt into town to play with cubs at the local lion park. A stay at this resort is not for the faint of heart.
Rooms start at $12.00 for six-bed dorm and $13.00 for double private.
Poc na Hostel, Isla Mujeres, Mexico: Explore the Mexican Caribbean from Poc na Hostel. This hostel, which is only six blocks from the pier and even closer to the beach, offers outdoor, fun-in-the-sun activities such as snorkeling, bike trips and island tours.
Eight-bed mixed dorms start under $10.00.
OTB International Travelers, Tarifa, Spain: This beachfront accommodation promises to be nothing but fun. Their hospitality extends before you even check in with their free taxi service that shuttles visitors from the bus station. OTB is known for its kite and windsurfing school. Located on the Strait of Gibraltar, the winds scream through, bringing the perfect warm temperatures and strong winds for these extreme sports. Two days of lessons are only 160 euros.
Four-bed mixed dorm from $27.00.
Loch Ness Backpackers, Loch Ness, Scotland: People have been searching for Nessie for decades; conduct your search from the comforts of this rustic Scottish farmhouse. The hosts at Loch Ness Backpackers can help arrange horseback rides or mountain biking expeditions as well.
12-bed mixed dorm from $23.00, private double from $30.
Lucky Lake Hostel, Amsterdam, Netherlands: Check out this fantastic location with slightly untraditional accommodations. Each room is a camper. Lucky Lake is a great spot to escape the craziness of Amsterdam with a few relaxing days of sunning, canoeing and kayaking.
Double private from $31.00.
Killarney International Youth Hostel, Killarney, Ireland: Enjoy this 18th century mansion and all that the Lakes of Killarney have to offer. Boat trips, horseback riding, volleyball and bike hire are all available in close proximity.
15-bed dorm available from $15.00, 4 bed private from $25.21.
Riverbend Hot Springs, Truth or Consequences, New Mexico, USA: Known as an affordable spa area, Truth or Consequences hosts a bevy of clean, unspoiled hot springs, rivers and lakes. Guests of Riverbend enjoy complementary access to the hot springs. Six-bed dorm from $23.00.
---
NEW PILLOWS ENHANCE MARINER'S DREAM™ STATEROOM EXPERIENCESweeter Dreams Await Suite Guests Aboard
Holland America Line Ships
Creature comfort is the mantra of today's leisure traveler. Holland America Line is answering that call by enhancing their Mariner's Dream™ stateroom experience with a variety of pillows. The new pillows will come in three comfort levels and will be available in all suites aboard the fleet of 13 five-star ships by the end of July 2006. The premium line is a trend leader in hospitality innovations at sea, setting the standard in stateroom comfort. "When traveling, a good night's rest can elevate the enjoyment of life's experiences," remarked Richard D. Meadows, CTC, Holland America Line's senior vice president, marketing and sales. "We want to provide our guests with every opportunity for choice and comfort and our new pillows are one more small yet effective way to cater to cruise enthusiasts." Three types of pillows will be presented to suite guests offering distinctive levels of comfort:
Support: Firm fiber pillows - firmly filled for extra support and relief;
Soothe: Medium cluster fiber pillows – eases sleep with soothing, simple comfort;
Soft: 100 percent goose down pillows – feather soft for ultimate relaxation. Mariner's Dream™ pillow enhancements will be available to guests staying in the following stateroom categories: verandah suites, superior verandah suites, deluxe verandah suites and penthouse verandah suites. Each suite will have a minimum of two pillows from each of the three comfort levels for a total of six pillows, while eight pillows will adorn king beds in deluxe verandah suites and penthouse verandah suites. Upon embarkation, a pillow display card will introduce suite guests to the attributes of each pillow type and the layout configuration of the pillows. Guests may elect to exchange the pillows to perfectly match their preference. The new pillows complement Holland America Line's stateroom accommodations that are outfitted with Mariner's Dream™ beds featuring a plush, custom-designed Sealy Posturpedic Euro-top mattress, 250-thread count cotton bed linens with comfortable duvets in deluxe verandah suites and penthouse verandah suites. Other suite amenities include flat panel TVs; DVD players and complimentary DVD selections; thick Egyptian cotton towels; deluxe waffle and terry cloth bathrobes; premium massage showerheads; magnifying make-up mirrors with halo lighting and salon-quality hair dryers; a stainless steel basket filled with fresh fruit; and, a stainless-steel ice bucket and serving tray for beverages. These popular stateroom amenities including the new pillows are available for purchase through the cruise operators' on-line store at www.shophollandamerica.com. The sleep system upgrade is another element of Holland America Line's $225 million, fleetwide Signature of Excellence® enhancements featuring numerous new programs and amenities including the Culinary Arts Center presented by Food & Wine magazine — a state-of-the-art onboard show kitchen where celebrated guest chefs and culinary experts will provide cooking demonstrations and classes — Explorations Café powered by The New York Times, the Greenhouse Spa and Salon, Club HAL youth program and teens-only activity areas, as well as all new stateroom amenities highlighted by flat-panel TVs, plush-top Mariner's Dream beds and now three new pillows selections. Signature of Excellence enhancements have been completed on 12 ships, with the final ship receiving enhancements by early fall of 2006. For more information, consult a travel agent, call 1-877-SAIL-HAL (877-724-5425) or visit www.hollandamerica.com.
---
Escape Your Routine and Take an Adventure with
Chicago Neighborhood Tours

Chicago Neighborhood Tours, a division of the Chicago Office of Tourism, invites visitors and Chicago natives to explore the unique and diverse neighborhoods within Chicago's many communities. September and August Neighborhood Tours feature Uptown, Pilsen & Little Village, Ukrainian Village, Pullman Historic District, Chinatown, Little Italy, Humboldt Park and Wicker Park & Bucktown. Special Interest Tours feature Great Cemeteries of Chicago and Polish Chicago.
(Note: The White City Tour for August 19 and the Taste of Neighborhoods Tours scheduled for August 5 and September 2 are sold out. Please note there are additional Taste of the Neighborhoods Tours offered in October and November.)
Neighborhood Tours
On August 5, Learn about the glamorous jazz-age history of the Uptown neighborhood on this Neighborhood Tour of the Broadway and Lawrence Avenue area. Visit the romantic Aragon Ballroom, stop at one of the oldest jazz clubs in the U.S. and conclude the tour with a short discussion and musical performance at The People's Music School.
Celebrate both Mexican and Mexican American culture and heritage on the Pilsen & Little Village Neighborhood Tour on August 12. Explore the local shops and stores and learn about the local murals that adorn the streets. The tour stops in East Pilsen to visit a local art gallery. End the day with a visit to the nation's largest Latino museum, the Mexican Fine Arts Center Museum.
On August 19, join the Neighborhood Tour of Ukrainian Village, a quaint, eight–block area filled with Old World charm as well as beautiful churches, international museums and Eastern European restaurants. Stops include the Ukrainian National Museum, Sts. Volodymyr and Olha Cathedral, and the magnificent Holy Trinity Russian Orthodox Church.
On the August 26 and September 23 Pullman Historic District Neighborhood Tours, guests enjoy a walking tour of the planned urban community developed and made famous by George M. Pullman––owner of the Pullman Palace Car Company. Tour highlights include a stop at the Pullman Visitors Center, the United Methodist "Green" Church, and a visit to the Hotel Florence to view its ongoing restoration.
Take a guided walking Neighborhood Tour of Chinatown on September 9. While in this colorful and vibrant neighborhood, learn about the history and immigration of the Chinese to the area. Tour stops include Ping Tom Park, a visit to the new Chinese-American Museum of Chicago, a stop at Chinatown Square, and a chance to explore local shops on your own.
On September 16 during the Little Italy Neighborhood Tour, join our neighborhood guide for an in-depth walking tour of the Little Italy Taylor Street area, home to generations of Italian families and businesses. Stop to visit The Shrine of Our Lady of Pompeii, continuing on a guided tour of the national historic landmark, The Jane Addams Hull-House Museum.
Explore Humboldt Park with a Neighborhood Tour on September 16. Begin with a drive through the Humboldt Park neighborhood and Division Street corridor and learn how this former enclave of German, Italian and Russian families became home to Puerto Ricans and African Americans today. Tour stops include the Humboldt Park Boat House and its Field House, the beautiful formal gardens, and the Humboldt Park Stables, now home of The Institute of Puerto Rican Arts and Culture.
On September 30, take the Wicker Park & Bucktown Neighborhood Tour. Visit these side-by-side neighborhoods and stop to visit Bucktown's beautiful St. Hedwig's Church. Continue with a guided walking tour for a close-up view of the many mansions and stunning Victorian architecture and shops in Wicker Park.
Special Interest Tours
Join noted historian Albert Walavich for the Great Cemeteries of Chicago Special Interest Tour and see where some Chicagoans—both famous and infamous—have left their mark on Chicago's history. Visit Rosehill Cemetery on August 12 and the Bohemian National & Montrose Cemeteries on September 9.
Take a trip to "Old Polonia" and learn about Polish immigration, history, and architecture on the August 26 and September 30 Polish Chicago Special Interest Tour. Tour stops include the Polish Museum of America and St. John Cantius Catholic Church.
Summertime Sampler Tours
Experience the best of Chicago in three hours with the new Summertime Sampler Tours, which visit three neighborhoods in three hours. Tours rotate every Thursday through August 31 and include:
Little Italy, Little Village and Pilsen (August 3 and 31)
Greek Town, Chinatown and Little Italy ( August 10)
Andersonville, Lincoln Square and Uptown (August 17)
Humboldt Park, Wicker Park and Ukrainian Village (August 24)
How To Make Reservations
To make reservations for Chicago Neighborhood Tours, Chicagoans and visitors can call 312.742.1190 or visit the Web site at www.ChicagoNeighborhoodTours.com. Tours depart by motorcoach from the Chicago Cultural Center, 77 E. Randolph Street at Michigan Avenue, at 10 a.m. (check-in at 9:30 a.m.). Neighborhood Tours and Special Interest Tours will return either at 2 p.m. or 2:30 p.m. and Summertime Sampler tours return at 1 p.m. The cost for each Neighborhood Tour is $25 ($20 for seniors/students) and includes refreshments. The cost for each Special Interest Tour is $50 ($45 for seniors/students) and includes lunch. The cost for each Summertime Sampler Tour is $20 and includes a light snack.
To receive a calendar of upcoming Chicago Neighborhood Tours, please call 312.742.1190 or visit www.ChicagoNeighborhoodTours.com. For information about group tours, please call 312.742.1190. Gift certificates are also available.
NOTE TO PRESS: For CNT images, brochures and information on press passes for tours, please contact Sharma Shackleford at 312.744.2392 or sharma.shackleford@cityofchicago.org.
Chicago Neighborhood Tours Schedule Through December 2006
SEPTEMBER 2 Taste of the Neighborhoods 9:30 a.m.-2:30 p.m.
9 Chinatown 9:30 a.m.-2:00 p.m.
9 Great Cemeteries of Chicago 9:30 a.m.-3:30 p.m.
Bohemian National and Montrose Cemeteries
16 Little Italy 9:30 a.m.-2:30 p.m.
16 Humboldt Park 9:30 a.m.-2:00 p.m.
23 Pullman Historic 9:30 a.m.-2:30 p.m.
30 Polish Chicago 9:30 a.m.-2:30 p.m.
30 Wicker Park & Bucktown 9:30 a.m.-2:00 p.m.
OCTOBER 7 Taste of the Neighborhoods 9:30 a.m.-2:30 p.m.
14 Great Chicago Fire 9:30 a.m.-2:00 p.m.
14 Uptown 9:30 a.m.-2:00 p.m.
21 Hyde Park & Kenwood 9:30 a.m.-2:30 p.m.
21 Literary Chicago 9:30 a.m.-2:00 p.m.
28 Pilsen & Little Village 9:30 a.m.-2:30 p.m.
28 Historic Bronzeville 9:30 a.m.-2:30 p.m.
NOVEMBER 4 Greek Chicago 9:30 a.m.-2:30 p.m.
11 Taste of the Neighborhoods 9:30 a.m.-2:30 p.m.
18 South Shore Neighborhoods 9:30 a.m.-2:30 a.m.
DECEMBER 2 Shopping Tour 9:30 a.m.-2:00 p.m.
---
AMERICAN CRUISE LINES DOUBLES
SPACE FOR 2007 MAINE CRUISES
In response to the increased demand for Maine Coast & Harbors cruises this year, American Cruise Lines will be placing the brand new American Star in Maine for the summer of 2007, increasing the number of berths available on this itinerary.
The American Star is currently under construction at Chesapeake Shipbuilding in Salisbury, MD, and will enter service in June of next year. By operating the new 100-passenger American Star in the Maine itinerary instead of the 49-passenger American Glory, American Cruise Lines will double the number of berths available to guests in 2007.
"The enthusiasm for the Maine Coast & Harbors itinerary is exciting," says Vice President Tim Beebe. "We will be providing a beautiful brand new ship on this itinerary next summer to meet the demand." The Maine Coast & Harbors cruise schedule for 2007 is now available. To reserve your space on a Maine Coast & Harbors cruise aboard the brand new American Star, or for more information, please call 800-814-6880, or visit us at www.americancruiselines.com .
Don't miss out on the chance to discover the best of Maine!
---
Low-fare Airline Starts Flights Between Burbank-Orlando,
Burbank-Las Vegas, and Boston-Buffalo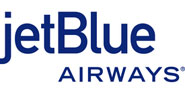 NEW YORK, June 30, 2006 (PRIMEZONE) -- JetBlue Airways (Nasdaq:JBLU)
today began low-fare service on three new routes, offering its award-winning service, 36 channels of DIRECTV programming and roomy, all-leather seats between Boston, MA and Buffalo, NY; Burbank, CA and Orlando, FL; and Burbank and Las Vegas, NV.
"This is an exciting time for our customers as we continue to add
connecting service between existing destinations," said JetBlue CEO and
founder David Neeleman. "Our customers love JetBlue's award-winning
friendly service and onboard amenities, including comfy leather seats
and the most live entertainment options available on any airline. We
look forward serving customers on these new routes."
Boston, MA to Buffalo, NY
JetBlue today becomes the only low-fare airline to fly nonstop between
Buffalo and Boston's Logan International Airport, with three daily
flights. The new service strengthens JetBlue's position in Boston, with
daily nonstop service to Bostonians' favorite destinations in the
United States and Caribbean. JetBlue recently opened a crew base in
Boston, and today also started serving Pittsburgh, PA with two daily
nonstop flights.
"This once again proves Buffalo is a great place for JetBlue," said
U.S. Senator Charles E. Schumer. "When (JetBlue's President and COO)
Dave Barger and I toured Buffalo and Upstate New York together last
summer, I knew good things would happen, including an increase in
low-fare airline service. This new flight is just the beginning. We
will continue to work with JetBlue to add more planes, and new
destinations from Buffalo."
"JetBlue Airways has been a great asset to the City of Buffalo's travel
industry, providing excellent service at great prices to New York City
and beyond," said Buffalo Mayor Byron W. Brown. "I extend my
congratulations to JetBlue as they expand their service to our area
residents by opening the new Buffalo to Boston route. I look forward to
the success of this new service and wish JetBlue continued good fortune
in the Buffalo market."
"JetBlue's commitment to continue to expand services adds to Boston
Logan International Airport's 76 domestic destinations and offers more
choice to the traveling public during this time of industry
realignment," said Thomas J. Kinton, Acting CEO/Director of Aviation,
Boston Logan International Airport. "JetBlue remains at the forefront
of the airline industry for maintaining healthy competition among low
cost carriers."
"JetBlue's continued growth from Buffalo, with its new service to
Boston, further strengthens our airport with more low fares to more of
our key markets," said Gregg Stamm, Chairman of the Niagara Frontier
Transportation Authority. "Buffalo was JetBlue's first market six years
ago and I am confident its new nonstop route to Boston will be well
received."
JetBlue's regular fares range from $69(a) to $159(a) each way between
Buffalo and Boston. Other restrictions apply (a).
The new nonstop service on the new Boston-Buffalo route will be flown
with JetBlue's new EMBRAER 190 aircraft. The EMBRAER 190s are
configured with 100 comfy leather seats in a two-by-two layout.
Customers have either an aisle or a window seat, ensuring easy movement
throughout the cabin. All JetBlue E190s are equipped with our popular
in-flight entertainment system, featuring large 6.8 inch in-seat
screens, 36 channels of DIRECTV(r) programming and more than 100
channels of XM Satellite Radio for free and, on flights longer than two
hours, a selection of movies on FOX InFlight Premium Entertainment.
JetBlue customers enrolled in the airline's flight gratitude program,
TrueBlue, will earn two TrueBlue points each way, with double points
awarded for travel purchased online at www.jetblue.com.
Buffalo customers will also have access to 12 other JetBlue
destinations via convenient connecting service in Boston, including
Fort Lauderdale, Orlando, West Palm Beach, Fort Myers, and Tampa, FL;
Nassau, Bahamas; Denver, CO; Phoenix, AZ; Long Beach, Oakland and San
Jose, CA; and Seattle, WA.
New JetBlue Service from Burbank, CA
"Bob Hope Airport is excited about the success JetBlue has experienced
in Burbank," said Chris Holden, President, Bob Hope Airport in Burbank.
"Their desire to meet the needs of the traveling public by providing
affordable flights to high demand destinations has made JetBlue a
customer favorite. We look forward to the new flights JetBlue will
offer out of Burbank to Las Vegas and Orlando, and believe the sky is
the limit to the airline's success."
Burbank, CA to Orlando, FL
JetBlue will operate one daily flight between Burbank, CA (BUR) and
Orlando, FL (MCO), the first and only airline to provide nonstop
service on the route, using its A320 aircraft. (JetBlue already offers
nonstop service between Long Beach and Fort Lauderdale.) JetBlue is
offering a sale fare of $159(a) each way with regular fares ranging
from $179(a) to $399(a) each way. Other restrictions apply (a).
Customers enrolled in the airline's flight gratitude program, TrueBlue,
will earn six TrueBlue points each way, with double points awarded for
travel purchased online at www.jetblue.com.
Burbank, CA to Las Vegas, NV
JetBlue also continues its expansion of service from Burbank today with
new daily nonstop service to Las Vegas. JetBlue's regular fares range
from $39(a) to $139(a) each way. Other restrictions apply (a).
JetBlue will operate one daily flight between Burbank (BUR) and Las
Vegas (LAS), using its A320 aircraft. This 156-seat aircraft offers
customers comfy all-leather seats and the most live entertainment
options in the skies today, with 36 channels of DIRECTV programming.
JetBlue customers enrolled in the airline's flight gratitude program,
TrueBlue, will earn two TrueBlue points each way, with double points
awarded for travel purchased online at www.jetblue.com.
In Las Vegas, customers will also have access to convenient connecting
service to Boston, New York/JFK and Washington, DC/Dulles.
In the six years since its launch, JetBlue Airways has focused on
creating a new airline category -- an airline that offers value,
service and style. Based out of New York City, the low-cost carrier
currently serves 39 destinations with more than 440 flights daily.
Onboard JetBlue, customers enjoy roomy leather seats and 36 channels of
free DIRECTV(r) programming (b), the most live TV available on any
airline. On flights longer than two hours, a selection of first-run
movies and bonus features from FOX InFlight(tm) is also available.
JetBlue offers customers generous brand name snacks and beverages,
including freshly brewed Dunkin' Donuts coffee, and delicious wines
selected by the airline's Low Fare Sommelier, Josh Wesson from Best
Cellars. On overnight flights from the West, the airline now offers
Shut-Eye Service, with a Shut-Eye Kit(tm) designed exclusively for
JetBlue by Bliss Spa and other special amenities including a "good
morning" hot towel service. With JetBlue, all seats are assigned, all
travel is ticketless, all fares are one-way, and an overnight stay is
never required. For information or reservations call 1-800-JETBLUE
(1-800-538-2583) or visit www.jetblue.com.
(a) All fares are subject to change without notice and may require up
to a 14-day advance purchase. Sale fare between Burbank, CA, and
Orlando, FL, must be booked by July 14, 2006, 11:59 PM MDT, and all
travel must be completed by January 8, 2007. Lowest fares may not be
available on all days or on all flights, and are most often found on
midweek travel dates. All fares must be purchased at time of
reservation, and are one-way, nonrefundable, and nontransferable.
Cancellations and changes can be made prior to scheduled departure for
$30 at 1-800-JETBLUE (or, in the case of changes, at jetblue.com) with
applicable fare adjustment. Cancellations are for a JetBlue travel
credit only, which is valid for one year. If travel is not used, and
the reservation is not changed or canceled prior to scheduled
departure, all money associated with the reservation is forfeited.
Fares do not include Passenger Facility Charges of up to $9 each way,
September 11th Security Fees of up to $5 each way and a Federal Segment
Tax of $3.30 per domestic segment. A segment is a takeoff and landing.
JetBlue reserves the right to deny boarding to passengers without
proper documentation. Other restrictions apply.
(b) DIRECTV(r) service is not available on flights outside the
continental United States; however, where applicable FOX InFlight is
offered complimentary on these routes. FOX InFlight is a trademark of
Twentieth Century Fox Film Corporation. JetBlue's in-flight
entertainment is powered by LiveTV, a wholly owned subsidiary of
JetBlue.
---
HULA YOUR HOLIDAY HASSLES AWAY
The Elves at Wailea Beach Villas are Ready to "Deck the Lanai"

Wailea Beach Villas, Maui's newest luxury residential resort – managed by Destination Hotels & Resorts – says Melikelikimaka or "Merry Christmas" by doing the decorating, cooking and gift-wrapping for guests this holiday season. Guests can arrive for their vacation relaxed and assured that their 1,900 to 3,100 square feet accommodations have been decorated with boughs of holly, a tree with all the trimmings, hung stockings, menorahs or other seasonal decor to bring your family's holiday to paradise - hassle free! Guests who reserve a two- or three-bedroom penthouse or three-bedroom luxury villa will have their accommodations decorated for Christmas or Chanukah prior to their arrival. Guests who send gifts by a designated receipt and delivery time will also find them wrapped and ready for holiday fun. Guests who reserve the "Hula Your Holiday Hassles Away" package will also receive a complimentary holiday meal created by a private chef in their penthouse or villa. Guests who would like to reserve "Holiday/Hula" for their vacation should inquire upon making a reservation. This exclusive package starts at $1,450.00 per night without tax. This package requires a 14-night minimum stay and the private holiday meal is for two people per bedroom depending on accommodations. For reservations or information on Wailea Beach Villas, please call (866) 901-5201 or visit www.waileabeachvillas.com
About Wailea Beach Villas Wailea Beach Villas is an elite luxury retreat situated on the famous Wailea coastline on the island of Maui. Situated amidst an 11-acre tropical garden, the resort's 98 residences opened in May 2006. The spacious residences range in size from 1,900 to 3,100 square feet, with a choice of two- or three-bedroom floor plans. The ultimate in Hawaiian vacation accommodations on the island of Maui, this luxury escape offers the finest in personalized amenities. Villas feature European kitchens with state-of-the-art appliances, large lanais with built in barbeques, plunge pools, outdoor showers, and distinctive furnishings. The resort is conveniently located adjacent to The Shops at Wailea, a myriad of eateries and neighbor to an array of world-class, full-service luxury hotels and destination spas. Wailea Beach Villas is managed by Destination Hotels & Resorts and designed as an exclusive hideaway for those seeking solitude or excitement. For those searching for the ultimate in privacy, the property offers 20 elevators with access to private villas and a secured check-in area separate from the public lobby to protect guest anonymity. The "Holiday/Hula" services compliment these features by providing attentive service in a private and luxurious setting.
About Destination Hotels & Resorts Destination Hotels & Resorts is a privately held lodging management company headquartered in suburban Denver, Colo. With more than 30 independent, luxury and upscale hotels, resorts and golf clubs, Destination is the fifth largest independent hospitality management company in the country. The company's portfolio features more than 8,000 guest rooms, 15 golf courses and 10 full-service spas. Destination Hotels & Resorts properties are located in key metropolitan and resort markets including New York, Washington, D.C., Chicago, Denver, Dallas, San Diego, Aspen, Austin, Phoenix, Palm Springs, Jackson Hole, Maui and Lake Tahoe. For more information on the properties in the Destination Hotels & Resorts collection, please visit www.destinationhotels.com