CLUB ABC TAKES LOVERS TO THE KASBAH
by Rosalie Frances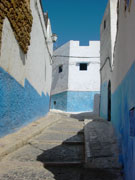 "Moroccan Treasures" an 11-day getaway combining romance with a journey into the culture, architecture and history of Morocco transports visitors to the place Humphrey Bogard and Ingred Bergman starred in "Casablanca." This mysterious destination was made for a Valentine's Day celebration or a unique honeymoon gift, and it is also a shopper's paradise, featuring hundreds of open-air markets selling rugs, jewelry, leather and woodwork; It's an enchanted destination, offering the magic of the kasbahs.
Tour Highlights
The "Moroccan Treasures Featuring the Imperial Cities" package includes sightseeing tours at various destinations. Visitors will travel to the country's capital, Rabat, where they will get to see the attractions of the Mausoleum of Mohammed V, Muhammad V University and the Hassan Tower. Then on to the three part city of Fes, which is the world's largest car-free area. Lastly, travelers will get to immerse themselves in the heart of Middle Eastern culture while they explore the city of Marrakech, renowned for grandiose gardens, mosques, palaces and squares. The tour also includes guided excursions of Meknes, Volubilis, Rissani, Erfoud, Ouarzazate and Ait Benhaddou.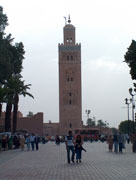 The package is filled with escorted activities, led by knowledgeable, professional tour guides. Prices start at just $1999 per person, double occupancy, based on departure date. The price includes: round-trip airfare on a regularly scheduled airline from New York (JFK); the finest hotel accommodations for nine nights; nine buffet breakfasts, one lunch and seven dinners; all hotel taxes and service charges; as well as round-trip airport to hotel transfers for all passengers departing from JFK.
About Club ABC Tours
Club ABC Tours is a members-only travel club that has provided outstanding vacation values since 1966. Most packages include airfare and feature either first class or deluxe accommodations (4- and 5-Star only). For more information, call toll-free 1-888-TOURS-ABC (868-7722) or log on to www.clubabc.com.
---
LES CLEFS D'OR
'Fellow Slave' or Indispensable Friend
You are not alone if you are asking what the word concierge means. One school of thought suggests that the Latin root is conservus, or fellow slave. Les Clefs d'Or members, however, prefer the Old French derivation that can be traced back to feudal times. The comte des cierges, or keeper of the candles, needed to know where all the functions in the palace would take place. They were in charge of maintaining the candles for every event. Over the years, the comte des cierges became the person responsible for and in charge of catering to every whim and desire of a palace's visiting nobility.
In the Middle Ages, the concierges were the "keepers of the keys" at noted government buildings and castles. Supposedly, there is a famous prison in Paris named The Conciergerie, named in honor of the warden who kept the keys and assigned cells to the inmates.
At the beginning of the 20th century, the international tourism industry experienced a tremendous boom, in large part due to the increasing popularity of rail and steamship travel. Switzerland's "grand hotels," in working to satisfy the needs of these travelers, created the "Hall Porter" position. These first-ever modern concierges were responsible for everything from meeting the guests at the station in a horse-drawn carriage to assisting them with every detail of their stay.
With time, these Swiss concierges relocated to other cities throughout Europe as a means to stay available to their traveling clientele. In October 1929, three of the more prominent concierges met in Paris to exchange service tips and ideas. They realized that united they could more effectively network and enhance the guest service process throughout their cities. As a result, of this first meeting many European countries created national concierge "societies.
In 1970 Israel was accepted as a member country making it evident that UEPGH became UIPGH (Union Internationale des Portiers des Grands Hotels) was not just for Europe, but countries from around the globe.
When World War II ended there was a renewed interest in the need for these societies Concierges throughout Europe created a chain of mutual assistance and comradery to smooth the journeys of their clients who were traveling post-war Europe. On April 25, 1952 deligates from seven European nations met in Cannes to hold the first ever "Congress" and crate "L Union Europeene des Portiers des Grands Hotels (UEPGY). Ferdinand Gillet (then concierge at the Hotel Scribe, Paris) was the brain child behind this synergy and is considered the "father of Les Clef d'Or." Mr. Gillet served as president of the association until 1968.
Today, the UICH acronym stands for Union Internationale des Concierges d'Hôtels "Les Clefs d'Or." The word concierge appears in the name as a way to strengthen the brand-name recognition of UICH as a society of professional hotel concierges.
The USA section of Les Clefs d'Or was formally recognized on November 21, 1978, when the United States became the 19th member of UICH (Union Internationale des Concierges d'Hôtels) at a meeting in Vienna, Austria.
---
SOME TRAVEL WORDS OF ADVICE FROM CHEAPSEATS.COM
CheapSeats.com offers the following "do's and don'ts" for air travel:
Stay Seated. Be sure to comply with the flight attendants when they request that passengers remain seated and out of the aisle. Now, more than ever, there is heightened sensitivity to disorderly conduct.
Keep It Under Control. To cause an altercation with any of the flight crew can result in an arrest by air-marshals, expulsion from the plane.
Take Note. Remain attentive at the beginning of the flight when the attendants are giving instructions. Although we've all heard the same safety and emergency instructions a million times, most passengers would probably fail a pop quiz on what do in case of a water landing. Pay attention.
Beware of (Large) Sharp Objects. While sharp objects are generally not a great idea as carry-ons, smaller scissors, and certain benign tools with small blades, are actually allowed on-board now. Double check with your airlines as to what's okay before you pack.
No Laughing Matter. While many people laugh during security checks – because they are nervous – it's always best to just remain tight-lipped. And never ever utter the word "bomb," even in jest, as this is a quick way to get detained.
---
LUGGAGE FORWARD SERVICE MAKES AIRLINE TRAVEL EASY
by Bonnie Carroll
A new service from www.LuggageForward.com will provide door-to-door luggage and sports equipment delivery to elleviate stress for vacation travelers worldwide. Individual attention is given to each booking and all luggage and sport equipment is tracked from pick-up to delivery, for guaranteed on-time delivery.
"Travelers are seeking to make flying convenient again. We provide a service that eliminates much of the stress associated with air travel. For some it's a luxury, for others it's a necessity, but for everyone it's easy and reliable," said Zeke Adkins, Vice President of Marketing at Luggage Forward.
The service was designed to help a variety of travelers including Families traveling with multiple children, bags and any sports equipment. Business travelers with multiple destinations. Seniors who may have trouble managing heavy bags. Sports enthusiasts – Whether it is golf clubs, a bicycle, skis or a snowboard, Luggage Forward allows travelers to avoid carrying the most inconvenient items to the airport. More information can be found at www.luggageforward.com.
---
FRAMING NEW YORK:
Upcoming Art Exhibits Around the State
Across New York State, touring exhibits bring unique and renowned artwork to local galleries and museums. Many of these venues are located in quaint towns and offer a unique viewing experience. Escape the winter chill by spending a weekend wandering through one of the exhibits highlighted below:
Rockwell Museum of Western Art
Named one of the Top 25 Arts Destinations in the US for the past four years by AmericanStyle magazine, the Rockwell Museum in Corning features an extensive collection of Native American and Western art and artifacts. Founder Robert Rockwell's private collection makes up the museum's permanent artwork. In addition, the museum is presenting
"Cultural Reflections: Inuit Art from the Collection of the Dennos Museum Center"
Portraying sculpture, prints and drawings by Inuit artists. These pieces vividly connect New York State's Native American ties to our northern neighbors. The exhibit is on display until May 29, 2006. Visit: www.stny.lrun.com/RockwellMuseum/flash/index.html.
Albright-Knox Art Gallery
Western New York meets the Far East with Albright-Knox Art Gallery's latest exhibit. "The Wall: Reshaping Contemporary Chinese Art" debuted in Beijing this summer, and is at the Buffalo gallery until January 29, 2006. Due to the immense size of the pieces, the exhibit will be installed in three venues: the Albright-Knox Art Gallery, the University of Buffalo Art Gallery on the University's North Campus and the UB Anderson Gallery on Martha Jackson Place in Buffalo. Experience a full range of Chinese contemporary art as more than fifty artists experiment with many different mediums. Visit: www.albrightknox.org.
Adirondack Museum
The Adirondack Museum's collection encompasses the full history of the region, from mountain legends to old fashioned furniture. Located in Blue Mountain Lake, the museum's current exhibit, "Wild Exuberance: Harold Weston's Adirondack Art," explores a relatively unknown body of Adirondack paintings by this significant outdoor artist. He captures the beautiful landscape and hidden gems of the area in oil and pencil studies, sketches and photographs. The exhibit, which runs through October, 2006, also presents mementos from Weston's life as a political activist. Visit: www.adkmuseum.org.
Dia: Beacon
This gallery's unique location – in a restored factory in Beacon, along the Hudson River – sets a serene stage for the contemporary art (1960 – present) within.
"Dia's Andy: Through the Lens of Patronage,"
an exhibit on display until April 10, 2006, expands upon the center's existing Andy Warhol collection. As one of the first artists in the museum's permanent collection, the body of work honors the gallery's special relationship with the artist and is expected to attract devoted fans of Warhol's work. The exhibit includes paintings, sculptures, film, wallpaper and Time Capsules. Visit: www.diabeacon.org/exhibs_b/warhol-patronage/.
The Frances Young Tang Teaching Museum at Skidmore College
The Tang Teaching Museum offers a one-of-kind viewing experience in quaint Saratoga Springs. This progressive center mixes disciplines to foster a rich and diverse view of art. One stimulating series at Tang is called "Elevator Music 6: Pamela Z." Running until January 30, 2006, Pamela Z's installation pulls together audio, video and text sampling to create a multi-sensory work. See her Elevator Music 6, which the New York Times compares to Whitman with an "almost medieval purity." Visit: www.tang.skidmore.edu/4/exhibitions/doc/862/.
---
MARRIOTT AND RENAISSANCE CARIBBEAN & MEXICO RESORTS OFFER TIPS ON HOW TO KEEP YOUR NEW YEAR¹S RESOLUTIONS WHILE ON VACATION
While more than 100 million Americans will make a New Year¹s resolution according to the University of Washington, more than half will break it within six months*. Because vacation can be a big excuse to cheat, Vibeke Sansone, market director of travel industry sales Marriott and Renaissance Caribbean & Mexico Resorts offers tips on how to stick with six common New Year¹s resolutions while on holiday.
Resolution: Save money
Trying to save money? Instead of cutting out a much-needed vacation this year, take advantage of the lower rates available in the summer and fall. Most resorts offer cost-saving packages to stretch your travel budget, particularly in the slower seasons. For example, Marriott and Renaissance offer rates beginning at $179 for the Escape! Your Way Package, which includes room, breakfast daily and a $100 resort credit (see below for terms). Visit www.ParadiseByMarriott.com for special deals and packages throughout the year.
Resolution: Lose weight and get in shape
Keeping up a fitness routine is perhaps the easiest resolution to keep while on vacation. Take advantage of the resort¹s fitness center, such as the 3,600-square-foot Reef Health Club & Spa at Frenchman's Reef & Morning Star Marriott Beach Resort in St. Thomas, which offers free weights, strength training and cardiovascular machines. Sansone also recommends taking your exercise routine outdoors and enjoying the gorgeous scenery. Enjoy a Tai Chi lesson on the beach at the Renaissance Aruba Resort & Casino, take a water aerobics class at the Curaçao Marriott Beach Resort & Emerald Casino, or just go for an invigorating jog on the beach.
Resolution: Spend more quality time with the family
Vacation is a perfect time for quality time with the family because there are fewer distractions and virtually nothing that needs to be crossed off your ³to do² list. Sansone suggests checking with the front desk or recreation department for ideas on age-appropriate activities that involve the entire family. For young kids, try a fun class such as jewelry making or lessons in Papiamentu, the local dialect, at the Aruba Marriott Resort & Stellaris Casino.
For tweens and teens, Sansone suggests outdoor activities such as snorkeling at the Curaçao Marriott. The dive shop sells a laminated tropical fish guide for $3 to help identify the tropical that can be seen while snorkeling in the shallow water just off the beach. From June through November, families can also join a team of biologists at the CasaMagna Marriott Puerto Vallarta Resort as they gather protected sea turtle eggs, and once they hatch, release the tiny baby sea turtles into the water at sunset.
Resolution: Reduce stress
For starters, Sansone recommends keeping in mind that this is vacation, not telecommuting. Turn off the cell phone and spend no more than 30 minutes daily on email and work-related calls. For some quick relaxation with long-term benefits, take advantage of the yoga programs that many resorts offer. For example, every morning the St. Kitts Marriott Resort & The Royal Beach Casino offers a complimentary beach yoga class, which teaches guests how to relax the mind, body and soul. It is perfect for both beginners and the more experienced.
Resolution: Learn something new
Most resorts offer a full menu of opportunities to learn a new skill or hobby. Sansone suggests learning some sexy socarengue moves, a Caribbean variation of the merengue performed to the sultry rhythms of traditional soca dance music, at the Aruba Marriott. Improve your golf game at the Royal St. Kitts Golf Club by taking a private lesson with a certified PGA pro at the St. Kitts Marriott Resort. Or learn to prepare Mexican delicacies like guacamole by taking a cooking class at the CasaMagna Marriott Puerto Vallarta.
Resolution: Liven up your romance
Rekindle the romance by renewing your wedding vows. Frenchman¹s Reef in St. Thomas can arrange everything from an intimate sunset ceremony to a full black-tie reception. Or have the resort book a romantic adventure for two, such as a hike through lush tropical forests, parasailing over turquoise blue waters, or snorkeling the reefs of nearby St. John. Many resorts also offer sexy spa treatments for couples, such as the Renaissance Aruba. The mangrove-hidden Spa Cove, a secluded outdoor spa suite on the resort¹s private Renaissance Island, lets couples relax to the sounds of the lapping surf while they receive a romantic spa treatment for two.
The Marriott and Renaissance Caribbean & Mexico Resorts offer many more opportunities to learn, relax and have fun, as well as a variety of amenities including world-class spas, challenging golf courses, state-of-the-art casinos, flexible meeting facilities, unique wedding packages and spectacular honeymoons.
Marriott and Renaissance Caribbean & Mexico Resorts include:
Aruba Marriott Resort & Stellaris Casino
CasaMagna Marriott Cancun Resort
CasaMagna Marriott Puerto Vallarta Resort
Curaçao Marriott Beach Resort & Emerald Casino
JW Marriott Cancun Resort and Spa
Renaissance Aruba Resort & Casino
St. Kitts Marriott Resort & The Royal Beach Casino
Frenchman¹s Reef & Morning Star Marriott Beach Resort (St. Thomas)
For information visit:
www.ParadiseByMarriott.com or call 1-888-PARADISE (1-888-727-2347)