TRAVEL ADVENTURES .  . .
Give the Gift of Paso this Holiday Season
Holiday spirit is in the air, and you know what that means – it's time to get shopping. We've pulled together gift ideas from our local stores and businesses that will make your holiday shopping a breeze, plus your loved ones are sure to love them. We encourage you to put your money where your home is this holiday season, and give your friends and family the Gift of Paso!
A Paso Getaway
Everyone could use a relaxing escape as 2020 (finally) comes to an end. Treat your loved ones (or yourself) with a trip to Paso Robles Wine Country! 
Accommodations – Purchase a gift card to one of Paso's finest lodging properties. 
Lodging Deals
Adelaide Inn - Save 15% when you book a stay before April 2021 (purchase by 11/30)
Allegretto Vineyard Resort - Nightly rates starting at $199 Sun-Thurs and $249 Fri-Sat, along with 15% off Allegretto Wines experience (purchase by 11/30)
Paso Robles Inn - Book a 2021 stay now and save up to 40% (purchase by 12/8)
The Piccolo – Book 2 nights, save $150 (purchase by 12/8)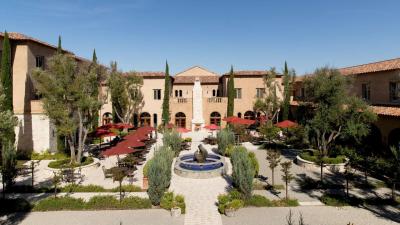 ​Dining – Choose from award-winning eateries and yummy local spots. Purchase gift cards to Les Petites Canailles for French farm-to-table bistro, Il Cortile for fine Italian dining, Red Scooter Deli for a delicious lunch and Brunch for the best brunch spot in town.
Dining Deals
Thomas Hill Organics - Purchase a $100 gift card and receive a $25 complimentary gift card (purchase by 11/29)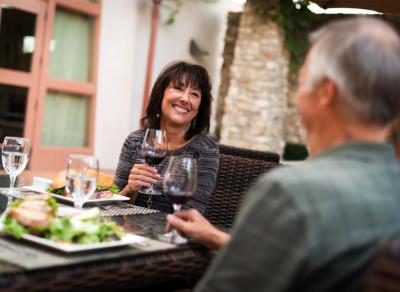 Tastings – With over 200 wineries, a craft distillery trail and a handful of craft breweries, there is plenty to sip on in Paso. Include gift cards for tastings!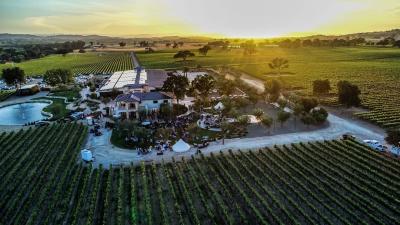 Adventures – Gift cards are available for zip lining with Margarita Adventures, visiting Field of Light at Sensorio (the stunning 15-acre art display out Hwy 46 East), playing a round of golf and much more.
Activity Deals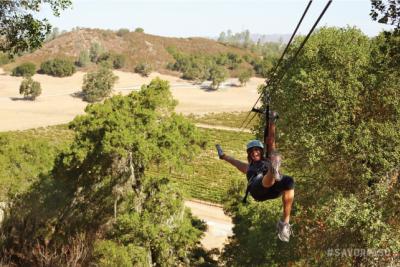 A Taste of Wine Country
You can't go wrong with wine. Pull together a custom wine box with goodies from your favorite Paso wineries, order a shipment straight to the recipient's front steps or purchase gift cards for tasting experiences and wine cases. See below for gift idea from local wineries!
View Paso's wineries here, on the Paso Robles Wine Country Alliance website.
Custom Gift Basket
The General Store located around the Downtown Park square is filled with the perfect gifts for everyone on your list. Customize a gift basket, or ask the helpful staff to assist you, for an easy shopping experience. Plus – gift wrap is complimentary!
Add handmade caramels from Sugar and Spoon, offering vanilla + toasted almond caramels for the nut lovers, mango + chile caramels for the adventurer and classic vanilla caramels for the purist. 
Complete the basket with cookies from Brown Cutter Cookie Co., local artwork from Studios on the Park, the perfect accessories or a cozy sweater from AndBe Boutique and a gift card to Paso's outstanding restaurants. 
Best Dressed for the Holidays 
Pick out your holiday attire, or find the perfect gifts for friends and family, at Paso's clothing stores. 
___________________________________________________________________
SANCTUARY ON CAMELBACK MOUNTAIN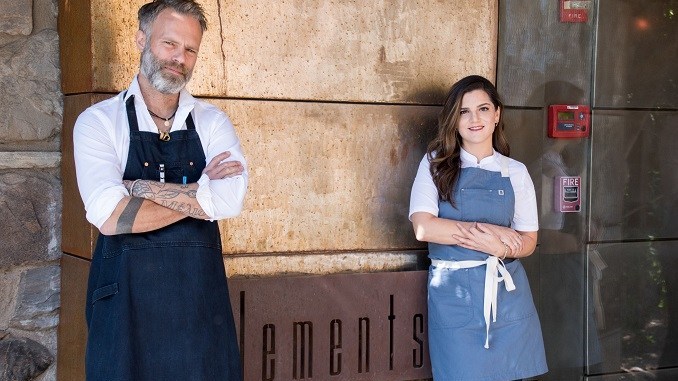 Bar Chef Christian Rollich & Chef de Cuisine Samantha Sanz
At a time when restaurants across the country are pulling back, Sanctuary on Camelback Mountain Resort & Spa  is pushing forward with a significant investment in its food and beverage program. Longtime Executive Chef Beau MacMillan has announced the appointment of two industry powerhouses—Chef de Cuisine Samantha Sanz and Bar Chef Christiaan Röllich—a dream team who will steer the evolution of the resort's signature elements restaurant and jade bar.
"Sam and Christiaan represent the next generation of tastemakers and the perfect team to move our culinary program forward," said MacMillan. "Both have built impressive careers through sheer grit and passion. Both are at the top of their game. And they share a deep respect for each other's craft that will drive their collaboration as they create a full-circle experience between kitchen and bar for our guests."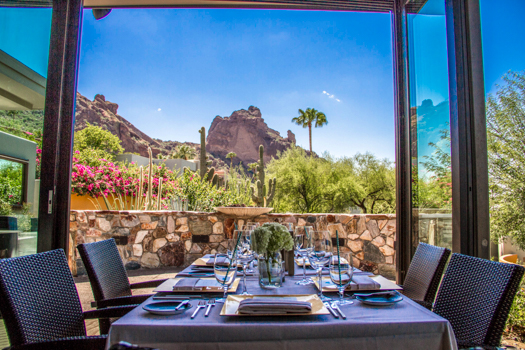 Elements Restaurant
 A two-time James Beard nominee, Sanz was most recently chef de cuisine of Talavera, the signature restaurant at Four Seasons Resort Scottsdale at Troon North. Her appointment marks her return to where her career began as one of the first female cooks at elements, where she impressed MacMillan with her talent, passion and culinary prowess. From there, she rose to chef de cuisine at Scottsdale's Virtu Honest Craft, before moving to Talavera, where she became one of the youngest chefs in the Four Seasons brand. Born in Nogales, Mexico, and virtually raised in the kitchen of her family's restaurant there, Sanz graduated from Scottsdale's Le Cordon Bleu College of Culinary Arts.
 "I am thrilled to be back at Sanctuary—my culinary roots—and to give fresh expression to the vibrant flavors and colors here," said Sanz. "The opportunity to work so closely with Beau and Christiaan to fully integrate the culinary and bar programs is particularly exciting to me and recognizes the power of food and drink to connect us all."
 Author of BAR CHEF: Handcrafted Cocktails (2019), Röllich hails from A.O.C. and Lucques, two of the most celebrated restaurants in Los Angeles. Forbes has called him "one of LA's most innovative mixologists" while LA Weekly credits the Netherlands native with the city's cocktail renaissance. Röllich got his start in the bar trade at Les Deux Café, where he worked for extra income while pursuing an acting and modeling career.
"I love working closely with chefs, studying their technicques and bringing them to the world of drink," said Röllich. "I can't wait to see what Beau and Sam will bring to the table flavor-wise, and look forward to exploring and reinventing so my cocktails match their food."
About Sanctuary on Camelback Mountain Resort & Spa
One of the country's most lauded luxury resorts, Sanctuary is a striking boutique property on Camelback Mountain in Paradise Valley, Arizona, just minutes from downtown Scottsdale. The resort enjoys international acclaim for its contemporary design, award-winning elements restaurant and Sanctuary Spa. Sanctuary is a member of Preferred Hotels & Resorts' Legend Collection, affording guests access to the iPrefer guest loyalty program. Sanctuary is a consistent recipient of the travel industry's most prestigious awards. Learn about Sanctuary at www.sanctuaryaz.com or connect online through Instagram, Facebook, Twitter and Pinterest. For reservations, call 480-948-2100.
__________________________________________________________________
New entry


requirements




for Ireland
You may have heard about Ireland's Department of Foreign Affairs' further revisions to the COVID-19 testing regime to facilitate the 'European Traffic Light' system and may be wondering what it means for you if your plans call for travel to Ireland.

Starting November 29th, arrivals from red regions, including the United States and Canada, will not be expected to restrict movements following receipt of a negative/not-detected result from a Covid-19 PCR test taken a minimum of five days after arrival in Ireland.

This information is subject to change, however the most up to date information, including testing options, can be found on our website here. Testing may be covered by insurance and we encourage you to consult with your insurance provider on eligibility prior to travel.

Our best fares are available at aerlingus.com. Book with confidence and we will be ready to welcome you when you are ready.
Changes to entry to Ireland from the US and Canada
_____________________________________________________________________
SNOW MONSTERS, SWANS AND HOT POTS: THE BEST OF WINTER IN JAPAN'S MIYAGI PREFECTURE

Snow Monsters at Mount Zao (
© Miyagi Prefecture)
Winter in Japan's Miyagi Prefecture offers experiences beyond the traditional activities. Below are a few unexpected ways to enjoy winter in Miyagi.
The iconic
Snow Monsters of Zao
are naturally formed figures that come "alive" on the slopes of Mount Zao each December and January. These "snow monsters" begin to appear on the mountainside when the snow, strong winds, and low temperatures come together. Visitors can see the snow monsters by skiing or snowboarding down the mountain or participating in snowcat vehicle tours. 
After a long day on the slopes, the best way to recover is to soak in an 
onsen
, Japan's famed natural hot springs. Many 
onsen
 inns, or ryokans, are located near ski areas with shuttles for guests to easily take advantage of the nearby amenities. Travelers are recommended to stay at a ryokan during a ski trip to indulge in a hot bath and a hearty meal. A free shuttle bus service connects Sumikawa Snow Park and Gaga Onsen, located in a gorge on Mount Zao, so that visitors can enjoy both during their stay. Day-trippers can also partake as some ryokans
 offer services to non-staying guests for a small fee. Hotel Onikobe, Onikobe Ski Resort's on-site hotel, welcomes non-hotel guests to use the baths during the day.
For travelers looking for some tranquility, birdwatching is a popular pastime in Miyagi. Located a short 10-minute walk from Nitta Station, Lake Izunuma is home to thou
s
ands of migratory birds that have flown south to spend the winter at Japan's largest wetland protected by the Ramsar Convention. The swans and geese spend their days eating in the rice fields and floating around
 the lake by night. Birdwatchers should arrive around dawn or dusk to witness the wetland's thousands of birds taking flight.
Riverboat cruises provide a non-traditional view of the scenery Miyagi has to offer. A winter afternoon on the 
Abukuma Riverboat Cruise
promises scenic views and history during the 8-kilometer ride along Southern Miyagi's Abukuma River. Used to tr
ansport goods such as wood, charcoal, and stone during the Meiji era, the river is now a popular destination for fishing and sightseeing. This motorboat cruise passes under historic bridges and along forested hillsides, and offers a glimpse of Miyagi's serene winter. Onboard, guests can stay warm by sitting under heated kotatsu tables and enjoying traditional hot pots. 
Located in the 2011 tsunami-stricken area of Higashimatsushima, Oyster Shack Kaisendo is adored by locals and visitors alike. Open only for lunch during oyster season, guests should arrive early to get a seat at a coveted grill table. The patio-style dining is inviting, with a warm hospitality and roasted oysters that are fresh and endless. 
_________________________________________________________________________________
Twelve Airlines Flying to a Variety of Cities from Santa Barbara

---