BEAUTIFUL NEW LOOK FOR HISTORIC PROPERTY
OCEANA HOTEL, Santa Barbara, California
By Bonnie Carroll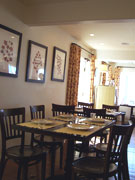 As a traveler who has visited Santa Barbara many times in the past century, I became very familiar with the area sleeping accommodations and local hotels. What a nice surprise it was to see a string of small hotels that had in the past become rather tattered sold to a new owner who has renovated them into a necklace of pearls on historic Cabrillo boulevard, across from the Santa Barbara Harbor.
My compliments to the interior design firm who designed the new look for the rooms at the hotel. The efficient use of space, attractive use of fabric and color to give space and comfort to the accommodations is appreciated. Naturally, the primary colors are soft to move with the beautiful ocean tones, and subtle sea inspired artwork and decorations are a charming touch. Our room overlooked the pool, where we enjoyed a morning swim before our day of sight seeing on the Santa Barbara Trolley.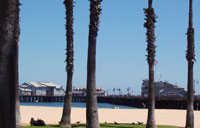 The hotel serves a continental breakfast in a separate dining room with an outdoor patio, where cereals, breads, rolls, fresh fruit, breakfast meats and a variety of juices or coffee are available to guest. It is a very pleasant place to read the Santa Barbara News Press or New York Times over a cup of coffee, between glimpses of the gulls flying above the breaking waves on the beach.
The hotel has a concierge service to make dinner reservations, or arrange tours, bicycle rental or fishing expeditions. In winter there are whale watching tours available. Recently, a children's ocean museum opened on the Wharf that is spectacular, and a delightful 'hands on' experience for small children to learn about the creatures of the sea. Each Sunday there is an art exhibit that runs for blocks along the ocean front, where visitors can spend the entire afternoon admiring local artists work.
This pleasant hotel destination in the heart of everything, at 202 W. Cabrillo Boulevard, is perfect for family vacationers who want easy access to their car, but also enjoy walking to many points of interest, including a bevy of restaurants. Oceana really has it all for vacation fun! For reservations call 805-965-4577 or visit www.hoteloceana.com.
---
TUTO BENE BY THE SEA
EMILIO'S RESTAURANT, Santa Barbara, California
by Bonnie Carroll
Located a few doors from The Oceana Hotel, Emilio's is a restaurant that has withstood many seasons of tourists, while continuing to be a favorite dining venue of local Santa Barbara residents. The charming Italian ambiance, and helpful waiters make this a lovely dining destination following an afternoon of sightseeing or playing by the sea. A wonderful view of the Santa Barbara Wharf and Harbor provide an interesting backdrop to the thoughtful and skillfully prepared menu items at Emilio's.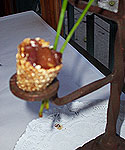 The Ahi tuna appetizer sitting in little cones on a three level trivet was amazing to look at and very pleasing to the palate. The entrée of beef shank with mashed potatoes and fresh vegetables was perfectly done, and the pasta dishes were equally delicious. We shared a pizza, just to sample, and it was flavorful and crisp, just the way we like it.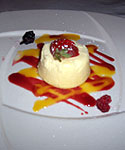 Dessert at Emilio's is a surprise ending. The authentic Italian desserts melt in your mouth and are memorable, especially when enjoyed with Emilio's perfect cappuccino. For reservations call 805-966-4426.
---
NETJETS
Rocco Forte Hotels' Luxury Affiliations
Rocco Forte Hotels have joined forces with NetJets, the worldwide leader in private aviation, to insure their patrons journey is as enjoyable as their stay at Rocco Forte Hotels, a luxury collection with hotels in London, Rome, Flore Edinburgh, Manchester, St. Petersburg and the Beaujolais region. Future openings expected in Munich and Sicily (2007). For details visit www.roccofortehotels.com.