AMERICAN EXPRESS ENHANCES MEMBERSHIP REWARDS PROGRAM
By Bonnie Carroll
Cardmembers Can Instantly Redeem Points with Any Airline Available on the American Express Travel Website. Cardmembers Can Use Membership Rewards Points to Book Any Airline, Hotel or Cruise with Low Online Rates and No Restrictions on www.americanexpress.com/travel.

American Express is the largest card based rewards program in the world, with more than 140 redemption partners. Cardmembers can earn one point for every dollar charged on eligible, enrolled American Express Cards. Some cards offer double bonus points for purchases in special categories. Membership Rewards points are redeemable in a wide selection of reward categories, and enrollees may customize their own redemption experienced through the program's Your Reward option. For additional information visit 800thecard.com or call 1-800-TheCard.
---
AN OASIS IN THE JUNGLE
by Bob Roberts, Press Features Ltd.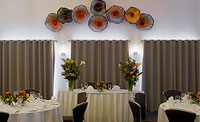 I'm sure that is the way that the owners of the new hotel Belamar would like you to view their new hostelry in Manhattan Beach. And in many respects they would be right. This new venue has been positioned near the corner of Rosecrans and Sepulveda in an area desperately in need of a renaissance and the people behind this venture are determined to provide it.
There are a number of things which should work right for the Belamar….the nearness to LAX, an elegant yet practical work of design scheme, a fitness center along with in-room spa service and treatments, outdoor swimming pool and Jacuzzi and a night club and restaurant called the VIBE.
A recent trip to the Vibe for dinner allowed me to find out for myself just what the Vibe had to offer and how well they were providing it.
One thing I noticed about the interior of Vibe is that the acoustics could be improved. It seemed that I could hear a lot more than I wanted to hear from conversations around me. But there is a nice ambience and the lighting is pleasantly low key.
For appetizers, I order an item entitled Dim Sum, which is a combination of shrimp, chicken, scallop dumpling and egg roll. I must say it was quite delectable. My partner ordered Baked Oysters, which are folded into a scallop, with peppered bacon and roasted bell pepper. Once again, the report is good. It was excellently well prepared and tasty. My friend, for next course ordered Fig and Prosciutto ham and here the consensus was not too good. The ham seemed too dry and tasteless, although the accompanying greens, honey, Ricotto cheese and Jicama was quite crisp and adequate. For the entrée, I decided to try the Grouper Grouper, as it is called in the menu. The grouper is a fish one sees very rarely in restaurants. It is a very large fish and found largely in off shore waters. When well prepared it can be truly delicious. The waiter said it was fresh, not frozen. I wasn't too sure about this statement, knowing the distance these fish can usually be found at. But I let it go. Here, the report is good. It was a very well prepared entrée, served with Peruvian Mash and baby vegetables. Everyone should try this fish. My associate went for the Val Loin Chop, served with mushrooms, Pancetta, cherrieswiss chard and carrots. Once again, it was quite good, although a bit on the fatty side. For dessert, we both went for the cheese cake, very interestingly prepared inside an ice cream cone enclosure, and was absolutely unique.
I have to give the Vibe an overall B Plus. It has a good future ahead of it, with a few more touches in the right places. I wish them well.
---
BEST OF THE BEST AT THE GOVERNOR AND FIRST LADY'S
CONFERENCE ON WOMEN AND FAMILIES
by Bonnie Carroll
The 19th anniversary of the non-partisan, annual event spotlighting "women as Architects of Change: Lessons on Leadership, Activism and Family," will be held October 27th in Long Beach, California, and will attract the brightest and the best audience of women from around the country, along with a phenomenal panel of speakers, representing people who have made extraordinary contributions to women and family life in America.
The largest day gathering of women in the country will feature Award-Winning Journalist Tom Brokaw, United states Supreme Court Justice Sandra Day O'Connor, Finance expert Suze Orman, Director Nora Ephron, world-renowned breast cancer expert Dr. Susan Love, Dr. Deepak Chopra, Pastor Rick Warren, National Geographic Explorer Lisa Ling, Young & Rubicam CEO Ann Fudge, Linda Ellerbee and Billie Jean King.
Four remarkable California women will receive the Minerva Awards, recognizing them for their tremendous impact on the state through service. A Minerva Scholars program will premiere, which will award four college women with a $25,000 scholarship. For information go to www.californiagovernorsconference.org.
---
BEAUTIFUL PAPER HAS UNIVERSAL ATTRACTION
by Bonnie Carroll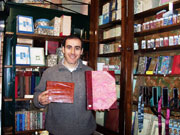 While in Rome I wandered down Via E Crispi, a charming little street located behind the Hassler Hotel, that is lined with shops and stopped to visit with the manager of Angy's Dreams, a venue devoted to exquisite designer papers, which are used to cover books, journals and pens, as well as for exquisite gift wraps. This handsome young Italian made a lovely book with a matching pen for me as we enjoyed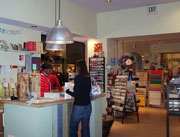 an espresso, which he ran across the street to get for me, and we chatted about his challenges running a successful business in Rome. Upon my return from Italy, I soon discovered another exciting paper venue here in Beverly Hills called the Paper Source on Brighton Way. This shop has a variety of designer papers, folders, stationary of all kinds, ribbons and artistic craft materials. The shop is always filled with tourists visiting the area, but is also a center for those wishing to buy or create original looking invitations and gift cards. For stunning gift presentations in Rome visit www.angysdreams.it or in LA visit www.papersource.com.