WINDOW TO ISTANBUL: THE NEW SKY SUITES
They say all roads lead to Taksim Square, at least in Istanbul, where neoclassical buildings compete for pride of place with modern glass structures. Just steps away from the square locals have dubbed as "the place that never sleeps" hides Gezi Hotel Bosphorus, Design Hotels™ latest member hotel in the buzzing metropolis. Come November, the hotel will reveal four new Sky Suites with panoramic views of the Bosphorus from bed to bath. Each of the suites will feature Jacuzzi tubs and private balconies for guests to take in the scenery of Istanbul, the bridge to the Orient. On the ground level, Gezi grants access to the thriving neighborhood surrounding Taksim Square, a place of congregation for students, intellectuals and creatives from all over the world.
The gently curved 17-story zinc and titanium façade which houses Gezi Hotel Bosphorus peers out over the Istanbul Strait, evoking a new spin on the modernist architectural styles of the 1940s and 50s. Each of the hotel's 56 rooms and 11 suites feature superlative views of either the Bosphorus, Taksim Gezi Park or the hotel's own lush garden. Beauty is cultivated inside and out, with high-quality wood and leather incorporated in the furnishings, providing a warm, cozy atmosphere amplified by a contemporary design ethos, fusing the rich color-blocking of Piet Mondrian with high-tech flourishes. Each of the guestrooms is inspired by an element of one of Mondrian's paintings, while sumptuous materials soften the strong, linear forms typically associated with the Dutch painter. The new Sky Suites, located on the rooftop, offer additional comforts from fireplaces to 215 square foot terraces. Even the exterior of the building subtly mirrors the motif, with long, gridded windows jutting from the façade. Acclaimed architect Sinan Kafadar restructured the building according to his signature fusion of timeless design with the latest green technology, particularly in regards to energy and water conservation, resulting in a hotel that is practically zero-emission.
In the hotel restaurant, G'nova, guests can enjoy panoramic views of the Bosphorus and savor the rich variety of Mediterranean cuisine, modern Turkish dishes and creative cocktails. After spending a day in the vibrant and pulsating city, guests can unwind in the hotel spa and Turkish bath, with traditional water rituals and massage principles incorporated in the treatments. The spa area also features a state-of-the-art fitness center and healthy bites. Gezi Hotel Bosphorus is the perfect key to the city, where Orient and Occident seamlessly blend, giving Istanbul a unique charm that will continue to make it one of the world's hottest destinations for years to come.
Rates start at EUR 220.
-____________________________________________________________________________
Carnival Season Kicks Off in Düsseldorf on 11-11-2012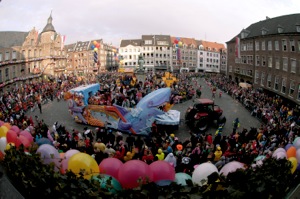 Four months of parties, costume balls, and all kinds of celebrations with humor at the core – that's Carnival season in Düsseldorf. It begins with a bang on November 11 and ends with an even bigger bang, the Rose Monday Parade, on February 11, 2013. Much more than just a fun-filled way to pass the coldest months, Carnival season in Düsseldorf is the serious science of letting your hair down, and the city has it down to a T.
Düsseldorf, Germany – One of the city's claims to fame is hosting the "Longest Bar in the World" (260 bars and pubs in under a square mile). That's enough fun on any day, but it's winter time when Düsseldorf's historic Old Town is really hot. November 11, the date of the carnival season kick-off, begins four months of festivities, an organized way of being out of control as only the Germans can manage, and Düsseldorf is at the center of Germany's Carnival fun.
There will be more than 300 Carnival sessions, parties, costume balls, and a thick coat of humor across Düsseldorf, plus an annual new motto on top of that. This year's motto is: "Och dat noch" ("Now we'll have to deal with THAT") – a humorous way of shrugging off the weight of our troubles. And that's the Carnival spirit: It may be cold and things may not be perfect, but we still celebrate. If you can do that, you fit right in. Try saying the motto out loud, and you're halfway there.
To jump into the Carnival madness, just hop on a plane (there are non-stop flights to Düsseldorf International Airport (DUS) from 11 North American cities), and you'll be in the thick of things in mere minutes after you land.
This year's highlights include the traditional awakening of the Carnival spirit "Hoppeditz" at the town's square ("Marktplatz") on 11-11 at 11:11 AM, as well as several street carnivals: the "Old Ladies' Carnival" on February 7, when women take over city hall and cut men's ties off with scissors, a "Youth Procession" on February 9, a family-oriented "Carnival Sunday" on famous shopping boulevard Königsallee on February 10, and a "Barrel Race" – yes, that's people in barrels racing – on February 10. The season culminates on Rose Monday (2013 date: February 11). One million people, many dressed up in costumes and called fools, line up to watch the exuberant Rose Monday Parade with its colorful and creative floats.
The city has no fewer than 60 Carnival clubs, and their members are among the 5,500 parade participants who also make up the 45 bands and 70 floats. The Rhine region is known as Germany's center of Carnival festivities, or Rhenish Carnival, and Carnival in Düsseldorf is one of the strongholds.
_________________________________________________________________________________________________
TRUMP HOTEL COLLECTION™ Offers 30 Percent Off All Suites
For Black Friday and Cyber Monday
Book Online Nov. 23 and Nov. 26, 2012 Only for Stays Jan. 1-March 31, 2013
For Black Friday and Cyber Monday, TRUMP HOTEL COLLECTION™, the next generation of luxury hospitality, is offering 30 percent off all suites that are booked on Nov. 23 and Nov. 26, 2012 only. Available for travel Jan. 1-March 31, 2013 at all TRUMP HOTEL COLLECTION properties – New York (Central Park and SoHo), Chicago, Las Vegas, Waikiki, Panama, Toronto and Miami – the Black Friday and Cyber Monday Suite Special offers guests a chance to experience signature Trump luxury at a substantial savings.
Reservations must be made online only at http://www.trumphotelcollection.com/specials/black-friday-cyber-monday-specials-coming-soon. Based on availability. Certain terms and conditions apply.
About TRUMP HOTEL COLLECTION™
Launched in October 2007, TRUMP HOTEL COLLECTION™ is the next generation of luxury hospitality – one that is raising the bar in the top-tier travel experience with a level of customized service unrivaled in the market today. Presided over by internationally renowned developer Donald J. Trump and his three grown children – Donald Jr., Ivanka and Eric – the prestigious portfolio includes the highly acclaimed Trump International Hotel & Tower® New York, Trump International Hotel & Tower® Chicago, Trump International Hotel™ Las Vegas, Trump International Hotel™ Waikiki Beach Walk®, Trump SoHo® New York, Trump Ocean Club® International Hotel & Tower Panama, and the newly opened Trump International Hotel & Tower Toronto®. TRUMP HOTEL COLLECTION recently acquired and assumed operations of Miami's iconic Doral® Golf Resort & Spa. Trump International Hotel™ Washington, D.C., a redevelopment of the historic Old Post Office building, is slated to open in 2016. Reservations can be made at www.TRUMPHOTELCOLLECTION.com or by calling (855) TRUMP-00 (878-6700). TRUMP HOTEL COLLECTION is headquartered at Trump Tower, 725 Fifth Avenue, New York, NY 10022. Connect with TRUMP HOTEL COLLECTION on its social media pages..
---