SWISS CONSUL GENERAL . . .
THE ULTIMATE HOSTESS
by Bonnie Carroll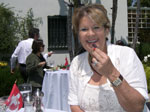 Brigitta Schoch Dettweiler, Los Angeles Consul General of Switzerland, and her husband hosted a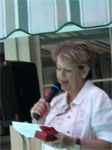 lovely Swiss inspired luncheon around their pool in the Los Angeles Larchmont area, where representatives from various regions in Switzerland shared the exciting details of visiting their unique destination areas with media and guests. Maja Gartmann, a devoted and highly effective representative of Switzerland tourism was honored with a gift from Mrs. Schloss during the event.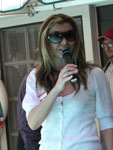 The luncheon menu was a collection of delicious Swiss favorites that were accompanied by Swiss wines. Guests left armed with a bevy of travel information on touring Switzerland, logo gifts and some Swiss chocolates for home enjoyment.
TOP THIS SWISS PROMOTION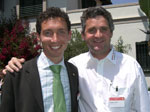 Switzerland celebrated the European Football (soccer) Championship, with a demonstration of a giant short film clip, plus photos, showing a gigantic football balanced on the top of our beloved Jet d'Eau fountain !   
It's an amazing installation of a football, 15 m in diameter, filled with helium, anchored at 150 m above the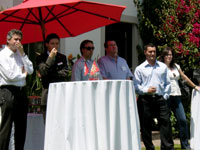 lake, i.e. 10 meters above the top of the famous lakeside fountain.
The symbols of Geneva and UEFA Euro 2008 are thus united ! Thanks to innovative and original techniques, the Jet d'Eau will propel the football until the end of the Championship, June 29th. There will be a special summer competition in the Pacific Palisades, California for information visit: www.myswitzerland.com.
---
TRENDY MEETS THE DEMAND
The Suitess Hotel in Dresden offers exquisite comfort to its guests. With 42 rooms and suites the five-star hotel promises high class service. A top spa and gourmet restaurant offer the best treatment for body and soul. Located directly in Dresden's city center next to the famous Church of our Lady, the Suitess is a special sight of its own combining Biedermeier décor with modern arrangements. 
www.suitess-hotel.com
Fleming's Hotel Deluxe in Frankfurt's city center opened last month and is part of the Deluxe's chain's new range of "Deluxe" establishments. Five-star is the only way to describe the facilities and furnishings of its 106 rooms and six suites. Look out for the fully functioning paternoster lift and head up to the rooftop terrace for unforgettable panoramic views over Frankfurt and the Taunus hills.
www.flemings-hotels.com
Next to Duesseldorf's airport, the new Maritim Hotel is a real draw for business travelers seeking an oasis with an exclusive workout center, spa and top restaurant. With a combined event capacity for 5,000 people and a total of 533 rooms, the new Maritim property is now also the largest conference hotel in North Rhine Westphalia.
www.maritim.de
On the Alster River, also in Hamburg's center, "The George Hotel" is opening this fall. This four-star hotel will be equipped with 118 luxuriously furnished rooms, five exquisitely equipped suites and two elegant penthouses with Alster view. "The George Hotel" is a pioneer project: The first luxury hotel in Hamburg's lively St. George district with its upcoming boutiques, restaurants and trendy street cafes right in front of the door.
www.thegeorge-hotel.de
The four-star "Lindner Hotel Am Michel" is the most recent addition to Hamburg's hotel choices. Open since March, the hotel offers 259 elegant rooms and suites, excellent conference facilities for up to 180 participants, as well as two restaurants. The central location between Hamburg's famous and centrally located St. Michaelis Church, the HafenCity and the canals of the Speicherstadt makes the "Lindner Hotel Am Michel" an ideal vantage point for every traveler.
www.lindner.de
Visitors looking for a trendy and entertaining stay should visit the "Superbude." The new two-star design hotel opened in April and is a great deal for travelers in search for fun and something different. Situated in Hamburg's up and coming district of St. Georg guests stay not far from the alster River and city center: The two- and four-bedrooms are set up in individual colour schemes and a bed in a shared room is available for only 16 Euro.
www.superbude.de
---
SAVE THE DATE: JUNE 1ST, 2008, 4PM
Pacific Palisades High School,
15777 Bowdoin Street,
Pacific Palisades, CA 90272
 
CELEBRITY FRIENDSHIP GAME: ALPINE UNITED VS. HOLLYWOOD UNITED
 
TO CELEBRATE EURO 2008 UEFA EUROPEAN SOCCER CHAMPIONSHIP,
7-29 JUNE 2008
 
To promote in a friendly and fun spirit the upcoming EURO 2008 soccer championship, 7-29 June 2008, jointly organized by Austria and Switzerland, Alpine United, a team composed by Swiss and Austrian Los Angeles based personalities, will play a friendship game against celebrity soccer team Hollywood United. The event is free to the public and it is hosted by the Consulate General of Switzerland and the Consulate General of Austria in Los Angeles.
 
Hollywood United boasts on its roster: Anthony LaPaglia, Actor, Without a Trace; Brandon Routh, Actor, Superman; Jimmy-Jean Louis, Actor, Heroes; Santiago Cabrera, Actor, Heroes; Ralf Little, Actor, The Royal Family; Costas Mandylor, Actor, Beowulf; Louis Mandylor, Actor, My Big Fat Greek Wedding; Tamer Hassan, Actor, Layer Cake; Danny Cannon, Director, Goal, CSI Las Vegas; Richard Gough, Ex-professional, Scottish legend with 61 caps; Frank Leboeuf, Ex-professional, midfielder for the French 1998 World Cup Champions; Alexi Lalas, Ex-professional, American World Cup player and Italian Serie A player, General Manager of the LA Galaxy; Olivier Biaggi, Ex-professional, defender, Switzerland; Steve Jones, Guitarist, Sex Pistols, radio personality; Paul Cook, Musician, Sex Pistols; Ziggy Marley, Musician; Vivian Campbell, Guitarist/Singer, Def Leppard; Ian Astbury, Singer, The Cult; Billy Duffy, Guitarist, The Cult; Bob Sinclar, DJ (all these stars have played in the past; names of players for the June 1st game to be confirmed, according to their availability).
 
Alpine United (a group of Swiss and Austrian all stars, according to their availability on June 1st): Swiss players Xavier Koller, Academy Award Winning Director, Journey of Hope; Daniel Bernhardt, Actor, The Matrix Reloaded; Gianfranco Tordi, Actor, The Good German; Raffaele Memoli, Actor, Eau Contraire; Giacun Caduff, Director, 2B or Not 2B. Austrian players Patrick Knapp, Entertainment Attorney; Christian Huemer, Art Historian, Getty Institute; Walter Spatny, Actor and Model; Thomas Grabner, CEO, Kastner & Partners. More players to be announced.
 
During half-time, the recipient of a charity auction to be held at a private June 29th event at the Swiss Consul General residence, hosted by both the Austrian Consul General and the Swiss Consul General (by invitation only), will be announced.
 
"We are very happy to play against Hollywood United, a celebrity team which has done a lot to promote soccer in the United States", say Swiss Consul General Brigitta Schoch Dettweiler and Austrian Consul General Martin Weiss, main sponsors of the game. "It is an honor to be part of a promotional game for the Euro 2008 soccer championship", replies Anthony LaPaglia, Hollywood United President.
 
Players and attendees will be available the day of the game for interviews. You will have access to the celebrities before, during and after the game, on a goodwill basis and according to their availability. Please respect any specific request they might have regarding time restraints, photo policies, etc.
 
For media working with weekly publications, Consul General Brigitta Schoch Dettweiler (Switzerland), Consul General Martin Weiss (Austria), and Ian Carrington, Hollywood United Manager of Operations, will be available for interviews also before the day of the game.
 
The event is sponsored by Nestlé USA Inc., Swiss International Air Lines, PR1MARY, Switzerland Tourism, Presence Switzerland, Austrian Football Association, Austrian Trade Commission Los Angeles, Austrian Federal Government and Austrian National Tourist Office.
 
All the EURO 2008 soccer championship games will be broadcast live at the Goethe Institute in Los Angeles (5750 Wilshire Blvd, Suite 100, Los Angeles CA 90036, tel. 323-525-3388), courtesy of the Goethe Institute, the Consulate General of Switzerland and the Consulate General of Austria in Los Angeles. Free admission!
---
PLACE YOUR BETS ON AN AFFORDABLE VACATION
TO THE BAHAMAS WITH WYNDHAM NASSAU
RESORT & CRYSTAL PALACE CASINO'S
"CASINO GETAWAY" PACKAGE
Don't Miss a Winning Deal of More than 25 Percent Savings on an Exciting Casino Getaway This Summer
Try your luck this summer and book an action-packed getaway full of casino fun and entertainment with the "Casino Getaway" Package available from Wyndham Nassau Resort & Crystal Palace Casino in Nassau, The Bahamas.  Travelers can combine their gaming experience with fine dining, great entertainment, and a relaxing beach vacation with the "Casino Getaway" Package*, which offers more than 25 percent savings. Package prices start at $345 per person and include:
A 5-day/4-night stay, with the fourth night free *

Dinner for two at either Moso, which serves authentic modern Asian cuisine, or Black Angus Grille, a classic American Steakhouse with a touch of island flavor **

$100 in Free Play Cash -- good for any of the games available at the Crystal Palace Casino***
The 30,000-square-foot Crystal Palace Casino is a gamer's paradise, offering nearly 500 state-of-the-art coinless slot machines including popular titles like Wheel of Fortune and Monte Carlo; and nearly 40 table games including Blackjack, Craps, Roulette, Midi Baccarat, Let it Ride Bonus and Three Card Poker. Guests can also place bets at the casino's Sports Book – the only one in the area – as well as its new high-limit slot and table area.
Guests will also enjoy a variety of amenities and services at the Wyndham Nassau Resort, which recently completed a top-to-bottom renovation of the lobby, public spaces, exteriors, and guest rooms – each outfitted with new flat screen televisions and in-room refrigerators. The resort's pool and giant waterslide and two of its restaurants were also re-vamped.
Wyndham Nassau Resort & Crystal Palace Casino is conveniently located within 15 minutes of Nassau International Airport, which is easily accessible by air by a number of domestic and international carriers.
For more information and/or reservations, call Wyndham Nassau Resort at 1-800-222-7466 or visit www.WyndhamNassauResort.com.
* Package must be booked by 5/31/08; good for travel through 7/31/08. Prices from $345.00 per person for a 4 night stay based on season and availability. Package price does not include taxes, gratuities or resort fees (applicable to guests 12 and over). Package available at Wyndham Nassau Resort only. Packages based on double occupancy. Single supplement charge will apply for single occupancy. Package offers over 25% savings.
** Dinner includes 1 appetizer, 1 salad, 1 entrée and 1 side, per person. Porterhouse steaks not included in package.
*** Free Play Cash (FPC) is paid in the form of promotional slot credits downloadable to eligible Crystal Palace Casino slot machines and has no cash value.
---
INVITATION TO INAUGURAL ROUND ROBIN
DOUBLES TENNIS TOURNAMENT
For more information, please click on the following link, and wait a few moments while your computer is downloading the document:

The FACC LA Staff
French-American Chamber of Commerce
10390 Santa Monica Blvd., Suite #130
Los Angeles, CA 90025
Tel: 323 651 4741
Fax: 323 651 2547
info@frenchchamberla.org
www.frenchchamberla.org
---
ROBB REPORT 20th ANNUAL 'BEST OF THE BEST'
REVEALS LUXURY WORLD'S MOST EXCEPTIONAL
NEW DESTINATIONS
Now on newsstands, Robb Report magazine's 20th annual "Best of the Best" offers readers an unprecedented selection of new products and services that exemplify the very finest that the luxury world offers.
The culmination of a year's search for the most extraordinary new products and services, "Best of the Best" features premium-quality automobiles, yachts, jewelry, hotels, wines, fashion, and other exceptional items and services.
"Best of the Best" offers 176 pages of editorial coverage, with comprehensive reviews produced by Robb Report's editorial staff and a team of seasoned contributing writers.  Six primary departments covering 56 separate categories provide an expert's view of the latest offerings from the luxury market. 
Best of the Best selections in the "Journeys" category include:
Hotels: The Ritz-Carlton, Moscow
Resorts: Mandarin Oriental Riviera Maya (Mexico's Caribbean Coast)
Golf Courses: Chambers Bay (Tacoma, Washington)
Destination Clubs:
Full-Size: *Exclusive Resorts
Midsize: *Quintess
Boutique: *Solstice
Vacation Properties: El Dorado Golf & Beach Club (Los Cabos)      
Cruise Ships: Cunard's Queen Victoria
Now in its 32nd year, Robb Report is the international authority on the luxury lifestyle.  Each month, the magazine reports on issues and trends affecting the affluent market, with coverage of exclusive events and features on exceptional automobiles, motorcycles, aircraft, art, jewelry, watches, fashion, travel, homes, wines, spirits, and cigars.  Additional information can be accessed through the magazine's Web site, www.robbreport.com.
---
NEW HOTELS IN GERMANY -
More and more tourists visit Germany and the country offers some great new hotels to meet the growing demand. The luxurious Suitess Hotel in Dresden, the new five-star Fleming's hotel in Frankfurt, the new convention hotel Maritim in Duesseldorf, or the trendy and chic George Hotel, Lindner Hotel and Superbude in Hamburg - Germany's new accommodations fit every taste and interest.
---

---