SELECT SEASIDE INDULGENCES IN SANTA BARBARA
California Coastline Overflows With Spectacular Seafood
Text and Photos by Bonnie Carroll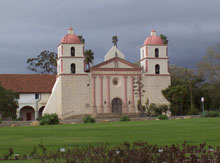 Santa Barbara, California has been a major attraction for tourists since the early 1920's, and continues to draw tourists to a bevy of wonderful annual events and local festivals, to please the taste of the most discriminating visitor. Information and listings on upcoming events can be obtained from the Santa Barbara Visitors Bureau or online at the City of Santa Barbara. There are endless choices for accommodations and wonderful dining. Below are a few of my favorites.

Bacara Resort & Spa has become the hideaway of choice for LA's rich and famous who seek a private place to relax amidst the scenic beauty of Santa Barbara's coastline. Considered one of the ten best resorts in the world, Bacara offers guests the ultimate in spa pampering and exquisite cuisine, spotlighting the culinary talents of Miro Restaurant executive chef Reardon, and Bistro chef de cuisine David Garwacki, who provide menus ranging from traditional French to gourmet spa food, using only the freshest fruits, vegetables and herbs that are grown on the resorts 1,000 acre ranch. The luxurious spa offers outstanding treatments and classes to enhance the resorts relaxing ambiance.

The Four Seasons Biltmore Hotel is renowned for their Sunday Brunch, and the historic hotel has provided a home-away-from-home for vacationing LA families since the 1920s. London born Executive Chef Martin Frost offers a menu filled with delightful fresh American style entrees, paired with selections from a very inviting wine list at La Marina Restaurant, where diners enjoy a panoramic view of the ocean. The hotel's new spa facility is lovely and offers a bevy of wonderful body treatments. Guests are also welcome to enjoy lap swimming or sun bathing across the street at the historic Santa Barbara Swim Club.

Things are cooking at Citronelle. The Santa Barbara Inn, located on Ocean Boulevard in Santa Barbara, has made great strides in updating their seaside property, including the Citronelle Restaurant, which offers memorable views of sunsets and sailboats, and was opened by renowned chef Michel Richard. My compliments to Executive Chef Isabelle Alexandre, who is on fire in the kitchen. preparing unforgettable seafood specialties and sensual desserts. With her extensive culinary history, working with many of LA's best chefs, she presents uniquely inspired dishes that are pleasing to the eye and the palate. The dining room, with a well stocked private wine cellar, has a modern elegance, and the servers are helpful and attentive. The delightful new changes throughout this historic property are major, and long overdue. Treat yourself to a wonderful weekend away or just a tasteful night out.

Rodney's Restaurant in the Fess Parker's Double Tree Resort offers the best steak in town, along with seafood options. Guests are invited to hand-pick their dinner from a selection of the finest beef or luscious lobster, which is then skillfully prepared by executive chef Peter Gennaro, and presented with unique signature side dishes and salads. Naturally, their wine list does include fine selections from Fess Parker's own winery.
---
THE WOLSELEY
Text and Photos by Bonnie Carroll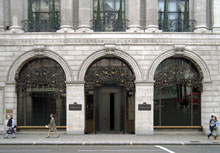 The Wolseley, located in a historic automobile showroom on Piccadilly, is the "who's-who" place to be seen in London. This trendy hot spot is the brainchild of the creators of The Ivy Restaurant on Robertson Boulevard in Beverly Hills, and attracts a similar clientele of celebrities, politicians and visiting royalty. The Wolseley's unique Vienna Style Cafe menu offers something special and often nostalgic for everyone, including surprises like wiener Holstein, Hungarian goulash or traditional roast beef with Yorkshire pudding. Just about anything you would like is on this upscale menu, and one has the feeling the chef would fulfill any special request. This is a lively and fun place for lunch, especially after a morning shopping or taking one of the many tours offered to visitors in London. Reservations are required and must be made in advance. Bon appetit and happy star gazing!
---
JUMBY BAY - THE ULTRA RESORT
Antigua, West Indies
by Bonnie Carroll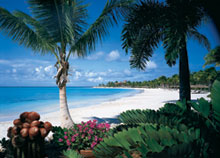 Rosewood's Jumby Bay Resort has it all. The ultra-luxurious vacation resort offers top-notch childcare, extraordinary cooking classes with renowned chef Wilkenson, who give instruction on how to make one-of-a-kind resort specialties, and the desire to fulfill and exceed their guests every desire.

Children are transported about in Harrod's Silver Cross Prams, the pram that Queen Elizabeth and Catherine Zeta-Jones, along with a milieu of celebrities choose to keep their little darlings safe and happy while going form one place to another. The children's program provides arts, sports, and exploration activities for ages 2-9. Jogging strollers are also available for active parents.

The resort now offers charter boats to nearby islands, including Rosewood's Caneel Bay, where guests can enjoy a perfect day trip in the island group that was first discovered by Christopher Columbus, along with the twin islands now known as Antigua and Barbuda in 1492.

The amenities and personal attention at Rosewood Resorts is renowned, and The Jumby Bay is no exception. The 24-hour concierge functions as an on-call "butler," and respond instantly to any request when summoned. Pond Bay Terrace becomes the site for the Peter Bowling Manager's weekly cocktail party, held in the spectacular home of a Jumby Bay resident, where the long days relaxing gives way to convivial socializing.

Needless to say, the accomodations are spectacular, and leave nothing to be desired. The Beach Pavilion is at the entrance to the dock, and provides an island clubhouse next to the pool and tennis courtyards. Casual dress is the order of the day at this paradise, and the Verandah bar provides a perfect venue for chatting with other guests.

Chef Joel Wilkinson is king at this resort, where he showcases his East and West cuisine in the Verandah. The formal dining spot is Estate House & Bar where dramatic lanterns and torches are the backdrop of the Caribbean Sea, and the lights of Antigua. Naturally, seafood dishes abound here, and the original recipes of Wilkinson will delight. And, of course, there is a fitness center to work off any unwanted calories, as well as a bevy of water sports.

The spa offers Chinese massage and reflexology by their longtime therapist Su Hua Yang, whose Eastern and Western techniques soothe the body and soul. Treatments are also available in guest rooms. Tennis, croquet, putting and swimming in the lap pool are favorite pastimes for guests, and there is always shopping... it's a short trip to St. Johns were wonderful shopping can be enjoyed.

The only problem with going to the British West Indies is having to go home. This area is one of my favorite destinations, and I highly recommend it to anyone with a sense of adventure, a need for luxury, and the ability to recognize bliss.