HAPPY BIRTHDAY LADY LIBERTY by Bonnie Carroll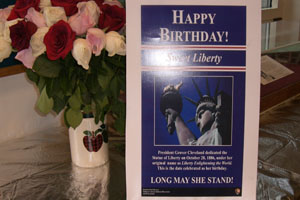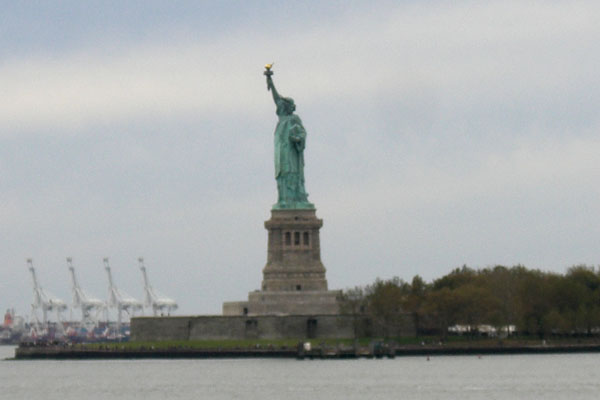 Visiting the Statue of Liberty is something every American, especially those who had family members who immigrated to America, should never miss. Taking the ferry toward the historic site helps you see and feel what your grandmother or great grandfather may have experienced on their arrival at Liberty Island. The history through photos and actual records at the monument are priceless and tell of all the challenges immigrants faced to come to the 'new world' and what a light of liberty to the world she represented.
 Located on a 12 acre island, the Statue of Liberty Enlightening the World was a gift of friendship from the people of France to the people of the United States and is a universal symbol of freedom and democracy. The Statue of Liberty was dedicated on October 28, 1886, designated as a National Monument in 1924 and restored for her centennial on July 4, 1986. Lady Liberty celebrated her 200th birthday on November 28, 2009.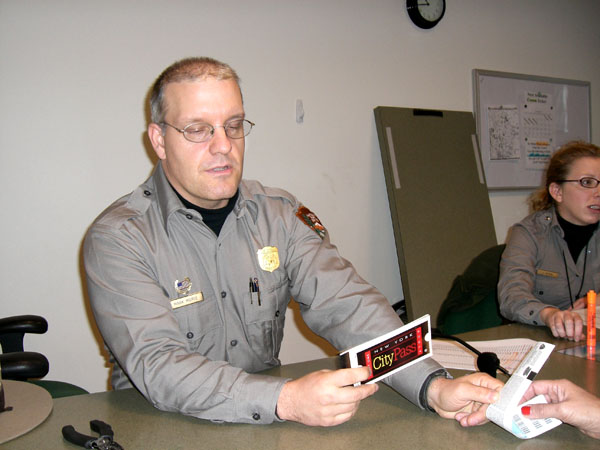 NYC offers a City Pass available that provides a speedy entrance for those wishing to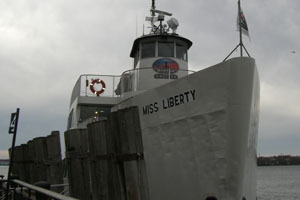 see the Statue of Liberty. Visitors can take the NY Metro to Battery Park, where they can board the Miss Liberty, which travels to both locations. The ferry runs every twenty minutes and is very comfortable, offering refreshments, and great photo opportunities of the New York skyline and the national monuments. The monuments are managed and operated by helpful Park Rangers.
Food service venues are available at the Statue of Liberty and Ellis Island. Be sure to take a jacket; it can get chilly when traveling on the ferry out to the island, especially in winter months. The complete history of the design and creation of Lady Liberty fills the museum, including the design work done by Gustav Eiffel, creator of the Eiffel Tower in Paris, the story of the dedication of the French people to raise the funds to build the Statue of Liberty, and samples of the actual casts used in her formation.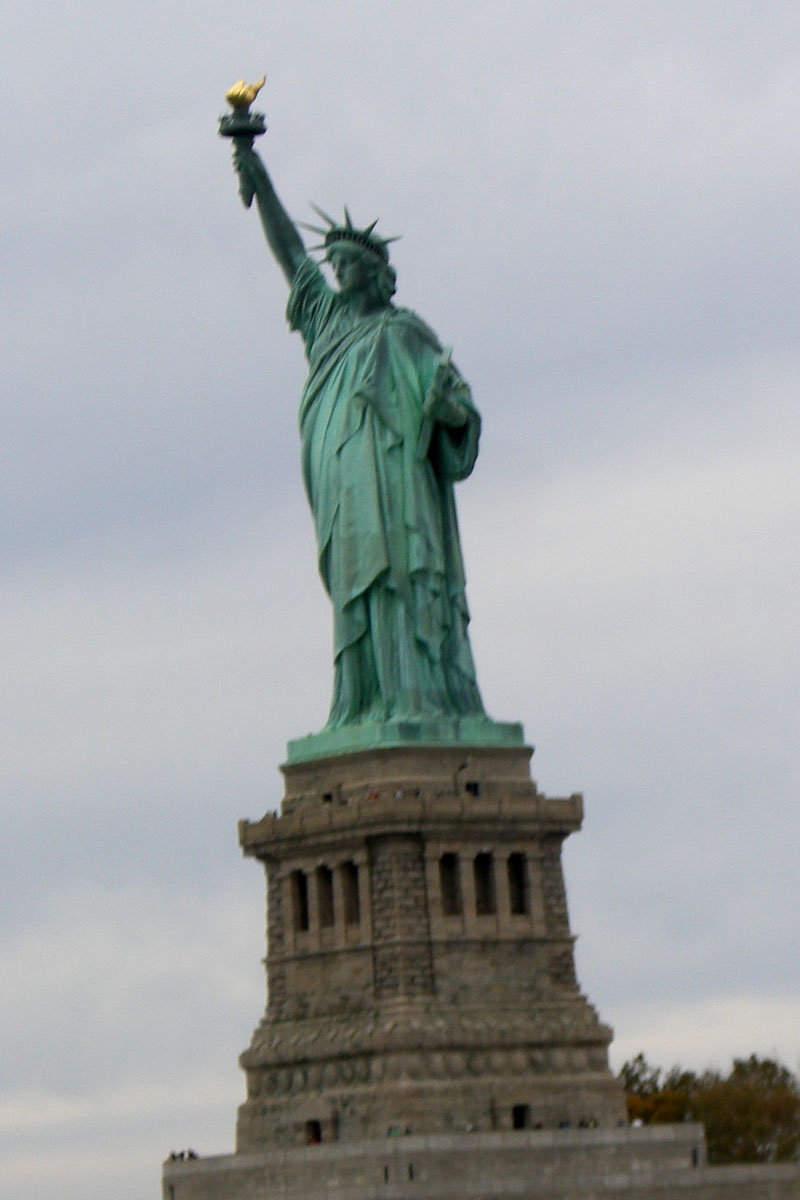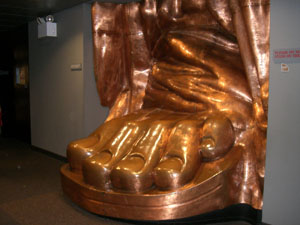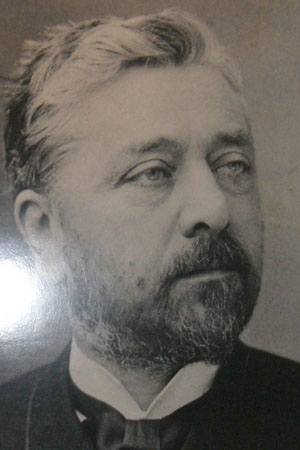 Regarding Ticket Reservation System at the Statue of Liberty
Planning ahead is essential to making the most of your visit to the Statue of Liberty. Here is important information you'll need to prepare for and plan your visit;
Visitor Advisory:  The elevator at Liberty Island will be out of service for an extended period of time.    Guests with Monument Access Tickets must be able to climb 168 steps to reach the top of the pedestal. We regret any inconvenience this may cause and will update this site as soon as information is available. 
This will not effect Crown Tickets Holders as the only way to reach the Statue's Crown is to climb 354 steps.      
Monument tickets are required to enter

any level

of the Statue of Liberty National Monument including the pedestal and museum. See next bullet for how to get this essential ticket.

Ticket Reservation System: Call 1-877-LADY-TIX or go online to www.statuecruises.com to get all the details on reserving tickets to the pedestal, museum, crown and Liberty Island from Statue Cruises. Choose which visit fits your schedule and interests. 

 

Reserving Tickets to Visit the Crown: Access to the crown is limited and reservations are the only way to obtain crown tickets.

 Here you'll find answers to frequently asked questions that will help you plan your visit. 

Security Screening: Visitors to the Statue of Liberty and Ellis Island must pass through security screening (similar to airport security procedures) before boarding the ferry system and entering the monument. There can be long wait times at these screening areas.
Enjoy your experience at the Statue of Liberty.
ELLIS ISLAND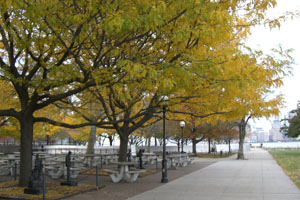 Opened on January 1, 1892, Ellis Island became the nation's premier federal immigration station. In operation until 1954, the station processed over 12 million immigrant steamship passengers. The main building was restored after 30 years of abandonment and opened as a museum on September 10, 1990. The island has a wonderful picnic area filled with statues of the great men who contributed to the greatness of America offers visitors a pleasant spot to have lunch while enjoying the historic park atmosphere, and panoramic views of New York City.
Today, over 40 percent of America's population can trace their ancestry through Ellis Island. Computers in the musuem allow visitors to access family history informaton available.
During the island's 62 years of operation, over 12 million immigrants were processed at Ellis Island, including those who have become notable in society such as: Frank Capra, Bela Lugosi, Baron Von Trapp, Irving Berlin, Max Factor, Xavier Cugat, Rudolph Valentino, Igor Sikorsky and Bob Hope.
American Family Immigration History Center (AFIHC) at Ellis Island. Official site for Statue of Liberty and Ellis Island Foundation containing manifests of 25 million immigrants, passengers, and crew members who entered New York Harbor between 1892 and 1924. Records can be searched at Ellis Island or on-line.
General Information Line Statue of Liberty & Ellis Island
(212) 363-3200
Visit: www.nps.gov
---
CHICAGO OFFICE OF TOURISM OFFERS ENHANCED WATER WORKS
VISITOR CENTER

New amenities for visitors include First Slice Café, Chicago Public Library outpost, Hot Tix and more

Chicago's 44 million+ annual travelers have the perfect spot to find city information and travel tools at the enhanced Water Works Visitor Center. The Center is located in the historic Pumping Station at 163 E. Pearson, along Chicago's Magnificent Mile and across the street from the iconic Water Tower. 

The remodeled Visitor Center offers space for travelers to browse racks filled with maps and brochures about Chicago-area events, attractions and tours, as well as comfortable seating for them to review the information and plan their activities. Friendly and knowledgeable visitor information representatives are on hand to answer questions and help visitors create an action-packed itinerary.

The Visitor Center is also home to:

-First Slice Pie Cafe – First Slice Pie Cafe serves pizza, sandwiches, soups, salads and homemade pie. A portion of all proceeds is donated to the First Slice community kitchen, which provides meals to homeless men, women and children.
-Hot Tix – Operated by the League of Chicago Theatres, Hot Tix offers half-price tickets to more than 200 theaters throughout the Chicago area. Hot Tix are available up to six days in advance and on the day of the show. The show list is updated continuously on www.hottix.org as tickets become available. Hot Tix is also an authorized Ticketmaster outlet.
-Chicago Public Library – The Chicago Public Library offers Chicago reference books for visitors to read in the building. The Library also provides a small collection for Chicago library card holders to check out, in addition to serving as a pick-up location for materials ordered online by card holders.

"As Chicago grows in popularity as a major destination, this enhanced Visitor Center allows us to continue to provide excellent service to our many visitors from around the world," said Chicago Office of Tourism Director Dorothy Coyle. "The new tenants - First Slice Café and the Chicago Public Library – offer new opportunities for visitors and locals alike to experience the very best of our city."

The Visitor Information Center is open Monday – Thursday from 8am – 7pm; Friday from 8am – 6pm; Saturday from 9am – 6pm; Sunday from 10am – 6pm; and Holidays from 10am – 4pm. It will be closed on Thanksgiving, Christmas and New Year's Days. Hours for First Slice Café, Hot Tix and the Chicago Public Library may vary.

Built on the site of Chicago's first municipally owned water works in 1867, the Water Works Pumping Station was completed in 1869 as part of a plan developed by Ellis Sylvester Chesbrough, Chicago's first Commissioner of Public Works. Located across Michigan Avenue from the Historic Water Tower, the Pumping Station was, in turn, connected via a tunnel to a wooden pentagonal intake crib located two miles east, offshore in Lake Michigan.

The Chicago Office of Tourism also operates a Visitor Information Center in the Chicago Cultural Center (77 E. Randolph Street) and the Millennium Park Welcome Center (201 E. Randolph.) Visitors can also find information about Chicago at www.explorechicago.org, the city's official tourism website, or by calling 877-CHICAGO.  For those calling from outside the United States, Mexico and Canada, please call 1.312.201.8847.  The TTY toll-free number for the hearing impaired is 1.866.710.0294.  

---
PALAIS STÉPHANIE, CANNES OFFERS A DELECTABLE EXPERIENCE ON THE RIVIERA WITH THE AZUR GOURMET PACKAGE VALID THROUGH APRIL 2010
Palais Stephanie, the newest hotspot in Cannes, is offering the tempting Azur Gourmet package valid through April 2010 highlighting the hotel's new La Scena Lounge Bar and Restaurant, the place to see and be seen in this stunning city on the French Riviera.
The Azur Gourmet package includes accommodation, daily dinner or lunch at La Scena and an in-room gift of Champagne and gourmet chocolates. Rates start from 185 Euros per room, per night, based on single or double occupancy including VAT and city tax.
Patrons can lounge al fresco with gorgeous views of the Bay of Cannes or nestle inside the modern redesigned dining room. The eclectic menu serves a selection of dishes from Italy, Japan and France giving La Scena an international appeal. Starters include homemade duck foie gras or a variety of sushi and sashimi offerings. For the main course, guests can choose from grilled bass with Carnaroli risotto and truffle, fillet of veal with sautéed gnocchi and wild mushrooms, and selection of savory pastas among other sumptuous dishes.
Palais Stephanie also offers the following enticing accommodation packages valid in 2010 (Please note update on price and dates):
The Azur Evasion package valid through May 2010, includes accommodations, daily continental breakfast, and in-room gift of Champagne and gourmet chocolates. Rates start from 165 Euros per room, per night, based on double occupancy including VAT and city tax.

The Azur Sky Discovery package valid through October 2010, includes accommodations, daily continental breakfast and a thrilling 45-minute private jet flight over Cannes. Rates start from 245 Euros per room, per night, based on double occupancy including VAT and city tax with a minimum five-nights.
About Cannes: Palais Stéphanie's recent 38 million Euro renovation transformed this classic hotel into a vibrant and stylish hotspot reflecting its glamorous film heritage as it sits on the original site of the Palais des Congrès, where the first Cannes Film Festivals were held. The hotel now features 261 spacious rooms and suites with upgraded flat screen TVs and high-speed Internet access; A heated rooftop swimming pool, Jacuzzis and Panorama bar; a full casino offering 150 slot machines and 19 gaming tables. Additional amenities and services include an 820-seat auditorium and flexible meeting space a shopping gallery, concierge, luggage room, and car rental. The hotel is conveniently within walking distance of the old city, Palais des Festivals and the old port and approximately 30 minutes by car from the Nice International Airport. Guests are also less than a mile from the Cannes TGV train station for convenient travel within Cannes and other destinations.
For more information about Palais Stéphanie and reservations please visit, www.PalaisStephanie.com or call +33 (0)4 92 99 70 00.
---
Santa Fe's Winter Sun
Winter is a good time for a Santa Fe-cation because winter is value season in Santa Fe. All of the city's historic charm, attractions, and timeless appeal remain, even as lodging is at its lowest cost of the year. Whether skiing in the Southern Rockies just outside of town, exploring the city's diverse shopping and art districts, or simply taking some time out, Santa Fe's warm hospitality and bright winter sun are in place to welcome travelers.
The past year in Santa Fe saw a number of highpoints; the New Mexico History Museum opened its doors, the city's 400th Anniversary began 16 months of commemoration, and American Eagle introduced service to the Santa Fe Municipal Airport with 3 daily flights–2 from Dallas and 1 from Los Angeles. With the onset of winter, the city's relaxed pace slows even more as we welcome the holidays and move into a new year.
If it's a couple's escape you're thinking about, setting the mood for a romantic get away comes naturally to this old town. The city is filled with pampering accommodations, nurturing spas, and perfect tables for two. Santa Fe's intimate scale embraces every couple and walking is the best way to get around town or soak up the snow-covered mountain vistas. On a day when storms roll down from the Rockies, it can't get any better than curling up next to a kiva fireplace.
Find some time for yourself this winter and let Santa Fe help you get in touch with the inner, relaxed, you. Look for lodging specials and everything that's going on in town at www.santafe.org.
Winter Events: For the coming months Santa Fe's calendar is full of music, food, art, and seasonal cheer for everyone in search of a winter escape. Here is some of what is planned.
The Holidays
December 11: An annual family favorite, Christmas at the Palace is a community get together with live music, entertainment, cookies, and a visit from Mr. and Mrs. Claus. From 5:30 to 8:00 at the Palace of the Governors. www.palaceofthegovernors.org

December 12-13: Winter Spanish Market is a showcase of Spanish Colonial art and the perfect spot for finding inspired gifts. The 21st Annual Market will feature the work of more than 100 artists, music, foot, and fun. At the Santa Fe Community Convention Center. www.spanishcolonial.org
December 13: The traditional Spanish outdoor play, Las Posadas, takes place from 5:30 to 7:30 at the Palace of the Governors. Everyone is invited to join the candle-light procession around the Plaza as Mary and Joseph search for a room on Christmas eve. www.palaceofthegovernors.org
December 17 thru the 31: The Santa Fe Southern Railroad offers a variety of special daily–except 12/25 and 29–Holiday trains, some perfect for kids like the Story Book Trains and Santa Trains, and others more suited for adults like the New Year's Eve Celebration Train. www.thetraininsantafe.com
December 20: Annual Holiday Open House at the New Mexico Museum of Art. This family favorite features performances by the Gustave Baumann marionettes among other activities. www.nmartmuseum.org
December 20-24 and 26-27: Santa Fe Pro Musica presents A Baroque Christmas, featuring the music of Bach, Vivaldi, Prucell, Handel, and traditional carols. At the intimate Loretto Chapel. www.ticketssantafe.com
December 24: The Plaza in Santa Fe is lit with 1,000 farolitos and traditional Christmas lights, refreshments are served, and a procession to the Cross of the Martyrs is held, all beginning at 5:00.
December 24: A Christmas Eve Concert at the Lensic Performing Arts Center featuring the Santa Fe Concert Association beginning at 5:00. www.ticketssantafe.org
Get the Latest
For an updated calendar of Santa Fe Holiday events look to our listings at www.santafe.org/Visiting_Santa_Fe/Winter_Holiday_Events/. For ongoing winter savings and deals check in at www.santafe.org/Visiting_Santa_Fe/Winter_Holiday_Discounts/ and stay current with ways to save on lodging, ski packages, spa treatments, and more.
2010 Winter Events in Santa Fe
January 1: Pueblo Dances at most of the Pueblos surrounding Santa Fe celebrate community and tradition. www.santafe.org/What_s_Happening/index.html
January 16: Leo Kottke performs at the James A. Little Theater. www.ticketssantafe.com
January 17: Santa Fe Symphony presents "Vienna, With Love" at the Lensic Performing Arts Center. www.santafesymphony.org
January 26: Van Cliburn Piano Competition Medalist, Yeol Eum Son performs solo and with the Albers Trio at the St. Francis Auditorium. www.ticketssantafe.com
January 30: Santa Fe Souper Bowl XVI – a fundraiser for The Food Depot featuring the best soups from the city's finest restaurants. At the Santa Fe Community Convention Center. www.thefooddepot.org.
February 1: Moscow Festival Ballet: Coppelia. Lensic Performing Arts Center. www.ticketssantafe.com
February 2: Moscow Festival Ballet: Sleeping Beauty. Lensic Performing Arts Center. www.ticketssantafe.com
February 11: The Acoustic Brotherhood featuring Los Lonely Boys. Lensic Performing Arts Center. www.ticketssantafe.com/
February 26-28: The 13th Annual ArtFeast celebrates with world-class chefs and restaurants, an international array of vintners, original designer fashions and unique homes, along with nationally and regionally prominent artists represented by members of the Santa Fe Gallery Association. The Edible Art Tour on Friday evening showcases 30 of the city's finest Canyon Road and Downtown art galleries paired up with some of Santa Fe's best chefs who present their art-inspired foods. www.artfeast.com
March 6: A talk by Annie Leibowitz as part of the Georgia O'Keeffe Museum's "Women of Distinction" series. www.okeeffemuseum.org
March 12-13: The Aspen Santa Fe Ballet performs mixed repertory in their signature style including newly commissioned works by Helen Pickett and Nicolo Fonte. www.santafetickets.com
More of What's Going on in
Santa Fe
Ski Santa Fe is open for the season (12/12). With 67 runs and terrain for the first time skier or snowboarder as well as the most seasoned expert, Ski Santa Fe is an ideal winter escape in the Southern Rockies. Located, 16 miles from the heart of the city, and over 3,000 feet higher, the area covers 660 acres. The Chipmunk Corner children's ski center provides instruction for kids from ages 3 to 11 and daycare for kids from 3 months to 3 years. Check www.skisantafe.com for conditions.

Santa Fe, City of Museums
There is always something of interest to be found at Santa Fe's museums. Shows this winter include:
Museum of International Folk Art: Material World opens December 20 and presents a stunning look at the museum's textile collection through 138 rarely seen items from everyday household articles to elaborately detailed ceremonial wear. Multiple Visions: A Common Bond – The museum's remarkable Girard Foundation Collection includes toys, traditional arts, village scenes, textiles, and popular art pieces from more than 100 countries displayed at eye level for visitors from 2 to 102. It is one of the country's most fascinating folk art collections. www.internationalfolkart.org/
SITE Santa Fe: Opening February 6, 2010, One on One, a suite of solo shows by Terry Allen, Hasan Elahi, McCallum & Tarry, and Kaari Upson, each examining the life of one person through video, painting, drawing, installation, and computer dialogue. www.sitesantafe.org/
Georgia O'Keeffe Museum: Opening January 22, 2010. Susan Rothenberg: Moving in Place. An exhibition of Rothenberg's work, who, like Georgia O'Keeffe, left New York at mid-career to make New Mexico her primary residence. www.okeeffemuseum.org/
Museum of Contemporary Native Arts: The only Museum in the United States that is devoted solely to the exhibition of contemporary American Indian art forms. The Museum delivers on-going and changing exhibitions that feature a diverse range of artists from leading figures in contemporary Native art, including periodic exhibitions by IAIA Students, Alumni, and Faculty. The Museum also hosts major traveling exhibitions of Native American art. www.iaia.edu/museum/index.php
New Mexico Museum of Art: Opening January 29, 2010, Museums in the 21st Century: Concepts, Project, Buildings. Exploring current transformations in architecture, as museums redefine their roles as cultural centers that have many functions. Opening February 12, 2010, New Arrivals: Works from the Collection, featuring more than 25 works of art introduced for the first time as additions to the museum's collection. www.nmartmuseum.org
Museum of Indian Arts & Culture: Through February 10, 2010, Native Couture II: Innovation and Style, discovering the history of Native fashion from hand-made clothing and accessories of the 1880s that influenced the development of Santa Fe Style, to today's contemporary Native couturiers. Through June 6, 2010, A River Apart. How two major rivers and their tributaries - the Colorado River and the Rio Grande - have shaped both the landscape and the distribution of indigenous villages. www.indianartsandculture.org/
Museum of Spanish Colonial Art: Home to the most comprehensive compilation of Spanish Colonial art of its kind, the museum has 3,000 objects in its collections including work that spans centuries in art, place, and time. Combined, the collections represent the artistic history and ongoing evolution of Hispano culture in New Mexico. www.spanishcolonial.org/
New Mexico History Museum/Palace of the Governors: Santa Fe Found: Fragments of Time: The archaeological and historic roots of American's oldest capital city: Now celebrating its 400th anniversary, Santa Fe was once an infant city on the remote frontier. This exhibition explores the archaeological evidence and historical documentation of Santa Fe before the Spanish arrived, the first colony in San Gabriel del Yungue, the founding of Santa Fe, and its first 100 years as New Mexico's first capital. Also, through April 14, 2010, Fashioning New Mexico: What We Wore to Mark Life's Passages, featuring the clothes we wore over nearly two centuries of life's milestones – christenings, weddings, military service, opera openings and more. A variety of interactive stations challenge visitors to tie a corset or check out a virtual image of themselves in one of the collection's outfits. The clothing and accessories have been collected for the last century. This exhibition marks the first time they have been on display. www.nmhistorymuseum.org
Wheelwright Museum of the American Indian: Through Their Eyes: Paintings from the Santa Fe Indian School. Long considered the birthplace of contemporary Native American easel painting, this exhibition focuses on paintings from the Charlotte G. Mittler collection created by students who attended the Santa Fe Indian School between 1918 and 1945. Until April 18, 2010. www.wheelwright.org
For more about Santa Fe during the winter or any season and to receive a free 2010 Santa Fe Visitors Guide contact the Santa Fe Convention and Visitors Bureau; scenter@santafe.org , 800-777-2489.
Follow us on Facebook and Twitter.
Keep in touch with everything going on in Santa Fe at http://www.santafe.org
---
GALICIA CELEBRATES JUBILEE YEAR
Spain's Northwest Region Invites the World to Year-long Celebration
Located in the northwest corner of Spain that borders the Atlantic, Galicia is known for its lush green mountains and misty forests as well as dramatic seascapes.  This quiet region will be particularly lively next year as 2010 is a Jubilee Year ( when July 25, the feast day of the city's patron saint, Saint James,  falls on a Sunday.) Tourism officials in Galicia have designed a year-long celebration and will lay out the red carpet for some 10 million visitors during Xacobeo 2010 (ya-ko-bay-o.) 
       Since the 9th century, the Cathedral in Santiago de Compostela, Galicia's capital has been the destination for pilgrims following The Way of Saint James or El Camino de Santiago. They traveled on foot, horseback and more recently, on bicycles, lodging in albergues de peregrinos (accommodations offered free of charge to pilgrims) until they reached the stately Cathedral of St. James, said to hold the remains of the apostle.  Legend has it that anyone who traveled to Santiago during a jubilee year were absolved of their sins.
       Declared a World Heritage site by UNESCO, Santiago retains its medieval air with beautiful golden granite mansions, impressive public buildings and many beautiful churches. Stone streets are porticoed to protect against passing showers.  Considered one of the world's great squares, the Praza do Obradoiro is dominated by the 11th century Cathedral and surrounded by many of Santiago's historic buildings such as the Antiguo Hospital Real, the Palacio de Rajoy, the College of San Jerónimo and the Gelmírez Palace.
       As part of the 2010 Jubilee Year celebrations, from January through December visitors to Galicia will be treated to hundreds of music concerts and opera performances, art and photography exhibitions, classical and modern dance, theater, animation and film, sports competitions, conferences and symposia.  Not to be missed are:
 – Pope Benedict XVI has been invited to Galicia; religious events focusing on the spiritual experience of the Camino will be staged; the celebration`s spirit of solidarity will be reflected in "For a World Free of Malaria" featuring sports exhibitions by star athletes such as tennis champion Rafael Nadal and soccer goalie Iker Casillas.
 – First International Travel Literature Conference; Auria Historical Novel Week; symposia with international leaders and great thinkers analyzing politics and society; congresses, seminars and workshops.
 –Conferences at the Metropolitan Museum of Art, New York.
– Photography exhibitions created for Xacobeo 2010: Candida Höffer: Libraries and Archives of the Camino de Santiago; Cristina García Rodero's Galicia and the Sea, and Pierre Gonnord's Dialogue of Landscapes and Souls.
– Theatrical performances like: Cirque du Soleil's Saltimbanco; Merce Cunningham Dance Company's "Nearly 90," and Mayumaná's "Momentum."
– Sports. Champion long-distance swimmer David Meca will cross the Camino as he swims the Ría de Arousa, and a circuit of women's races will benefit breast cancer charities.
– Gastronomy. Galicia's cuisine is renowned.  The region hosts some 300 food festivals annually showcasing its bounty from the sea such as oysters, octopus, sea urchins, eel, tuna, shellfish, and festivals featuring trout, goat, chestnuts, mushrooms, pancakes, empanadas, faba beans, androlla sausage, cheese and Galicia's prestigious wines.
– Children. Various events, audiovisual exhibitions and TV programs will be geared to children.
 – Music. Xacobeo Classics. The Xacobeo Festival will feature performances by Inma Shara, pianist Lang Lang, mezzo soprano Cecilia Bartoli, violinist Anne-Sophie Mutter, conductors Zubin Mehta and Vasily Petrenko and composer Alberto Zedda.  The Via Stallae Festival will feature 100 concerts alone.  Xacobeo Pop will present Sonar Festival, an international electronic music event.  The MTV Festival will showcase Spanish and international music stars.  The 40 Principales Festival will travel through the region and Mark Knopfler will present his "Get Lucky" album.  In Xacobeo Importa, the U.S. will be represented by the folk band Vetiver and the Seattle grunge group Mudhoney.  And in Xacobeo Roots – Galician music will take center stage with home-grown talent like: Berrogüeto, Luar Na Lubre, Susana Seivane, Cristina Pato, Bonovo, Fuxan Os Ventos and Leilía.
       A particularly festive time to visit is during the Fiestas for the Apostle, July 19-25 that culminates in a display of fireworks, Fuegos del Apóstol in front of the Cathedral in the Plaza del Obradoiro on July 24.  
For more information on the Jubilee Year, go to the official blog www.xacobeo.es
---
NYC & COMPANY LAUNCHES THIRD NIGHT PROMOTION WITH 15 SIGNATURE COLLECTION LUXURY HOTELS THIS WINTER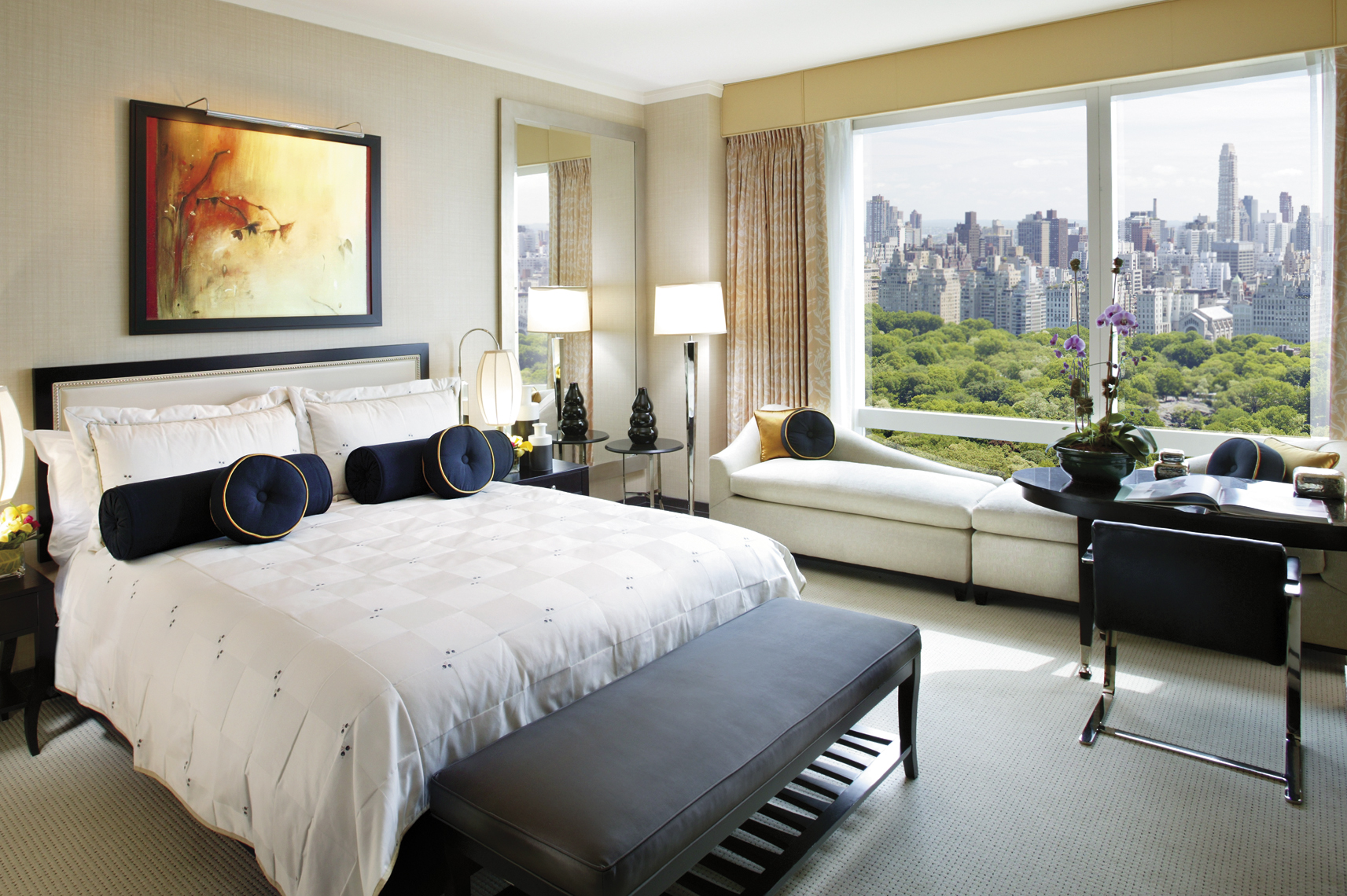 Luxury Retailer Saks Fifth Avenue Partners with Hotels to Offer
VIP Shopping Experience

 "This winter we want to encourage visitors and residents to take advantage of unprecedented savings by patronizing luxury hotels participating in NYC & Company's Signature Collection," said George Fertitta, CEO of NYC & Company. "Through the Third Night promotion, consumers can experience the vibrancy of our City without breaking the bank."

 

The 15 hotels participating in the Third Night program are: The Carlyle, A Rosewood Hotel; Hôtel Plaza Athénée New York; Loews Regency Hotel; The London NYC; Mandarin Oriental, New York; The New York Palace; The Peninsula New York; The Pierre New York; The Plaza Hotel; The Ritz-Carlton New York, Central Park; The St. Regis New York; The Sherry Netherland; The Surrey; Trump International Hotel & Tower; and The Waldorf Towers.

NYC & Company also today announced that luxury retailer Saks Fifth Avenue has reconfirmed its participation in the Third Night program this winter. Saks Fifth Avenue, whose iconic New York City flagship has long been the premier fashion destination for both visitors and residents of Manhattan, will offer a VIP shopping package to Third Night guests. The package includes an exclusive personal-shopping experience in the Fifth Avenue Club, special savings, and complimentary coffee and dessert at Saks Fifth Avenue's Cafe SFA, which overlooks Rockefeller Center and the Channel Gardens.

"Saks Fifth Avenue is pleased to participate again this winter in the Signature Collection Third Night promotion," said Kimberly Grabel, senior vice president of marketing at Saks Fifth Avenue. "We believe our VIP shopping experience is the perfect complement to a Signature Collection three-night stay and look forward to welcoming these visitors to our flagship store."

 

The Signature Collection program was initiated in 2001 through the efforts of NYC & Company. The Third Night promotion is open to visitors and residents of New York City.

NYC & Company's Signature Collection comprises 18 luxury hotels: The Carlyle, A Rosewood Hotel; Hotel Plaza Athénée; Jumeirah Essex House; Loews Regency Hotel; The London NYC; Mandarin Oriental, New York; The New York Palace; The Peninsula New York Hotel; The Pierre New York; The Plaza Hotel; The Ritz-Carlton New York, Battery Park; The Ritz-Carlton New York, Central Park; The Sherry Netherland; The St. Regis New York; The Surrey; Trump International Hotel & Tower; Trump SoHo New York and The Waldorf Towers.

 

About NYC & Company:

NYC & Company is the official marketing, tourism and partnership organization for the City of New York, dedicated to maximizing travel and tourism opportunities throughout the five boroughs, building economic prosperity and spreading the positive image of New York City worldwide.

NYC & Company, the official marketing, tourism and partnership organization for the City of New York, today announced that 15 hotels in the Signature Collection, a group of New York City's luxury hotels, will participate in the Signature Collection Third Night™ promotion this winter. The program gives visitors a complimentary third night at participating hotels after booking and paying for two consecutive nights between January 4 and February 28, 2010. Detailed booking information for the promotion is available on NYC & Company's official tourism website at nycgo.com/thirdnight.
---
                                     "LIVE THE DEAL"

NEW TRAVEL & TOURISM CLIMATE INITIATIVE LAUNCHED IN COPENHAGEN

"Live the Deal", an innovative, global campaign to help travel companies and destinations respond to Climate Change, reduce their carbon footprint and move to the Green Economy, was launched this week during the Copenhagen Climate Summit.

Announcing the new initiative, long time tourism green campaigner Geoffrey Lipman UNWTO Assistant Secretary-General said: "What Copenhagen represents is a new commitment by the world community towards sustainable low carbon growth patterns. The targets and mitigation actions that countries develop and negotiate through this process will be a new base for travel industry action. What we are providing is a very simple way to get behind the evolving government initiatives, to keep pace with changing patterns and to demonstrate that our sector is acting, not simply talking." He added "We should not be ashamed to promote the growth of smart travel – clean green, ethical and quality - it's the lifeblood of trade, commerce and human connection".

"Live the Deal" follows the pattern established in the UN led Copenhagen Seal the Deal campaign by its single minded focus, its simplicity and its broad based engagement goals. It will seek to encourage the sector directly and through representative organizations.

It has been developed with the support of UNWTO, whose Secretary-General Taleb Rifai calls it "The kind of link between global policymaking and responsible tourism action that we are looking to inspire and encourage. Our sector fuels the economy, creates jobs and is one of the biggest development opportunities for the world's poorest countries – and it can be a leader in the transformation to a green economy".

The campaign will be underpinned by a simple carbon calculation tool that allows easy correlation with government targets and implementation measures, as well as a Think Tank and Annual Innovations & Investment Summit. The inaugural Summit will be in Abu Dhabi in the last quarter of the year. Live the Deal will be promoted by a multimedia video "We can take this Climate Change" from platinum album writer and singer Alston Koch which will be profiled around the world in 2010

See animated video on www.UNWTO.org
---
NEW LEELA PALACE TO DEBUT IN NEW DELHI IN 2010
Luxury Hotel in Lutyens Style to Open for Commonwealth Games
New Delhi's newest five-star hotel is rising on three acres of prime land in India's capital.  Just in time for the 2010 Commonwealth Games, The Leela Palaces, Hotels & Resorts will welcome its newest luxury property in a convenient location at the cover of Africa Avenue and Vinay Marg in Chanakyapuri, the Central Business District and the city's diplomatic enclave.
       The Leela Palace Kempinski New Delhi will have 260 rooms and suites, five restaurants, two bars, a spa by ESPA, a fitness center and a swimming pool on its roof terrace.  An outpost of MEGU, the Japanese restaurant, will open at The Leela along with an intimate Indian restaurant, another featuring Italian cuisine with an open kitchen and an all-day dining restaurant also with a "live" kitchen. 
       Inspired by the style of Edwin Lutyens, the architect who laid out New Delhi almost 100 years ago, The Leela Palace's design will combine neo-Classical architecture with elements from north Indian palaces. 
       Deluxe rooms will measure over 500 square feet with suites starting at 785 square feet.  Three Royal Suites (up to 1,500 square feet) will have private pools and the Presidential Suite will be an impressive 4,000 square feet.
       To accommodate meetings and incentives, The Leela will have a number of meeting rooms including a 5,800-square-foot ballroom. 
       The five-star Leela Palace Kempinski New Delhi will open before the Commonwealth Games which begin on October 3, 2010. 
About The Leela Palaces, Hotels & Resorts
      The Leela Palaces, Hotels & Resorts has established a global leadership position in the luxury hospitality industry offering hotels in premier locations, elegant facilities and personalized service to the world's most discerning travelers.  It's bouquet of award-winning hotels includes: The Leelas in Mumbai, Bangalore, Goa, Kovalam (Kerala), Gurgaon and Udaipur. The group is introducing hotels in New Delhi (2010) and Chennai (2011,) with future plans to develop hotels in Agra, Hyderabad and Pune. The group has marketing alliances with Germany based Kempinski (Hoteliers since 1897); US based Preferred Hotel Group and are members of Global Hotel Alliance based in Geneva, Switzerland.
---
Spectacular Seven Night Specials To The Islands Of Tahiti,
Including Airfare



Tahiti Tourisme North America announces upcoming seven night specials to the famed islands of Moorea and Bora Bora. Beginning January 5, 2010, travelers can book their very own couples retreat to the world's most romantic islands. Amazing savings will include a thirty percent discount on international air.

Packages must be purchased between January 5 and January 19, 2010.

Luxury Seven Night Moorea Retreat includes:

• $1799 per person
• Round trip economy class airfare from Los Angeles (LAX) on Air Tahiti Nui
• One night at Le Meridien Tahiti; garden view room
• Six nights at the Hilton Moorea Lagoon Resort & Spa; garden bungalow with private pool
• Daily American breakfast
• Round-trip ferry from Tahiti to Moorea
• Transfers, baggage handling and welcome flower lei
• All land taxes and fuel surcharges included

Exclusive Seven Night Couples Retreat to Bora Bora includes:

• $1899 per person
• Round trip economy class airfare from Los Angeles (LAX) on Air Tahiti Nui
• One night at the InterContinental Tahiti Resort (standard room)
• Six nights at Le Maitai Polynesia Bora Bora; ocean view room; includes 2 free nights
• Daily American breakfast in Bora Bora
• All transfers, including domestic air to/from Bora Bora
• Meet and greet with flower lei on arrival
• Upgrade to beach bungalow; add $75 per person, per night

Packages are valid for travel from January 5 – March 31, 2010 and must be purchased between January 5 and January 19, 2010.

For more information after January 5, 2010, visit www.tahiti-tourisme.com or call (877) GO -TAHITI. Participating tour operator partners include Island Escapes by Goway; Pacific Holidays, Pleasant Holidays, Sunspots International, Tahiti Legends and Qantas Vacations.

Restrictions: Prices are 'from', per person, based on double occupancy. Single supplements apply. Strictly subject to availability at time of booking. U.S. foreign taxes of approximately $94, includes September 11 security fee additional. Prices, itinerary and conditions are subject to change without notice. City tax of approx. $1.80 per person, per night is not included.

The islands of Tahiti are closer than you think, Tahiti is eight hours from Los Angeles with daily, nonstop flights. Tahiti is halfway between California and Australia, on the same side of the International Date Line as North America and in the same time zone as Hawaii.
---
---
                 10 New Air Travel Regulations You Need To Know
 
(New York, December 30, 2009) Since Northwest Flight 253 was threatened on December 25th by a passenger carrying explosives, the United States Transportation Security Administration (TSA) and many international governments have imposed confidential air travel security measures that will impact travelers around the world.
Travel publisher FamilyTravelForum.com alerts all holiday travelers, especially families with young children who may be carrying gift items, to be prepared for the enhanced and possibly invasive security procedures. As Department of Homeland Security Secretary Napolitano has cautioned, "These measures are designed to be unpredictable, so passengers should not expect to see the same thing everywhere."
10 facts travelers should know.
Enhanced security precautions are in place at all international airports with flights to the U.S.

Passengers must arrive especially early for any international flight as enhanced security on U.S. Bound flights is affecting all travel times

All carry-on bags are being subjected to extra security screenings, causing delays at security gates.

The Canadian government has banned all carry-on bags for passengers traveling to the U.S. because new screening requirements are causing excessive delays. Only exceptions are purses, cameras, coats, laptops, musical instruments, medical devices and items for baby care.

TSA urges all travelers to check as much carry-on baggage as possible but says that items such as car seats will be accepted on board flights.

Alaska Airlines and Horizon Air are both waiving some baggage fees for the mandatory checked baggage on flights to the U.S. from Mexico and Canada.

According to the TSA, all passengers regardless of age (including minors and unaccompanied minors) will be subject to additional screening if selected at random or if circumstances warrant.

Secondary passenger screenings are very likely to include full body pat-downs and manual inspection of all hand carried items.

In flight, at the discretion of the pilot and the individual airline, passengers may be required to stow all their personal belongings for any portion of the flight.

In flight, passengers may be required to remain in their seats with their hands fully exposed to view, for any portion of the flight but most likely, for the final hour of the flight.
Additionally, the U.S. Customs and Border Protection (CBP) reminds travelers that, according to the Western Hemisphere Travel Initiative, all U.S. and Canadian citizens, age 16 and older must present a valid, acceptable travel document that denotes both identity and citizenship when entering the U.S. by land or sea. All air travelers of any age are required to present a passport at time of entry to the U.S.  
Parents should discuss these enhanced security procedures with their children prior to travel, and that travelers use the CBP website (visit www.cbp.gov/xp/cgov/travel/wait_times/ ) to check on the estimated waiting times at all U.S. air, land and sea borders before making their travel plans. According to TSA spokesperson Ann Davis, these security precautions and other undisclosed ones will remain in effect indefinitely.
---
---