Cimarroncita Historic Ranch Retreat and Seven Directions Cultural & Sustainable Tours Announce Heart of the West Tours in Northern New Mexico
Porch, Laguna Lodge
Cimarroncita Historic Ranch Retreat
Ute Park, NM


Gathering for Trail Ride
Cimarroncita Historic Ranch Retreat
Ute Park, NM


Fishing the Cimarron River
Cimarroncita Historic Ranch Retreat
Ute Park, NM


Frijoles Lobby Porch
Cimarroncita Historic Ranch Retreat
Ute Park, NM

Two New Mexico ecotourism companies, Cimarroncita Historic Ranch Retreat and Seven Directions Cultural & Sustainable Tours, announce their collaboration with Heart of the West Tours offering travelers an exploration of culture, history and pristine wilderness of Northeastern New Mexico and implementing key cultural and sustainable eco travel components of the New Mexico Ecotourism Initiative.
Few places remain as they were when the forces of nature combined with the dreams of man to forge the history of the American West. The North of New Mexico is one such compelling place. Here the ancient native-American Taos Pueblo, the explorers and wagons of the Santa Fe Trail, and the cowboy traditions of vast ranch lands combined with the pristine wilderness of the Southern Rocky Mountains to create the rich history of northern New Mexico.
With itineraries featuring cultural history and nature adventure, The Heart of the West Tours offer unparalleled access to this still-pristine wilderness and the history of those who came before.
Patrizia Antonicelli, an Italian who fell in love with New Mexico and moved to Santa Fe, has been designing tours of the Southwest for European travelers for years through her company, Seven Directions. "This is an exciting time to be working in the field of eco-travel in New Mexico as the New Mexico Tourism Department has engaged in the Ecotourism Initiative with the goal of establishing the state as a primary venue for Ecotourism in the world," she said.
Cimarroncita Historic Ranch Retreat, offering seasonal summer heritage lodging and adventure vacations, serves as the central hub and headquarters for each tour. Minnette Burges and Alán Huerta own and operate Cimarroncita, honoring the history and preserving the experience of the pristine wilderness high in the Sangre de Cristo Range of the Southern Rocky Mountains at the heart of the Cimarron Canyon in Northeastern New Mexico. Cimarroncita's ecotourism history started more than 100 years ago with the railway wilderness resort constructed in 1908, and includes 65 years as the home of the exclusive Cimarroncita Ranch Camps established in 1930
"As the conservation stewards of this beautiful land, we have restored the primary historic buildings and have opened this property to the public, establishing the business of catering to those who love the great outdoors with fly fishing and nature adventure vacations. With the Heart of the West Tours we expand the opportunities for sustainable adventure travel at the Ranch and throughout Northeastern New Mexico," said Burges.
Cimarroncita is the perfect central headquarters for experiencing the West as it is so uniquely manifested in Northeastern New Mexico. It is located in a high mountain valley of protected wilderness amidst some of the most fascinating historical icons of the American West. To the East is the Santa Fe Trail which forged the wagon trail era of the 1880s, and to the West is Taos with the 1000-year-old Taos Pueblo, the traditional native and Hispanic arts, and the artists - writers, painters and photographers - of the early 20th century.
This region has not only the historical and cultural icons, but some of the country's greatest wilderness areas including Valle Vidal and Wheeler Peak, with rich recreational opportunities including fly fishing, hiking, and horseback riding.
"Our goal is to offer the traveler a delicious taste of this corner of the world, knowing there is a lifetime of opportunity to learn and experience the treasures of the West in a deeper way through return visits and expanded itineraries," said Burges.
Each Tour includes lodging for four days and nights at Cimarroncita Historic Ranch Retreat as well as all meals, evening campfires, adventure activities, and driving tours, each highlighting a featured experience. In addition to the featured highlight, the tours include exploration of the western ranch and Santa Fe Trail history where the Rockies meet the Plains, the spiritual intrigue and cultural fascinations of Taos as well as nature adventure in the high country of Cimarroncita.
June 11 -14, 2010: PIONEER SPIRIT
Discover the Santa Fe Trail as live wagon trains arrive in Cimarron to celebrate the Santa Fe Trail and establish the state's interpretive site with historical re-enactments and festivities. Feel the thrill of pioneer life settling America's western plains.
July 2 - 5, 2010: OLD WEST RODEO
The Cowboy is alive in Cimarron, New Mexico as the Maverick Rodeo, one of the oldest continuous Rodeos in the country features, competition in bronc riding, calf roping and barrel racing. Take a front row seat to the rodeo action, the traditions of the cowboy and the fabled old west town of Cimarron.
August 5 - 8, 2010: TAOS PUEBLO AND SOUTHWEST ART
The intrigue of the 1000-year old Taos Pueblo is yours as a renowned Taos elder guides you on an exclusive experience of place and traditions of the Pueblo and its people. Continue your exploration of Taos and as you delve into some of the finest collections of Southwestern and Modern Art found in Taos museums and galleries.
August 28 - 31, 2010: MUSIC AND NATURE
Celebrating 27 seasons of bringing the best of classical chamber music to the Sangre de Cristo Mountains, the Angel Fire Chamber Music Festival features music related to this year's theme: The Leipzeig Romantics - The Relationship Between Clara and Robert Schumann and Their Protégé, Brahms.
---

"Glory of the Baroque" at Three Churches in Valencia
More Than 300 Artworks Showcase Region's Artistic Heritage
From now through the end of September, visitors to Valencia on Spain's Mediterranean coast can view newly-restored Baroque treasures in three churches, which have themselves been restored to their former splendor.  Part of a $13.5 million (11 million euro) project of The Light of Images Foundation which recovers the Valencian region's artistic heritage, "Glory of the Baroque" showcases 307 pieces – many never before exhibited.   A team of seven architects, six archaeologists and 133 art restorers carefully worked to restore 144 paintings, sculptures, textiles, gold work and documents.  Many works are on loan from other churches, museums, monasteries and private collections, and highlights include paintings by Peter Paul Rubens, Francisco Ribalta and José de Ribera.
       After the Reconquista in 1238 when Valencia was conquered by the Christians, King James I had three parish churches built on the sites of Moorish mosques. The "Glory of the Baroque" exhibition is divided thematically between these three.  San Esteban Protomartir houses a collection of Valencian Baroque paintings while San Martin Obispo is dedicated to Valencian sculpture and gold work from the Middle Ages through the 20th century.  The devotion to the Virgin Mary is the theme at San Juan de La Cruz.
        San Esteban was the first church constructed in Valencia after the Moors fled Valencia and was the original burial place of El Cid.  Two never before exhibited paintings by Peter Paul Rubens as well as works by Jose de Ribera and Pablo Pontons are on view here.  Additionally, murals over the altar have been restored as have newly-discovered frescos.   The design for San Martin Obispo and its Renaissance-style half-dome vault is thought to have been inspired by the Pantheon in Rome.  More than 160 figures were uncovered during restoration and visitors can view them up close from a temporary stairway.   San Juan de la Cruz's architecture exemplifies northern European Baroque styles and the Rococo.  A never before exhibited painting "Virgin and Child with St. John the Evangelist and St. John the Baptist" is on view, as well as an interpretation of the Virgin using oils on marble. 
        Visitors start the self-guided walking tour at the Almudín, a 16th century granary built over an old Moorish palace which houses an exhibition celebrating the 10th anniversary of The Light of Images Foundation and an audiovisual experience showcasing Valencia's Baroque art.  Then they exit and follow a "footpath" stenciled in Baroque design leading to the three churches. 
       Exhibition hours are from Tuesday through Sunday 10 AM to 9 PM (Saturdays and Sundays until 10 PM) and entry to the exhibition costs $3.70 (3 Euros.)   For further information about the exhibition and the region of Valencia, contact your travel provider or go to http://en.comunitatvalenciana.com/eng. 
---
The Renaissance Resort at World Golf Village
Named One Of The Best Golf Resorts
In The World By "Condé Nast Traveler" Magazine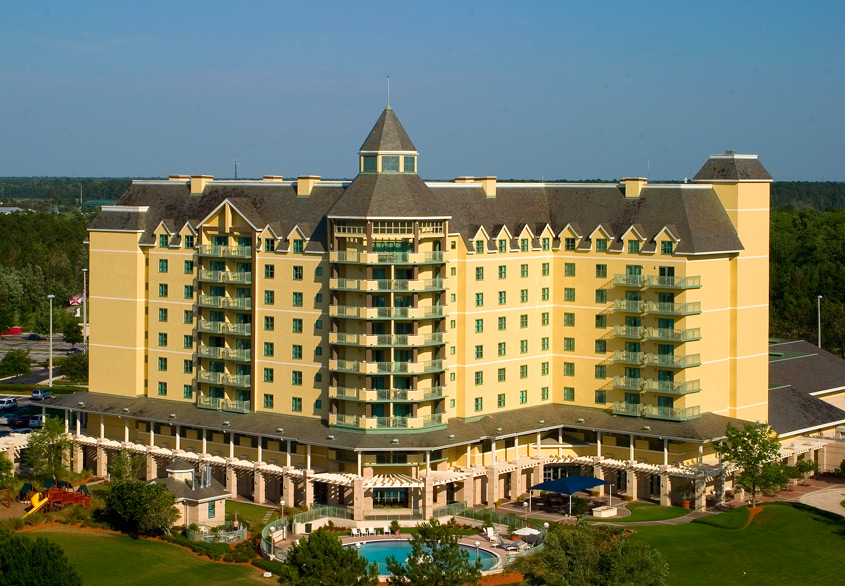 The results are in, and The Renaissance Resort at World Golf Village in Northeast Florida has been named one of the "Top 80 Golf Resorts" in the world, and one of the "Top 10 Florida Golf Resorts" in a just-published readers' poll in Condé Nast Traveler magazine. Thousands of the magazine's readers voted for their favorite resort courses, providing ratings for course design and access, golf staff and services, rooms, service, food & dining, location, and overall design. Impressively, The Renaissance Resort at World Golf Village was one of just two resorts in the list to earn perfect scores of 100 for both the design of their golf courses and the quality of their golf staff and services. The other recipient? Pebble Beach in California.
 The Renaissance Resort at World Golf Village, which recently completed a comprehensive $10 million property-wide renovation, is located right next to the World Golf Hall of Fame in St. Augustine, Florida, and features two championship golf courses – the Slammer & Squire, and the unique King & Bear, which is the only course in the world collaboratively designed by Arnold Palmer & Jack Nicklaus. Guests at the resort also can take golf lessons at the renowned PGA TOUR Golf Academy, and are an easy walk to the World Golf Hall of Fame's 18-hole real-grass putting course, and a 132-yard Island Challenge Hole (patterned after the famed hole at TPC Sawgrass).
 Additional offerings at The Renaissance Resort include an indoor professional golf simulator, a sauna, pool, hot tub, tennis courts, and full-service concierge.
 "This is a wonderful honor and recognition for The Renaissance Resort and for World Golf Village," said Mark Schwantner, general manager of The Renaissance Resort at World Golf Village. "It is a prestigious award, chosen by savvy golf resort travelers, so we're very pleased and proud to be in such outstanding company."
 A great way to experience the award-winning resort is by taking advantage of its "Stay and Play Golf Package" this summer. The package includes:  deluxe accommodations in a newly-remodeled room for one night; one round of golf on the resort's popular Slammer & Squire championship course or renowned King & Bear championship course, per golfer; breakfast daily; and range balls. In addition, the package includes a World Golf Hall of Fame ticket for each golfer, which provides admission to the World Golf Hall of Fame, admission to a film at the World Golf Hall of Fame's IMEX Theater (a non special engagement film); and a round on the Hall of Fame's 18-hole championship putting course for each golfer.  Based on two golfers in the room, the package is from $279 per room, per night. Based on one golfer, the rate is from $179 per room, per night. The package is available June 1-August 31, 2010, based on space availability. Reference promotional code ZJ2 when booking the package for two golfers, or promotional code G4U when booking the package for one golfer.
For reservations or additional information, call 888-740-7020 or 904-940-8000, or visit www.WorldGolfRenaissance.com .
---
WEST HOLLYWOOD'S GLAMOROUS HOTELS & ROOFTOP POOLS PUT THE SIZZLE IN SUMMER;
EXCLUSIVE SUMMER TRAVEL PACKAGES OFFER STYLE AND SAVINGS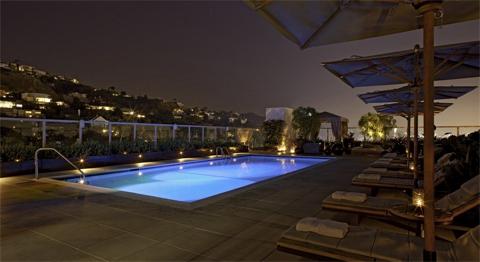 From a vantage point high above The Sunset Strip on the rooftop pool deck of the Andaz West Hollywood hotel – the highest hotel pool in all of Los Angeles – visitors experience the bliss of being a million miles from it all… yet right in the pulsing heart of the city. West Hollywood boasts six rooftop pools, three more hillside pools overlooking the city, and four pools that are so private that Madonna could hide from the paparazzi there.
This is how summer is best spent in West Hollywood: shopping in The Avenues - West Hollywood's premier art, fashion and design district, lounging poolside, or visiting one of the area's many cultural attractions. And when the sun goes down, West Hollywood really heats up with world-class dining experiences and the legendary nightspots of The Sunset Strip and Santa Monica Blvd. Located at the foot of the Hollywood Hills in the heart of Los Angeles and just 1.9 square miles in size, the city of West Hollywood rivals the world's most exciting travel destinations.

Just a short drive from Orange County, San Diego or Santa Barbara, West Hollywood is the perfect weekend getaway for Southern California residents looking for the quintessential "L.A." experience – hip, laidback and full of glamour. Visitors can research the city's restaurants, clubs, and boutiques and even book a hotel room at
www.visitwesthollywood.com
.
---
THAI AIRWAYS CELEBRATES 50 YEARS OF SMOOTH AS SILK SERVICE

Thai Airways International Public Company Limited marked its 50th Anniversary across destinations and offices in 74 cities, 36 countries, and five continents this past May 1, 2010.

Mr. Sutsveta Svetasobhana, THAI USA, Central and South America's General Manager said that, "This year marks a special occasion for THAI as it is not just another anniversary to celebrate. We are very pleased to be celebrating 50 years of longstanding quality service. In this extremely difficult environment for airlines around the world, we are continuously looking for ways to expand our network and offer more choices to our customers.  We look forward to providing the world with 50 more years of our legendary Smooth As Silk service."

The history of THAI has been a story of rapid growth and success. On the morning of May 1st 1960, THAI's first flight on a Douglas DC-6B aircraft, took off from Bangkok's Don Mueang Airport with 60 passengers bound for Hong Kong, Taipei and Tokyo. 50 years later, THAI boasts a fleet of 84 jetliners that carry almost 20 million passengers and 500,000 tons of air cargo annually.  Started as a purely regional service from Bangkok to just nine cities in Asia, THAI's global network now extends to over 74 destinations across five continents.

THAI has played a vital role in the development of Thailand's dynamic economy, and helped establish Bangkok as the leading aviation hub of Southeast Asia by promoting tourism and trade worldwide. As the Asia-Pacific region is set to become the world's largest and fastest growing market for passenger and cargo services, THAI is committed to build upon their heritage and further expand their award winning services to global travelers.

With their success, THAI also understands its responsibilities to the global environment. As a major consumer of energy, THAI was the first Asia-Pacific airline to sign a Memorandum of Understanding with the International Air Transport Association (IATA) to provide passengers with the opportunity to offset carbon emissions generated from flying.
ABOUT THAI AIRWAYS

Thai Airways (THAI) is the national carrier of Thailand with service to more than 74 destinations in 36 countries and five continents.  THAI is the fastest service to Southeast Asia, with daily, non-stop flights from Los Angeles to Bangkok and beyond.

For more information on Thai Airways, please call 1-800-426-5204
---
SELECT REGISTRY DISTINGUISHED INNS GARNER NATIONAL AWARDS & CULINARY KUDOS

Select Registry, Distinguished Inns of North America (http://www.selectregistry.com) celebrates an award-winning year, with members garnering top honors for culinary, romantic and green travel. 

Most recently, White Gull Inn, a Select Registry member B&B on Wisconsin's scenic Door Peninsula, claimed the coveted first place title in Good Morning America's Best Breakfast Challenge. Viewers and hosts of the popular ABC-TV morning show last month recognized this small historic inn's Cherry Stuffed French Toast as the Best Breakfast in America, chosen over entries on behalf of thousands of restaurants nationwide. Other major awards and accolades for Select Registry members include the following highlights:

•   The Swag Country Inn (Waynesville, N.C.) –The Swag ranked No. 2 on the Condé Nast Traveler 2009 Readers Choice Awards for Best Small Hotels in the U.S. Also for 2009, The Swag made the Condé Nast Traveler Gold List and National Geographic Traveler's Stay List. The rustic hideaway's luxurious guestrooms and private cabins are nestled on a 5,000-foot ridge overlooking the Great Smoky Mountains National Park.

•   John Rutledge House Inn (Charleston, S.C.) – This elegant Georgian inn is another recipient of the Condé Nast Traveler 2009 Readers Choice Award for Best Small Hotels in the U.S. The AAA Four Diamond property was built in 1763 as a residence for John Rutledge, a signer of the U.S. Constitution. Located in the heart of Charleston's Historic District, the 19-room lodging is one of 15 surviving homes owned by one of the framers of the Constitution — and the only one converted into a hotel.

•   The Hartstone Inn (Camden, Me.) – The American Culinary Federation honored this 1835 Mansard-style bed and breakfast with a 2009 Achievement of Excellence Award in its fine dining category. Additionally, Hartstone was recognized as a Top 10 Romantic Inn for 2010 by American Historic Inns and ILoveInns.com. Renowned for its picturesque setting, accommodations and gourmet cuisine, Hartstone was a favorite of the culinary legend Julia Child, who dined here each summer.

•   Gateways Inn & Restaurant (Lennox, Mass.) – This European-inspired Berkshire Mountain estate celebrates its 11th consecutive year as a recipient of Wine Spectator magazine's Award of Excellence. Featured in the publication's annual Dining Guide issue, the inn's elegant La Terrazza Restaurant boasts an extensive wine selection to complement its acclaimed seasonal menu of gourmet fare made with locally grown ingredients.

•   Beechwood Inn (Clayton, Ga.) – Wine Spectator presented the Beechwood Inn with its third successive Award of Excellence in 2009. Located along the Scenic Georgia Wine Highway, the 1922-era mountain retreat boasts a 3,000-bottle wine cellar with more than 400 varieties of wine from around the world.

•   Rendezvous Bed & Breakfast (Palm Springs, Calif.) – Putting a contemporary spin on 1950s nostalgia, this revamped retro-retreat joined the ranks of National Geographic Traveler's 2009 Stay List. The romantic bed and breakfast welcomes with a blue astroturf pool deck and martinis in the vinyl bar. Each of its 10 rooms has a 1950s theme, including the Pretty in Pink Marilyn Monroe room, where the starlet once stayed.

•   The Inn on First (Napa, Calif.) – The U.S. Congress and the California State Legislature both awarded this eco-friendly inn the Certificate of Special Congressional Recognition for its recycling program. The historic property in the heart of Napa Valley recently was certified by the California Green Lodging Association, becoming only the second bed and breakfast in the state to garner this designation.

•   The Lodge at Moosehead Lake (Greenville, Me.) – Named one of the World's Best Adventure Lodges by Away.com, this AAA Four Diamond inn was a 2009 Finalist for Most Excellent Romantic Hideaway by Condé Nast Johansens guide. Built in 1917 overlooking pristine Moosehead Lake, the country retreat offers one-of-a-kind activities like seaplane tours, whitewater rafting, hiking nearby Mt. Kineo and guided moose safaris.

•   Pentagöet Inn (Castine, Me.) – The Travel Channel's Samantha Brown ranked this 1894 Queen Anne Victorian beauty among her "Top 5 Moments from Maine," spotlighting the inn's cozy Passports Pub and scenic vistas overlooking Penobscot Bay. Pentagöet Inn also received a Yankee magazine 2009 Editors' Choice Award and was recognized in the "The Best of New England" travel guide by the editors of Boston magazine.

•   White Gull Inn (Fish Creek, Wis.) – This turn-of-the-century B&B was named the winner of ABC-TV's Good Morning America Best Breakfast Challenge. Viewers across the country took part in a national vote in May 2010, helping White Gull Inn beat out thousands of restaurants nationwide with its winning recipe for Cherry Stuffed French Toast featuring locally grown cherries.  Located in the bayside village of Fish Creek on Wisconsin's pristine Door Peninsula, White Gull is known for its hearty breakfasts, lunches, and candlelit dinners.

Of the more than 20,000 bed and breakfasts in the U.S. and Canada, only 400 have qualified for membership to Select Registry. This elite collection of inns and B&Bs across North America has long been recognized as the industry's best of the best. Select Registry has a 40-year history of outstanding quality assurance. To be a member, lodgings must pass rigorous, ongoing inspections demonstrating they represent the very best the industry has to offer. For more information about Select Registry or to find a nearby member, visit http://www.selectregistry.com.
---
Dave Pflieger has recently taken over as new CEO of Air Pacific following former CEO John Campbell's retirement.

Mr. Pflieger, former Senior Vice President at Virgin America, is a proven business leader with 25 years of aviation industry experience as a business executive, attorney and pilot. Most recently he served as General Counsel, Senior Vice President of Legal, Government Affairs & Sustainability and Vice President of the Operations Control Center for Virgin America, a leading low-cost carrier.

Prior to joining Virgin America as founding officer in 2004, Mr. Pflieger was the Vice President of Operations for Song, Delta's low cost carrier. Before joining Song's management team, Pflieger was Delta's Director of Flight Safety, and the company's Chief Operations Attorney.

The Chairman of Air Pacific Limited, Mr. Nalin Patel, said that the Board was extremely pleased that the company would be led by someone who played key roles in building and launching two successful low-cost carriers.

"We believe Dave is the perfect person to lead Air Pacific during what is already a highly challenging period in our history. He will have the full support of the Board and our experienced management team."

Air Pacific currently operates a fleet that includes B737, B767 and B747 aircraft with a domestic and international network covering the Pacific, North America, Asia, New Zealand and Australia.
---
BRITISH AIRWAYS OFFERS LUXURY FOR LESS
New York to London roundtrip from $2798



British Airways is offering vastly reduced roundtrip Club World (business class) advance purchase fares to London and select Europe destinations for the Summer 2010 period.

Roundtrip fares to London begin from $2798 from New York (JFK or Newark).  From Boston to Zurich fares begin at $3153; Miami to Frankfurt fares begin at $3006 and Philadelphia to Madrid from $2726.  Comparable airfares are available from all 19 British Airways' U.S. cities.

As well as the savings customers may already make through ba.com's dynamic packaging option, which allows them to combine flights+hotels, those looking for a luxury holiday package this summer may head to the 5* Dolphin House where three nights costs from $3349 per person including return business class flights and hotel accommodation with breakfast.  Travel for flight+hotel is valid from Jul. 13, 2010, to Sep. 5, 2010.

Flight only prices are available for sale through Wednesday midnight (EST), Jun. 16, 2010.  Travel is valid from Jul. 1, 2010, to Sep. 6, 2010.  

Roundtrip fares must be booked and purchased 21 days in advance.  Fares are subject to government approval and do not include government fees and taxes of approximately $250 and a $2.50 September 11 Security Fee.  Minimum stay of Saturday night is required and maximum stay is 11 months.  Hotel accommodation must be booked and purchased with British Airways roundtrip published airfare originating in the U.S. in a single transaction using the "Book together and save" option during the promotional period.   Other significant restrictions apply.

Further information on this special offer and British Airways flight schedules are available by visiting the airline's website, www.ba.com/business-sale.
---
Reminder to summer travelers from U.S. Customs and Border Protection
and the Canada Border Services Agency 
This summer travel season,U.S. Customs and Border Protection (CBP) and Canada Border Services Agency (CBSA) joined efforts to remind summer travelers of document requirements to travel into both countries.   The two agencies want to educate travelers about these requirements to make their travel experience a more enjoyable one.
·

        
The Western Hemisphere Travel Initiative (WHTI) requires U.S. and Canadian citizens, age 16 and older to present a valid, acceptable travel document that denotes both identity and citizenship when entering the U.S. by land or sea. U.S. and Canadian citizens under age 16 may present a birth certificate or alternative proof of citizenship when entering by land or sea.
·

        
WHTI-compliant documents for entry into the United States at land and sea ports include:
U.S.

or Canadian passports;

Trusted Traveler Card (NEXUS, SENTRI, or FAST/EXPRES);

U.S.

Passport Card;

State or province-issued Enhanced Driver's Licenses (when and where available). For more information please visit the WHTI Web site.

(

GetYouHome.gov

)
·

        
A radio frequency identification (RFID)-enabled travel document, such as a U.S. Passport Card, Enhanced Driver's License/Enhanced Identification Card or Trusted Traveler Program card, expedites entry and makes crossing the border more efficient. 
Other programs that facilitate the entry process for international travelers coming into the country to visit, study or conduct legitimate business include "Trusted Traveler Programs" such as SENTRI, NEXUS and Global Entry. For more information about these programs, please visit www.cbp.gov.
The CBSA reminds travelers:
Visitors to Canada should be aware of the requirements to import a firearm into Canada. Many weapons are considered prohibited and are therefore not allowed into Canada. All travellers must declare any firearms and weapons in their possession when they enter Canada. Anyone who does not declare them upon arrival can face prosecution and the firearms, and the vehicle used to carry them, may be seized. 
Visit

www.cbsa.gc.ca

for more information including entry requirements into Canada for non-Canadians and to download a copy of "I Declare," a detailed publication describing what to expect when bringing goods into Canada.
For more information please visit
www.CBP.gov
or
www.cbsa.gc.ca
.
---