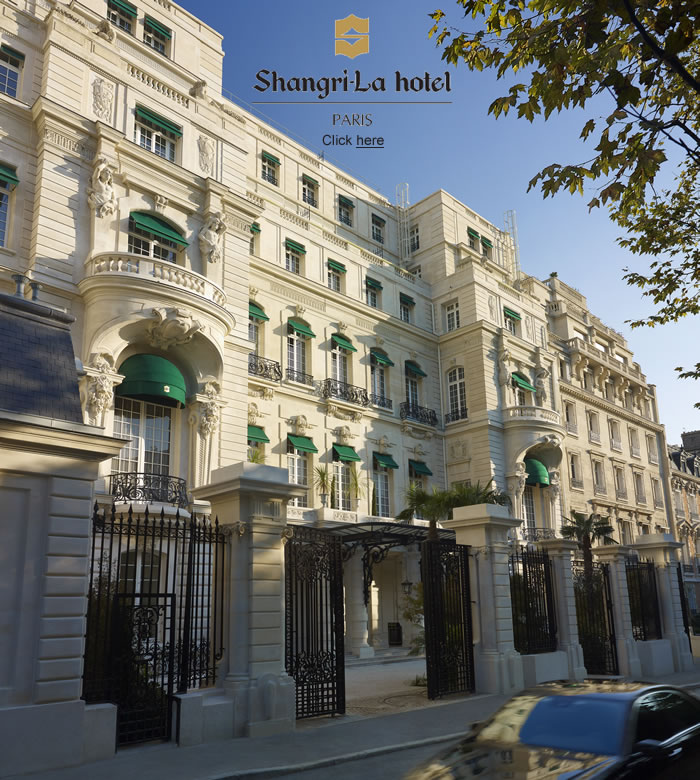 SHANGRI LA HOTEL PARIS OPENS

Shangri-La Hotel, Paris, 10, avenue d'lena, Paris, France, 75116
((33) 1 53 67 19 30 Ê(33) 1 53 67 19 43  www.shangri-la.com

Discover what's in our nature at www.shangri-la.com/ournature

---
PARIS STREET BOUTIQUE OFFERS A TOUCH OF FRANCE
By Bonnie Carroll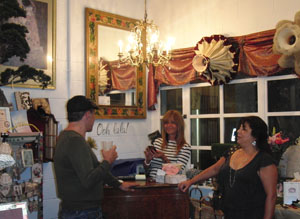 at 1221 State Street off Victoria, it is convenient and has great parking for shoppers. Visit: www.parisstreet.com.
If you traveling to this beach community and are looking for great vintage hats, jewelry, wall decorations, chandeliers, paintings, furniture and unusual specialty vintage items be sure to seek them out.
The courtyard of the new Paris Street Boutique became a little visit to France in Santa Barbara for the opening of the one of a kind Boutique this month. Guests enjoyed champagne, hors d'oeuvre and personal tours of the vintage treasures to be found throughout the inviting new business.
 THE TOP 10 DESTINASTIONS FOR THE SEASON'S BEST HOLIDAY CHEER
With the holidays just around the corner, the best hotels and resorts worldwide are preparing for the festive season. From gigantic gingerbread houses to elaborate festivals, J Public Relations has compiled a list of the top five decorative destinations so chock-full of holiday cheer they will knock your stockings off!
1. The Fairmont Jasper Park Lodge – Land of a Million Christmas Trees
Nestled in the Canadian Rockies - the land of a million Christmas trees – The Fairmont Jasper Park Lodge hosts the annual Festival of Christmas, a wide range of holiday events and activities.  Guestrooms are adorned with individual Christmas trees accompanied by a complete kit of decorations and ornaments. Skating with elves on Lake Mildred, a Santa's Workshop craft class, a holiday bonfire with s'mores, and lighting of the Great Tree are just a few of the festive activities that take place in this real-life winter wonderland - kids can even socialize with Santa himself at his Village Holiday Hangout.
2. Fairmont Mayakoba – Merry Mayan Holiday
Leave your sweaters behind for a tropical retreat to Fairmont Mayakoba for a festive 11-day activity program for the holiday season! Guests can revel in the resort's spirit with a local Mayan flair through a holiday tree lighting, the arrival of Old St. Nick, a New Year's Eve gala and a host of other family friendly activities exclusive to the Riviera Mayan hideaway.   The property boasts an impressive Gingerbread Villa, a glowing 65-foot holiday tree in the middle of the hotel's lagoon, and a visit from Santa Claus on Christmas Eve. There is also caroling, decoration crafting, and feasting on local creations from the hotel's culinary team. Available December 23, 2010 – January 2, 2011.
3. Rancho Bernardo Inn - Giant Gingerbread House*
Décor at Rancho Bernardo Inn in San Diego, has a plethora of at least one dozen Christmas trees, wreaths, poinsettias, and nutcrackers pristinely decorated throughout the property. The loggia is lined with the exquisite trees, often with varying themes. Guests and locals find that the most impressive holiday attraction is the giant gingerbread house - made with real cookie and decorated with real frosting and candy with Santa inside, of course. The property also runs a gingerbread house contest for kids where the decorated houses are displayed.
4. The Fairmont Olympic Hotel –  Magical Teddy Bear Suite
Holidays at Seattle's The Fairmont Olympic Hotel are always filled with tradition. In the main lobby, Executive Pastry Chef Artis Kalsons and his team will display a festive gingerbread creation alongside the hotel's 25-Foot Noble Fir, illuminated at the annual lighting on Nov. 21st.  Each Year, a Teddy Bear Suite brimming with dozens of fluffy teddy bears, welcomes thousands of visitors throughout the season. Guests are encouraged to take holiday photographs, read one of the teddy bear-themed children's books and enter to win prizes. Donations taken at the suite benefit uncompensated care at Seattle Children's Hospital. The suite is on display November 21 through December 26.
5. Fairmont Le Château Montebello - World's Biggest Log Cabin*
Families wanting to ensure a magical Christmas can head to the world's biggest log cabin, Quebec's Fairmont Le Château Montebello, which is made of 10,000 cedar logs.  Guests can cozy up to the six-sided fireplace for a game of checkers or head outdoors to skate on one of two rinks.  Santa will even make his way across the grounds, up the roof and exit through the chimney in traditional Saint Nick fashion on Christmas Eve.
6. Windham Hill Inn – Christmas in the Country*
At the end of a snowy country road, Windham Hill Inn is a relaxed and romantic holiday getaway in southern Vermont. Pull in and be greeted by an array of Christmas lights and trees, walk inside and see "Gingerbread Magic" constructed by a culinary arts student. Each year in December, an intern reigning from The Institute of Culinary Arts in Birmingham, UK is challenged to make the awe-inspiring Gingerbread house viewed by all the guests. No nibbles aloud! Avoid the sweet temptations and spend time outside snowshoeing through the 160 rural acres overlooking the Green Mountains. 
7. The Fairmont Algonquin* - Festival of Trees
Each year The Fairmont Algonquin hosts the "Festival of Trees" beginning the end of November until the beginning of January. Local businesses in the St. Andrews by-the-sea region of New Brunswick, Canada – and the hotel itself – purchases a tree in the lobby and decorate it with items that reflect their business, as well as prizes. Visitors, locals or guests, can bid on the trees and the highest bid at the end of the season receives all of the items on the tree, proceeds go to a local food bank. In addition to the festival, the hotel is embellished with garland, twinkling holiday lights, and a large replication of the hotel made of gingerbread on display.
8. The Fairmont Washington D.C. – Glowing Crystal Garden*
To create a seasonal ambiance at The Fairmont Washington, D.C. the vast courtyard is transformed into a Crystal Garden filled with thousands of tiny white lights, shimmering holiday trees and over 30 animated reindeer.  Adjacent to the Crystal Garden is the interior 20-foot holiday tree, which will be lit on December 1, along with an enormous Gingerbread Village display created by the hotel's executive pastry chef. 
9. The White Barn Inn - A Christmas Prelude
The White Barn Inn in Kennebunkport, Maine is transformed after the snow falls. Countless sparkling white lights cover the 150-year old institution's landscape, delicate wreaths frame each window, and lights set beneath the snow emanate an angelic glow. Illuminated trees peek through the windows of the only AAA Five Diamond and Forbes Five Star restaurant north of New York City, the ideal venue for a special holiday meal. The Christmas Prelude, during the first two weekends in December, includes an in-room gift upon arrival, Christmas carolers to serenade dinner guests, and delicious Christmas pudding to take home upon departure. Available for booking December 3-5 and December 10-12. 
10. The Fairmont Hotel Vancouver – Tea with the Nutcracker
The Fairmont Hotel Vancouver in British Columbia will entice even the biggest bahhumbuggers. On the brink of the holiday season, a traditional roof lighting takes place and the lobby is transformed into a Christmas wonderland complete with Saint Nicholas, elaborately decorated trees, and an inviting scent of hot toddies. Each year the Nutcracker Tea features a festive gathering with special treats for the all. Letters to Santa can be left in his express mailbox while a harpist performs melodies from The Nutcracker and The Mouse King. 
5
---
"MAKE NO LITTLE PLANS" - Daniel Burnham
Chicago's First JW Marriott Hotel Opens In Historic Burnham Building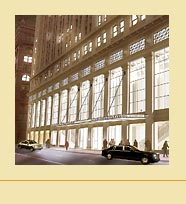 $396 Million Renovation Combines History
With Modern Amenities in the Loop
Occupying legendary Chicago architect Daniel Burnham's historic Continental & Commercial National Bank Building in Chicago's bustling financial district, the JW Marriott Chicago will open Thursday, November 11, 2010. The hotel represents the first JW Marriott branded hotel to open in Chicago. JW Marriott Hotels & Resorts is a luxury brand within the Marriott International, Inc. (NYSE:MAR) global family of brands.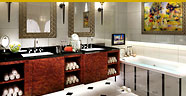 Featuring exquisite neoclassical design, the new JW Marriott Chicago hotel will offer travelers a one-of-a-kind authentic destination in Chicago's downtown Loop district. Occupying the first 12 floors of the former Continental & Commercial National Bank Building at 151 W. Adams St., the hotel--part of a $396 million restoration spearheaded by architectural firm Lucien Lagrange & Associates--will boast 610 well-appointed guestrooms including 29 corner suites and more than 44,000-square-feet of meeting space; 36 meeting rooms, a beautiful 8,500-square-foot Grand Ballroom and the awe-inspiring 6,000-square-foot foot Burnham Ballroom its original domed ceiling.
"Make no little plans," Burnham once said, and the hotel's owners--which include The Prime Group, Inc., a Chicago-based development firm, and a German-based investment syndicate--took this to heart. In addition to spectacular meeting and function space, the property will feature a 20,000-square-foot world class spa and fitness center, VALEO; and two different dining options--The Florentine, an Italian Steakhouse created by the BLT Restaurant Group, and a lounge serving more casual plates and sushi. 
"The JW Marriott Chicago will be a comprehensive urban destination offering guests exceptional luxury and convenience in the center of a vibrant city," says General Manager Catherine Mrowiec. "Our guests will find everything they need right on property including luxurious guestroom and business amenities, spa and fitness facilities, casual and upscale dining options, and retail shopping."
JW Marriott properties offer accomplished travelers a luxury travel experience with a distinct sense of place that appropriately reflects the genuine flavor of their surroundings. Guests will be impressed from the moment they step in from the bustling streets of downtown Chicago into the timeless, classical elegance of the hotel's lobby. The soothing color palette and abundance of marble and other natural materials blend to create a timeless design, making the space a welcoming haven of comfort and productivity. 
Throughout the property, staff will provide every convenience guests desire without being in the way. Whether it is room service after a late flight, catering in a meeting room, the use of the 24-hour executive business and fitness centers, laundry and dry cleaning services seven days a week or housekeeping always being on call--the hotel offers the highest level of personal service that guests deserve.
Guestrooms
JW Marriott Chicago's 610 guestrooms will offer luxurious amenities to start the day or top off the night such as in-room coffee/tea or nightly turndown service and headboards equipped with reading lights. Guests will find space to spread out whether in the 455-square-foot double/king rooms or the 960-square-foot luxury suites. All rooms have 10-foot ceilings with handcrafted crown molding and spacious bathrooms clad in Italian marble, featuring stand alone tubs; separate marble showers; expansive mirrors; terry bathrobes and world class toiletries.
Forty-two inch flat-panel high-definition televisions with full IPTV access through the Roomlinx system, Marriott "Plug In Panel" A/V stations and Wi-Fi capabilities are standard, and all guestrooms will offer a well-stocked honor bar. This is the first Marriott branded hotel to feature a full IPTV system with a personal computer that allows each guest full access to the Internet for business use or to stream their favorite TV program or movie.
For guests desiring additional amenities or extra space, the hotel will offer an executive level and three well-appointed specialty suites.
Meeting Space
With more than 44,000-square-feet of flexible meeting space spanning three floors, the
JW Marriott Chicago is set to become a meetings and events mecca in the heart of downtown Chicago.
For business, two spacious ballrooms--8,500-square-feet and 6,000-square-feet--paired with 36 breakout rooms of varying sizes, including five boardrooms. Wireless high-speed Internet and videoconferencing capabilities will be available in all rooms.
In addition, a Virtual Meetings by Marriott system featuring Cisco TelePresence technology will enable small groups to meet with colleagues around the world in real time. Other notable features include the availability of green meeting packages and customizable menus for meetings and events.
For weddings and social events, the dazzling Burnham Ballroom offers 6,000-square-feet of continuous space with no pillars or airwalls, plus the domed-ceiling from the original bank building, makes it a truly unparalleled venue.
Spa & Fitness Center
VALEO, the JW Marriott 20,000-square-foot spa is a first-of-its-kind wellness center combining fitness facilities, traditional and non-traditional spa services and myriad personal care options to both guests and Chicagoans alike. VALEO--the Latin meaning 'to be strong, powerful, well, influential'-- reflects not only the name but the entire purpose behind the space.
VALEO will focus on lifestyle portability, and in no place will this be more evident than its trademarked Clarity Chamber™--a modern approach based on ancient Greek and Roman bathing rituals or Turkish baths--inside the stone-appointed space, guests enter an atmosphere of complete warmth, where heat radiates through a working fireplace, warm benches and a central marble "belly" stone. Visitors are invited to lie down to fully absorb the radiant heat.
VALEO's fitness center will feature all of the amenities expected from a world-class spa including cardio and circuit training equipment from Life Fitness and Hammersmith.
Attached to the fitness center, VALEO will feature a large pool for laps or casual bathing as well as the most therapeutic whirlpool in the Midwest. JW Marriott Chicago's whirlpool features multiple stations of 90-PSI water jets to massage various orthopedic positions from the lower back to the neck.
In addition to traditional therapeutic and Swedish massage therapy treatments, VALEO will offer its exclusive GEMASSAGE™ services featuring corresponding crushed gemstones and herbal energy oils tailored to particular needs. For those days when a quick manicure, pedicure or massage is needed VALEO will also offer a 3,000-square-foot street-level space located directly above the spa featuring  more than a dozen unique hair, nail, skin and massage services available in under 30 minutes.  A full array of exclusive products and merchandise will also be sold.
Fine Dining
The Florentine, the hotel's 125-seat three meal a day restaurant and the newest concept from internationally acclaimed BLT Restaurant Group, offers a seasonal and substantial menu of Italian-American fare with a distinct Chicago sensibility. Corporate Executive Chef Rodelio Aglibot and Executive Chef Todd Stein, of Sunda and mk fame respectively, showcase the top imported Italian pastas, cheeses, salts and meats as well as ingredients from local and organic farms.
Designed by DiLeonardo International, The Florentine will incorporate traditional materials in a modern way. Deep caramel-colored banquettes and walnut floors create a warm, lush interior without compromising clean design.  A palette of chocolate browns, offset by golden ambient lighting, suggests comfort and luxury. The airy front room is the perfect place for breakfast, lunch, or drinks and a light bite throughout the day.  An eye-catching 24-seat circular bar with bountiful antipasti display anchors the space.  In addition to the more formal 125-seat main dining room, the restaurant features a private dining room for up to 40 guests.
An adjacent, upscale bar will serve fine spirits and specialty beers as well as handcrafted fresh juice cocktails and an extensive list of wines from around the world.  For a more casual experience, the JW Marriott Chicago will offer a lobby lounge, catering to hotel guests and financial district business types alike. In all venues, menus will include a variety of light and healthy choices.
Individual room reservations will be available beginning Thursday, November 11, 2010 with introductory rates from $179 - $329.
For more information on the JW Marriott, please call (312) 660-8200 or visit www.jwmarriottchicago.com. 
---
Anguilla's Paradise Cove Resort Joins

Prestigious InnSuites Boutique Hotel Collection - -

One of America's Leading Boutique Hotel Chains

Owners/Proprietors of Anguilla's Paradise Cove Resort, Dr. Frankie and Mrs. Sherille Hughes, announced recently that their charming small hotel has recently joined the InnSuites Boutique Hotel Collection. This move will give Paradise Cove an enormous amount of exposure and additional marketing credibility through their website and other franchise services.

Dr. and Mrs. Hughes were flattered when they heard they had been invited to join the rapidly expanding boutique hotel chain, but didn't rush into making a decision. Before committing to joining InnSuites, with the thoroughness for which they are well known and respected in Anguilla, they engaged in an extensive research program, talking to Managers of many of the properties already on board, all of whom said they had received significant increases in booking levels since joining the Boutique Hotel Collection. They were particularly pleased to discover that Bay Gardens Inn in St Lucia, one of their favorite independent Caribbean hotels, has also recently joined the program.

The InnSuites Boutique Collection currently includes 21 unique hotels with 2,220 rooms and suites.  In marketing materials they explain that "InnSuites Boutique Collection Hotels are unique, value-driven, mid-market hotels, often offering a free Hot Breakfast Buffet, free Wi-Fi and secure hard-wired high speed internet, free business and fitness centers, comfortable, acclaimed Cloud 9 pillow top beds, microwave, refrigerator, coffee maker, large flat screen TVs and bright colors. Lobbies are colorful and fun. Rates are value-oriented for today's budget-minded business, leisure and extended stay traveler." Amenities vary by location.  The InnSuites Boutique Hotel Collection ranks among the world's 60 largest hotel chains.

Mrs. Sherille Hughes says "This is a very exciting time for us - as a small independently owned Anguillian Hotel with just 29 suites there is only so much marketing we can afford to do by ourselves. Over the years, we have learned to be very creative! Through excellent personalized service and hard work we have developed a wonderful reputation with our guests – many of whom come back year in and year out - but in this challenging marketplace we need to keep thinking of new ways to bring new guests to the Resort to protect our future. We are very committed to this new development because we believe the InnSuites Boutique Hotel Collection has the tools to drive lots of new business not only to Paradise Cove but also to Anguilla. We feel InnSuites is a really good match with our brand as InnSuites favors unique, small hotels that have charm and style, but that also have all the facilities required by the modern traveler – such as a gym, WIFI, business centre etc. InnSuites Hotels are all different and unique – which is why their customers choose them and why we are sure their customers will love Paradise Cove."

 

For additional information contact: para-cove@anguillanet.com

                                                       Tel. No. 264 497 6603

                                                       Fax No. 264 497 6927

                                                       Web Site:  http://paradise.ai

_____________________________________________________

 HOLIDAY EVENT


                    December 1 – January 2, 2011


    


 

HOLIDAY HOT SPOT:  YOUNTVILLE'S NEW "WINTERSCAPE" CELEBRATION SALUTES THE SEASON -  Month-Long Winter Wonderland Features New Ice Skating Rink, Carriage Rides, Holiday Art & Performance, Wine, Dine and Hotel Packages -


               
Deck the halls and let's get jolly at Yountville's first annual "WinterScape" celebration, a month-long fete set for December 1 through January 2, 2011.  With a backdrop of sparkling vines,  six Michelin stars and enough cult cabernet to keep a sky full of reindeer lit, the town of four-square miles taps into the simple pleasures of the season with a line-up of new attractions, tours and hotel deals.  This magical time among the vines hits a high note with the opening of a seasonal ice skating arena, horse-drawn carriage rides, Dreams of Toyland exhibition, Yountville AVA wine and food tastings, vineyard bike tours and extended wine tasting hours.  Info: www.yountville.com.

                 The 2010 season kicks off with a procession of thousands of twinkling lights transcending the town into a West Coast winter wonderland with carriage rides along Washington Street while galleries, boutiques, wineries and restaurants open their doors for late night shopping and dining.   A magnet for visitors seeking the real deal, the town's charming European ambiance mixed with a classic California wine country beat is a perfect ticket for urbanites seeking an escape from the hectic shopping season. 
                Pack the sleigh for a getaway that's both adventurous and affordable.  Bike the vineyards, skate with a date or trek the town's new array of public art - 13 installations in all - then bed down at a variety of hotel properties offering savings up to 20 percent.   For families, the town's tight-knit layout is a great safety net for teens.  Couples can cash in on a variety of romantic romps from duet spa treatments to intimate repasts for two.
HOLIDAY HOT LIST
Vintage Winter Pavilion – Spin into the season skating under the stars in a clear-top tent infused with holiday music, festive trees and elaborate décor at V Marketplace.   This new attraction is certain to spark holiday cheer with a lively sidekick of food and drink venues.  After 6 p.m., the Hot Toddy & Holiday Cocktail menu debuts. 11 a.m. – 11 p.m. daily, December 11 – January 2nd.  $12/adults; $8/children 8 & under.  Yountville Chamber/707.944.8008.
 
Carriage Rides – Saddle up this season with a team of stout Percheron and Shire horses leading a holiday-decorated carriage through Yountville's main artery – Washington Street – on weekends throughout December.  (Nov. 27; Dec 4, 11, 18, 31).  Complimentary.
 
North Pole "Drink & Clink" – Weekends around the rink will include select Yountville AVA wine tasting (Fri./Sat.) showcasing the area's top producers and a Santa sommelier to keep the cheer flowing.  A seasonal grazing menu will showcase heady roasted chestnuts, dim sum and pulled pork sliders – a perfect complement to the region's cabernets.
 
WinterScape Hotel Packages – From Villagio Inn & Spa to the newly-minted LEED platinum Bardessono, deals for December are stocked with goodies including skating passes, prix-fixe dinners and a savings of up to 20 percent across the board. 
 
Dreams of Toyland Exhibition – Inspiring the wonders of childhood past, renowned collector Dolph Gotelli brings The Napa Valley Museum alive with a magical holiday exhibition of Old World toys, games, decorations and Victorian ornaments.  Dreams of Toyland features a series of vignettes certain to inspire and transport.  Nov. 20, 2010 – January 23, 2011.  $10/adults; member/children free. 707.944.0500.
WinterScape Wine Tasting – With 10+ wine tasting venues along Washington Street, a taste of Yountville AVA is as easy as linking holiday lights.  Many wineries are offering VIP tastings and specials during December.  The new Somerston wine tasting room's "WinterScape" deal includes complimentary tastings and food pairings for up to four people and 15 percent off all wine and merchandise.  Special wine deals are also on tap at Goosecross Cellars  and Girard Winery, to name a few. 
 
Biking in a Vineyard Wonderland – Kick-start the morning with a guided bike tour to four boutique wineries and a tasty catered picnic lunch via Napa Valley Bike Tours.   Ride depart at 9:30 a.m., and are set at a casual pace of three- to five-miles between wineries on a verdant stretch of vine-swept country road.  $125/person (normally $139; tasting fees not included),  707.944.2953, book "WinterScape package."  
 
Lincoln Theatre Holiday Performance – Cap off a day of play with a performance at the Lincoln Theater, home to the Napa Valley Symphony and a world-class venue seating 1,200.  This season's line-up includes the Oak Ridge Boys Christmas Show (December 8) and the 10th anniversary of Napa Regional Dance Company's Nutcracker. (December 18 & 19).  707.944.9900. 
 
Visitor Information
                Site of Napa Valley's first planted vines (1838), Yountville sits at the epicenter of the region's culinary scene sporting the Valley's top-ranked restaurants (six Michelin stars), 24+ wineries and/or producers and 11 lodging properties.  An ideal base for the avid oenophile, Yountville offers the county's only hot air ballooning launch, five National Register of Historic Places sites, a microclimate pedigree with its own AVA, world-class shopping and performing arts.  Located 55 mi./88 km. north of San Francisco, travelers can arrive via scenic Highway 29 or via Napa County Airport, Sacramento (SMF), Oakland (OAK) or San Francisco (SFO) international airports.  For more information and travel inquiries, contact the Yountville Chamber of Commerce at 707.944.0904 or www.yountville.com
---