PROUD SISTER CITY PUERTo VALLARTA
SHOWCASES SANTA BARBARA GIFT
Story and Photos by Bonnie Carroll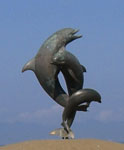 Puerto Vallarta, Jalisco, Mexico became a Sister City to Santa Barbara in 1972. It is a beachside community, and in many ways is quite similar to Santa Barbara. Over the years, citizens of both cities have enjoyed active people-to-people contact. A variety of exchanges have taken place to build strong links between the two cities. Yearly activities include a well attended winter sojourn to Puerto Vallarta, and guests from Mexico are hosted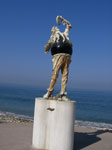 in Santa Barbara homes in August during the annual Fiesta celebrating Old Spanish Days. With the help of various community groups many community humanitarian projects have been undertaken, including a special gift from the people of Santa Barbara.

Santa Barbara presented Puerta Vallarta with a copy of the Dolphin fountain that sits in f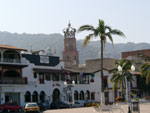 ront of the Pier on Carrillo Boulevard. This beautiful art piece is currently the center of a lovely seaside art walk, that is always filled with tourist, not unlike Santa Barbara's ocean front area.
Puerto Vallarta is a Mexican resort city on the Pacific Ocean's Bahia de Banderas. It is the government seat of the Municipality of Puerto Vallarta which comprises the city as well as population centers outside the city. The city was named after Ignacio Vallarta, a former governor of the state of Jalisco.

Since1984 this central area of the Mexican city has completely changed, and is very beautiful. The historic cathedral that was once the center of everything is now surrounded by new structures with modern architecture, including a new city hall.

Shops filled with everything from silver jewelry to fine art line the busy tourist area, and restaurants are too many to count. The quality and style of Puerto Vallar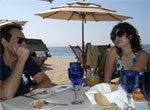 ta has changed in every way. This is a wonderful destination for beach and art lovers.
Today, there are also more fine dining restaurants than can be counted in the city. Not only the elegant hotel dining rooms offer gourmet faire, but some of the small out of the way spots like Le Kliff, which hangs gracefully on the edge of a cliff, with an exquisite ocean view, and Mestizo restaurant, a garden like venue offering an experience of authentic Mexican cuisine. La Palapa, a charming on the sand, beach restaurant offers the best of everything; ocean breeze, outstanding waiters and delicious menu items and signature cocktails. You can actually take a swim between courses.
Enjoying the best of beach pleasures, including artistic food and design, is the link between Santa Barbara and Puerto Vallarta. These two beautiful cities, have the same kind of charm, and it is understandable that there is such a familial feeling for Santa Barbara visitors who stroll the art walk in Puerto Vallarta. These two sister cities share a similar ocean front and love for fine art. For information visit: www.rivieranayrit.com or www.mexicotourism.com.

---
VICTORIA AVENUE RESTAURANT ROW
Bouchon, Epiphany, and Olio & Limone Appeal to Locals and Tourists
by Bonnie Carroll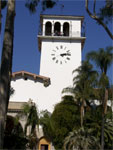 Traveling up the coast to Santa Barbara for dinner or a weekend escape has long been a favorite pastime of Angelino's, and the number of tourists who travel to the popular beach city continues to rise annually. Until recently, the fine dining venues were few, and the area was not known for rave restaurant reviews. However, in the past ten years this image has changed considerably due to the dedication of some very talented and determined restaurateurs.

Among the list of exciting new dining venues attracting huge numbers of city visitors are a cluster of unique restaurants that sit side-by-side along Victoria Avenue near State Street. They include Bouchon Santa Barbara, Epithany, and Olio & Limone. Each makes a unique food statement and is owned and operated by restaurateurs and chefs who are hands-on about fine cuisine, service and patron satisfaction.

Bouchon Santa Barbara, located at 9 W. Victoria Street, is owned by local Mitchel Sjerven. He has created a delightful contemporary French style restaurant that has a provincial atmosphere, charming waiters, walls filled with vibrant artwork, and delicious menu items skillfully prepared by Chef Josh Brown. Favorites here are Bourbon Maple Glazed Duck, and signature presentation of Pacific Ahi tuna. The wine cellar is brimming with wonderful California wines, and they also offer nonalcoholic wine for the designated driver. For reservations visit www.bouchonsantatabarbara.com.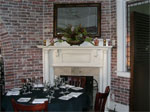 Epiphany, located at 21 W. Victoria, is the delightful brain child of Roberto and Michelle Mastrangelo, and it is truly an experience in urban elegance. The ambiance is warm and inviting and the menu features the innovative dishes of Executive Chef Ron True, who is becoming renowned for his New American cuisine.

A variety of chic and private little areas throughout the restaurant offer guests a intimate alcoves, where they can enjoy dishes featuring the chef's unique flavors. This is a fine dining experience, and the wine list represents California and European favorites. For reservations visit: www.epiphany.com.

Olio & Limone, located at 11 W. Victoria Street, is owned and operated by Chef Alberto Morello and his wife Elaine Andersen Morello. The menu contains dishes representative of many areas of Italy, but also features some outstanding Sicilian dishes from Alberto's place of birth in Italy. The Scaloppini e lemon is a signature dish of this chef, and is prepared with veal served and artichokes in lemon sauce. The menu offers appetizers, starters and desserts that are authentic and delicious, and the servers are very attentive. The wine list offers some fine Italian favorites, as well as selections from California vineyards. Visit: www.oliolimone.com.

This restaurant row is an amazing culinary delight for any visitor to the City of Santa Barbara, but it is also a very convenient gourmet destination for the lucky locals who do frequent the collection of outstanding and distinctly different restaurants at will. The popular expression "keep coming back" is most fitting for this unique Victoria Avenue restaurant row.
---
BAY CAFÉ
A Seafood Restaurant & Fish Market with a History
By Bonnie Carroll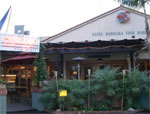 Tucked away off the street at 131 Anacapa in Santa Barbara is a cozy seafood restaurant and fresh fish market called Bay Café. The café has been around a very long time, and is a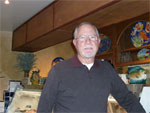 favorite haunt for locals and is frequently visited by tourists staying at nearby hotels.
According to the owner Bob Montgomery "we have a loyal clientele who keep coming back, and we love to meet the hungry visitors who stop by. Our fish and produce are all fresh daily, and our chef is very talented. We serve the wines of many California wine makers, and work with the winery owners in Santa Barbara to promote our wines."
The entrance is colorful and dramatic, with palms and neon signs. A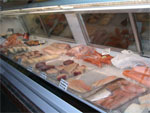 n open patio leads to the actual fish market, where patrons can view the day's selection of fine seafood. The adjoining dining room has an inviting bar where people enjoy
a cocktail while waiting to be seated.
The staff at Bay Café welcome visitors and assist them with menu selections. The wine list is quite large, containing many favorites from Europe and local wineries. Marty Martin, general m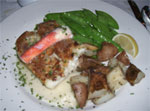 anager is happy to provide guests with pairing suggestions if requested.
Appetizer choices include a wonderful Oyster Felix, the Baja Bay Cocktail containing rock shrimp and jumbo white shrimp served in a Baja style cocktail sauce, and served with avocado, cilantro, celery and sweet red onions. They also serve a wonderful coconut shrimp dish. Don't miss the New England Clam Chowder, which is a signature item at Bay Café. For entree selections you might like to try the Cioppino, a combination of clams, shrimp, fish and mussels in pear tom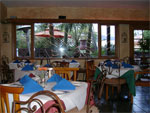 ato sauce with onions and garlic, or the Chef's Catch, which is served with jasmine rice, fresh vegetables or garlic mashed potatoes. The fish selections are endless and all delicious, but there are also great steak options for real meat eaters.
The café has a collection of seafood salads that would please anyone, and a variety of Tacos that are very interesting. If you just want a sandwich, try the Bay Sandwich, which features charbroiled Red Snapper on a ciabatta with all the fixings, or their signature burger is delicious as well.
This is such a wonderful little 'secret garden' location to enjoy lunch or dinner with family and friends, and picking out your favorite fish or catch of the day at the beginning of your dining journey is great fun. For information visit www.sbbaycafe.com.
BAY CAFÉ
131 Anacapa Street
Santa Barbara, CA 93101
805-963-2215

---
PALACE OF THE LOST CITY - SUN CITY RESORT
- JEWEL OF SOUTH AFRICA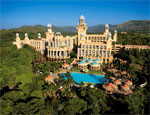 This magnificent palace, so legend tells, was built for a king by an ancient civilization from the north of Africa, who made this idyllic valley their home until it was destroyed by an earthquake. Now restored to its former glory, this unique establishment specializes in extending a royal welcome to the discerning guests who come to call. The Palace offers opulent accommodation, fabulous architecture & decor details, the finest cuisine and incomparable sporting and leisure facilities.
The Palace wants for nothing - it has no equal. Faux elephant tusks, sculptured bronze and crystal, richly woven colors of Africa, mystery-scented air and jungle cascade and fuse into an atmosphere fit for a king. With frescoed ceilings above and ancient tiles below, you are left to stand in awe at the sheer scale of this masterpiece. The craftsmen who fashioned this breathtaking Palace used equal quantities of art and nature in soaring columns and intricate mosaic, capturing wild elegance and savage beauty in bronze and stone, culminating in a life-size sculpture of the mighty elephant Shawu, who takes pride of place in the Shawu Court.
Accommodation
The Palace of the Lost City at Sun City is one of the most enticing travellers' destinations in the world, a tribute to man's imagination and revered for its art and architecture. Fabled to be the royal residence of an ancient king, it is truly one of the 'Worlds Leading Hotels". The Palace lavishes its guests with 5-star service, and is luxurious in every facet of its fabulous architecture and décor.
All suites are breathtakingly opulent. From the distinctive grandeur of the African Suite to the unforgettable King Suite, resplendent in its maple paneling, delicately frescoed ceilings and stunning panorama over the Lost City. Each exquisite suite revels in the magic of this remarkable place. Each of the 338 luxurious rooms and suites offer royal hospitality with wonderful views over water or jungle. Intricately hand-carved furnishings reflect the flora and fauna of Africa and an attention to detail which flourishes under a personal touch.
Surrounding the hotel is a 25 hectare botanical jungle. The jungle is threaded with meandering paths, cascades, lakes and pools and a variety of water-borne adventure rides.
The Palace has 338 rooms inclusive of four deluxe suites.
Standard Room Features & Amenities

Armoires & writing desks

Mini Bar

Computerized safe

Color satellite television with remote control

Radio and wake up facility on TV

Guestlink, pay TV, internet facility

Hair dryers

Telephones are provided in bathrooms, at bedside tables or on each writing desk

Biz-Comm centre - phone, fax, e-mail, copy, print and store messages, on a private number
Air-conditioning units

24-hour Room Service
Dining
Take in a vista and a cocktail by the pool or in the gracious Tusk Bar before you succumb to the culinary splendor on offer in the Crystal Court or Villa del Palazzo where The Palace will satisfy your every desire.
The Crystal Court
Exquisitely prepared international cuisine, the Crystal Court is surrounded by towering floor-to-ceiling windows, providing an excellent view of the tropical jungle and shimmering waters. Breakfast and dinner served, as well as traditional High Tea with classical music.
280 people seated inside and on the terrace (Summer only)
180 people seated inside (Winter)

Villa del Palazzo
Classic regional Italian cuisine is the speciality of this magnificent waterside restaurant, overlooking the spectacular Palace pool. The cuisine emphasis is on subtle elegance with regard to presentation, freshness and taste. Items such as freshly made Mozzarella, Semolina pastas, authentic Parma Ham and delicious Tartuffos, Gelatos and Pastelles are made and served by personally selected chefs and Chef de Ranges. Dinner is served nightly.
Capacity: 180 people

Lost City Crocodile Lounge & Country Club
This informal restaurant serves a light a la carte menu daily from 10h00 - 16h00. This informal restaurant serves a light a la carte menu daily from 11h00 - 15h00.

Tusk Bar & Lounge
To the left of the Atrium is the Tusk Bar with its lounge and terrace which overlooks the Valley of the Ancients and the middle lake. Hand-carved teak tusks soar above this beautifully designed lounge to provide a casual and relaxed atmosphere for drinks. There is live piano music in the evenings. A gourmet buffet lunch is served daily from 12h30 to 14h30 and a light snack menu is available until 18h00.

Palm Court Lounge
Adjacent to the Villa del Palazzo, the Palm Court Lounge is an elegant meeting place and is ideally suited for pre-dinner and after-dinner drinks.
---
BELLAGIO, PICASSO AND LE CIRQUE RECEIVE
2008 AAA FIVE DIAMOND AWARD

Bellagio Continues to Shine as Only Hotel in the Country
Featuring Two Five Diamond Restaurants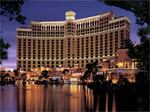 For the seventh consecutive year, Bellagio received AAA's prestigious Five Diamond Award as did Julian Serrano's renowned restaurant, Picasso. Additionally, Le Cirque received the distinction for the fifth consecutive year, making Bellagio once again the only hotel in the United States to be home to two AAA Five Diamond restaurants.
"The AAA Five Diamond Award acknowledges our commitment to excellence," said Randy Morton, president and COO of Bellagio. "The honor is an important recognition for Bellagio and to our customers as AAA is a trusted source of quality."
Picasso and Le Cirque are among only four restaurants in Las Vegas to earn this coveted award. "Many of the world's finest restaurants are located in Las Vegas," Morton said. "It is an incredible honor for our restaurants to be recognized among such a stellar group."
Julian Serrano, executive chef at Picasso, said, "To receive this prestigious award for seven consecutive years reaffirms to our team that we are successful in creating an exceptional dining experience."
The regions of France and Spain where Picasso spent much of his life inspire Chef Serrano's exceptional Mediterranean cuisine. Picasso masterpieces, as well as a collection of his charming ceramic pieces, further delight the senses of diners enjoying the Picasso experience.
Created by Sirio Maccioni, known as the world's most charismatic restaurateur, Le Cirque invites guests to indulge and relish world-class wines, haute cuisine and luxurious service in an intimate setting. Le Cirque's opulent dining room is complemented by a breathtaking panoramic view of Bellagio's lake.
Mario Maccioni said, "At Le Cirque, our goal is to provide a memorable experience for every guest who comes through our doors. We are thrilled to receive this award once again."

AAA Nevada spokesperson Michael Geeser said, "A Five Diamond award is the pinnacle of service and hospitality in the hotel and restaurant industry. The fact that Bellagio has two Five Diamond restaurants under one roof speaks volumes about the luxury offered at one of the most opulent properties in Las Vegas."
AAA rates nearly 60,000 restaurants and lodgings each year throughout all 50 states, Canada, Mexico and the Caribbean, providing the broadest coverage of any U.S. rating system, both geographically and by number of properties rated. Of those, only 100 resorts and 60 restaurants earned the highly coveted AAA Five Diamond rating for 2008.
To be considered for AAA rating and approval, restaurants and lodgings undergo a thorough evaluation by full-time, professional evaluators. Five Diamond establishments go through a much more extensive review. The entire experience, from arrival through departure, is taken into account. AAA experts judge lodgings on the exterior of the facility, public areas, guest rooms, amenities and bathrooms. Restaurants are evaluated on criteria including food, service, décor and ambiance.
---
New Greek tourism minister tables ambitious agenda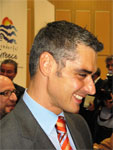 He is youthful, suave and presents an ambitious agenda for his constituency. A feisty yet slight character, his eyes rather glare than look and while some are curious about his plans, others simply wonder if he will be able to push his agenda through. While this description may well sketch the fiery French President Nicolas Sarkozy, here I speak of the recently appointed and ambitious Greek Tourism Minister Aris Spiliotopoulos, who has put forward his transformative agenda of this country's tourism sector last week in opening the Philoxenia International Tourism Fair in the country's northern city of Thessaloniki.
Spiliotopoulos, who was appointed tourism minister less than two months ago, has obviously had a plan in his back-pocket for some time. Here he pulled it out presenting a notion of what his national tourism policy will look like in the course of his term in office.
"My plans can only fly if society embraces our efforts," said a determined Spiliotopoulos, "The notion that the Greeks are the waiters of Europe is obsolete. We need to promote the current image of a modern Greece."

---
el dorado MAKES A SPLASH WITH ITS NEWEST INNOVATION:
INFINITY POOL CASITA SUITES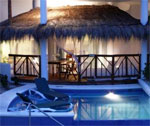 El Dorado Spa Resorts & Hotels by Karisma goes where no suite has gone before: to infinity and beyond. An innovative new category in the vacation market, the Infinity Pool Casita Suites are the first of their kind in the Gourmet-Inclusive industry. The grand opening of these suites signifies the launch of El Dorado Casitas Royale, the new hotel-within-a-hotel at El Dorado Royale, A Spa Resort, a AAA Four Diamond property.
Offering privacy and luxury, El Dorado Casitas Royale's Infinity Pool Casita Suites all feature exquisitely designed floor plans which are sold in two categories. The Infinity Pool Swim-Up Casita Suites are ocean level, where guests can step into a private pool that connects to a winding river and swim-up bars. The second-story Infinity Pool Casita Suites offer unobstructed ocean views and private pools that seemingly extend to the horizon. Both categories of Infinity Pool Casita Suites offer ample lounging space and romantic king-size four-poster beds, oversized luxurious bathrooms with an outdoor Aguas del Amor open-air shower, tanning deck with beach beds, in-suite Jacuzzi for two, as well as satellite TV, DVD player and library, complimentary mini-bar stocked daily with premium liquor and other beverages and snacks, coffee/tea maker and upgraded amenities kit. Infinity Pool Casita Suites range from $440 - $520 per person, per night.

Renowned for its creative approach to Gourmet-Inclusive luxury, Karisma offers interactive dining at the hotel's 10 restaurants; moonlight swimming in 11 pools; innovative cocktails at 13 bars as well as a full-service spa. The on-call Casita Concierge team caters to guests' every whim: from rose-petal baths at dusk to chocolate fondue at midnight to sunrise breakfasts on the private terrace. Infinity guests are treated to aromatherapy, a pillow menu, a bottle of champagne upon arrival, access to the Casitas private lounge and exclusive beach butler service.

"José Luis Martinez [owner of El Dorado Spa Resorts] continues to stay ahead of the curve," said Lubo Krstajic, executive vice president of sales and marketing for Karisma Hotels. "From the introduction of our now renowned swim-up suites back in 2003 to the recent launch of our Infinity Pool Casitas, José has taken us to new levels with his constant innovations and redevelopments of new and existing products."
A popular destination-wedding spot, El Dorado Casitas Royale offers gorgeous sites and accommodations for newlyweds and attending guests. Couples can exchange vows at the quaint, on-site beachside chapel or under an open-air, palapa-roof gazebo and honeymoon in one of four Presidential one-bedroom Casita Suites. To celebrate its opening, El Dorado Casitas Royale is offering a special promotion for all weddings booked by Feb. 1, 2008. Couples who get married at EDCR between Aug. 15 and Dec. 28, 2008 will receive a complimentary return stay to celebrate their one-year anniversary. Also included is a $900 gift certificate to be used at the property's spa, a complimentary room upgrade and two additional rooms of the couple's choice.
---
2008 SPECIAL OLYMPICS WINTER GAMES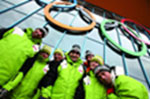 "Let me win. But if I cannot win, let me be brave in the attempt." This is the motto of the Special Olympics, where people with disabilities have been competing in sports activities since 1968. From January 17 to 22, about 1,200 athletes will descend on Innsbruck, Mutters, and Rinn for the 3rd Austrian Special Olympics Winter Games. More than two thousand participants from 18 countries will prove the accuracy of the slogan: "It's the taking part that counts."

---
Singles Travel International Announces
Luxury Cruises for '08
Luxury cruises that singles of all ages will enjoy.
Singles Travel International (www.singlestravelintl.com) proudly announces their 2008 luxury cruise calendar, offering an incredible variety of travel adventures for single adults who love to travel and explore. This year's schedule includes a transatlantic cruise on the prestigious Queen Mary 2, and trips to the Caribbean, Alaska, Norwegian Fjords on Cunard's elegant new Queen Victoria, Greece, Mexico, Egypt, Turkey and more. Singles Travel International will also include special age-related cruises for 30s – 40s and 50+, and include weekend getaway cruises to Cozumel and Baja. In addition, Singles Travel International will conduct its second annual Real Estate Investors Cruise, this year featuring John Dessauer, a self-made millionaire, and David Dweck, president of South Florida's #1 real estate investment club for a line-up of seminars that will help you achieve financial freedom
2008 Cruise Schedule:
Double Holiday Cruise on the Queen Mary 2 (December 20, '07-January 3,'08) Starting at $1,999*. Cruise the holidays like a star aboard the grandest vessel afloat, visiting ports of Tortola, St. Maarten, Curacao, Grenada, Barbados, Dominica, St. Kitts and St. Thomas.

New Years Eve Caribbean Cruise on the Royal Caribbean's NEW Liberty of the Seas (December 29, '07-January 5, '08) Starting at $1,849*. Set sail from Miami, and visit RCCL's private island in Labadee, Haiti; Montego Bay, Jamaica; Grand Cayman and Cozumel, Mexico.

Eastern Caribbean Cruise for those 50+ Singles on Mariner of the Seas (January 6-13) Starting at $839.00*. 7-night Eastern Caribbean cruise visiting San Juan, St. Maarten, St. Thomas.

Cozumel Weekend Getaway Cruise for Singles in their 30s - 40s aboard the Navigator of the Seas (January 24-28) Starting at $419 including all taxes. Enjoy this 4-night, 5-day long weekend aboard the luxurious Navigator of the Seas departing from Fort Lauderdale, FL.

Baja Weekend Getaway Cruise for 30s – 40s Singles aboard Royal Caribbean's Monarch of the Seas (February 29-March 3) Starting at $319 including all taxes. Set sail from L.A. aboard the Royal Caribbean's Monarch of the Seas to Ensenada, Mexico.

Western Caribbean Cruise aboard Royal Caribbean's Jewel (March 2-8) Starting at $639*. Set sail from Fort Lauderdale aboard the Royal Caribbean's Jewel sailing to Key West, Cozumel, Costa Maya, and Belize City.

Real Estate Investor's Cruise aboard Royal Caribbean's Majesty of the Seas (May 2-5) Starting at $349 including all taxes, with a FREE UPGRADE to an ocean-view cabin for the first 10 bookings! Set sail from Miami and visit RCCL's private island of Coco Cay and Nassau, Bahamas. Join John Dessauer, a self made millionaire, and David Dweck, president of South Florida's #1 real estate investment club for a line-up of seminars that will help you achieve financial freedom.

Bermuda Cruise aboard Royal Caribbean's Explorer of the Seas (May 17-22) Starting at $779*. Enjoy 5-nights aboard this luxury liner departing from New Jersey, sailing to King's Wharf, Bermuda.

Norwegian Fjords Cruise aboard the NEW Queen Victoria (May 20-27) Starting at $1,699*. Take your place in history and be among the first to experience the unveiling of this Classic Cunarder on her Maiden Cruise Season in 2008. Visit Bergen, Hellesylt, Geiranger, Aalesund and Stavenger, Norway.

Alaska Cruise aboard the Serenade of the Seas (June 7-14) Starting at $1,049*. Cruise the inside passage to Icy Straight Point. Visit Juneau, Skagway, Hubbard Glacier during this 7-day luxury cruise.

Dance Cruise-Transatlantic Crossing aboard the Queen Mary 2 (July 8-15) Starting at $1,699*. Think of your experience as a 7-day stay at a luxury spa resort without interruptions. Included are dance lessons every day along with nightly dancing to a full orchestra in the largest ballroom at sea.

Splendors of Autumn Cruise aboard the Queen Mary 2 (September 27-October 4) Starting at $1,799* with an optional 2-night VALUE PACKAGE stay in New York City! This 7-night cruise of fall colors will feature Newport, Boston, Nova Scotia, New Brunswick, and Portland.

Greek Island Cruise aboard Royal Caribbean's Splendour of the Seas (October 11-18) Starting at $939*. Cruise from Venice, Italy to the exotic Greek ports of Santorini and Corfu, Kusadasi, Turkey and Dubrovnik, Croatia.

Halloween Cruise on the Queen Mary 2 (October 28-November 1) Starting at $799*. Join us on this luxurious Halloween cruise from New York and back with a featured stop at Princess Cay.

Queen Mary 2 Caribbean Adventure for singles 50 years young and up (November 1-9) Starting at $1,299*. Optional Value packages available. This magnificent 8-night cruise experience has been customized for singles 50+ who enjoy great music, beautiful beaches and a youthful experience.

Ancient Wonders of the Mediterranean Cruise aboard the NEW Queen Victoria (November 5-17) Starting at $2,399*, Optional Value Packages available. Enjoy this 12- night cruise as one of the first guests ever to embark aboard the new Queen Victoria. Take in the beauty from both inside this magnificent liner and out as you're taken through the wonders of the Mediterranean in the epitome of luxury.
*Rates are per person based on double occupancy and are subject to availability at time of booking. Government taxes and fuel surcharge (on departures after February 1, 2008) are additional.
About Singles Travel International
With over 25 years experience in travel consulting and a 75% repeat clientele, Singles Travel International leads the singles travel profession with worry-free travel that meets the unique needs of our discerning solo travelers. Every group with 20 or more guests is accompanied by at least one Singles Travel International escort who is available 24 hours a day to provide assistance and create a fun filled environment. Although a Singles Travel International trip is a terrific way to meet people and is not to be confused for a dating service. Singles Travel International offers age-specific excursions so you can share your incredible experience with others just like you. Travelers can be as involved as they'd like in the multiple tour activities organized daily by the STI staff, spending time with the group or relaxing and exploring on your own. Singles Travel International guarantees solo travelers a roommate when requested, provided the traveler signs up and pays in full by the final payment date for each program.
Singles Travel International contact: Tammy Weiler, (877) SOLO-TRIP, (877) 765-6874 or www.singlestravelintl.com.
---
HOTEL SAN REGIS GETS HIGH POINTS FROM ANDREW HARPER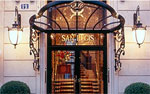 The elegant and sophisticated San Regis Hotel in Paris was listed among the top International City Hotels by "Andrew Harper's Hideway Report". The historic property was ranked number four in Paris, just aabove the Ritz and just behing the Four Seasons George V.

The privately owned hotel has 44 rooms and suites and is affiliated to Small Luxury Hotels of the World. For information please
visit: www.hotel-sanregis.fr
---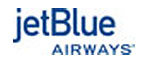 Super Sweet Savings: JetBlue Airways Launches Four Day Sale for January and February Travel
Nonstop Travel From the Northeast to Florida as Low as $69 (a)
JetBlue Airways Corporation(Nasdaq:JBLU) today launches a special four-day sale, offering customers super sweet savings on travel taking place in January or February. Low fares are available on flights to most JetBlue destinations. Flights must be booked online at www.jetblue.com by November 15, 2007.
---
SPEND THE HOLIDAYS IN BARCELONA,
SPAIN FOR ONLY $190 PER NIGHT
Luxe for Less Available at Casanova Hotel During Christmas and New Years
The urban chic, reborn Casanova Hotel in Barcelona, Spain, just blocks from Las Ramblas, is offering a $190 per night rate from now through March 31, 2008 that includes Christmas and New Years. This rate is guaranteed in U.S. dollars. With a savings of up to 30%, this holiday deal includes a double room with White Company of London amenities; buffet breakfast; the signature Casanova cocktail; complimentary WiFi; and late check-out. Taxes and service charge are addition. The rate is subject to availability.
For more information and reservations, please call 1-866-849-6396 or
contact casanova@rafaelhoteles.com.
Named after the 18th century seducer, the 124-room Casanova, a member of Small Luxury Hotels of the Hotels, made its return this month with a new hip elegant décor, restaurant and spa. Guests dreaming of a "white Barcelona" will enjoy the city's holiday celebrations, museums, shopping areas and major Gaudi architecture, all within walking distance from the Casanova Hotel. One of Europe's famous Christmas Market, located in Barcelona's Gothic Quarter, is the Santa Lucia market where handicrafts, gifts and the traditional Spanish candy, 'Turron' is on sale.
The reborn Casanova Hotel, like its namesake, exudes charisma, style and sex appeal. Whimsical lighting and sculptural chairs accentuate the lobby while retro-inspired furnishings and plasma televisions decorate the guestrooms. Mexiterranean cuisine is served at Mexiterranée restaurant inside Casanova, fusing Mexican, Catalan and Mediterranean ingredients. The garden spa features a tranquil courtyard with an outdoor couple's cabana and four indoor treatment rooms. Flowers from the garden are used for signature treatments. www.casanovabcnhotel.com

---
British Airways Issues Holiday Travel Tips Guide


British Airways is providing US consumers with a travel survival guide to help them cope with the busy holiday season.

BA, recently voted as one of the top airlines by travelers according to a survey done by TripAdvisor, offers tips on traveling with gifts, staying healthy and getting the most from last minute bookings.

With flights filling up quickly early indications reveal Paris and Cairo to be among the most popular destinations with people traveling from the US this year.

Protecting your gifts
The holiday season marks the time for families and friends to reunite and exchange gifts so passengers are often more nervous about checking luggage. There are some easy steps to combat potential issues:

Don't wrap presents before you fly; in the event of having to open your case at customs you will be asked to unwrap the gifts for security. Save yourself the extra work


Avoid edibles – many countries have restrictions on importing food so the best bet is to avoid it altogether


Consider purchasing gifts at the airport – duty free is a great money-saver. New York's JFK Terminal 7 has a selection of new stores such as Crabtree and Evelyn, Brookstone, Tumi and Hermes, perfect for last minute holiday presents


Make sure you include your contact details inside as well as outside your suitcase

Travel Smart
Be smart about your travel arrangements:

Always leave plenty of time to get to the airport to account for heavy traffic and bad weather; consider taking a train to the airport if you live in a major city


Expedia recommends traveling as early in the day as possible to minimize the chance of delay. If you can be flexible consider leaving your return journey until January 6th or 7th when the airports will be less busy


Flights to Europe are often very affordable during the holidays. With roundtrip flights to London BA is offering its 'London for Free' package with two free nights in a central London hotel for travel through December 18th
Well-being in the air
With the onset of flu season and with crowded airports the prospect of traveling can be daunting. However, there are some easy adjustments travelers can make to stay healthy:

Boost your immune system with vitamins leading up to your journey


Consider your in-flight diet – have a light meal before you fly to avoid bloating. The BA in-flight menu recommends well-being balanced options according to how the sensitivity of the palate and body changes at altitude. Experts recommend protein in the morning for alertness and carbohydrates in the evening to promote sleep


Sitting in one place for a long period of time can make you feel tired and stiff. A few simple exercises on board can help minimize these problems. BA has teamed up with The Body Control Pilates Group to produce an exclusive program of pilates exercises designed to be carried out in the seat area. These are featured in the airline's in-flight magazine, High Life and on the on-board Well Being video


Plan for your time zone changes as soon as you board – for most travelers, the symptoms of jet lag are worse when traveling eastward. The body takes time to adjust to new time zones so if you are away from home for two days or less, think about staying on home time. For longer visits adopt local time as soon as you can


Working in conjunction with the UK's leading sleep expert, Dr. Chris Idzikowski, BA has developed a jet lag calculator. By answering a few simple questions on recent or planned flights, BA can advise you on the best way to minimize your jet lag. Visit www.ba.com/travel/health
---
'Fiji for Free' and much more
Book by Jan 15th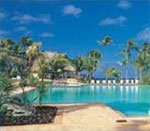 Australian Pacific Touring (APT) is celebrating over 80 years of sharing their passion for the lands "Downunder" with a FREE Fiji early booking offer on their Fully Escorted vacations.

Imagine, three days and two nights at one of Fiji's fabulous five-star resorts, Outrigger on the Lagoon on Fiji's Coral Coast. This perfect stopover on the way to Australia and New Zealand is available for free on APT's "Royal Escorted" vacations departing May 8, June 9 and September 22. This early booking offer is valid through January 15th 2008. Space is limited and subject to a first come basis and results in savings of $850 per couple. Prices are from $8,325 including international air from the US with all accommodation, superb meals and sightseeing.

From May 2008 APT's Fully Escorted vacations will have no more than 30 travelers and some inclusions in the new season's itinerary includes 'Breakfast with the Koalas", a close encounter with Australia's cutest residents, "Red Centre Dreaming", an authentic Aboriginal performance featuring dancing, didgeridoo playing and cultural history, a three night stay at the stunning Shangri-La in the heart of Sydney and two nights on tropical Dunk Island surrounded by beach and rainforest. In New Zealand, guests can choose to do a country home stay with a local family in Rotorua, explore the panoramic beauty of Mount Cook during a stay at the famous Hermitage Hotel, step aboard the TranzAlpine Train for an award-winning journey across the Southern Alps and discover the magic of Milford Sound while cruising in the Fiordland National Park.

---
MATING SEASON IN MONTEREY COUNTY
"FAN THE FLAMES" THIS FEBRUARY WITH A SEDUCTIVE LINE-UP OF HOTEL PACKAGES, APHRODIASIAC MENUS & OFFBEAT ADVENTURES SET TO SPARK THE HEART

-New Month-Long Getaway Taps into Nature at its Naked Best–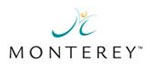 It's a potent cocktail: 99 miles of stunning Pacific surf, the whiff of crisp Monterey Pine, top notch toques and enough world-class wine to keep the county of Bhutan buzzed. This February 1-29, 2008, things heat up even more as Monterey County salutes love, life and lust with a month-long romance promotion – "FAN THE FLAMES IN MONTEREY."
Spark the heart, renew vows or lure a loved one to this enchanted winter paradise by customizing a romantic getaway via Monterey County Convention & Visitors Bureau's new line-up of hotel packages, prix-fixe aphrodisiac menus and seductive adventures. From sunset kayak tours to Lover's Point to a Big Sur marriage purification hike or rose-strewn beachfront bonfire delivered by a personal love valet, the options for fanning the flames are endless. Reservations: www.montereyinfo.org.
LOVE NEST
Monterey's lure as a romantic haunt is well documented, from the days of Henry Miller's love nest in Big Sur to poet Robinson Jeffers hand-built Tor House he fashioned for his bride in Carmel. This season, put romance on the front burner and point cupid's arrow at 30+ FAN THE FLAMES hotel packages ranging from $100/dbl. to $50,000/dbl. at Carmel Valley's award-winning Bernardus Lodge.
The inventive line-up of hotel packages includes making waves aboard the "Love Boat" – a private 32' Celestial sailboat docked steps from historic Fisherman's Wharf ($100/dbl.); "Quail Love Nest" complete with a pimped-out room of rose petals, candles, champagne, aphrodisiac dinner for two and dual massages at Quail Lodge ($555/dbl.) or the outback "Roaring Romance Package" where visitors bed down in a traditional safari tent and awake to a "love fest" breakfast delivered by an African Elephant ($455/dbl. Vision Quest). Deep pockets can opt for Bernardus Lodge's $50,000 five-day "Romantic Escape to Carmel Valley" complete with unlimited spa treatments, 10-course "Best Wines of the Century" repast at award-winning Marinus, private winery tours and shopping excursion at Carmel Plaza.
In Carmel, lover's can indulge in the "Love Soars Package" at L'Auberge Carmel, including two night's lodging, chauffeured tour of 17-Mile Drive, sunset airplane tour of the coast, beach bonfire and winemaker dinner at critically acclaimed Restaurant L'Auberge Carmel ($3,500/dbl.). Nearby, Carmel Lodge's "Romantic Interlude" features a tricked-out guestroom complete with champagne, chocolates, candles and balloons ($279/dbl.) Ventana Inn & Spa sparks things up with the "Big Sur Love Package" including two nights lodging, seasonal prix-fixe menu at Cielo restaurant, dual spa treatments and a yoga session ($850/dbl.).
Downtown Monterey is a great haunt for visitors interested in weaving culture and history into a tapestry of memories. The historic Monterey Hotel, with its classic façade (1904) on Alvarado Street offers "A Taste of Romance" including a suite with fireplace, chocolate soufflé massage cream, handmade truffles, Moet White Star champagne and a romantic-room motif ($339/dbl.). Nearby, the newly-renovated Casa Munras Hotel adds a liquid love potient with the "Wine Lover's Package" complete with a deluxe room, Wine Trolley Tour, champagne, chocolates and gift basket to go ($300/dbl.).
APHRODITE SAYS PEEL ME A GRAPE
The agents of sexual desire, aphrodisiacs have long played a role in romantic interludes. From oysters to artichokes, these amorous edibles have been known to stimulate both palate and libido. This February, 2008 visitors can put the myth to the test at 15 area restaurants offering prix fixe Aphrodisiac Menus. From naked shrimp fondue at Lugano Swiss Bistro to oysters Kama Sutra or sugar-coated bananas and figs sautéed in brandy, the options for turning up the heat abound.
The award-winning Sardine Factory's four-course menu is a test tour of the Greek goddess' favorites, featuring abalone bisque, "Passionate Pomegranate" sorbet served in an ice swan, a duo of filet mignon and prawns with "wild love" mushrooms and chocolate cake with truffle cream ($99.90/couple).
Big Sur River Inn sets the seduction with its five-course fantasy menu kicking off with Oysters Kama Sutra, "Passionate Prawns" with ginger cream and a chocolate raspberry cake with chocolate sauce ($85/couple). In Carmel, Lugano Swiss Bistro ups the ante with Zeus' chilled artichoke, Neptune's fondue with naked shrimp and sirloin of beef and a chocolate fondue with bananas and strawberries. Kirk's Chop House piques palates with Tahitian martinis, magic mushrooms, Kobe rib steak and bananas fosters ($199.99/couple). In Monterey, Montrio lights a fire with its four-course menu showcasing regional fire roasted artichokes, a seafood platter of oysters, shrimp and crab, "Surf & Turf" and dark chocolate molten cake ($118/couple). Nearby, Jack's restaurants features oyster shooters with Osetra caviar, passion and dragon fruit granite, seared day boat scallops or rack of lamb and a warm chocolate ganache ($150/couple).
NATURE AT ITS NAKED BEST
Make like the whales or migrating Monarchs and indulge in the area's pristine setting with nearly 20 attractions pert and ready to roll this February. From movie tours with a romantic twist to sunset kayak tours and stints on the sea, the options for couples chasing cupid are endless.

In the offbeat file, Carmel Dog Weddings favors Fido with a classic dog wedding officiated by the Mayor of Carmel, toys, treats, florals and tux/gown included ($350/couple). Tapping into the Esalen and Salinan Indians, Big Sur Guides offers a marriage purification ceremony hike deep in the redwood forest at the largest waterfall on the coast ($200/couple). Couples can watch the sun sizzle into the Pacific with a private kayak tour to Lover's Point and Monterey Bay Marine Sanctuary via Adventures by the Sea ($140/couple). The "Sexy, Sandy, Sunset Surprise" package ensures a successful proposal with a personal love valet on hand to create a beachfront bonfire complete with fresh roses, champagne and a gourmet sunset picnic on Carmel Beach ($785/couple).
Above Cannery Row, the Culinary Center of Monterey kicks things up a notch with a fun, couples course creating a delectable picnic basket to take on a romantic evening romp ($250/couple). Other options include tandem spa treatments, sunset dinner cruises, wine tours and tour and tasting at Monterey Bay Chocolate Factory, complete with a box of truffles to go ($40/couple).

VISITOR INFO.
Monterey County is located 120 miles/192 km south of San Francisco and 345 miles/552 km north of Los Angeles along the classic California corridor. The region boasts 99 miles of prime Pacific Coastline, the Monterey Bay National Marine Sanctuary, three historic missions, 40,000 acres of premium vineyards, 25 golf courses and nearly 200 lodging properties. Monterey County includes the Monterey Peninsula, Big Sur, North County and the Salinas Valley. The Monterey Peninsula Airport (MRY), just three miles from historic downtown Monterey and minutes from the area's major attractions, is served by non-stop flights to and from Denver (DIA), Salt Lake City (SLC), Las Vegas (LAS), Phoenix (PHX), Los Angeles (LAX and ONT), San Diego (SAN) and San Francisco (SFO). www.montereyinfo.org.
---