TRAVEL ADVENTURES   . . .
  COASTING with BONNIE CARROLL
SEDUCTIVE BITES TO SAMPLE IN SANTA BARBARA
The Little Door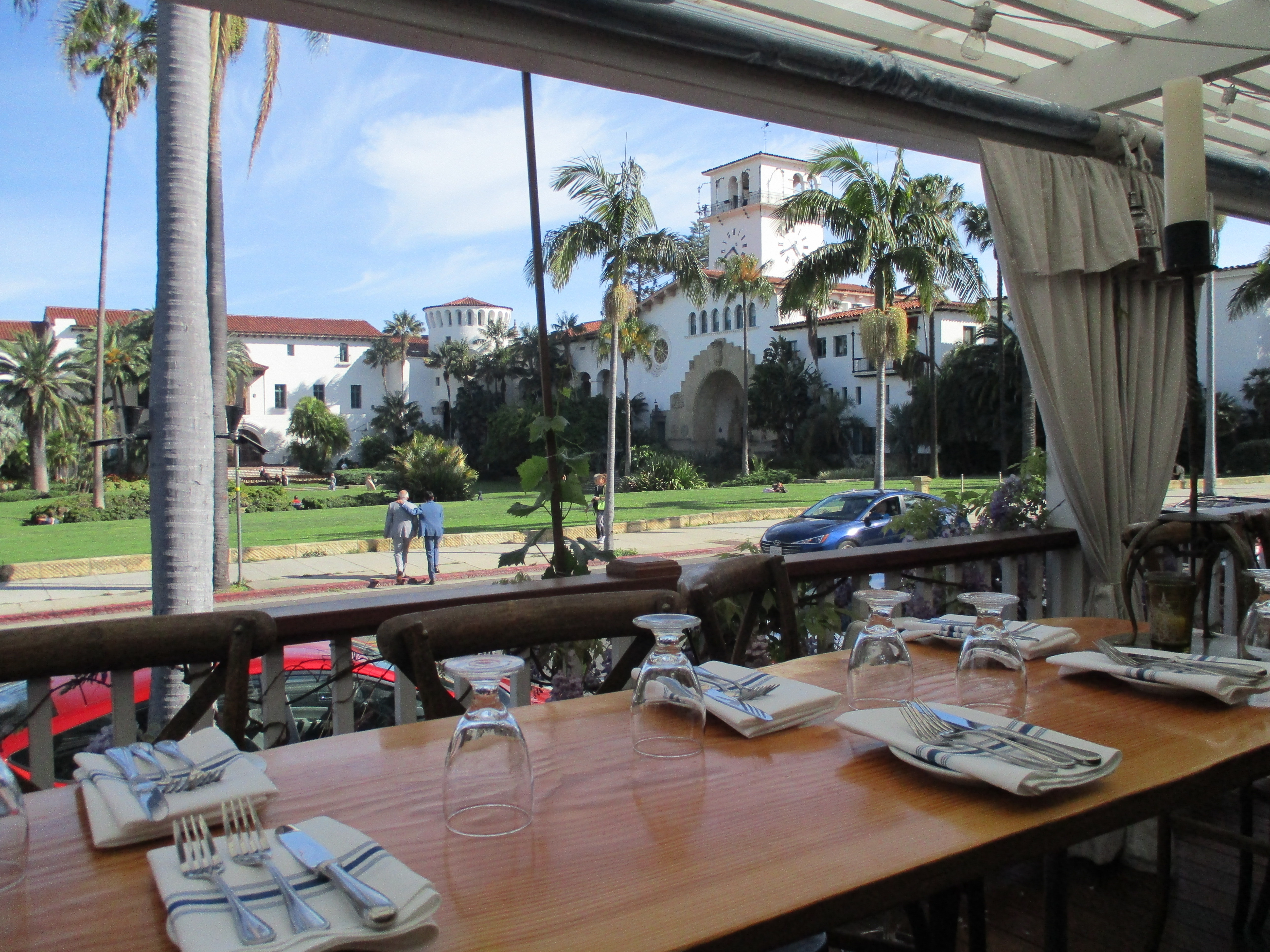 The Little Door, located across the street from the Santa Barbara Courthouse Sunken Garden is so alive and fun that I forgot I was in downtown Santa Barbara. The place is owned by a Frenchman from Burgundy and a his beautiful wife from Turkey. Executive Chef Oscar Ledesma makes magical dishes. You enter into the diningroom where a raised dining area overlooks a lively bar and patio. The pation has large group tables offeing views into the bar or out to the beautiful sunken garden.
I visited on a Sunday night when they were having a flatbread popup dinner that was amazing. My flatbread pizza was outstanding and perfectly baked, I enjoyed a French rose' wine spritzer with my dinner along with a bowl of delicious sea salt olives. While savoring my dinner I loved listening to a great blues group performing off to the right of the bar, and watching the response of people at the bar who were enjoying the entertainment.
The whole experience was like being in a club in Paris or New Orleans and I look forward to going back soon. Reservations are a must. The Little Door, 414 Anapamu street, Santa Barbara, 805-560-8007. www.thelittledoor.com.
Les Marchands in the Funk Zone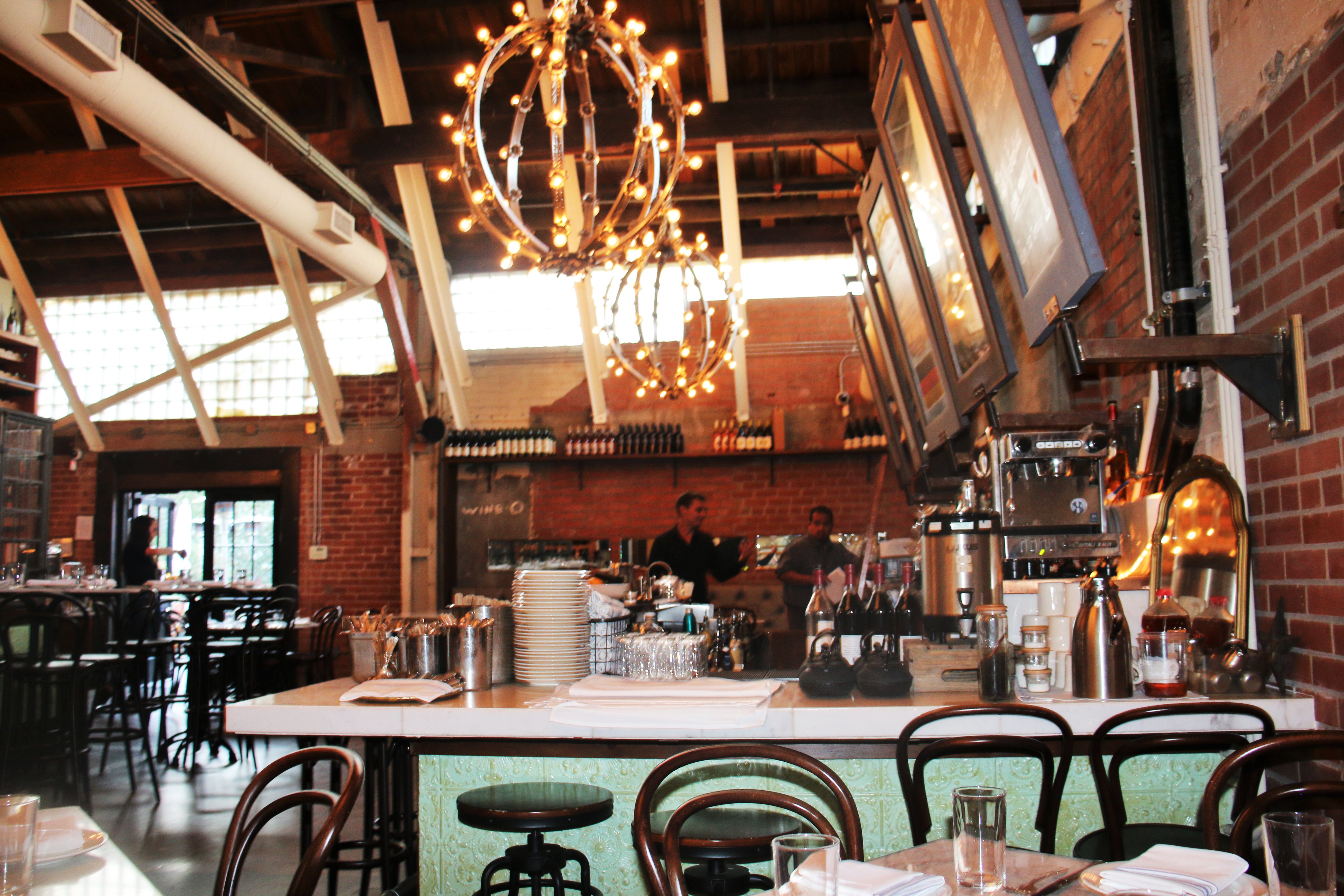 The French inspired wine shop has wall covered with great wine, excentric looking light fixtures and cozy little corners to enjoy a private and delicious European inspired dinner paired with just the right wines. Chef Weston Richards, is a master who has a flair for creating international menus to enjoy with country appropriate wines in a fun, but intimate atmosphere. I am a big fan of this chef, and have tasted many of the dishes on his menu. They also have a charming outdoor patio for warm summer night dining. Reservations recommended.
The wine list is extensive and very impressive, with wines from around the world and many favorites from the Santa Barbara and Santa Ynes area. Shop for wines to take home from hanging shelves throughout the venue. Les Marchands, 131 Anacape Street, 805-284-0380. Visit: www.lesmerchands.com.
Via Maestra 42 off Loreto Plaza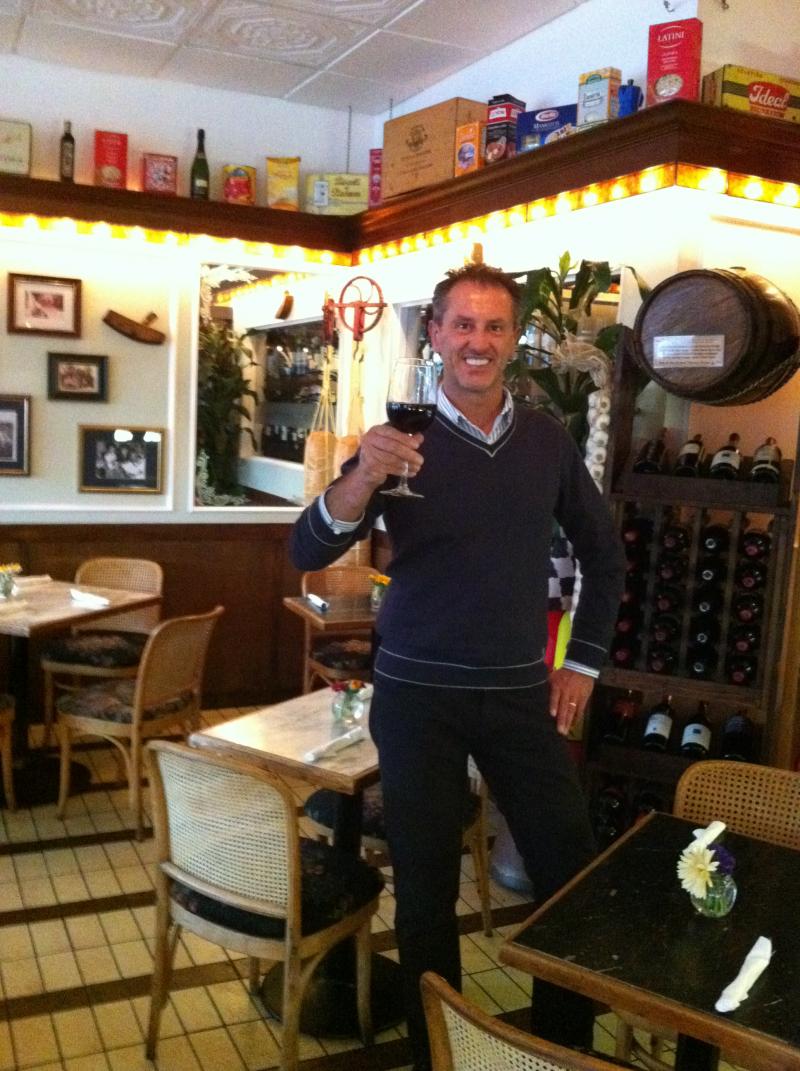 Renato Moisa, owner of Via Maestra 42, has been delighting guests in the truly authentic Italian Restaurant with a small patio for twenty years, and people keep coming back for the authentic dishes from his home town and the friendly staff. He carries a variety of fine Italian wines and makes his own delicious gelato and canoles for dessert.
The home-made style soups here are so outstanding that when combined with one of their Italian salads you have a complete dinner to pair with your favorite wine. There are no reservations at this venue. They also offer fine Italian regional wines.
From Italian menu favorites of steak, fish, pasta, and more it is all va bene at Via Maestra 42. 3343 State Street – 805-569-6522Visit: www.viamaestra42.com.
______________________________________________
FOUR SEASONS BILTMORE DOM PERIGNON
BY THE GLASS/BY THE SHELL

by Bonnie Carroll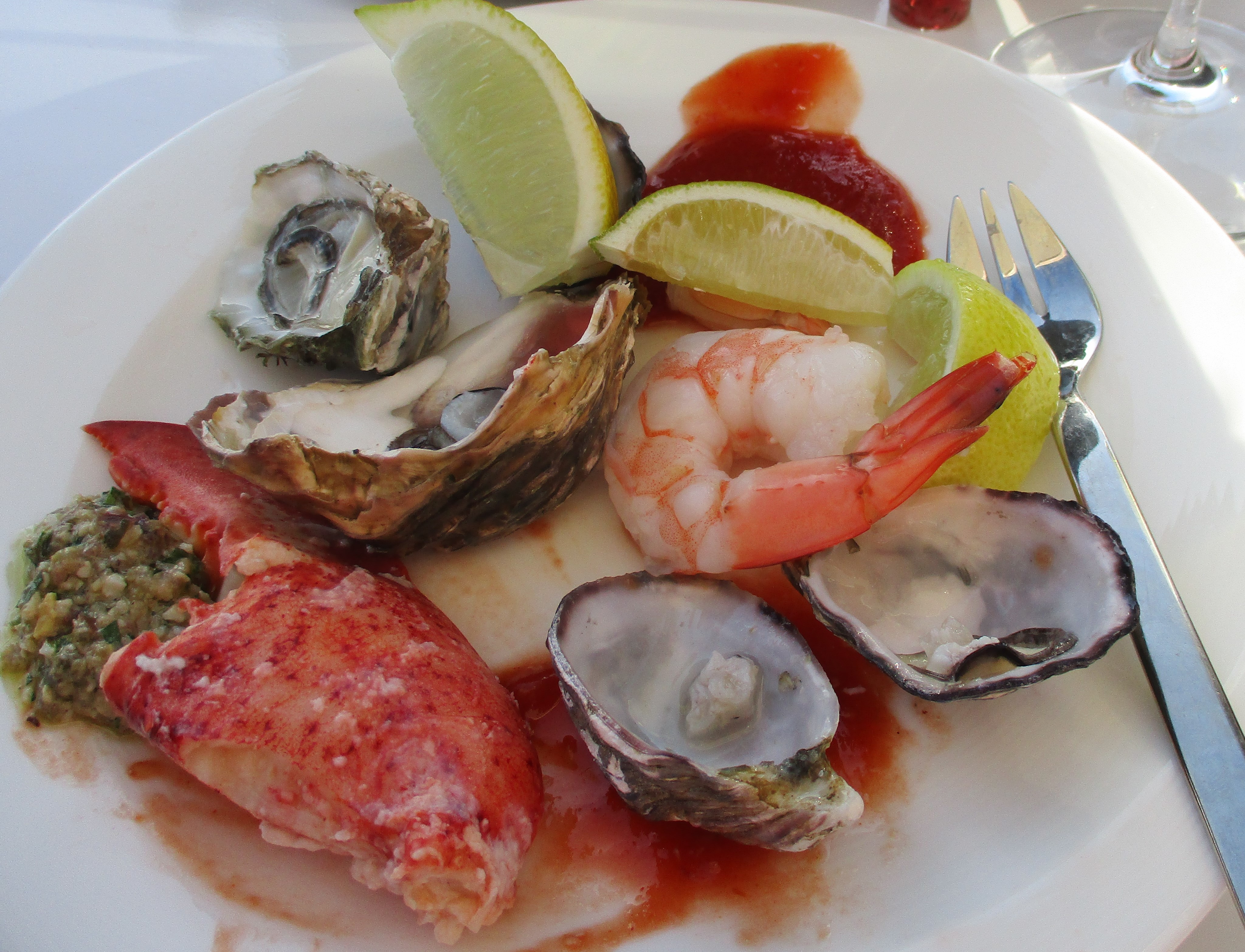 The sunset kick-off party for the Dom Perignon by the glass/by the shell was held on the Patio of the Coral Casino at Four Seasons Resort The Biltmore Santa Barbara to promote their special Dom Perignon with oysters offering this summer. This exciting new experiential dining program features Dom Pérignon Vintage by the glass, paired with tableside-shucked oysters and an array of specially crafted & paired mignonette sauces.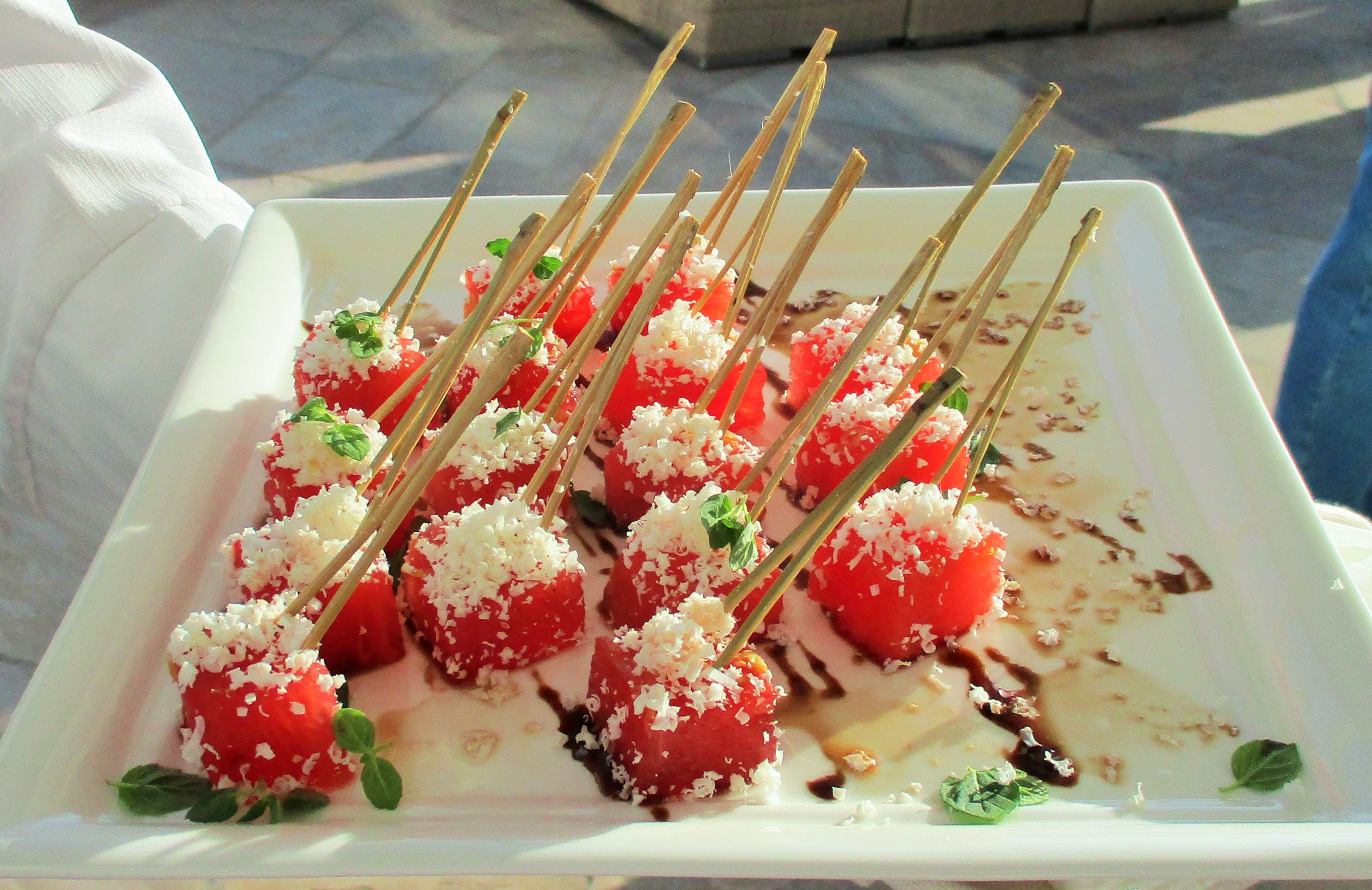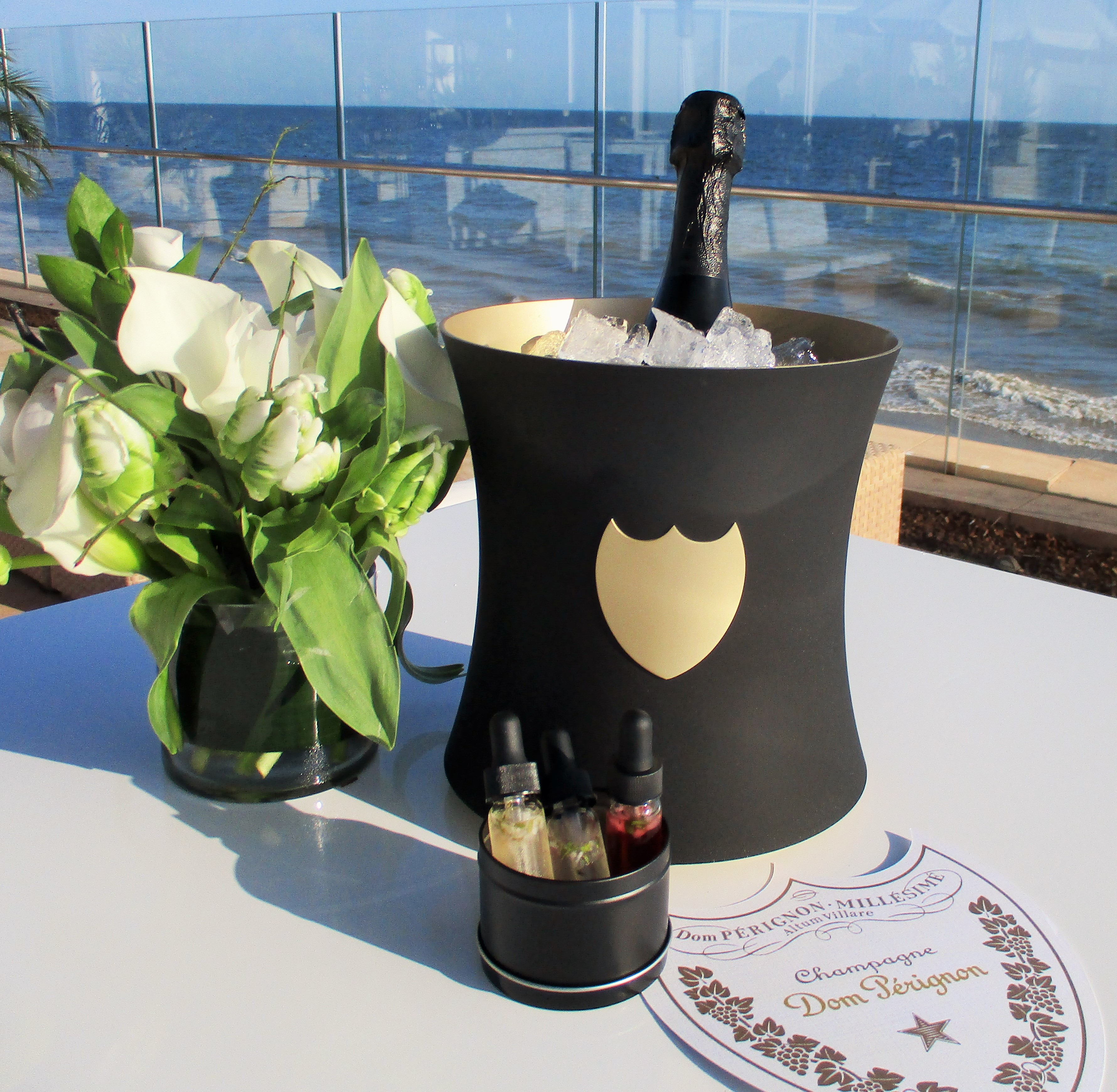 In attendance were Julia Fitzroy, Business Development Director for Dom Perignon Champagne and Diego Meraviglia, US Brand Ambassador for Dom Perignon, along with guests Michal W. Weisbrock, Executive Director Arthritis Foundation Santa Barbara with Jeff Baldwin, a bevy of Four Seasons Biltmore executives and a crowd of local food and beverage enthusiasts. Executive Chef Marco Fossati was answering questions from guests on the beautiful El Cardon Pacific, Kusshi and Kumai Oysters on the menu, as well as the delicious mignonette sauces prepared to pair with them. The seafood buffet was overflowing with lobster, shrimp, clams and oysters with a collection of delicious accompanying sauces.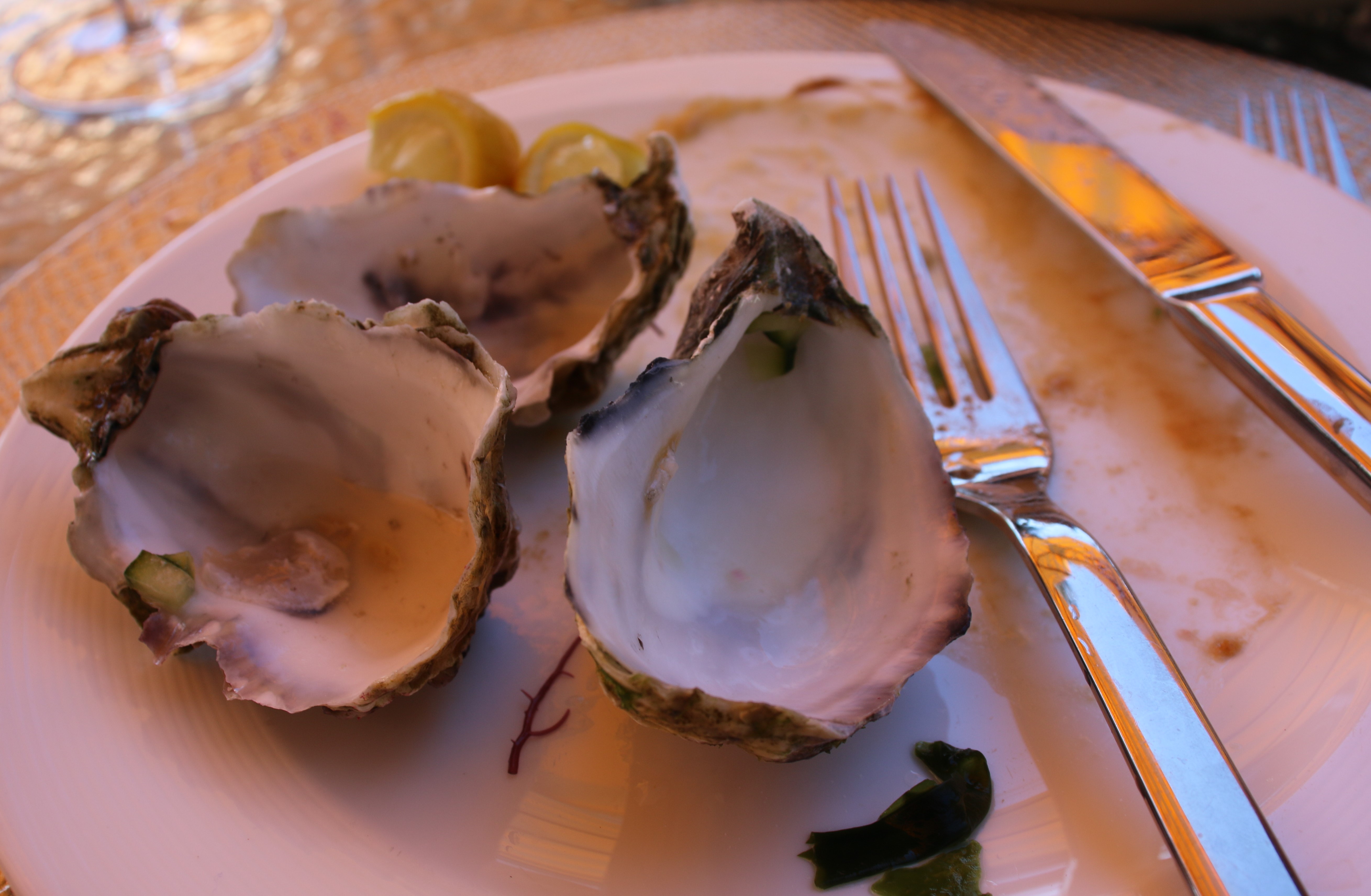 Oyster shuckers who were also serving Dom Perignon by the glass from uniforms created especially for this experience were enthusiastically shucking oysters selected by guests throughout the patio, where everyone was enjoying a magical Butterfly Beach sunset as they savored the delicious offerings being presented by the fantastic hotel staff. The quail eggs stuffed with caviar and watermelon bites were sensational.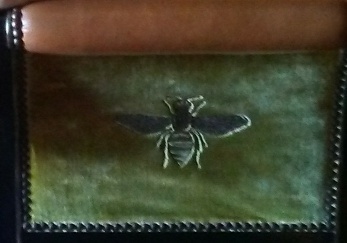 Your Seat Is Waiting at the Bee Bar in Ty Lounge on Friday
Guests are invited to enjoy glasses of Dom Pérignon, served tableside by servers outfitted in custom, new Dom Pérignon By the Shell holsters that hold both raw bar items like oysters and clams and bottles of Dom Pérignon champagne. After pouring glasses of Dom Pérignon, servers prepare raw bar items live, tableside for the guests and offer a selection of special mignonette sauces, created in collaboration with Executive Chef Marco Fossati at Four Seasons Resort The Biltmore Santa Barbara. The program will continue each Friday in Ty Lounge at the Resort from May through August 2019. For reservations or additional information visit: www.fourseasons.com/santabarbara.
____________________________________________________________________
SPORT OF KINGS IN SOLVANG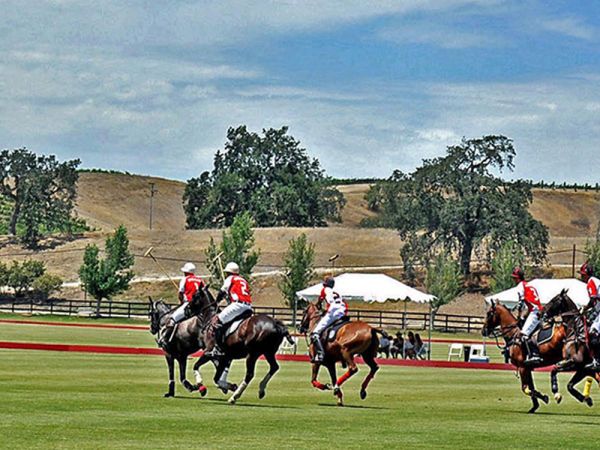 Santa Ynez Valley Polo Classic
Date:  Saturday, June 29 2019
The 8th Annual SYV Polo Classic in Santa Ynez Valley. All guests are invited to dress for the occasion, with creative hats for the ladies encouraged.
Time: 10:30 AM to 3:00 PM
At the conclusion of the featured match, an awards ceremony is conducted at midfield for guests to gather, mingle with the players, and view the presentations of the perpetual winner's trophy, Carlos Gracida Sportsmanship Award, Best Playing String of Ponies, and Best Playing Pony.
For information contact: erica@syvphp.org 805.686.0295
____________________________________________________________
NEW HOTEL OPENINGS   .   .   .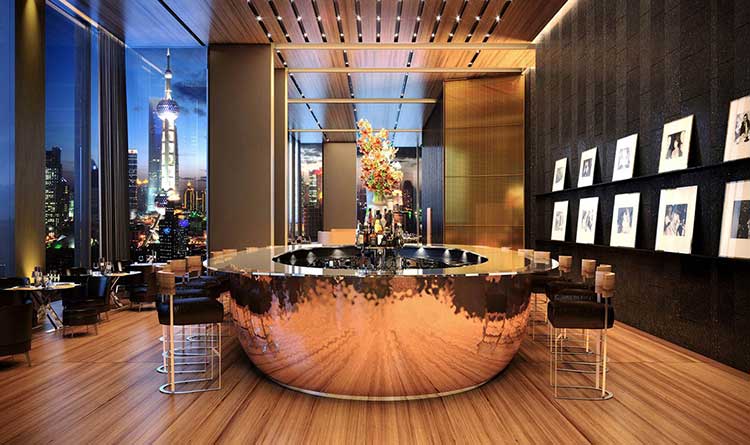 Round Bar at Bulgari Shanghai
Nearly here - Marriott International will open the next installment
of ultra-luxury bran, Bulgari Hotels, in Shanghai on June 20th.
Located on top eight floors, 48-storey tower in Suhe Creek
Complex, the Bulgari Hotel will have 82 rooms, 19 suites
as well as a rooftop restaurant and bar, with awesome view
of the Bund and Pudong. A huge Bulgari Spa and fitness center
will also be opening. Rates: start around 560 Euros per night.
________________________________________________________________
MERSEA TRAVEL WRAPS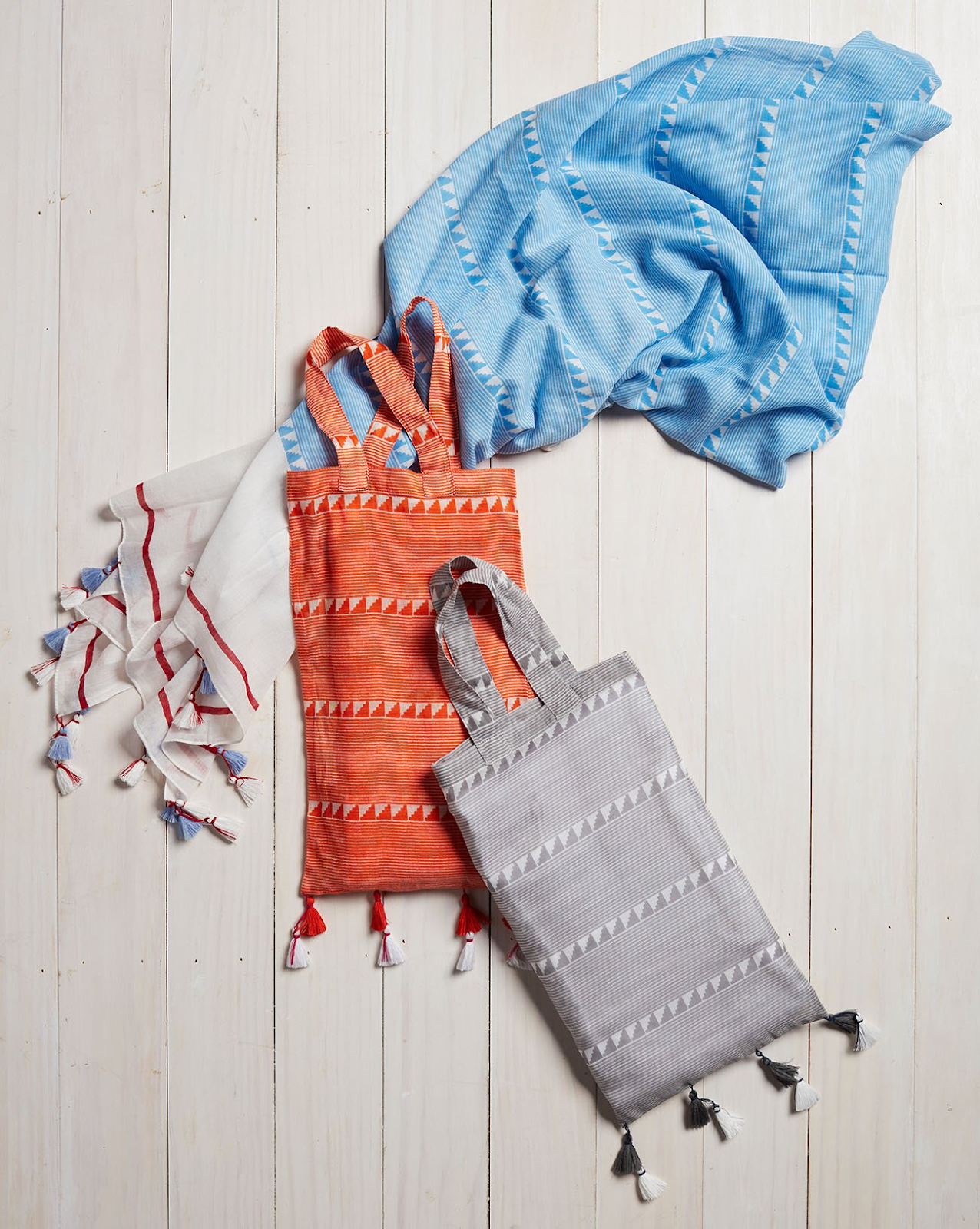 Lovely cotton travel wraps in sea inspired colors that travel easy in a matching bag and can be worn in four different ways. To purchase visit www.mersea.com  $49.00
_____________________________________________
NATURAL HISTORY MUSEUM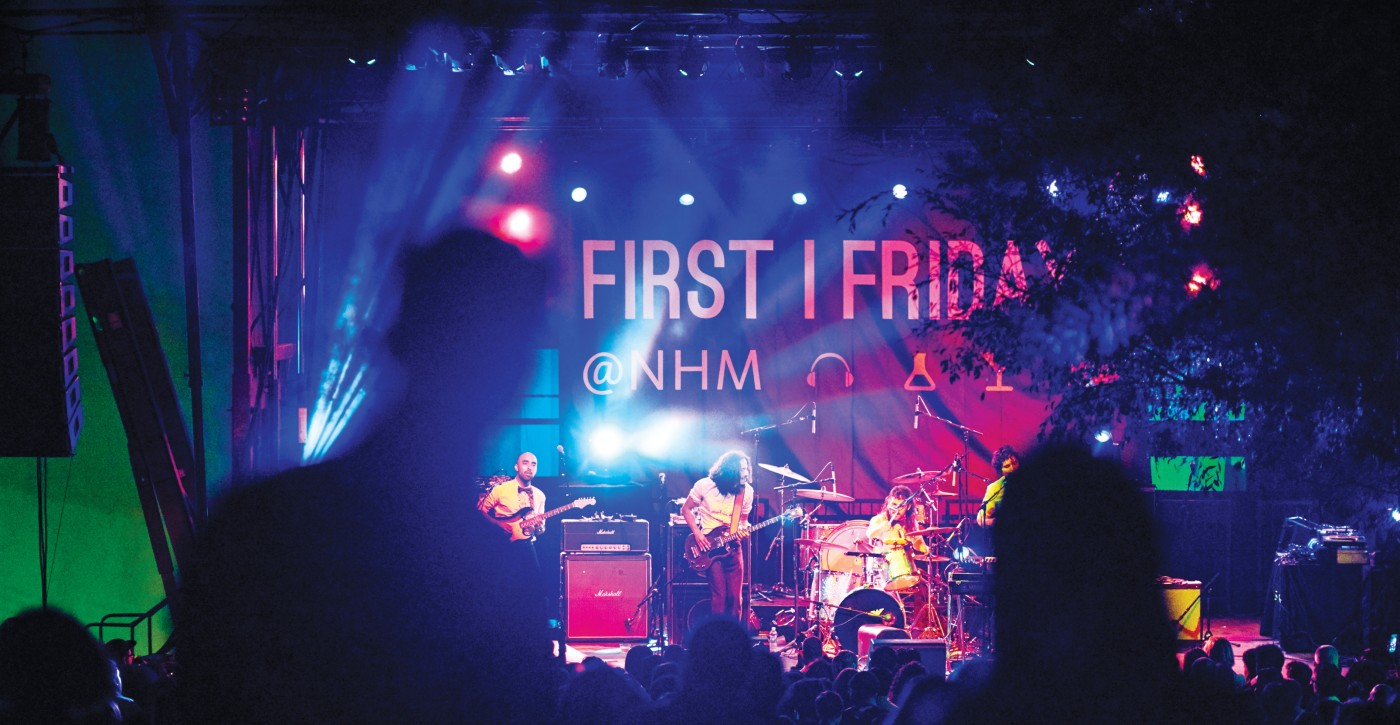 JUNE SIPS & TASTES DURING FIRST FRIDAYS
June First Fridays has an awesome lineup of bands, DJs, discussions, food trucks, delicious cocktails, and more. Get ready to experience the museum after hours.
This year's theme is "Forces of Nature." We'll find facts and bust myths about our four horsemen of the Golden State apocalypse: fire, drought, flood, and earthquakes. In June, we take a look at California's history with earthquakes. 
See full lineup below and get your tickets today. Limited online availability each month. Become a Member and get the entire First Fridays series for free.
Conversations: 5:30 pm and 7:30 pm
Secrets from the Vaults
Join science correspondent and Ologies podcast host, Alie Ward, as she asks museum research specialists about their collections and discovers details hidden in plain sight. Each month features a different expert to uncover the big mysteries, strange oddities, and untold stories from NHMLAC.
Can't make it out to the event? Catch a live stream of the 5:30 pm presentation via NHMLAC on Facebook.
Discussion: 6:30 pm
SHAKE IT OFF: a conversation between dr. lucy jones and Patt Morrison
Seismology can chart them, even sometimes predict them, but it can't stop them. The more we know about the quivering, roiling Earth underfoot in California and the West—earthquake faults, calderas, volcanoes— the more tools that gives us to brace ourselves for the certainty of the Big One or Big Ones.
Dr. Lucy Jones is founder and chief scientist of the Dr. Lucy Jones Center for Science and Society, which aims to foster the understanding and application of scientific information to create more resilient communities, and a Research Associate at the Seismological Laboratory of Caltech. With a BA in Chinese Language and Literature from Brown University and a Ph.D. in Seismology from MIT, Dr. Jones furthers resilience to natural hazards through scientific research and collaborations with policy makers, including 33 years with the US Geological Survey, and writing over 100 published papers on statistical seismology and integrated disaster scenarios.
MODERATOR: Patt Morrison
Patt Morrison is a Los Angeles writer and newspaper columnist who has a share of two Pulitzer Prizes. She has won six Emmys and eleven Golden Mike awards for her work hosting public television and radio programs. She also hosted the nationally syndicated television program "The Book Show with Patt Morrison," and her seminal nonfiction book "Rio LA, Tales from the Los Angeles River" was a best-seller. Her writing appears in both fiction and nonfiction anthologies. And Pink's, the legendary Hollywood hot dog stand, named its vegetarian hot dog "The Patt Morrison Baja Veggie Dog" in her honor.
DJs: 5 pm–11 pm 
KCRW RESIDENT DJ: Novena Carmel 
Main Stage: 6 - 7:30 pm / 8:15 - 8:45 pm / 9:30 - 10 pm
With music royalty in her blood, Novena Carmel is an eclectic and energetic Bay Area born, L.A.-based DJ, singer, host, and curator known to lure a crowd and turn them out. As a DJ, her love for music shines through in her wide range of selection, big smile and dance moves. In addition to her residencies throughout L.A., Novena has recently played at Amoeba Records, Dublab radio and as a resident at the Stones Throw summer pool party. If you find yourself in a room with Novena, you're in the right place.
DJ MS. JCK 
DJ Lounge: 5 - 8:30 pm
Jack Davey is an L.A. based singer/songwriter + producer + dj who, in addition to recording 8 independent projects (J*Davey) and touring with legendary acts (Prince, The Roots, Erykah Badu), has also penned releases for R&B sensation Miguel, Danity Kane, and Christian Rich. Following up recent features on A Tribe Called Quests' comeback record and a dance-y electro-funk jam with Bay Area producer, Trackademicks, Jack Davey recently premiered her 90s Jazz-Hop inspired single and video, UNDONE, with Vogue magazine and has launched a new monthly DJ residency in L.A. called MILF (My Inspiring Lady Friends) in addition to spinning countless corporate DJ gigs and club nights throughout the city.
ANTHONY VALADEZ
DJ Lounge: 8 - 11 pm
Anthony Valadez can be heard on weekends on KCRW. His show has been championed by the likes of Ty Dolla $ign, Julian Casablancas, Childish Gambino and Jeff Staple for his keen ear on music discovery. He was voted Best Club DJ by the L.A. Weekly's Reader Poll in 2016. He loves his dog.

Performances: 7:30 - 11 pm
CLAUDE FONTAINE
Main Stage: 7:30 - 8:15 pm
Claude Fontaine is an American girl with a French name who never felt like she fit in anywhere she happened to call home, and one particular year she was awash in a grey London fog that matched the fog and grey in her own too-recently broken heart. While living right off Portobello Road, she stumbled into the record store down the street. And in a flash of luck—or fate—that particular record store turned out to be Honest Jon's, a long-lived spot for records collected from the furthest edges of the world. She'd never heard those old Studio One and Trojan and Treasure Isle reggae and rocksteady and dub records before—the same records that got the Clash covering "Police And Thieves," and the Slits sharing a bill with Steel Pulse. And she'd never heard bossa nova and tropicalia and Brazil's incandescent música popular brasileira, either. But instantly, she understood—it was exactly and perfectly everything she didn't know she needed: "I wandered in one day and from the first moment I was under a spell," she says. "I was transfixed. I'd go in there daily and have them play me every record in that store probably to the point of driving them completely mad! But I had fallen in love …"
And because she loved those records so much, she decided to make a record of her own—an album singing her own love songs (with Jane Birkin-style ye-ye elan) that was itself a love song to classic reggae and Brazilian music, and an album honoring that feeling of finding a home away from home. Ferociously inspired, she demo-ed a set of songs about heartbreak and loneliness, and drafted a wish list of musicians she'd hope would help out. At the top were guitarist Tony Chin, whose playing with Althea and Donna, King Tubby, Dennis Brown and so many more very arguably defined a gigantic part of the classic reggae sound, and Airto Moreira, the Brazilian drummer whose work both solo and in collaboration—with Miles Davis, Astrud Gilberto, Chick Corea, Annette Peacock—make him an actual living legend. "A pipe dream" to chase them, she says, but still she tried.
But after diligent detective work—long chains of emails and voicemails, tracing between L.A. industry veterans and globetrotting photographers and the label that would put out her finished record, though she didn't know that yet—she found them. Then she sent them her demos. Then they said yes. And when she finally met them that day in Chet Baker's old studio ("A time warp," she adds dreamily) or at King Size in northeast L.A. and she heard her songs the way she'd been hearing them in her head for so long, she was was overcome with emotion. "It was surreal and magical. I cried. To watch those songs come to life... it's why we do what we do".
She finished her album in two potent sessions with Chin, Moreira and a murderer's row of their connections—bassist Ronnie McQueen of Steel Pulse and Ziggy Marley drummer Rock Deadrick, Now Again Records guitarist Fabiano Do Nascimento, Sergio Mendes percussionist Gibi Dos Santos and Flora Purim bassist Andre De Santanna. (Trust that each of these people have credits on albums like you wouldn't believe.) Side A is the reggae, five songs about love gone wrong that sound like they came out of Jamaica in the early 70s—yes, "Love Street" sounds happy, but "it's really just a fantasy", says Claude. And side B wasn't specifically designed to be the bossa or Brazilian side, but that's how it worked out, closing with the spare and even haunting "Last Goodbye," a song about the heartbreak of what could have been. All together, it's a valentine to this special music that called out to her from the other side of the planet: "I hope this record will transport people," she says. "I wanted it to feel like those lost records, like it got lost in the dusty bottom bin of some world music store in London because that's how I felt when I walked in to that record store. I want it to be its own world."
GAVIN TUREK
Main Stage: 8:45 - 9:30 pm
It's impossible not to become infatuated with soulful pop princess Gavin Turek.
The L.A. native is always clad in a hand-made 70s fringe dress (designed herself in every color) and armed with the best dance moves you've ever seen. It's easy to draw comparisons anywhere from Tina Turner to Beyoncé but really, Gavin is her own force to be reckoned with. Performing always came natural: she grew up with a father who played piano and often tagged alongside her mother who toured coffeeshops singing gospel. Growing up in Los Angeles, Gavin obsessively studied two things: music (Donna Summer, Prince, Lauryn Hill, Diana Ross, Michael Jackson, Giorgio Moroder) and all forms of dance. Originally aspiring to be a professional dancer, Gavin spent years training and traveling abroad before eventually returning to singing and songwriting as her main medium of expression; but dance is naturally a vital component for her live show, where even the most apathetic concert goer leaves her shows revitalized and inspired.
Two special artists in particular became champions early on for Gavin. Brainfeeder genius TOKiMONSTA has been a longtime friend and collaborator. In the nascent stages of both of their careers, she asked Gavin to contribute vocals to her productions, which lead to the fan favorite track "Darkest Dim" and a mini-album, You're Invited. Mayer Hawthorne was next, not only inviting Gavin to open his sold out tours but recruiting her as the female counterpart in his retro funk act, Tuxedo with producer Jake Uno.
In 2017, Gavin released her first solo EP Good Look for You via her own label Madame Gold Records. The EP garnered attention and praise from Stereogum, Nylon, Okayplayer, NPR, KCRW, Billboard, Beats 1 and many more. All of which highlighted her songwriting chops and simultaneously retro yet modern take on pop.
In 2018, fresh off an explosive performance of "My Delight" on Conan and an uber-sexy new single "WHITNEY", Gavin continues to display her undeniable star appeal. You may have heard her music stitched into the fabric of Netflix's Dear White People and HBO's High Maintenance or seen her on tour in Japan, UK, China, France and across the States supporting artists like Hayley Kiyoko or Tuxedo.
Gavin's now on schedule to release her first full-length solo LP in 2019 with production from Passion Pit and Childish Gambino collaborator, Chris Hartz, and electronic music trailblazer, Boys Noize. Be prepared to feel the fantasy and become a lifelong fan of Gavin Turek.
BRASSTRACKS
Main Stage: 10 - 11 pm
After studying together at Manhattan School of Music, Ivan Jackson (trumpet) and Conor Rayne (drums) linked up to form production duo Brasstracks in 2014. Initially a side project allowing them to use their instruments to produce electronic music they were passionate about, a cover of Rihanna's "Four Five Seconds" with Lido cemented them on the SoundCloud producer scene. Since their early beginnings in the SoundCloud space they have dropped an array of critically acclaimed covers and remixes, toured with Lido, Nao, Mr Carmack, Jack Garratt and GRiZ, played iconic venues and festivals such as Denver's Red Rocks and Coachella and featured/produced on songs with GoldLink, Anderson Paak, Lido and Khalid.
In August 2016 Ivan and Conor produced arguably the biggest Hip Hop record of the year with Chance The Rappers 'No Problem' feat Lil Wayne and 2Chainz. This led to a GRAMMY nomination for Best Rap Song to add to Ivan's nomination for his writing contribution to Anderson Paak's 'Am I Wrong'. They also released their debut EP, Good Love and took the EP on the road with their Good Love Fall Tour.
During a heavy summer '17 festival season playing all over North America Brasstracks released a slew of new singles and covers culminating in the first edition of their most recent project "For Those Who Know Part 1" which was released Oct 20th. Part 1 boasts collaborations with Robert Glasper, The Underachievers and more. March 2018 saw the guys embark on their first ever headline US tour, playing 19 cities and selling out Los Angeles, San Franscisco, Seattle and NYC's iconic Bowery Ballroom in their hometown show.
To conclude their "For Those Who Know" series Brasstracks released the Deluxe version of the project and embarked on a first Asia tour. Now they enter the next chapter with the release of new single "Vibrant" featuring Pell and announcing a 28 date headline North American tour—"The Vibrant Tour," kicking off in January 2019.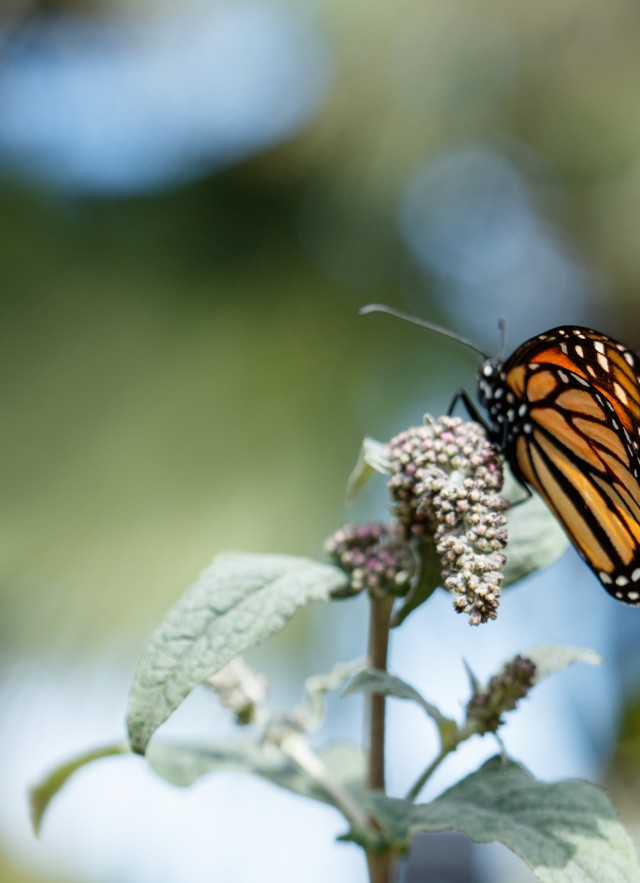 Join & Give NHM LA
_____________________________________________
CALLING ALL COWBOYS AND COWGIRLS:
 La Fonda on the Plaza Offers "Ride with Pride" Hotel Package June 24 – 30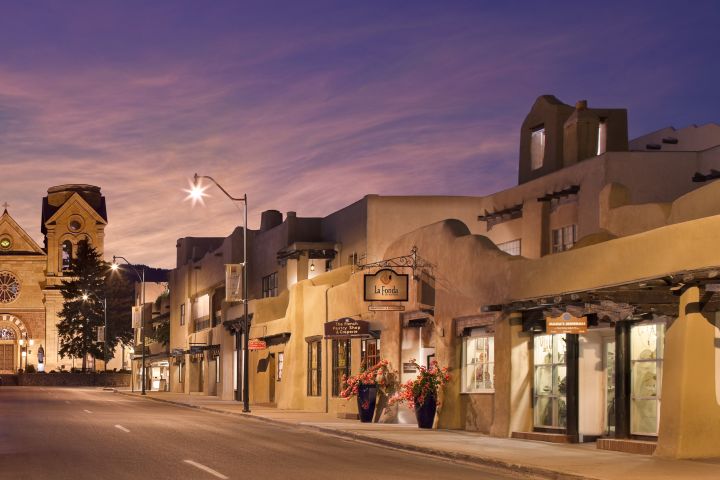 Offer includes luxury accommodations, prime viewing of Pride parade, special discounts for World Gay Rodeo qualifier, real rodeo skills lessons and more
 This summer, Santa Fe is celebrating Pride with a side of Western swagger. Not only will the City Different throw its usual epic Pride parade and party on the historic Santa Fe Plaza on June 28, but it will also welcome the New Mexico Gay Rodeo Association's Zia Regional Rodeo the same weekend.  There's no better time to visit Santa Fe, and visitors can grab a front row seat for it all with La Fonda on the Plaza's "Ride with Pride" hotel package.
 With the special limited time offer valid all of Pride Week (June 24 – 30), guests can toast one of Santa Fe's legendary sunsets on La Fonda's rooftop with complimentary welcome cocktails, luxuriate in one of the hotel's artfully decorated guestrooms, and enjoy complimentary breakfast (blue corn piñon pancakes, anyone?) next to the soothing fountain in La Plazuela restaurant.  On Pride Day (Saturday, June 29th), they will be ideally positioned to watch or march in the Parade which passes right by the hotel's front door. Guests will receive a special discount to Zia Regional Rodeo performances on Saturday after the Parade or on Sunday. The event attracts the top 20 cowboys and cowgirls in each of 13 different rodeo events and serves as a qualifier for the World Gay Rodeo Finals in Scottsdale, AZ in October 2019.
 Guests arriving in town earlier can even use discount vouchers provided in the package to learn the fine art of chute dogging, flag racing and more at the New Mexico Gay Rodeo Association's Rodeo School on Friday, June 28th.  All rodeo events are animal-friendly and take place under safe guidance at the Rodeo de Santa Fe Rodeo Grounds at 3237 Rodeo Road in Santa Fe.
 Package prices begin at $342 per room per night and include:
Luxury accommodations at La Fonda for two

Complimentary welcome cocktails for two in The Bell Tower Bar or La Fiesta Lounge, where there is live music nightly

Complimentary breakfast for two in La Plazuela

Voucher for $5 off ticket prices for each day at the rodeo (Normally priced at $15 per day for all day access.)

Voucher for $5 off of Rodeo School "tuition" for each event entered  (Normally priced at $20 per event entered) Registration for this is

amazcowboy@cox.net
To book the package, please click here or call Reservations at 800-523-5002 or 505-982-5511 and mention the code PRIDE.Those planning a Pride getaway at La Fonda can fill their dance cards with a flurry of fun events. Here's a timeline for the weekend offerings:
Friday night, June 28 – Santa Fe Country Dance …Meet the rodeo contestants and join in on the Rodeo DJ dance party 7pm – midnight ( Cash Bar) – Entertainment with royalty "drag queens" singing and dancing.

Saturday 12 pm - Pride parade and events on the Plaza: (participants line up at 11:00 a.m.;. Registration and fee can be paid here:  

https://www.pridesantafe.org/2019-pride-events

 

Head to the rodeo grounds for the Grand Entry parade, Rodeo Performance/Competition on Saturday from 3:00 - 7:00pm, including the entertaining and unpredictable "Wild Drag Race".

Santa Fe's Human Rights Alliance Meow Wolf Party Saturday Night. The link to purchase early bird tickets to this event will be available at

www.pridesantafe.org

in mid-April. $25 in advance/$30 at door.

Sunday rodeo events begin 9:00am to 5:00pm, with the Grand Entry at 12:00pm.

6pm to 8pm cash bar and food vendors; 8pm -10pm Awards ceremony.
For further information about Pride events in Santa Fe, which this year, like other celebrations across the country, mark the 50th anniversary of the Stonewall Uprising, please visit https://www.pridesantafe.org/2019-pride-events .

About La Fonda on the Plaza:
 Opened in 1922, La Fonda on the Plaza sits at the terminus of the Santa Fe Trail and is the only hotel on the famous Santa Fe Plaza. Reports of an inn here date back to the 1600s, making La Fonda one of America's most historic hotels.  Formerly a Harvey Hotel, La Fonda offers 180 unique guest rooms and suites, including 15 luxury rooms and suites built around a rooftop terrace with breathtaking views of Santa Fe and the Cathedral Basilica of St. Francis of Assisi. The hotel's signature restaurant, La Plazuela, and bar, La Fiesta Lounge, are located off the lobby and open all year. The rooftop Bell Tower bar is also open May through October. In Detours at La Fonda, the hotel's signature gift shop, guests will find a curated assortment of New Mexico-made wares.  With more than 20,347 square feet of event space, La Fonda is a favorite conference and wedding location. The hotel recently completed a comprehensive renovation designed to bring the property up to modern standards of luxury while fully preserving the history, authenticity and character that distinguish La Fonda. The AAA Four Diamond property is a member of the National Trust for Historic Preservation's Historic Hotels of America and was named "Best Historic Hotel" (76 – 200 rooms) at the organization's 2016 Awards of Excellence. La Fonda was also named by Condé Nast Traveler Reader's Choice awards as one of the Top 10 Hotels in the America Southwest as well as ranked #1 Best Lodging in 2018 by the Santa Fe Reporter's "Best of Santa Fe".
---