TRAVEL ADVENTURES   .  .  .
Staying Close to Home

Ritz-Carlton Bacara Santa Barbara
By Bonnie Carroll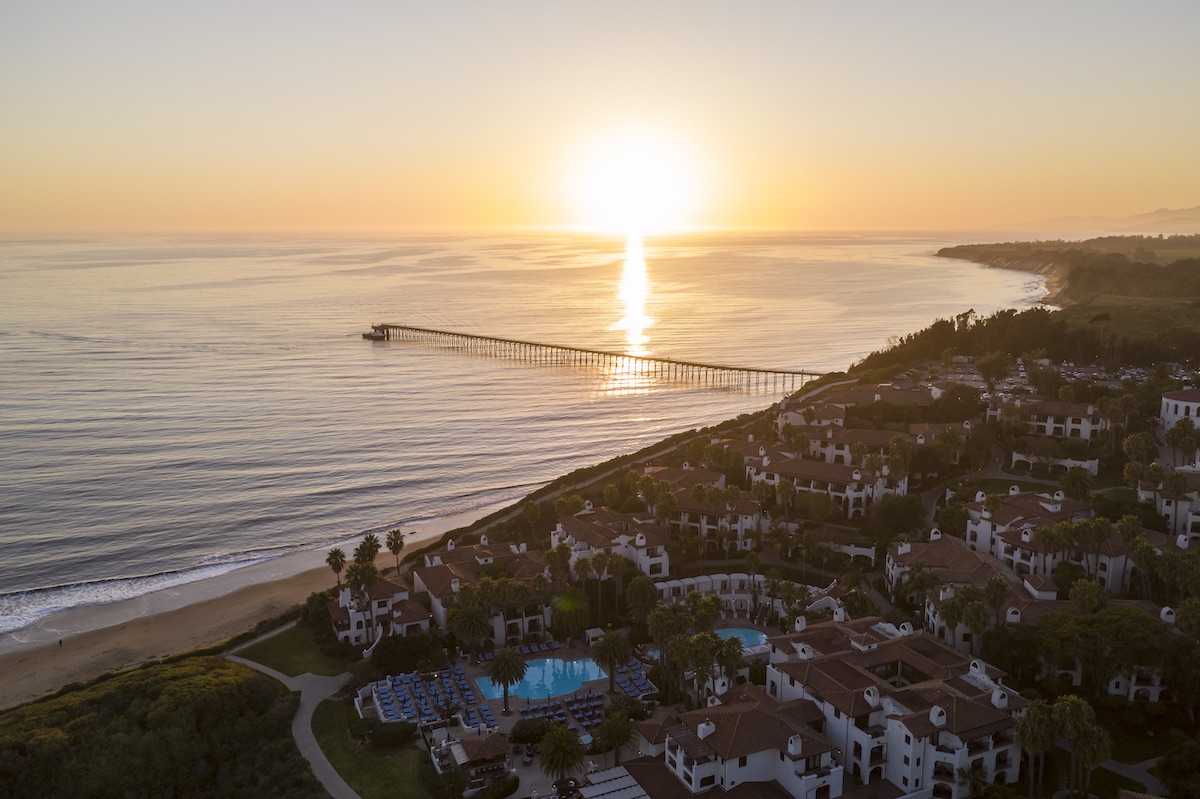 View of Ritz-Carlton Bacara (photo: Will Pryce)
In 2000 when the Bacara Resort & Spa opened guests delighted in the Frette linens, original Chinese art, in room marble jacuzzi baths and elegance of rooms and suites. Golf carts transported guests throughout the resort at their leisure, and diners enjoyed exquisite dishes prepared by a star chef using the freshest produce grown on the resorts 1,000-acre ranch. During my first visit I walked two miles of the Gaviota coast pristine beaches and rarely have I seen more beautiful views anywhere in California. On my second visit I spent some time getting to know talented chef David Reardon and his sous chef. The mother's day brunch at the hotel was renowned and the place to be with your mother on her special day.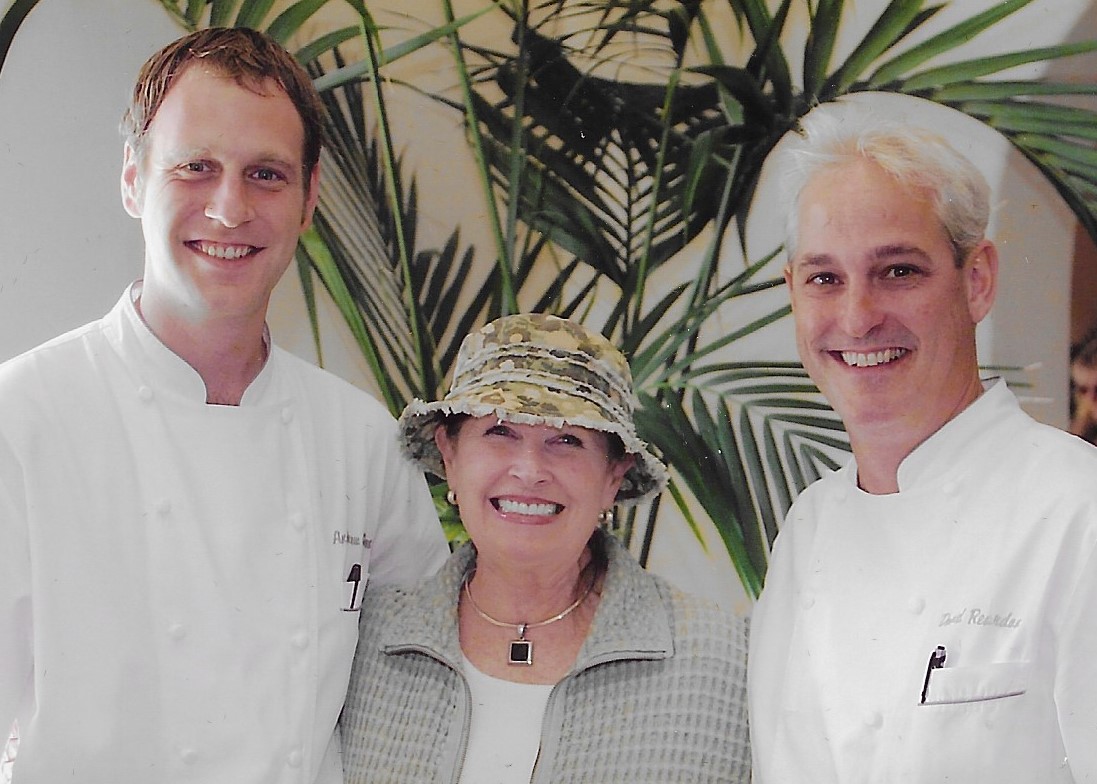 Bonnie Carroll, LBN, with Bacara Chefs in 2004

By 2002 it was considered one of the top ten resorts in the world and became a hideaway for LA's rich and famous. The award-winning spa remains a go-to spot to unwind beside a zero-edge swimming pool. Among the many new changes are the recent renovation of 358 guestrooms and signature suites all artfully infused with luxurious interiors and modern technologies for a true sense of comfort.
The original French restaurant was a favorite haunt of residents Brad Pitt and Jennifer Anniston in the day, where the cellar featured Wine Spectator Award of Excellence selections. I so enjoyed taking a tour of the organic farm and chicken ranch with Chef David Reardon during a visit there. Today's restaurant scene is Angel Oak's, a fine-dining restaurant that specializes in Basque-Catalan cuisine made with fresh vegetables that are still grown on the Ranch at Bacara.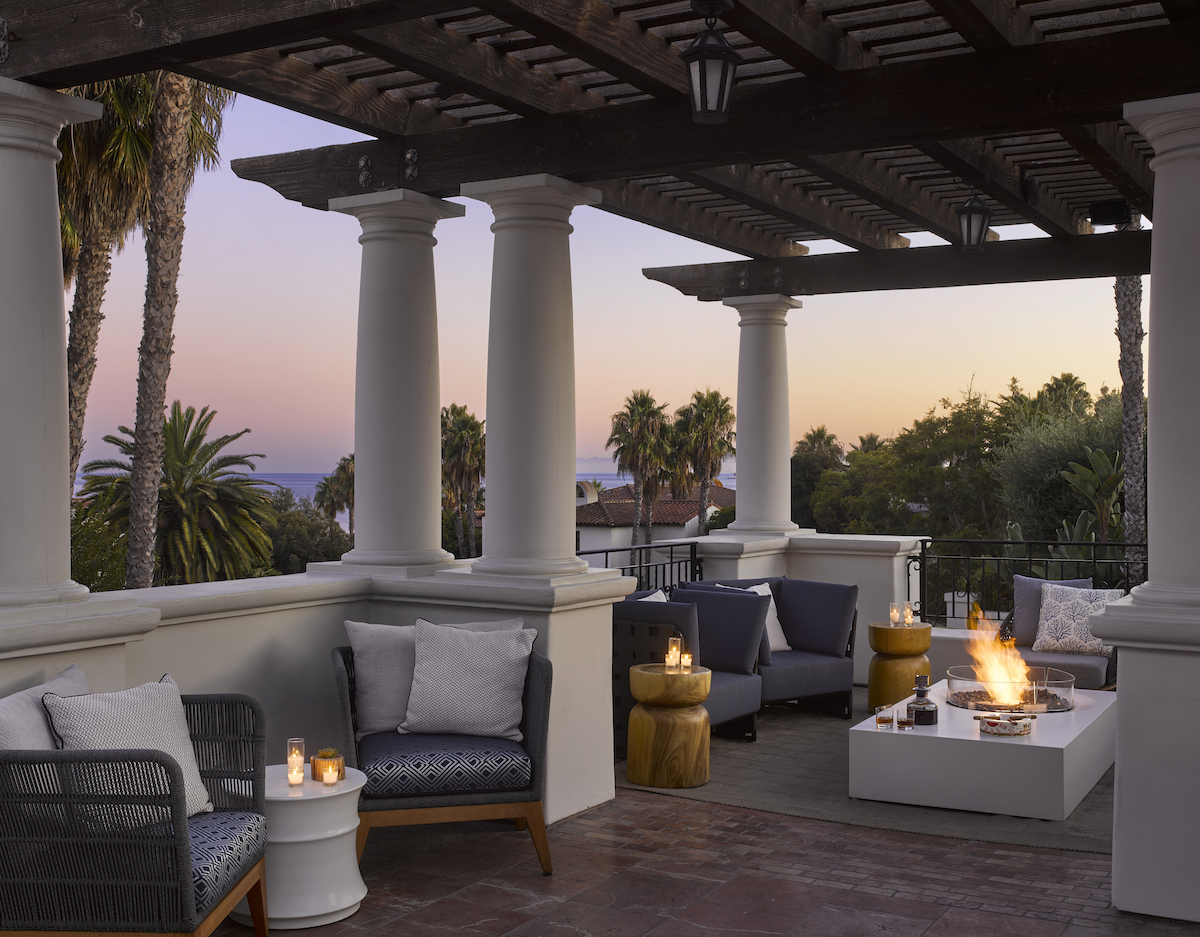 Ocean Terrace Ritz-Carlton, Bacara at Sunset (Photo: Will Pryce)
The Ritz-Carlton Bacara Resort and Spa, only ten minutes from my home, is at the top of my staycation wish list, and I'm hoping to have the pleasure of walking the bluffs again soon, a blissful spa experience again, and perhaps sips of fine California wine at Foley's tasting room located on the property. The resort is minutes from Santa Barbara airport and 2.5 hours by car from Los Angeles. www.ritzcarlton.com.
The Ritz-Carlton Bacara Resort & Spa, 8301 Hollister Avenue
Santa Barbara, California 93117 United States +1 (805) 968 0100
___________________________________________________________________
Pre-Corona Virus Announcement Event - - -

VIKING EVENING OF CELEBRATION AND EXPLORATION
Adventurous Options For Travelers in 2020-2022 Revealed
by Bonnie Carroll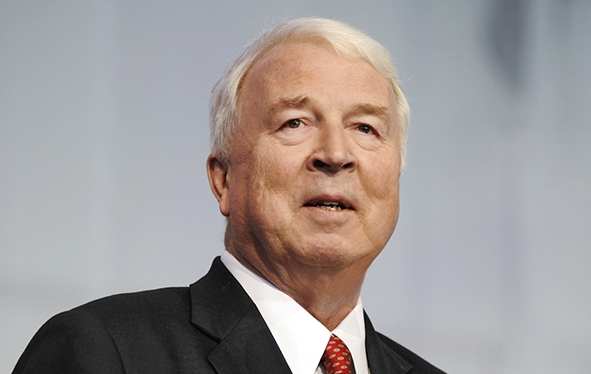 Torstein Hagan, Viking Chairman
Torstein Hagan, Viking Chairman and his daughter Karine Hagen, Executive Vice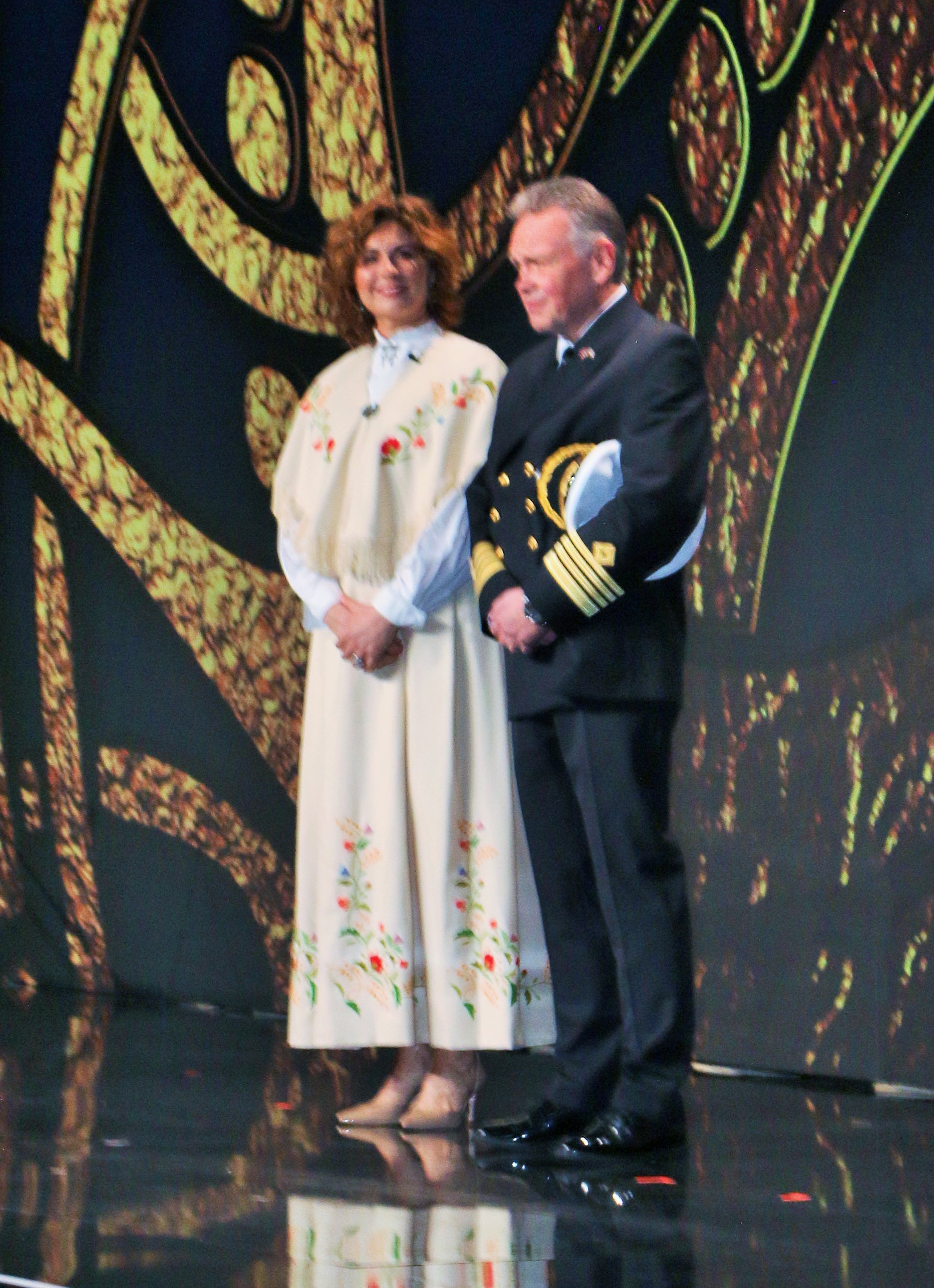 President of Viking hosted a magnificent celebration in the Beverly Hilton Hotel to take their invited guests and Viking family members to the far end of the Americas to experience their sixth and latest ocean ship unveiling, the Viking Jupiter which launched 2019 as she sailed toward Cape Horn and was officially named by her godmother Sissel Kyrkjebo and Captain. Sissel is recognized as one of the world's leading crossover sopranos and responsible for many of Norway's most treasured musical memories. She is also known to Norwegian, Danish and Swedish audiences as the voice of Ariel in Disney's Film The Little Mermaid. The godmother blessing for a ship, its crew and passengers is a must for ships entering service in the maritime tradition. Instead of champagne, Viking does this blessing before the inaugural sail with Gammel Opland aquavit to name their ships.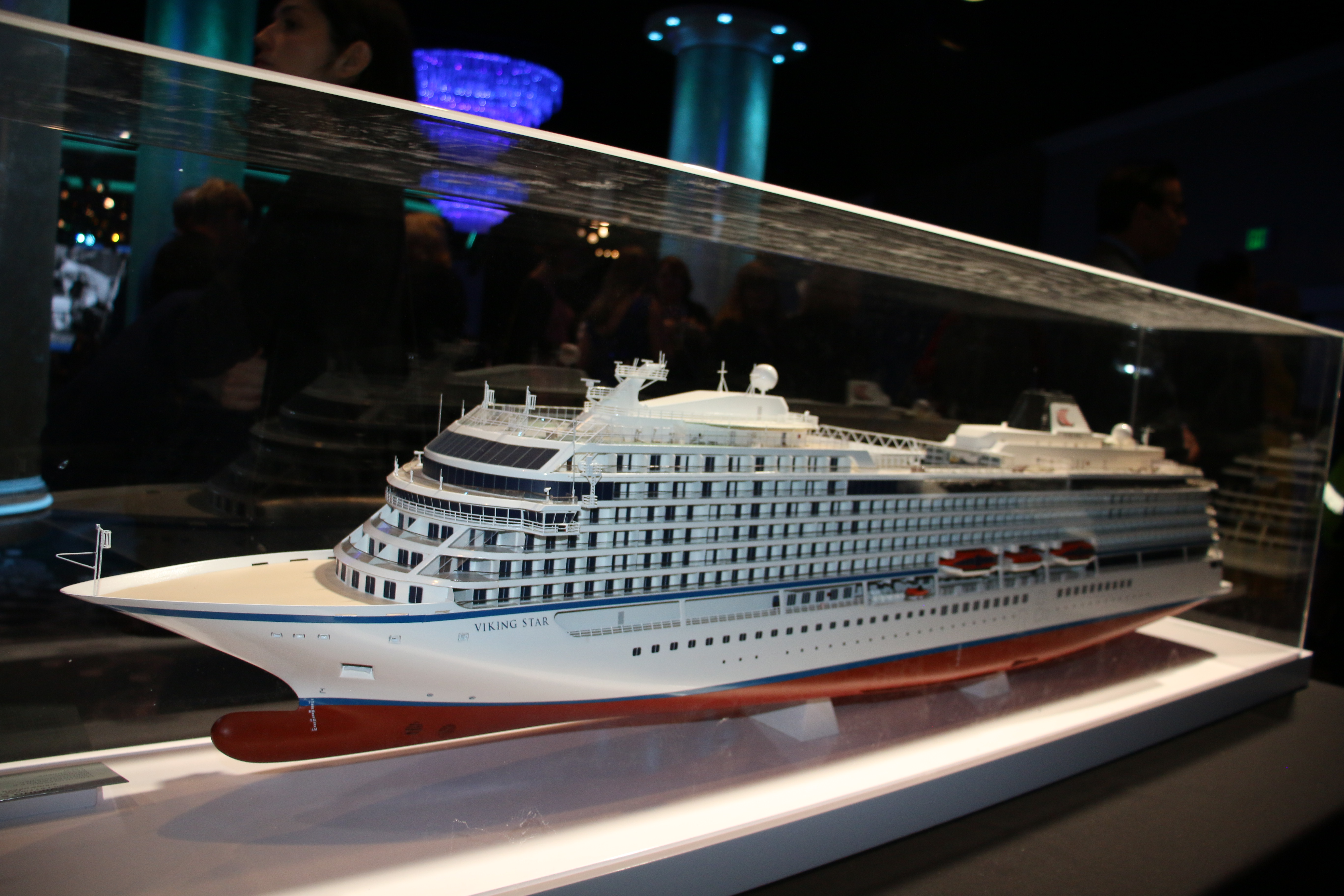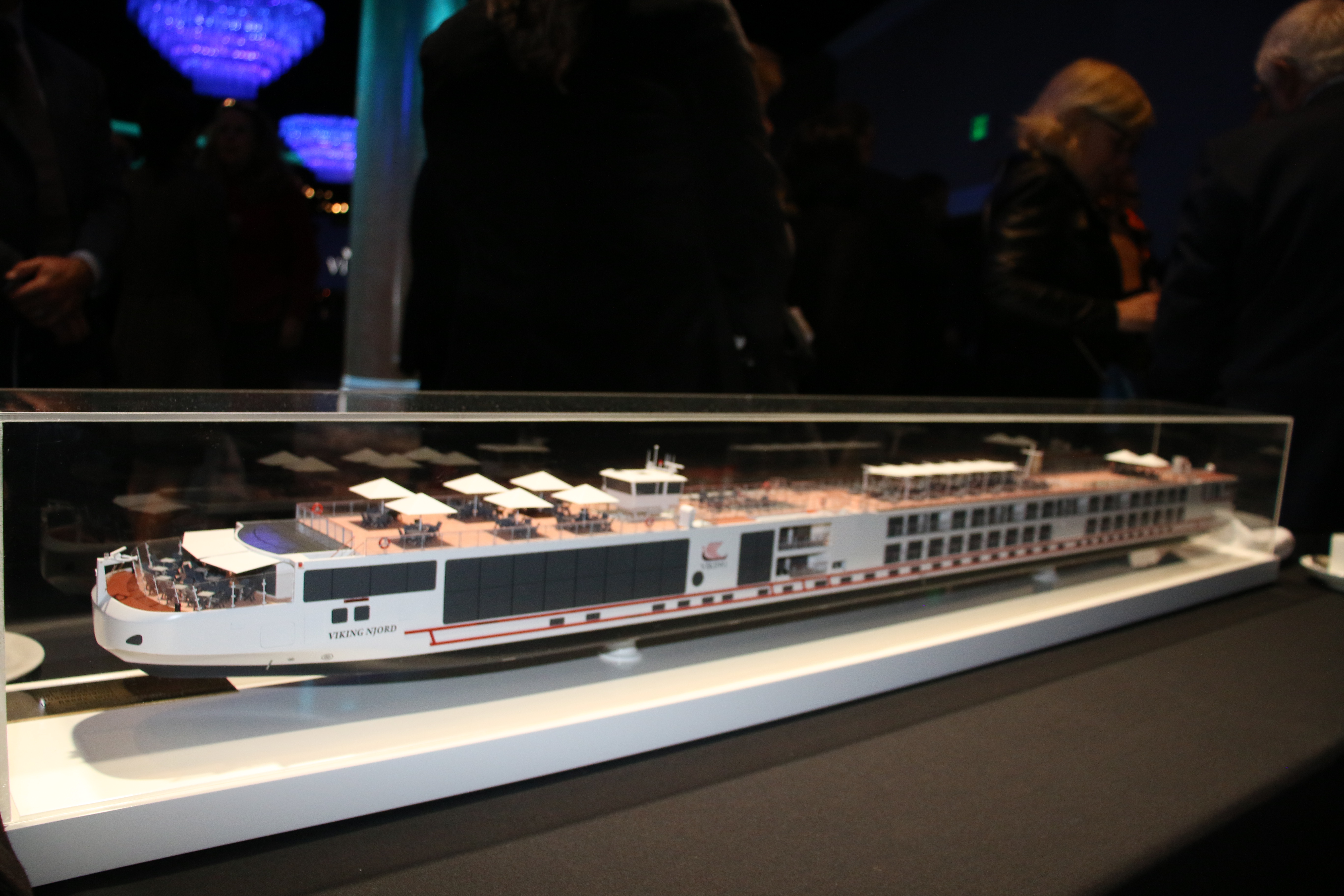 The evening was also an opportunity for guests to learn from Torstein Hagen of Journeys to the Ends of the Earth and Closer to Home, including the launch of Viking Expeditions with the unveiling of the Viking Octantis and Viking Polaris, their first Polar Class vessels to debut in 2022, with amazing video of the fabulous ships in the Antarctic. Viking dinner attendees were delightfully surprised to see the Polar Class Vessels contain a yellow submarine that guests can experience while on this cruise. Liv Arnesen, world-renowned Norwegian explorer, lecturer, author and educator and Ann Bancroft, world's preeminent polar explorer were special guest at the Viking event. They were both participants in the Viking Antarctica trip in 2019.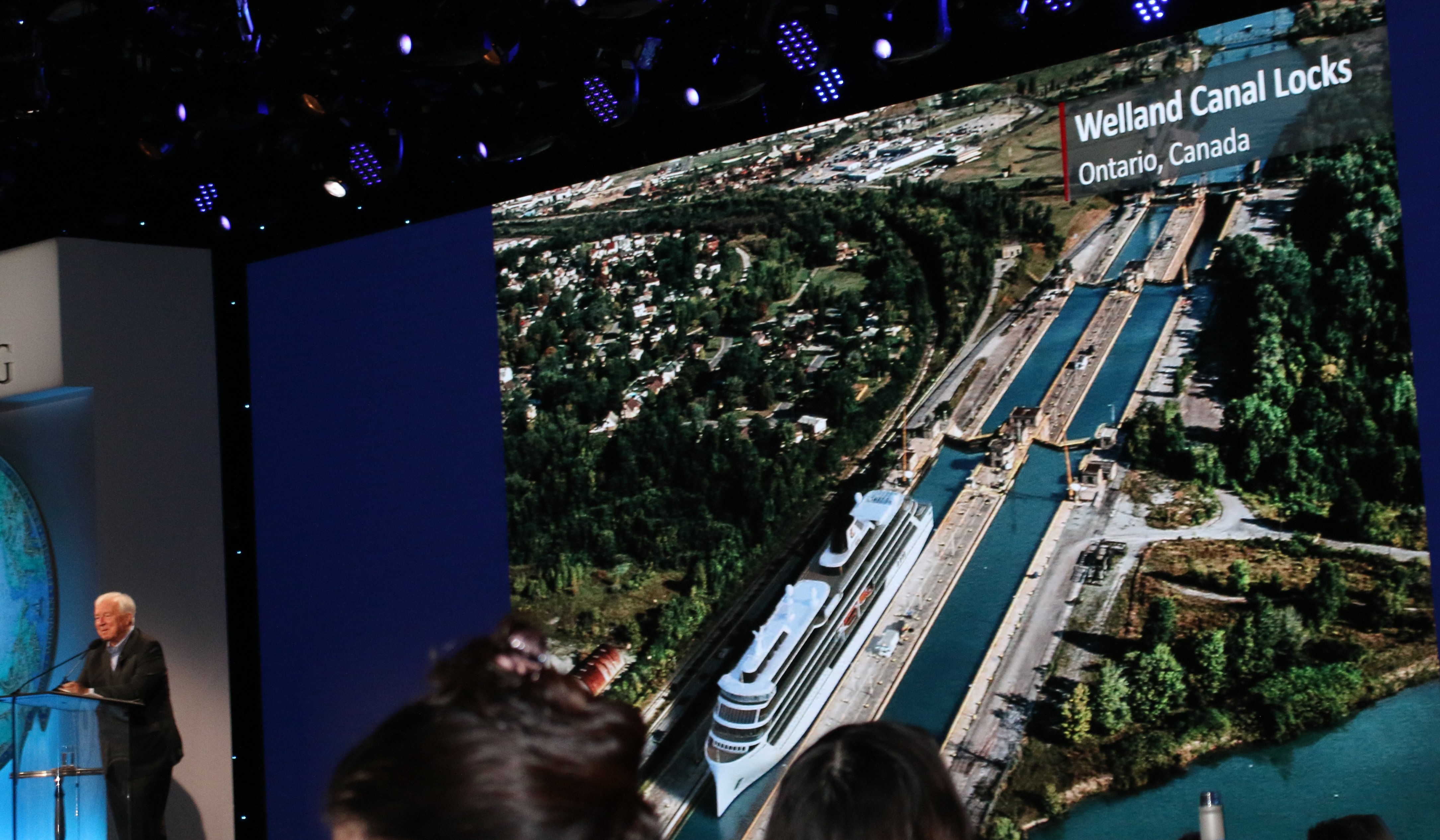 Chairman Hagen Announces Ontario Plans
Devoted Viking travelers in attendance were not surprised to learn that since it's inception Viking has grown at an unprecedented rate, they have added so many additional ships each year, included so many desirable destinations, and continue to be rated #1 in the cruise industry by travel experts and satisfied guests. Future plans being considered for Canada and Great Lakes cruises were shared with dinner guests with great enthusiasm. CEO Hagen is a no nonsense business man who's vision has lead the way for Vikings success and created a travel experience for people 55+ that is comfortably elegant and very educational, but does not include gambling, kids or dogs. He views it as a travel experience for educated thinking people who are interested in learning about the world they are living in and enjoy quiet and relaxation.
It is interesting to note that Torstein Hagen has a degree in physics from Harvard University and is now partnering with several world-leading academic institutions, Scott Polar Research Institute, University of Cambridge, and the Cornell Lab of Ornithology to develop a comprehensive research program encompassing marine biology, ornithology, glaciology, oceanography and atmospheric sciences. To support Vikings scientific program, each expedition ship is equipped with a wet and dry laboratory as well as a suite of sensors, instruments and marine field support equipment, including submarines and oceangoing jet RIBs.
A beautiful and elaborate bunad, Norwegian national costume, was worn throughout the celebration evening by Viking Executive Vice President Karine Hagen. This costume is formal wear and is worn during festive occasions such as weddings, anniversaries and birthdays, and also for religious occasions including baptisms, confirmations and Christmas. The bunad has its roots in 19thcentury National Romanticism, which included an interest in traditional folk costumes in Norway and neighboring countries such as Denmark and Sweden. Often the bunad is considered a family heirloom, and the design indicates the country of origin of the person who wears it, and is passed on from generation to generation.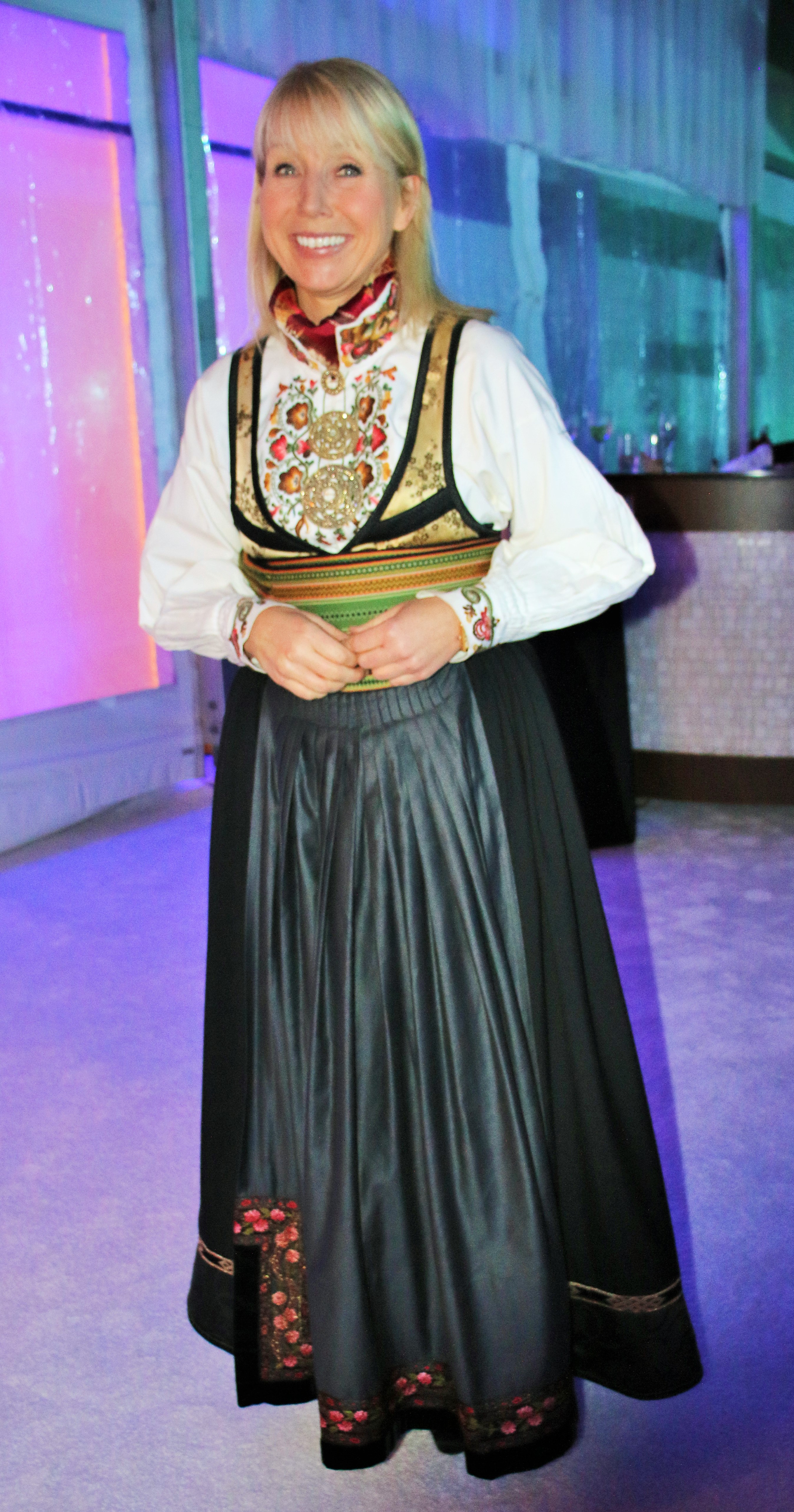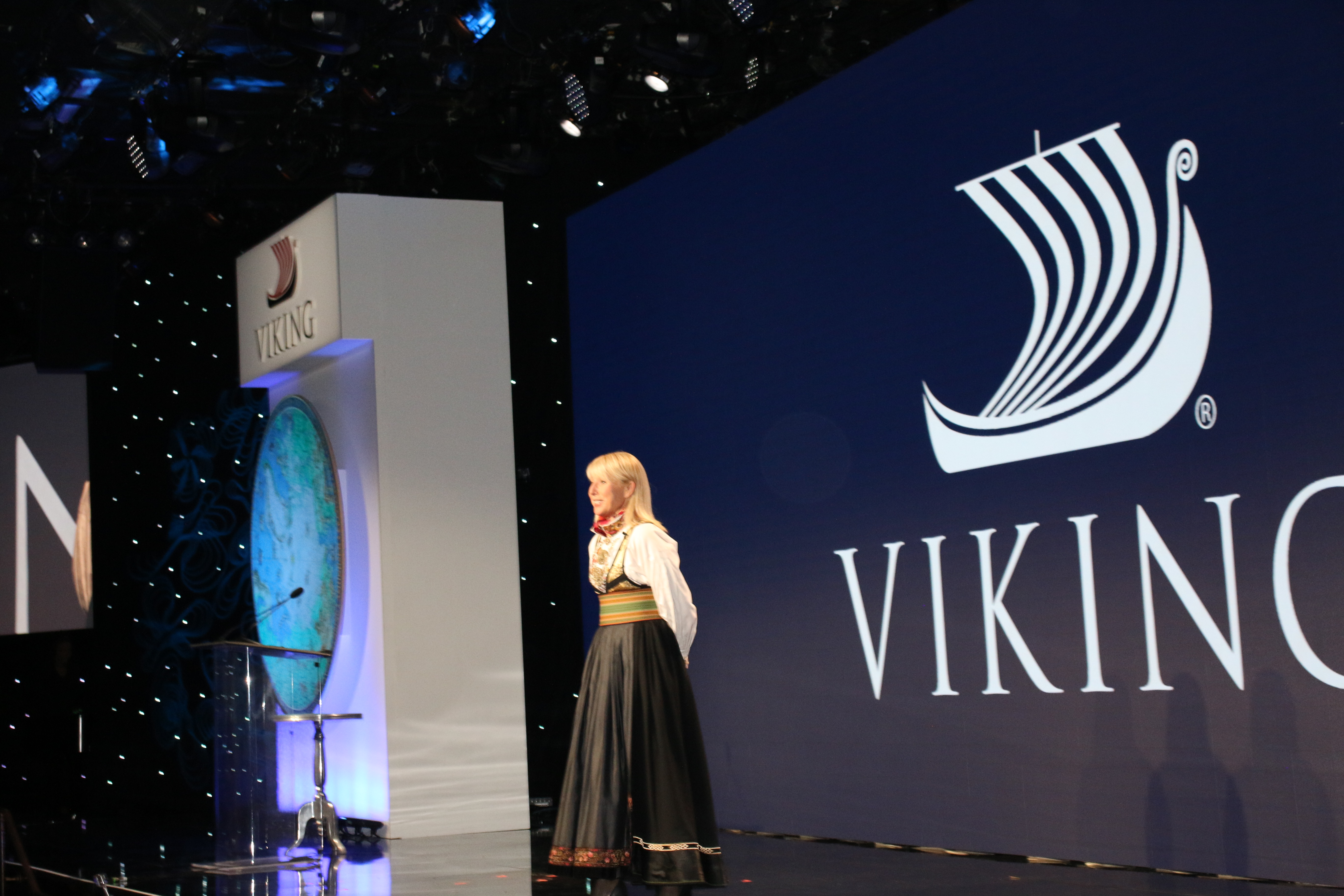 Viking Executive Vice President Karine Hagen wearing a Norwegian Bunad
Dinner was preceded by an opulent cocktail party where guests enjoyed an amazing offering of seafood hors d' oeuvres with cocktails and wine under the bows of two ancient Viking ships, followed by an elegant dinner in the mostly blue and white International Ballroom where guests enjoyed a root vegetable salad with choice of poached salmon, rib eye steak or oyster mushroom "scallops" that were outstanding. The sublime surprise of this beautiful dinner filled with exciting news on Viking 2020 and soul touching entertainment by soprano Sissel Kyrkjebo, and a renowned violinist from Norway was a wall of divine desserts inspired by those served on Viking ships. (please see desert video below).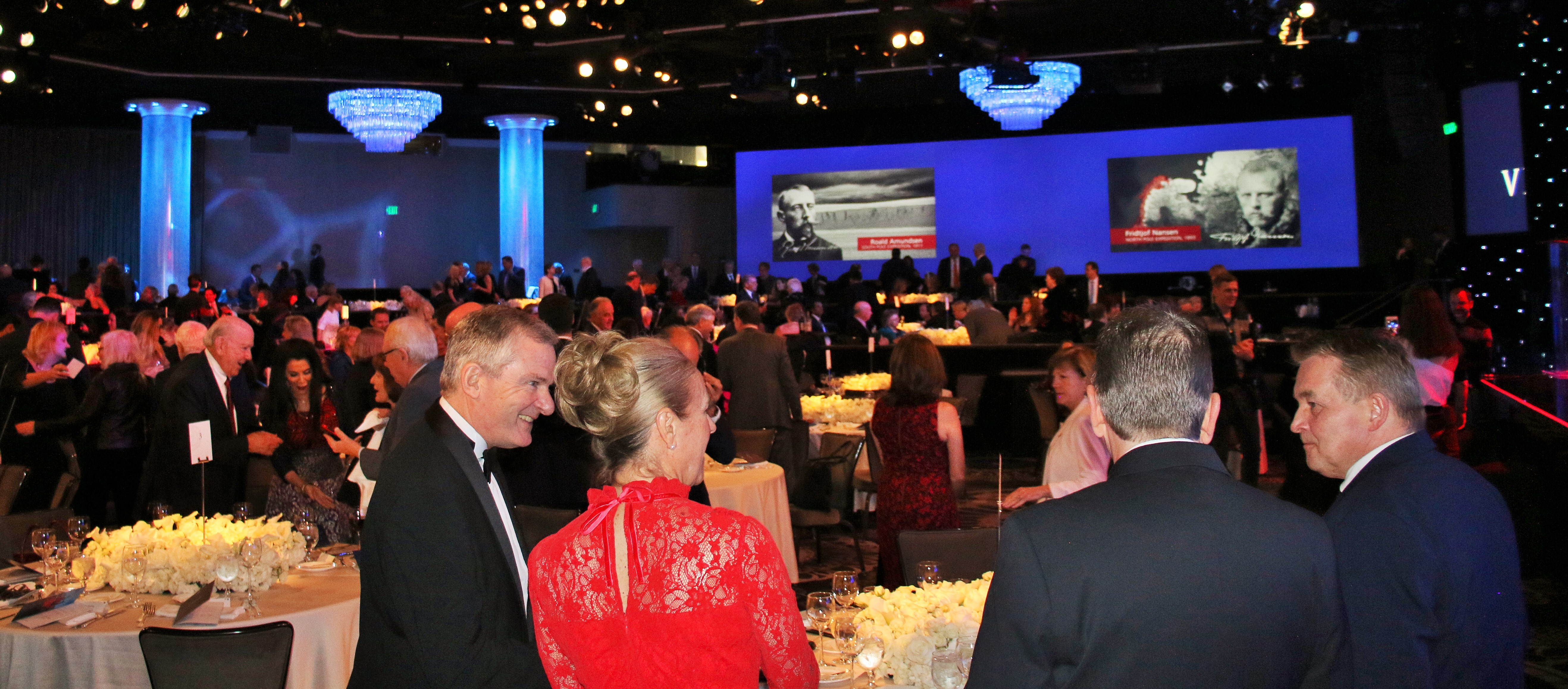 Viking Dinner International Ballroom Beverly Hilton Hotel
A delicious and informative evening concluded with an intimate Q&A with Torstein Hagen and Viking Executives who answered questions from the media in the International Terrace which provided a bevy of thought provoking information from the talented CEO on fuel practices and new information that will be available to the public on clean fuel requirements for the future. As a huge fan of Viking I found the evening of celebration to be simply delightful and look forward to possibly finding myself on yet another blissful trip with the Viking family in the near future, perhaps on a ship with a yellow submarine.
History of Viking: Viking River Cruises was founded in 1997 with the purchase of four ships in Russia. The company expanded into the American market in 2000, establishing a sales and marketing office in Los Angeles. Through rapid expansion, the company has become the largest river cruise line in the world, with double-digit growth in recent years. With the launch of Viking Ocean Cruises in 2015, the company expanded its global reach to new destinations and new guests. In 2016 we began offering a dedicated river cruise product designed specifically for Chinese travelers who wish to sail Europe's iconic waterways. For cruise information visit: www.viking.com.
____________________________________________________________________
EMIRATES FIRST REMOTE CRUISE CHECK-IN TERMINAL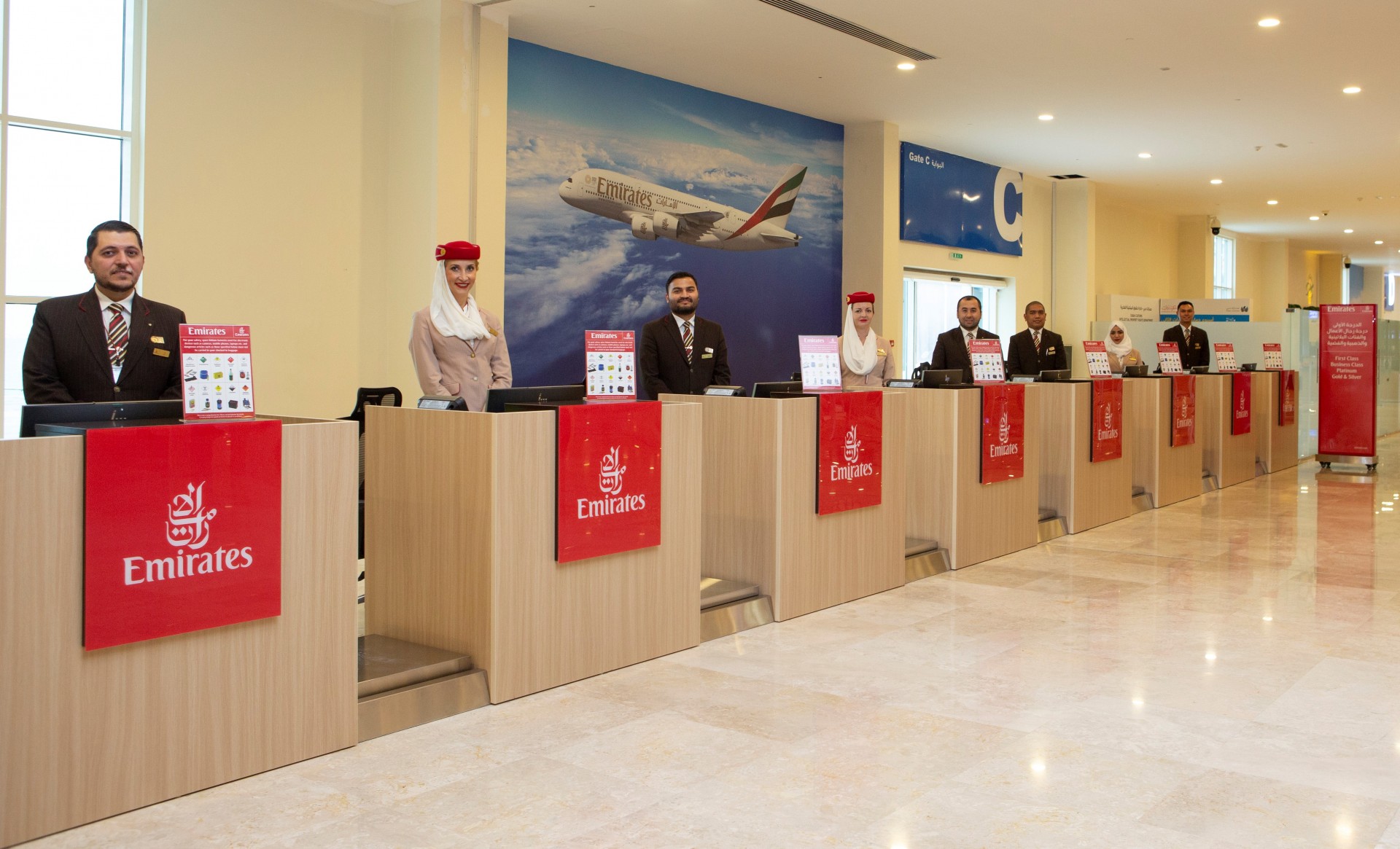 Emirates Cruise Check-in Counters at Port Rashid
Emirates' first remote check-in terminal, outside of the airport, was opened today to provide seamless connections for cruise passengers. The Emirates check-in counters, located at Port Rashid, will allow passengers who are disembarking from their cruise ships to check in for their onward Emirates flight at the same facility.
The new service will further enhance Dubai's position as a premier international cruise destination, and provides greater convenience for Emirates customers. With complimentary flight check-in facilities located at the same location as their cruise disembarkation point, customers will have the convenience of exploring Dubai without their luggage before heading directly to the airport for their flight.
The Emirates check-in facility at Port Rashid will have eight counters where Emirates staff will check-in customers' luggage and issue boarding passes up to 4 hours before flight departure. The facility will be open during the sailing period from October to April. In the next 6 months, 198 cruise ships are expected to dock at Port Rashid where approximately 280,000 passengers will have onward Emirates flights.
Mohammed Mattar, Divisional Senior Vice President, Emirates Airport Services said: "We are committed to provide a seamless and hassle-free travel journey for our customers. With the increasing popularity of Dubai as a cruise tourism destination, we have ensured that every touch point in our customer journey for this important traveller segment is thoughtfully served. Our first remote check-in facility at Port Rashid will allow cruise passengers with onward flights the freedom to explore Dubai during their short transit having dropped their luggage and completed check-in formalities."
The new service complements Home Check-in, launched last year, which allows Emirates passengers to check in for their flights from anywhere in Dubai for a fee. Other luggage handling services available for Emirates flights in Dubai include a concierge service to handle their luggage at the airport.
For Emirates passengers arriving in Dubai, there is a luggage storage facility for those who wish to leave their bags and explore the city. Emirates also offers a Home Delivery service where luggage is retrieved, cleared at customs and delivered to the customers for a hassle free travel experience.
---