SAILING IN STYLE WITH BARCOS QUE CANTAN
A Memorable Cruise on the Sea of Cortez
By Bonnie Carroll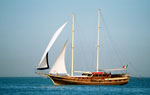 Barcos Que Cantan are Turkish Schooners that sail guests along the coast of the Sea of Cortez, which was described by Jacques Cousteau, renowned oceanographer as "the world's aquarium."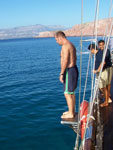 The journey offers an unforgettable tour of the Mexican coast, with a conscientious crew of five catering to your every need.
The twelve guests on board can enjoy water sports such as kayaking, water-skiing, fishing, diving, snorkeling, or just enjoy sunbathing on the deck. The chef will prepare three meals daily, or a delicious lunch to take to one of the many solitary beaches during an island discovery excursion, where Missions and cave paintings can be found.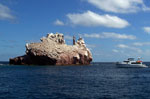 Barcos Que Cantan now have three vessels, Cielito Lindo, Novia Mia and the Tu Enamorado, which sailed us along the Baja California Sur. The Schooners all sleep twelve and they are as beautiful inside as they are outside. Each cabin has a private bath, air-conditioning, and they are very comfortably designed with options of two master suites, two queen suites and two twin suites. The Cielito Lindo features a genuine Turkish bath on board.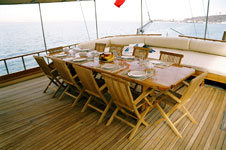 Meals are served in one of two dining areas; the beautiful open air back deck or the inside dining area if desired. A talented chef creates delicious meals and appetizers during the trip, with a selection of wine and beverages. The six day sailing trip can be tailored to meet all special menu and beverage needs with advance notice.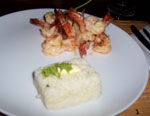 Cabins are cleaned and beds made by the crew daily. The cost for six day rental varies by ship from $27,000 to $32,000.
The meals include some original recipes using fresh seafood that is delicious, and breakfast included everything from scrambled eggs with ham to home made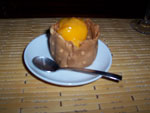 Mexican favorites. Fresh fruit and juices, as well as cold drinks were plentiful, and the fresh fruit sorbet desserts were perfect. Week long guests are welcome to request special services and amenities at a nominal fee.
The ships sail out of Marina Costa Baja in La Paz, but a fourth ship expected to be delivered in February is scheduled to be kept at the marina in Cabo San Lucas. Our sailing from La Paz through the chain of islands was not only a dream to view, but offered a total experience of relaxation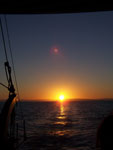 that seemed surreal. Everyone on the Tu Enamorado found themselves in a state of bliss during this sail. We all enjoyed watching the playful sea lions on Los Isolata island by day, and sleeping in the 'hook' of San Francisco island, covered by a blanket of stars. Whales and dolphins, as well as magnificent fish can be seen around these islands. Santa Rosalia island was not on our trip, but I hope to return to this namesake island on a future visit.
Our initial arrival in Mexico was on an Alaska Airlines flight into Loreto, and we were all quite charmed by this 'picture perfect' destination. The Las Flores Hotel, with its vibrant colors, and the historic Mission, surrounded by tree lined cobblestone streets. This town square was a photographers dream. We ate lunch at a local restaurant, 'the nest', where authentic Mexican dishes and beer became the focus of our group. After our first meal in Mexico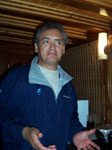 we boarded the Aero Mexico flight to La Paz for the start of our adventure at sea.
Our host on the seventy-four foot vessel was Mr. Francisco Ortiz, the CEO of Barcos Que Cantan, who was at one time the International Director of the Mexico Tourism Board. We were grateful that he was traveling with us because he was so informative and very concerned for our every comfort. According to Mr. Ortiz "beginning in February the company will be running day trips from Cabo San Lucas, which will accommodate eighteen people and will include excursions, breakfast and luncheon for a fee of $235 per person, with hotel pick up and return."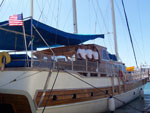 I viewed this awe inspiring vacation trip at sea as the perfect option for corporate groups wishing to have a luxurious annual trip together, a magical way to spend a family vacation or reunion, or the perfect plush hide-out in remote waters for political or movie stars and their staff. No one is there to see you, and it's all good! For reservations or information please visit: wwwbarcosquecantan.com.

---
A "ROMAN HOLIDAY" RIDE WITH HAPPY VESPA RENTAL IN ROME
by Bonnie Carroll

During my visit at the Westin Excelsior Hotel on the Via Veneto, I met with the charming owner of Happy Vespa Rental to learn about this popular form of travel in Italy. According to Paolo the star of the film "Roman Holiday" Audrey Hepburn used his services during a sequence with the film actress riding a Vespa around the 'Eternal City' and he showed me a lovely book filled with photos of Miss Hepburn and Gregory Peck enjoying a fun Vespa ride through Rome.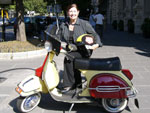 I have always been fascinated by beautiful Italians, dressed in the latest designer suits, who strap on their helmet and take off for a business meeting on their Vespa. Rows of these machines are always parked along the street, especially near good restaurants. I jumped on the Vespa that Paolo brought for a LBN publicity photo, and posed at the entrance to the hotel. Talking about the upcoming events the Happy Vespea Incentives is doing was also quite interesting. He told me that a group of forty-five American woman booked a reservations to be driven by handsome drivers to a castle outside Rome for a wine tasting and picnic during their vacation in Rome, and he also said that recently the company began booking tours in vintage automobiles.

Non-Romans are not allowed to drive Vespa's in Rome, and that's a good thing. The rental comes with an experienced driver, who knows the area and will help you map out a plan of where you wish to visit, and he will take you there safely and within your t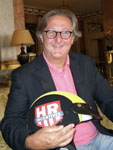 ime constraints. This popular form of city travel is also quite a bit faster than fighting traffic in an auto.

The HRI representative was a very happy guy, and extremely helpful in giving me information on renting Vespa's, or taking vintage auto tours of Rome, and arranging group transport activities while in Italy. This would be a wonderful activity for any company group or family who are spending time in Rome. The company also provides services in other cities in Europe. For information email: HRI@happyrent.com or phone 39 06 42020675. The address for HRI is Via Plave 49, 00187 Rome Italy. Enjoy the Ride!
---
HAPPY VESPA RENTAL IN ROME



Via Piave 49, 00187 - Rome, Italy
Phone +39 0642020675 - Fax +39 0642392145
E-mail: hri@happyrent.com
---
CELLULARABROAD - THE PERFECT GIFT FOR THE WORLD TRAVELER

The number one source for international cell phone rentals and prepaid SIM cards. Having a SIM cell phone (GSM phone) is an essential tool for you to stay in touch with family and friends while you are abroad. Whether you are on vacation or a business trip, we can provide you with economic solutions for international cell phones, to rent or purchase.
Cellular Abroad enables you to take advantage of affordable cell phone rates in the country or countries where you'll be traveling. Unlike conventional cell phone options such as renting an international cell phone at the airport or paying expensive roaming rates through your current cell phone provider (if even available), our outgoing call rates are just fractions of a dollar per minute — even for international calls back home. Plus in nearly every country, you get unlimited, FREE incoming calls, regardless of their origin.
Cellular Abroad offers rental as well as purchase plans for individual countries or for multi-country travel. In addition to our low rates, all of our solutions are prepaid; you are in complete control of how much you spend and with no monthly fees. You may either rent or purchase one of Cellular Abroad's international GSM cell phones plus the appropriate SIM card (a prepaid chip that slides into the cell phone and connects you to the local carrier) and you are ready to make and receive calls.
Cellular Abroad carries some of the most unique and innovative cell phones which are not conventionally available in the US market, from respected companies such as Motorola, Siemens, Nokia and Sony Ericsson. All our phones work domestically as well as internationally through major carriers. You can now easily travel the world, or your home town, with just one cellular phone and take advantage of the local rates everywhere. We also provide Satellite Phone Rentals for destinations that require a Satellite Phone for communication.
At Cellular Abroad, our goal is to continually provide the best service in the industry and allow anyone to enjoy the security and convenience of traveling internationally with a cell phone and prepaid SIM card at a price they can afford.
Announcing Cellular Abroad's 3rd Annual $1000 Photo Contest
We love to see photos of our customers enjoying their cellphones on their trips. We enjoy it so much that we have a photo contest every year. So, whether you're planning an overseas Christmas vacation, a Spring Break getaway, or a nice long summer break, you'll be able to have a little fun coming up with a creative shot that may just end up paying for a good part of your vacation. The contest will run through November 2006.
.You can also contact us if you need assistance on international cell phone rentals or prepaid SIM cards. We are happy to provide you with information on acquiring a SIM cell phone for rent or purchase. Visit: www.CellularAbroad.
---
ROCKY MOUTAINEER ROLLS OUT CANADIAN CHRISTMAS RAIL ADVENTURE FOR AMERICAN FAMILIES

Unique service offers unforgettable beauty and festivities for familiesduring an important time of year for togetherness.

Nothing sparks holiday fun than happy memory making with family and friends. This year, Rocky Mountaineer Vacations presents a winter rail adventure through "The Land of a Million Christmas Trees," in the spectacular Canadian Rockies. Onboard, travelers are pampered with favourite holiday drinks, music, regional cuisine and front-seat vistas of the sparkling winter scenery from Vancouver, British Columbia to Banff, Alberta.
Winter Wonderland Package
The perfect family winter rail adventure is the six-night/seven-day Winter Wonderland package. From the moment guests check in at the festive and nostalgic Rocky Mountaineer Station in Vancouver, they will embrace the holiday spirit together. The Christmas themed two-day Rocky Mountaineer train journey travels through the snow-covered Canadian Rockies to the outdoor playground of Banff, Alberta. Guests can customize their wonderland adventure with a variety of Canadian winter activities to choose from: skating, sleigh rides, snowshoeing, dogsledding, ice walks and world-class skiing.
The package includes two days onboard the Rocky Mountaineer, six nights' accommodation, select meals, a Banff Tour including admission to the Whyte Museum, transfers and admission to the Vancouver Lookout and Calgary Tower. Visitors can choose to travel in either GoldLeaf or RedLeaf Service. The journey starts in Vancouver, December 18 and 26 and in Calgary, December 17 and 25. Prices begin at US $1069 per adult (based on double occupancy) and US $359 per child.
Christmas is for Kids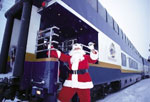 For children, the winter wonderland adventure brings with it the magic of Christmas. Kids can ride aboard the dedicated specialty coach featuring a children's entertainer who leads the group in song, decoration making, and games during the train trip. And of course, as any child would attest, the holiday season would not be complete without a visit from Santa. Jolly ol' St. Nick joins in on the fun to deliver gifts for all when the train meets his broken down sleigh mid-route. There is also a children's menu, featuring such dishes as Grizzly Bear's Homestyle Pancakes, Choo! Choo! Chicken and Spiral Tunnels Pasta.
And for the Young at Heart
For adults, there is the opportunity to rekindle some romance or join in the festivities in the newly renovated specialty coach featuring dancing, live jazz music and a bar, which serves such enticing holiday beverages as mulled wine and spiced eggnog.
While enjoying views of the glacier-capped mountains and icy lakes, guests in the two-storey glass dome coaches of GoldLeaf Service, dine on freshly prepared a la carte Western Canadian regional cuisine as well as seasonal dishes, which includes traditional Christmas turkey with all the trimmings.
Book Now
For additional information or to book a Rocky Mountaineer vacation, contact your local travel professional or Rocky Mountaineer Vacations directly at (800) 665-7245. You may also visit the website at www.winterrailvacations.com.
---
EXCLUSIVE RESORTS AND American Express ANNOUNCE
ONE-OF-A-KIND PROMOTION WITH ONE MILLION MEMBERSHIP REWARDS POINTS
Leaders in luxury partner for a year-end bonus like no other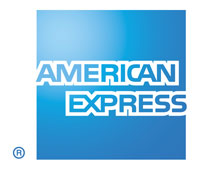 Just in time for the holiday season, American Express and Exclusive Resorts today announced a new way to get the most out of luxury travel. Cardmembers who purchase an Exclusive Resorts membership will receive up to one million Membership Rewards® points. New Exclusive Resorts members looking to spread some cheer this holiday season have the flexibility to use their Membership Rewards points to indulge themselves, buy an uber-luxurious gift for family or friends, or to help someone else by donating the points to charity.
Bonuses will come early this year for those Cardmembers who purchase a $425,000 Elite Membership with Exclusive Resorts, the world's leading luxury destination club. This Elite membership includes up to 45 days of access to hundreds of luxurious, $3 million private residences in dozens of the world's top destinations. Cardmembers will receive the standard Membership Rewards points with their purchase, and through January 31, 2007, will receive additional bonus Membership Rewards points to their account – for a total of one million points.
"Exclusive Resorts is becoming the number one choice for affluent families looking for a better way to vacation," said Michael Beindorff, Exclusive Resorts Chief Operating Officer. "We are thrilled to expand our strategic partnership with American Express to grow our business among their Cardmembers. This exciting promotion will make Exclusive Resorts membership more accessible and rewarding."
With 300 luxury residences and dozens of vacation destinations worldwide, Exclusive Resorts' provides its members with the spaciousness and elegance of a private home with the services, amenities and conveniences of a luxury resort. In just three years, Exclusive Resorts members have taken more than 25,000 vacations to premier beach, mountain, leisure and metropolitan locations around the world, giving the club a 95 percent satisfaction rating.
"American Express is the card of choice in the luxury segment and for large-ticket purchases. Our partnership with Exclusive Resorts is a great example of American Express' unique ability to connect affluent consumers with our merchant partners," says Rocco Laterzo, senior vice president, Travel and Entertainment Industries, American Express. "This is a terrific opportunity for our Cardmembers to earn a tremendous amount of Membership Rewards points and experience the benefits of the world's leading luxury destination club."
In addition to spending the one million Membership Rewards points on personal or gift products or services, Cardmembers are able to reward others with their points by donating them to a variety of charities through American Express' donation program, "The GivingExpress® program." For more a complete list of rewards to spoil family and friends, a treat for oneself or for more information on charitable donations and The GivingExpress program, visit www.americanexpress.com for more information.
Promotion Details:
American Express Cardmembers who join Exclusive Resorts at the club's Elite Membership level, which offers 45 days of travel per year, can earn up to 1,000,000 Membership Rewards points. Cardmembers who join at the Executive Membership level, which offers 25 travel days per year, can receive up to 750,000 Membership Rewards points. Cardmembers who join at the Affiliate Membership level, which offers 15 travel days per year, can receive up to 500,000 Membership Rewards points. All Exclusive Resorts members have access to the same portfolio of spacious, luxurious residences around the world, and with the same personalized service. This promotion is valid through January 31, 2007. For more information on this promotion and membership, please call 866.858.0032or visit
www.exclusiveresorts.com/americanexpress.
---
THIS SEASON ENJOY AN OLD-FASHIONED CHRISTMAS WITH A MIX OF BAHAMIAN CHARM AT OLD BAHAMA BAY, RESORT & YACHT HARBOUR
Old Bahama Bay, Entertainment Capital of the Bahamas, announces Christmas and New Year's celebrations not to be missed
Old Bahama Bay Resort & Yacht Harbour promises an unforgettable holiday getaway this year with packages for the entire family. Old Bahama Bay is the ideal locale for an unforgettable, old-fashioned Christmas interwoven with Bahamian charm. Christmas and New Year's holiday rates start at $465.
Holiday celebrations begin in December with Old Bahama Bay's "Junkanoo Christmas Festival." This festival is centered on the traditional Bahamian junkanoo celebration and will conclude with an all-night costumed street celebration. The Christmas celebrations will begin on Christmas Eve as a children-led choir from the nearby West End community fills the resort with the sound of caroling. The resort-employee troupe, West End Love Train, will then follow with its "Motown Christmas Show," after which guests can join the group on the beach for island-style caroling around a bonfire complete with eggnog and s'mores.
On December 25th, the Christmas Day celebration will commence with an exquisite poolside holiday dinner. Entertainment will include a 'Bahamian Ting-Um' cultural show featuring Bahamian musical legend, Ronnie Butler. After midnight, the celebration continues as resort guests are whisked to the nearby village of West End for Boxing Day junkanoo celebrations. Christmas dinner, entertainment and junkanoo celebrations come complete with an open bar and are priced at $160 per person.
"If you've never experienced Christmas Bahamian-style, this is an opportunity you don't want to miss," said Fred Moss, Old Bahama Bay's Director of Food & Beverage. "From the food to the entertainment, you will be totally immersed in our native culture. But be prepared to celebrate for the entire time," adds.
s we usher in 2007, Old Bahama Bay promises a gala affair like none other. At one of two dinner sessions in the lovely Aqua restaurant overlooking the marina, guests will enjoy the musical sounds of accomplished pianist Steven Colebrooke as well as performances by the resort-employee group, West End Love Train. As midnight draws near, the celebration will move outdoors for a Junkanoo Champagne Party including fireworks, party favors, a complimentary bottle of champagne and a junkanoo rush-out. The first seating for dinner alone is priced at $65 per person. The second seating consisting of dinner and the Junkanoo Champagne Party is priced at $130 per person.
Rates are per room, per night. From Dec 23rd-25th each guest will receive a special holiday turn down gift. For more information and for reservations call 1-800-572-5711 or visit www.oldbahamabay.com.
---
SANTA BARBARA GETAWAY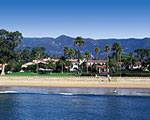 On the shores of the American Riviera and nestled beside Butterfly Beach, Four Seasons Resort The Biltmore Santa Barbara offers the perfect getaway this holiday season.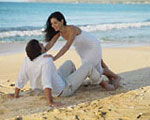 Now is an ideal time to escape with a sensory journey through the spa or 18 holes on a nearby golf course. Discover a restored haven, just minutes from the familiar yet miles away from the everyday.
For the month of December only, enjoy an exceptional value on guest rooms and suites:
Rates starting at
$385
per room, per night
Learn more about our Festive December package.
For more information about Four Seasons Resort The Biltmore Santa Barbara, visit our website.
View a list of events in and around the Santa Barbara area.
To reserve this package: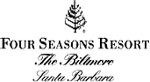 Call your travel consultant
Use our on-line reservations service
Contact our worldwide reservations office
Contact the Resort directly at 1 (805) 969-2261
---
Adirondack Region Resorts Announce
Winter Package Getaways
Resorts in the Adirondack region of New York state have announced many of their winter packages for the 2006-2007 season. Located just five hours from the metro New York area, the Adirondack region's variety of winter activities and lodging options make it the ideal location for a winter getaway.

The Adirondack Park:
is the largest publicly protected area in the continental United States;
is larger than any of the national parks in the lower forty-eight states;
contains 85 percent of all wilderness land east of the Mississippi;
is less than a five hour drive for less than 25% of the North American population.
is comprised of over 6 million acres (roughly the size of Vermont), nearly half of whichis public land, accessible to everyone.
As proof that winter is no time to hibernate in the Adirondacks, many local resorts and hotel properties offer winter package getaways that highlight the region's outdoor adventure opportunities. These packages are often listed on the properties' individual Web sites or at www.GetawaysNewYork.com.
Packages listed at www.GetawaysNewYork.com include ski vacations, romance packages, snowmobile vacations, and horseback riding adventures. A sample of this year's Adirondack region winter getaway packages follows.
The Fern Lodge - Adirondack Winter Escape
The Fern Lodge is a luxurious Adirondack style lodge overlooking Friends Lake in Chestertown. Its Adirondack Winter Escape package includes accommodations for two in a luxurious fireside bedroom, a full-country breakfast each morning, a welcome cheese and fruit plate with a choice of red, white, or sparkling wine and evening s'mores in front of the fireplace. It is priced from $750 per couple and includes cross-country skiing or snowshoeing trail fees. Tickets to nearby Gore Mountain for downhill skiing are an available option.
1000 Acres Ranch Resort - New Year's Special
Celebrate New Years at an Adirondack dude ranch. Ring in 2007 with horseback riding, ice skating, snowmobiling, sledding and bonfires. The package includes a New Year's Gala and three meals a day. It is being offered December 29, 2006 – January 1, 2007 and is priced at $139 per adult per night; $89 per child, per night, ages 13-17; $75 per child, per night, ages 7-12; children 6 and under are free.
Mirror Lake Inn Resort and Spa – Three Night Ski Package
Ski the most vertical mountain in the east and stay at the resort with the record of receiving the AAA Four Diamond Award for 22 consecutive years. The Mirror Lake Inn is a luxury lake front resort adorned with 100,000 twinkling lights through out the winter. It is also within walking distance from the shops and restaurants of Lake Placid. This package includes three nights of luxury accommodations, three days of skiing at Whiteface Mountain for two and breakfast for two each morning. It is being offered January 2 – February 15, 2007 (Sunday – Thursday); February 25 – March 15, 2006 (Sunday –Thursday) and is priced at $750 per couple.
Fort William Henry Resort & Conference Center - Snowmobile Package
This inclusive snowmobile package includes two nights of deluxe accommodations and breakfast each morning. Snowmobilers will receive a Warren County trail map, a Kodak disposable camera and a dinner at J.T. Kelly's. This package is available Nov. 1, 2006 – Mar. 31, 2007 and is priced from $314.
Garnet Hill Lodge & Cross-Country Ski Center - Learn to Cross-Country Ski
Learn to cross-country ski in the Adirondack Mountains with this package designed for beginners. The Garnet Hill Lodge has 55 kilometers of scenic groomed trails topped with tons of snow. This package includes two beginner cross-country ski lessons and rental equipment for three days. Guests will also receive accommodations for three nights with dinner and breakfast. The package is available December 10, 2006 – April 8, 2006, Sunday-Thursday (except holidays).
Contact information:
The Fern Lodge
46 Fiddlehead Bay Road
Chestertown, NY 12817
518-494-7238
www.TheFernLodge.com
1000 Acres Ranch Resort
465 Warrensburg Rd,
Stony Creek, NY 12878
518-696-2444
www.1000Acres.com
Mirror Lake Inn Resort and Spa
Lake Placid, NY 12946
518-523-2544
www.MirrorLakeInn.com
Fort William Henry Resort & Conference Center
48 Canada St,
Lake George, NY 12845
518-668-3081 or 1-800-234-0267
www.FortWilliamHenry.com
Garnet Hill Lodge & Cross-Country Ski Center
13th Lake Road
North River, NY 12856
518-251-2444
www.Garnet-Hill.com
Call 800-487-6867 or visit www.visitadirondacks.com for more package listings, trail maps and snowmobiling information.
---
THE GREAT ESCAPE
For those looking to grab a few relaxing days away before the stress of the festivities takes hold, come and escape to Mexico for 3 or 4 days. Verana, an idyllic and secluded boutique hotel, is offering a special preholiday getaway package for the first and second week in December. The package includes:
1 Spa treatment per day per guesthouse,
Free yoga,
3 daily meals,
Taxes and boat transportation,
All for a mind-blowing $350 per couple per guesthouse per day.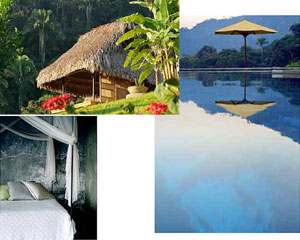 Cut into a swathe of Mexican jungle on a remote hillside 30 miles south of Puerta Vallarta, Verana is suspended above the deep blue Pacific Ocean and boasts spectacular panoramic views of the surrounding mountains of the Valle de la Sierra. Eight beautifully appointed guesthouses nestle within five acres of lush tropical gardens, giving the luxurious Verana its unique rustic ambience. Individually styled with an elegant blend of the traditional and contemporary, each guesthouse has a spacious terrace from which to enjoy the magnificent landscape.
Described by Shape magazine as "More like the set of a romantic movie than reality," the Verana experience begins even before you arrive. After a 30-minute boat journey to Yelapa Beach, guests take a short mule ride through the jungle to Verana's elevated location.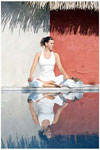 Verana's tranquil setting will help you unwind while its Spa, carved into the rocks overlooking the Bay of Yelapa, offers a variety of ways to relax and pamper yourself. Soak in Mexico's only warm saltwater Watsu pool while being gently massaged or enjoy a night under the twinkling stars wallowing in an outdoor aromatherapy bath. Other treatments include Organic Facials, Coconut and Sugar Scrub and a Banana De- Tox Wash. To soothe the mind and body, there are daily yoga classes in the hut with its floor extending dramatically out over the hillside. Guests can also luxuriate in Verana's invigorating spring water swimming pool while taking in the 180° view of the sea and mountains.
If you're in the mood for something a little more energetic, then Verana has plenty of adventurous activities. There is kayaking in the local bay, snorkeling at Pixota Beach, fishing expeditions and whale watching trips. Landlubbers can take a jungle trek through a tropical rainforest to a picturesque waterfall where the more intrepid visitor can leap into the crystal clear pool below.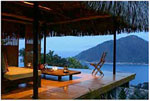 Dining at Verana is another very special experience. Breakfast and dinner are served outside on a terrace with its breathtaking vistas. Being by the Pacific, the menu reflects the wealth of fresh seafood available, with dishes such as Fish wrapped in Banana Leaf, Tuna Tartare and Seafood Pozole.
The benefits of a restorative break are priceless, making Verana's special package a deal too good to pass by. As Conde Nast Traveller says, "Isolation doesn't get any more splendid."
For further information, contact:
Sarah Robarts
sarah@ballantinespr.com
---
KENYA SAYS "GOOD MORNING AMERICA"!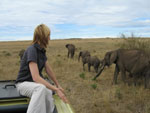 November 17,2006 (Maasai Mara, Kenya)– The popular ABC morning news show, Good Morning America, featured Kenya's Great Migration in the Maasai Mara today as the Seventh New Wonder of the World in their series running during sweeps month. The show's special series, which started running on November 9, 2006, is covering new wonders of the world which included: the internet, Jerusalem, and Mexico's Mayan Ruins, Chichen Itza, to name a few.
Kate Snow, Good Morning America's Weekend Edition co-anchor, reported live from the Mara covering the annual wildebeest migration, conservation projects in the Mara, a short history of the Maasai people and the Daphne Sheldrick Animal Orphanage. This was the first live shoot from the Mara since about a decade ago.
Abercrombie & Kent (A&K) and the Kenya Tourist Board (KTB) partnered with the crew in pulling off arguably one of the most technically difficult shoots for the "7 New Wonders" series during sweeps month. The crew, A&K and KTB representatives have been based at the Mara Intrepids while shooting live along the Mara River next to the Mara Serena Hotel. The crew has been in Kenya working for the last week to ensure a smooth live shoot for Good Morning America's closing of the "7 New Wonders". Generators, a microwave dish, six different cameras, a helicopter and an impressive amount of equipment was brought into one of Kenya's most remote and natural areas to be able to make the live episode possible.
The Maasai Mara is probably the most famous and most visited reserve in Kenya. Host to the annual migration of millions of wildebeest, zebra and gazelle from the Serengeti plains, the Mara provides a spectacle of wildlife viewing during the summer months. During the months of July through September, visitors have the opportunity to be exposed to the great circle of life as the masses of herbivores attract the great predators of Africa: lion, leopard, cheetah, hyena and crocodiles.
Throughout the past few years, Kenya has been seeing a great surge from the American tourism market. Since 2002, Kenya has almost doubled its arrival numbers from North America. New international investments are filtering into the tourism industry; which are spiking interest in the region. Just recently, the Fairmont Hotels purchased four of Kenya's most historical hotels and plan to invest millions in their renovating each to their original splendor.
For more information on Kenya Tourism please visit the Kenya Tourist Board at www.magicalkenya.com or call toll-free 866-44-KENYA. To learn more about the show visit www.abc.com.
---
VILLA D'ESTE RECEIVES AWARD OF EXCELLENCE
It was announced at the annual General Assembly of the Leading Hotels of the World which took place in Barcelona November 15 to 19, that Villa d'Este received
The Leaders Club Guest Recognition
Award of Excellence 2006
It was presented by Paul McManus, President and CEO of the Leading Hotels of the World, to Danilo Zucchetti, General Manager of Villa d'Este.
" I feel very proud of this * best of best * Award , since it is the result of a survey amongst the 40.000 top Leading's clients who joined the Leaders Club " says Jean-Marc Droulers, President and C.E.O. of the Villa d'Este Company. " This Award is in recognition of Villa d'Este's level of excellence and its strive for improving it year after year ."
During the Assembly, Villa d'Este's guest assistant Isabella Brusco was assigned the 4th Annual Juan Gaspar Scholarship . Her essay on " What are the possible effects of non-monetary employee benefits " was chosen amongst more than 400 .
Following are the 2006 awards received so far by Villa d'Este:
Condè Nast Traveler: listed amoungst the top 100 of "the best of the best"
Travel & Leisure Magazine (Europe): #4 Top European Resorts voted #1 Hotel
Robb Report: Best Places to Stay in 2006
Andrew Harper's Hideway Report: #2 in 20 Top International Resorts
Bonnie Carroll's Life Bites News:
Luciano Parolari, Villa d'Este "Best Interational Chef 2006"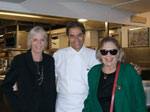 Winning Team Members: Annamaria Duvia, Chef Luciano Parolari, Jean Salvadore
---
The Ultimate Vacation
Private Residence Rentals
Looking for a spacious retreat for the whole family? Planning that long overdue reunion for a group of old friends? For a day, a week or as long as you like, you can now experience a vacation like no other in some of the world's most exclusive destinations by renting a Four Seasons Private Residence.
Head for the slopes of Jackson Hole or Whistler. Enjoy cocktails from your balcony nestled into the hillside in Costa Rica. Indulge in a palatial estate home in Bali. Enjoy oceanside golf in the tropical paradise of the secluded Exuma cays in the Bahamas. Take a dip in your infinity-edge pool before grilling under the stars in Punta Mita, Mexico. Or, bask in the breathtaking beauty of the sparkling Caribbean from your private garden in Nevis, West Indies.
As these Private Residences are part of a Four Seasons resort in each destination, you'll enjoy the legendary services and amenities of Four Seasons in beautifully appointed, spacious accommodations.

For more information or to begin planning your next vacation today:
Call 1-866-894-9644 within the U.S. and Canada
Call 1-416-445-5031 outside of the U.S. and Canada
---
THE WESTIN VERASA NAPA BREAKS GROUND IN NAPA VALLEY
The whole-ownership condominium-hotel is the latest development to break ground in the emerging Oxbow District in the heart of America's wine capital.
Starwood Hotels & Resorts Worldwide, Inc.® (NYSE: HOT) and Intrawest ULC announce the ground-breaking of The Westin® Verasa Napa Residences, one of the largest private developments in the city's evolving riverfront community. The property is owned by Intrawest and will be managed by Intrawest Hospitality Management Division under a long-term management agreement.
The November 4th sod-turning comes just ten weeks after the unique 160-unit full-service development was unveiled to Napa's civic and business leaders, as well as potential property buyers, at an exclusive reception at the Napa Opera House. The groundbreaking event will take the celebration outdoors for a Napa-style reception, featuring an opportunity to see new vistas from a cherry picker. Condominium reservation holders will also receive their first look at the interior features of the development and the exciting benefits of ownership.
"The Westin Verasa represents a tremendous win as it further expands the hotel base in the downtown area, both in the Oxbow District and the Napa Valley. Visitors will now have one more reason to stay and play in America's wine capital," said Benno Nager, Vice President of Development for Intrawest. "We are grateful for the support of the community and the City who have supported this condo hotel and our efforts to contribute to both the downtown and Oxbow District story."
A rare real estate opportunity such as The Westin Verasa Napa Residences is the fruition of countless hours of planning and collaboration by the City of Napa and two industry leaders - Intrawest, a world leader in developing resort destinations and Westin Hotels and Resorts®, with world-renowned service executed with effortless style and a gracious attitude. This exceptional partnership between Intrawest and Westin once again brings together the visionary innovators of successful hotels and residences throughout North America.
The Westin Verasa Napa will serve as a vital cornerstone for the development of an exciting new district in downtown Napa. The riverfront development will serve to enhance the rich diversity of Napa's surrounding wineries, growers and culinary culture. The Oxbow Public Market - located next to the development - broke ground on September 28th and is a testament to the emerging region. The 40,000 square foot marketplace, which includes a scenic outdoor deck with seating along the Napa River, will feature a diverse tenant mixture of local food vendors, artisan cafes and organic farm stands. Steve Carlin, founder and CEO of the Oxbow Public Market confirms the significance of the partnership, "We welcome The Westin as a wonderful new addition to the community. Their exciting project is further evidence of the Oxbow District's growing attraction as a destination for tourists and locals alike."
"The Westin Verasa Napa's architecture, design and its infusion of surrounding natural elements into the property are reflective of Westin's goal of ensuring that guests feel renewed and at their personal best," said Sue Brush, senior vice president of Westin Hotels & Resorts. "The hotel's location allows owners to experience and become a part of a truly unparalleled piece of Napa Valley."
Construction on the hotel will begin this year, with a planned opening in 2008. The Westin Verasa Napa will be the first full-service property to come to Napa in nearly five years. The property will also add 5,320 square feet of conference space to the Napa Valley. A downtown Napa presentation center showcases architectural models and interior design samples. For more information about The Westin Verasa Napa, please visit www.westinnaparesidences.com.
About Intrawest
The Westin Verasa Napa is an Intrawest development project. Intrawest ULC has interests in 10 resorts at North America's most popular mountain destinations, including Whistler Blackcomb, a host venue for the 2010 Winter Olympic and Paralympic Games. Intrawest owns Canadian Mountain Holidays, the largest heli-skiing operation in the world, and an interest in Abercrombie & Kent, the world leader in luxury adventure travel. The Intrawest network also includes Sandestin Golf and Beach Resort in Florida and Club Intrawest -- a private resort club with nine locations throughout North America. Intrawest develops real estate at its resorts and at other locations across North America and in Europe. Intrawest is headquartered in Vancouver, British Columbia. For more information, visit www.intrawest.com.
About Westin Hotels & Resorts
Westin Hotels & Resorts®, with more than 127 hotels and resorts in more than 31 countries and territories, is owned by Starwood Hotels & Resorts Worldwide, Inc®. Starwood® is one of the leading hotel and leisure companies in the world with approximately 850 properties in more than 95 countries and 145,000 employees at its owned and managed properties. Starwood Hotels is a fully integrated owner, operator and franchisor of hotels and resorts with the following internationally renowned brands: St. Regis®, The Luxury Collection®, Sheraton®, Westin®, Four Points® by Sheraton, W®, Le Méridien® and the recently announced aloftSM and ELEMENTSM Hotels. Starwood Hotels also owns Starwood Vacation Ownership, Inc., one of the premier developers and operators of high quality vacation interval ownership resorts. For more information, please visit www.starwoodhotels.com.

---
THE PENINSULA
_________________
B E V E R L Y H I L L S
DECK THE HALLS, TRIM THE TREE…AND WELCOME 2007!
MAKE THE HOLIDAYS A JOYOUS OCCASION THIS YEAR AT
THE PENINSULA BEVERLY HILLS' BELVEDERE RESTAURANT
The Peninsula Beverly Hills invites you and yours to celebrate the holidays this year at the beautiful Five Diamond Award-winning Belvedere Restaurant. The season of celebrating age-old traditions with family and friends, old or new, is quickly approaching! What better way to celebrate than to gather loved ones for Christmas Eve, Christmas Day and New Year's Eve at The Belvedere. Executive Chef Sean Hardy has created your culinary wish list of extraordinary holiday menus. Whether you've been enjoying special moments at The Belvedere with your family for years, or you'd like to begin a new tradition for the holidays, Chef Hardy's Christmas Eve and Christmas Day dinners and fabulous New Year's Eve celebration are sure to create a veritable feast of memories. Following are this year's holiday menus:
Christmas Eve in The Belvedere
Chef Hardy has created a Christmas Eve dinner menu perfect for the "night before." Of course, it wouldn't be Christmas Eve without holiday carolers, and you'll be serenaded by some of the best as you enjoy these delicious offerings:
Pan Roasted Foie Gras with Maple Corn Cake and Cranberry Gastrique
Pumpkin Bisque with Duck Confit and Sage Mascarpone Dumpling
Olive Oil Roasted Alaskan Salmon with Chive Potato Mousseline, Arrowhead Spinach and Capers
Braised Short Ribs with White Corn Polenta, Creamed Leeks and Silician Pistachios
White Chocolate & Eggnog Bavarian with Rich Hot Chocolate
The Belvedere, Sunday, December 24, 2006
6:00pm – 9:30pm
$105.00
Five courses
Family Style Christmas at The Belvedere
While Christmas brings to mind visions of sugarplums and reindeer, the holidays are about the company of family and friends. To celebrate Christmas Day, we invite you to enjoy not only a wonderful "Family-Style Feast" created by Chef Hardy, but the warmth and charm of this beautiful award-winning Beverly Hills restaurant. You'll find yourself eager to return again and again to celebrate all kinds of "family" occasions! Here's what Chef Hardy has prepared to make this Christmas memorable:
To Begin:
Honey Tangerine Cured Salmon with Shaved Fennel, Green Beans and Baby Frisée
Heirloom Squash, Roasted Corn and Celery Root Salad with Pineapple Sage
Truffle Macaroni and Cheese
Duck Prosciutto with Pomegranate Cous Cous, Chestnuts and Spiced Pumpkin
To Continue:
Diestal Farms Tom Turkey with Chestnut & Cranberry Stuffing, Mashed Potatoes and Pan Gravy
Black Arkansas Apple Crusted Halibut with Melted Leeks, Baby Artichokes and Pinot Noir Emulsion
Cumin Braised Short Ribs with Broccoli Rabe and Corn Bread Hash
To End:
Enjoy a Selection of Sweets from our Dessert Buffet
The Belvedere, Monday, December 25, 2006
11:00am - 8:00pm
$70.00
$80.00 with Champagne
Children 12 and under: $35.00
Three courses

New Year's Eve in The Belvedere
You've trimmed the tree, given and received the gifts, hosted friends and family… now it's time to usher in the New Year! To begin the celebration with a truly sumptuous dinner, the Belvedere's early seating is ideal! Beginning at 6:00pm, this elegant four-course meal will set the stage for a magical evening.
Early Seating
Truffle Macaroni & Cheese for the New Year
Roasted Veal Loin with Parsnip Mousse, Baby Brussels Sprouts and Persimmons
Mt Tam with a Warm Cherry Gingerbread, Truffle Honey and Marcona Almonds
Chocolate Chestnut Tart with Wild Strawberry Compote and Champagne Sorbet
The Belvedere, Monday, December 31, 2006
6:00pm seating
$125.00
Four courses
Gala Dinner
Dine at 9:00pm or 9:30pm, and you'll be set for an unforgettable night! The Gala Dinner is specially orchestrated to count down to midnight. Bring your dancing shoes and enjoy the live band performing in the Living Room to welcome 2007 with the glow of candlelight and the pop of champagne corks!
Green Apple and Celery Root Parfait with Osetra Caviar
Truffle Macaroni & Cheese for the New Year
Maine Diver Scallops with silken Cauliflower, Chanterelles and Pear Champagne Sabayon
Roasted Veal Loin with Parsnip Mousse, Baby Brussels Sprouts and Persimmons
Mt. Tam with a Warm Cherry Gingerbread, Truffle Honey and Marcona Almonds
Chocolate Chestnut Tart with Wild Strawberry Compote and Champagne Sorbet
The Belvedere, Monday, December 31, 2006
9:00pm and 9:30pm seatings
$250.00
Six course Gala dinner
Live band and dancing
New Years Eve in The Living Room
If you prefer to ring in 2007 on a lighter note, join The Peninsula Beverly Hills for a live band performance and dancing in The Living Room while enjoying an exquisite caviar and hors d'oeuvres buffet. All will count down together to the first moments of the New Year!
The Living Room, Sunday, December 31, 2006
8:00pm
$175.00
Caviar and Hors D'oeuvres
Live Band, Dancing, New Year's Eve Countdown
---
IT'S A FAMILY AFFAIR AT
ROCCO FORTE'S RENOWNED BROWN'S HOTEL
London's most stylish hotel offers guests exclusive offer the whole family will love
Families planning upcoming getaways to London's most stylish hotel can now book a deluxe room at Rocco Forte's Brown's Hotel and receive another deluxe room absolutely free for the children. With the holiday season fast approaching, Brown's Hotel is ideally situated to allow guests the opportunity to take advantage of all that London has to offer. Children delight in London's vast array of theatre shows, museums and ice-rinks, and with Bond Street and Oxford Street in close proximity; adults can enjoy endless holiday shopping. This offer starts at £480 or $913, VAT not included, for two adjoining deluxe rooms accommodating up to two children and two adults per night. Continental breakfast is also included with this exclusive offer.
Guests of Brown's Hotel can enjoy lunch, afternoon tea and dinner in the famed English Tea Room, or for those seeking a more formal setting, The Grill offers one of the chicest and most exquisite dining experiences in London.
Brown's Hotel's Five-Star Kids Program
Brown's Hotel offers a dedicated Five-star Kids program, specifically designed for children of all ages, to ensure that they enjoy every aspect of their own "Brown's experience". Special highlights of the program include:
A wide range of "Junior" bath accessories
A special "Teddy turn-down"
Mini-me robes and slippers and a variety of children's movies and DVDs
An age-appropriate gift on arrival, such as a personalized copy of The Jungle Book by Rudyard Kipling
Special childrens' treatment, Twinkle Toes and Happy Hands, in Spa at Brown's for an additional cost
Exclusive children's room service menu
Children under the age of three receive complimentary food and beverage, while three to 12 year olds receive a 50 percent discount on all menus.

This offer is available for stays on Friday through Sunday nights and Bank Holiday Mondays, subject to availability, and cannot be booked online. To guarantee availability of connecting rooms, reservations must be made through 0870-460- 8040.
Conversion rate to American Dollars as of October 30, 2006 is subject to changes.
For further information and reservations
please visit the Rocco Forte Hotels website: www.roccofortehotels.com
or call The Leading Hotels of the World at 1-800-223-6800.
---
LAKE TAHOE RANKED #1 SKI DESTINATION NATIONWIDE
FOR SKIING AND NON-SKI ACTIVITIES
Over 6,500 Travelzoo Subscribers Ranked Tahoe #1

Travelzoo (NASDAQ), a global Internet media company, announced Lake Tahoe, California as the number one ski destination in North America.10 million travelers trust Travelzoo reviews and recommendations.
Subscribers voted for destinations that they had visited and would recommend to others. Then, Travelzoo editors ranked the most popular destinations for both skiing and overall winter recreation and non-ski activities.
"We're thrilled to have received this recognition, as South Shore Lake Tahoe has some of the most diverse skiing terrain in the World at, Heavenly, Kirkwood and Sierra-at-Tahoe. And, guests can enjoy shopping, dining, nightlife, ice skating, snowmobiling, a gondola ride, 24-hour gaming and much more," said Patrick Kaler, executive director of the Lake Tahoe Visitors Authority.
The number one ranking from Travelzoo came right at the same time when Heavenly plans to open on Friday, November 17 and Kirkwood and Sierra-at-Tahoe sometime over Thanksgiving Weekend.
Live ski resort web cam views at:
Heavenly http://www.skiheavenly.com/
Kirkwood http://www.kirkwood.com/winter/webcam.html
Sierra http://www.sierraattahoe.com/info/winter/web-cam.asp

---
HOTEL ESPRIT SAINT-GERMAIN INVITES GUESTS INTO THE HEART OF PARIS' HISTORIC AND CREATIVE SAINT-GERMAIN DE PRES DISTRICT
The 'Spirit of Saint-Germain' package for 3-night stay at Hotel Esprit Saint-Germain is available through December 31, 2007
Hotel Esprit Saint-Germain, is offering a special rate for a three night stay in Europe's most romantic city. Guests will enjoy the comforts of home at Esprit Saint-Germain with an American breakfast every morning, complimentary newspapers, high-speed Internet access and an open bar in the lobby. They will also revel in luxury in one of twenty-eight well-appointed guestrooms, each with its own unique style and personality. Additionally, the package includes round-trip luxury chauffeur-driven sedan transfers on arrival and departure, complimentary use of both the Wellness and Business Centers and VIP status. Savings range from 1 percent – 3 percent and package prices are based on a guaranteed U.S. dollar rate.
The hotel resides within the elegant structure of an 18th century building, the interior of which was completely rebuilt after a three year, $8 million renovation, giving this historic hotel a contemporary feel. The hotel is located on Rue Saint Sulpice in the Saint Germain de Près district on the Left Bank, once the center of artistic and literary Paris and best known for its shops, book stores, theatres and cafes. The hotel is within walking distance of the Saint Sulpice church, made famous in Dan Brown's novel the DaVinci Code, the Jardins du Luxembourg and Boulevard Saint Germain.
When owner and operator, Laurence Tafanel created Hotel Esprit Saint-Germain she envisioned a private residence in which visitors would gather to be entertained in a sophisticated home-like environment. Hotel Esprit Saint-Germain reflects Ms. Tafanel's attention to every detail and her desire to provide guests with the very best of everything, including personalized services and the latest in technology and state-of-the-art equipment. The guestrooms feature flat-screen TVs, wall-mounted DVD/CD players, cordless phones, king-size beds, tea and coffee making facilities, mini-bar and en-suite bathrooms with luxurious Etro toiletries.
Spirit of Saint-Germain Package includes:
Three night stay based on double occupancy
Round-trip luxury chauffeur-driven sedan transfers on arrival and departure
American breakfast daily
Open bar in the lobby
Complimentary use of the Wellness Center
Complimentary use of the Business Center
High-speed internet access
Complimentary newspapers
VIP status (flower and fruit in the room)
All taxes and service included
Available through December 31, 2007
---

800-850-1600 www.travelsmith.com
For the ultimate in traveling comfort clothing and assessories
---
ZONE DELIVERY USA NOW DELIVERS FRESH MEALS TO BUSINESS TRAVELERS - ANYWHERE IN THE COUNTRY
Have Zone, Will Travel
Eating healthy while traveling on business has always been a challenge - until now. In a boon for mobile professionals, Zone Delivery USA, a leading Zone catering company, announces nationwide deliveries of its fresh and healthy gourmet meals. The new service caters to upwardly mobile professionals who don't always have the time or resources to eat well-balanced meals while living in hotels.
For just $99.99, plus shipping, Zone Delivery USA will send three days worth of breakfast, lunch, dinner, and snacks to anywhere in the country. The meals arrive in a thermal shipping box, courtesy of DHL, and will remain fresh for days while refrigerated. The cost is less than what the typical businessperson would spend on room service while traveling - and the food on the Zone plan is a much healthier choice.
The full complement of gourmet meals and snacks provided will eliminate the temptation to raid the hotel vending machine or order greasy room service at midnight.
"This new option is also great news to the hundreds of business professionals who are already Zone Delivery USA customers," says CEO, Mike Naples. "They can now stay healthy and performing at their best while traveling, and no longer have to put their deliveries on hold while out of town."
Zone Delivery USA will make one or two shipments per week, per request. If a meal is skipped due to business luncheons or dinners, it can be saved for later or the following day. It is all about convenience and providing a guaranteed, healthy, balanced meal, anywhere and anytime.
About Zone Delivery USA
Zone Delivery USA is a Zone diet catering company based in Long Island. Owners Matt and Mike Naples dedicate themselves to providing superior service and high quality food for their customers. They ensure that customers receive 3 delicious meals and 2 snacks at their door each day before 6 a.m. Food is carefully prepared and supervised by a nutritionist to follow the Zone diet's 40-30-30 ratio of carbs, proteins, and fat. They have kitchen facilities New York and L.A. areas and Zone Delivery USA plans to expand to facilities throughout the country.
For more information on Zone Delivery USA, visit www.zonedeliveryusa.com, or call (631) 286-0759.

---
Four Seasons Hotel Westlake Village-Now Open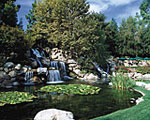 Located north of Malibu, and easily accessible from Los Angeles, Four Seasons Hotel Westlake Village offers a remedy for the everyday.
Nestled between sequoia trees and cascading waterfalls, the Hotel combines a philosophy of well-being with unparalleled service. Relax with an Asian-inspired treatment at the world-class Spa.
Take a stroll among the landscaped gardens. Lounge in one of the poolside cabanas. Or explore the adjacent California WellBeing Institute, which offers a highly personalised approach to helping guests live longer, healthier lives.

To learn more about Four Seasons Hotel Westlake Village, visit our website.
---
GREET THE SEASON WITH
HOLIDAY SAVINGS IN MONTEREY COUNT
- ANNUAL HOLIDAY BOUNTY PROGRAM DELIVERS SUPER SAVINGS -
Give yourself the gift of Monterey County this holiday season—and give your wallet a break—when you book a stay at one of 20+ local properties offering deep discounts and value-added promotions via the countywide Holiday Bounty program, November 1 through December 31, 2006. Book via: www.holidaybounty.org.
With rates as low as $49, mild, clear weather and smaller, off-season crowds, Monterey County is the ideal winter escape. Local events and festivals, featuring everything from music and poetry to food and wine, offer unique alternatives to traditional wintertime travel. The mild winter weather is perfect for kayaking in Elkhorn Slough, paragliding above the sand dunes of Marina, exploring historic downtown Monterey or discovering the Big Sur coast. 'Hungry for a little holiday spirit? Stroll among candlelit adobes or gaze at the glow of thousands of tiny lights strung among the fragrant branches of a towering Christmas tree. Sip wine while crafting grapevine wreaths at a local vineyard or cozy up on a crisp night to watch vessels parade in illumination across the harbor.
More than 20 lodging properties throughout Monterey County are promoting special Holiday Bounty rates this season, ranging from the Monterey Hotel and Portola Plaza Hotel in downtown Monterey, to the family-friendly Monterey Bay Travelodge and Hyatt Regency Monterey, to unique escapes like the Captain's Inn and Sandpiper Inn B&B. Additional special offers abound at more than 50 area hotels, restaurants, wineries, golf courses, attractions and shops—including unlimited golf at Quail Lodge in lush Carmel Valley and free dinner and breakfast for two at the rustic Big Sur River Inn.
Book now for best availability. Details about these great off-season values are available at www.holidaybounty.org. For more information about Monterey attractions and events, visit www.montereyinfo.org or call the Monterey County Convention & Visitors Bureau at 888-221-1010.
NOT EVEN SCROOGE COULD REFUSE
Need another reason to book a stay in Monterey this holiday season? Indulge yourself with an abundance of yuletide cheer at one of these jolly jaunts:
10th Great Wine Escape Weekend (November 9-12): Celebrate the vendange at Monterey County wineries and restaurants as they roll out the red carpet for a weekend of self-guided and narrated bus tours, open houses, winemaker dinners and live entertainment. Phone: (831) 375-9400; www.montereywines.org.
12th Annual Cannery Row Christmas Tree Lighting (November 24): Head to Cannery Row for this longtime family favorite, including the tree lighting ceremony, caroling and a visit from Santa Claus. Phone: 831-649-6690; www.canneryrow.com.
Reindoggie Parade (December 2): "On Dasher, on Dancer, on Donner, on…Fido?" All pampered pooches and their doting doggie "parents" are welcome at Carmel-by-the-Sea's second annual Reindoggie Parade. Owners and dogs don their holiday haute as they parade along Carmel's luxury-lined Ocean Avenue. Judges will bestow various honors upon the canine contestants, including honors for "Best Dressed", "Cutest Costume", "Most Festive", "Most Outrageous", "Fastest Wag", "Look-alike" and "Best of Show". Time: TBD. Phone: 831-626-0600; www.mackiesparlour.com.
Holiday Spectacular at Château Julien (December 3): An awe-inspiring event sure to put all in the holiday spirit. Guests will enjoy acoustical perfection in the winery's Chai as music projects amongst surrounding aging oak barrels of wine. A holiday reception of unique holiday gift ideas and wine tasting to follow in the beautifully decorated Great Hall. Fee: $25 per person/ $15 club members. Time: 2:30 p.m. - 5:30 p.m. Phone: (831) 624-2600; www.chateaujulien.com.
Brighten the Harbor (December 7): Boats decorated with lights parade from the Coast Guard Pier, past Cannery Row and return to the Monterey Harbor. Boats are judged and the best-decorated vessels (in multiple categories) receive trophies awarded at the yacht club after the parade. Entry fee for boats. Time: 5:30 p.m. Phone: (831) 644-8396.
Wild Things Holiday Tours (December 4 – 26): Wild Things presents a Christmas Celebration with a walk on the wild side in Salinas. Join in on a nighttime flashlight tour of the Wild Things Wild Animal Park. Reservations required. Warm refreshments and candy canes served after the tour. Photos available with live reindeer! Wild Things Animal Rentals Inc. Fee: $12 adults / $10 children ages 3 – 14. Time: 6:30 p.m. Phone: (831) 455-1901 ext. 3; www.wildthingsinc.com.
8th Annual Monterey Cowboy Poetry and Music Festival (December 8-10): The best cowboy poets and balladeers are featured in a three-day weekend event that also features a western art and gear sale, a Saturday night western dance, a "cowboy" church service, and a silent auction, among other festivities. Phone: (800) 722-9652; www.montereycowboy.com.
Christmas Night at The Farm (December 8): Drive out to The Farm and gather around the bonfire to sing Christmas carols, sip homemade cider, nibble cookies—and even take a moonlit hayride—in the Salinas Valley. Phone: 831-455-2575; www.thefarm-salinasvalley.com.
Christmas in the Adobes (December 8 and 9): Experience Monterey's beautiful historic buildings illuminated by candlelight and enhanced with period decorations, musical entertainment, costumed volunteers and refreshments. Phone: (831) 647-6226; www.parks.ca.gov.
Scheid Vineyards Holiday Open House (December 9): Enjoy crafting holiday grapevine wreaths, nibbling on wonderful appetizers and shopping for seasonal gifts at Scheid Vineyards in Salinas. Don't forget the wine for Santa. Children welcome; Santa will fly in for photos! Free admission. Time: 11 a.m. - 4 p.m. Phone: (888) 478-4946
La Posada (December 9): One of the most charming customs brought to California by Spanish and Mexican settlers is the Posada, which recreate the search by Mary and Joseph for lodgings on the eve of the Christ Child's birth (The word "posada" means "shelter" in Spanish). Seaside presents its own version as the procession twists through town to the Oldemeyer Center. Phone: (831) 899-6805;
www.ci.seaside.ca.us.
New Year's Eve at the Monterey Bay Aquarium (December 31): Ring in 2006 with a dance party among the sea creatures sparkling and swimming in the Monterey Bay Aquarium's award-winning galleries.
Phone: (831) 648-4888; www.montereybayaquarium.org.
First Night Monterey (December 31): First Night Monterey presents a family New Year's Eve in downtown Monterey with a celebration of the arts, music, dance, poetry and exhibits. Experience more than 100 performances and visual arts. More than 30 downtown sites will welcome patrons who wear the First Night Monterey 2006 button. Entertainment includes a twilight parade, creative street performers and a grand finale celebration at the Custom House Plaza stage. Fee: $15 after December 18, $20 day of event. Time: TBA. Phone: (831) 373-4778
Carmel Walks (Ongoing): Discover the unique charms of Carmel on a two-hour guided walking tour through secret pathways, hidden courtyards, award-winning gardens and enchanting fairytale cottages...the homes, haunts, and history of famous artists, writers, and movie stars. Learn about the spirit, characters, and customs that make Carmel a one-of-a-kind destination. (Private group tours available upon request.) Meet in the courtyard of "The Pine Inn" on Lincoln Street at Ocean Avenue. Fee: $15. Time: Saturdays 10 a.m. and 2 p.m., Tuesday - Friday 10a.m. Phone: (831) 642-2700.
VISITOR INFORMATION
Monterey County is located 120 miles/192 km south of San Francisco and 345 miles/552 km north of Los Angeles along the classic California corridor. The region boasts 99 miles of prime Pacific Coastline, the Monterey Bay National Marine Sanctuary, three historic missions, 45,000 acres of premium vineyards, 25 golf courses and 250+ accommodations. Monterey County includes the Monterey Peninsula, Big Sur, North County and the Salinas Valley. The Monterey Peninsula Airport, just three miles from historic downtown Monterey and minutes from the area's major attractions, is served by non-stop flights to and from Denver, Salt Lake City, Las Vegas, Phoenix, Los Angeles and San Francisco.
---
SEASONAL SCUBA IN THE MONTEREY BAY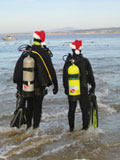 MONTEREY, CA., - SANTA'S SANCTUARY. Divers hit the 5,312 sq. mile Monterey Bay National Marine Sanctuary for a day of play on the California coastline. The underwater winter wonderland boasts a canyon twice as deep as the Grand Canyon and is one and a half times the size of the nation's largest national park. Travelers can cash in on great holiday weather and the region's top travel values via the Holiday Bounty program at www.holidaybounty.com.