TRAVEL ADVENTURES   .   .   .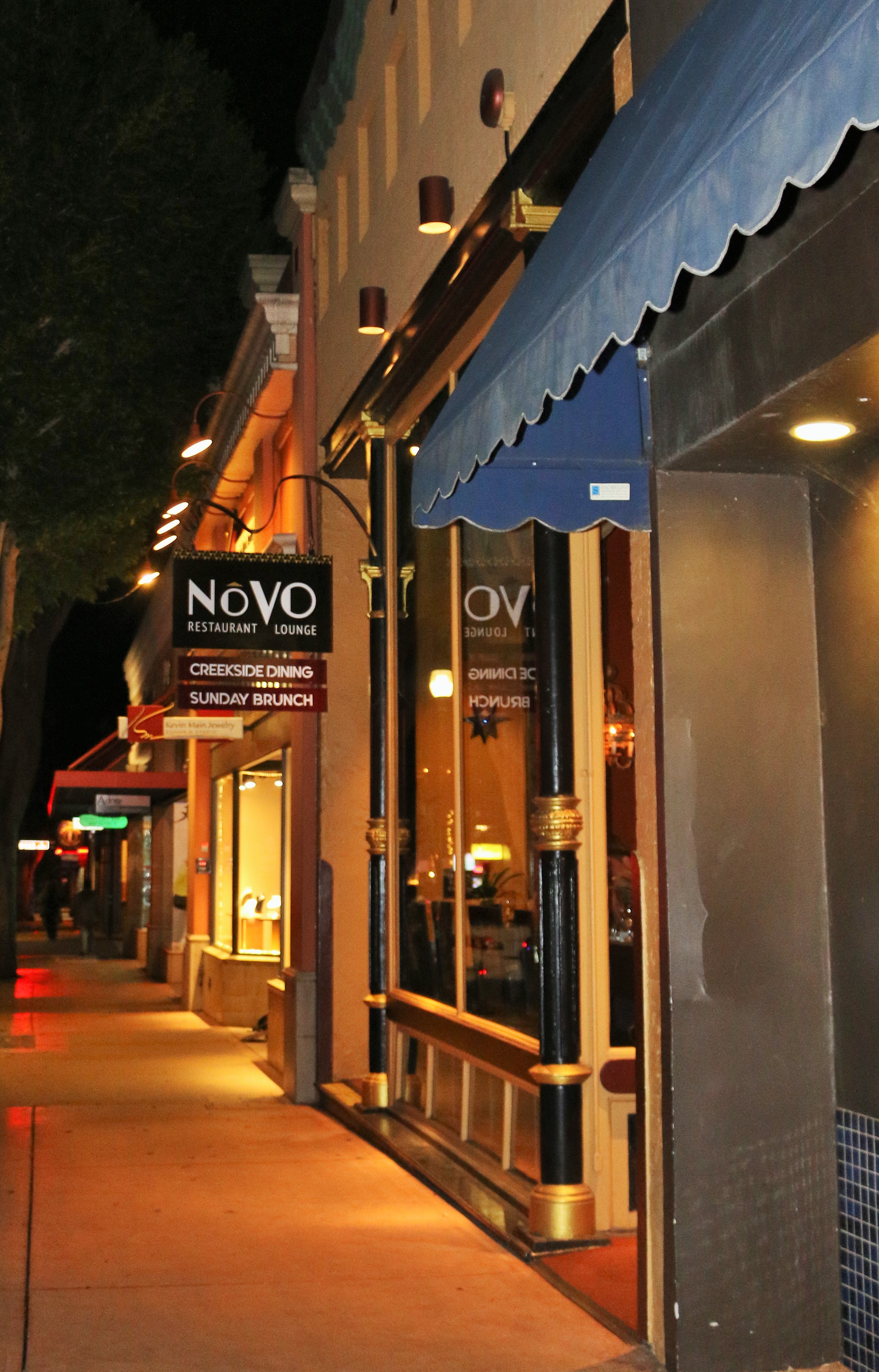 NOVO RESTAURANT & LOUNGE, A Plate To Please Every Palate in SLO by Bonnie Carroll
Located in the middle of a 'foodie' feasting area on Higuera Street in San Luis Obispo you will find NOVO Restaurant & Bar. This is a venue with plates to please your palate and satisfy your curiosity for culinary dishes from distant places that are prepared with optimum flavor and good health in mind.
The first floor of NOVO has an open lounge with a window dining bar perfect for people watching, and the outdoor rear patio overlooking the creek, is a very popular destination for the SLO lunch and dinner crowd, offering a close to nature experience. Due to rainy weather we opted to dine in the lower level wine cellar, a cozy dining room lit by a warm red hue that makes you forget where you are and lets you get lost in the moment of some exceptional food and attentive service.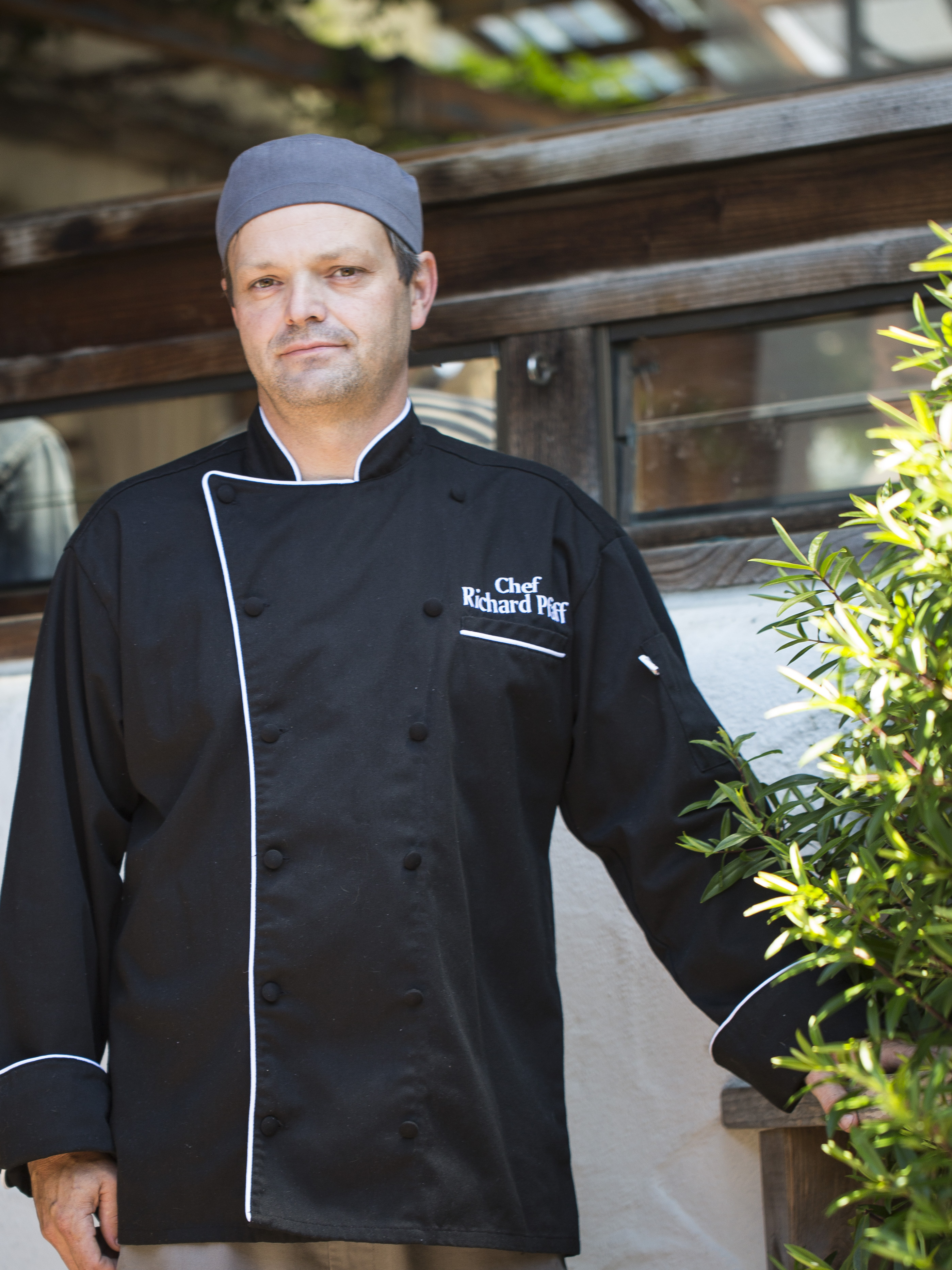 NOVO Restaurant Chef Richard Pfaff was born into an Italian American household, where food––and the belief that food brings people together––was always a driving force in his life from the time he was a very young boy. According to Chef Pfaff one of his earliest memories as a child was sitting on the counter with his grandmother making fresh pasta and canning fresh marinara sauce. His father, a very accomplished pastry chef in New York, gave him the drive and ambition to make the culinary industry his future. The memory of his father and his accomplishments still drives him today.
He worked as a pastry chef, through high school, but when it came time for culinary school, he decided to blaze his own path by not following his father's footsteps and he gave cooking a shot. Needless to say, he fell in love, and the twenty plus years that have passed since have been amazing. He attended Johnson and Wales University in New England, spent a year in Europe (mostly in France, but also Spain and Italy) finding his culinary voice. After returning to the states, he traveled across the country learning regional cuisines and perfecting his craft in cities like Miami, Chicago, Los Angeles, New York, and Santa Fe.
Although he spent years developing his skill in European cuisine, he soon became focused on the culinary importance of implementing clean and local foods. The use of organic, local produce, regional meats, and small, local companies are his commitment to the health of his customers as well as his planet. "It is a throw back to a time when you knew your farmer, butcher and fishmonger, and could trust what was in your food and where it came from," says the chef.

Selections from dinner I enjoyed to the last bite included Novo Lettuce Wraps with huge butter leaf lettuce, stuffed with fresh jullienne vegetables, mint, cilantro, nuoc nam, sweet chili sauce, roasted peanuts and shrimp. They also have potato samosas that looked divine made of Indian spiced potatoes in wonton skins, dipped in hot oil, with mint, chutney and yogurt.

Two entrees that I savored were the Korean Short Ribs served with house made kimchi and jasmine rice, and the Tai Green Chicken Curry that was light and served with coconut milk curry and green chilies. Both were unique and quite delicious. The Korean Ribs paired beautifully with a glass of Melville Pinot Noir, Sta. Rita Hills 2014.
The portions at NOVO are large, but if you have room for a salad their mixed lettuces with local apples, dried figs, toasted hazelnuts, creamy goat cheese & orange vinaigrette or the signature soup do novo, which is always vegetarian, and sometimes vegan salmon bisque (with shellfish) are both delicious additions.
The cocktail menu has everything from old standards to new mixology muddles and then some. The wine list at NOVO is outstanding and contains many fine wines by the glass and unique wines from the many award winning surrounding vintners. Their champagne list is quite impressive and offers the best bubbly from around the world.
For unusual beverages you might try their thai iced coffee or tea, lavender cream earl grey tea, made using bergamont & real citrus peel, genmaicha, a nutty flavored tea blend of steamed green tea with toasted rice or the jasmine dragon pearls, hand-rolled green tea infused with essence and aroma of fresh jasmine flowers that could become my drink of choice forever.

The dessert menu is a bit overwhelming, and included Mc Connell's Ice Cream favorites, but our talented server was kind to recommend this amazing and delicious dessert, which is ideal for people who are not so lactose friendly - the Negranti "sheep's milk" ice cream trio
made from local sheep's milk and all natural cane sugar, with flavors that change daily. Our flavors were chocolate, salted caramel, and vanilla honey – simply divine ending to a perfect dinner on a rainy night in San Luis Obisbo.
NOVO RESTAURANT & LOUNGE
726 Higuera Street
San Luis Obispo, CA 93401
Phone 805.543.3986
______________________________________________
HOTEL HASSLER ROMA MARKS 125 YEARS
This year, the iconic five-star Hotel Hassler Roma, located above the Spanish Steps with incomparable views of the city, marks its 125th anniversary. Owned by President and General Manager Roberto E. Wirth, fifth generation of a famous Swiss hotelier dynasty, the Hassler has continued its legacy as Rome's five-star lodging of choice for the world's elite and discerning travelers since 1893, having played host to everyone from Charlie Chaplin to George Clooney. The hotel acted as Eisenhower's HQ during the war, the place that Audrey Hepburn called home while filming Roman Holiday, and the honeymoon spot 
for Grace Kelly and Prince Rainier.


Now, 125 years later, the Hassler still maintains a perfect balance between the past, present 
and future, always looking to exceed the expectations of its guests throughout the years. To mark this occasion, the grande dame has renovated a number of its public spaces, rooms and suites in order to continue to preserve the iconic hotel's timeless elegance, while adding in a new contemporary style. They have also reduced the number of rooms and suites in order to create larger rooms as well as additional suites. The goal behind the renovations was to continue to satisfy the needs and desires of the Hassler's clientele, without losing that traditional feel that loyal returning guests love. 
After a brief three-week closure at the beginning of the year, the Hassler reopened on January 29, 2018, unveiling touches of new styles and refreshed looks as they go into their 125th year. 
These 
renovations were initiated by Roberto Wirth, who personally oversaw the project, supported by a team of architects and engineers. 
The renovations include the following:


Entrance and Lobby:
 The main entrance has undergone some major changes
, including a new fanlight allowing natural light to flood into the main hall, as well as 

brand-new front doors featuring modernized technology. The lobby has 
new flooring made of
 Botticino marble, and new upholstery has been added to the walls. The concierge and reception desks have received a new look, now finished in brown with golden foil decorations.
| | |
| --- | --- |
| | |
| | Presidential Suite San Pietro |

Presidential Suite San Pietro:
Designed with the intent to satisfy the expectations of
 today's
 traveler, the furniture and fabrics in this elega
nt suite have been altered to give the space an updated look, while retaining the suite's original style. 


Salone Eva and Sala Vietri: These lavish public spaces located near the entryway have been newly refreshed, allowing the spaces to look and feel brighter. New mirrors, lighting and upholstery have been added. The small gate at the entrance of Salone Eva, which has been part of the hotel for over 50 years, has been gilded again with gold leaves, and looks more opulent than ever. 


"In short, we want the Hassler to continue to be the location par excellence when travelers come to Rome," says President and General Manager Roberto E. Wirth, "and to achieve this goal, we need a constant commitment and the will to continue to maintain the high standards that distinguish us.

We have invested a lot over the past few years and we keep investing: the goal is to be at the forefront not only in terms of comfort but also in terms of technology. 

Above all, it is necessary to be vigilant in order to satisfy our guests. If I think of the future, I also see a new generation, represented by my son and daughter, who will continue the great hotel tradition of our family

."





ABOUT HOTEL HASSLER ROMA:
Set atop the Spanish Steps and featuring a panoramic view of the entire city, Hotel Hassler Roma is owned by President and General Manager Roberto E. Wirth, fifth generation of a famous Swiss hotelier dynasty. For more than a century, Hotel Hassler Roma has continued its legacy as Rome's five-star lodging of choice for the world's elite and discerning travelers. Each of the 91 rooms, 21 of which are suites, is individually designed with an elegant combination of classic and contemporary touches. Highlights include the Michelin-starred panoramic restaurant, Imàgo, the Salone Eva and Palm Court restaurant and the Hassler Bar, as well as the neighboring, Hassler-owned II Palazzetto
, a hotel, wine bar and special event space.
___________________________________________________________________
WORLD'S FIRST GORDON RAMSAY HELL'S KITCHEN RESTAURANT MARKS OFFICIAL GRAND OPENING AT CAESARS PALACE LAS VEGAS
First Eatery Inspired by Global Hit Television Show Makes Fiery Debut and Has Already Logged Reservations for Nearly 25,000 Guests
Multi-Michelin star chef and television personality Gordon Ramsay, joined by the finalists of Season 17 HELL'S KITCHEN All-Stars and famous faces from the sports and entertainment world, celebrated the official grand opening of the first-ever Gordon Ramsay HELL'S KITCHEN restaurant at Caesars Palace in Las Vegas. Since its soft opening in early January, the highly-anticipated restaurant has already received reservations for nearly 25,000 guests. Reservations are available for lunch and dinner and can be made at
www.GRHellsKitchenLV.com
.
Designed to be an experiential and immersive destination restaurant, guests at Gordon Ramsay HELL'S KITCHEN will feel transported to the studio set of the globally popular FOX television show. The inspiration from the hit show is evident from the signature fiery pitchfork – direct from the set of the popular TV show – that marks the entryway, to the life-size video screen of Chef Ramsay that greets guests upon arrival, to the chef uniforms and menu items. The winner of current Season 17 of HELL'S KITCHEN All-Stars will be named Head Chef and have portrait hung with the other previous champions on the winner's wall.
"We responded to fans of the show who were hungry for a real-world HELL'S KITCHEN restaurant for some time – pun intended," said Ramsay. "What we didn't fully realize was just how enthusiastic the response would be. We are thrilled with the reservations and interest since announcing our opening, and excited to welcome guests to experience the best of HELL'S KITCHEN – great food, and great cocktails."  
Masterfully designed by Jeffrey Beers International, the first-of-its-kind restaurant boasts design features that are engaging to all senses and are a nod to both the red and blue teams featured on the show. The dynamic and bustling kitchen is the centerpiece of this unique eatery, with mosaic tiles framing the open space artfully, allowing guests to appreciate from every seat in the house. Chefs and cooks in the kitchen will be in the exact uniforms from the show – red and blue jackets with coordinating bandanas. To further bring the electric atmosphere of the studio into the dining room, additional key elements of the show are infused in the design, such as fire and heat and custom designed lighting that combine brass rods with pitchfork features and runs across the high ceilings. HELL'S KITCHEN's iconic "H" and pitchfork symbols are cleverly featured throughout the custom-designed, laser-cut screen partitions and soft charcoal and ash-hued wallcovering.
About Gordon Ramsay and The Gordon Ramsay Group
Renowned for highly successful and award-winning original programming, Emmy nominated, multi-Michelin star chef Gordon Ramsay produces TV shows on both sides of the Atlantic seen by audiences worldwide, including his FOX shows THE F WORD, 24 HOURS TO HELL & BACK, MASTERCHEF, MASTERCHEF JUNIOR, HELL'S KITCHEN and MASTERCHEF CELEBRITY SHOWDOWN, as well as Bravo's "Best New Restaurant" and Food Network's competition series "Food Court Wars." In the U.K., he's produced "Gordon Ramsay Behind Bars" and "Gordon Ramsay's Great Escape" for Channel 4; food biography and nostalgia series "My Kitchen" for UKTV's Good Food Channel; two instructional cookery series, "Ultimate Home Cooking" and "Ultimate Cookery Course" for Channel 4; and the first two seasons of "Matilda And The Ramsay Bunch," all under his One Potato Two Potato banner.
---