DELTA CONNECTION BEGINS ATLANTA-FLORIDA KEYS
MARATHON AIRPORT JET SERVICE

An almost seven-year void was filled Thursday when commercial air service returned to the middle Florida Keys, with the first arrival of Delta Connection's daily nonstop round-trip service from Atlanta to Florida Keys Marathon Airport.
Previously, Key West was the only airport in the Keys that offered regularly scheduled service for travelers other than South Florida mainland fly-in points. Florida Keys Marathon Airport is centrally located between Key Largo and Key West International Airport, and not more than 1.5 hours by car to any point on the Keys Overseas Highway.
The 40-passenger CRJ-200 jet was filled to capacity and arrived one minute ahead of schedule.
Several hundred Keys business people, politicians and residents cheered as the aircraft taxied to the ramp. The Marathon Chamber of Commerce welcomed passengers with tropical drinks and indigenous Keys cuisine. A woman wearing a giant conch shell costume greeted guests in the terminal.
"When I was coming down before, we were flying in to Miami and had to drive in," said Katie Maginn of Atlanta. "This is so much better and I can start my vacation earlier."
The approximately two-hour flights are to depart Atlanta daily at 10:40 a.m. Return trips from Florida Keys Marathon Airport to Atlanta are scheduled to leave each day at 1 p.m.
On Fridays, Delta adds a second flight that leaves Atlanta at 7:30 p.m. That aircraft is to remain overnight in Marathon and provide a second departure Saturdays, leaving the Keys at 9 a.m.
"Delta Airlines' main hub is in Atlanta," said Monroe County Mayor Mario Di Gennaro, who also is a member of the Keys tourism council. "So anybody, anywhere around the world, can fly into Atlanta and get a connecting flight directly into Marathon."
On the net:
Delta Airlines, www.delta.com
Florida Keys tourism, www.fla-keys.com
---

Alitalia is offering special rates to your favorite cities in Italy.
Visit: www.alitalia.com.
---
An Apology from jetblue airlines

Dear JetBlue Customers,
We are sorry and embarrassed. But most of all, we are deeply sorry.
Last week was the worst operational week in JetBlue's seven year history. Following the severe winter ice storm in the Northeast, we subjected our customers to unacceptable delays, flight cancellations, lost baggage, and other major inconveniences. The storm disrupted the movement of aircraft, and, more importantly, disrupted the movement of JetBlue's pilot and inflight crewmembers who were depending on those planes to get them to the airports where they were scheduled to serve you. With the busy President's Day weekend upon us, rebooking opportunities were scarce and hold times at 1-800-JETBLUE were unacceptably long or not even available, further hindering our recovery efforts.
Words cannot express how truly sorry we are for the anxiety, frustration and inconvenience that we caused. This is especially saddening because JetBlue was founded on the promise of bringing humanity back to air travel and making the experience of flying happier and easier for everyone who chooses to fly with us. We know we failed to deliver on this promise last week.
We are committed to you, our valued customers, and are taking immediate corrective steps to regain your confidence in us. We have begun putting a comprehensive plan in place to provide better and more timely information to you, more tools and resources for our crewmembers and improved procedures for handling operational difficulties in the future. We are confident, as a result of these actions, that JetBlue w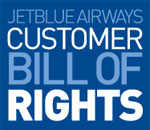 ill emerge as a more reliable and even more customer responsive airline than ever before.
Most importantly, we have published the JetBlue Airways Customer Bill of Rights—our official commitment to you of how we will handle operational interruptions going forward—including details of compensation. I have a video message to share with you about this industry leading action.
You deserved better—a lot better—from us last week. Nothing is more important than regaining your trust and all of us here hope you will give us the opportunity to welcome you onboard again soon and provide you the positive JetBlue Experience you have come to expect from us.

Sincerely,

David Neeleman
Founder and CEO
JetBlue Airways

---
OLD BAHAMA BAY RESORT & YACHT HARBOUR IS THE PERFECT REMEDY FOR A "BAHAMVENTION"
- Rest, relax and recuperate with the luxury beach resort's special package -

WEST END, GRAND BAHAMA ISLAND – Tired of being over-worked and under-appreciated, or are you just plain tired? In conjunction with the Bahamas Ministry of Tourism's latest campaign, "Bahamavention," Old Bahama Resort & Yacht Harbour is offering a special package to encourage people to escape for some much- needed rest and relaxation at one of the island's most exclusive oceanfront resorts. A perfect locale for both families and couples, guests are invited to enjoy the spectacular resort and experience all the exciting activities the property has to offer for a special rate.
"Bahamavention" is defined as the action taken by concerned friends or family members to get a stress-out loved one the help only the Islands of The Bahamas can provide. These loved ones will find the perfect cure with Old Bahamas Bay's special "Bahamavention Package." For more information or reservations call 1-800-572-5711 or visit www.oldbahamabay.com.
"The Bahamas have always been known as a great destination for those in need of a little stress relief. We think the 'Bahamavention' is the perfect cure for people who are often over-worked at home and need to get away from it all." said Jennifer Ehrman, Vice President Marketing for Old Bahama Bay. "With this special package, designed specifically to relieve the stressors of everyday life, we are confident our guests will leave feeling refreshed and rejuvenated."
Located on the pristine shores of West End Grand Bahama Island, Old Bahama Bay features 73 well-appointed suites set within cottages along a private beach. The resort also offers a state-of-the-art marina, two restaurants and a beach bar and grill, some of the areas best snorkeling including seven custom-designed snorkel trails, festive guest "celebrations" and much more. Just 26 miles from Grand Bahama International Airport, Old Bahama Bay is the perfect choice for an out-island experience and a perfect remedy for those in need of a "Bahamavention." Visit www.bahamavention.com for more information on this life saving program and to send a "Bahamavention" to a loved one.
---
APT adds Tassie devil to Conservation fund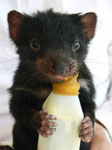 Australian Pacific Touring (APT) has expanded its Conservation Foundation by adding the Tasmanian Devil Sponsorship Program to its list to support the protection of endangered species around Australia.
The APT Charitable and Conservation Foundation was established in 2003.
The foundation is supporting the protection of endangered native species throughout areas of Australia.

APT is sponsoring a baby devil at the East Coast Natureworld, Bicheno Park in Tasmania.
The sponsorship will support the devil's feeding, keeping, health and breeding program over the next year to ensure the species' population is encouraged in a protected environment.

---
HILTON HHONORS® PIQUES SPECIAL INTERESTS OF ITS MEMBERS
WITH NEW EXPERIENCE REWARDS
The Hilton Family of Hotels today announced a new rewards category, Experience Rewards, for members of its highly popular guest reward program, Hilton HHonors®. Through several key partnerships, the Experience Rewards program offers a diverse range of extreme and lifestyle activities that HHonors members can redeem with their HHonors points.
Committed to providing a frequent guest program that recognizes the importance of customization and personalization, Experience Rewards represent a departure from what is currently offered by Hilton HHonors or any other hotel loyalty program.
"Experience Rewards is added proof that Hilton HHonors is the most attractive hotel loyalty program in the industry," said Adam Burke, senior vice president and managing director of Hilton HHonors Worldwide. "It distinguishes us from our competitors by providing fresh, forward-thinking content and further engages our members, making HHonors the hotel loyalty program of choice."
Through an exclusive partnership with Signature Days, an online provider of experience gifts across the country for every occasion, HHonors members can redeem points for a selected range of Experiences, from sky diving and hot-air balloon rides to private yoga lessons and wine tasting. Members can also redeem points for a Signature Voucher, a gift card giving members access to all that is available at www.signaturedays.com.
The Hilton Family of Hotels has also partnered with EagleRiderÒ, the only organization licensed to rent Honda and Harley Davidson motorcycles, and Intrawest Destination Resorts, a world leader in destination resorts and leisure travel, increasing the variety of experiences available to HHonors members. EagleRider is the world's largest motorcycle tourism company specializing in rentals of motorcycles, ATVs, snowmobiles, watercrafts and a host of other exciting vehicles. HHonors members can redeem points for rentals and tour packages from EagleRider, or redeem points for lift tickets at nine of Intrawest's mountain resorts in the U.S. and Canada.
To find out more information about the exciting new Experience Rewards program, please visit www.hiltonhhonors.com.
About The HHonors Program
Hilton HHonors® is a guest reward program that gives frequent travelers a faster way to earn the rewards they want most. Enrolled members can Double Dip® to earn HHonors points and airline miles for the same stay, at nearly any rate, at more than 2,800 participating Hilton®, Conrad®, Doubletree®, Embassy Suites Hotels®, Hampton Inn®, Hampton Inn & Suites®, Hilton Garden Inn®, Hilton Grand Vacations™, Homewood Suites by Hilton®, Scandic and The Waldorf=Astoria Collection™ hotels around the world.
Due to the veritable flexibility, generosity and value offered by HHonors program features, as well as the many attractive promotions that HHonors offers each year, the program has been recognized with numerous travel industry awards.
Membership in HHonors is free. Travelers may enroll online by visiting www.hiltonfamily.com. Or, to enroll instantly in the program and make reservations, consumers in the U.S. and Canada may call 1-800-HHONORS. Outside the U.S. and Canada, travelers may call the Hilton Reservations Worldwide office in their area. Travelers also may enroll at any participating Hilton®, Conrad®, Doubletree®, Embassy Suites Hotels®, Hampton Inn®, Hampton Inn & Suites®, Hilton Garden Inn®, Hilton Grand Vacations™, Homewood Suites by Hilton®, Scandic and The Waldorf=Astoria Collection™ hotels around the world.
Hilton Hotels Corporation (NYSE:HLT) is the leading global hospitality company, with more than 2,800 hotels and 495,000 rooms in more than 80 countries, including 150,000 team members worldwide. The More than 2,300 hotels are owned, managed or franchised in North America withcompany owns, manages or franchises a hotel portfolio of some of the best known and highly regarded brands, including Hilton®, Conrad®, Doubletree®, Embassy Suites Hotels®, Hampton Inn®, Hampton Inn & Suites®, Hilton Garden Inn®, Hilton Grand Vacations™, Homewood Suites by Hilton®, Scandic and The Waldorf=Astoria Collection™ hotels around the world.
The Hilton Family of Hotels adheres to founder Conrad Hilton's philosophy that, "It has been, and continues to be, our responsibility to fill the earth with the light and warmth of hospitality." The company put a name to its unique brand of service that has made it the best known and most highly regarded hotel company: be hospitable®. The philosophy is shared by all brands in the Hilton Family of Hotels, and is the inspiration for its overarching message of kindness and generosity.
Hilton Hotels Corporation's sponsorship of the U.S. Olympic Team will extend through the 2008 Olympic and Paralympic Games in Beijing, China, and includes the 2008 U.S. Paralympic Team(s) and the 2007 U.S. Pan-Am Team.
For more information about our company, please visit www.hiltonworldwide.com,
and to learn more about our be hospitable philosophy, please visit
www.behospitable.com.
---
WHERE IS MY LUGGAGE?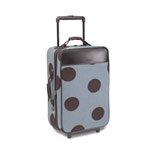 Were you one of the unlucky travelers caught in the pre-Christmas blizzard that dumped over 2 feet of snow on Denver International Airport, shutting it down for two days, and stranding 4,700 passengers and snarling holiday travel around the country? If so, believe it or not, you may have been one of the lucky ones because at least you probably eventually received your luggage once you arrived at your travel destination. Several air travelers were not as lucky recently when their transfer bags were stolen from Houston's Bush Intercontinental Airport. It was reported that 68 bags were found outside of a pet store dumpster near
the airport and several more were recovered at another Houston location; a total of 90 pieces of luggage were recovered of the 150 pieces allegedly stolen. According to Houston officials, the suspects arrested were not employed or contracted by the airlines or the Houston Airport System, but were members of a local theft ring.
The important thing is the alleged thieves were caught and justice will be served, but could it happen again and could it be your bag this time? While many air travelers are still trying to understand the latest carry-on and checked baggage restrictions, more and more travelers are becoming increasingly concerned about baggage security and how to guard against baggage theft, regardless of where the theft may take place. In an effort to reduce the risk of baggage theft, many air travelers are now shipping their bags in advance of their trip. Highly recommended companies such as The Luggage Club, today's premier door-to-door luggage, sports equipment and business goods delivery experts, offer their services to help minimize the stress travelers experience over possible baggage theft and the security of their personal effects. The Luggage Club is positioned to meet the needs of this growing trend of travelers who have decided to play it safe by shipping their luggage in advance of their trip. Travelers' luggage can be picked up at their home, office or location of choice and delivered to their final travel destination and returned again at the end of their trip. Plus, The Luggage Club has no limits on size, weight or number of pieces that can be shipped. Services are available throughout 220 countries worldwide.
The Luggage Club offers a variety of money-saving programs including a program for Physically Disadvantaged Travelers, Corporate Program for business travelers, Affiliate Program for travel professionals and a Frequent Traveler Program offering volume-based price discounted packages, plus Gift Cards are available for purchase. For more
information on The Luggage Club, go to http://www.theluggageclub.com