Tutankhamun and the Golden Age of the Pharaos
Opened at LACMA June 16 2005 and will run through November 15, 2005
by Bonnie Carroll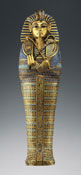 This magnificent exhibit is a 'not to be missed' event for anyone who has an interest in Egyptian history and art. Marking the first time the treasure of Tutankhamun (King Tut) have visited Los Angeles in 27 years, the Los Angeles County Museum of Art (LACMA) presents Tutankhamun and the Golden Age of the Pharaohs. The extensive exhibition includes more than 130 treasures from the tomb of Tutankhamun, other Valley of the Kings tombs and additional ancient sites. LACMA is the first United States venue for a 27-month national tour.
Visitors will see 50 major objects excavated from Tutankhamun's tomb, including his royal diadem – the golf crown discovered encircling the head of the king's mummified body that he likely wore while living – and one of the gold and precious stone inlaid canopic coffinettes that contained his mummified internal organs.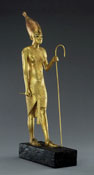 More than seventy object from other royal graves of the 18 th Dynasty *(1555 B.C. – 1305 B.C.) will also be showcased, including those of pharaohs Amenhotep II and Thutmose IV and the rich, intact tomb of Yuya and Tuyu, parents-in-law of Amenhotep III and great-grandparents of Tutankhamun. Yuya and Tuyu's tomb was the most celebrated historical find in the Valley of the Kings until Howard Carter discovered Tutankhamun's undisturbed burial chamber in 1922. All of the treasures in the exhibit are between 3,300 and 3,500 years old.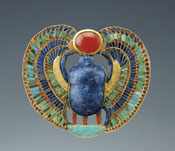 The exhibition is organized by National Geographic, AEG LIVE Exhibitions and Arts and Exhibitions International, with cooperation from the Egyptian Supreme Council of Antiquities. The exhibit will also appear at the Museum of Art, Fort Lauderdale in December 2005; and The Field Museum, Chicago in may of 2006.
LACMA is located at 5904 Wilshire Boulevard in Los Angeles, California. For ticket information call 1-877-TUT-TKTS or visit www.KingTut.org.

---
"FOLLOW ME HOME"

Hawaiian Airlines, serving island visitors since 1929, not only offers menus by a Hawaii Regional Cuisine chef, Beverly Gannon, who was a 2004 James Beard award-nominee as "Best Chef Hawaii/Northwest Region," but the airline offers "Hele On", a web site and check-in service for "Baggage Direct", which was launched in September of 2004. The mobile skycap service picks up and delivers bags so customers can go straight to the gate; pre-assigned interisland seating, and Drive-Thru Check-In service for customers departing from Honolulu, both launched in March of 2005. Go to The Nations' #1 on-time carrier at HawaiianAirlines.com.