TRAVEL   .   .   .

GELATO FESTIVAL AMERICA TRAVELING THROUGH THE US TO HONOR HEALTH CONSCIOUS GELATO MASTERS
By Bonnie Carroll
Welcome Tent Santa Barbara Gelato Festival America

The first ever Gelato Festival was held in Florence in 2010, and the first ever American stage continued in Santa Barbara on October 20 through October 22, following an festival in Boulder, Colorado. With the support of SIGEP and Carpigiani, the Gelato Festival America welcomed Gelato Artisans from around the world who competed with their special flavors, created for the three day Festival. These flavors were healthy fat free alternatives compared to other frozen desserts and were made from fine carefully selected ingredients and blended in imaginative and delicious combations. Purely Sedona provided water and West Central Food Service provided fresh organic fruit and vegetables for use by the 2017 Santa Barbara competition Gelato Chefs. Their next Gelato Festival America stops included Scotsdale on October 27-29 and Tucson Arizona November 3-5.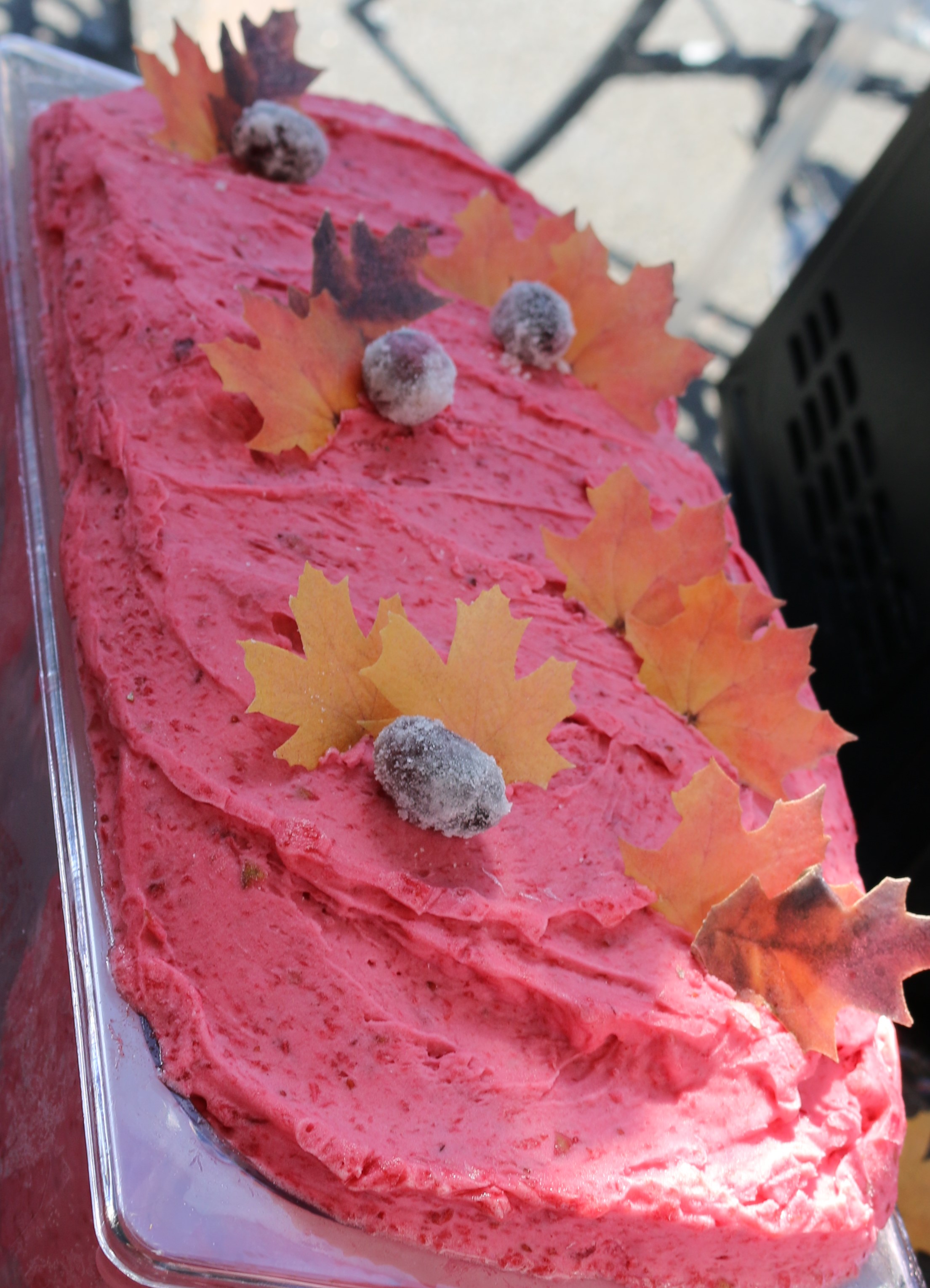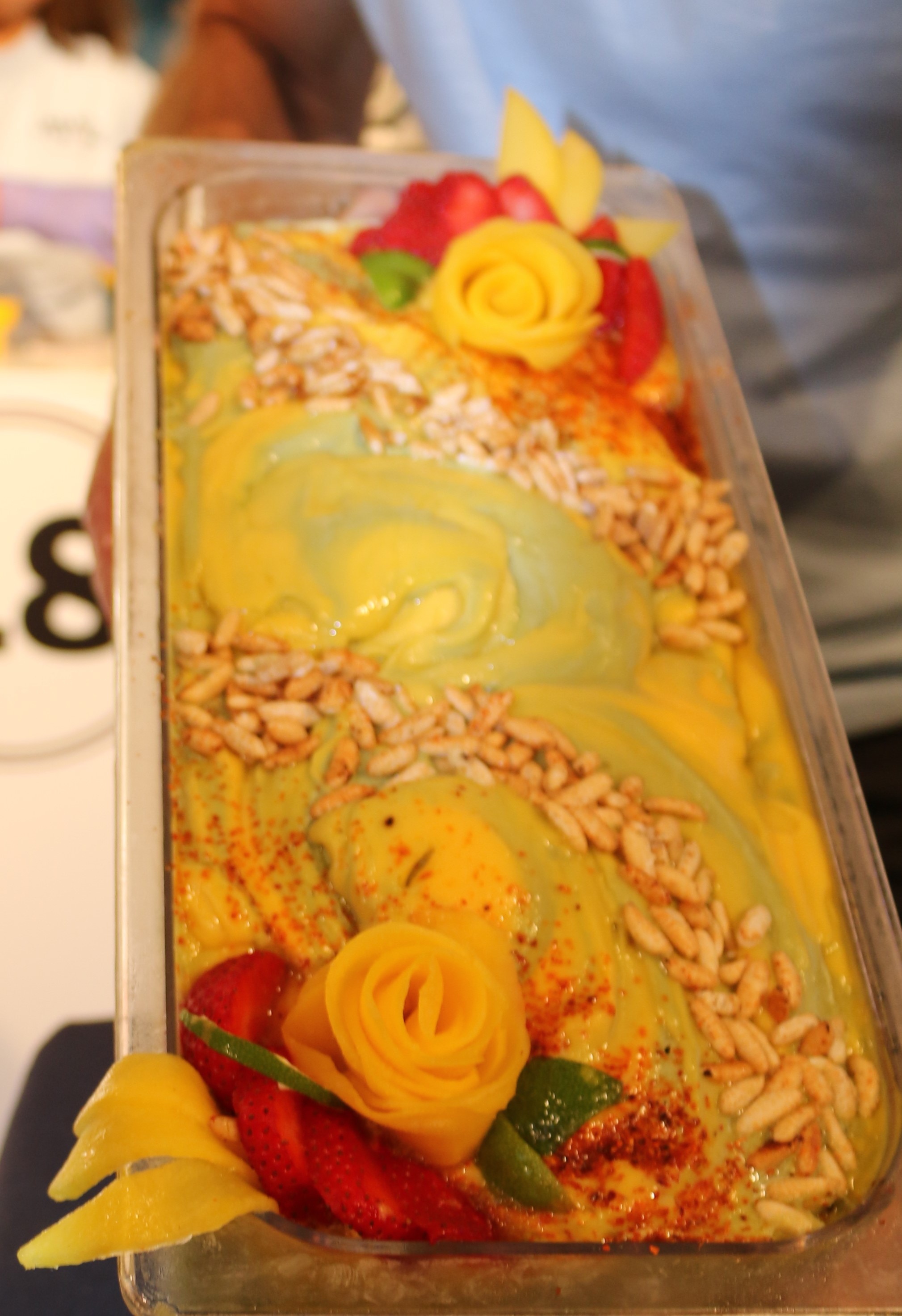 Gelato Festival America Samples for Judging in the Gelato Lab
This was such a fun addition to a balmy weekend in Santa Barbara that brought a very Eureopean flavor, literally and figuratively, to one of the most popular tourist destinations in California. Despite wind warnings, and it was Chicago style windy out there, these amazing gelato chefs really brought it!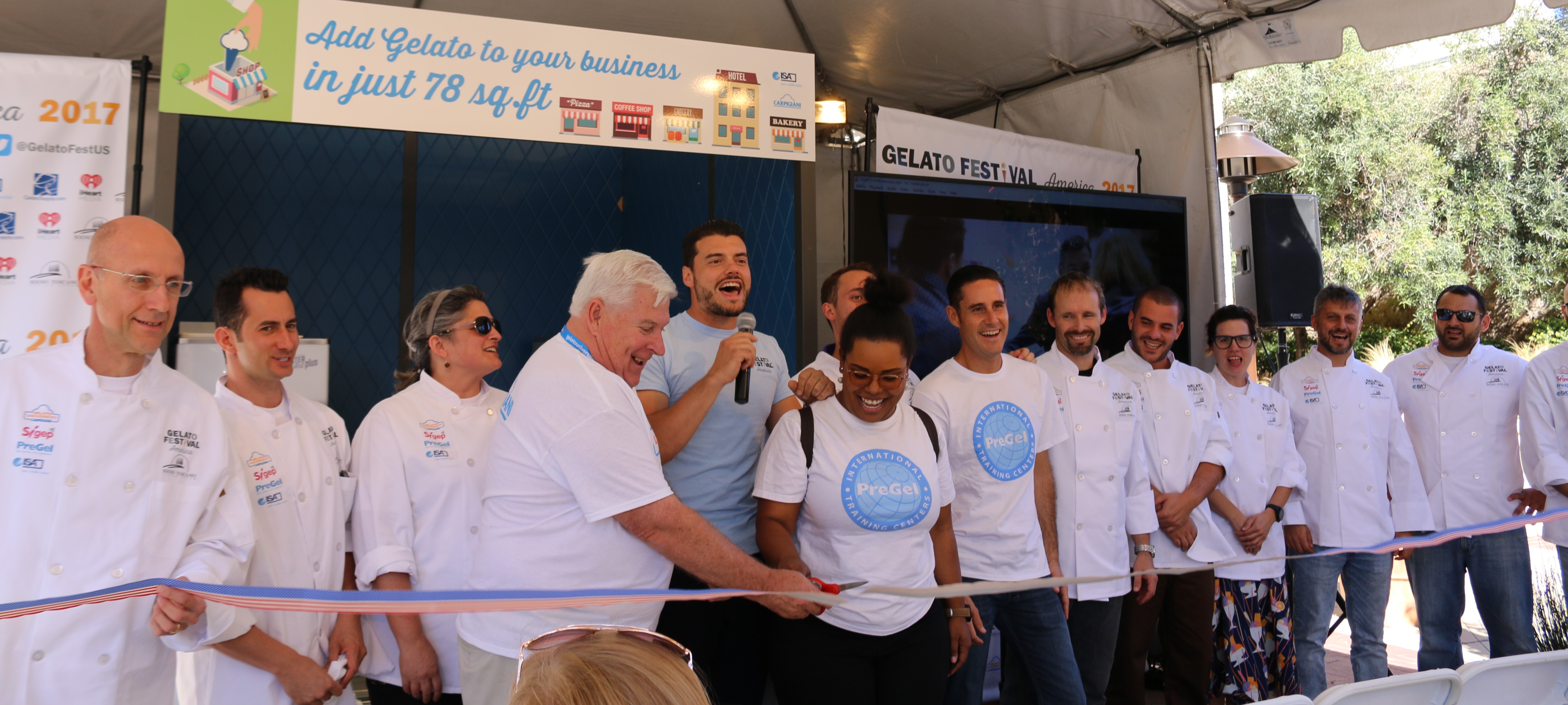 John McCabe, Carpigiani North America, Cuts Opening Ribbon
They prepared their product in a laboratory tent with clear plastic siding to allow visitors to watch, and then served it from chic gelato booths. Special tastings and classed were held in the stage tent where a bevy of guest gathered to learn, taste and vote on their favorite flavors. The competition was held before an audience, and ten judges were present to decide who was their favorite. John McCabe, Carpigiani, presided over the ribbon-cutting to open the 2017 Gelato Festival America in Santa Barbara.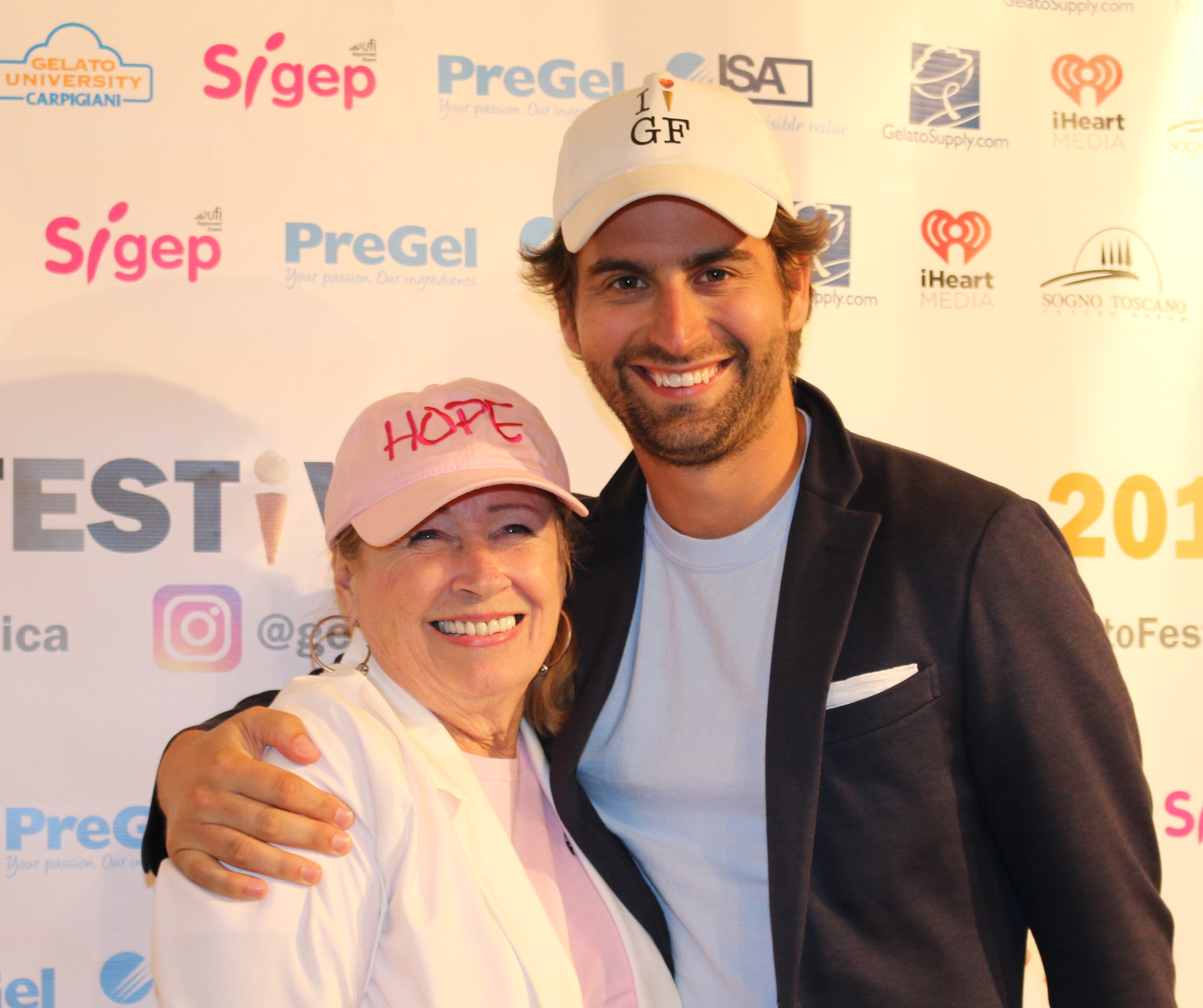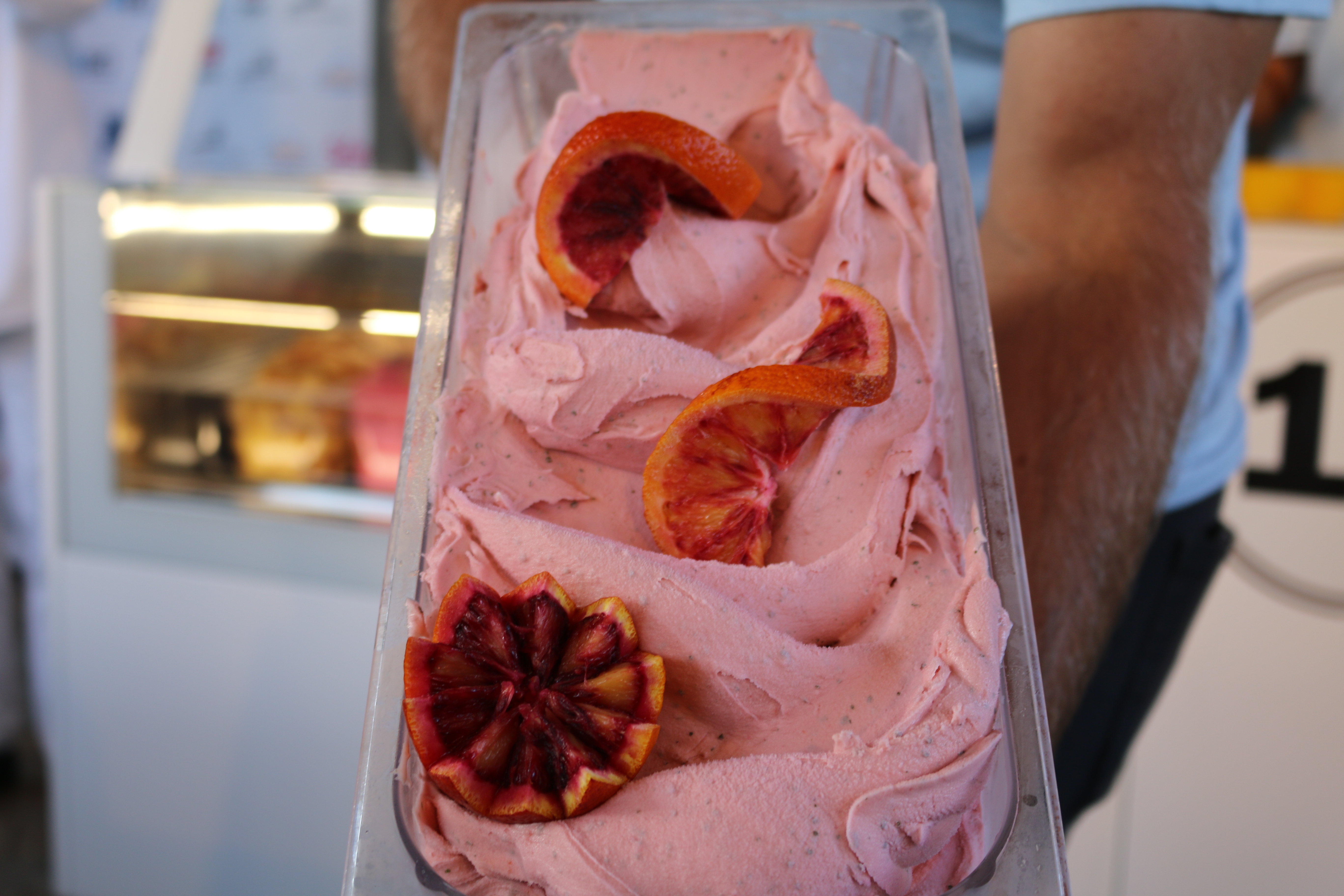 Gelato Judge Bonnie Carroll with CEO Gabrielle Poli  - #1 Sicily Orange Sunrise Gelato
The winner Maurizio Melani was selected by two groups, each of which accounted for 50% of the vote: a panel of technical experts composed of journalists, media members, and sector experts, along with a panel composed of all the members of the general public who took part in the Festival. I was honored to be a selected member of the juried panel of journalists, and media members to taste and vote on the winning gelato to be awarded this prestigious award. Technical jury standings were determined by points of each judge for gelato presentation, flavour and structure. The judges votes represented 50% of the score, with the peoples choice votes representing the additional 50%.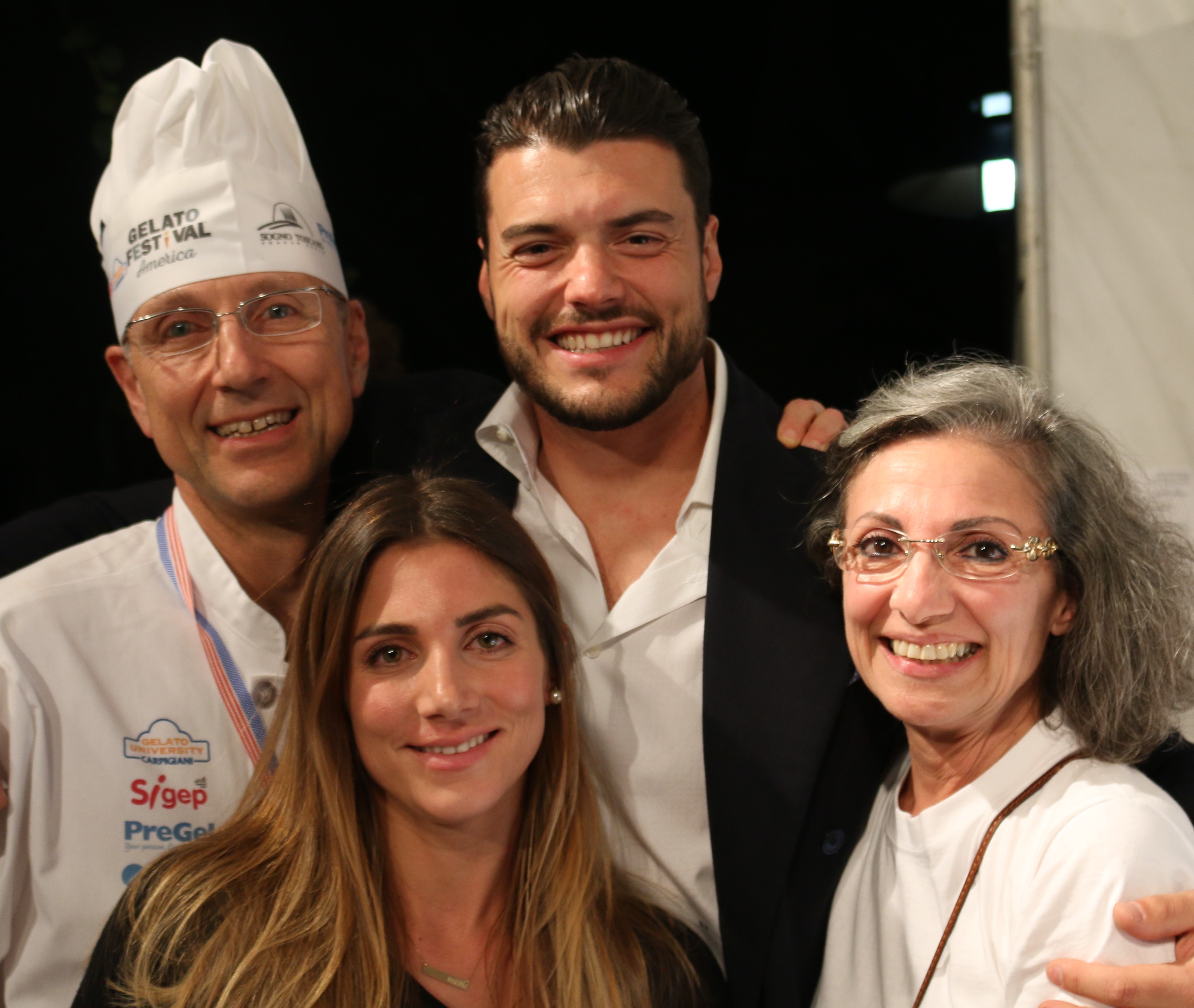 Maurizio Melani, his wife & daughter with Daniele Palazzoni CEO Gelato Experience
Many of the judges agreed that this was a difficult judging due to the number of outstanding gelato chefs participating. They all created recipes of exceptionally healthy and imaginative ingredients that were presented so artistically. The versatility of each gelato was impressive, and the healthy focus of the recipes which were made with no dairy or fat was totally appreciated by the panel of California judges, including a few from Santa Barbara.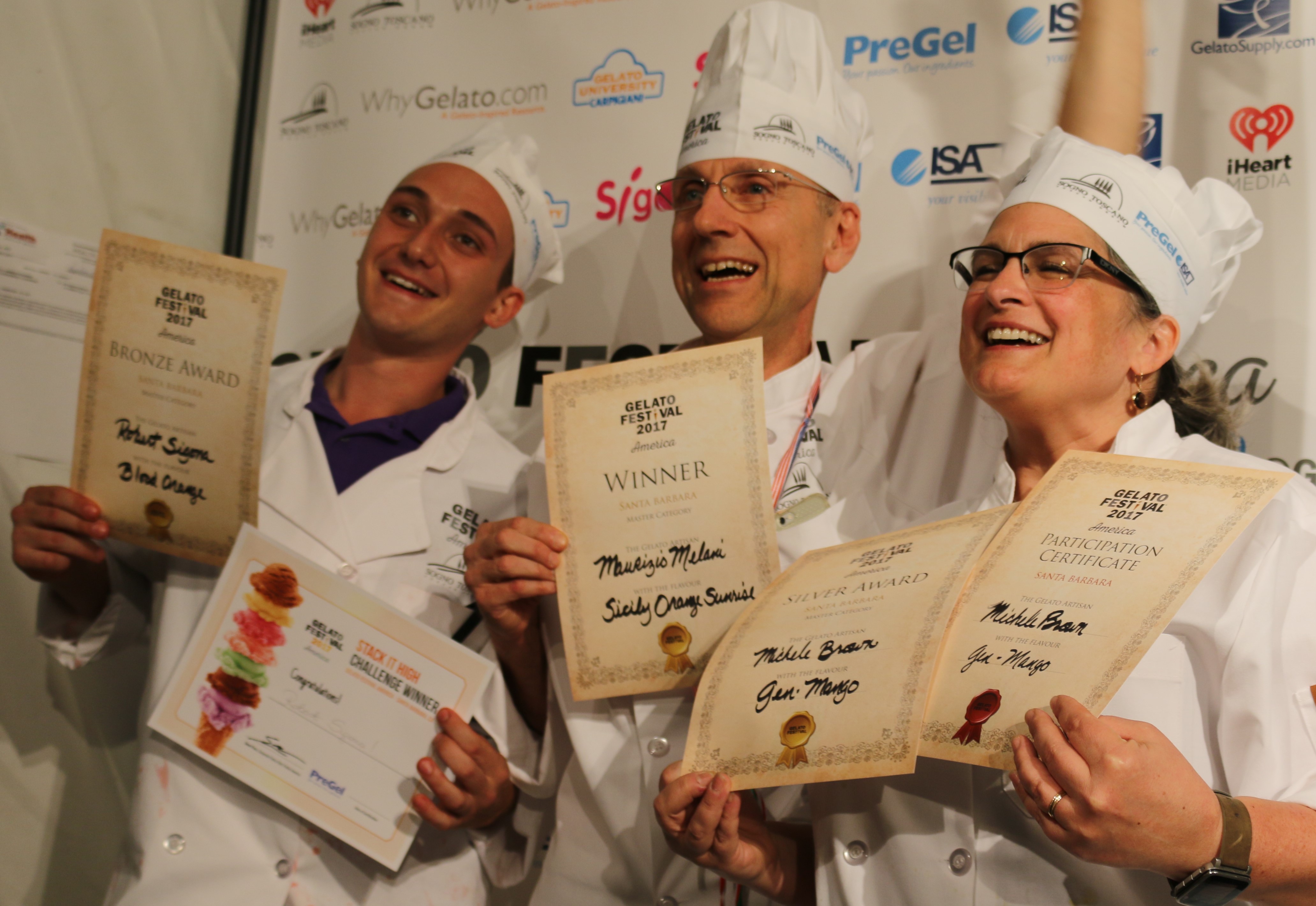 Bronze to Robert Segona, New Jersey, Gold to Maurizio Melani, Valencia, Spain, Silver to Michelle Brown, Dallas Texas
The Best Gelato Festival America 2017 Gold Medal went to Maurizio Melani from Heladeria Veneta in Spain, who spent years in Milan perfecting his skills before moving to Spain. His Sicily Orange Sunrise Gelato was fantastic in taste and presentation. The Silver Medal went to Michele Brown from Brook Hollow in Dallas Texas. Michele is an executive chef at a local country club in Brook Hollow and her chef son worked with her on their outstanding Roasted Green Tea with Crunchy Mango gelato, which was topped with puffed wheat. The Bronze Medal & "Stack it High" Award went to New Jersey boy Robert Sigona for his Blood Orange recipe. The kids award went to Spin Mlynarik for his Tropical Blast recipe. My personal favorite was a gelato created by Salvatore Bonomo from Nonna Rosa Gelato in Los Angeles, which received a Special Mention. Bonomo's Shades of Rose recipe made with a blend of roses, water, lemon, ginger and fresh peaches was to me absolutely outstanding; I could eat this one every day.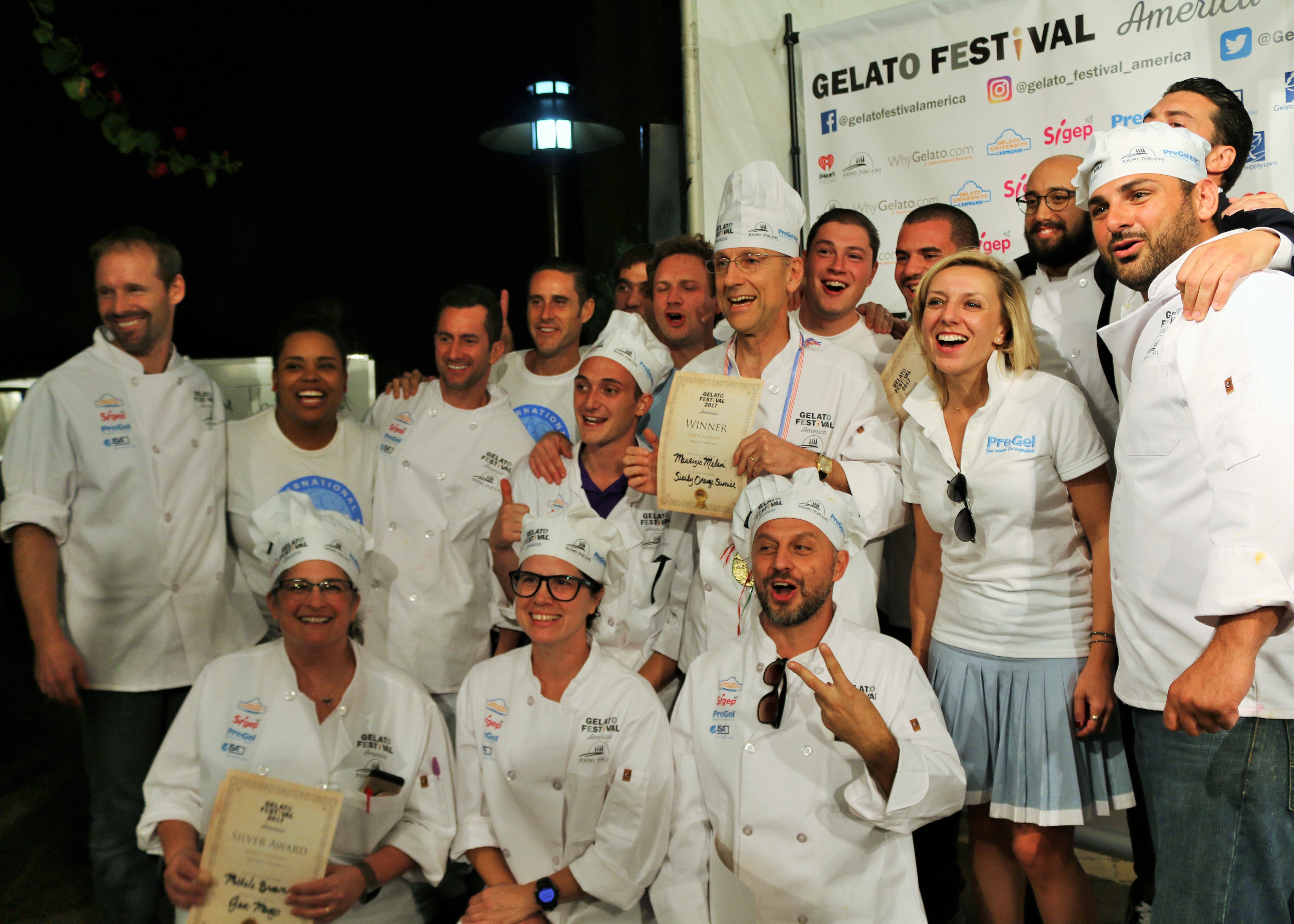 Gelato Festival America Finale Awards Presentation 2017
The 10 competitors for the Gelato Festival in Santa Barbara included:
1. GOLD MEDAL - Sicily Orange Sunrise by Maurizio Melani from Heladeria     Véneta, in Spain. His limited-time flavor will feature Sicilian oranges.
2. KIDS CHOICE Tropical Blast by Spin Mlynarik from Black Market Gelato in Hollywood, CA, will be a fresh tropical flavour.
3. Spicy Green Paradise by Mattia Ortelli from Gelato-go in Miami, FL, will bring a unique creation.
4. "Ode to Autumn" by Noël Knecht from Colibrì Gelato in San Clemente, CA, captured all the warm and flavorful sensations of the autumn weather. Chef Knecht received a special mention.
5. BRONZE MEDAL & "Stack it High" Award Blood Orange by Robert Sigona from Gelotti in Paterson, NJ.
6. Fresh Love by Bruno Couto de Matos from Frio Gostoso in Brazil.
7. Vegan Pink Pear & Ginger by Antonio Carrozza from Latteria Italiana in Miami, FL.
8. SPECIAL MENTION Shade of Rose by Salvatore Bonomo from Nonna Rosa in Los Angeles, CA.
9. Maíz Dulce Borracho by Marcello Mennone from Gelati Gioia in Tampa Bay, FL.
10. SILVER MEDAL to Roasted Green Tea with Crunchy Mango by Michele Brown from Brook Hollow in Dallas, TX.
The Gelato Festival was held at the La Cumbre Plaza Mall in Santa Barbara. Everyone in attendance was able to taste all the gelato and cast their vote for their favorite flavor. There were also some unique flavors by PreGel America and WhyGelato.com, authentic flavors by Carpigiani Gelato University and gastronomic sorbet by Sogno Toscano for everyone to sample.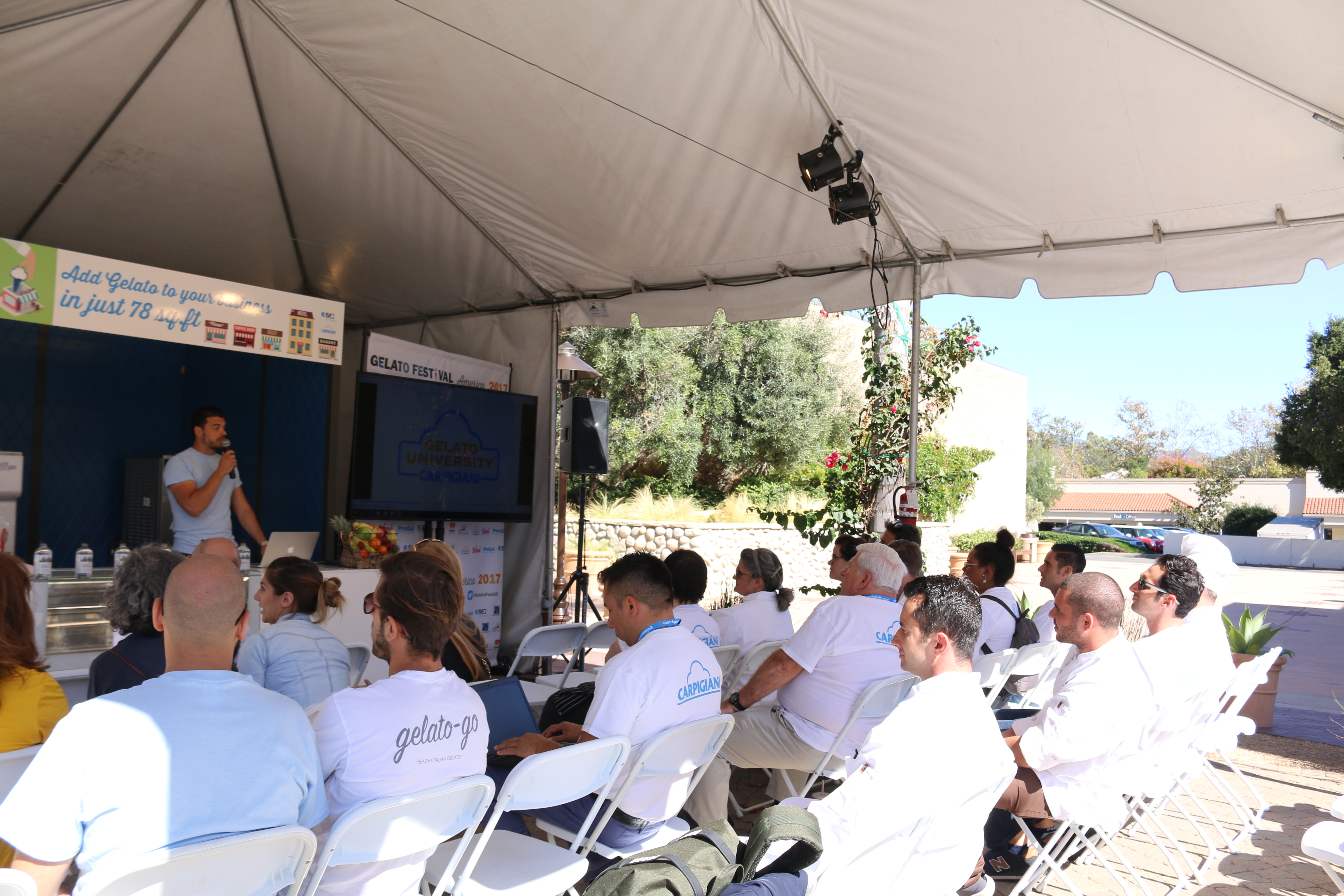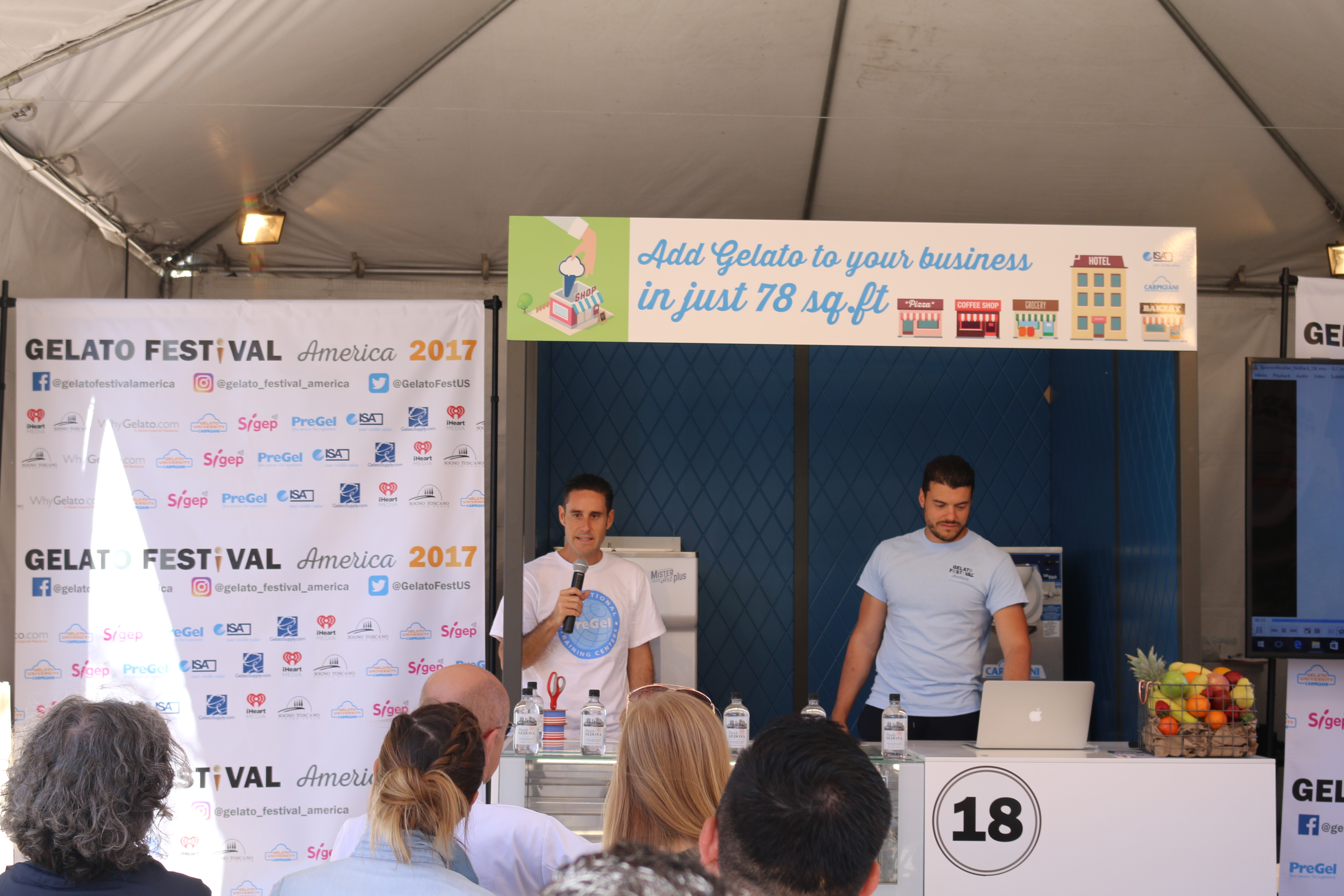 Gelato University Programs on Gelato Making & Business Operation
Gabrielle Poli, CEO Gelato Festival America shared how wonderful everyone participating and the staff worked as a team. "It is like a real family all working together, everyone gets along," said Salvatore Bonomo of Nonna Rosa Gelato in Los Angeles.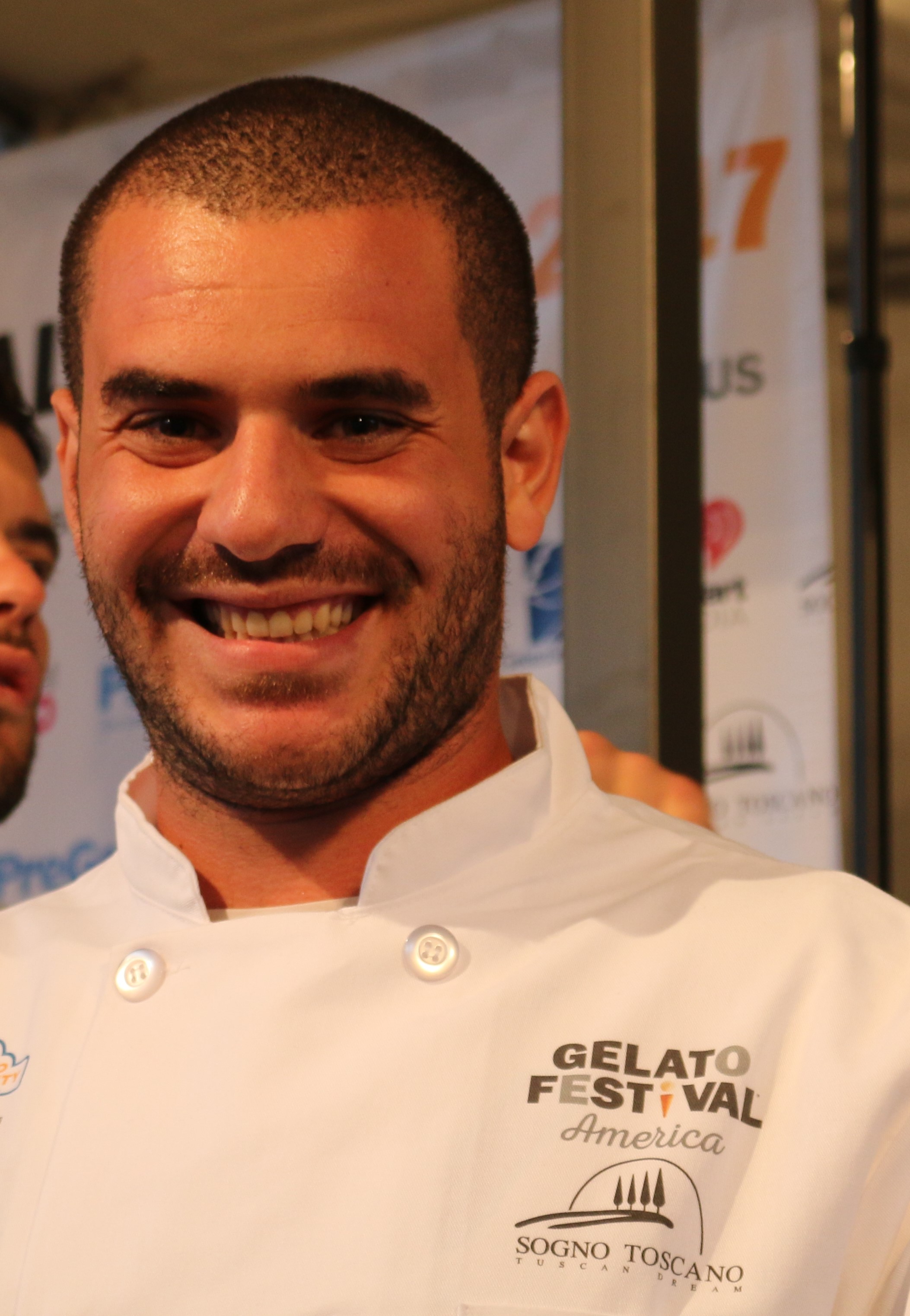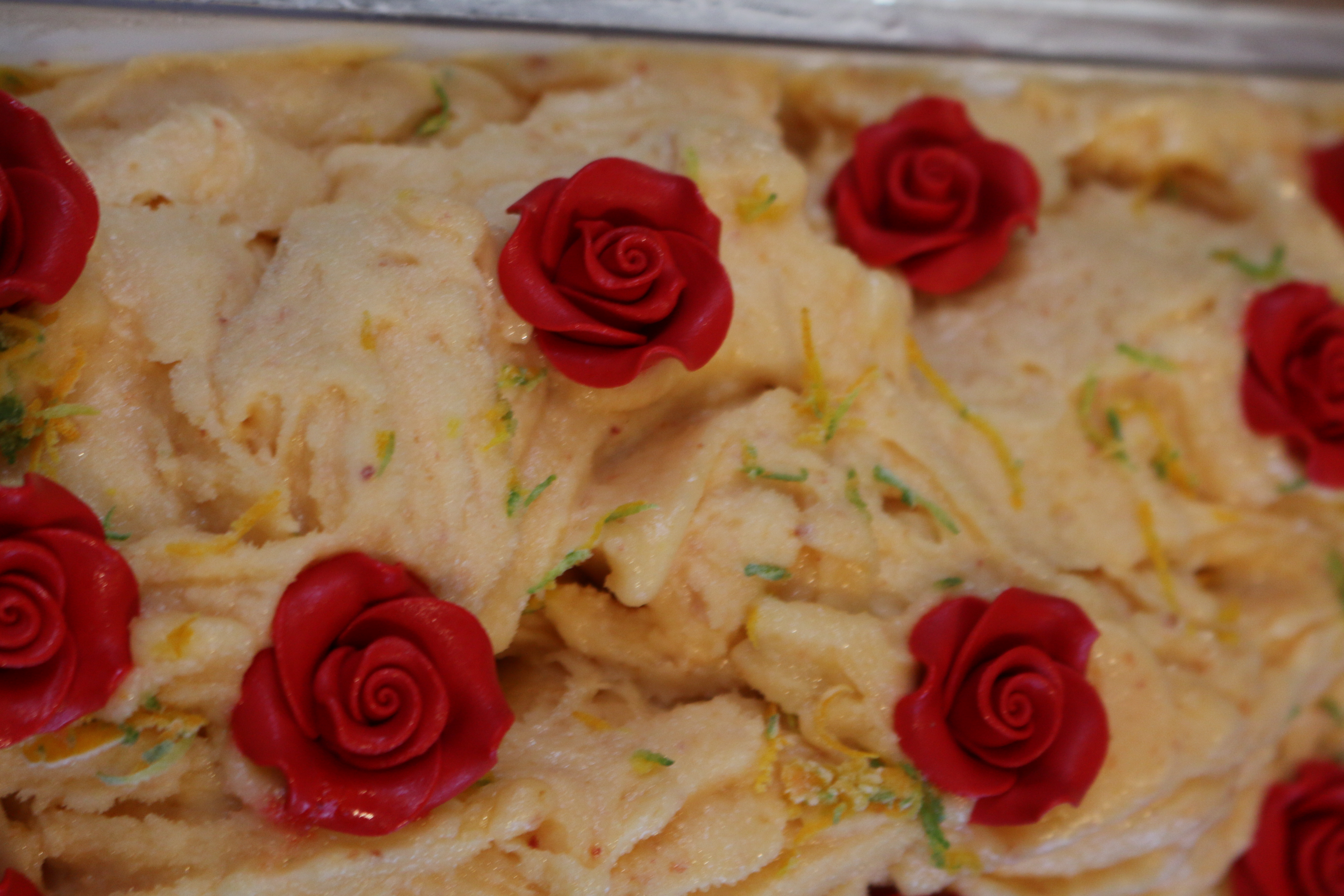 Salvatore Bonomo "Shade of Rose" Gelato
I enjoyed talking with John McCabe, Regional Area Manager of Carpigiani North America, who said, "Artisan gelato, known as fresh food produced daily by skilled gelato chefs, is gaining an international recognition over the last few years as a distinctive element of Made in Italy like pizza, pasta and espresso. The partnership with Gelato Festival and its development in the U.S. as a strategic market strengthens our long-term plans to provide the best support possible to the gelato artisans and their creativity."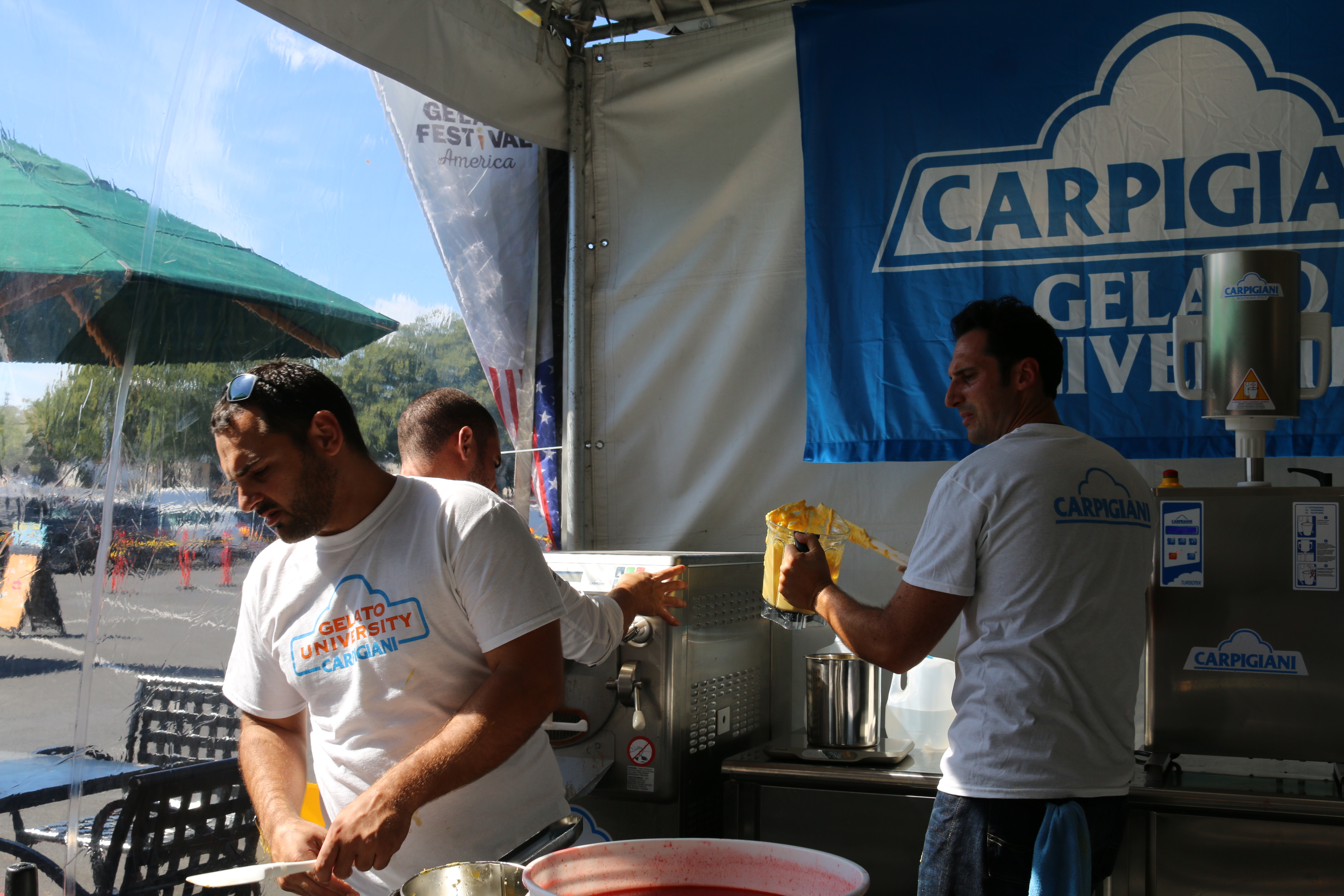 CARPIGIANI Gelato Machines in Festival Lab
Festival activities featured fun for all ages including a kids judging, and educational opportunities in the Gelato School were guest learned what it takes to become a Gelato Chef. Sogno Toscano was offering discounted prices on fantastic Italian products that included everything from fine olive oils to a lovely skin care line. Show presenters stated that on Monday morning after the event all left over food was being donated to the Santa Barbara Food Bank.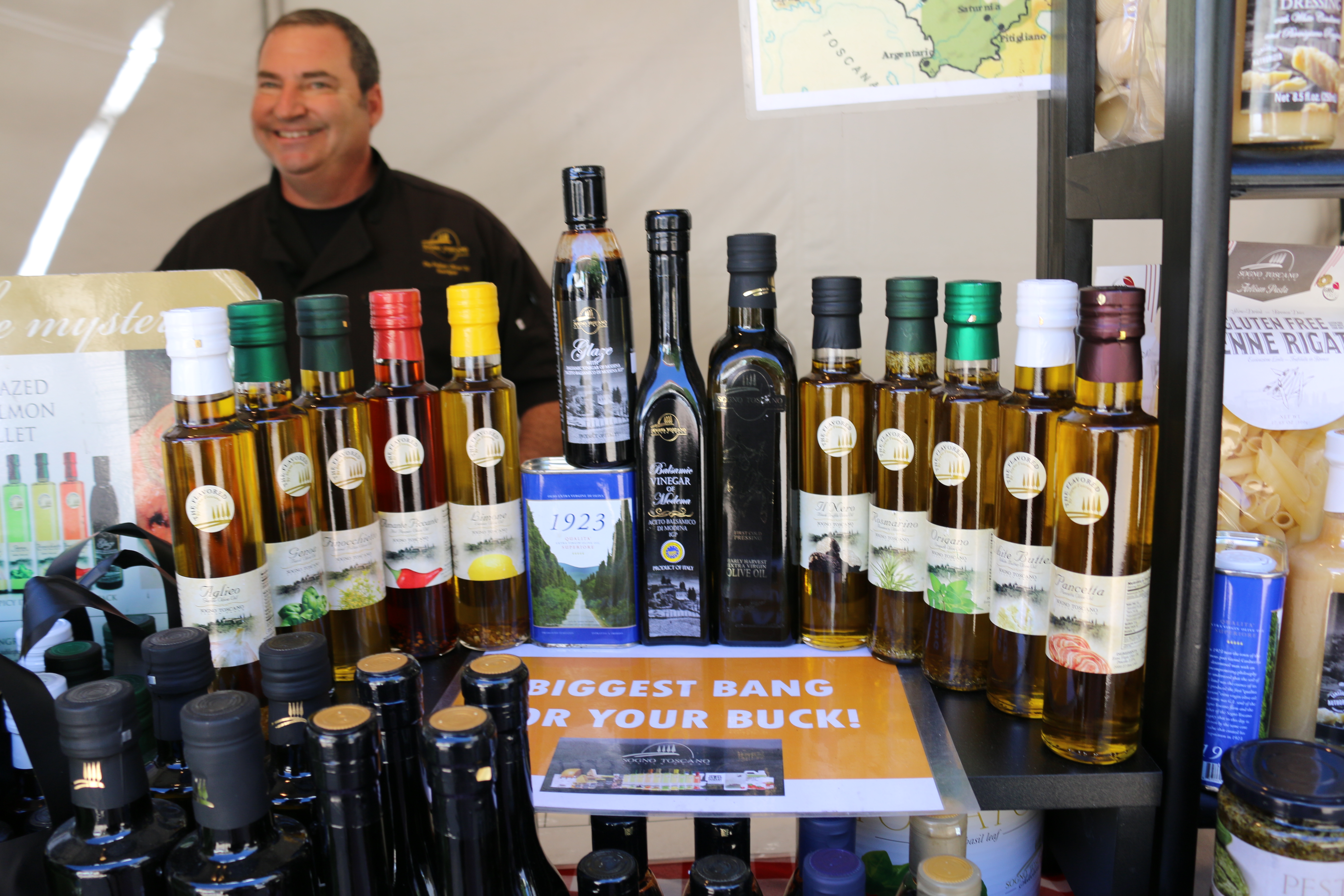 Sogno Toscano Products Available During the Festival
Other cities on the tour for 2017 include: Tucson and Scottsdale, AZ. Tickets are available online with discounts up to 10% in advance. For more details and to purchase tickets, visit gelatofestivalamerica.com/ticket.
---