TRAVEL ADVENTURES . . .
Pop Up Restaurant Mirrored Style of Grand Palace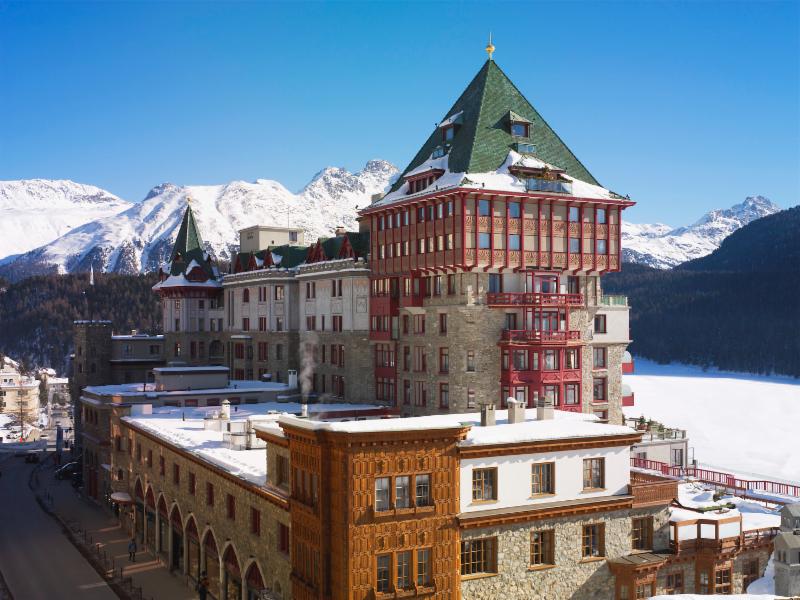 Badrutt's Palace Hotel, St. Moritz
Winter 2015/16 in Badrutt's Palace Hotel captivates guests with its exotic taste experiences. Lovers of Indian cuisine were delighted with the spiciness of the new pop-up restaurant Le Pavillon and the gourmet concept Indian Winter.
They are the creation of Sandeep Kalra, Executive Chef of the Trident Hotel in Gurgaon, Northern India. The refreshing new gourmet concept offered guests a magical and unforgettable evening from February 16 to 27, 2016.
The new pop-up restaurant Le Pavillon was located in the middle of Badrutt's Palace Hotel's garden beneath a breathtaking winter backdrop and offered its guests an exclusive gourmet dinner in a unique atmosphere. from February 16 to 27, 2016 the restaurant concept Indian Winter came to life.
The festively presented pavilion, that mirrors a glamourous Indian palace, illuminated its interior with deep red and gold. Sandeep Kalra, Executive Chef of the Trident Hotel, served aromatic delicacies from North India for up to 20 guests each evening.




At home the Indian Executive Chef Sandeep Kalra is responsible for the award-winning restaurant Cilantro, for Saffron, a restaurant boasting the finest northern Indian cuisine as well as Konomi renowned for Japanese specialities. 
Sandeep began his career in the Taj Palace Hotel, New Delhi in 1996.
He has since been on a culinary tour of the world from Miami, through Belgium, Holland and France to Italy and back again to India. He got to know and love Asian cuisine on extended stays in Hong Kong, Singapore and Malaysia.
Executive Chef Dandeep Kalra
"To me, high class food means that it touches the soul of the people enjoying it", explains Sandeep. He uses only the freshest and finest quality ingredients for his dishes and combines aromas and spices to create authentic and first rate taste experiences. "My dishes are works of art, that is how I present them to our guests and that is how they should be seen", the Executive Chef describes his culinary highlights.
About Badrutt's Palace Hotel
Badrutt's Palace Hotel is a celebration of style, sports, cuisine and fashion, with discreet service and traditional elegance evoking an atmosphere of pampered luxury for all. An ideal destination in both winter and summer, the hotel is located in one of the most challenging ski areas in the world and offers a host of summer alpine activities. Badrutt's Palace Hotel boasts 157 guestrooms and 37 suites with stunning views of the Swiss Alps. The hotel is a member of Leading Hotels of the World, Swiss Deluxe Hotels and Swiss Historic Hotels. Badrutt's Palace Hotel opens its doors to guests this winter from December 6, 2015 to March 27, 2016
____________________________________________________________________
Hofsas House Celebrates Spring
Tickets Available Now
 Sixth Annual Fundraiser For The Food Bank of Monterey County 
Thursday, March 24th, 2016
Enjoy a fun evening! 
Savor appetizers from local Chef's including Chef Steve Johnson from TusCA Ristorante at the Hyatt Regency Monterey Hotel and Spa, Chef Annie Hobbs with a Taste of Elegance and Chef Brandon Miller from Mundaka.  Enjoy chocolates from Lula's Chocolates and cookies from Sweet Elena's. Sip a glass of award winning wines from Scheid Vineyards or taste some of Mad Otter's signature beer.  Listen to the sounds of stringed instruments of Terrence Ferrell.  Support the Food Bank For Monterey County.
Reservations: Limited reservations available. Call Carrie at the Hofsas House 
(831) 624-2745
to make a reservation.
Hofsas House Features a 
Wine and Cheese Package

"Stay at the 

Hofsas

 

House

 and order our special wine and cheese package for $30. Enjoy a bottle of Monterey County Wine and a cheese pairing from the Cheese Shop when you order the Wine and Cheese Package in advance.  Please order 48 hours in advance of stay and specify red or white wine. 
     In addition, taste wines at nine different Carmel tasting rooms on the Wine Walk by-the-Sea with a Wine Tasting Passport. The Carmel Wine Walk by-the-Sea is pleased to offer a Wine Tasting Passport for $65, which entitles the buyer to one $10 flight at each of nine tasting rooms (a $90 value).  The Wine Passport can be purchased from our concierge after checking in."
Foodie Find of the Month
Each month our staff picks one of their favorite restaurants for you to try!  This month we are featuring Casanova!
  "We are committed to the culinary arts with a focus on contemporary and rustic cuisine. We provide our guests the best quality ingredients available to us by embracing and supporting our local small organic farms and fisheries. Authenticity has always been at the core of our vision. We are always questioning and ever evolving." 
Spring is the Perfect Time 
For Spa and Relaxation
One of the best things about Carmel-by-the-Sea is the calming, relaxed atmosphere that permeates the town. Keep that feeling alive and take it to the next level by planning a spa getaway. 
Kush Day Spa (kushincarmel.com) specializes in skin care treatments and massage. Choose from its mix-and-match spa services to design a treatment package just right to help all your cares melt away. 

Signature Day Spa (

signaturedayspa.com

) is a full-service day spa specializing in la stone therapy, herbal body wraps and facials. Finish off your day by having a manicure, pedicure and makeup application. 

After relaxing spa treatments, head over to March Hare Salon (

marchharesalon.com

) for a new cut and color.
Don't Forget The Time Change 
Sunday, March 13
Carmel-by-the-Sea Fun Facts
Once the sun sets, you might find yourself back in the dark ages, literally! Since there are not street lights here, you might find yourself enveloped by the night. Since there are also no sidewalks outside of downtown, finding your way back to your inn or hotel can be daunting as you will discover what life was like in pre-Edison days.
Apparently, the city founders decided that they didn't want their city to be as light polluted as many of their big city cousins. Consequently, they made the decision to keep light to a minimum so that locals and visitors could enjoy the night sky, being able to see the moon and the stars, which is actually a nice thing. Needless to say, if you come for a visit, bring a flashlight.
March POMDR Dog of the Month
Roky is a 9-year-old, 10-pound Spaniel mix whose guardian could no longer care for him, leaving this super loving guy is in search of his forever home. He is an "easy keeper" who loves going for walks with you and getting lots of belly rubs. Someone will be very lucky to be Roky's new best friend! 
---