HOLLYWOOD'S LOVE AFFAIR WITH ITALY 2006
Italian Grace at The Ebel Gardens
by Bonnie Carroll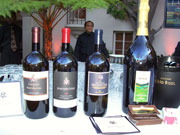 The beautiful garden party hosted by Four Points, Sheraton, E loft, W Hotels, Le Meridien, Luxury Collection, Westin and St. Regis Hotels took their invited guests to Italy for an evening. Fine Italian wine was imported for the party, and Daniele Turco, Executive Chef of Hotel Gritti Palace, located in Venice, was flown in to prepare an authentic dinner.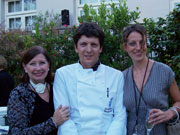 From appetizers to dessert it was all about everything delicious and Italian. Members of the executive staff of the hosting hotels, including Sofia Pelusa and Elena Dittadi from the Westin Excelsior & St. Regis Grand Hotels in Rome, were on hand to make introductions and answer questions. A talented classical quartet filled the garden with a bevy of favorites, as guests savored the authentic dinner presentation. The desserts were representative of five cities in Italy, and my favorite coffee, Illy Cafe, was the perfect ending to enjoy with my Venetian cake.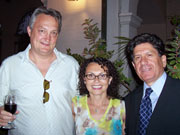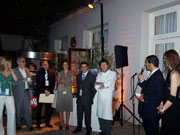 Also attending were members of the 'Italia' Italian Toursim Board in Los Angeles, along with Regent Beverly Wilshire Executive Chef Conny Andersson. The charm of the Ebel Gardens was only exceeded by that of the wonderful hosts from italy, who made it a summer night to remember.
---
MONTEREY WEEKEND STOPS
by Bonnie Carroll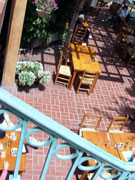 If you take a trip for the weekend to Monterey, California, you might like to check out some favorites of mine that are renowned in some circles and secret hide-a-ways in others.
The Body Suite is a wonderful day spa that features a variety of relaxing and healthful services for weary travelers, or those who wish to pamper themselves by the bay. Nell Counsell, owner has been a respected health aficionado for years, and is delighted to have a business where she and her staff can make people feel so good. The day spa is in a charming Victorian style building that overlooks the historic walking path in Monterey. The walk there from my hotel was quite stimulating and refreshing.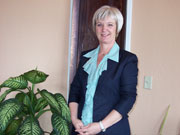 Nell greeted me at the door and gave me a tour of the facility that had opened one year ago. The treatment rooms reflected the taste and style of her therapists, and the overall feeling was one of quiet and relaxation. My massage was simply wonderful, and Nell invited to sit in the special sauna at Body Suite, where oxygen is restored to the body as you sit back and relax with a cold glass of water. I found this to be a very good experience that energized me for the rest of the day.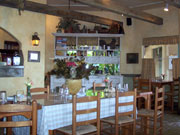 Just across the walkway from Body Suite is Trailside Café and Coffee House, a delightful spot, with an outdoor garden, that reminded me of some of the fun vegetarian restaurants I enjoyed in Denver, Colorado in the 70s. People would walk in to the open kitchen window and order their food, and then sit down to wait for it to be served up. The décor at Trailside is country comfort, complete with checkered curtains. The patio offers views of the Monterey Bay, and was packed to capacity when I was there for lunch.
Breakfast at Trailside includes everything from old fashioned oatmeal to French Beignets, and lunch offers a variety of salads, sandwiches, soups and seafood specialties. Wine and beer are served along with your favorites. My fresh vegetable soup was great, and so was the quesadilla with all the trimmings. Herbal tea and other beverages are plentiful, and reasonable prices abound.
The quaint looking building also houses a great gem shop that has beautiful hand made jewelry and precious geodes and amethyst samples that were exquisite. Just down the road a piece from this health conscious little mini-mall is all the fun shopping, and antiquing of Cannery Row, and a day can be spent very happily within this five block area of the bay area, shopping for unique gifts. For information visit:www.oldmonterey.org
---
ROCCO FORTE'S HOTEL ASTORIA CELEBRATES RUSSIA'S CULTURAL FESTIVAL, EXHIBITIONS AND CONCERTS WITH SUMMER DREAMS FOR ART LOVER PACKAGES
St. Petersburg is a marriage of old world and new attractions – a city filled with history and ancient relics of the past, yet brimming with festivals and cultural events that bridge these two times. Rocco Forte's stunning and elegant Hotel Astoria welcomes guests to bathe in the lap of luxury with its "Summer Dreams for Art Lovers" package while soaking up the festivals and events, such as the XIV International Festival 'Stars of the White Nights' or the V. St. Petersburg International Piano Festival, planned throughout the year 2006.
Known as the cultural capital of Russia, each year, St. Petersburg hosts a number and variety of exhibitions, festivals and musical events from January through December. From May 10 through July 19, 2006, the Mariinsky Theater will host the XIV International Arts Festival 'Stars of the White Nights'. The festival will celebrate the 100th anniversary of the birth of Dmitry Shostakovich, an accomplished pianist and composer trained after the Communist Revolution of 1917. A number of distinguished guest conductors and instrumentalists will participate in the jubilee to commemorate Shostakovich in addition to Mozart and Schumann. Ideally located in St. Isaac's Square in the heart of St. Petersburg and near the Mariinsky Theater, Hotel Astoria exemplifies an authentic Russian ambience with contemporary facilities.
The hotel's 223 rooms and suites, many with breathtaking views over St. Isaac's Square, place an emphasis on pure comfort with simple yet elegant furnishings complimented by luxurious amenities and marble bathrooms. The hotel also offers upscale dining in its fashionable restaurant Davidov, a spot where guests can enjoy a truly Russian dining experience with a selection of both Russian and international cuisine. The Caviar Bar, the pride of the Davidov, offers guests an opportunity to savor some of the best caviar in Russia along with a variety of chilled vodkas. Hotel Astoria also offers a sophisticated and relaxing retreat in The Spa by Clarins. The Spa, with a sauna, steam and four treatment rooms, provides luxurious Clarins treatments and Swedish, sports, back, neck and shoulder massages. In addition the hotel gym is open 24 hours a day and is equipped with the latest machines for both aerobic and anaerobic exercise. From September 4 – 7, 2006, St. Petersburg will host the V. St. Petersburg International Piano Festival at the Academic Capella, a concert hall specializing in classical vocal and chamber instrumental music. The International Piano Festival will feature distinguished musicians to showcase the huge potential of the piano and further acquainting listeners with all the ways in which the piano is presented, from solo performances and ensembles to piano concertos with orchestra. Hotel Astoria's "Summer Dreams for Art Lovers" package offers guests a chance to enjoy the best the hotel and the city has to offer, with remarkable entertainment, personalized service and top Russian cuisine.
The Astoria Summer Dreams for Art Lovers Package Includes:·Three night's stay in an elegant Superior Room· Russian Champagne, fresh fruit and a bouquet of flowers upon arrival· Buffet breakfast every morning at Davidov Restaurant· A traditional Russian table at Davidov – a three-course dinner including Russian vodka and champagne· A private tour of the Hermitage Museum including an English speaking guide for two hours· A five-hour, private guided tour to the Imperial Palace and Palace of the Noble, including the famous Catherine's & Alexander Palaces in Pushkin· Russian Classical Massage in The Spa by Clarins (30 minutes)· Private limousine transfer to and from the airport. Valid July 1 - September 30, 2006 Superior Room Single € 1,823 Double € 2,075
* Reservations are subject to availability.
All rates include www.roccofortehotels.com or call The Leading Hotels of the World at 1-800-223-6800.
---
VILLAZZO TAKES ROCKY MOUNTAIN VACATIONING TO
NEW HEIGHTS WITH ASPEN VILLAHOTELS
Bear's Creek and Georgina latest additions to global portfolio
There's a new peak vacation experience in the Rocky Mountains - or, more precisely, two of them. Villazzo, the innovative Miami-based VillaHotel company, recently opened two new VillaHotel properties in Aspen, Colorado, bringing its global portfolio of ultra-luxury residences to twelve. Bear's Creek and VillaHotel Georgina, are graced with Villazzo's notable five-star hotel-style services. Each has its own interior style and personality, with the design and furnishings reflecting contrasting tastes. Both are located mere minutes from Aspen Mountain.
VillaHotels are the new standard of ultra-luxury, located at the finest addresses in Miami, Marbella, St. Tropez and, now, Aspen. Guests have the entire hotel all to themselves, combining the luxury services of a first-rate hotel with the privacy, space and freedom of a villa. Guests of Villazzo can expect the finest amenities from climate-controlled wine storage and state-of-the-art kitchens to home cinemas and spa treatments. With four ways to dine, Villazzo gives guests total dining freedom to the highest standards. Intelligent, discerning Magagers and their team of highly trained staff - butlers, chefs, nannies and chauffeurs - make your stay incomparable.
Set in the exclusive hills of Smuggler Mountain, just minutes from Aspen, this luxurious and contemporary property blends smoothly into its natural environment. With exceptional space for larger groups, the VillaHotel offers five bedrooms and six full and one half baths. Georgina has a welcoming dining room, capacious decks, media room (which can be converted to a 6th bedroom) with surround sound music system, and fully equipped kitchen. A separate guest house has a living room and an additional kitchen. The indoor Jacuzzi and outdoor barbecue area overlook the Aspen Mountains. It's the perfect spot to indulge in winter sports and sheer relaxation. From $4,200/day.
VillaHotel Bear's Creek A magnificent mansion on one acre, Bear's Creek has stunning views of Aspen mountain and provides every opportunity to indulge in the comforts of luxury living. The VillaHotel boasts 4,000 square feet of living space, including four bedrooms, four full and one half baths, and gourmet chef's kitchen with a Viking stove, two ovens, side-by-side refrigerators and sleek granite counter tops. The master suite in particular is a jaw-dropper, with fireplace, large indoor Jacuzzi, and a sitting room with mountain views. There is another Jacuzzi outdoors, a barbecue area with beautiful teak furniture, and lush landscaping all around. A state-of-the-art alarm system provides peace of mind, while full air-conditioning keeps things comfortable during the summer months. From $3,500/day. For information on Villazzo, or to reserve VillaHotel Georgina or VillaHotel Bear's Creek in Aspen, Colorado, please contact Villazzo at 877-VILLAZZO, or visit www.villazzo.com.

---
BOOT BUTLERS AND WHITE GLOVE PICNICS PAMPER GUESTS AT FIVE-STAR HOTEL IN THE SPANISH PYRENEES
La Pleta Hotel & Spa Raises the Luxury Bar in the Baqueira Region
Mountain luxury has arrived in the Baqueira region of the Spanish Pyrenees, a region that up until recently has been a well guarded secret among the Spanish elite. The secret is out due in large part to La Pleta Hotel & Spa, a member of the Small Luxury Hotels of the World. La Pleta is redefining mountain luxury with footwear pampering by a Boot Butler and a White Glove Picnic fit for a king. No wonder the Spanish monarchs and celebrity royalty have already discovered this hidden jewel. For more information and reservations, call toll-free 800-525-4800 or 713-528-7862 or visit www.lapleta.com.

La Pleta's White Glove Picnic is now a legendary summer specialty. The elevated picnic, at nearly 8,000 feet above sea level, becomes a grand outdoor event as the hotel's chef cooks a custom-made meal. Tempting selections include prime cut beef or fish barbequed on a grill, gourmet cheeses from the region and fine red Spanish wine. A white-gloved butler then serves the decadent feast on a table complete with white linen, fine glassware, porcelain place settings and silverware. The culinary experience is available from June to October and costs $36 per person with a 2 person minimum.
In a world where there are Soap Butlers and Tanning Butlers, the next logical step is a Boot Butler. La Pleta creates a new ritual for snow covered ski boots that leaves them looking brand new. When returning from the slopes, guests are greeted by the Boot Butler and are relieved of their boots. Special attention is given as boots are cleaned, sterilized, dried and polished. Renewed to pristine condition, boots are then returned to the guest's room ready for another day on the slopes.
La Pleta Hotel & Spa offers world-class skiing in the winter and endless soft adventure in the summer. Tucked away in Val d'Aran, Baqueira, Spain, the five-star resort is a scenic 2 hour drive from the Toulouse Airport and 3 hours from the Barcelona Airport. The 70-room La Pleta is popular with Spanish high-society including the Spanish Royal family. Occitania, the resort's mountain spa, introduces the celebrity-popular Erno Lazlo skincare ritual to Europe for the first time. The resort's two restaurants satisfy the most discerning palates with Del Gel al Foc, serving creative international cuisine with a Catalonian twist, and Petita Borda, offering lighter Mediterranean-style dishes.
---
Arizona's Sizzlin' Summer Specials Heat Things Up
Warm summer weather is right around the corner, and that's when vacation deals really heat up in the Grand Canyon State. Summer is the perfect time to plan your dream vacation in Arizona for less than you'd pay at any other time of year. Arizona's low humidity makes the air temperature feel cooler than it actually is. While 100-degree days may be miserable in other parts of the nation because of higher humidity, Arizona is quite pleasant. Visitors to Arizona can also take advantage of the desert setting, where temperatures drop nearly 30 degrees at night, creating comfortable evenings for enjoying outdoor activities. Golfers can take advantage of early-morning tee times at drastically reduced rates. In the afternoon, shoppers will love to go from store to store and even enjoy a meal outside, thanks to the water misters at several shopping areas that create a "wind chill" effect on the skin. And anyone who loves a bargain will revel in being able to stay at a world-renowned resort for a fraction of the regular price. Here are just some of Arizona's hot summer deals: Cool it at Aji Spa at the Sheraton Wild Horse Pass Resort, located in southeast Phoenix on the Gila River Indian Reservation. Here, visitors can experience the new Pina Colada Manicure and Pedicure while enjoying a Pina Fruit Smoothie. The package is $145 and runs from 05/25-08/01. After being pampered, take the kids to Rawhide at Wild Horse Pass, which just moved to its new home on the reservation. Here, adults who order one Steakhouse entrée will receive two complimentary kids entrees. This offer runs from 6/1-8/30. In central Phoenix, sports fans will want to take advantage of the Summer Baseball Package at the Best Western Central Phoenix Inn. For only $69, the package includes overnight accommodations for two, two tickets to an Arizona Diamondbacks game at Chase Field, a bag of peanuts and a complimentary non-alcoholic beverage with the purchase of an entrée at Central Avenue Bar & Grill. This offer is valid from 05/15-08/15. Want a romantic weekend without spending every waking moment with the one you love? The Camelback Inn, a JW Marriott Resort & Spa in Scottsdale, has just the package for you! Escape His & Hers Package, valid from 06/12-09/04, includes deluxe accommodations for two, a round of 18 holes of golf for him and a one-hour spa treatment for her, all for just $329. In Tucson, shop 'til you drop at the JW Marriott Starr Pass Resort & Spa and La Encantada shopping center. From 6/15-8/30, visitors can enjoy deluxe accommodations, breakfast for two, plus a coupon book for discounts at luxurious La Encantada, all for only $179. Westward Look Resort, also located in Tucson, is offering a package called View the Night, which includes accommodations, dinner for two at the acclaimed Gold Room restaurant at the resort, a guided tour through the resort grounds after dark with night goggles, plus stargazing through the resorts Celestron 2000 telescope. The offer runs from June through September and is $226 per night. Head north to cool off a bit in Prescott and Sedona. At the Prescott Resort, enjoy dinner and a movie from $179-209 per night, through July 13. The package includes accommodations, a $60 room service food credit and one On-Command movie rental. In nearby Sedona, the Lodge at Sedona is offering a three-day, two-night package that begins at $455 per couple. The package includes accommodations, a dinner certificate at Rene of Tlaquepaque restaurant, package of deals from the merchants at Tlaquepaque shopping center, plus gourmet breakfast and sunset snacks daily. Package is valid through September 8. Then, head to far northern Arizona to see one of the most beautiful sights in the world (and enjoy temperatures nearly 30 degrees cooler than the Phoenix area!). For $149 per adult, the Grand Canyon Railway is offering a roundtrip train ride from Williams to the South Rim of the Grand Canyon, an overnight stay at the Grand Canyon Railway Hotel in Williams, plus dinner and breakfast at the railway's restaurant. Offer runs from 4/28-7/28. So don't sweat it…come to Arizona for sizzlin' summer specials! For even more values, deals and discounts throughout Arizona, go to www.ArizonaVacationValues.com. To plan your Arizona vacation today, go to www.ArizonaGuide.com or call 1-866-298-3312.

---
FOR AN UNFORGETTABLE FAMILY VACATION THAT EVERYONE
WILL LOVE SOUTH AUSTRALIA'S THE TICKET
Wildlife on Kangaroo Island, Outback Adventure and
Charming Adelaide- South Australia has it all!
For fun, adventure and a vacation that offers something for adults and kids of all ages look no further than the extraordinary state of South Australia. Covering almost 380,000 square miles, South Australia is filled with an abundance of amazing wildlife, superior wine and food and interesting cultural activities sure to entice the whole gang.
Visit the official website at www.southoz.com, or call 888.768.8428.

---
Required Documents for International
Travel with Minors

Family Travel Forum (FTF), the leading publisher of family vacation / travel websites, alerts parents planning family getaways to obtain the required documents minor children will need for foreign travel, or face being turned away from an international flight or cruise.
In Family Travel Forum's special report "Required Documents for Travel with Minors"
[ http://www.familytravelforum.com/articles/article/10545 ], consular officers, immigration and tourism officials explain border entry and exit procedures, permission to travel letters, and other paperwork required if minors under 18 years of age leave the United States without both birth parents or legal guardians.
"Family Travel Forum helps all types of travelers plan great family vacations, and travel documents are an essential part of the preparation," notes FTF publisher John Manton.
"Whether you're married and leaving a spouse behind to work; grandparents taking grandchildren to the Caribbean; same sex couples with adopted children; a divorced parent on a road trip to Canada – even a military family trying to reunite for a holiday," Manton adds, "if the outcome of your next family vacation relies on the goodwill of an Immigration official, it's crazy not to have the correct custody documents."
Additionally, FTF's report recommends that travelers vacationing with children other than their own carry medical treatment authorization letters, assigning them responsibility for a child's care in case of medical emergency.
To read "Required Documents for Travel with Minors" and download sample forms, visit
[ http://www.familytravelforum.com/articles/article/10545 ].
About Family Travel Forum
Family Travel Forum Inc, founded in 1996 to serve the needs of members who "Have Kids, Still Travel," publishes the award-winning FamilyTravelForum.com, the leading subscription site dedicated to family vacations; TinyTravelers.net, supporting travel with children under age 5; KidTravels.com, the travel site for kids, by kids; and FamilyTravelBoards.com, the premier bulletin board for destination tips, safety and parenting issues.
---
CRUISE TRAVELERS WITHOUT PASSPORTS
WILL SOON BE LEFT ON LAND

CruiseCompete.com urges travelers to apply now to avoid rush for passports, required for cruises returning on January 1, 2007 or after
Travelers without a passport must pass on any cruises outside of the United States starting in late December, no matter what kind of great deals they land on their next vacation, according to Bob Levinstein, CEO of CruiseCompete.com, the world's only competitive cruise pricing Web site.
After a year-long delay, passports will be required for all air and sea travel outside of the United States for persons returning home after Jan. 1, 2007. This includes travel to Canada, Mexico, Central and South America, the Caribbean, Bermuda and other cruise ship destinations.
The Cruise Lines International Association estimates only 35 percent of cruisers used passports as identification on cruises during the past year.With more than 10 million Americans enjoying cruise vacations each year, this means a lot of people still need to secure proper identification for next year's cruises.
---
ALITALIA.COM MAKES FLYING EASIER

It has never been so easy to find, book and purchase the flight you are looking for. The information is now more complete and clear, making it even simpler to find the flight you want and to buy your ticket. In addition to renting a car and booking a hotel, you can also purchase a flight + hotel package in just one transaction, at highly competitive prices.
1,000 Extra Miles buying online, until 13 July
To mark the launch of our new site, Alitalia is giving members of the MilleMiglia Program a bonus of 1,000 miles for every e-ticket purchased online from alitalia.it, alitalia.com and all local sites*.
Still not a MilleMiglia member? There's never been a better time to join!
Because it's even easier and quicker to earn miles and receive exclusive Program rewards.
Apart from the promotion and the basic miles you earn on Alitalia flights, you will also receive a welcome bonus of 1,000 miles. Join now. Visit: www.alitalia.com

---
What's Exclusive and New in European Cruise Excursions
Holland America Line seeks out unique cruise tour experiences in Europe from an Evening of Chopin in Gdansk, new for 2006 and 2007, to a private visit to the Vatican in Rome. Whether guests want to sightsee via camel, kayak, canal boat or gondola, the company offers more than 500 excursions in 138 ports of call in 2006 on cruises to the Mediterranean, Black Sea, North Africa, Scandinavia, Russia, Iceland, Greenland, the British Isles; and 2007 will offer all of that plus the Holy Land.
"Our shore excursions lead the way in the cruise industry providing options that deliver the unforgettable experiences seasoned travelers expect of Holland America Line," said Richard D. Meadows, CTC, senior vice president, marketing and sales. "We offer traditional tours spotlighting noted attractions rich with history, art, culture and lifestyle as well as traveling off the beaten track on action and adventure tours."
Something for everyone is the hallmark of Holland America's 2006 and 2007 slate of European excursions. Amsterdam's "Canals on a Summer Evening" is perfect for romantics. Murder on the Moika River in St. Petersburg and "Angels and Demons" Rome Adventure by Train has mystery buffs in mind. Nature lovers can go on a bird safari, attend a horse show, watch for whales and dolphins or visit the Polar Zoo. Thrill-seekers can opt for a Polar Flight, an extraordinary adventure from Akureyri, Iceland that provides entrée to the Artic Circle Club—with a membership certificate to prove it.
Exciting and new. Alexandria is the place to marvel at the Pyramids, glide down the Nile, ponder the riddle of the Sphinx, and, new this year, travel across the sands of time in a 4-wheel drive vehicle. Holland America has also added the Rembrandt Narrator exhibition in Leiden, the catacombs and cathedrals of Savoca and Forza D'Agro, Abisko National Park north of the Arctic Circle, the Hidden Villages of Santorini, and the Treasures of Sinop, the most beautiful natural harbor of the Black Sea, to its already extensive list of excursions.
Medallion Collection excursions feature exclusivity. This elite tour category features unique adventures and special events for a limited number of privileged guests. Topping the list of one-of-a-kind experiences are Formula One racecar driving in Barcelona, kayaking the Geirangerfjord in Norway, sipping vodka from a frozen glass in Stockholm's chic Ice Bar, flying over Berlin in a Raisin Bomber and a Gala Performance of live opera at St. Petersburg's famed Yusupov Palace.
"Taste of Europe" tours add flavor. Shore excursions offer a wonderful way to explore intriguing destinations. Organized tours ranging from a few hours to a full day in length, many including meals, spotlight traditional icons like the Pyramids, the Parthenon, the Colosseum and Pompeii while delving into each port's cultural scene and lifestyle. Tasting Devonshire Cream in the British Isles, sampling Cider and Cheese in Normandy, or savoring authentic pizza in Naples add zest to the European travel experience.
"Off the beaten track" excursions have wide appeal. Select tours designated as "off the beaten track" are ideal for those who "collect" new places. A high-speed boat trip through the Finnish Archipelago, a Neretva River Delta Photo Safari encompassing two countries—Croatia and Boznia Herzogovinia, or "The Zozimus Experience" which revisits the scenes of great escapes, murders and mythical happenings within the medieval city of Dublin inject a fresh look at familiar places.
"At your own pace" offerings provide flexibility. Numerous interests and all activity levels are accommodated within Holland America's extensive tour lineup. The company even offers a Signature Collection of excursions for guests who seek a more personalized tour customized to their wants and needs with their own private luxury vehicle, professional driver and English-speaking guide.
Tailored excursions perfect for groups. Holland America also offers customized group shore excursions customized to the ports and activities a group wants to experience. They also include language-specific guides, private transportation, and added features, such as a lunch or a show.
To learn more about Holland America Line's entire award-winning shore excursions program or to pre-book excursions online, visit www.hollandamerica.com and click "shore excursions".
For a cruise brochure or for more information, consult a professional travel agent, call 1-877-SAIL-HAL or visit www.hollandamerica.com.

---
Malaysia Airlines on the Road to Recovery
Malaysia Airlines announced its Q1 2006 financial results which reflected encouraging progress in reducing monthly losses and delivering a small profit in March 2006.
Whilst its Q1 result highlights a loss of RM 321 million, there are 2 positive signs that Malaysia Airlines is on the road to recovery. Firstly, Malaysia Airlines beat its Q1 2006 target loss of RM 349 million. Its full year Business Turnaround target is to improve its business by RM 1.1 billion, thereby cutting its annual loss from RM 1.7 billion to RM 620 million. Secondly, considering that it made a loss of RM 404 million (which includes non recurring items) in the month of December 2005, by pursuing its Business Turnaround Plan, the airline is rapidly reducing its monthly losses of RM 184 million in January, RM 143 million in February and actually delivered a profit of RM 7 million in March 2006.
Whilst giving an update on the Business Turnaround Plan, Mr Idris Jala, Managing Director/Chief Executive Officer of Malaysia Airlines, said: "We are relentless in our pursuit of the Business Turnaround Plan - the MAS Way. We have a sound plan which we are committed to delivering and the monthly financials are beginning to reflect the results of the various initiatives."
In announcing the Q1 financial results, YM Tengku Azmil Zahruddin, Executive Director and Chief Financial Officer said: "Over the past few months, we have introduced a number of turnaround initiatives. Under our revenue enhancement program, measures implemented include tighter control of ticket inventory, excess baggage charge collection, increased fuel surcharge and collection of administration fees. At the same time, we have also reduced our expenditure in a number of areas – from staff costs and advertising & promotions to maintenance and inflight costs. All of these initiatives are now beginning to hit the bottom-line, which explains the uptrend in the revenue and the downtrend in the expenditure."
Malaysia Airlines unveiled its Business Turnaround Plan in February 2006 which highlighted a prognosis of low yield, inefficient network and low productivity (overstaffing). To address this prognosis, Malaysia Airlines has to immediately focus on improving yield, restructuring its network and increasing productivity through manpower right-sizing.
In its attempt to improve the profitability of its cargo business, Malaysia Airlines has improved its cargo yield by 12 per cent sen/Load Ton Kilometre and load factor increased by 1 percentage point to 60.2 per cent. Cargo revenue (including fuel surcharge) increased by 4 per cent. However capacity dropped by 9 per cent as 2 freighters were removed from its fleet between Q1 2005 and Q1 2006. For Q2, Malaysia Airlines is taking delivery of 2 new 747-400F Boeing freighters which are the right aircraft for their cargo operations. This will improve its profitability in terms of fuel efficiency and load.
Said YM Tengku Azmil: "From the Q1 2006 results, it is clear that Malaysia Airlines is finally taking all the right actions to resolve its perennial problem of low yield. We are definitely closing the yield gap with our competitors. This is good news for Malaysia Airlines, going forward."
Network Restructuring
The network restructuring plan is based on the hub-and-spoke approach and the new domestic rationalisation policy announced by the Government. This will result in Malaysia Airlines' domestic routes being restructured from 118 to 19 routes, and international routes from 114 to 90. The domestic restructuring will be effective 1 August whilst the restructuring of the international sector is being implemented in phases. Phase 1 which includes rerouting via KLIA as the primary hub is complete. Phase 2 which required routes to be cut after exhaustive route profitability actions is 70% complete and the rest of Phase 2 will be implemented on 1 June. Phase 3 will be implemented over the next 6 months.
Malaysia Airlines is not just reducing its flights but is also improving connectivity and frequency on targeted routes. From 1 August, it will launch new flight schedules which will ensure that passengers enjoy better connectivity at KLIA. Currently, Malaysia Airlines operates only 2 daily waves of flight arrivals and departures but after 1 August, the airline will shift to 4 waves per day. This means Malaysia Airlines is improving its customer value proposition from a scheduling point of view. Flight scheduling is a critical criteria in the decision making process on customers' choice of airline.
Added Mr Idris Jala: "The network changes will reduce our losses significantly and directly add to our bottom-line by about RM 300 million next year. It will have only a small impact this year due to the phased implementation. In addition, the hub and spoke model and the improved scheduling will help to increase sales and load factors. Directionally, we are taking all the steps to put in place a robust and resilient network."
Manpower Rightsizing
On 22 May 2006, Malaysia Airlines announced the details of its Mutual Separation Scheme which fast tracks its intention to right size its workforce a year ahead of the schedule outlined in its Business Turnaround Plan. The MSS is a voluntary exercise and Malaysia Airlines expects the take-up rate from staff to be between 3,000 to 5,000. The airline targets to complete this exercise by 31 July 2006.
Cost Reduction
Operating costs in Q1 2006 increased by 9% or RM 284 million resulting in a cumulative total of RM 3.3 billion. The overall cost increase was primarily due to higher fuel expenditure which increased by RM 229 million compared to the corresponding quarter. Higher fuel prices alone represented 35% increase to fuel cost compared to the same period in 2005. The other cost increases were due to factors outside the control of Malaysia Airlines such as increase in airport, handling and landing charges (+RM 32 million), increase in interest rate which escalated aircraft and engine lease and charges (+RM 97 million), strengthening of the ringgit and provision for doubtful debts (+RM 106 million) and increases in depreciation cost (+RM 17 million) due to changes in FRS accounting rules.
On costs which Malaysia Airlines can influence, its cost reduction efforts are beginning to show encouraging results. By stopping new corporate advertising and sponsorship, the airline reduced costs by RM 74 million in Q1 2006 compared to Q1 2005. Staff cost was also reduced by RM 80 million through various measures including tighter control of overtime, reduced discretionary training, one-off provisions for bonus and unutilized leave in 2005. In flight costs, including catering, have been reduced in Q1 2006 by RM 11 million through wastage cuts and renegotiation of contracts. Maintenance costs were reduced by RM 54 million through tighter control and due to change in accounting estimates.
Month on month expenditure showed a reduction with RM1.2billion in January, RM1.1billion in February and RM1.0billion in March.
Excellent Brand, Product and Services
The national carrier continues to be recognised as an airline which stands tall amidst stiff competition. In Q1 2006, it has received 4 international awards for its excellent product and services ie Skytrax - Global winner for Economy Class Onboard Service Excellence 2006, Travel Weekly - Best Airline to Asia, Reader's Digest - Platinum Brand Award, Global Traveller - Best New Business Class Seat.
Mr Idris Jala and YM Tengku Azmil both gave clear words of caution that despite the positive early signs, Malaysia Airlines still has a long way to go and the Business Turnaround Plan clearly states that it would take 2 years of real hard work to turnaround the business.
Added Mr Idris Jala: "We are definitely on track. We have excellent staff support in implementing The MAS Way. This is evident from the positive monthly trend in this first quarter. However we must be mindful of the lean demand period in the second quarter. April and May are typically the worst months during the year. As the airline business is seasonal in nature, it is not appropriate to make straight-line forecasts based on our results so far. In addition, the volatile fuel prices remain as a key challenge although we have hedged 70 per cent of our fuel in 2006.
"Going forward, we must relentlessly pursue the Business Turnaround Plan despite the challenges. This is a marathon and not a sprint. For us to win this long race, we need the support of our customers and all our stakeholders," he added.
Malaysia Airlines, the national air carrier of Malaysia, is one of Asia's largest, flying more than 40,000 passengers across 6 continents every day. Its current network links over 110 passenger and cargo destinations, served by a fleet of 113 aircraft, ranging from the largest 361-seater Boeing 747-400 to the 19-seater Twin Otter. It is the only airline in the world to offer direct air services connecting the South African cities of Johannesburg and Cape Town with Buenos Aires in Argentina.
---
Annual Intertribal Indian Ceremonial in Gallup, NM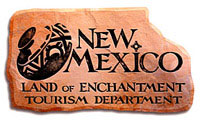 The 85 th Annual Intertribal Indian Ceremonial will be held in Gallup, NM July 26-30, 2006. More than 30 tribes from throughout the United States will join together to participate in parades, tribal dances, the All-Indian Rodeo, and more at this popular event.
The Intertribal Indian Ceremonial includes Indian art sales and exhibits, rug auctions, livestock show, contest pow-wow and Indian Art Village. The indoor and outdoor marketplace and the ceremonial showroom present the country's most complete and varied displays of genuine Indian fine arts. There is also a hands-on activities center and educational programs, as well as stalls selling Indian food.
"The annual Intertribal Indian Ceremonial gives New Mexicans and their visitors an experience with family and friends found nowhere else," said Michael Cerletti, Secretary of the Tourism Department, "It is a highlight of New Mexico's annual calendar of events, one not to be missed."
"The Ceremonial represents what it means to be a Native American," Secretary Cerletti said, "and it's a cultural experience cherished and treasured by its many visitors." The Intertribal Ceremonial is run by the Intertribal Ceremonial Office, a new agency attached to the New Mexico Tourism Department.
Intertribal Indian Ceremonial
July 26-30, 2006
Red Rock State Park
PO Box 10
Churchrock NM 87311
6km (4 miles) east of Gallup, New Mexico
240km (150 miles) west of Albuquerque
Adults $12; children $8
Ceremonial Office
202 West Coal Avenue
Gallup
New Mexico
87301
Tel +1 (1)505 863 3896
Email ceremonial@cnetco.com
---
'Headlights on the Mother Road' Car Show at Expo New Mexico, 'Cruise New Mexico' to Celebrate 80th Anniversary of Route 66
Turn about will be fair play, when classic car cruisers from California and beyond will join their New Mexico counterparts in "Cruise New Mexico," held in conjunction with the "Headlights on the Mother Road Car and Motorcycle Event," June 30-July 2, 2006, at Expo New Mexico in Albuquerque.
"We will celebrate the 80th anniversary car and motorcycle culture of New Mexico's Route 66 with the annual event," said Kathy Duffy of Expo New Mexico. "And, as a result of our Classic Car Cruise to Pasadena, California, in January by nearly 20 of our most ardent car enthusiasts in support of the New Mexico Tourism Department-sponsored float in the 2006 Tournament of Roses® Parade on January 2, 2006, we now have friends and 'roadies' coming our way during the Headlights weekend to take part in our first-ever Cruise New Mexico."
While legislation for public highways first appeared in 1916, with revisions in 1921, it was not until Congress enacted an even more comprehensive version of the act in 1925 that the government executed its plan for national highway construction, giving birth to the curio shops, truck stops, last-chance gas, tourist courts and Burma Shave signs. Officially, the numerical designation 66 was assigned to the Chicago-to-Los Angeles route in the summer of 1926.
"For more than 50 years, travelers got their first real look at New Mexico while traveling Route 66," said Michael Cerletti, secretary of the New Mexico Tourism Department. "Even while New Mexicans look to the future, they keep their history alive and kicking with remembrances old Route 66, such as this year's 'Headlights on the Mother Road' Car and Motorcycle event and 'Cruise New Mexico,' celebrating the 80th anniversary of the Mother Road. The long weekend will have a little something for everyone - family entertainment at its down-home finest."
For those classic car enthusiasts who want to join the 2006 "Cruise New Mexico," the schedule includes:
• Thursday (June 29), in Gallup: Registration begins at 2:30 p.m.; cruise leaves at 5 p.m. following a welcome and "blessing of the vehicles" by Native American Tribal Dancers; arrive in Grants at approximately 6 p.m.; travel via caravan to Acoma Sky City Casino for food, entertainment and overnight stay. Sky City reservation number is 1-888-759-2489. Identify yourself as a Rt. 66 cruiser with the "Headlights on the Mother Road/Cruise New Mexico" to get a special rate.
• Friday (June 30) in Grants: Visit Acoma Pueblo's Sky City; travel Historic 66 to Los Lunas for lunch, courtesy of Brad Francis Automotive Group; travel past Isleta Pueblo and the San Augustine Mission Church, established in 1623; and arrive at Expo New Mexico in Albuquerque, home of New Mexico State Fair. Registrants and car buffs will gather for an afternoon of music and relaxation
• Also Friday, mayors from several New Mexico Route 66 cities will join Albuquerque's police force traveling in vintage vehicles to lead the caravan down Route 66 (Central Avenue) to the Kimo Theatre for a concert by New Mexico's "Fireballs." A night cap of cookies and milk, provided by Southwest Dairy Farmers, concludes the day's activities.
• Saturday (July 1), at Expo: "Show 'n Shine," rock n' roll, chasing parts at the Expo's Flea Market and door prizes all day long. Cruise to Old Town following the day's activities for live rock n' roll music on the Plaza.
• Sunday (July 2), at The Downs at Albuquerque, Expo: Sunday brunch and awards, 11 a.m.-1 p.m.
• Monday (July 3) in Albuquerque: On your own, cruise to the J & R Vintage Car Museum, Unser Racing Museum, Albuquerque's Historic Old Town or up the Turquoise Trail (the scenic drive to Santa Fe).
• Tuesday (July 4) in Albuquerque: Cruise to Balloon Fiesta Park for an evening of entertainment, 4th of July fun and a concert featuring Linda Ronstadt.
• Wednesday (July 5) in Albuquerque: Travel to Edgewood for a Cowboy Camp breakfast at Wild Life West Park, followed by the Governor's Cruise through Deadwood and a night of entertainment in Moriarty.
• Thursday (July 6) in Moriarty: Travel to Santa Rosa for the Billy the Kid Poker Run and Old West Shootout by SAAS; then on the Tucumcari for the "Best Little Festival on Route 66."
"Baby boomers will relive their past, while those of us to young to experience it the first time around will witness first hand what the rock 'n roll and car-crazy culture was all about," Duffy said. "Committed tourism partners and sponsors from the car and motorcycle industry have come together to support the Headlights event each year. Cars are the stars during a week of family entertainment."
The above schedule is subject to change. For more information and a schedule of events, contact Kathy Duffy, Expo New Mexico, 505-265-1791, or visit www.HeadlightsOnTheMotherRoad.com.