ECUADOR
Life at its purest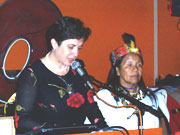 Maria Isabel Salvador Crespo, Ecuador's Minister of Toursim addressed travel writers and agents at Los Angeles campaign launch
The Conga Room on Wilshire Boulevard came alive during a cocktail reception and presentation on the exquisitely orchestrated campaign to promote Ecuador's many attractions, including specifics and visuals on The Andes, The Amazon, The Pacific Coast and The Galapagos Islands.
From contemporary cities to snow capped mountains, isolated beaches that are home to ancient species of unique life, and villages filled with history and folklore, Ecuador appears to be a mystery to discover and savor. The Galapagos Islands offer a special destination to world travelers, and to those who simply adore nature at its purest.
For the latest news on the magnificent part of the world go to www.vivecuador.com.
---

Beginning November 1, 2005, the southwestgiftcard will be available for air travel purchases - just in time for the holidays. So now you can easily give someone the gift of flight without stuffing airplanes in stockings! You can even purchase an e-mail version with quick, convenient delivery. Best of all, the southwestgiftcard can be purchased at southwest.com in any amount starting at $10, so it fits everyone's budget - just like our low fares. With the new southwestgiftcard, giving the freedom to fly just got easier.
---
WANDER WEAR CHILD INDENTIFICATION TAGS FOR TRAVEL
Wander Wear Inc. has announced a great new option for child I.D. tags called Wander-Wear. Developed by sisters Alyssa Dver and Jennifer Tuttelman, both parents of young children, Wander Wear tags clip safely on or inside of a child's clothing. Parents can write on the back of the tag up to two mobile phone numbers on the tag and optionally a name or password. This information allows someone finding a lost child to quickly and easily contact the parent or caretaker thus reducing the time and subsequent trauma suffered by both parent and child.
Wander Wear tags are made of durable plastic and feature whimsical characters designed so that children are excited to wear them. With a suggested retail price of $3.99, the tags can be used as a point of sale item, promotional giveaway or fundraiser item. Many channels exist for the product including: retail stores, malls management companies, amusement parks, zoos, fairs, airports, school suppliers, drug stores, sporting venues, child care centers, magazines targeting parents and children, and websites offering child safety products. Some non-child oriented companies have even shown interest in the product as a tradeshow giveaway.
The tags and packaging can be customized to include a company logo or other specific information. The tags are currently available at online or at various stores. For a complete listing of Wander Wear customers, please visit the web site at www.wander-wear.com.