TRAVEL ADVENTURES  .  .  .
HOW TO'S FOR A HAPPY RIVER CRUISE ADVENTURE

by Bonnie Carroll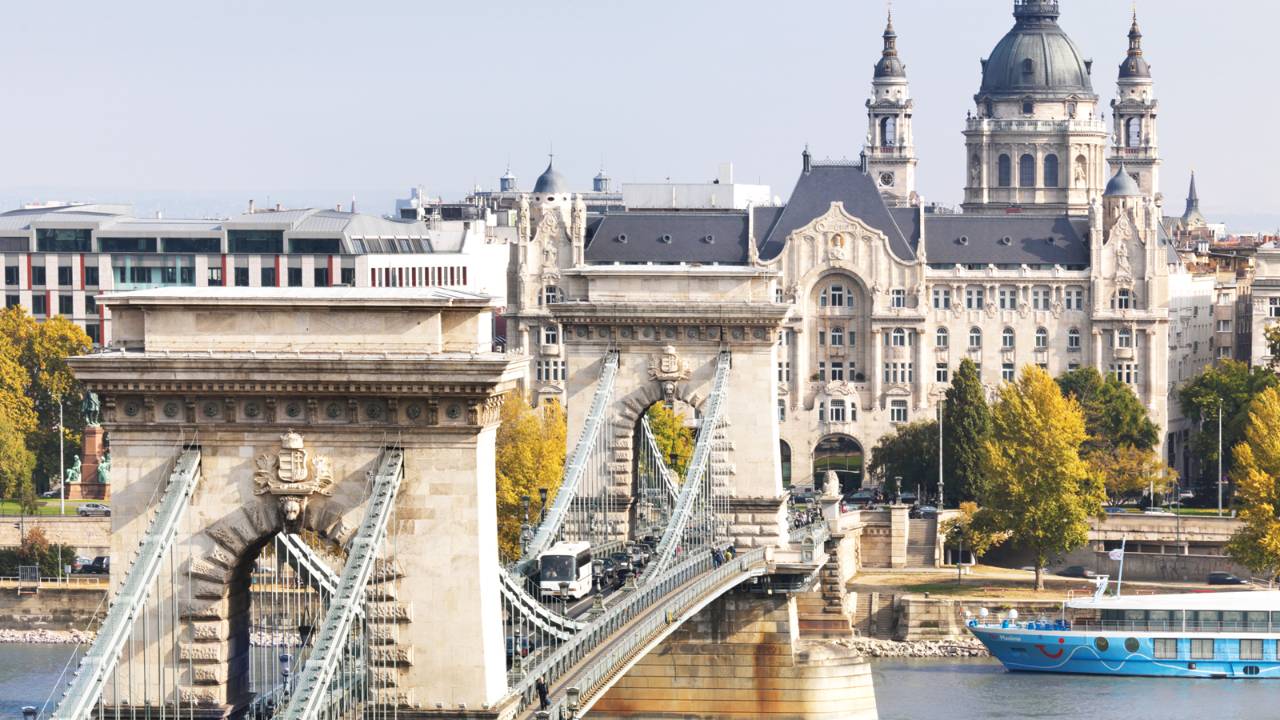 Most of the cruise ships traveling up and down the great rivers of Europe have pretty much the same room layouts, with limited storage space under the bed. As a seasoned traveler I've learned to travel lean under every circumstance, and my Viking River Cruise was no exception. This report on the how-to of river cruise travel is based on my recent Viking Danube cruise, which was outstanding due to good planning.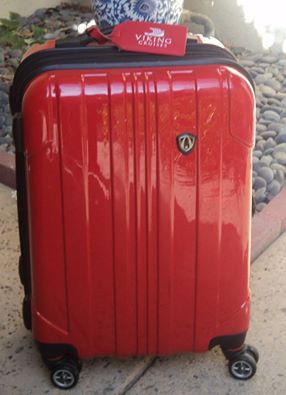 Those of us who began traveling in the sixties, with our five pieces of Hartmann luggage, including a hat box, find travel today a bit restrictive. However, if you want to travel seamlessly and insure having your wardrobe arrive with you, keeping it light is absolutely key. On my recent trip I took a small sized roller suitcase, and a medium carry-on bag that allowed me everything I needed for my ten day trip. I also now wear a travel vest, with pockets that hold my small camera, passport, sun glasses, wallet, ear phones, eye shades and more. This keeps things I need handy and makes my carry-on a bit lighter.
Lovely soap, skin lotion, hair products and a hair dryer are provided in your bathroom on board ship, and products are replaced as needed. I did bring a tiny electric hair curler along with my personal cosmetic items.
Travel insurance is very affordable today, and with the unexpected changes in air travel, and unpredictable weather conditions that may affect your individual travel plan it is often prudent to select some advance protection. AAA offers some good travel insurance programs, as well as a variety of additional companies. Try a little comparison shopping and find a plan that works for your individual budget.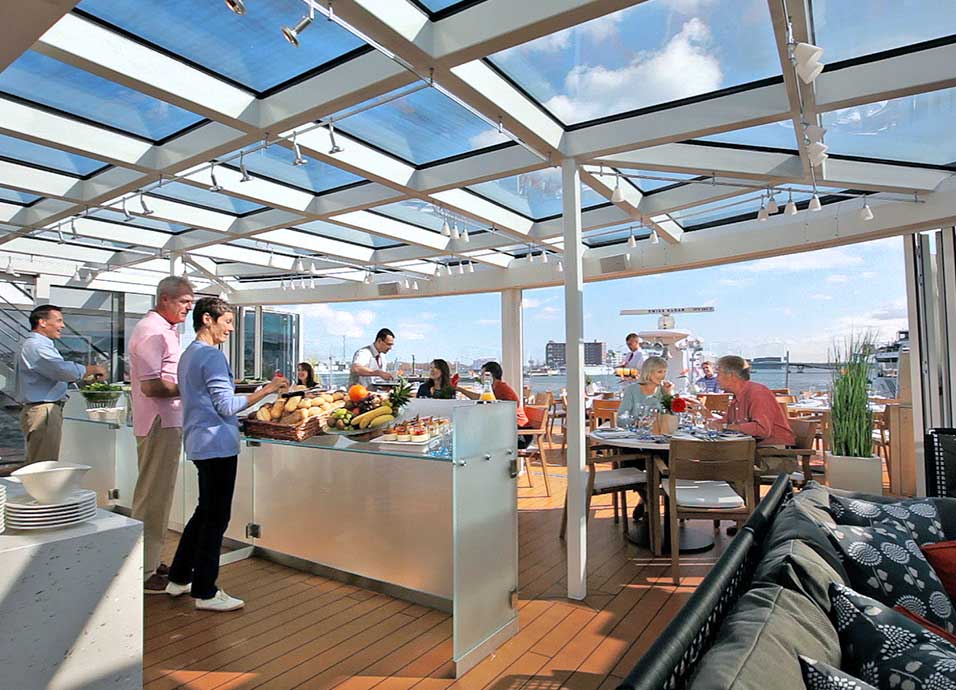 Keeping outfits simple and color coordinated, with sweaters or a warm shall for cooler days and evenings, along with dress up scarves and jewelry for dinner gets the job done. Most ships only have one 'dress up' night on board, and a lovely scarf with jewelry over a simple top and pants worked perfectly for me. Bringing one nice pair of sandals or flats for dress is a good idea if you are planning to go to shore for dinner or a theatre performance. For every day use a good pair of walking shoes is imperative. A quick dry washable nightgown, which can be found in travel stores, is all you need for sleeping on board. Viking provides lovely robes and slippers to guests who make a request in advance, and they will be in your room when you arrive. You may need a warm jacket and hat. It can be cool in the evening and while touring so I recommend wearing your warm jacket and a hat on the plane to save room in your luggage.
Prior to departure I purchased a rain poncho that came in a small pocket sized case that I kept with me at all times and it was a life saver when unexpected showers happened. I also brought a small umbrella, however, Viking provides umbrella's for guests to take on tours, as well as bottled water. I always bring a small case with meds and over the counter solutions for things like upset stomach, headaches, sleeping, motion sickness, etc. to be ready for any emergency. Viking has a store on board to purchase Viking logo rain jackets, sweatshirts, and t-shirts if needed.
Communication on board ship is often spotty, and I don't recommend bringing a laptop unless it's imperative. There are several computers for guest use to check emails quickly, but the daily schedule does not allow much time to get this accomplished. Most guest are staying at hotels in advance of their trip or at the end of their trip and these hotels provide internet access. Regarding advance or post stays on Viking cruises I would advise doing a pre cruise stay to ensure you will be in the departure city in advance. Cutting flights to close could be a nightmare if for some reason a flight is delayed. It's best to be aware and make sure you have plenty of time to get to your ship between flight arrival and ship departure. I stayed in Budapest for a few days at the end of my trip, which worked quite well for me, but you must know that you are financially responsible to get yourself to your hotel and to the airport for your return flight.
I was told it is a good idea to go to the bank in advance of my trip to order the money I would need in countries I was visiting, which worked out very well for me. I had mostly euros, but it really helped to have forints in advance when arriving in Hungary. Don't forget to let your banker put an alert on your account listing the countries you will be visiting to insure your credit cards are accepted. Many people were caught by surprise when their strip cards were not accepted in numerous places in Europe because some business owners are now only accepting the new chip cards.
If you are looking for gifts to bring home be sure to check what is necessary to transport them and any charges attached. It can be costly to bring things like wine home, and you can eliminate any surprises by investigating costs in advance. Going through customs was simple and easy for my trip, and although I was concerned about traveling through Charles De Gaulle in Paris it was for naught. If you must change flights during your trip make sure you are on the same carrier on both flights, this may make things very smooth, and will probably ensure your bags will go all the way through to your final destination.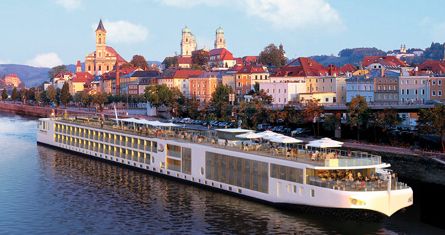 I can honestly say I traveled without any "should have" regrets, and that the time I spent doing advance planning was time well spent. I'm hoping my report will answer some question you may have regarding river cruising, and I'm wishing you a wonderful, well planned and memorable trip. For detailed cruise information visit: www.vikingcruiselines.com.
____________________________________
TIPS TO AVOID BACK PAIN WHEN FLYING
With winter travel comes the challenge of dealing with back pain while flying. Below are some great ideas to help insure a pleasant trip.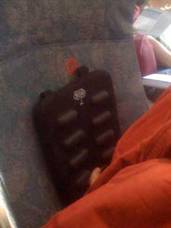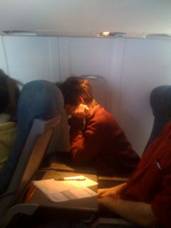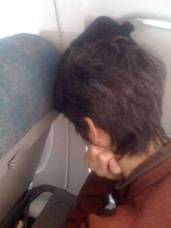 Traveling in an airplane no longer has to be painful or uncomfortable. According to Esther Gokhale, creator of the renowned Gokhale Method for pain-free living and author of 8 Steps to a Pain Free Back, while all airplane seats has a curvature that forces the spine into an uncomfortable C-shape, there are steps one can take for a pain-free ride.
These simple tips protect the spine and reduce muscle tension during an airplane flight:
·         Fill the C: The concave shape of airline seats puts pressure on the spinal discs and is the starting point for muscle tension. Fill the lower part of your seat with pillows, blankets, sweaters, or a Stretchsitcushion to create a flat plane along which you can lengthen your spine. 
·         Hiphinge Forward: You can avoid the C-shape altogether by hiphinging forward. Use your hands to support your head with your elbows resting on the open tray. You can adjust the placement and height of your hands to provide a gentle stretch in the neck.
·         Support Your Head: One of the best ways to rest or sleep on a flight is to lengthen your spine and support your head against the seat in front of you. If you are lucky enough to be in a window seat, you can find even more support in the corner between the seat in front of you and the wall of the airplane. Be sure to use a Stretchsit cushion, blanket, pillow or sweater to cushion your head.
Esther Gokhale, pain specialist and author of 8 Steps to a Pain-Free Back, is creator of the popular Gokhale Method, which takes an anthropological approach to pain free living by getting to the root cause of the pain, which involves how we sit, sleep and walk. Without anti-inflammatory medication, muscle relaxants, physical therapy or surgery, the Gokhale Method can relieve back pain and other forms of pain immediately – and for life.
___________________________________________________________________
RENAISSANCE MONTREAL OPENS JANUARY 18, 2016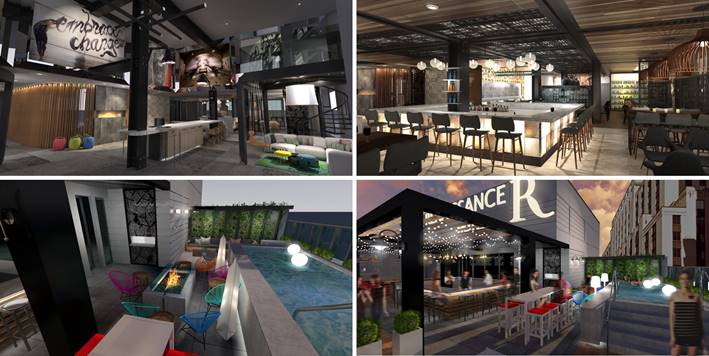 Travelers drawn to the romance of French Canada and its reputation as a winter wonderland will be wooed by the new Renaissance Montreal and its captivating introductory rate. The 142-room hotel opens Jan. 18, 2016 with a starting rate of $199 CAD, available through April 23, 2016. Reservations can be made online or by calling 514-657-5000.
 Each winter, Montreal offers an idyllic mix of cool activities, from snowshoeing and skating, to the famous Festival Montreal en Lumiere, when the city and its gastronomy are spotlighted. In Renaissance Montreal's inviting living spaces, guests will find a vibrant mix of street art and sophisticated, modern furnishings, complemented by the exotic flavors of signature restaurant, East, and the cocktail creations of master mixologist Lawrence Piccard. Come springtime, the warmer weather will be best savored from Renaissance Montreal's rooftop terrace – the only one of its kind in the city's downtown. Here a dip in the stainless steel plunge pool or bite from the outdoor bistro will be enjoyed with panoramic city views. The hotel's signature Navigators will be available anytime to guide guests on the best that Montreal has to offer.
 Connect with Renaissance Montreal on Twitter at @RenMontreal and @NavigatorMTL.
 Renaissance Hotels:
Renaissance Hotels believes in defying business travel conventions for guests who crave unexpected experiences. At Renaissance Hotels, It's Business Unusual. Each of the brand's 160 hotels, located in over 35 countries around the world, is unique and every stay offers unconventional programs that help business travelers discover rich, local experiences. We promise to feed the curiosity, fuel the imagination and excite the senses of our guests, who see their business trip as an exciting opportunity for new, interesting and sharable experiences. We understand their desire to make the most out of every moment and we offer signature events in our lobbies, bars and lounges designed to showcase emerging talent in music, the arts, mixology, gastronomy and more. Renaissance Navigators are neighborhood experts who are ready to assist guests in discovering true local flavors and activities. R.E.N. Meetings offers groups an experience beyond a traditional meeting, rooted in creative sensory meeting design and custom-curated local Navigator excursions and networking events. At Renaissance Hotels, we work to ensure that every trip is transformed into an eye-opening, unforgettable journey. To discover more visit www.renhotels.com. For upcoming events visit www.renhotels.com/events.
__________________________________________________________________________
SAVVY TIPS FOR HEALTHY TRAVELING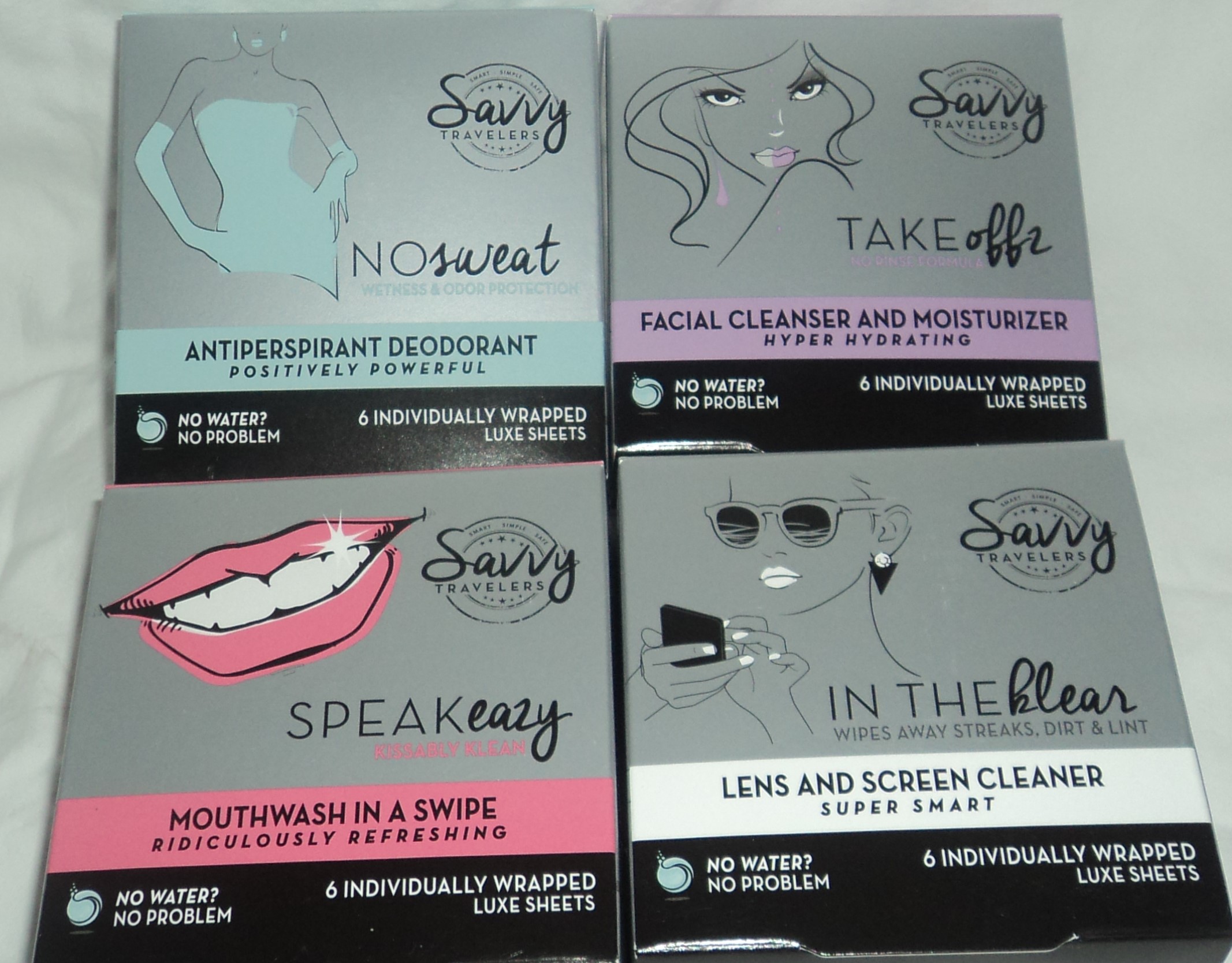 January is National Staying Healthy Month to promote the exchange of ideas to become healthy and stay healthy. Here are Savvy Travelers suggests of 5 simple tips to stay healthy while traveling:
Boost your system. Before embarking on your journey, be sure to take vitamins and supplements daily, such as Vitamin C. A healthy immune system helps to fight off the cold and flu buzzing around you.
 While enjoying your vacation, it's important to maintain an exercise routine. If the weather is poor, locate a local gym or an indoor class, such as Zumba, yoga, or Pilates. You'll find that after a long flight or cramped car ride, exercising with reinvigorate your body. Be sure to wipe down your yoga mat with Savvy Travelers' KLEAN OFFZ. If you have to miss one day, make sure you hit the next!
Limit Alcohol. While vacations are a time for rest and relaxation, consumption of alcohol can slow you down. Alcohol creates fatigue and dehydrates your body. In addition, airplane air is extremely dry, so be sure to drink water often. This will help your body fight off any illnesses and keep you feeling better.
Brush. While traveling, it's difficult to do the routine cleanings without easy access to water and toiletries. Germs live by the thousands in your mouth and it's extremely important to stay on top of your cleaning. Utilize Savvy Travelers' SPEAK EAZY, teeth cleaning wipes that require no water! To keep your face fresh, use facial wipes, such as TAKE OFFZ, a facial cleanser and moisturizer.
 Traveling exposes people to numerous germs that could lead them to become sick. According to the Journal of Environmental Health, you may be 100 more times to catch a cold on a plane than in your day-to-day life. One of the most effective ways to fight back against this is to sanitize using wipes for not only your hands, like Savvy Travelers' KLEANZ UP, but the surfaces around you, like electronic devices. Savvy Travelers' IN THE KLEAR products wipe down smart devices, glasses and more!
"Once you become sick while traveling, the trip is ruined," affirms Aldatz. "Staying on top of your health while traveling doesn't have to be difficult…just follow a few simple steps to feel your best."
Savvy Travelers offers a line of products that help to keep travelers healthy and comfortable. The company offers a line of pre-packaged individual sanitizing personal and surface luxe sheets, antiperspirant deodorant sheets, mouth cleansing sheets, and more. Savvy Travelers travel wellness products are available for only $10 a box, with 6 individually wrapped sheets per box, at all Nordstrom locations around the country. They include the following: "Take Offz" hyper hydrating facial cleanser and moisturizer sheets, "In The Klear" lens & screen cleaner sheets, "No Sweat" deodorant sheets, and "Speak Easy" mouth cleansing sheets. For more information, visit the site at: www.savvytravelers.com or shop Nordstrom at: http://shop.nordstrom.com/.
---