ENJOY THE GOOD LIFE AT LA QUINTA RESORT & SPA
by Bonnie Carroll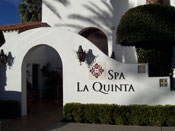 Winter can be a tricky time to plan a getaway weekend. Sometimes the weather can swing one way or another, or three days just cannot be tied together for fun. However, at La Quinta Resort & Spa in La Quinta, California, it really doesn't matter if it rains or shines because there is always something to enjoy, including a full schedule of classes and tours. The drive to the resort includes a view of desert icons like the energy windmills on highway 10. I like to think of them as an electronic version of Royal Hawaiian palms that form a gate to proudly announce your entry into the Desert.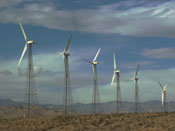 The charming entrance to this 80 year old historic resort is quite deceiving. At first it looks like a cluster of lovely Spanish buildings, surrounded by colorful flowers. But, once on property you discover it is a small town of fun things to do, including golf, tennis, swimming, spa treatments, shopping and dining. The golf at La Quinta courses is considered some of the best in the world, and there are planned activities for families and children.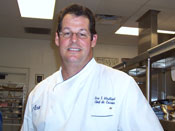 The outstanding French restaurant AZUR is my favorite for dinner, and has a new menu that includes award winning recipes presented by Chef de Cuisine Eric Wadlund, as well some James Beard inspired favorites. There are not enough words to describe the perfection, authenticity and sensuality of Eric's menus, and it seems mundane to try. I simply adore this dining venue, and the old world ambiance that patrons are privileged to enjoy when greeted by Matre'd Karl Vidlak and Christina, who make a visit to Azur so memorable.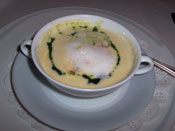 Do try the pan roasted Sanoma foie gras, and the lobster soup. This lobster soup is so outstanding that it is something I would request as my last meal if I were going to the electric chair. The entrees, every one of them, are simply magnificent, and the desserts are visually beyond anyone's imagination, let alone flavor expectations.
The La Quinta Spa is a sanctuary of secret pleasures. I reveled in a private citrus scented Jacuzzi-soak bath, prior to my incredible citrus scrub and massage. This orange blossom inspired journey rejuvenates your mind, body and spirit. My skin felt like silk, and my spirit was in bliss. There are so many divine treatments at this health hideaway that it is hard to decide which path to follow. The spa also has a private pool area where patrons can enjoy a light lunch between treatments or just be quiet. The fitness center is also a fun adventure, that includes rides on the latest exercise equipment, where a friendly staff help you if you are mechanically handicapped. There is also a great gift shop to pick up items you may have forgotten to bring along, and a Yamaguchi Salon to put your hair and nails in "Zen" shape, if the need arises.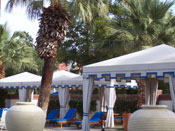 The Cafe overlooking the tennis courts is a pleasant place to start your day or relax in the afternoon. The tennis at La Quinta is renowned and has attracted star athletes and movie stars through the years. I found it fun to sip a smoothie and watch a patient dad trying to give lessons to two frisky kids. There are more pools at La Quinta than you can count; each group of buildings has its own pool for private swimming and sun bathing, and the large family pool near the sport center has private cabanas and scheduled water activities for guests. Speaking of water activities, I took a private water aerobics class that was not only fun, but a great workout for someone who spends too much time sitting at a computer.
Nearby shopping is as good as it gets. Everything from the latest golf attire to chic designer items, and valuable art can be found in a bevy of boutiques throughout the area. The resort houses its own designer shops, and galleries with great gift items, and a Starbucks where you can buy Krispie Kreams in the morning. How good is that?
Happily, La Quinta is a place where you go at your own pace. If you are an athlete or fun-a-holic you can run, run, run. And, if you just want to sit quietly with a good book you will find a bevy of serene little pools where you can relax and enjoy the sounds and sensations of the desert. The resort is designed for romantic visits, but also offers practical vacation packages for families. For reservation information visit www.laquintaresort.com.
---
"STAY AND SKI" AT THE HYATT REGENCY
LAKE TAHOE THIS WINTER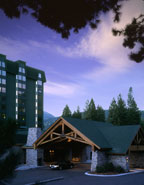 For winter ski adventurers desiring a combination of proximity, luxury, pampering and non-stop après ski entertainment, look no further than the four-diamond Hyatt Regency Lake Tahoe Resort, Spa and Casino. Located along the pristine shores of north Lake Tahoe in Incline Village, Nev., this winter oasis offers all the perks of an all-in-one-ski getaway with one of the most enticing ski packages at Lake Tahoe. The Hyatt's stay and ski package comes complete with a one-night stay, two-for-one coffee vouchers and two lift tickets to a choice of the region's top ski resorts including Alpine Meadows, Diamond Peak, Northstar-at-Tahoe or Squaw Valley USA. Packages also include complimentary guest shuttle service to the select ski resorts and an invitation to the lake's most inviting après ski activities held at the Hyatt throughout the winter season.
Non-skiers can also take advantage of this special winter package and opt for a $50 credit at the Stillwater Spa. Packages start at $250 Sunday through Thursday and include room, tax and resort fees. Weekend packages start at $299. Offer valid December 1, 2005 through April 14, 2006. Package based on double occupancy.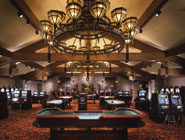 Those that choose to ski at Alpine Meadows can take advantage of the Hyatt's exclusive "No Lift Line Package". This package includes all the perks of the stay and ski package plus VIP lift line access to Alpine's ski school and season pass holders lift line. The "Alpine Meadows No Lift Line Package" starts at $240 Sunday through Thursday and $289 on weekends. Offer valid December 1, 2005 through April 14, 2006. Package based on double occupancy.
Off the slopes, the Hyatt sets a relaxing mood inviting guests to rejuvenate at its 20,000 square foot Stillwater Spa providing the latest spa remedies available plus a full-service salon and fitness center. Dive into the Hyatt's year-round, lagoon-style outdoor pool with indoor swim-out access or take in the impressive views by the fire at one of the property's three outdoor fire pits. There is also 24-hour casino and award winning cuisine from a variety of restaurants including the Lone Eagle Grille, Ciao Mein Trattoria or Cutthroat's Saloon to make the winter getaway complete. For information visit www.LakeTahoeHyatt.com.
---
What's New in North Carolina in 2006
From dream homes in the Mountains to navigating class three and four whitewater rapids in the Piedmont and onto the Coast for a six-day spectacle of tall ships, North Carolina is gearing up for a year full of thrills throughout the state.

What's New in the Mountains in 2006
Folks in the Mountains are still skiing and tubing, but that doesn't mean they aren't looking forward to a number of events that will take place in their region this year.

The tenth anniversary HGTV Dream Home 2006 has been built in beautiful Lake Lure, located in the foothills of the Blue Ridge Mountains. The home will be in the Grey Rock Resort Community and open for tours January through early April 2006.
Listed as an Epic Ride by the International Mountain Bicycling Association (IMBA), Left and Right Trails of Tsali join a list of some of the world's most outstanding trails. To find out more about IMBA and Left and Right Trails, known for a fast, rolling singletrack, go to www.imba.com.
What's New in the Piedmont in 2006
As 2006 begins, folks in the Piedmont region are looking forward to a full and exciting year, too.
Claude Monet's paintings of Normandy — its poppy fields, haystacks, extraordinary coastline, and his home at Giverny — reveal the remarkable range of the artist's revolutionary vision and genius. Monet in Normandy is the first exhibition to focus on the region of France where Monet spent most of his life and created many of his greatest masterpieces. The more-than 40 paintings in the show, hosted by the North Carolina Museum of Art in Raleigh, offer a rare look at seldom seen works borrowed from private and public collections around the world. The Museum of Art will be the only East Coast venue for the exhibition and will host the show October 15, 2006, through January 14, 2007.

This summer grab a paddle and leave your fears at the gate – the U.S. National Whitewater Center, the first of its kind in the country, is scheduled to open in June. This world-class recreation and training facility will play host to Olympic-caliber athletes and weekend warriors alike. Set among 300 wooded acres along the scenic Catawba River in Charlotte, the multi-use facility will have a climbing center, mountain-biking and running trails as well as primitive campsites…all within ten minutes of downtown Charlotte.

The Dead Sea Scrolls will be on exhibit at Discovery Place in Charlotte February 17-May 29, 2006. The exhibition, the first of its kind, tells a story that is beyond words, beyond time and beyond our imaginations. Experience the most remarkable archeological discovery of the 20th century – the oldest surviving manuscripts of the Hebrew Bible, known to Christians as the Old Testament.

Follow the minivans to Pinehurst, North Carolina and get ready to watch some of the best kids on the golf scene at the 2006 U.S. Kids Open, scheduled to take place July 26-30. This 7th annual event is being held for the first time at Pinehurst and expects to see approximately 800 in attendance this year.
What's New on the Coast in 2006
On North Carolina's Coast it's time to put on your flip-flops and your best tropical shirt. Get ready for some once-in-a-lifetime events to overwhelm your senses.

Pepsi's America's Sail '06 will land in Beaufort this summer bringing with it schooners, barques and barkentines. Hosted by the North Carolina Maritime Museum in Beaufort, this is the fourth in a series of America's Sail rendezvous held throughout the western hemisphere since 1995. The six-day spectacle of tall ships, scheduled for June 30 through July 5, 2006, is expected to bring more than 150,000 people to the Morehead City/Beaufort area.

The newly remodeled North Carolina Aquarium at Pine Knoll Shores will re-open in Spring 2006, three times larger and featuring exciting new exhibits of jellyfish, river otters and a 306,000-gallon ocean tank. In addition, visitors will get a glimpse of what Blackbeard's flagship, the Queen Anne's Revenge, and the sunken German sub U-352 look like on the ocean floor. The "Living Shipwreck," which will display the wreckage of the sub, will feature a viewing window more than 60 feet long.

Natural scenic beauty, adventure and relaxation, a dining experience for every taste, rich history and warm Southern hospitality come together in North Carolina. Call 1-800-VISIT NC or go to www.VisitNC.com to plan your next getaway.
---
AIRPORT SECURITY JUST GOT EASIER
– if you can prove you're not a terrorist!
The Transportation Security Administration rolls out the Registered Travelers Program. After taking a biometrics exam and background check, travelers skip long lines at the airport with the so-called Verified Identity Pass.
For an $80 annual fee, frequent flyers can enjoy shorter lines, concierge service, and possibly skip pat-downs altogether.
With full guidelines set to be disclosed January 20th, many questions loom… What is the basis for the background checks? And is this Constitutional? Bob Jones, veteran travel expert and spokesman for OneTravel.com, says yes.
"Maybe 1984 has finally arrived," said Bob Jones of OneTravel.com. "Bottom line, the government is happy to speed you through check-in, if you're willing to put your cards out on the table."
To arrange an interview, please call Kathy Boerner at 212-999-5585.