MOUNT OBAMA DEDICATION IN ANTIGUA
Prime Minister, Antigua Dignitaries and Invited Guests Honor American President Obama
By Bonnie Carroll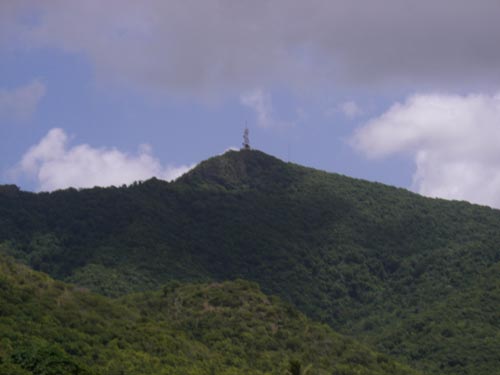 This amazing Antigua celebration began in the garden of the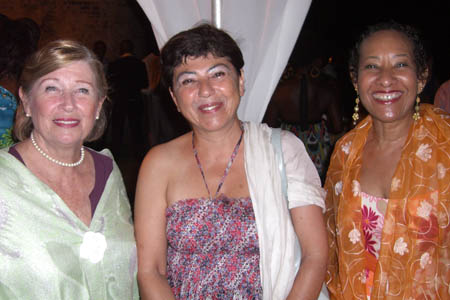 historic Nelson's Dockyard with a cocktail reception to honor the many dignitaries, celebrities and invited guests attending. There was a formal presentation of awards and gifts to all who had contributed so much to insure the success of the historic event, which were given by Honorable Winston Baldwin Spencer, Prime Minister.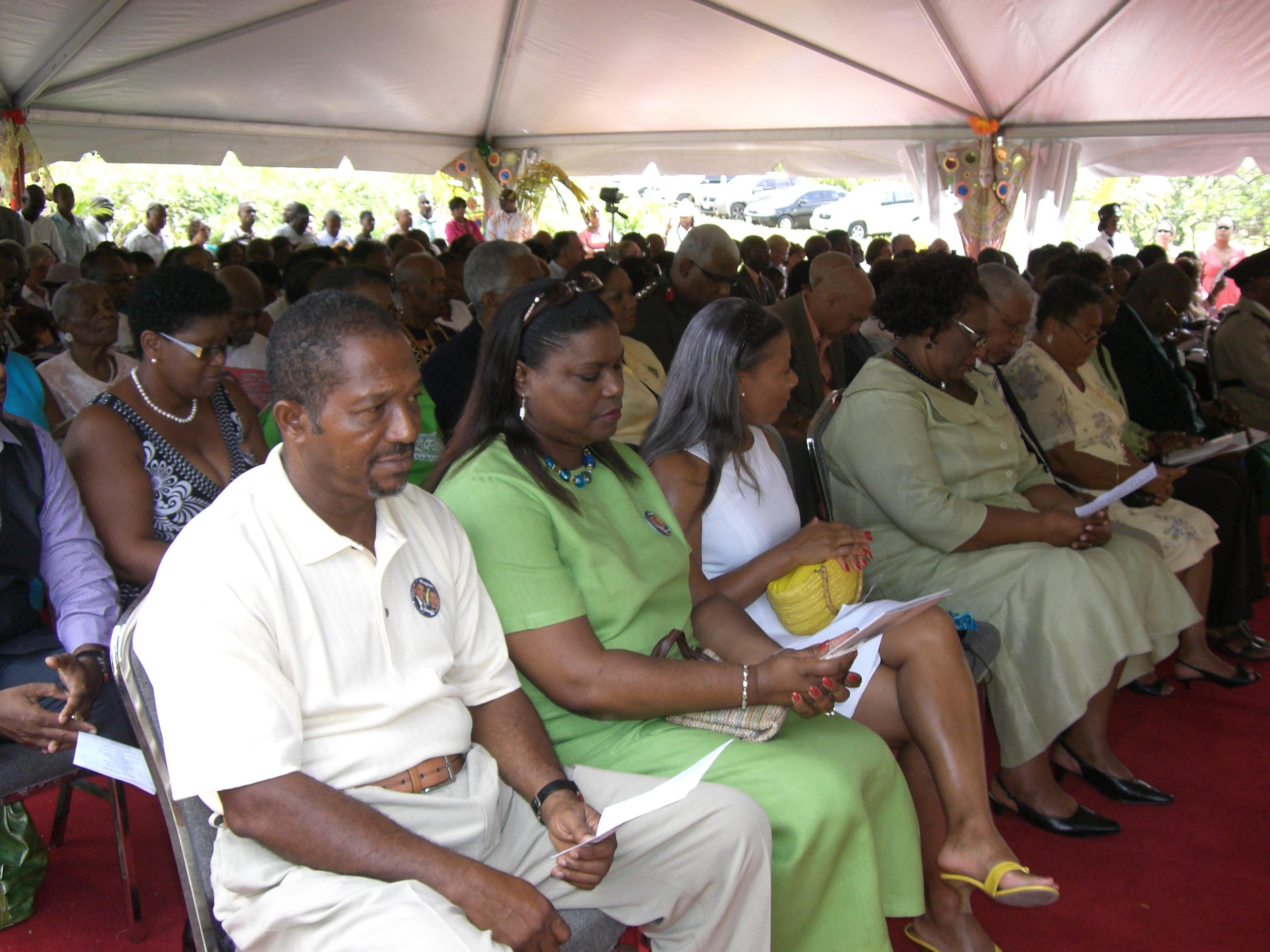 Arriving at the base of Boggy Peak for the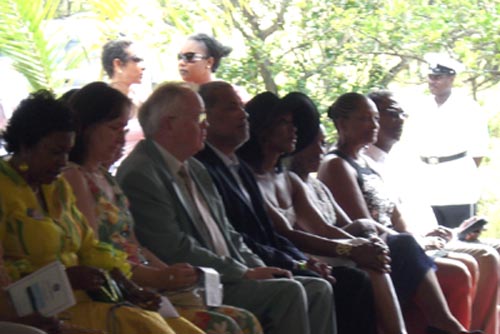 dedication of Mount Obama on August 4, 2009, which is the birthday of President Obama, as well as the Emancipation Day of Antigua, I was so impressed with the polite and patient manner of everyone attending. A huge white tent, containing seating and beautiful stage decoration was the setting for dancers, musicians and politicians to share their joy for this historic emancipation celebration and the name change of their highest point on Antigua from Boggy Peak to Mount Obama.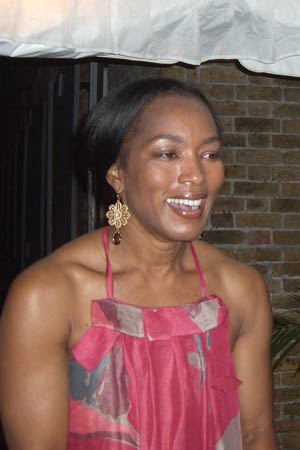 Over 300 people attended the pre-dedication ceremony, where Honorable Winston Baldwin Spencer, Prime Minister of Antigua and Barbuda, Valerie Harris-Pole, Ms. Monique Barbut, CEO of the Global Environmental Facility (GEF), Dr. D. Brent Hardt, Charge d' Affaires US Embassy, Barbados, as well as American actresses' Marianne Jean-Baptiste and Angela Bassett, and countless happy invited guests gathered for the dedication.
Honorable Prime Minister Winston Baldwin Spencer shared his desire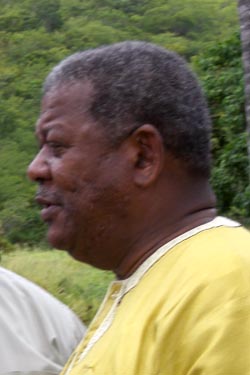 to celebrate the Islands anniversary and said he saw this dedication honoring President Obama as an opportunity to inspire the strength, hope, intelligence, and discourse of all Antiguan people. He said "it's OK to go for excellence".  Ms. Monique Barbut shared the importance of historic significance of the green eco elements being put into place with the creation of this beautiful park. She spoke of the water history of the island and the importance this new eco system would represent, and the valuable part it would play in the future of the Island.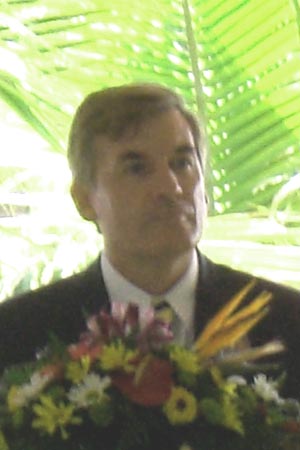 Dr. D. Brent Hardt read a letter of thanks from President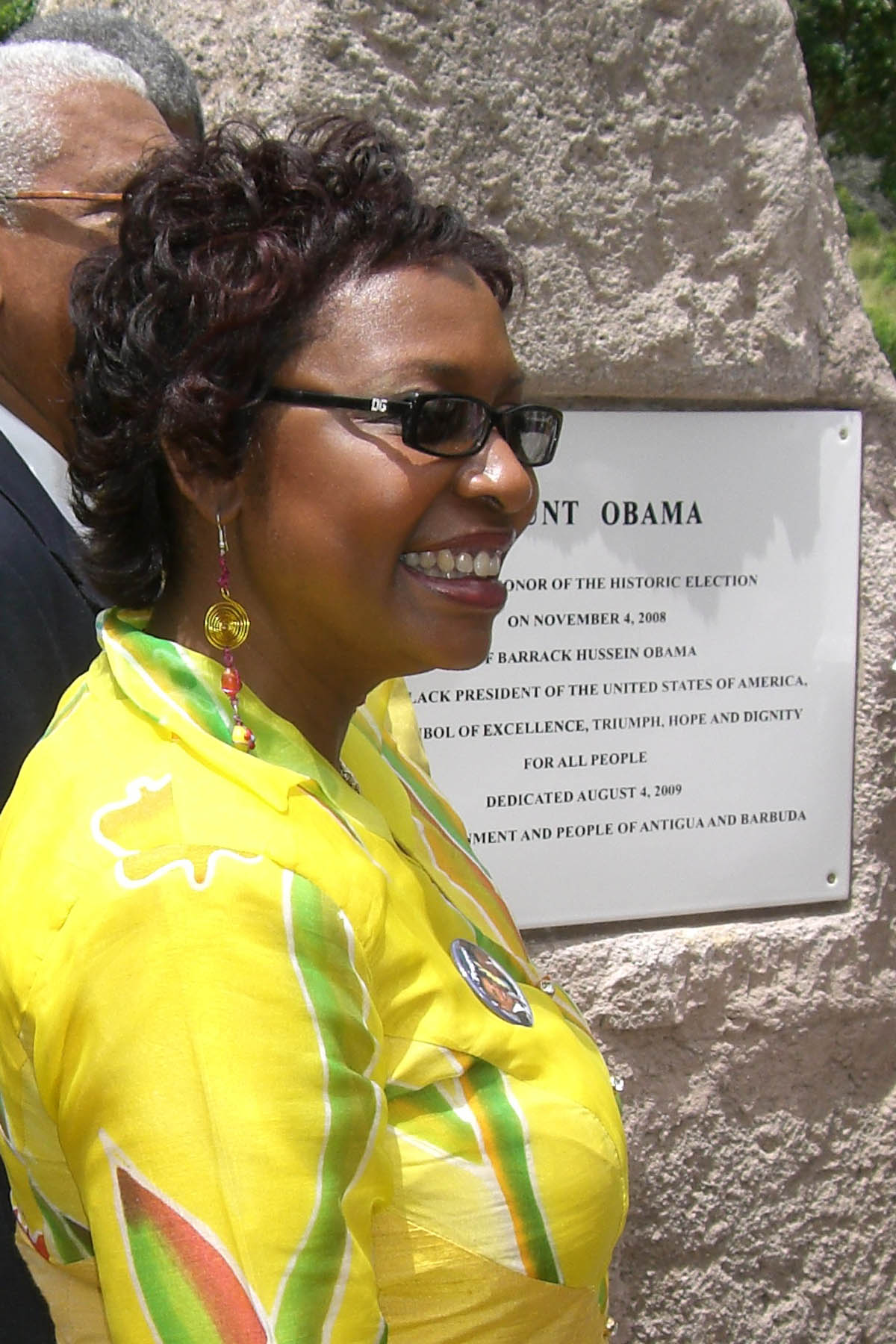 Obama, and shared the great historic significance of the dedication taking place. He gave a history of President Obama's rise to his present status as President of the United States of America. Marianne Jean-Baptiste gave a very moving address on her feelings when President Obama was elected, and shared her hopes for all people of color. Many at the event shared that they did not believe they would see an African American president in their lifetime, but experienced joy and tears when this happened.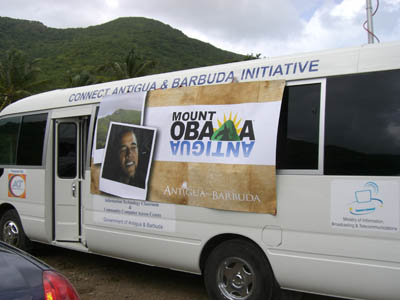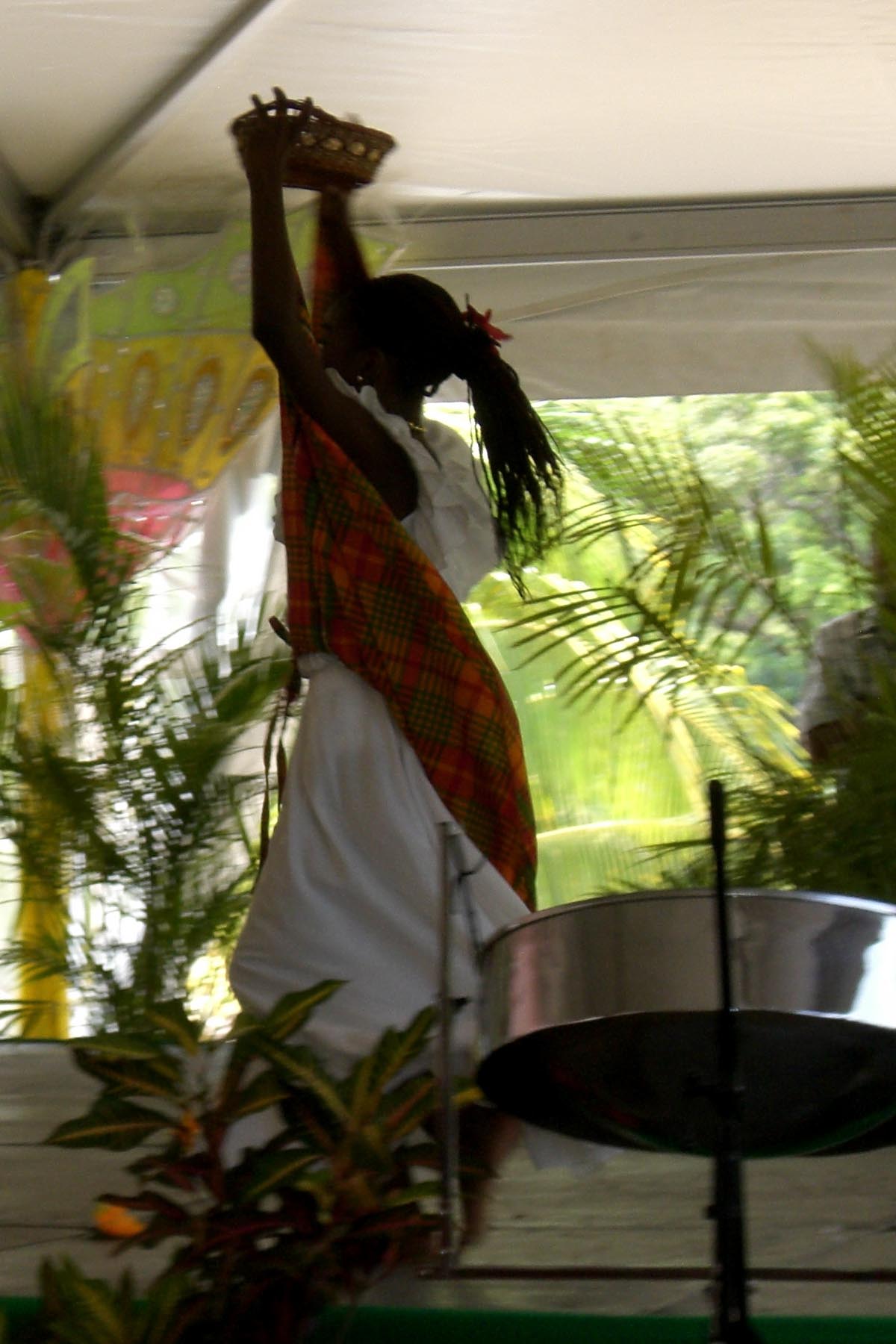 The musical talent of the island was featured during the program with an exquisite dance program presented by Ambassador Rupert Blaize and the Blaize Ensemble Dancers, Rawdon Edwards, Jazz Musician and Khan Cordice, award winning steel pianist. The first living museum was displayed outside; one of two traveling vans that contain a media museum of Antigua and its history has been created to travel throughout the island, which will also contain information on Mount Obama.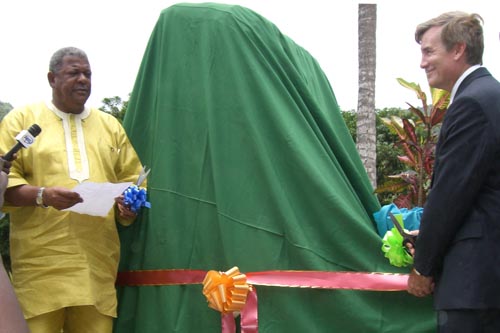 Following the program dignitaries, celebrities and invited guests went down to the monument, where the Honorable Baldwin Spencer and Dr. D. Brent Hardt, Charge d' Affaire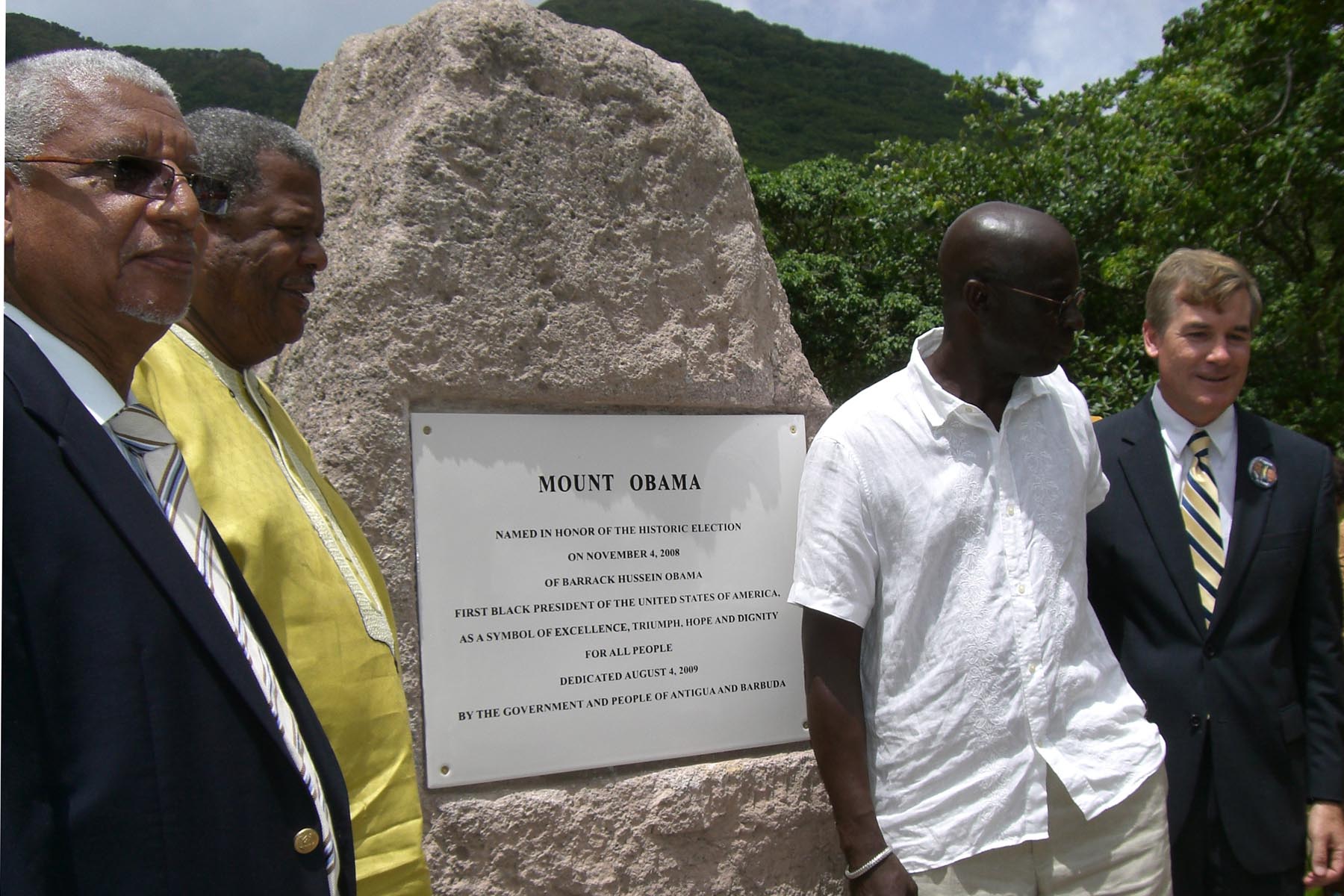 s US Embassy, cut the ribbon and displayed the Mount Obama monument for all to see.  This was a precious moment in Antiguan history, and will be remembered by all who were present forever. For additional information please visit: www.antigua-barbuda.org.
---
CONTEXT TEAMS UP WITH FRIENDS OF FLORENCE
TO TAKE TRAVELERS BEHIND THE SCENES OF FLORENCE'S RESTORATION PROJECTS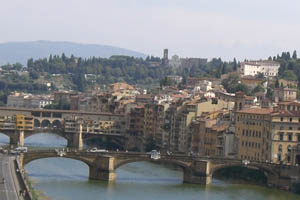 "Salvaging Art: Current Restoration Projects in Florence" walking seminar offers a behind the scenes look at current projects that are safeguarding Florence's unparalleled artistic heritage.
Context, the network of scholars who lead critically acclaimed walking tours in several major world cities, will partner up with esteemed non-profit organization Friends of Florence for a unique collaboration that will offer an insider's look at several of their ongoing restoration projects, including the Tribuna of the Uffizi Gallery and the San'Antonio cloister at San Marco.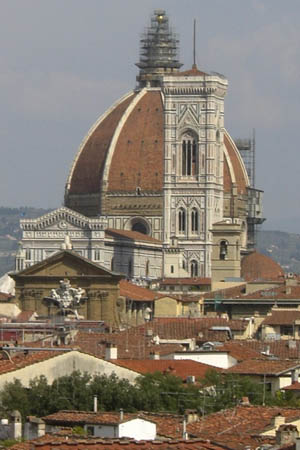 The "Salvaging Art" walk will take place on July 8
th
, 2009 at 9:30AM and is part of the biannual Out of Context series, which offers special lectures, site openings and events in our cities, providing unique and exclusive experiences far off the beaten track. This event marks the first collaboration between Context Florence and Friends of Florence, founded in 2002 by Simonetta Brandolini D'Adda, organizations that are both widely regarded for their dedication to mitigating the negative affects of mass tourism on Florence's precious landmarks and artwork.
"Context Florence is very honored to be joining forces with such a respected organization, who closely mirror our own mission of promoting more sustainable ways of experiencing fragile places (such as the entire historical center of Florence). This exciting walk will allow for an unparalleled look at both the deterioration and conservation of Renaissance art within the context of a modern city landscape," says Context Florence city manager Megan McDonnell.
The walking seminar will first start at the Tribuna of the Uffizi, the octagonal display room that has held many of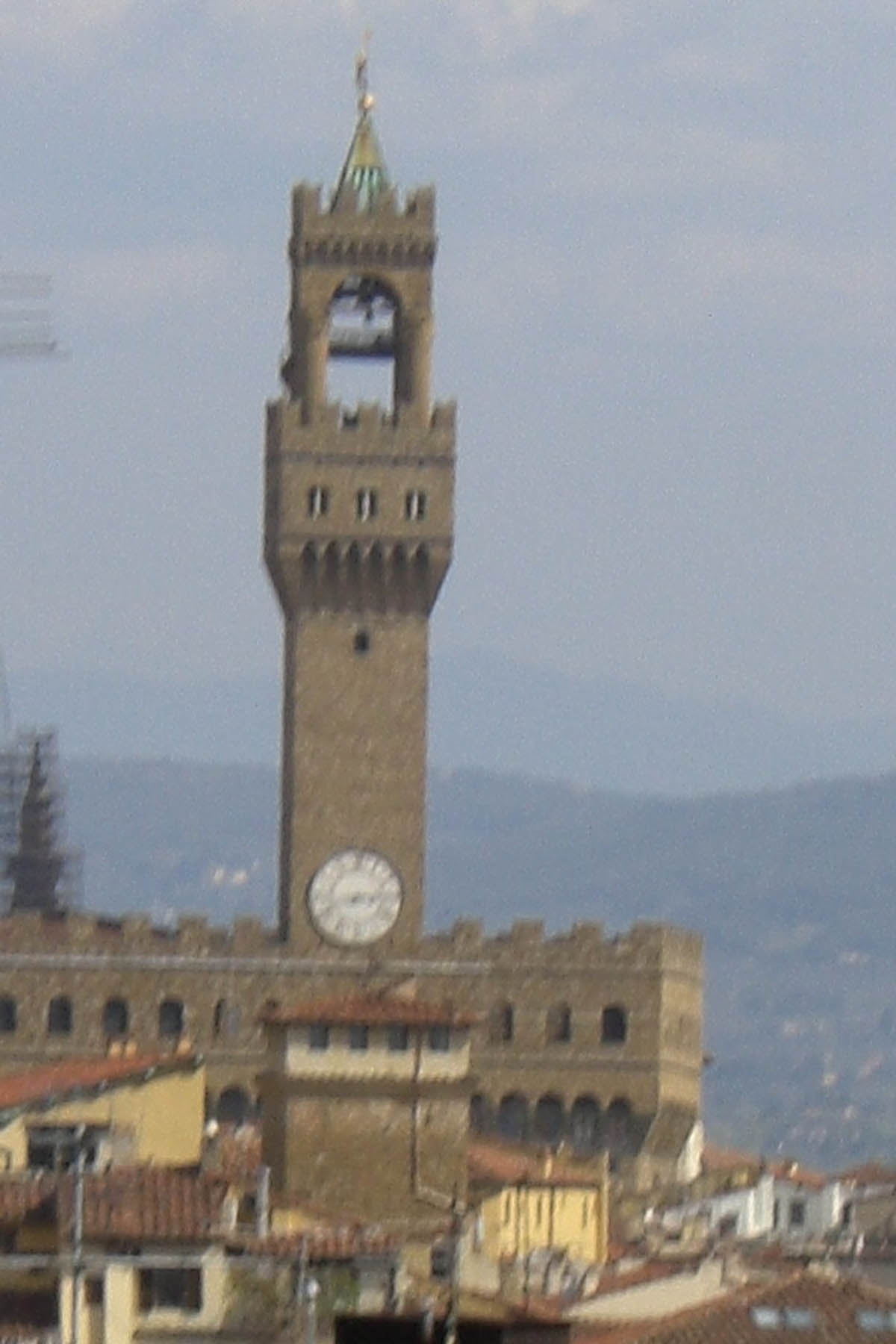 the masterpieces of the Medici ducal collection for over 400 years. The group will then move on the San'Antonio cloister, nestled in the placid San Marco complex, which boasts some imperiled Renaissance-era frescoes. At both spaces, we will discuss not only the history behind the structures but the science and technique behind their current endangered states and their ongoing restoration.
Founded by National Geographic writer Paul Bennett and graphic designer Lani Bevacqua, Context is a network of English-speaking scholars and professionals – including art historians, writers, architects and gastronomes – who organize and lead didactic walking seminars in several world cities: Florence, Rome, Venice, Naples, Paris, London, New York and Istanbul. In May 2006, Travel + Leisure named Context one of the top European tour companies for its innovative approach to travel and the depth of its programs. To learn more about Context, visit its website at:
www.contexttravel.com
---
 

2009 BILLABONG WORLD SURFING GAMES MAKES WAVES IN COSTA RICA

ISA World Surfing Games becomes the first international sporting event to be hosted in Central America and solidifies Costa Rica as the premier surfing destination

 

Costa Rica, the world's foremost leader in ecotourism, is gearing up to host the 2009 ISA Billabong World Surfing Championship in Playa Hermosa July 31 – August 9, 2009. With 40 nations and 280 surfers participating, this is the first and largest sporting event ever to be held in Central America, solidifying Costa Rica's position as the world's premiere surf destination.

 

With beautiful coastlines, perfect waves, great weather and warm people, there could be no better choice for this year's event than Costa Rica. This year's competition will be the largest in its history and will be broadcast over the web to over 80 million people world-wide throughout the competition's eight-day run with additional coverage on ESPN and FOX Sports.

As one of the few countries in the world that can offer two wave producing oceans for surfing, Costa Rica is a dream come true for any surfer. With easy access between dual coasts, a surfer can spend sunrise on the Pacific and end the day with a surf session at sunset on the Caribbean coast. Additionally, Costa Rica is the only country that offers prime surfing waves 365 days a year, an advantage that surfers from all over the world come to experience.

 

The biggest dilemma that most surfers face when they come to Costa Rica is picking a breaking point. The Pacific Coast alone offers 250 premium spots for surfing including some of its most famous like Roca Bruja in Guanacaste, Pavones in Garabito, Salsa Brava in Limon and Playa Hermosa in the Puntarenas province, the site of this year's World Surfing Games. There's also ideal surfing to be found in Marbella, Playa Negra, Avellanas, Boca Barranca, Dominical and Isla Uvita.

 

Surfing in Costa Rica dates back to the 1970's when tourists from Hawaii would show up with their boards and ride the premium waves on Costa Rica's Pacific coast. Local curiosity for the sport grew and Costa Ricans began to embrace it as well. Ironically, many of the locals did not derive from coastal towns, but from areas such as Alajuela, Cartago and San Jose where easy access to the beach wasn't available.

 

Costa Rica's fame as a surfing destination came full circle with the creation of the Surfing Federation in 2001. With the help of Antonio Pilurzu, father of famed Costa Rican surfer, Federico Pilurzu, the surfing Federation has driven Costa Rica to the forefront of the sport as well as making it the top attraction for Costa Rica's tourism. As a result, Costa Rica was crowned champions of the Central American region in 2006 and earned international recognition for several of its team members including Lisbeth Vindas, Jason Torres, Jair Perez and Nataly Bernold.

In addition to being an exceptional destination for surfing, Costa Rica has also produced some of the best surfers the sport has seen in the last few years. With international recognition and an award-winning team under its belt, Costa Rica is sure to continue thriving as a destination for surf kooks and pros alike.

 About Costa Rica

Costa Rica is located in Central America, nestled between Nicaragua and Panama, and bordered on the east by the Caribbean Sea and the west by the Pacific Ocean. This small country represents only .01 % of the planet's surface and it shelters almost 4% of the existing world's biodiversity.  It has given priority to the conservation of its natural resources, protecting 26% of its national territory through the creation of National Parks and other natural areas. The country also offers world-class eco-tourism and adventure travel. The options are unlimited for any discriminating traveler: horseback riding on a secluded beach; hiking through the lush whispering greenery of a rainforest; having an exhilarating experience on a white-water rafting trip, observing the tropical forests from a canopy tour; surfing the blue waves of either coast; experiencing a quite, close encounter with different species of birds and wildlife; and enjoying the diverse culture and hospitality of the Ticos.  

For general travel or tourism information about Costa Rica, contact the Costa Rica Tourist Board directly at 1-866-267-8274 or visit their web site at www.visitcostarica.com.
---
The Legendary Hotel de Charme Les Airelles in the French Alps, Is Designated "Five-Star" by the Esteemed FAGIHT Hotel Organization
The Hotel Will Also Complete a 35 Million Euro Renovation this December

The Hotel de Charme Les Airelles, situated in the heart of the Jardin Alpin in glamorous Couchevel, France, announces it's "five-star" status, as appointed by FAGIHT (Fédération Autonome de L'industrie Hôtelière Touristique), a respected organization within the French hotel industry.

This magnificent fairy tale chalet is one of just eleven elite luxury properties to be deemed five-star by FAGIHT's definitive and elevated standards, and is among the first of their kind to receive such a high ranking. This exclusive ski resort has been undergoing a 35 million Euro renovation over the past three years that will be completed in December 2009, adding to its already impeccable reputation and luxury appeal, particularly among its elite international clientele.

Séverine Pétilaire-Bellet, Les Airelles' General Manager has overseen the establishment since September 2002, and is one of the few French women within the hospitality industry in such a distinguished position. With a master's degree in Hotel Management and Marketing, her career spans tenures at internationally renowned hotels such as Hilton, Méridien and the Hotel Martinez in Cannes. Today, she is the Chief Executive Officer of an elite hotel group including the five-star Hotel Les Airelles; the three-star Hotel de la Loze, Courchevel; the three-star Hotel Alpen Ruitor in Méribel-Mottaret and the four-star Hotel Pan Deï Palais in Saint-Tropez.

"I am proud the Hotel de Charme Les Airelles is part of the first "Five-Star" hotels in France. It is a great recognition from the hospitality industry, acknowledging the staff's professionalism and exceptional service who have contributed to the success, and for the property itself which is superb and mythical," says Séverine Pétilaire-Bellet, CEO of Hôtel de Charme Les Airelles.

After the 35 million Euro renovation, the Hotel de Charme Les Airelles debuts refurbished rooms and suites as well as the creation of a new luxurious apartment. Les Airelles also features a magnificent 7,000-square foot Valmont Spa, three restaurants - among them the sumptuous Pierre Gagnaire Restaurant - a bar, a splendid and expansive playroom for the kids, and an exclusive Valentino boutique.

A New 5,900 Square-Foot Apartment
Located on the fourth and top floor of the hotel, this new apartment consists of four bedrooms, a movie theater, a private spa as well as a 1,600 square-foot terrace with Jacuzzi for eight, offering a breathtaking view on the Courchevel ski slopes.

Dinner at Pierre Gagnaire's Restaurant
The restaurant, which pays tribute to "Empress Sissi" is embellished with contemporary accents and modern artwork offering a unique culinary experience thanks to Pierre Gagnaire's savoir-faire.

The 7,000-Square Foot Valmont For Les Airelles Spa And Snow Cave
Waterfalls, pool, indoor and outdoor whirlpools, Turkish bath, sauna, massage and physical therapists, beauty experts and hairdressers contribute to the total relaxation of its patrons. The area also provides a fitness center equipped with the groundbreaking "Kinesis Personal" system and a personal trainer who is at guests' disposal throughout the day. And the one and only snow cave which consists of natural pure fine powder snow recreating a crystal-clear ice universe, stimulating and refreshing to be experienced between sauna sessions.

Children's Kingdom
This 1,100-square foot area is fully dedicated to children and their entertainment under the supervision of experienced nannies. Their kingdom consists of a 10 by 20-foot fortified castle, a projection room, an arcade video game room, an area equipped with a screen to play Nintendo Wii, a curling table and a variety of books and games.

Valentino Haute Couture Store
A prestigious alliance between the famous Haute Couture store and the Hôtel de Charme Les Airelles was commenced with the opening of a store inside the hotel in December 2008. Guests will now have the opportunity to do their luxury shopping without leaving the hotel, and to dress with utmost style in signature Valentino designs.

About Les Airelles
Les Airelles also features a business center, meeting space, children's program, fitness center, pool, ski in ski out facilities and WiFi access. The property is located five minutes from Courchevel Airport, thirty minutes from Moûtiers Rail Station and is a two-hour drive from Geneva and Lyon International Airport.

For more information about Les Airelles, please visit www.airelles.fr. 

 
---