TRAVEL ADVENTURES   .   .  .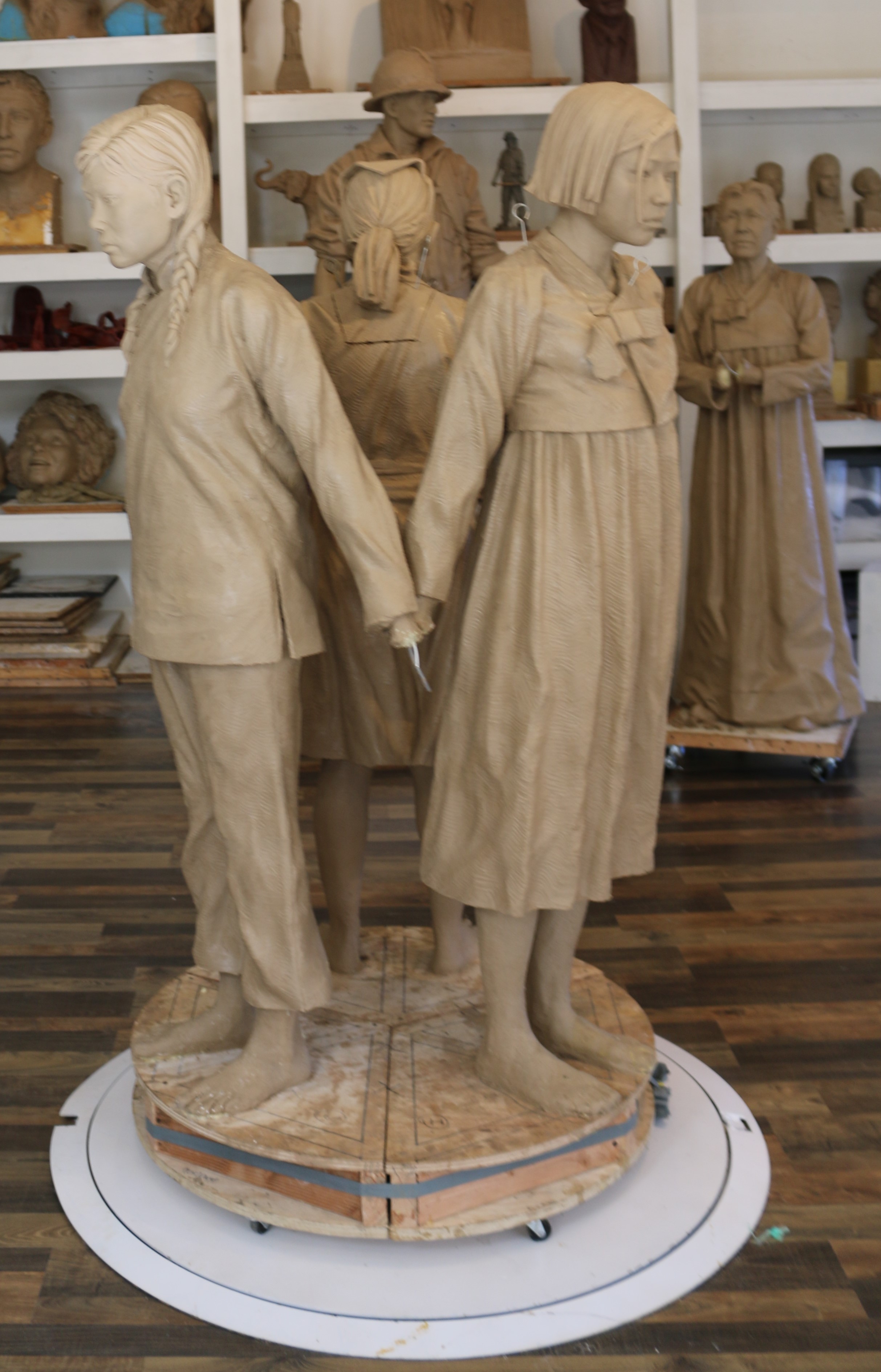 San Francisco to Install Steven Whyte 'Comfort Women' Memorial
by Bonnie Carroll
San Francisco will become the first major U.S. city to install a memorial to the "comfort women," the Chinese, Korean and Filipino women who were forced into Japanese military-run brothels during World War II. The memorial is slated for installation in September in San Francisco's Chinatown and was granted final approval by the San Francisco Arts Commission. The statue, designed by sculptor Steven Whyte, depicts three women who are holding hands standing in a circle on top of a cylinder, while a fourth woman looks at them. In the project proposal, Whyte explains that the position of the women on the cylinder represents how they have risen above sexual violence and how survivors of sexual violence can feel disconnected from the rest of society.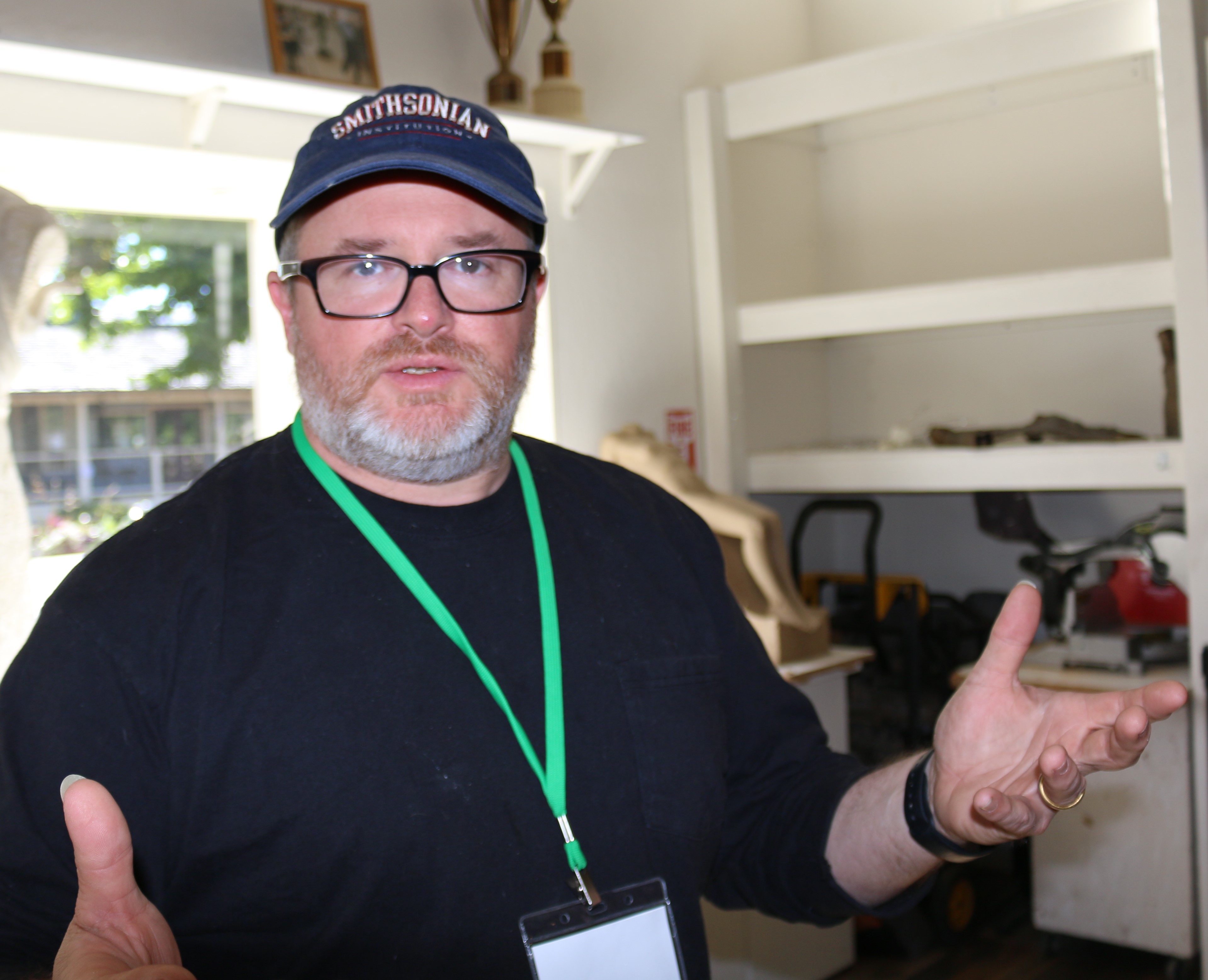 "different kind of hero" Steven Whyte

Renowned British-born sculptor Steven Whyte of Carmel-by-the-Sea is creating the amazing sculpture selected for San Francisco's Comfort Women Memorial, and I had the opportunity to interview him in his Carmel Barnyard Studio during the 2017 Carmel Art Festival to photograph his work in progress.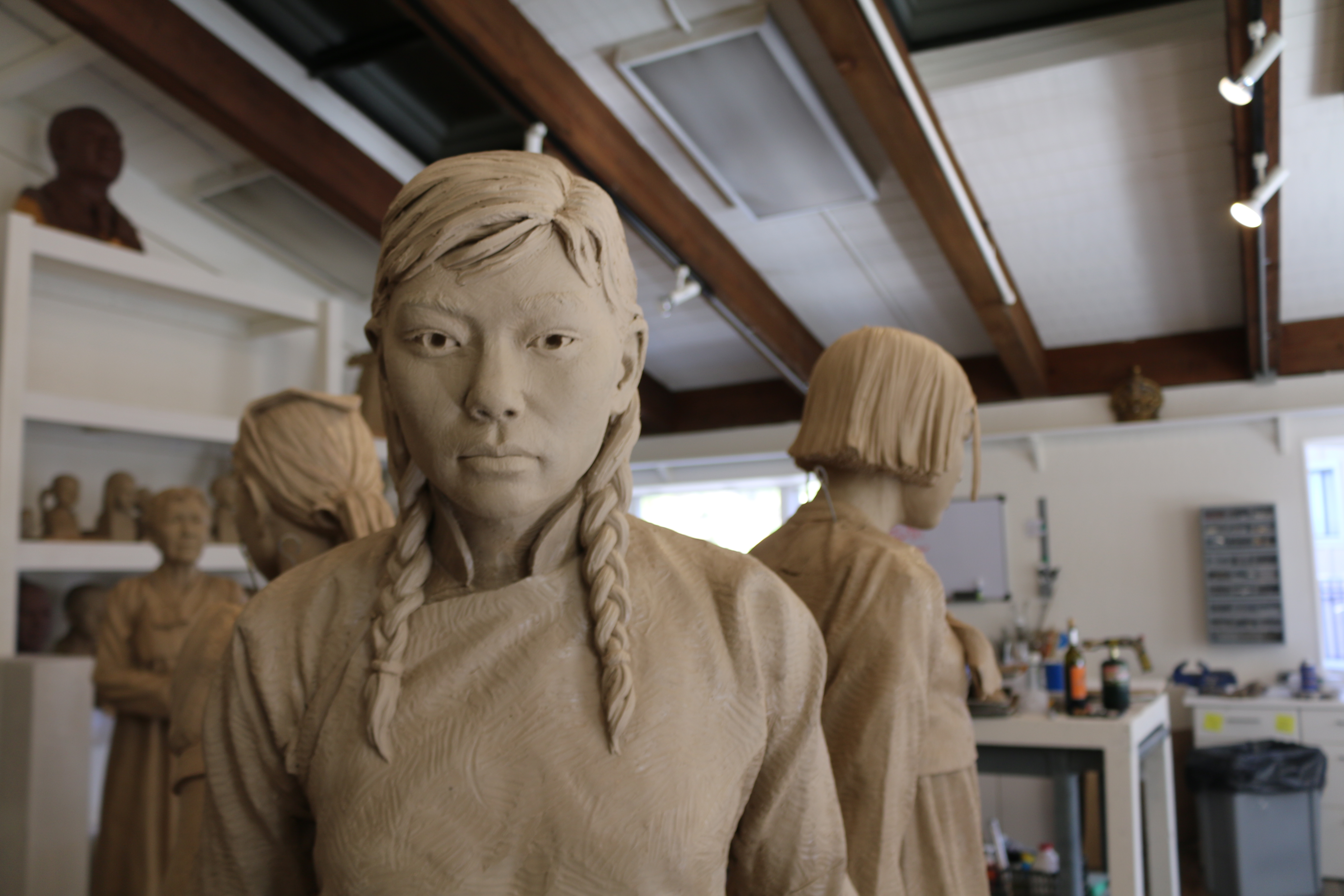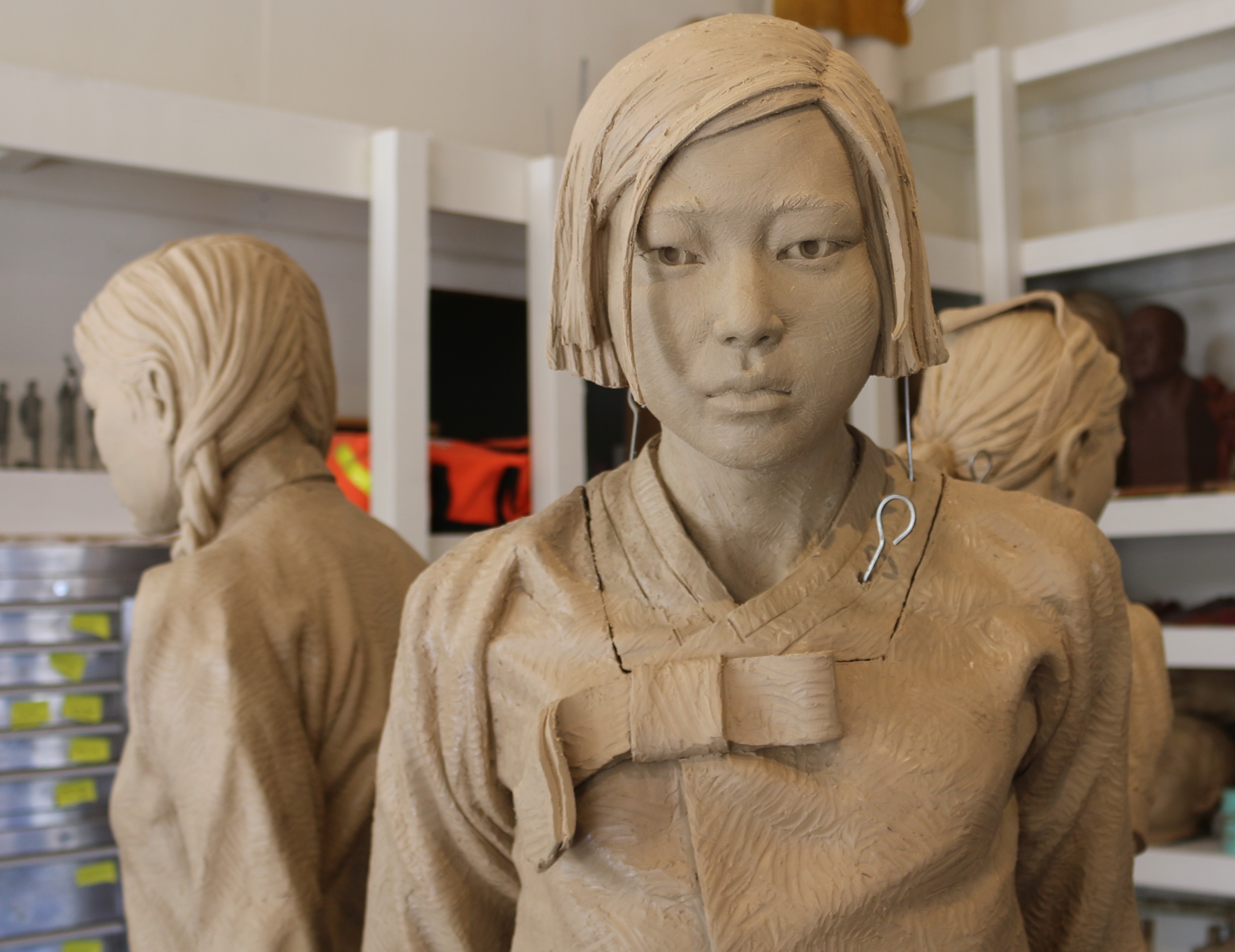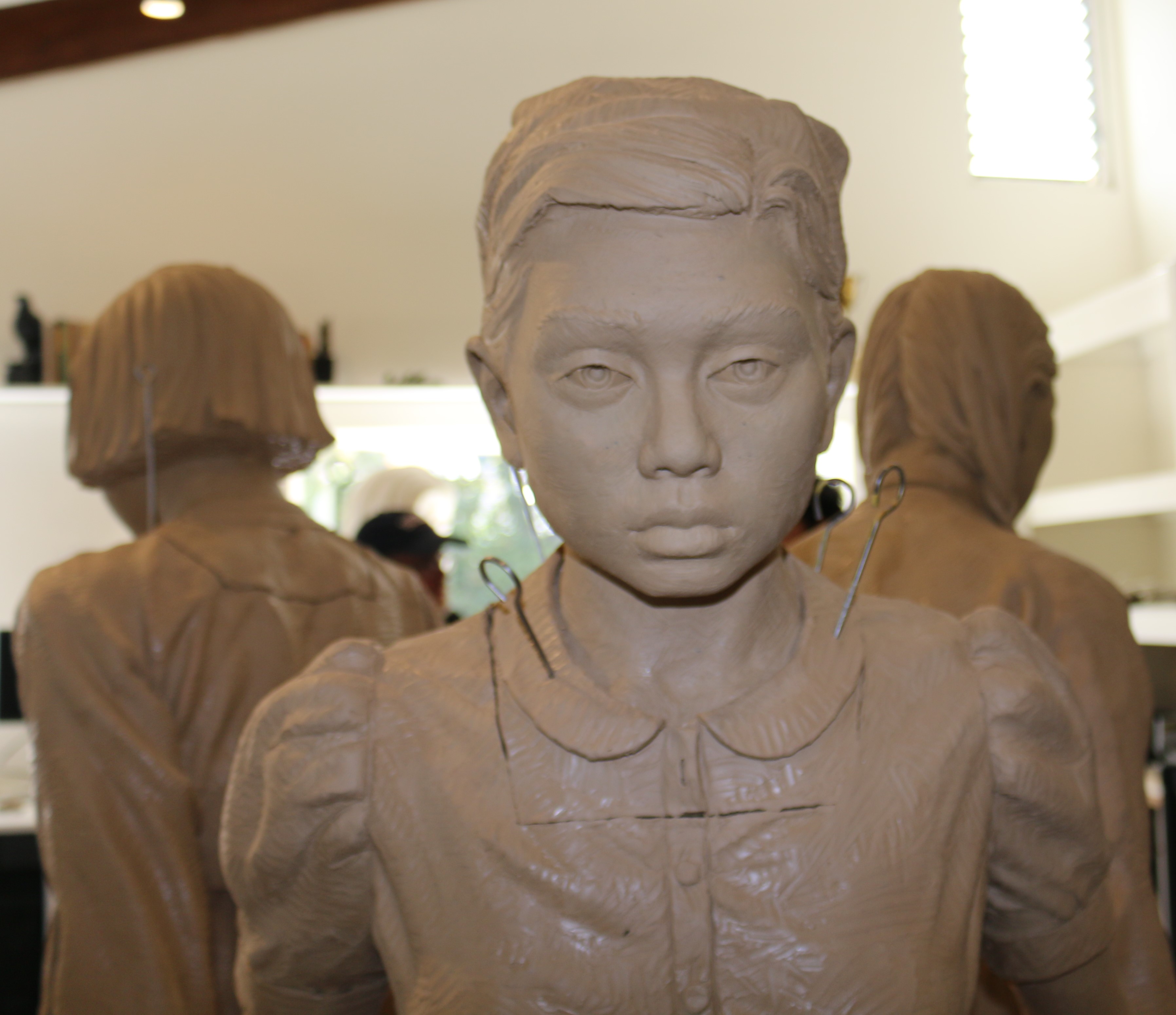 Listening to Whyte speak of the atrocities these very young women (many twelve year old girls) suffered during WWII brought tears to my eyes, but when I actually stood face to face with the realistic sculptures of the three women I was overcome with an urge to hug them, and tell them how sorry I was this has happened to them. Most of these women died, those that survived lived together in seclusion and were called "Grandma's." They became a sisterhood of survival.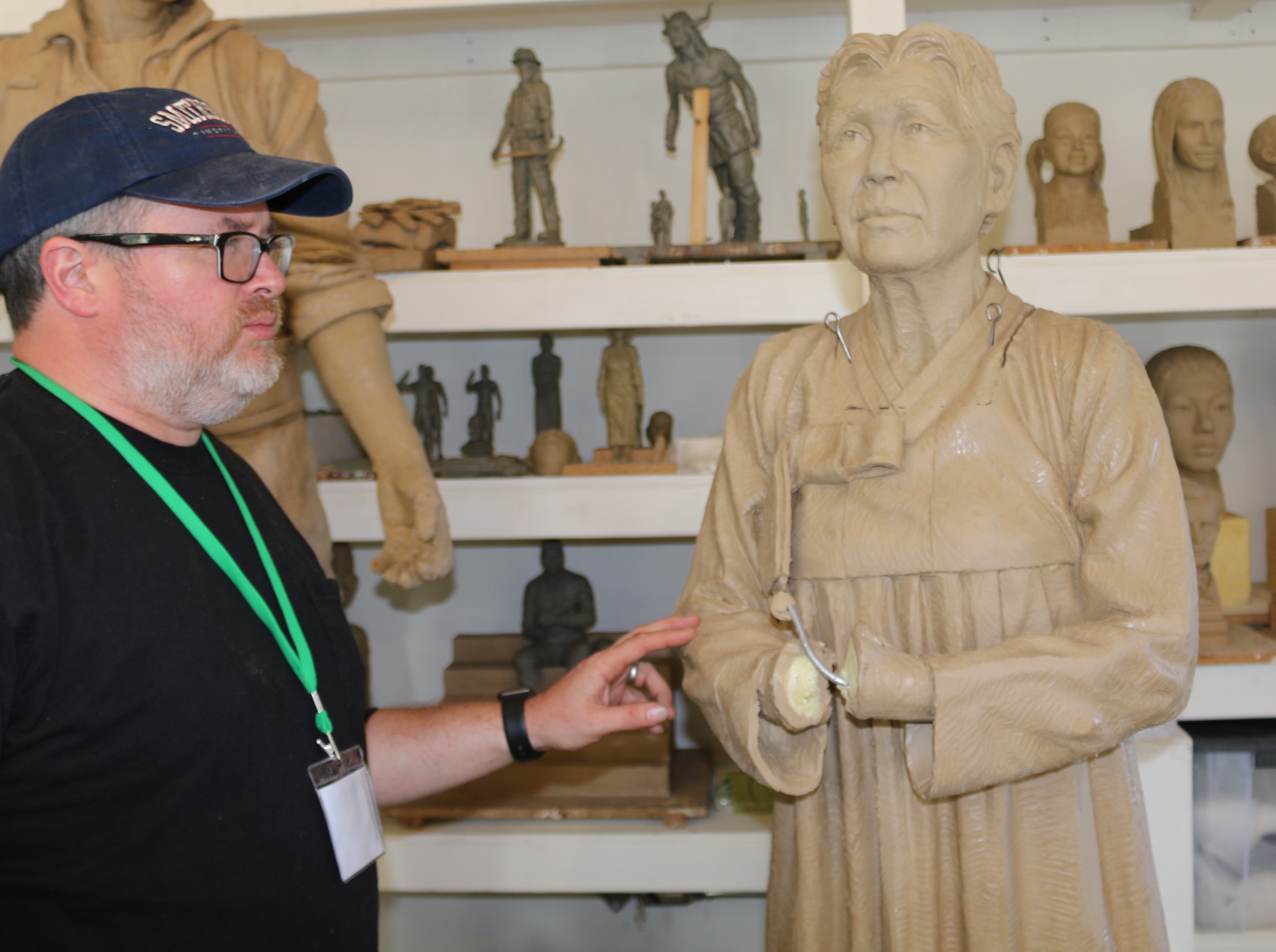 The collection of work Steven Whyte has created during his career is truly awesome, but this delicate and touching memorial is enormously powerful in the story it tells and the emotions it stirs in the heart of the viewer. The eyes looking back at you from these three delicate faces say "you let this happen to me." Whyte stated the Grandma (Hak Sun Kim who survived, but did not speak of it for fifty years) holds her head up in pride, she is free because her story has been told. She flew to San Francisco to appear on behalf of the Comfort Women Memorial during the original hearings for approval in 2015.
Retired judge Julie Tang gave a statement to NBC News "We wanted to have a memorial to remember the comfort women so their members will be remembered forever, and so our children in schools in the next generation will understand how devastating these atrocities are to not just to these women but for generations to come. Unless we learn about it, unless we address it, history will repeat itself."
During WWII, an estimated 200,000 women (many twelve year old girls) from countries including Korea, the Philippines, China, and Indonesia were forced into sexual slavery and "served" between five to 60 soldiers per day, according to research referenced by the Comfort Women Justice Coalition.
"Unparalleled Japanese military sexual slavery left deep scars among generations of Asian American families and communities, including our own," faculty members from San Francisco State University, the University of San Francisco, and San Francisco City College wrote in public comment supporting the statue.
San Francisco will join other cities across the country that have installed comfort women memorials, including Palisades Park and Union City, New Jersey; Southfield, Michigan; Fairfax County, Virginia; and Glendale, California. Countries including Australia, Canada, and China also have memorial statues.
Installing a memorial in San Francisco has been a contentious issue, with proponents arguing that there has been no official apology from the Japanese government for what happened and that it would help in educating people about the women during WWII. Opponents dispute the story of comfort women and claim there is no evidence to support it. The project has received support from local stakeholders including former Congressman Mike Honda and Karen Korematsu of the Fred T. Korematsu Institute.
In 2015 the San Francisco Board of Supervisors unanimously voted to support the memorial. This is a project that has raised issues regarding diplomacy from several sectors, but has also brought huge support from many more who want the story told in this expressive and meaningful sculpture.
The inscription on the memorial is expected to read:
This monument bears witness to the suffering of hundreds of thousands of women and girls euphemistically called "Comfort Women," who were sexually enslaved by the Japanese Imperial Armed Forces in thirteen Asian-Pacific countries from 1931 to 1945. Most of these women died during their wartime captivity. This dark history was largely hidden for decades until the 1990s, when the survivors courageously broke their silence. They helped move the world to declare that sexual violence as a strategy of war is a crime against humanity for which governments must be held accountable.
The memorial is dedicated to the memory of these women and to eradicating sexual violence and sex trafficking throughout the world.
The Comfort Women Memorial dedicated to women that sculptor Whyte describes as a "different kind of hero" is scheduled to be installed September 22 on Saint Mary's Road in San Francisco, where it will have a backdrop of China Town and the Bank of Americ­a.
For details please visit: www.comfortwomenjusticecoalition.com
_____________________________________________
TRAVEL NEWS  .   .   .

CHIANG MAI NAMED BEST CITY IN ASIA
IN THE TRAVEL + LEISURE WORLD'S
BEST AWARDS 2017 READERS' SURVEY
I am so happy - I love Chaing Mai!!!



The Tourism Authority of Thailand (TAT) is pleased to announce that Chiang Mai has been named Best City in Asia in the Travel + Leisure World's Best Awards 2017 readers' survey.
"We are excited to be receiving such wonderful recognition by an esteemed publication such as Travel + Leisure," said Mr. Kittipong Prapattong, Director of TAT Los Angeles. "Chiang Mai is a place where tourists and local of all types can enjoy the ultimate Thai holiday from culinary ventures to yoga retreats and beautiful scenery."
Chiang Mai, known as Thailand's "Rose of the North," is a cultural and natural wonderland with ethnic diversity, a multitude of attractions and welcoming hospitality. Beautiful and historic temples, intriguing diversity among ethnic tribes, a number of elephant camps, many cooking and massage schools, numerous outdoor activities, a variety of handicrafts workshops, various cultural performances, and breathtaking scenery make Chiang Mai one of Asia's most attractive tourist destinations.
"We believe that our success begins with the Thai people," said Mrs. Charinya Kiatlapnachai, Director of TAT New York. "We would like to invite and welcome travelers to visit Chiang Mai aka Thailand's "Rose of the North", to experience the distinctive culture and unique cultural identity of this charming city, which can be witnessed through the daily lives/lifestyle of the local people, who maintain their own dialect, customs, and cuisine, and in a host of ancient temples, fascinating for their northern Thai architectural styles and rich decorative details." 
The World's Best is a travel awards program run by Travel + Leisure and based on an annual reader survey. Respondents were asked to rate airlines, airports, car-rental agencies, cities, cruise ships, destination spas, hotels, hotel brands, islands, tour operators, and safari outfitters on a number of characteristics. For more information about Travel + Leisure World's Best Awards 2017, visit www.travelandleisure.com/worlds-best.
For more information about Chiang Mai or traveling to Thailand, please visit www.na.tourismthailand.org.
---