FAR EAST FUSION AT FOUR SEASONS IN LONDON
Bernhard Mayer Brings Far East Flavors to LANES Restaurant
by Bonnie Carroll
Executive Chef Bernhard Mayer, Four Seasons Hotel, London has combined his years of experience in the Far East to create enticing new menu items for Lanes Restaurant in the prestigious British hotel that was voted 'Best Business Hotel in UK' by Conde Nast Traveler. Chef Bernard returned to London following an extensive culinary experience in the Far East, and is preparing and presenting a variety of dishes that combine exotic flavors with local produce that are proving to be a delightful change from traditional British fare.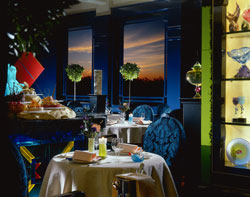 The Four Seasons LANES Restaurant, located in the heart of the capitol, is now home to the German born chef. The contemporary dining venue features warm colors and lush fabrics surrounded by stunning historic Canadian glass artwork and rich wood paneling. The light meets dark fusion of design and art provides a contemporary ying and yang elegance that enhances the ambiance and overall dining experience...
Bernhard's culinary career began at Restaurant Konig Karl in Ellwangen, followed by the Michelin starred Restaurant Goldschmieding in Castrop-Rauxel, and the Restaurant Imperial at Schlosshotel Buehleroeche. He also was executive chef at the prestigious Relais & Chateau Cobbler Cove Hotel on Barbados, and joined the Four Seasons Hotels & Resorts at the Regent Hong Kong in 1999. Later he was executive chef at the Regent Jakarta. According to Bernhard 'after my years in the Far East I am thrilled to be back in this exciting city.'
The chef explains 'I like to bring out the flavor of the dishes through unusual combinations of spices, and I avoid heavy creams and butter to let the ingredients speak for themselves.' However, please don't think that you will be deprived of the hotels renowned standards like roast rib of Blairmore beef with Yorkshire pudding, or a baked spinach-potato tart. These LANES classics remain on the menu to be enjoyed by loyal patrons.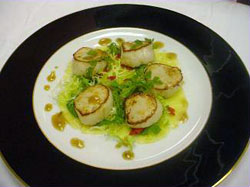 The starters at LANES include star anise marinated Scottish salmon with avocado and wasabi-line juice and seared diver scallops with pineapple carpaccio and sweet chilli. Pan-fried seabass fillet with vanilla crushed potatoes and apple-coriander sauce or roasted turbot and pan-fried foie gras with enoki mushrooms and saffron miso sauce are among the new main courses as well. The restaurant and bar also serve a delightful afternoon tea, as well as breakfast items to suit the taste of visitors from around the world. The chef explained that he and his staff are happy to provide special menu request from guest.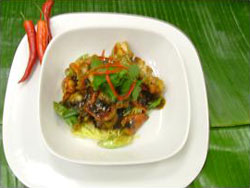 It is difficult to say enough about the impeccable service and the incredibly lovely suites at this hotel. The staff are simply delightful in nature and go far beyond the norm to be of service to their guests. Anything you could possibly need or want is provided in the room accommodations, including your own umbrella, which is a necessity in London at times. For business travelers the internet access, modem jacks throughout the hotel, and additional business services they provide explain why they are rated one of the best in this category.
Located in the heart of city activity, the walking tours from this hotel are splendid. Buckingham Palace, Winston Churchill's War Rooms, The Royal Guard, Westminster Abby and Hyde Park are just out the door, and the hotel concierge is always ready to assist with directions or transpiration needs. Coffee and muffins, along with your newspaper of choice are available in the lobby each morning, and the comfortable area is a perfect kick-off venue to begin your touring adventures for the day.
Embarking from a relaxing British Airways flight and climbing into a big black taxi enroute to the Four Seasons at Park Lane is half the fun of traveling to London. There is a childlike excitement about the UK that is exhilarating, and there is also great comfort to know that there is a splendid home-away-from-home always awaiting me at the Four Seasons, Park Lane, especially during the holidays, when the décor and menus are filled with nostalgic favorites. Go to www.fourseasons.com for reservation information.
LANES favorites:
---
JAMES MC DONALD – MAUI MASTER OF FOOD PANACHE
Local Culinary School Graduate Brings Sophisticated Flair To Island Favorites
Text and Photos by Bonnie Carroll
During a recent visit to the island of Maui, I took a short taxi ride from the hotel row on Kaanapali Beach to a tucked away restaurant, located off the beaten path in Lahaina, where I experienced an afternoon delight with one of Maui's shining stars in culinary invention. James Mc Donald, Executive Chef and owner of Pacific O Restaurant on the island of Maui, offers food flavors and presentations that are like a beautiful ray of sunshine that is lightly kissed by an ocean breeze. Mc Donald, a pride of the island culinary kingdom, who graduated from the community college culinary school, is a master at utilizing the fresh local produce and seafood of Maui to design and present exciting and unique recipes that are becoming the embodiment of a Hawaiian cuisine with true panache.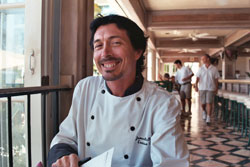 Pacific O, is a combination of southern plantation living by the sea, infused with touches of 20s art deco. The open porch and beachside patio offer the ultimate combination of pleasurable sensations, including a gentle ocean breeze, luscious food flavors, and artistic presentations adorned with spectacular colored blossoms. Sitting on the open porch, looking out over the beach, you have the definite feeling that James Mitchner must have been sitting on this spot before you. According to McDonald, who has a smile and eyes that reflect the essence of island ease, "the fresh produce and seafood available here on Maui provide the flavors that enhance and inspire new recipe creations." Chef Mc Donald is a partner in two restaurants, located just steps away from each other, and is a partner in a farm on the island that grows fresh fruits and vegetables for use in his kitchens.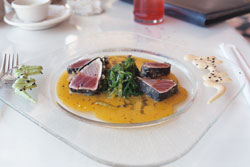 Appetizers include tempting lobster egg rolls, served with passion fruit mustard dip, Hawaiian style scallops served with Maui onion, tomato and ogo salsa, or a delicious Thai curry asparagus soup, topped with Maine lobster. The salad selections are plentiful and my favorite is Pukalani walnut salad made with arugula and baby greens grown on Mc Donald's own farm, accompanied with Kula onions, feta crumbles, mandarin oranges, candied walnuts and passion fruit tarragon dressing. A few of the numerous and delicious entrees include the light and refreshing 'Road to Hana' grilled fish with Hawaiian fruit, jasmine rice, passion fruit dressing and a basil yogurt sauce; 'Campanille Catch' lily flower pasta tossed with sun-dried tomatoes, artichoke hearts and kula herbs with a Madras curry morel mushroom sauce, and your choice of daily fresh fish or a fresh sashimi tuna in nori and panko crust with green papaya salad and creamy soy ginger vinaigrette and radish sprout aioli, a Mc Donald's wife Kerri. A magnificent finale is the 'island dreams' carmelized Maui pineapple and coconut goat cheese ice cream with a crisp almond ginger tuile.
The restaurant wine and liquor menu is quite extensive and includes wine selections from Spain, France, New Zealand, Germany, Oregon and a bevy of favorites from California, ranging in price from $29.00 for a Santa Cruz Riesling to $980.00 for a rare French Bordeaux. Naturally, the ocean side venue is made to order for tropical drink sampling, and Mc Donald's 'Pacific Breeze' is an alluring mixture of Absolute Kurant, and lemonade with a splash of Blue Curacao.
Chef James Mc Donald's favorites: