TRAVEL ADVENTURES    .    .    .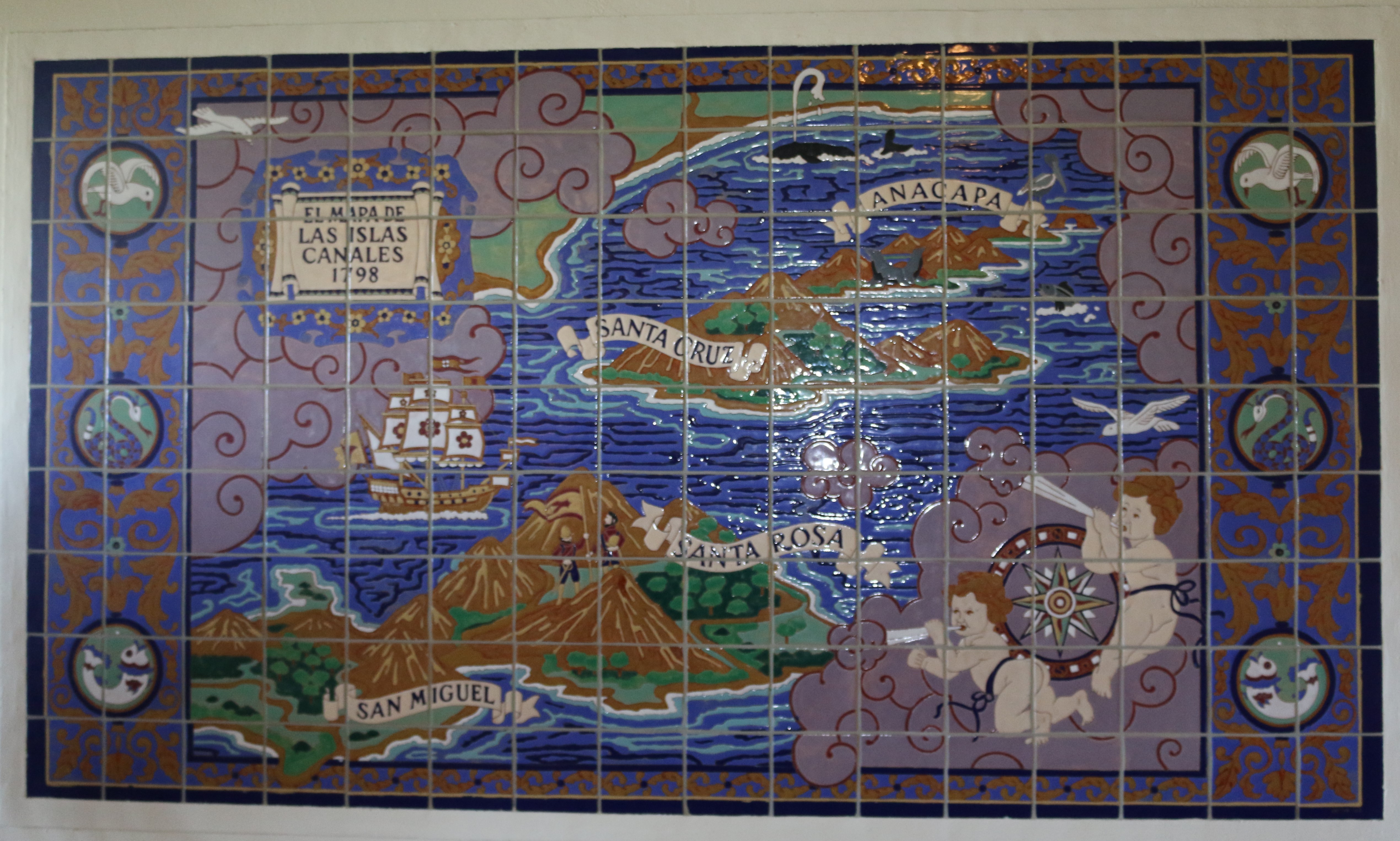 FOUR SEASONS THE BILTMORE COMES BACK WITH SIGNATURE STYLE
by Bonnie Carroll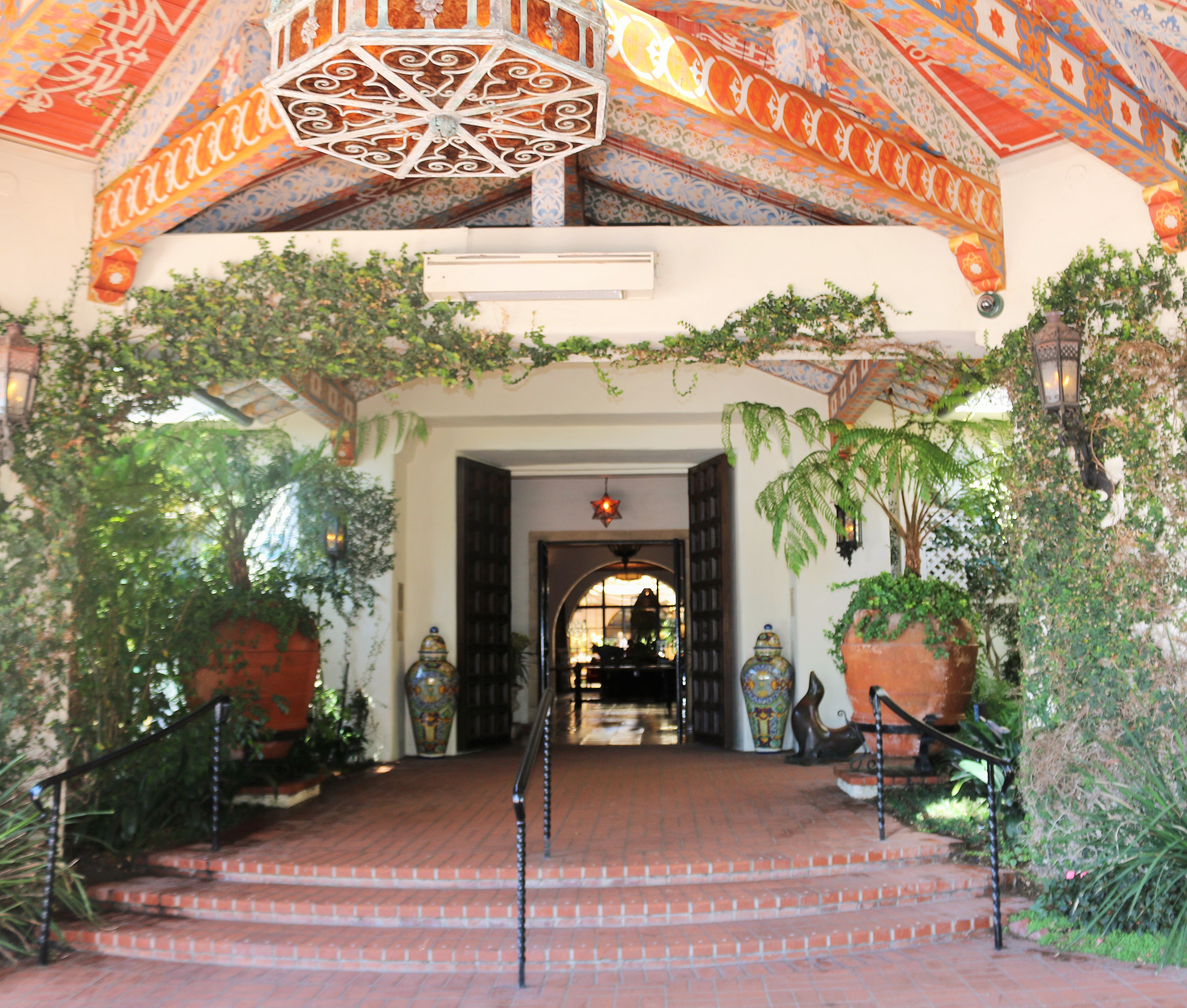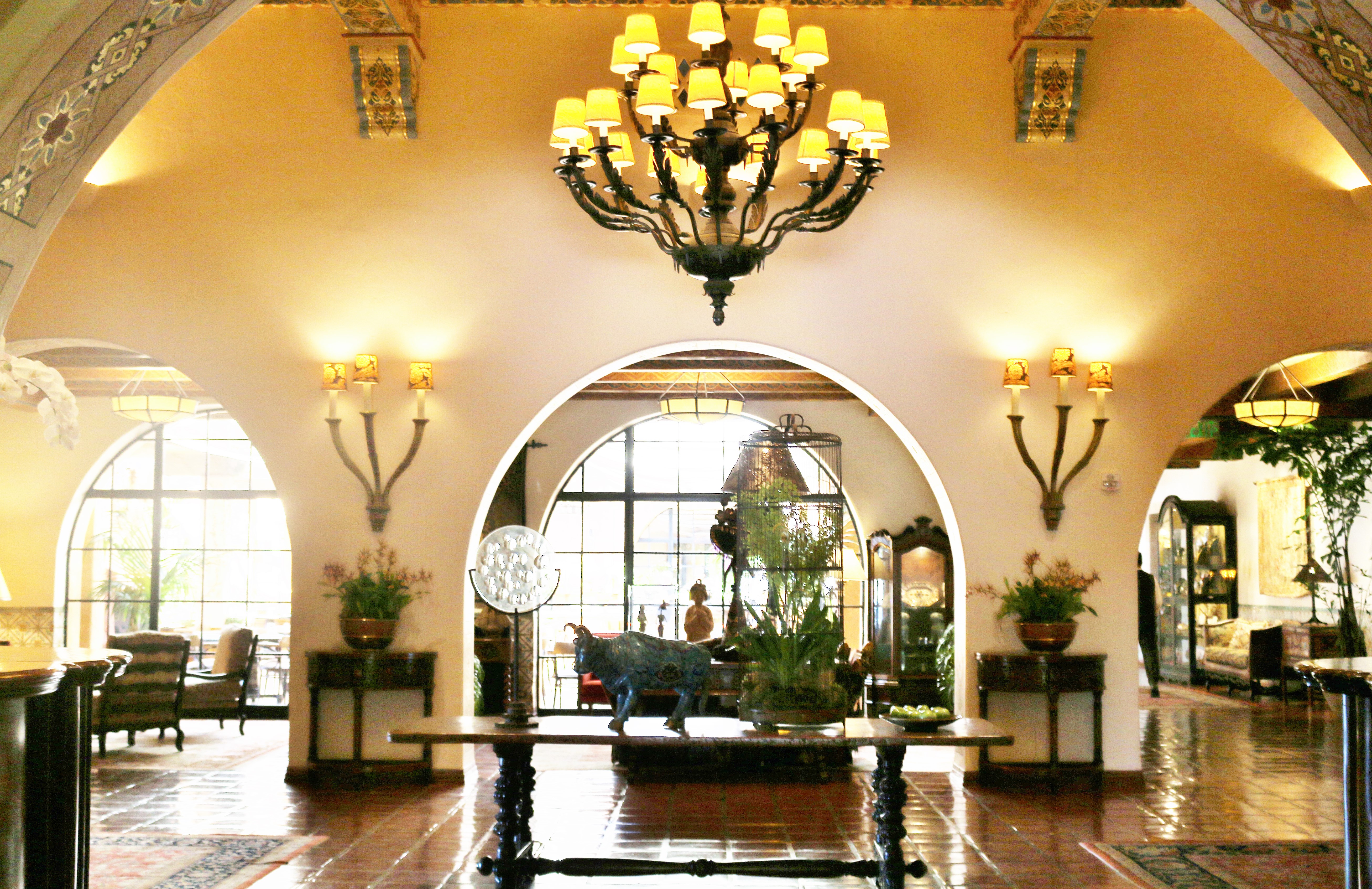 Elegant Hotel Entrance & Lobby

2018 was a horrid year for residents and business owners in Montecito, California and among them was the historic Four Seasons The Biltmore Santa Barbara which was inundated with rushing mud and waters that damaged the beautiful grounds enough to shut the property down temporarily. It took a huge amount of work and sacrifice on the part of their loyal staff, but they did reach the light at the end of the tunnel and reopened to greet holiday guests for 2019.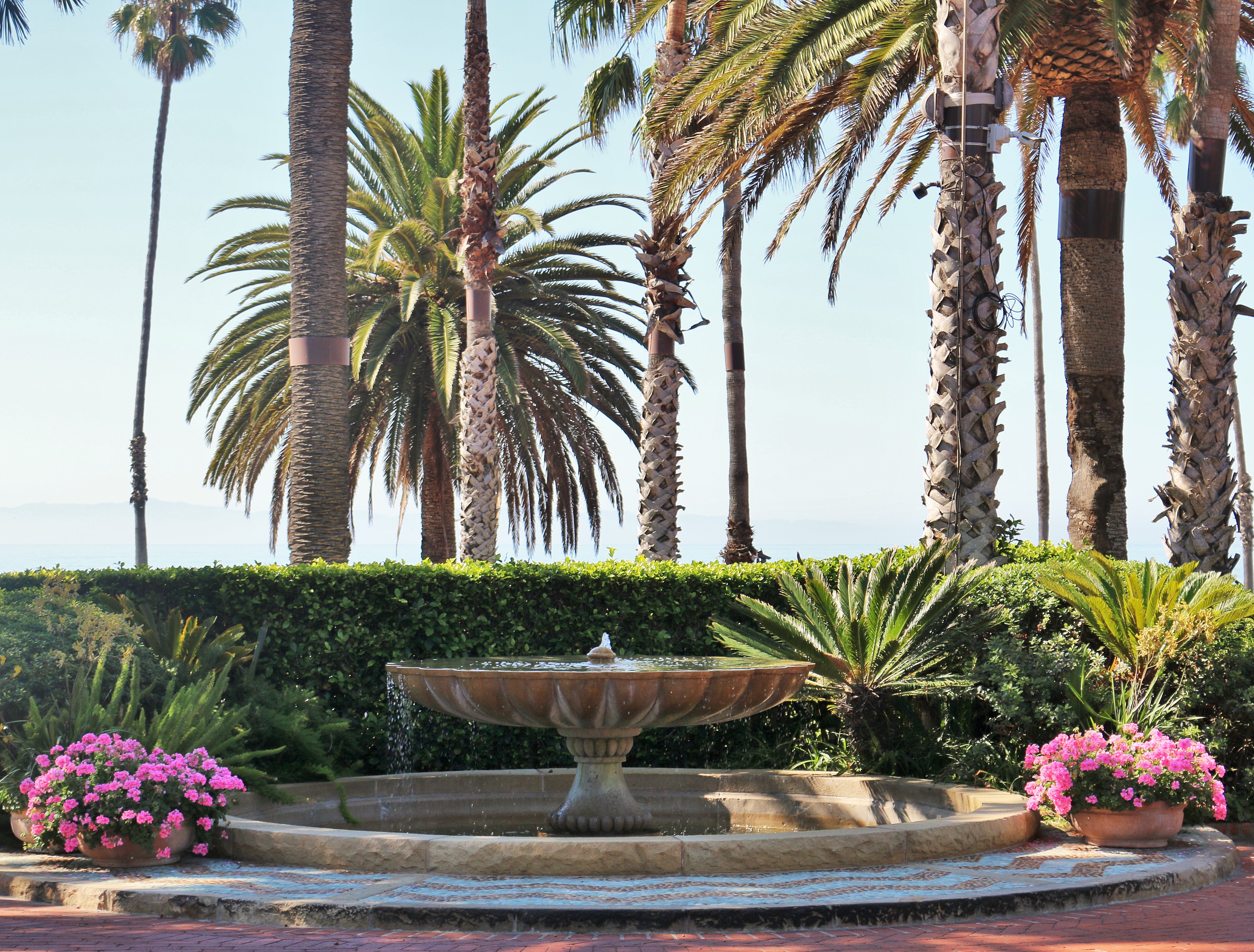 Elegant Gardens & Fountains
This property opened in 1927 as part of the Baltimore Hotel chain and came into my personal radar in 1977 when I drove up from Malibu to experience for myself the hotel's Sunday brunch that people were raving about, and it proved to be more than worth the drive. The property was a rambling Spanish style architecture, with beautiful fountains and plants, a collection of Spanish and fine art throughout and an exquisite ocean view.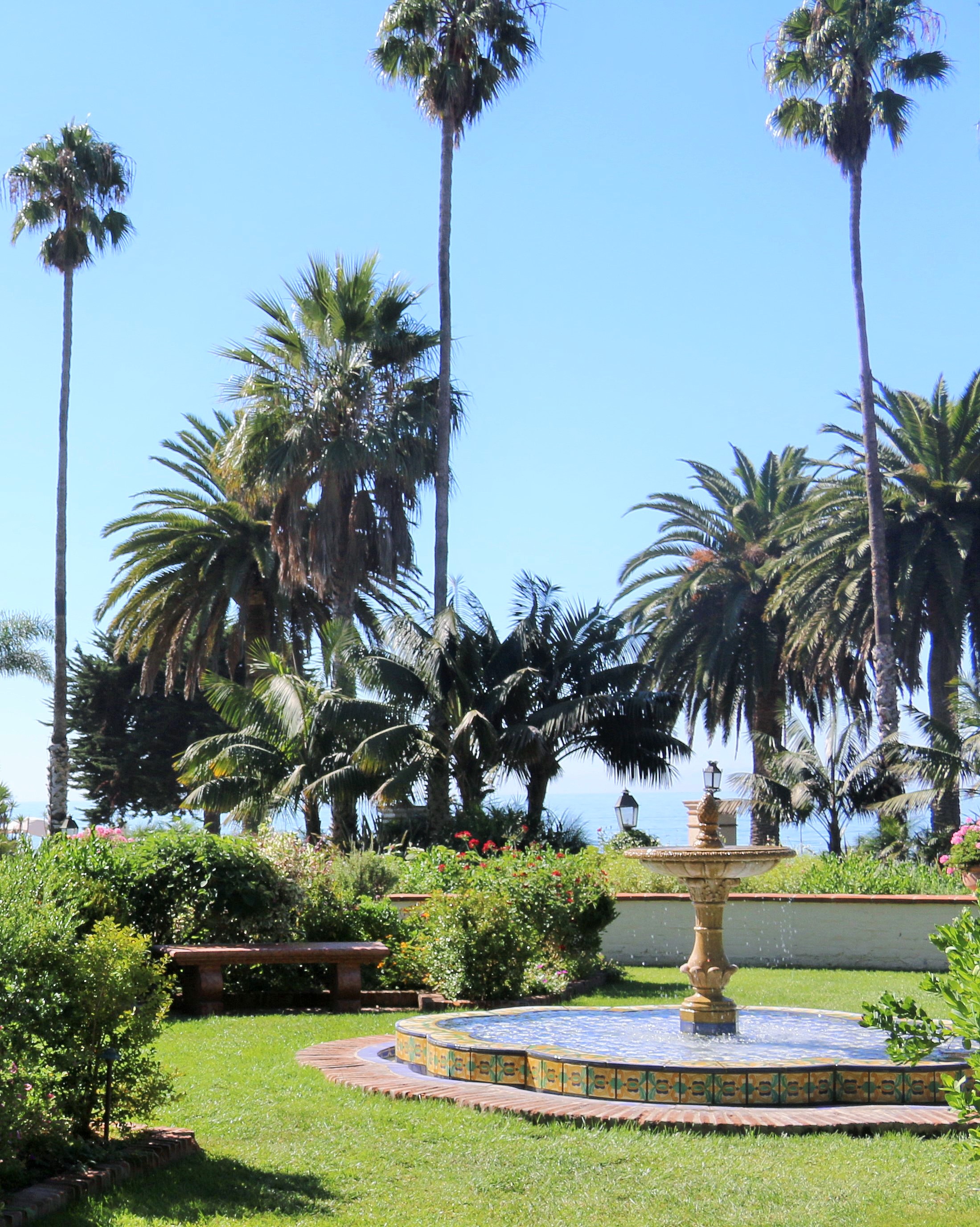 View from the Spa

The brunch was the largest I'd ever seen anywhere, including The Sunday Brunch at the Drake Hotel in Chicago, which was quite impressive. Having grown up in Chicago, this was my first experience coming face to face with what seemed to be an endless table of every kind of seafood known to man or woman, with all the unique salads and side dishes the chef and his team could possibly pair with the seafood, made to order omelets, waffles, eggs Benedict, a variety of meats and more. Fine champagne and bloody Mary's were the drink of the day and were also perfect.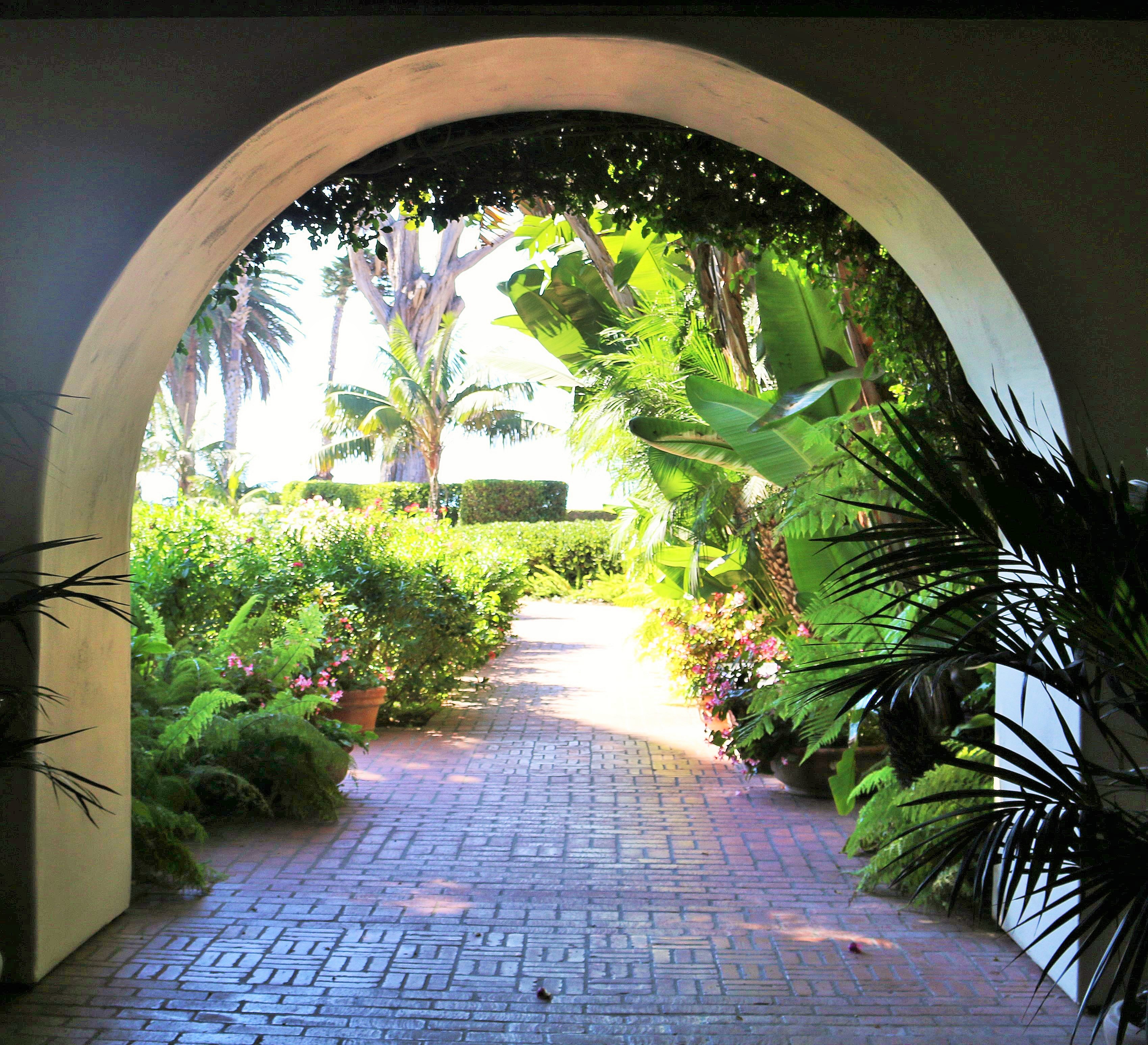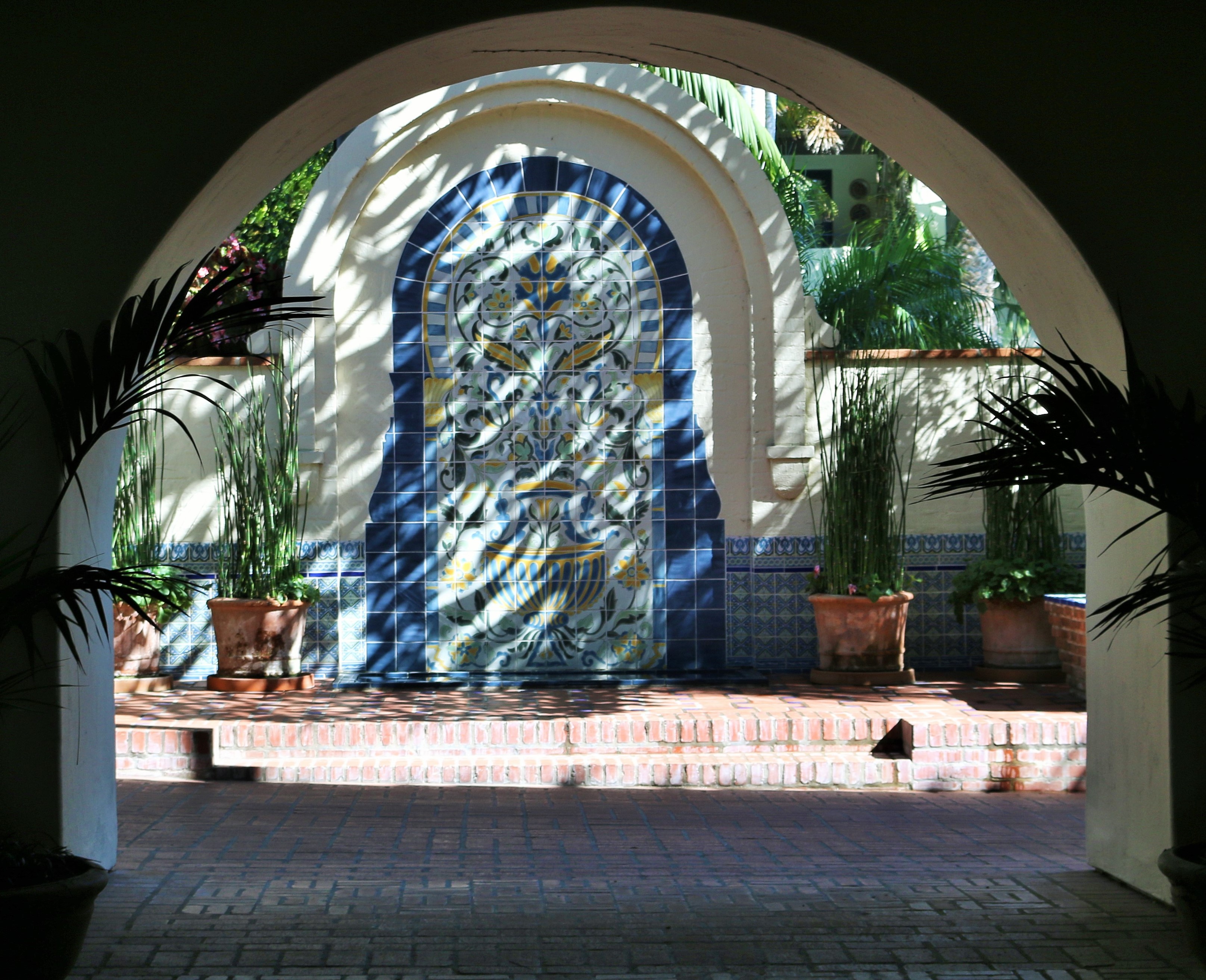 Romantic Passages
I fell in love with this resort all those years ago, and I still adore sitting in Ty Lounge savoring their latest cocktail creations and small plates or enjoying lunch on the patio with a Butterfly Beach view. It is really more than the architectural style of the resort or its impressive history, it is an undefinable feeling of peace and relaxation that fills every space on this property. It is also the quiet and extremely efficient attention of the hotel staff who never miss a beat in anticipating guests needs.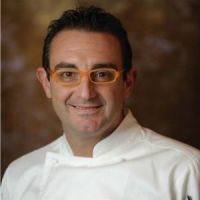 Executive Chef Marco Fossati (FSBSB Photo)

I've watched a few chefs file through their kitchen over the years, however, the latest Executive Chef Marco Fossati is exceptional in every way, with a long and varied ciriculum vitae including special training in a bevy of food preparation and beautiful presentation which has consistently brought Chef Fossati kudos from patrons and food critics who expect nothing but the best. The chef is a native Italian, who has mastered a variety of international food favorites, and has become a respected chef along with a well liked resident of the Santa Barbara community.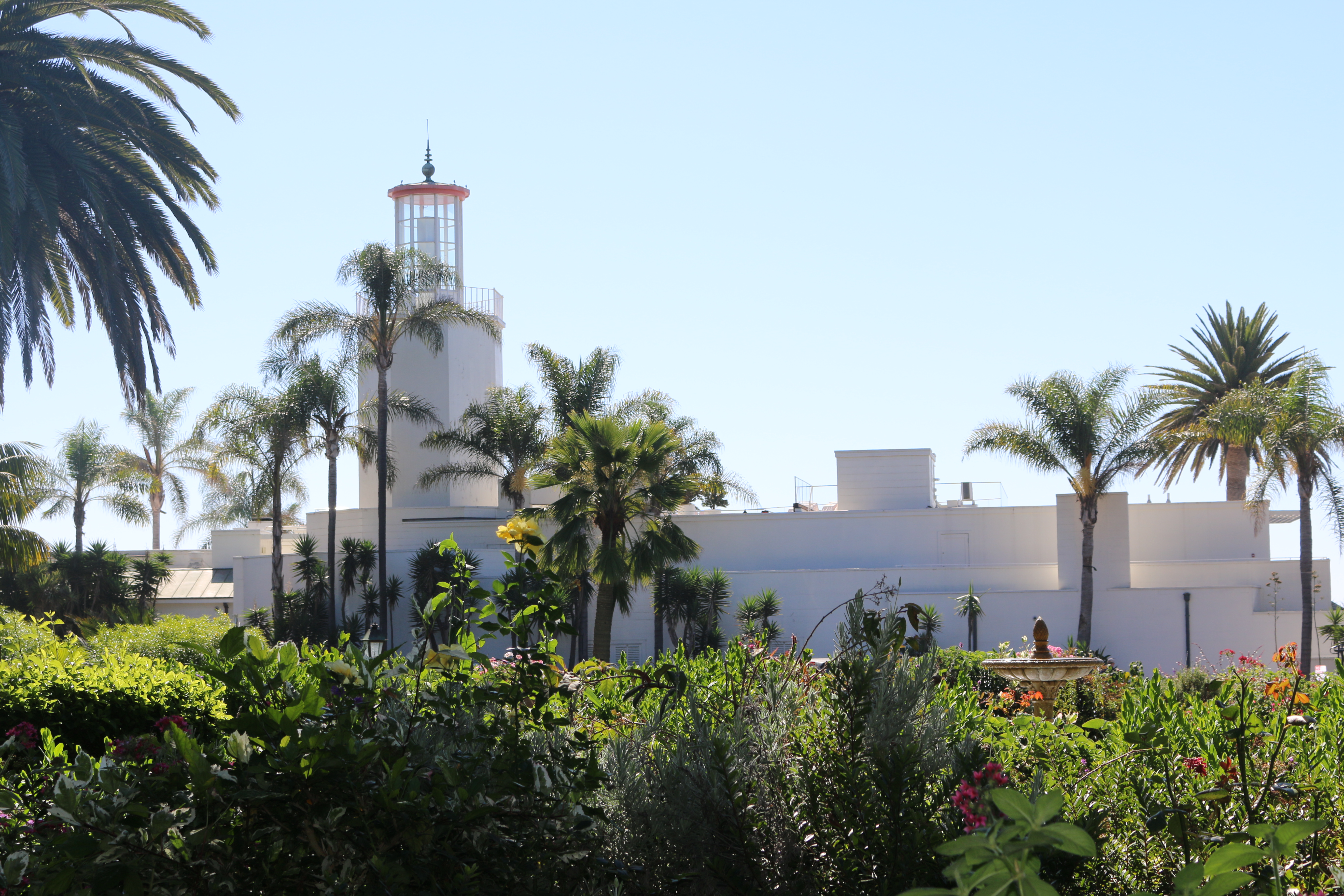 Coral Casino on Butterfly Beach

It is so good to see the staff greeting guests and all aspects of the hotel buzzing with activity once again. One of my favorite things to do is spend time having lunch with friends at Bella Vista or the Coral Casino and taking a walk on the beautiful beach located across the street from the hotel, which in my opinion is one of the most beautiful in all of California. This combination of great food and the ocean always settles my tummy, clears my head and makes me happy to be alive.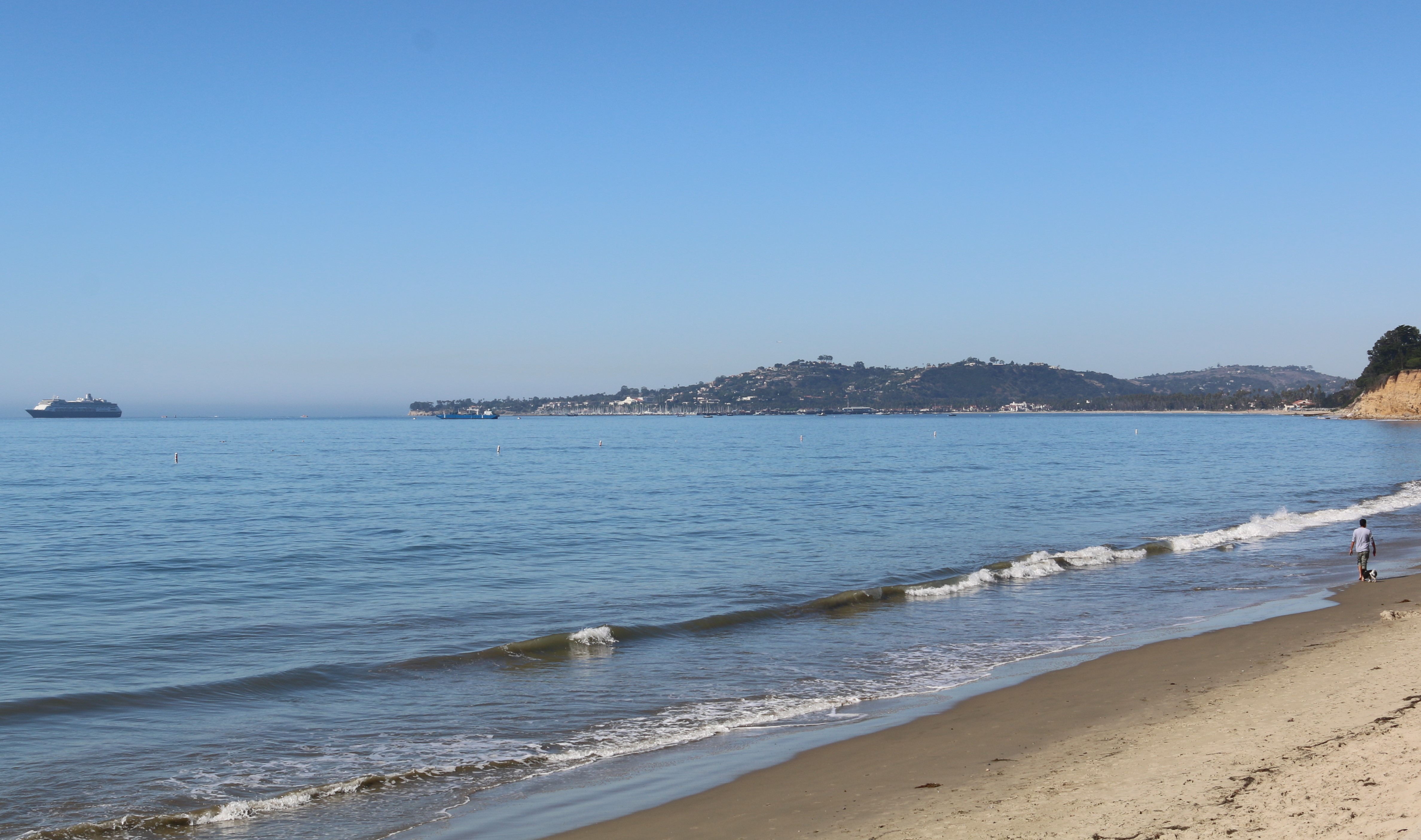 Butterfly Beach

The entire community is so happy all is well at the Four Seasons Biltmore and their long-time guests are returning, as well as many of my friends who share the same nostalgic feelings I have for this historic resort and revel in the opportunity to steal pleasurable sips, tastes and moments at the resort whenever possible. Cheers to this beautiful and loved five-star survivor! For reservation information visit: www.fourseasons.com/santabarbara
.
_____________________________________________
Anguilla's Beloved Moonsplash Music Festival Returns This March
March 21 – 24, 2019 at the Dune Preserve 
 Anguilla's iconic Moonsplash Music Festival will once again take place under a full moon at the legendary Dune Preserve on Rendezvous Bay, from March 21 – 24, 2019.

Music lovers and Anguilla fans were devastated last year, when for the first time in its 27 year history, Moonsplash producer and creator Bankie Banx suspended the event, as repairs to the venue were still underway. Some of the biggest names in reggae music have graced the Moonsplash stage -- Steel Pulse, Jah Cure, Gregory Isaacs, Sugar Minott, Marcia Griffiths, Bunny Wailer, Inner Circle – just to name a few.  So have popular music artists like Jimmy Buffet and John Mayer, and award winning rappers Nas and Q-Tip.  It is a magical experience, on an extraordinary island.

This year's Moonsplash returns to its roots as the Coolest Beach Party in the Caribbean. Timed to coincide with the first full moon of the month, the magical evenings unfold at the rustic Dune Preserve, Bankie's legendary retreat, that doubles as laid back beach bar by day and pulsating dance party each evening. The newly renovated beach bar now accommodates 500 persons on decks and another 500 under a temporary beach extension.

Highlights of this year's Festival are two, not to be missed celebrations -- Sheriff Bob's 80th Birthday Bash and Third World and Friends 40th Anniversary celebration.  Robert Saidenberg, The Sheriff of Goodtimes (aka Sheriff Bob) met Bankie Banx in the late 80s at a recording studio in New York City. Bankie invited Sheriff down to Anguilla and that summer they started planning the first Moonsplash.  This is a very special year for The Sheriff of Goodtimes as he'll be celebrating his 80th Birthday at Moonsplash 2019. He was also the subject of the 2018 award-winning short documentary film, The Sheriff of Goodtimes, which won Best Short Documentary at the Big Apple Film Festival.

Third World, the 'Reggae Ambassadors', is one of the longest lived Reggae bands of all time, and the world's greatest reggae fusion band, mixing in elements of R&B, funk, pop, rock, dancehall and rap.  With 10 Grammy nominations and catalogue of charted hits spanning four decades, Third World will be releasing a new studio album in Spring 2019, produced by 4-time Grammy winner, Damian "Jr Gong" Marley, the youngest son of the legendary Bob Marley, under the Ghetto Youth International imprint. The lead single "Loving You Is Easy" was released late 2018.

Moonsplash kicks off at 6:30PM on Friday, March 22nd with Funky Horns SXM on the Beach Stage, along with other supporting acts.  Headliners on the Main Stage later that evening are Anguilla's own Omari Banks and the legendary Mighty Diamonds, with additional supporting acts to be announced. Omari's international musical career has taken him on tour to North America, Europe and Asia, and his recently released single "Me and You" was produced by multi-platinum, multi-Grammy nominee Jason "J Vibes" Farmer.  Tabby, Bunny and Judge have produced over forty albums in their long and storied career.

On Saturday, March 23rd, starting from 6:30PM on the Beach Stage, festival fans will be treated to the Sheriff's 80th Birthday Bash featuring Orange Grove, the popular Sint Maarten band whose infectious sound echoes traces of rock, hip-hop and reggae, and Sheriff and the Deputy, featuring Kat Minogue and Captain Bob. 

Sheriff and The Deputy play traditional Folk, Rock, and Country music - the band enjoyed 9 months of performances at Opry City Stage, the NYC branch of the world-famous Grand Ole Opry.

The Third World and Friends 40th Anniversary Celebration takes the Main Stage later that evening, along with the Festival's own impresario, the incomparable Bankie Banx, and the versatile True Intentions, a reggae band that originated in Anguilla with roots in Dominica, who has rocked the local and regional music scene.  A surprise guest will complete Saturday's fantastic line up.

On Sunday, March 24th, the Moonsplash Beach party commences at 11:30AM with spontaneous appearances by the Bankie Banx Moonsplash cast. A host of fun activities are planned for the day.  

Cool vibes, great beaches, thrilling performances, amazing music -- what more could you wish for?  A Beyond Extraordinary experience awaits you when you join us at Moonsplash in Anguilla next month.
For information on Anguilla, please visit the official website of the Anguilla Tourist Board: www.IvisitAnguilla.com; follow us on Facebook: Facebook.com/AnguillaOfficial; Instagram: @Anguilla_Tourism; Twitter: @Anguilla_Trsm, Hashtag: #MyAnguilla.

Click here for a Word Document version of this release
Click an image below for a larger version
About Anguilla
Tucked away in the northern Caribbean, Anguilla is a shy beauty with a warm smile. A slender length of coral and limestone fringed with green, the island is ringed with 33 beaches, considered by savvy travelers and top travel magazines, to be the most beautiful in the world.

Anguilla lies just off the beaten path, so it has retained a charming character and appeal. Yet because it can be conveniently reached from two major gateways: Puerto Rico and St. Martin, and by private air, it's a hop and a skip away.

Romance? Barefoot elegance? Unfussy chic? And untrammeled bliss?   Anguilla is Beyond Extraordinary.
____________________________________________
OLD TREASURE IN ROMANTIC SETTING
In Marrakech, a Legendary
Palace from a Bygone Era
La Mamounia
Marrakech, Morocco 


First glimpse of the legendary hotel La Mamounia will forever feel like a scene stolen from a movie. Sun-blanched sky, dusty medina walls, and a pale-pink palace revealed through iron arches. 
 
Marrakech unfolded right around the time that Wes Anderson's Moonrise Kingdom arrived in theaters, and though I didn't see the film until I was back in New York, I was struck by the Andersonian nature of the place: prestigious and precious, set in a romanticized bygone era, with just the slightest hint of French pop. Not unlike a Hollywood movie, the 90-year-old hotel's 21st-century refurbishment is the ultimate example of what French hotel designer Jacques Garcia, hundreds of artisans skilled in Arab-Andalusian traditions, and $100 million dollars can do.
 
A sprawling estate, at once old-world and freshly modern, familiar and exotic, real and surreal. Suspended in its own space-time continuum, where everything (the rays of the sun, the scent of oranges, the ripples on the pool) moves slowly and deliberately. It was low season and a million June degrees, but it was still a spectacular kind of deliberateness.
___________________________________________________________________
Visiting Ottawa never tasted so sweet! March marks the best time of year to satisfy your sugar cravings as our maple syrup season takes the city and surrounding countryside by storm. Check out a traditional sugar bush and taste nature's golden treat.
Be here when they bloom
The world-renowned Canadian Tulip Festival attracts over 650,000 visitors from around the world to Ottawa as the city blooms into a beautiful floral dream. Be here May 10th to 20th to take in the tulips, fireworks and celebratory events.
Pedal to the pavement–bring out the bikes
Winter is on its way out, making space for bike paths galore! The Ottawa region boasts more than 600 kilometres (373 miles) of recreational cycling pathways. Rent a bike or bring your own and discover Ottawa on wheels.
More details ➢
Walk this way
Warmer weather inspires a fresh feel in Canada's capital. Explore Ottawa on foot under bright blue skies with one of these renowned walking tours.
Spring into action with these major events
From Ottawa Race Weekend to Ottawa International Writers Festival, Poutinefest to Comiccon, springtime in Ottawa calls for a stacked calendar of exciting events and flavourful experiences.
---