PROVENCE OF FLORENCE PRESIDENT SPEAKS AT LA ITALIAN
GOVERNMENT TOURIST BOARD
by Bonnie Carroll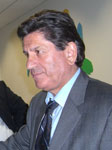 The Provence of Florence and the Italian Tourism Board Florence were hosted by the Los Angeles Italian Tourist Board for a special presentation on upcoming events in Florence. Matteo Renzi, President of the Provence of Florence spoke to travel and travel media representatives regarding the exciting tourism programs being offered in his city for spring and summer.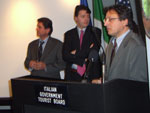 The Il Genio Fiorentino campaign is promoting 500 years/500 hotel rooms for guest coming to Florence in May. The program was designed to attract and provide free hotel rooms to visitors attending the festival from May 12 to May 27. A colorful and informative film was also shown for those attending, and was followed by a Florentine inspired dinner. For information please visit www.enit.it or www.italiantourism.com.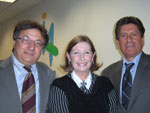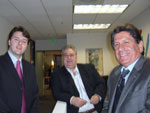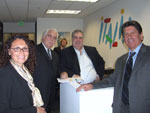 ---
SIMPSON HOUSE SANTA BARBARA
The Best Place To Stay While Enjoying The Best of Santa Barbara!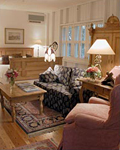 Spring is evident everywhere including the stunning canopy of our 118 year old English Oak tree - one of only two in all of Santa Barbara. When it was planted, they said it couldn't be done, that it would never survive our climate. It seems to enjoy being in Santa Barbara just like the rest of us! It's a tribute to the saying, "mighty oaks from little acorns grow".
All the gardens in the city are coming alive including Alice Keck Park just across the street from the inn, the Santa Barbara Botanical Garden and the lovely Lotus Land which reopened in February. This is a wo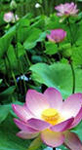 rld-class garden that's not to be missed if you are among the garden savvy.
It's also a great time to enjoy a "Spring Fling" at the Simpson House Inn. Visit us mid-week for special values on our very best rooms. Will you have breakfast on your terrace or on the Verandah? Perhaps your toughest decision of the day!
There are a number of wonderful performances and events coming up. Internationally renowned performers who will play in Santa Barbara's intimate and historic venues most just a short walk from the inn.
Hope to see you soon in Santa Barbara... Upcoming
Events in Santa Barbara
Les Grands Ballets Canadiens de Montréal
Arlington theatre, April 9th
Soweto Gospel Choir
USCB Campbell Hall, April 11th
Amy Tan
UCSB Campbell Hall, April 15th
Santa Barbara Vintners Festival
River Park, Lompoc, April 21st
Assad Brothers
Santa Barbara County Courthouse Mural Room, April 22nd
Earth Day Festival
Santa Barbara County Sunken Garden, April 22nd
David Sedaris & Sarah Vowell
Arlington Theatre, April 28th
Downtown Wine & Art Tour
Downtown Santa Barbara, May 5th
Cinco de Mayo Celebration
De La Guerra, May 5th - 6th
Will Shortz
UCSB Campbell Hall, May 6th
I Madonnarri
Mission Santa Barbara, May 26th - 28th
For Reservations call 800-676-1280 or email us
at Reservations@SimpsonHouseInn.com
121 E. Arrellaga Street, Santa Barbara, California
800-676-1280 ~ www.SimpsonHouseInn.com
---
Spring is in the Air and the Humpback Whales will soon be here! Cambridge Beaches, Bermuda

Soon the seductive songs of the Humpback Whales will be heard off the southwest coast of Bermuda, home to the exclusive – ever romantic Cambridge Beaches Resort. It's ironic, that these gentle giants known for their singing melodious to attract a mate, pass this romantic rendezvous each Spring in search of love, and then migrate northward traveling far and wide looking for the best breeding and feeding grounds.
This year couples seeking a once-in-a-lifetime vacation adventure will relish the Cambridge Beaches seasonal Humpback Whales excursion. This includes a limited group of 20 guests who will board the The Explorer and be whisked away from Cambridge Beaches private dock at 9:30 a.m. until 3:00 p.m. enjoying an onboard presentation by Michael Hayward, from the Bermuda Underwater Exploration Institute, on the habits of the Humpback Whales, to include a Cambridge Beaches picnic lunch. Guests are well advised to bring windbreakers, sweat shirts, jackets and of course a camera. The Humpback Whale day excursion rate is $115 per person and a verdant Garden View Cottage at Cambridge Beaches start at the incredibly low rate of $350* per double occupancy including breakfast and afternoon tea are available from March 1 – April 15, rates adjust after April 16, call for availability. For an additional $12.50 guests can also experience The Bermuda Underwater Exploration Institute; B.U.E.I, www.buei.bm, which offers complete exhibitions on Bermuda's marine history; the Bermuda Triangle, shipwrecks, shell collection, treasure room and more.
Couples will relish this sequestered oasis located on the quiet west coast of Bermuda, as Cambridge Beaches is a quick ferry ride from the hustle and bustle of the city of Hamilton and is often described as old Hollywood glam where chic meets classic sophistication, and the perfect place for paparazzi-fearing celebrities to drop out of site. Thirty-acres, five private beaches, (guest choice of white or pink sand), and hidden coves frame Cambridge Beaches.
For additional information, availability or to learn more about this historic cottage property tucked away in Somerset, Bermuda, offering elegance and a four-diamond rating, visit www.cambridgebeaches.com or U.S. residents can call 800.468.7300.
---
British Airways launches Worldwide Sale

$398 roundtrip fares between New York and London with $50 off land arrangements A 'worldwide' airfare sale, with opportunities to visit the U.K., Europe, Africa and Asia, is being launched today by British Airways.
Roundtrip airfares begin at $398 between New York (JFK or Newark) and London, with comparable sale fares available to other cities including Paris, Dubrovnik, Madrid, Paris, Athens, Nairobi, Delhi, Cairo and Hong Kong.
Travelers also have the option to upgrade to World Traveller Plus, the airline's premium economy cabin, starting from $150 each way from New York to London.
Travelers purchasing roundtrip tickets within this period will also receive a $50 discount on land arrangements throughout Europe and Asia, including hotel, car rental, airport/hotel transfer and sightseeing, such as London Sightseeing Pass, Paris A La Carte, Cityrama Tour, and Hong Kong Island Tour.
Fares are available for sale through Wednesday midnight (EDT), Mar. 14, 2007. Travel is valid from Mar. 26, 2007, through May 27, 2007.
Comparable airfares are available from 19 British Airways' U.S. cities to destinations around the world. Sample roundtrip fares include Boston/Nairobi starting at $1080, Tampa/Tel Aviv beginning at $898, Dallas, Ft. Worth/Lisbon starting at $721 and Denver/Hong Kong starting at $1234.
World Traveller roundtrip fares must be booked and purchased seven days in advance and are non-refundable. World Traveller Plus roundtrip fares must be booked and purchased 21 days in advance. Fares may be higher for other travel dates, from other U.S. departure gateways and to other worldwide destinations. Weekend (Thursday-Sunday) surcharge applies at $30 each way. Fares are subject to government approval and do not include government fees and taxes from approximately $125 to $240 and a $2.50 September 11 Security Fee. Minimum stay of Saturday night is required and maximum stay is 11 months. $50 savings must be purchased with British Airways round-trip published airfare originating in the US. Other significant restrictions apply.
Further information on this worldwide airfare sale and British Airways flight schedules is available by visiting the airline's website, www.ba.com
---
JetBlue Airways Welcomes Arrival of
100th Airbus A320 Aircraft At Special JFK Ceremony
Special 100-Themed Livery to be Unveiled At Event

On March 23, 2007 JetBlue celebrated the arrival of its 100th Airb us A320 aircraft at a special ceremony for crewmembers, business partners and medis. Present were David Neeleman, Founder and CEO of JetBlue Airways, Dave Barger, President of JetBlue Airways, and Chris Jones, Vice President of Marketing for Airbus.

The celebration took place at Hangar 81 where there was a revealing 100th aircraft with special 100-themed blue liver. Interviews with the JetBlue and Airbus executives were given and a tour of the !df320, featuring new 36" legroom were featured.
The JetBlue logo is available at www.JetBlue.com

JetBlue Airways is focused on creating a new airline category -- an airline that offers value, service and style. Based in New York City, and now in its eighth year, the low-cost carrier currently serves 50 destinations with more than 550 flights daily. JetBlue has the most legroom in coach (a) and is America's first and only airline to offer its own Customer Bill of Rights, with meaningful compensation for customers inconvenienced by flight delays or cancellations (b). In addition to its signature seatback personal television service (c), the low-fare, high-value airline offers customers generous brand name snacks and beverages, including freshly brewed Dunkin' Donuts(r) coffee, and delicious wines selected by the airline's Low Fare Sommelier, Josh Wesson from Best Cellars(r). With JetBlue, all seats are assigned, all travel is ticketless, all fares are one-way, and an overnight stay is never required. For information or reservations call
1-800-JETBLUE (1-800-538-2583) or visit www.jetblue.com.
(a) JetBlue has the most legroom in coach, based on average fleet-wide
seat pitch for U.S. airlines.
(b) For full details of JetBlue's Customer Bill of Rights, visit
www.jetblue.com/promise.
(c) DIRECTV(r) service is not available on flights outside the
continental United States; however, where applicable FOX InFlight(tm)
is offered complimentary on these routes. FOX InFlight(tm) is a
trademark of Twentieth Century Fox Film Corporation. JetBlue's
in-flight entertainment is powered by LiveTV, a wholly owned subsidiary
of JetBlue.
---
Rental Vacation Homes
For the most unforgettable vacation, rent a Four Seasons Private Residence.

Choose from some of the world's most exclusive destinations and experience a vacation like no other. Indulge in a private residence with all of the services and amenities of a Four Seasons resort. W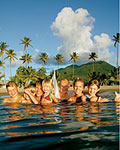 ith generous space for socializing and multiple bedrooms, a Four Seasons Private Residence is ideal when vacationing with family or entertaining a group of friends for a night, a week or as long as you like.
Indulge in a palatial estate home in Bali. Enjoy oceanside golf in the tropical paradise of the Exuma cays in the Bahamas. Take a dip in your infinity-edge pool before grilling under the stars in Punta Mita, M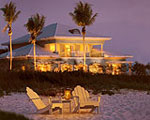 exico. Bask in the breathtaking beauty of the sparkling Caribbean from your private garden in Nevis, West Indies. Sip cocktails from your balcony nestled into the hillside in Costa Rica. Explore the rugged beauty of the great outdoors in Jackson Hole or Whistler. Visit us online to explore our list of destinations.
As these Private Residences are part of a Four Seasons resort in each destination, you'll enjoy the legenda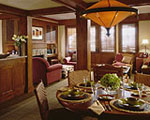 ry services and amenities of Four Seasons in beautifully appointed, spacious accommodations.
For more information or to begin planning your next vacation:
Call toll free 1 (866) 894-9644 within the U.S. and Canada
Call 1 (416) 445-5031 outside of the U.S. and Canada
Contact your travel consultant
---
THE CARIBBEAN'S CLASSIC PRIVATE-ISLAND RESORT DIDN'T GET TO BE A CLASSIC BY CLUTTERING ITS COTTAGES WITH GIZMOS AND DOODADS

After 40 years, Petit St .Vincent Resort in the Grenadines still beckons vacationers who want to escape from the hustle and bustle of modern life but still hanker after fine dining, fine wines, pampering service -- and sublime serenity.
(Petit St.Vincent, St.Vincent-Grenadines, January) PSV, as it's called, is the quintessential Caribbean escape – quiet, secluded, totally relaxing. Just 44 privileged guests share 113 unspoiled tropical acres. The water is a dazzling palate of blues and greens. Two miles of white, soft sand are dotted with thatched bohios for shade and hammocks for canoodling.
In the cottages, ceiling fans and hardwood louvers keep the trade winds flowing (there's always a cooling breeze in these parts). You can't believe how peaceful and relaxing life can be until you've sampled it.
Each of the large stone-and-timber cottages, either directly on the beach or on a rise with fabulous views, features a living room, bedroom, bathroom with native-stone shower and a spacious wood deck patio. Frills include teak loungers with
pullout ledges for drinks or paperbacks (heaven forbid that guests should have to stretch!) and well-stocked rolling bar carts. No jangling telephones or blaring TVs distract from the sublime serenity of a private island in the Grenadines.
At PSV, life is geared totally to pampered relaxation.
"What we promise above all is privacy," says owner Richardson. "Hoist the red flag on the bamboo pole outside your gate and you won't see a soul all day -- a lot of our guests, in fact, never appear until dinner"
Hoist the yellow flag, on the other hand, and you get room service.
Or hammock service.
Or beach service.
Or "wherever you happen to be" service.
Almost half of the guests arriving at the island dock are no strangers to PSV. This year, a fresh surprise awaits them: a new luncheon venue featuring a brick oven built by the PSV Artisans. This open-to-the-breezes pavilion has a panoramic view of the harbor and islands beyond, and Executive Chef Trevor Douglas has designed a new menu using his brick oven as a centerpiece. Guests are sure to be thrilled.
All meals and most sporting activities are included in the PSV rates -- $940 for two through March 16, then $4,025 for two for seven nights (or just $595 a night) through August 11 with the resort's special Summer Package. That's a savings of almost $1,000 compared to the regular summer rates.
---
Now Accepting Reservations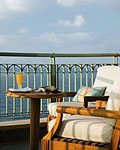 Four Seasons Hotel Alexandria at San Stefano, Egypt-Now Accepting Reservations

Discover an intimate enclave within the stately Grand Plaza and along the Corniche. Four Seasons Hotel Alexandria at San Stefano, Egypt rekindles the glamour and prestige of a legendary Mediterranean resort.
Classically elegant guest rooms provide a 180-degree view of the Sea. A variety of dining options, from Italian to Lebanese, ensure delicious memories. Enjoy a spa treatment in one of the candlelit rooms at the Euro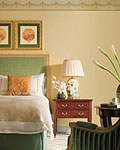 pean spa or take a stroll through the boutiques of Grand Plaza. Steep your sensesin the history and culture of this delightful city while enjoying the many pleasuresofFour Seasons.
To learn more about Four Seasons Hotel Alexandria,
visit www.fourseasons.com/alexandria.
To make a reservation:
Call your travel consultant
Contact our worldwide reservations office
Call the Hotel directly at 20 (3) 469 01 41
---
TOURISM OPENS DOORS FOR WOMEN
'Tourism opens doors for women' is the theme for the United Nations World Tourism Day which as each year will be celebrated on 27 September, the anniversary of the adoption of the original UNWTO statutes. Following on the 'Tourism Enriches' theme in 2006, this year's campaign highlights the opportunities that the sector offers for women. This year's host nation for World Tourism Day is Sri Lanka.
In the context of UNWTO's Global Code of Ethics for Tourism, the Organization intends to join forces with UNIFEM (United Nations Development Fund for Women) to enhance further the role of women in tourism.
The program will be prepared for World Tourism Day and launched in Sri Lanka. It will be reviewed annually through 2015, the year targeted by the UN to reach the Millennium Development Goals (MDGs).
Together with the Sustainable Tourism Research Centre in Australia, UNWTO will launch a new dedicated website. www.tourismgender.com will focus its attention on the role of gender in tourism and how to enhance it, addressing women as agents of change in and for sustainable tourism.
In order to increase public awareness of the interrelation between tourism and its beneficial role for women, UNWTO will launch an online photo contest to show women playing leadership roles at all levels within the sector. The 12 selected winners will be exhibited during the UNWTO General Assembly in Cartagena de Indias, Colombia, in November.
"With Sri Lanka as the Host Country and planned celebrations around the world, UNWTO is launching this new initiative to show the achievements, opportunities and challenges for women in tourism", UNWTO Francesco Frangialli announced. "By working closely with our sister Agency UNIFEM and using our Global Code of Ethics for Tourism as a framework, we believe we can help this industry make even greater contribution to the Millennium Development Goals."
The promotion of gender equality, empowerment of women and the elimination of gender disparity in education is the 3d UN Millennium Development Goal to which the UNWTO is committed.