Get Out and See the Northwest This Summer
---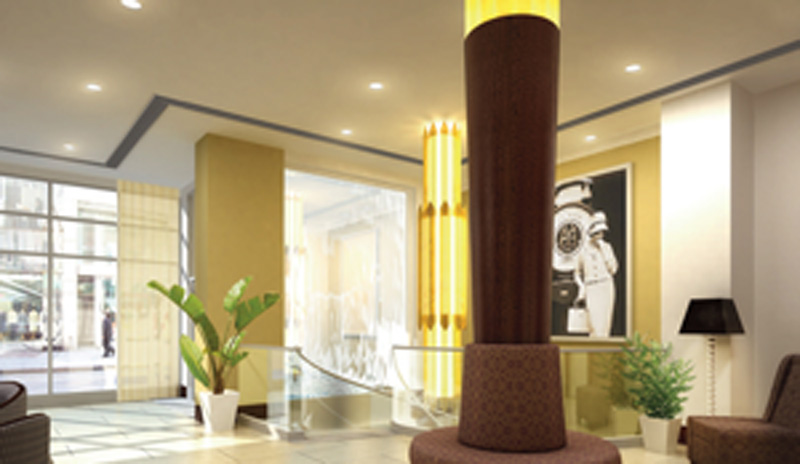 THE STRAND, NEW YORK CITY'S NEWEST HOTEL
READIES FOR A SUMMER DEBUT
Highlights Include Rooftop Bar and Award Winning Restaurant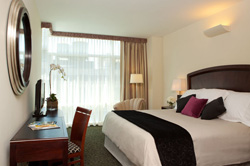 The Strand, a new 177-room hotel in Manhattan's fashion district will debut August 2009.  Housed within a contemporary metal and glass structure on 37th street off Fifth Avenue, The Strand blends old-world glamour with modern day amenities.  The hotel is a new build designed by New York architect Gene Kaufman.  Among the highlights: crisp public spaces adorned with vintage fashion photography from the Condé Nast archives; a celebrated restaurant making its New York debut (A Fish Called Avalon, the award-winning South Beach dining fixture for 20 years); and an open-air rooftop bar that features a retractable roof and magnificent views of the Empire State Building.  Rack rates for the hotel will start at $325.
The Strand is the latest project of entrepreneur Don Glassie, president of Newport-based Atlantic Stars Hotels and Cruises.  His vision for the hotel is rooted in his knack for creating modern classics – experiences that, whether on land or sea, resonate with the elegance of a bygone era.  To that end, he tapped Lisa Knight of ABI Design & Construction to infuse the hotel with 1930's Hollywood glamour, yet seamlessly adhere to today's contemporary definition of comfort and luxury. 
From the moment of arrival, guests will be captivated by the lobby's period details, including dramatic tapered mahogany columns and a two-story water wall that skims behind a contemporary glass spiral staircase leading to a lower lobby and meeting rooms.  Shades of cream, black, gold and aubergine blend with the lobby's limestone floor and Bogart-style furnishings.  Descending the glass staircase, guests find a space accented by a striking tiered amber-hued chandelier that drops through from the upper to lower lobby.  The more functional space offers intimate seating areas outside of meeting rooms.
With an eye toward complementing the hotel's glamorous public spaces, the designers took a deco approach to the hotel's 177 guest rooms.  Knight opted for warm-hued walls and green and black rugs to form an understated backdrop for mahogany furniture with silver detailing, asymmetrical lounge chairs and iconic black & white fashion photography from Condé Nast's archives including images from Vogue and Vanity Fair.
The hotel's restaurant, A Fish Called Avalon, will feature an indoor and outdoor garden terrace and sidewalk seating.  Replicating the original restaurant located in The Avalon Hotel, another Atlantic Stars' property in Miami's South Beach, the Floribbean seafood grill menu will include Avalon's signature Bang-Bang Shrimp and Diver Scallops, as well as Pan Roasted Local Snapper, Caribbean Spice Grilled Grouper and Maine Lobster Linguini.  The restaurant menu is also available for in-room dining.
One of the hotel's signature features is a retractable roof-top lounge on the 21st floor of the hotel boasting stellar views of the Empire State Building.  Designed by Lydia Marks, best known for decorating the sets of "Sex and the City" and "The Devil Wears Prada," the space consists of a series of large planters creating an urban oasis among the concrete buildings of the garment district.
Other special features of the hotel will be a multi-use event/meeting space accommodating up to 350, a fitness center with massage services, and a comfortable and well-stocked library and espresso lounge with a daily selection of international newspapers.
For more information on The Strand please visit www.thestrandnyc.com or call 212.448.1024.  The Strand is part of Atlantic Stars Hotels & Cruises, a hospitality company comprising hotel properties, harbor cruises and overnight cruising along the Atlantic Seaboard and the Caribbean.  Its holdings include the Avalon Hotel and South Seas Hotel in Miami's South Beach; the Park South Hotel in Manhattan; the Harborside Inn, Jailhouse Inn and Yankee Peddler Inn in Newport, RI; the Pequot Hotel on Martha's Vineyard; as well as harbor cruises aboard the Rum Runner II and Madeleine in Newport, RI and extended overnight cruising aboard the S/Y Arabella.
---
Summer-Fall events celebrate 400 years of culture, beauty and history
on Lake Champlain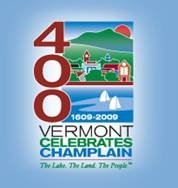 2009 marks the 400th anniversary of French explorer Samuel de Champlain's first visit to the lake that now bears his name.
The celebration will include exploration tours of over 300 shipwrecks at the bottom of the lake, a 13-day international waterfront festival, Heritage Days to celebrate French ancestry and much more.  Below is extended information and signature event listings and I am happy to provide high-resolution photos for a slideshow.
·          EVENT: Celebrate Champlain Burlington International Waterfront (July 2-14)
      Burlington is preparing for this 13-day international festival – one of the biggest events in Vermont's history. Events include the Taste of Champlain Food Festival, and featured performers include Victoria Chaplin's (Charlie Chaplin's daughter) French circus and theatre dreamscape "Aurelia's Oratorio," Tony Bennett, Dan Zanes, The Roots, as well as Native American and Quebec musicians. www.celebratechamplain.org
·          HISTORY: Historic Shipwrecks of Lake Champlain
      Lake Champlain is one of the nation's most historic waterways and contains about 300 shipwrecks dating back to the 1700s. These wrecks include military, commercial and private vessels that provide a direct connection to the past. Today, the state maintains underwater historic sites for scuba divers, and visitors can also see these shipwrecks by taking a shipwreck boat tour equipped with ROV equipment. www.lcmm.org.


·          CULTURE: A Taste of France in Vergennes, Vermont
Vergennes, established in 1788, is one of the oldest and smallest cities in the country and is Vermont's oldest city. Most of the architecture along Main Street is French Second Empire: oversize windows and elevated cupolas that were popular in Paris under the 1852-1870 reign of Napoleon.
·          EVENT: Vergennes French Heritage Days (July 17-18)
      Enjoy Franco-American music, re-enactments, dancing, French food, genealogy, exhibits, crafts and more.


·          Festival of Nations – Chimney Point, VT and Crown Point, NY (Sept. 18-20)
Join an intercultural, international and many-nations celebration taking place on both sides of the lake in Vermont and New York.
---
Take advantage of our special fare and plan a trip to Italy this summer!
With 25 destinations to choose from, Alitalia offers you all of Italy for one great price.
Fly nonstop to Rome from Boston, Chicago, Miami and New York (JFK and Newark airports).
From JFK, Alitalia offers daily nonstop service to Rome and Milan.
 Italy from $ 715 r/t

taxes and fees included

Alitalia has made it easy to take the family along.
By taking advantage of this special offer, children
under 12 pay 50% of the base fare plus taxes and fees. 
 

Purchase your ticket by June 17, 2009 for travel through August 16, 2009.


---
          AIR PACIFIC, FIJI'S INTERNATIONAL AIRLINE,
  PARTNERS WITH ALASKA AIRLINES IN NEW CODESHARE   AGREEMENT
Fiji-based Air Pacific, Fiji's International Airline, has announced that it has entered into a new codeshare agreement and expanded frequent-flier partnership with Seattle-based Alaska Airlines.
Customers can now book codeshare flights between Nadi, Fiji and Vancouver on the Air Pacific website at www.airpacific.com. The full-service carrier offers Boeing 747 non-stop flights to Fiji from Los Angeles four days a week and from Honolulu two days a week with convenient, comfortable and competitive travel options.
According to Candy Andrus, Regional General Manager of Air Pacific in Los Angeles, The airlines have established a codeshare agreement for service between Fiji and Vancouver, British Columbia, via Los Angeles on Alaska-operated flights, and also allows members to earn and redeem miles on Air Pacific flights to the South Pacific and beyond.
The codeshare will allow passengers to book flights to and from Vancouver under an Air Pacific flight number, with boarding passes issued at check in for both flights and handling of through-checked baggage using the full international baggage allowance. Both Air Pacific and Alaska Airlines operate from adjoining terminals at Los Angeles International Airport, making connections easier for passengers.
            "We are delighted to reach agreement with Alaska Airlines for codeshare flights and to partner in its award-winning Mileage Plan," said John Campbell, managing director and CEO of Air Pacific. "The ability to provide seamless and comfortable travel between Vancouver and Fiji is important to Air Pacific and our customers, and I am confident that the high standards of Alaska Airlines complement those of Air Pacific." www.alaskaair.com, www.airpacific.com
---
SUMMER FAMILY TRAVEL

 Classic American Resorts Provide Vacation Memories and Savings that Last a Lifetime

The Hotel Del Coronado, in San Diego, is among the KSL Resorts

 encouraging summer family travel with the U.S. Savings Bond Package

 With Americans focused on their savings more than ever in recent memory, the classic American resorts of the KSL Resorts collection have introduced the U.S. Savings Bond Package, designed to help families save for the future, even as they enjoy quality vacation time together. 

 

Available from Memorial Day through Labor Day, the U.S Savings Bond Package is offered at each of KSL's seven iconic resorts, from the legendary Hotel del Coronado on the San Diego coast to the historic Homestead in Hot Springs, Virginia. 

 

Guests can request the U.S. Savings Bond Package when they book a room at the best available rate. Guests pay an additional $10 per room, per night, and receive a $50 U.S. savings bond for each room, per night.  Travelers booking a suite have the opportunity to upgrade their reservation to the U.S. Savings Bond Package for an additional $25 per suite, per night, for which they receive a $100 U.S. savings bond for each room, per night.

 

"The U.S. Savings Bond Package is our way of supporting families who are investing in their future," said Arthur Berg, vice president of marketing for KSL Resorts. "Savings bonds are a time-honored tradition for grandparents and parents to honor a milestone in their children's lives," Berg continued. "In a year when families are re-focusing on the things that matter – spending more time together and rediscovering meaningful traditions – it's clear that a family vacation can be a real milestone, one worthy of commemorating with a savings bond."

 

As Americans turn to domestic destinations for family travel this summer, the KSL Resorts collection offers an ideal mix of recreation and relaxation for each generation, and the opportunity to "Buy American," right down to U.S. Savings Bonds themselves.

The savings add up for family travelers, as bonds can be purchased on a per room, per night basis. For example, a family booking two standard rooms for three nights is eligible for a total of six $50 savings bonds ($300 total) for a cost of just $60. Guests can make reservations or learn more about the U.S. Savings Bond Package at all KSL Resorts online at www.kslresorts.com or by calling (866) KSL-7727.

 Check with

The KSL Resorts For availability of U.S. Savings Bonds Package

 
---
NEWEST PALACE HOTEL OPENS IN UDAIPUR
"Jewel on The Lake" is Leela's First Palace Hotel in Rajasthan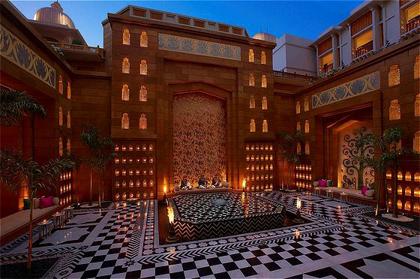 A palace fit for a Maharaja recently had its soft opening in Udaipur, in India's Rajasthan, and is already winning rave reviews.  Set on the banks of beautiful Lake Pichola, The Leela Palace Kempinski Udaipur has 80 luxurious rooms and suites and captivating views of this romantic heritage city and the surrounding majestic Aravili Mountains.
      Renowned architect Bill Bensley and interior designer Jeffrey Wilkes have created a modern palace recalling the grandeur of Udaipur's historic past.  Huge domes crown the roof of The Leela as overhanging wood balconies, or jharokhas, adorn the walls and lofty corbel arches decorate the doors.  Guests enter a grand courtyard with flowering trees and fragrant landscaped gardens. Mosaics of peacocks and the Tree of Life embellish the interior walls. A long dramatic pool borders the lake. Inside The Leela, shimmering light reflects off the thikri, the traditional Mewari mosaics of mirrors, enhancing the "palace" ambiance. In this fairy-tale setting guests will feel like royalty.
       The luxury boutique hotel has three restaurants, a lounge and bar and the 10,000-square-foot Spa at The Leela by ESPA.  Guest rooms – all with views of Lake Pichola – measure an average of 580 square feet.  The design is contemporary with traditional elements of Rajasthani artistry. Exquisite fabrics are embroidered with regally-inspired designs and carved wood furniture has mother of pearl inlays and brass tarkashi work. Decorative ornaments include: hand-crafted white marble lotus flowers, carved silver elephants and vibrant paintings of puppets from Rajasthan folk tales.  The eight elegant suites measure between 968 to 1184 square feet.  The opulent Maharaja Suite, an impressive 3,552 square feet, has its own dining room and study, a private pool, a Jacuzzi and its own massage room.  
      Open 24 hours a day, The Dining Room, under the guidance of Executive Chef Karim Hassene from France, offers an extensive menu of dishes prepared with fresh fruits, herbs and vegetables from The Leela's organic garden. The sommelier chooses wines from the walk-in wine cellar.  When Sheesh Mahal, the palace's rooftop restaurant, opens at the end of the summer, guests will dine under the stars on recipes from the royal kitchens of India.  Guests can also opt to lunch at the pool or take a proper afternoon tea on The Verandah.
      Debuting in late August, The Spa at The Leela by ESPA will offer all the traditional treatments as well as Ayurvedic therapies in its 14 treatment rooms, including spa "tents" set amidst the palace's gardens.  Steam rooms, a Jacuzzi and a fitness center with personal trainers form part of the spa, as do daily yoga classes.
      "Our first palace hotel in Rajasthan is truly a 'Jewel by the Lake.'  The designers have captured the grandeur of Udaipur's architectural heritage and romantic past," explains Captain C. P. Krishnan Nair, Chairman of The Leela Palaces, Hotels and Resorts.  "And our philosophy about service is based on ancient India scriptures: Atithi Devo Bhava, the 'Guest is God,'" says Chairman Nair.
      The Leela Palace Kempinski Udaipur will have its grand opening in October. Right now through September 30, the hotel is offering an inaugural package for two nights, three days starting at about $650 (31,500 Indian rupees) for two persons which includes a welcome drink and fruit basket upon arrival, daily buffet breakfast, roundtrip airport transfers in a luxury car and room tax.  The price is $570 (27,000 Indian rupees) for single occupancy. Contact: central.reservations@theleela.com
About The Leela Palaces, Hotels and Resorts
      Hotel Leelaventure Ltd. operates The Leela Palaces, Hotels & Resorts in Mumbai, Bangalore, Goa, Kovalam (Kerala), Gurgaon and Udaipur. Located in key business and leisure destinations, and charting a pan India presence in the near future, The Leela Palaces, Hotels & Resorts are a blend of aesthetic sensibility, modern amenities and truly reflect the essence of India. New hotels will soon open in Chennai (2010) and New Delhi (2010); with future plans to develop hotels in Agra, Hyderabad and Pune. The group has marketing alliances with Germany based Kempinski (Hoteliers since 1897); US based Preferred Hotel Group and are members of Global Hotel Alliance based in Geneva, Switzerland.
---

Bordeaux-Gironde and Los Angeles Partnership
 The economic development agency of Bordeaux-Gironde, working on behalf of localGirondins, and the French-American Chamber of Commerce of Los Angeles wants to strengthen economic relations between the two cities. As such, the two bodies will now collaborate more closely in sharing their networks and skills to help companies in Gironde move to the United States or to find distributors and to promote the region of Bordeaux -Gironde to U.S. companies. If you are interested in developing business between LA and Bordeaux, please contact:
At the French-American Chamber of Commerce in L.A.:                                     Economic Development Agency of Bordeaux-Gironde:
Philippe Guionnet - president@frenchchamberla.org  Phone 323-651-4741   or  Marc Etcheverry - metcheverry@bra-bordeaux.org Tel: 00 33 557 14 06 39
---
Loews Hotels Offers "Recessionista Respite" Packages
For Style Mavens on a Budget
Knowing that even in a recession, glamorous girls still want to have fun, Loews Hotels has created a collection of budget-friendly, uniquely local girlfriend getaways.   With Loews' "Recessionista Respite" packages, fashionistas can still indulge while on vacation with luxury accommodations at participating Loews Hotels, shopping passes, credits for spa treatments, fine dining, and cocktails and more. Now through September 5, 2009, trendsetters can pick their passion from among the following fashion-forward packages:
Denver, Colorado:  Loews Denver Hotel welcomes those with a shop-til-you drop attitude to the Mile High city with the "Recessionista Package." It includes luxurious Villa Suite accommodations for one night with access to the hotel's VIP lounge; two $25 American Express Gift Checks to use at the nearby Cherry Creek Shopping Center with over 400 stores from Macys to Neiman Marcus and everything in between; an e

xclusive bag concierge for guests to check shopping bags and have them delivered to their room while continuing to shop, and a "Passport to Shopping" with complimentary valet parking for the Cherry Creek Shopping Center. Post shopping, guests can relax and enjoy complimentary cocktails for two at the hotel's T-bar and an in-room movie to end the day. The package also includes a $10 food and beverage credit, complimentary valet parking and in-room high-speed internet access for online shoppers. Pricing starts at $279 per night (based upon double occupancy).
Lake Las Vegas, NV: In the quiet respite of the Lake Las Vegas Resort, just minutes from the hustle and bustle of The Strip, Loews Lake Las Vegas Resort's "Recessionista Diva Package" offers girlfriends a one-night stay in luxury accommodations, a complimentary poolside cabana complete with flatscreen TV and a poolside amenity, plus a $50 food and beverage credit to be used either at the pool cabana or in room. At Spa Moulay, girlfriends who purchase a Swedish Massage or Holistic Facial receive their choice of a complimentary Moulay Buff, waxing service, manicure, or Blow-Dry Style featuring Aveda products. In addition, they'll be sipping pretty with a 2-for-1 drink offer valid throughout their entire stay. To satisfy their fashion needs, girlfriends will receive a 10% discount at Loews Lake Las Vegas boutique store Karima. Pricing starts at $189 per night (based on double occupancy).
Nashville, Tennessee:  Loews Vanderbilt Hotel invites girlfriends to don a stylish cowboy hat and experience Music City "in the round" while watching rising country music stars perform at the nationally renowned Bluebird Café. The "Recessionista Package" includes premium accommodations for one-night with exclusive access to the club floor lounge, serving complimentary continental breakfast and evening hors d'oeurves; two cowboy hats from a local shop; two

tickets to the Bluebird Café, and welcome Tennessee Tea cocktails for two. Pricing starts at $199 per night (based upon double occupancy).
New Orleans, Louisiana:  

Loews New Orleans Hotel invites ladies to partake in the "New 'Awlins D'Awlins Recessionista Package" to experience the best of Crescent City life. The package includes a two-night stay in a double queen grand guestroom; champagne, boas and beads upon arrival; welcome cocktails in the hotel's Swizzle Stick Bar; a $100 spa credit per person to Balance Spa; $10 worth of chips for each person to Harrah's Casino; dinner at the hotel's Café Adelaide; one $40 gift card to legendary Pat O'Briens', and beignets at Café du Monde.  Pricing starts at $849 (based upon double occupancy). An additional guest in the same room is $245.
New York, NY: 

Girls can shop the day away while staying at The Loews Regency Hotel in New York City. The "Recessionista Package" offers guests a 15% off "shopping day pass" at Bloomingdale's complete with a personal shopper, a gift with purchase, and a complimentary beauty make-over. In addition, ladies will receive 20% off all services at the hotel's Nico Salon, cocktails for two in the hotel's Library Lounge (2 drinks per person), and complimentary parking or credit for transportation from the airport (La Guardia/JFK/Newark) to the hotel, up to $60. Offer good Thursday through Sunday. Pricing starts at $359 per night (based upon double occupancy).
Quebec City, Canada: Celebrating its 35th anniversary this year, Loews Le Concorde Hotel blends old world charm with modern elegance, offering ladies a one-night stay in a junior suite; two $35 (CDN) gift cards with round-trip shuttle service to Place Laurier Shopping Center, which boasts over 375 stores including The Bay, Canada's most famous department store, Jean-Paul Fortin and H&M, and an eco-friendly shopping bag. After a long day at the mall, shoppers can head up to the hotel's rotating restaurant and lounge, L'Astral, for 35th anniversary specialty cocktails for two and a 360 degree views of the charming city. Pricing starts at $249 (CDN) per night (based upon double occupancy).
San Diego, CA: At Loews Coronado Bay Resort, ladies enjoy the perfect mix of sun and fun with the "Recessionista Package," which includes luxury accommodations, a $200 spa credit for a relaxing treatment at the resort's Sea Spa, and a $100 food and beverage credit to enjoy a variety of seasonal menus, signature cocktails and breathtaking views at any of the hotel's four restaurants and lounges. Pricing starts at $399 (based on double occupancy).
Santa Monica, CA: Perched on the Pacific Ocean with Santa Monica city on one side and the sands of the legendary Muscle Beach on the other, Loews Santa Monica Beach Hotel tempts ladies to spoil themselves with a relaxing weekend at the hotel's new eco-conscious spa.  The special "Recessionista Package" includes a one-night stay in a superior double guestroom; two-for-one Beachcomber's massage featuring heated, natural sea shells at Ocean Spa & Fitness; complimentary fitness center and aerobic studio access, and an organic Red Flower lotion and body wash to take home. Spectacular sunsets over the Pacific are always on the house.  Pricing starts at $399 (based upon double occupancy).
All of Loews Hotels' "Recessionista Respite" packages rates listed are exclusive of tax and gratuity, based on double occupancy and are subject to availability. For more information or to book, call 1-800-23-LOEWS or visit
www.loewshotels.com

. 

Follow Loews Hotels on Twitter at
http://twitter.com/Loews_Hotels
.
Headquartered in New York City, Loews Hotels owns and/or operates 17 hotels and resorts in the U.S. and Canada.  Located in major city centers and resort destinations from coast to coast, the Loews portfolio features one-of-a-kind properties that go beyond Four Diamond standards to delight guests with a supremely comfortable, uniquely local and vibrant travel experience. Loews boasts some of the industry's most innovative and successful travel programs, including Loews Loves Kids for families and Loews Loves Pets for discerning animals on the road. For reservations or more information on Loews Hotels, call 1-800-23-LOEWS or check
www.loewshotels.com

.
---