ART & STYLE . . .
HRH The Duchess of Cambridge by Paul Emsley, 2012 © National Portrait Gallery, London; A National Portrait Gallery commission given by Sir Hugh Leggatt in memory of Sir Denis Mahon through the Art Fund
The first official painted portrait of The Duchess of Cambridge has been commissioned by the National Portrait Gallery, where it is unveiled today Friday 11 January 2013, on show to the public from 2.30pm.
The National Portrait Gallery's painting of its Patron was commissioned by the Gallery, and given by Sir Hugh Leggatt, in memory of Sir Denis Mahon, through the Art Fund.

The Duchess was involved in the selection process, from which artist Paul Emsley, the 2007 winner of the Gallery's BP Portrait Award competition, was chosen by Director Sandy Nairne to paint her official portrait.

The Duchess took part in an initial meeting to talk through the process of the painting. This was followed by two sittings, in May and June 2012, at the artist's studio in the West Country, England, and Kensington Palace. Emsley later made use of a series of photographs produced during the sittings. His subjects are frequently located against a dark background and emphasise 'the singularity and silence of the form', while utilising a meticulous technique of thin layers of oil paint and glazes.

Paul Emsley says: 'The Duchess explained that she would like to be portrayed naturally - her natural self - as opposed to her official self. She struck me as enormously open and generous and a very warm person. After initially feeling it was going to be an unsmiling portrait I think it was the right choice in the end to have her smiling - that is really who she is.'

Following three-and-a-half months of painting, the completed portrait was presented to the Gallery's Trustees at their November 2012 meeting.

Catherine Elizabeth Middleton, now The Duchess of Cambridge, was born in Berkshire and attended Marlborough College. The Duchess studied at the British Institute in Florence before enrolling at the University of St Andrews in Fife to study History of Art. She married Prince William of Wales at Westminster Abbey on 29 April 2011. In January 2012, St. James's Palace announced The Duchess's acceptance of five honorary positions, one of which was a Patronage of the National Portrait Gallery. Her first solo public engagement was the opening of its Lucian Freud Portraits exhibition and The Duchess has shown a keen interest in portraiture and photography.

Glasgow-born Paul Emsley (b.1947) grew up in South Africa before moving to England in 1996. He won first prize in the BP Portrait Award in 2007 for his striking large-scale study of the face of his neighbouring artist Michael Simpson. His previous commissions have included the author V S Naipaul (2009) and Nelson Mandela (2010). He is represented by the Redfern Gallery of London and is associated with Brundyn + Gonsalves Gallery in South Africa. (www.paulemsley.com)

Sandy Nairne, Director, National Portrait Gallery, London, says: 'It is an exciting moment to display the first commissioned public portrait of the National Portrait Gallery's Patron, The Duchess of Cambridge. I am grateful to The Duchess for giving time for sittings, to Paul Emsley for creating such a captivating contemporary image, and to Sir Hugh Leggatt and the Art Fund for this gift.'

Stephen Deuchar, Director, the Art Fund, says: 'The unveiling of a first official portrait of a royal sitter is always an important and intriguing moment, defining and enshrining their public image in a new way. We are delighted that Sir Hugh Leggatt chose to make this gift to the British public and the National Portrait Gallery through the Art Fund.'

HRH The Duchess of Cambridge by Paul Emsley is on display now as part of the Contemporary Collections in the Lerner Galleries, Room 36, Ground Floor, National Portrait Gallery, Admission free.
____________________________________________________________________
February is Museum Month in San Diego
42 Area Museums Offer Half-Price Admission
Throughout February 2013, San Diego visitors can get more bang for their buck and experience the region's rich cultural offerings at half-price during San Diego Museum Month. Guests can participate by picking up a free San Diego Museum Month Pass at participating Macy's locations; with the pass, they can receive half-price admission for up to four guests per visit at 42 of San Diego's museums, cultural attractions and historical sites.
Visitors can take advantage of San Diego Museum Month at facilities located throughout the region, including:
The USS Midway Museum, Maritime Museum of San Diego and The New Children's Museum in downtown San Diego;
The Museum of Contemporary Art San Diego and Birch Aquarium at Scripps Institute of Oceanography in La Jolla;
LUX Art Institute and the San Diego Botanic Garden in Encinitas;
13 world-class facilities like the Mingei International Museum, the Museum of Photographic Arts, Reuben H. Fleet Science Center and San Diego Museum of Art, located in Balboa Park, which is often referred to as the "Smithsonian of the West."
For a complete list of participating museums, visit www.sandiegomuseumcouncil.org.
Visitors can pick up a San Diego Museum Month Pass, valid February 1-28, 2013, at participating Macy's stores in San Diego County or neighboring Temecula and El Centro. Locations and store hours can be found online at www.macys.com.
San Diego Museum Month was created in 1989 by the San Diego Museum Council to promote the region's museums, historical sites and cultural offerings.
Happiness is calling in San Diego. For more information on San Diego's offerings, including exciting vacation packages and valuable coupons for attractions, restaurants and more, visit the San Diego Tourism Authority's website at www.sandiego.org or call 619.236.1212.
__________________________________________________________________
SANTA FE'S RICH ART & CULTURAL HERITAGE
SETS THE STAGE FOR
THE INN OF THE FIVEGRACES
NEW "SOUTHWEST SPLENDOR" PACKAGE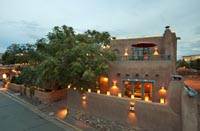 "Where the Orient and Old West Come Together,"The Inn of The Five Graces, recently named to Condé Nast Traveler Magazine's 2013 Gold List "Best Hotels in the World,"and Conde Nast Traveler Magazine's 2012 Readers' Choice Awards #1 hotel in the Southwest, is celebrating in style with the debut of "Southwest Splendor," an all inclusive culturally-oriented package available now through April, 2013.
From the distinctive historic adobe and stone structures, and private enclave of lushly-landscaped courtyards to the tolling church bells amid the high desert air, the luxurious 24-room inn evokes "life as it is meant to be," -- an experience that rejuvenates the senses and stirs the soul.
With prices beginning at $1,065 for two nights based on space availability, the "Southwest Splendor" package includes suite accommodations; Southwest inspired breakfast for two; Tibetan-inspired fireside massage for two (inclusive of gratuity); Desert Blends gift set with massage oil, scrub, clay and lotion, handcrafted for theInn; two four-day passes to five museums, including The Place of the Governors, that houses the New Mexico History Museum, the New Mexico Museum of Art, the Museum of Indian Arts & Culture, the Museum of Spanish Colonial Art and the Museum of International Folk Art; and a one hour private cultural walking tour of historic Santa Fe.
"Our mission is to offer guests opulence at its finest with an unrivaled experience, pairing excellent service, delectable cuisine and exquisite accommodations," says General Manager Sharif Seret.
Nestled in the heart of Santa Fe,New Mexico's historic district, The Innof The Five Graces, a member of the prestigious Relais & Chateaux, anchors the historic, 17th century Barrio de Analco, or Quarter "Across the Water" in the language of the Mexican Tlaxcala Indians, who came to Santa Fe in 1598 with Spanish explorers.
The world-class Inn blends Eastern tradition with New Mexican hospitality and sensual elegance. The low golden buildings of the Inn, some centuries old, hold suites of unsurpassing beauty. Interiors are lavishly decorated with intricate mosaic tiles, coved ceilings, thick beams carved by hand hundreds of years ago, hand crafted Tibetan furnishings, richly-colored throws, jewel-toned carpets, gleaming chandeliers and wood-burning fireplaces.
Guestroom amenities include sumptuous robes and slippers, a complimentary mini bar with non alcoholic beverages and kitchenettes. Upon arrival, guests are treated to chips and salsa, complimentary hot cider, cappuccino, espresso, coffee, tea, and a wine and cheese reception on Friday evenings. The Inn also boasts complimentary breakfast, the adjacent 315 Restaurant & Wine Bar, a 24-hour concierge service, valet parking, a full-service fitness center and an enchanting spa with an enticing treatment menu inspired by the natural setting and the hotel's unique fusion of Tibetan and East Indian ideals, traditions and style.
The three serene courtyards of The Inn of Five Graces are lined with flagstone floors, brimming with plants and flowers, vines rising up and over walkways and arches, tall flowing fountains, and silver-lined lounge chairs. These private courtyards offer a peaceful spot for guests to enjoy complimentary breakfast or a tranquil retreat from the daily bustle of Santa Fe.

ABOUT THE INNOF THE FIVE GRACES
The AAA Four Diamond award-winning Inn of The Five Graceswas named #1 hotel in the Southwest by Conde Nast Traveler Magazine's 25th Annual Readers'Choice Awards; U.S. News &World Report's "Best Hotels in the USA," ranking #39 overall, including #1 hotel in New Mexico, #1 hotel in Santa Fe; and #8 in the category of Relais & Chateaux Hotels, a member organization based in France with a collection of the finest hotels from 55 different countries around the globe.
The 24-room Inn of The Five Graces, with some suites listed on the National Register of Historic Places, is a private honey walled sanctuary of lavishly decorated and supremely comfortable suites with dual sinks, deep soaking tubs, art and artifacts, and wood burning fireplaces. The Inn is the ultimate resort-like destination that presentsSanta Fe's many indulgences within strolling distance from its luxury accommodations. Hiking, whitewater rafting, mountain biking, fly fishing, hot air ballooning, horseback riding, golf, skiing, snowshoeing, wine tasting, fine dining, shopping, art galleries and museums are all within city limits.
The Inn of The Five Graces was originally known as Seret's 1001 Nights which opened in 1996 after present proprietors Ira and Sylvia Seret, internationally-known importers and creators of unique and exotic architectural elements, rugs, furnishings and antiques, took a cluster of historic buildings and created a magical and fanciful retreat, curated with near-eastern treasures and antiques purchased and brought back from their travels. Sylvia Seret, a renowned mosaic artist, designed the fabulous mosaic tile-work for the suites and bathrooms, while Ira Seret enhanced the Inn with his touch for art and interior design.
In 2002, the Innfound its new name honoring its exotic, sensuous and luxurious atmosphere along with its many Silk Routeartifacts. The Five Graces was chosen, in honor of the five "graces," an Eastern belief that people are graced with five ways to enjoy the pleasures of the world - sight, sound, touch, smell, taste.
GETTING THERE
Nestled in the heart of Santa Fe, New Mexico, TheInn of The Five Graces is located in the historic district of Santa Fe, New Mexico, on the corner of Old Santa Fe Trail, one of the main and most historic roads into the city at 150 East DeVargas Street in Santa Fe, New Mexico.
The city of Santa Fe is in the north central area of the state, about an hour's drive north of Albuquerque, the state's largest city. Visitors can arrive via Highway I-25.
Most major airlines service Albuquerque, and it is a one-hour flight from Phoenix, 1.5 hours from Dallas, and two hours from Los Angeles. There is also a municipal airport in Santa Fe, with American Airlines flights from LAX and DFW, which services commuter airlines and private aircraft. For more information about The Inn of TheFive Graces "Southwest Splendor" package, romance, honeymoon and/or spa packages, call 505/992-0957, e-mail guestservices@fivegraces.comor visit www.fivegraces.com.
____________________________________________________________________
____________________________________________________________________
HOTEL TRAVEL TRENDS FOR FEBRUARY. . . .

El Cordova Hotel recently unveiled a redesign that brings a modern touch to its signature Old-World Spanish style.
The redesign, which included 14 deluxe rooms and suites, features a cohesive and elegant palette that successfully maintains the original hacienda character of each room. The renovation has been a phase in the hotel's long-term remodeling project to ignite a consistent rustic elegance throughout this 110-year-old Coronado property.
Designer Kristine Smith of KS Designs found inspiration in the property's colorful Mexican tiles that adorn several areas of the hotel, from the courtyard fountain to the bathroom and kitchen walls. These colors of blues, reds and rusts were the driving force in the redesign, which included new carpeting, fresh honey-colored paint, lighting, bedding, drapery, artwork and furniture. The design team hand-selected furniture and lighting, which included wrought-iron detailing with textural and vibrant patterns, providing the perfect balance of lavish and comfortable while still maintaining the hotel's hacienda charm.
Minimal redesigns were made to the guest bathrooms to uphold the integrity of the hotel's original character. New mirrors, bath accessories and light fixtures were added to the original cabinetry and colorful tile-work. The hotel's "all-white" bedding was paired with a soft gold bed skirt and accent pillow to maintain a fresh, clean feel, while adding a touch of texture and color. Vibrant Mexican-style ceramics, prints and photographs were added throughout the rooms to offer bright splashes of colors throughout.
While the hacienda-style architecture, blooming courtyard, and spacious accommodations have brought guests to this hidden jewel for more than eighty years, the hotel's general manager Mica Jackson hopes that this most recent transformation will continue its tradition to keep customers coming back for many years to come.
"This property has a sort of ambiance that lingers with you long after your stay," Jackson said. "With our new design, you can really enjoy the roots of San Diego without even leaving the property."
EL CORDOVA
The El Cordova Hotel was originally built in 1902 as a getaway retirement mansion for wealthy industrialist Elisha Babcock. The picturesque Spanish-hacienda style hotel sits in the heart of Coronado Village on Orange Avenue, just one block from the breathtaking beaches of Coronado Island. Located on site in the hotel's charming Spanish village are 12 boutique shops, a salon and a spa, as well as four restaurants including Miguel's and The Brigantine. Guests will find oversized accommodations in the hotel's 42 rooms, an open courtyard with Spanish-tiled grills, and an outdoor swimming pool.
__________________________________________________________________________
BE MY VALENTINE ...
PROVENANCE HOTELS TEMPT WITH NONTRADITIONAL VALENTINE GETAWAYS
Hotel packages in Nashville, Seattle and Portland celebrate love - of all kinds.

Love is a many-splendored thing and Provenance Hotels, with five award-winning, art-filled boutique hotels in three of the nation's most exciting destinations, is inviting travelers to celebrate love in all its forms with Valentine's getaways for retro-lovers, pet-fanciers, modern gentlemen, gals on the town and chocoholics. With vintage-inspired
va-va-voom at Seattle, Wash.'s Hotel Max; a girls night out in Music City with
Hotel Preston in Nashville, Tenn.; and in Portland, Ore., a stylish getaway for
the well-groomed guy at chic Hotel Lucia; a cuddly escape with man's best friend
at Hotel deLuxe; and an artisanal twist on a Cupid classic, chocolate, at The
Governor Hotel, these packages offer inventive escapes sure to make hearts go
pitter-patter on Valentine's Day.

Boudoir and burlesque fantasies come to life with the sassy, sultry Risqué
Business package at Seattle's sexiest boutique hotel, Hotel Max. Priced from
$439 per night, plus tax, it includes overnight accommodations, complimentary
valet parking, a bottle of bubbly, box of locally-made OH! Chocolates, private
in-room couples' photo session with one of the city's top professional boudoir
photographers, a keepsake photo disc featuring the pin-up-worthy photos,
roundtrip town car service to The Triple Door theater, two tickets for a live
performance of The Atomic Bombshells: J'Adore! A Burlesque Valentine, and late 2
p.m. check out the next day. The package requires seven days advance booking and
can be reserved online at
www.hotelmaxseattle.com/risque
or by calling
866-986-8087.

Hotel Preston, a hip boutique hotel conveniently located near Nashville Airport,
is offering single ladies the chance to grab their best girls and celebrate
Valentine's Day with a package that is pure Music City– a little indulgent and
whole lot of fun. The No Valentine? No Problem! package includes overnight
accommodations in a spacious suite, a bottle of bubbly to get the party started;
round trip transportation to and from downtown Nashville's hottest nightlife
neighborhood, Broadway and Second Avenue; a 'midnight snack' selection of
Nashville's own Christie's Cookies; and, in the morning, a gift certificate to
Music City's famed Loveless Café so they can start the morning right with an
authentic Southern breakfast. Priced from $269 per night, plus tax, the package
requires 48 hours advance booking can be reserved at
www.hotelpreston.com/noproblem

or by calling 866-986-8089.

Dating a modern day Don Draper or 007? At chic Hotel Lucia, in the heart of
downtown Portland, stylish gals (and guys) are invited to treat the gentleman in
their life to a slice of the good life with the Stand By Your Man package priced
from $289 per night, plus tax. It features overnight accommodations;
Portland-distilled whiskey and all the accoutrements' for mixing up the perfect
in-room Manhattans; a certificate for a haircut and shave at nearby Y-Chrome;
and, because his car is his baby, Hotel Lucia will send it out for professional
detailing while guests are mixing it up in the room. The package requires 72
hours advance booking and can be reserved at
www.hotellucia.com/yourman
or by
calling 866-986-8086.

Glamorous boutique Hotel deLuxe, also located in downtown Portland, is catering
to four-legged Valentines and the people who love them with the Puppy Love
package. It includes overnight accommodations in a pet-friendly room; Provenance
Hotels' signature pet welcome amenity with a bed and bowls to borrow, a pet
snack and Provenance Hotels' pet menu; a keepsake heart-shape  dog tag engraved
with Fluffy or Fido's name; vet-approved dog cupcakes; and cupcakes for people
from a Portland favorite, St. Cupcake bakery. Package rates start at $219 per
night, plus tax, require five days advance booking and can be reserved at

www.hoteldeluxe.com/puppylove
or by calling 866-986-8085.

The historic Governor Hotel is giving that time-honored Valentine's tradition,
chocolate, an only-in-Portland twist with the Artisan Chocolate Experience
package. It includes luxurious overnight accommodations; a generous welcome
amenity featuring a sampling of the city's best locally-made chocolate; and a
private, guided walking tour of Portland artisan chocolatiers with Portland
Walking Tours during which travelers will sample and indulge in the diversity of
chocolate from beans to bars – plus whipped, truffles, cocktails, melted, for
sipping, and more. The package requires 48 hours advance notice, is priced from
$329, plus tax, and can be booked at
www.goverhorhotel.com/chocolate
  or by
calling 888-246-5631.

Provenance Hotels Valentine packages are available for stays checking in
February 14-16, 2013 at Hotel Max, February 1-18, 2013 at Hotel Preston and Feb.
14-17, 2013 at Hotel Lucia, Hotel deLuxe and the Governor Hotel.
__________________________________________________________________________
INTERNATIONAL AIR TRAVEL ...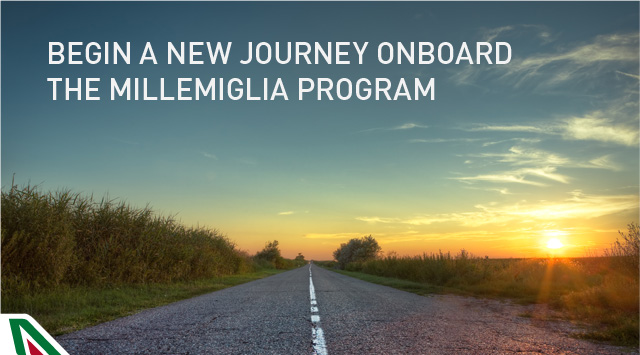 You now have even more opportunities to earn miles. You'll always earn miles when you travel with Alitalia, regardless of the fare. In fact, receive up to 300%* of your flown miles on higher fare tickets and from now through March 31, 2013, you will receive a minimum of 500 miles on all promotional fare tickets. Additionally, when you travel between Rome and Milan, you'll earn between 750 and 2000 miles when you purchase a comfort easy ticket.

___________________________________________________________________
TRAVEL SHOW NEWS
LONG BEACH TRAVEL SHOW DRAWS HUGE CROWDS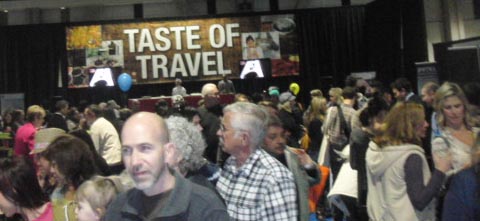 The January 2013 Long Beach Convention Center was packed with travelers and travel lovers who enjoyed listening to travel experts and gathering information on a bevy of great travel destinations from tourism experts, airline officials, and tour representatives.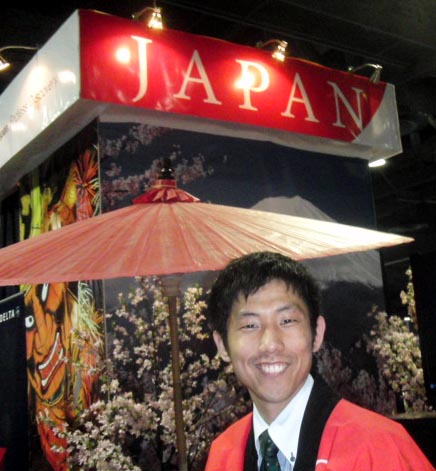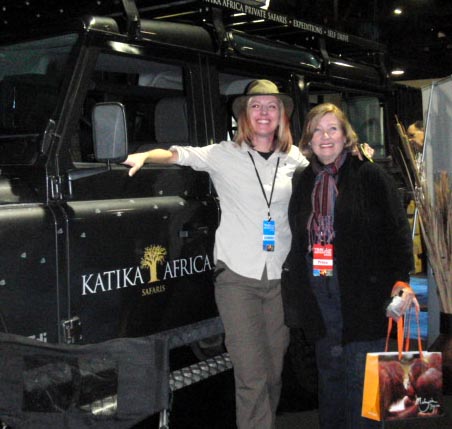 Japan Booth       New Orleans Sweet Potatoes    Kitika Safari Trips
The food stage was alive with great chefs giving demonstrations and answering questions from the audience, as well as wine experts who gave information on many new California wines, as well as a special tasting.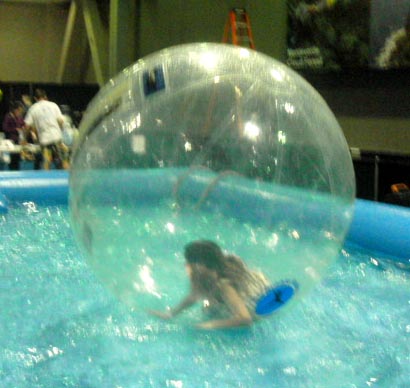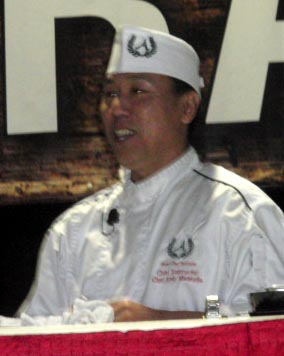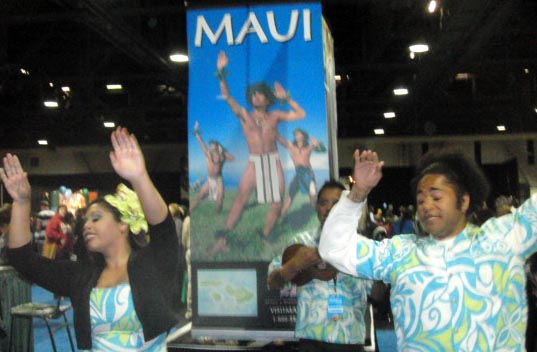 Swim Fun                     Chef Demo               Hawaiian Hula Spirit
From swiming in a bubble to scuba gear it was all happening at this show. Gift trips were being offered in raffles, and delicious beverage and food samples could be savored at the many international booths.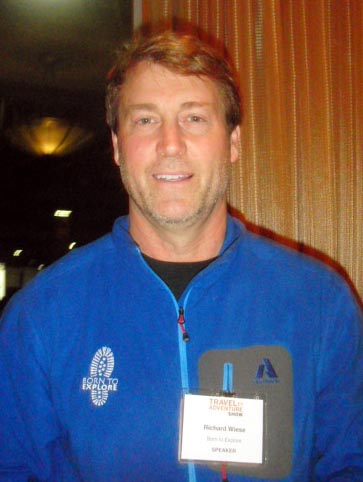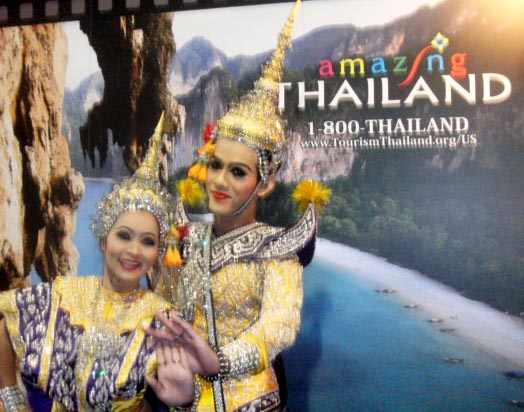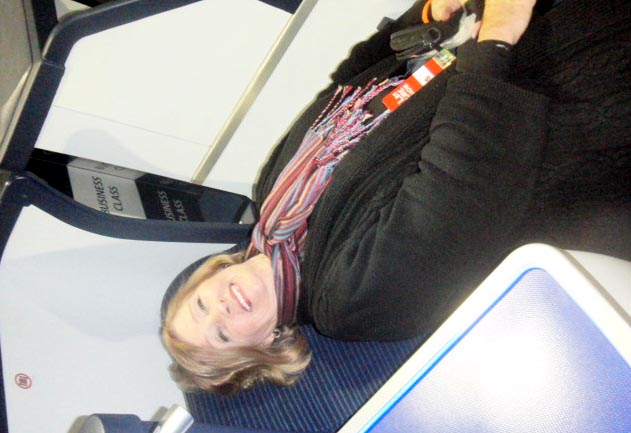 Richard Wiese, Speaker         Thai Dancers          Airline Chair Bed Demo
Experts included Rick Steves, Chris Harrison, Pauline Frommer, Jean-Michel Cousteau, Patricia Schultz, Richard Wiese and Peter Greenbert. I had a chance to chat with Richard Wiese, who is the son of a Pan American pilot and said adventure traveling was in his blood from a young age.
Visitors could experience ziplining, climb a rock wall and see cultural performances. My personal favorite was a chance to experience the latest in sleeping accomodations on Asian airlines. The seat goes all the way down for comfort and a front panel offers all the latest computer hook-ups needed for work or entertainment.
For additional information on the show visit: www.adventureexpo.com.
___________________________________________________________________
Il Borro Offers Guests Exclusive Horseback
Rides through Estate Grounds
Equestrian center and trails play host to captivating views of the luxurious estate
Canter through the rolling foothills of the Tuscan countryside and discover the pristine nature that surrounds the Il Borro estate with one of many offered guided horse tours. A premier equestrian center accommodates guests of all skill sets to tour the Italian landscape and become immersed by the richly diverse views of the historic town of San Giustino Valdarno.
Ideal for novices, Il Borro provides lessons in effort to gain an air of ease with your horse and bestow comfort in riders. Lessons provide guests of all ages how to properly care for horses and the behavior to adopt in their presence, perfect for first time riders conquering their equestrian apprehensions. Horse riding courses are also offered to summer guests which allow for guided excursions along the foots of the Pratomagno Mountains, complete with a picnic provided by Il Borro's Executive Chef, Gianluca Danese.
For those looking for a wellness vacation, it can be found through the therapeutic and anti-stress healing channeled through each horse ride. The Tuscan terrain allows guests to escape from city life and discover the vast Italian countryside, where Il Borro's La Corte Spa Wellness & Beauty grows each organic ingredient, working to combat stress and tensions. Each guided tour will leave guests with a richer fulfillment of Il Borro's captivating estate and the same relaxation as if they just left the spa.
About Il Borro
Located in the Tuscan countryside, less than 40 miles southeast of Florence, is one of Italy's most stunning travel properties, featuring 30 ultra-luxurious accommodations including villas and suites, a world class vineyard, legendary culinary program, renowned spa, and activities sure to please even the most discerning jetsetter. Purchased in 1993 from the Ferragamo family, the family-owned estate underwent a large renovation process, mixing old-world Tuscan elegance with modern amenities for what is now the present day property. To make a reservation please call 011.39.055.977053 or visit ilborro.it.
---