TRAVEL ADVENTURES   .    .    .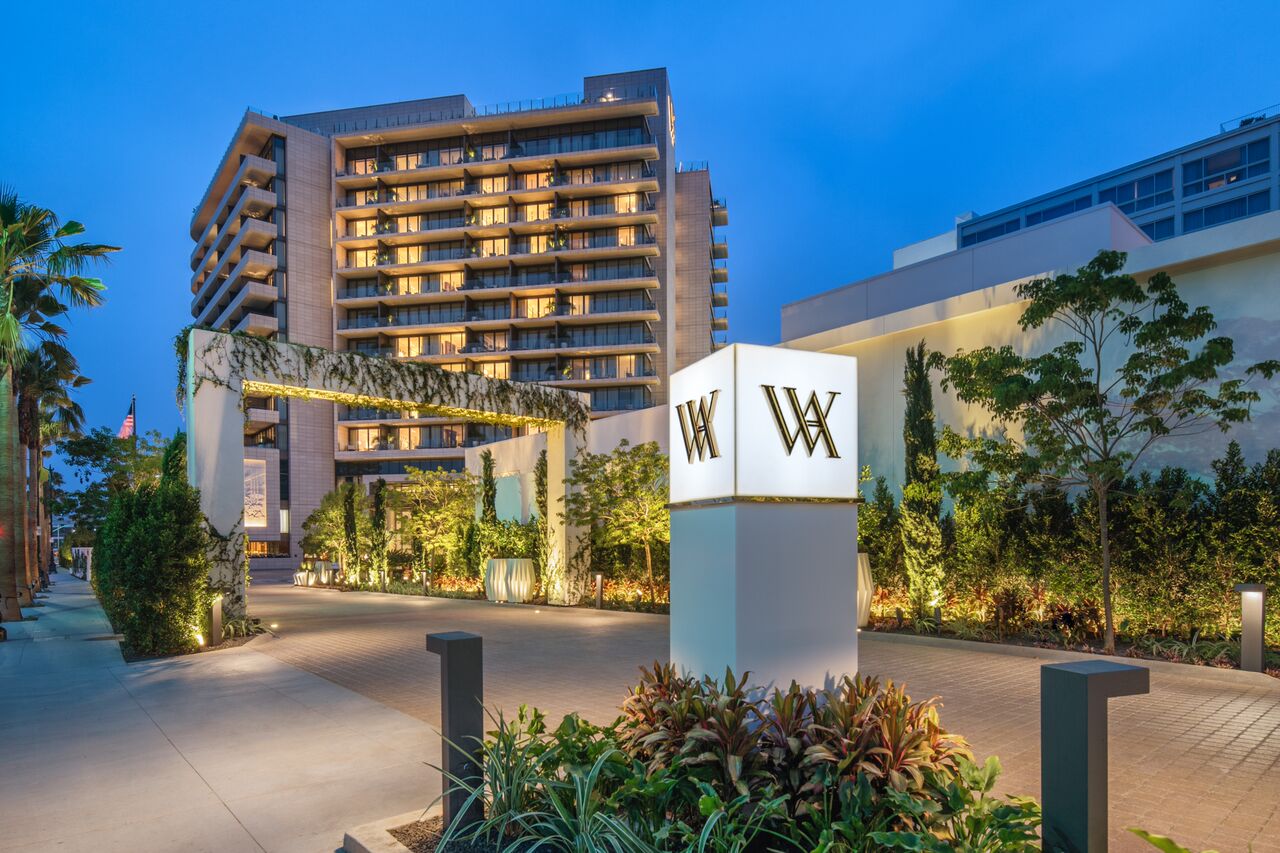 JEAN-GEORGES AT WALDORF ASTORIA BEVERLY HILLS
Where Life is Like a Dream
by Bonnie Carroll
With the opening of Waldorf Astoria Beverly Hills, there is now a new hotel mecca location for tourists and locals in one of America's most visited destinations. The dream team of designers and architects for this new hotel have given the City of Beverly Hills a new hotel jewel on Wilshire Boulevard that since its doors opened guests and visitors are experiencing unique Jean-Georges culinary designs, awe inspiring views, and an extraordinary dining experience that combines European style with California flavors.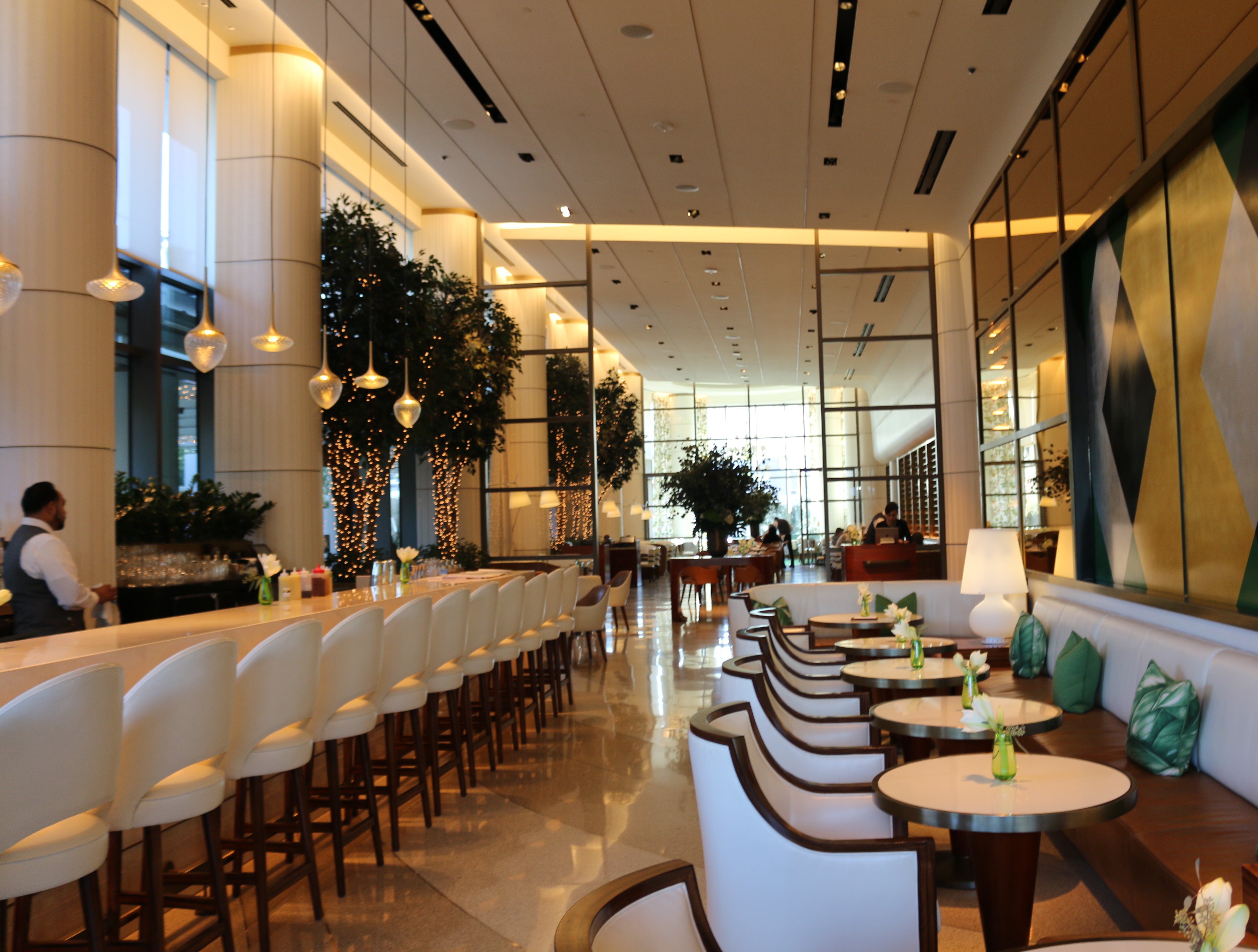 On my recent visit I was left completely breathless by the views from The JG Rooftop, and my Jean-Georges Restaurant Tasting Menu with Wine Pairing dinner in the lobby level Jean-Georges Restaurant was beyond any expectation I could possibly have mused upon in advance. With famed New York restaurateur and Michelin-star chef Jean-Georges Vongerichten at the helm in the culinary preparations and presentations of the sophisticated signature dining restaurant and unique rooftop, diners could only be impressed during a visit to his new Beverly Hills venues. offering the finest sophisticated culinary experience for seasoned diners as well as for the newest generation of dining patrons.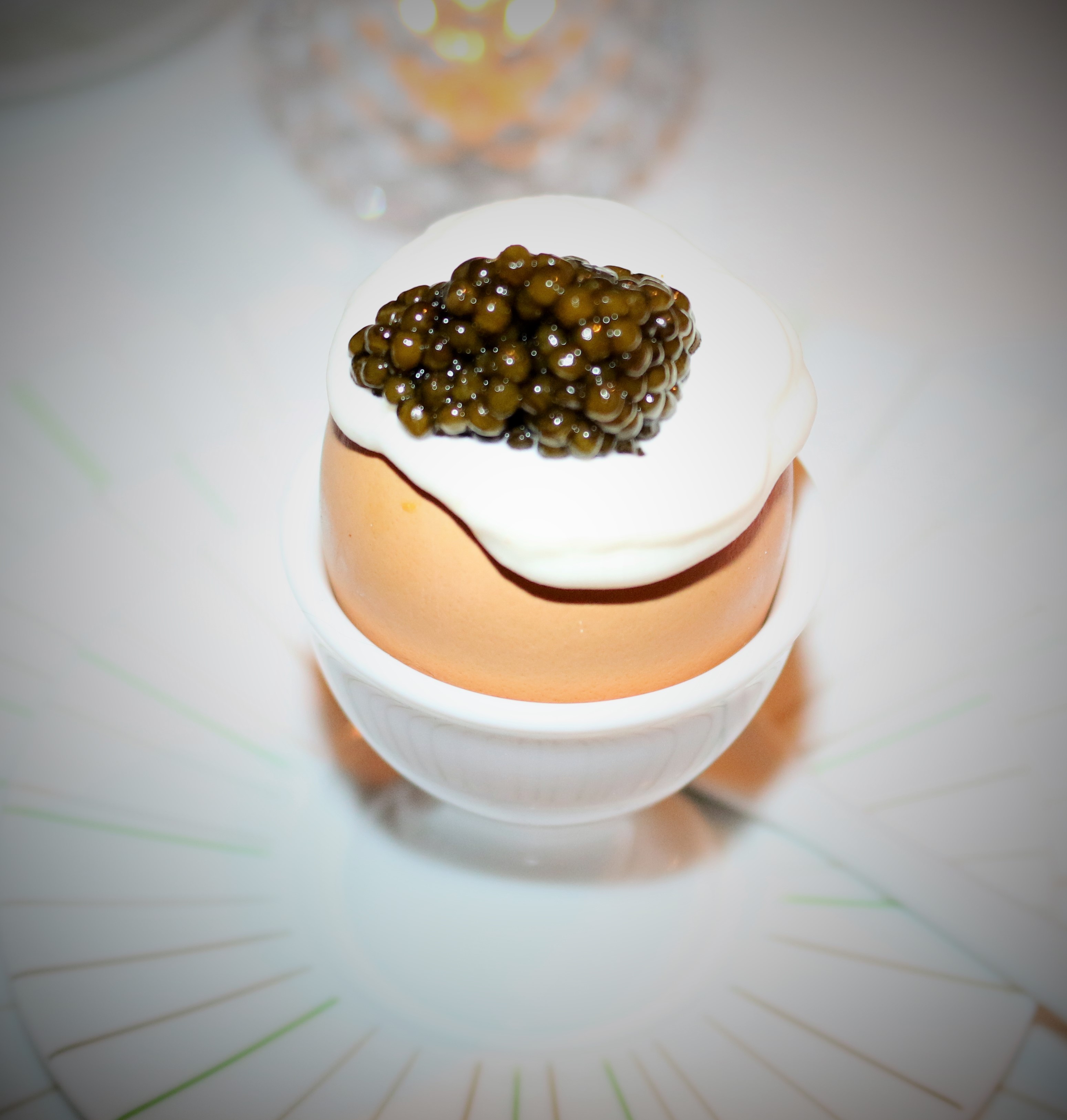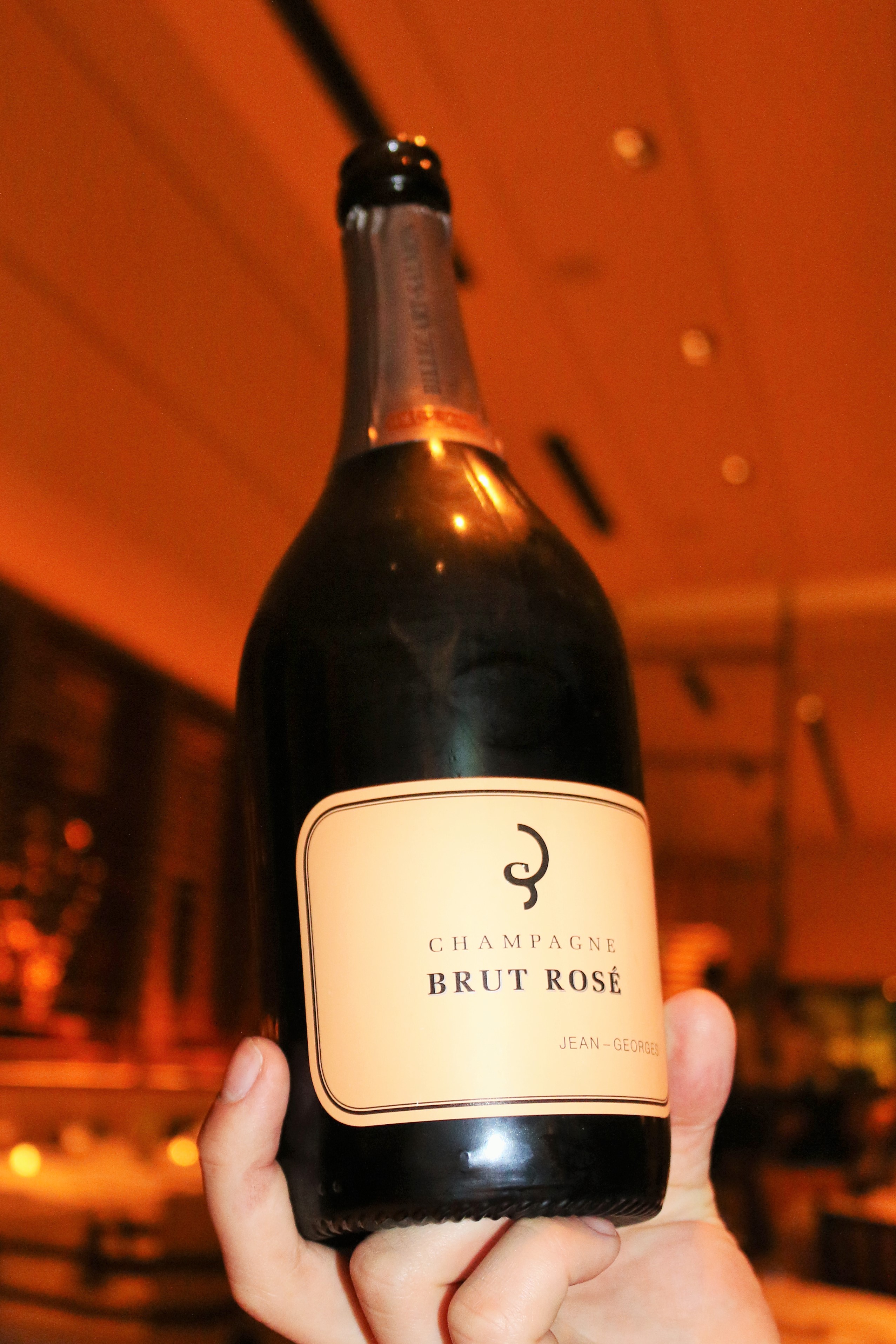 From the picture perfect Egg Caviar, softly scrambled with whipped cream, paired with Billecart-Salmon "Jean-Georges" Brut Rose, French Champagne followed by Ahi Tuna Ribbons with fresh avocado, radish and ginger dressing paired with 2016 Atinori "Guado al Tasso" Vermentino, Bolgheri Italy and then a perfect Parmesan Risotto with pickled pear and black truffle, presented with a golden saki service to sip Born Murokua, Junmai Daigingo ama Genshu Sake from Japan. This was an epic beginning to the entree and dessert courses yet to come.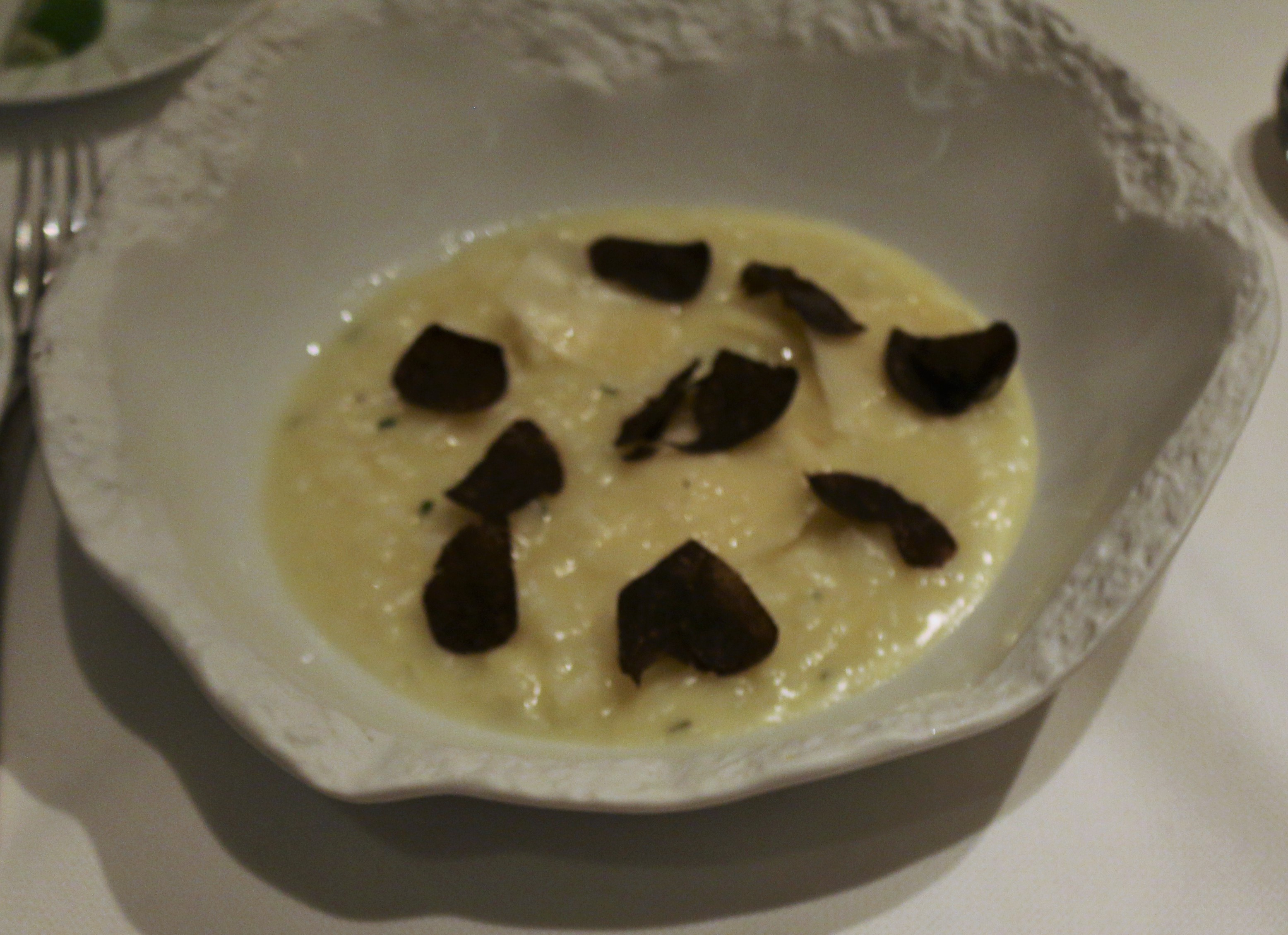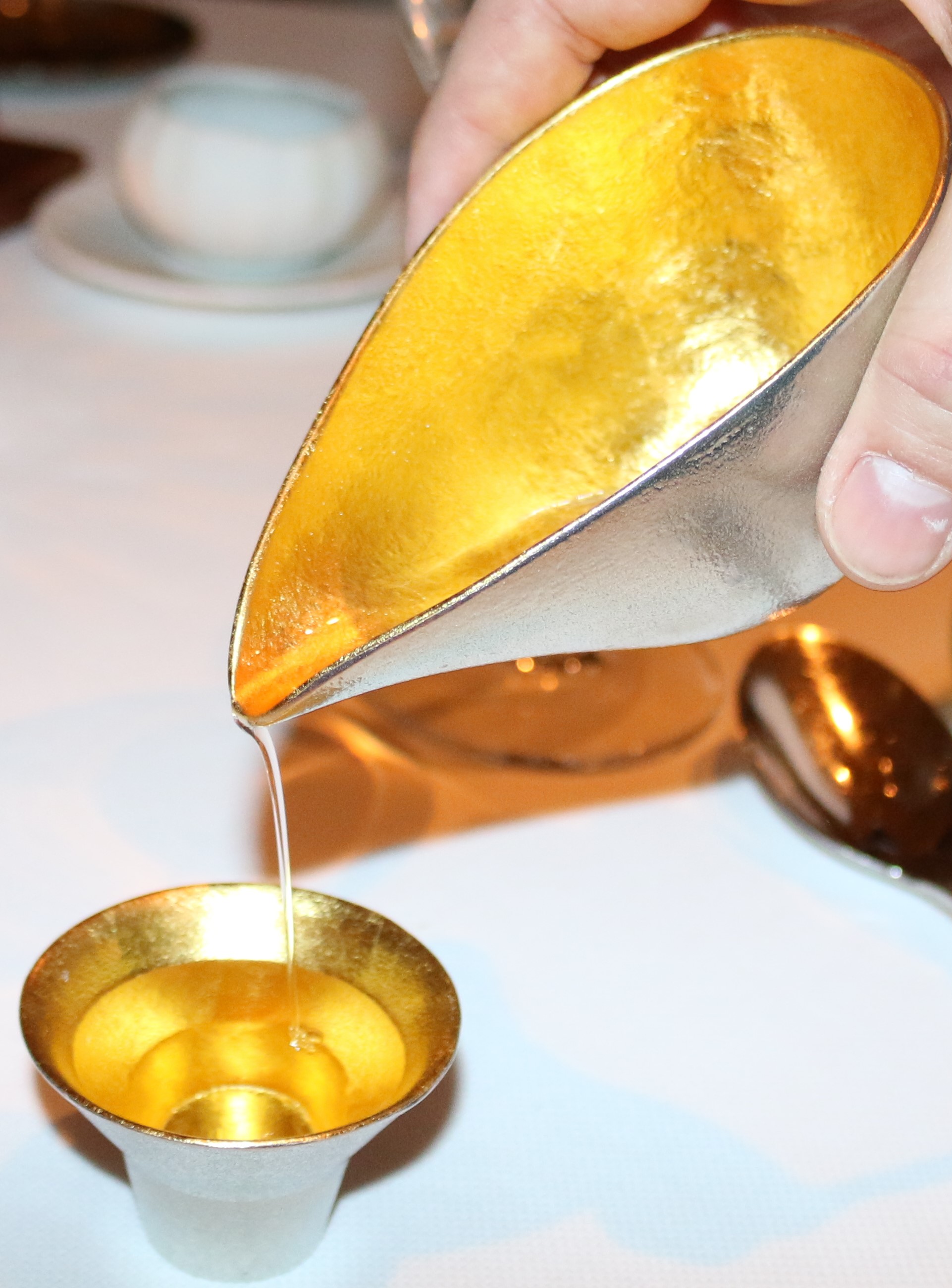 The two outstanding entree dishes of Seared Black Cod with glazed baby turnips, broccoli de ceccio with herbal broth paired with a stunning 2003 Schloss Schonborn "Erbacher Marcobrunn" Riesling, Kabinett, Rheingau, Germany, followed by Roasted Wagyu Beef Tenderloin, with spinach, basil, sesame and chili paired beautifully with 2013 Staglin "Salus" Cabernet Sauvignon, Napa Valley, California were both unique in composition and flavors.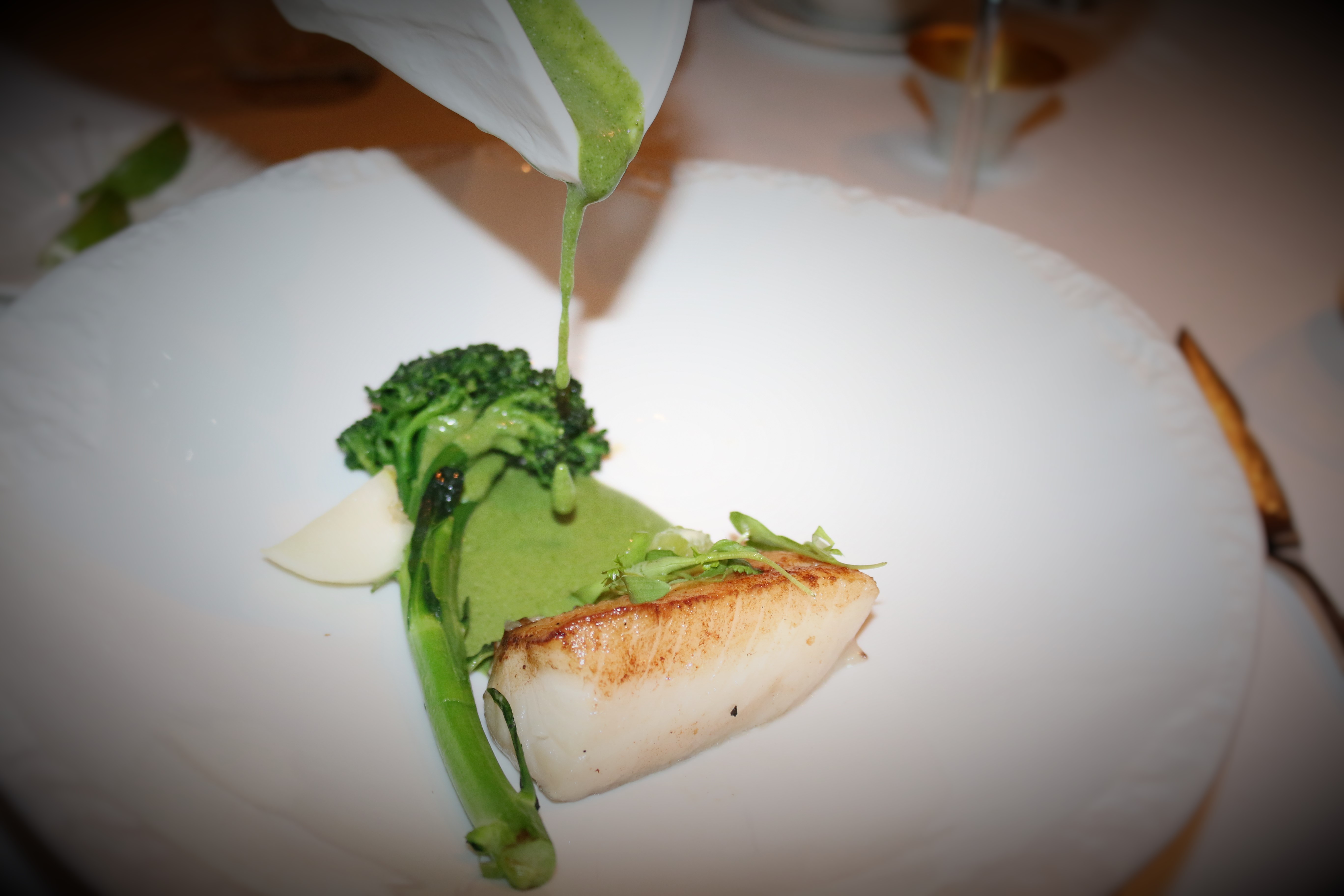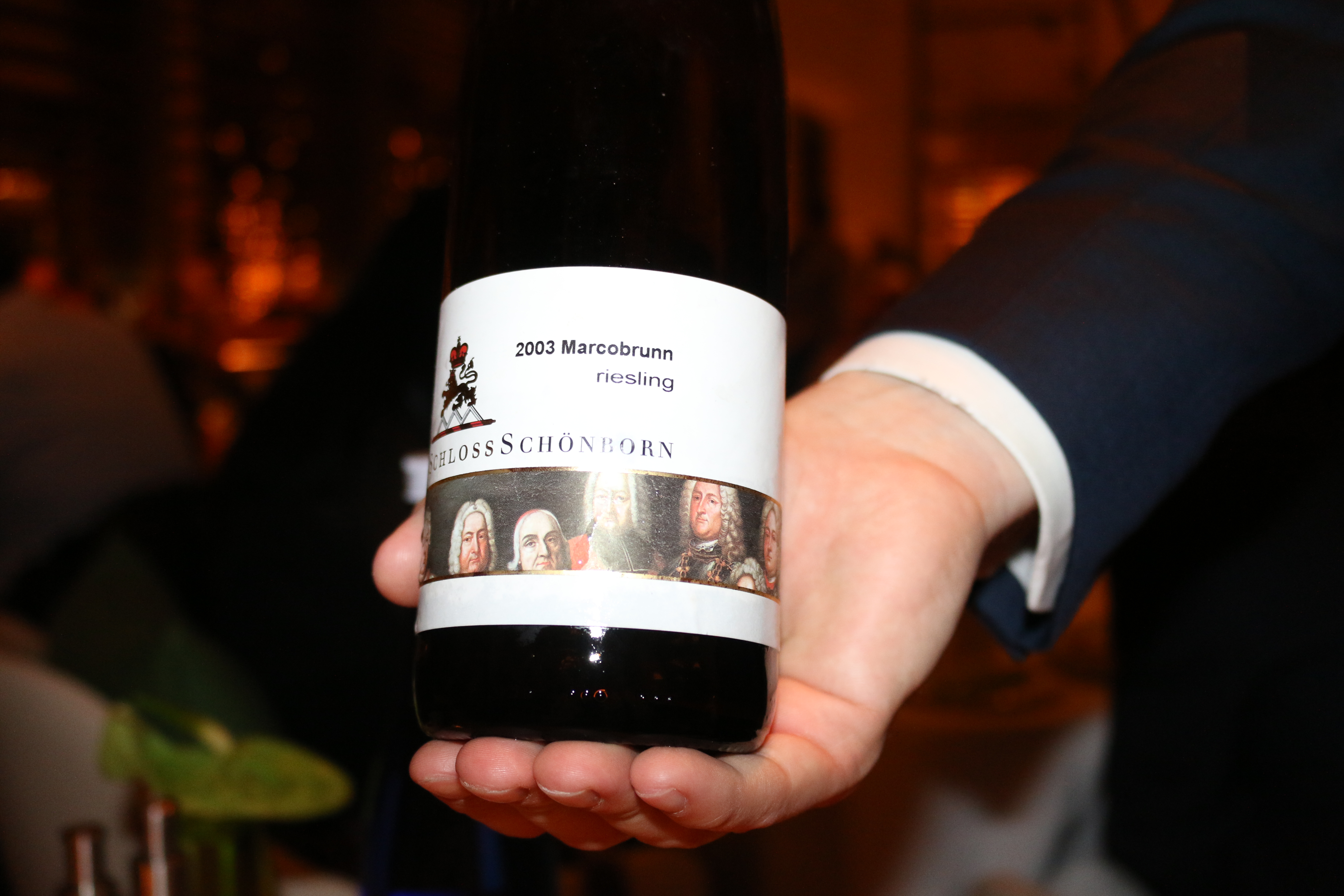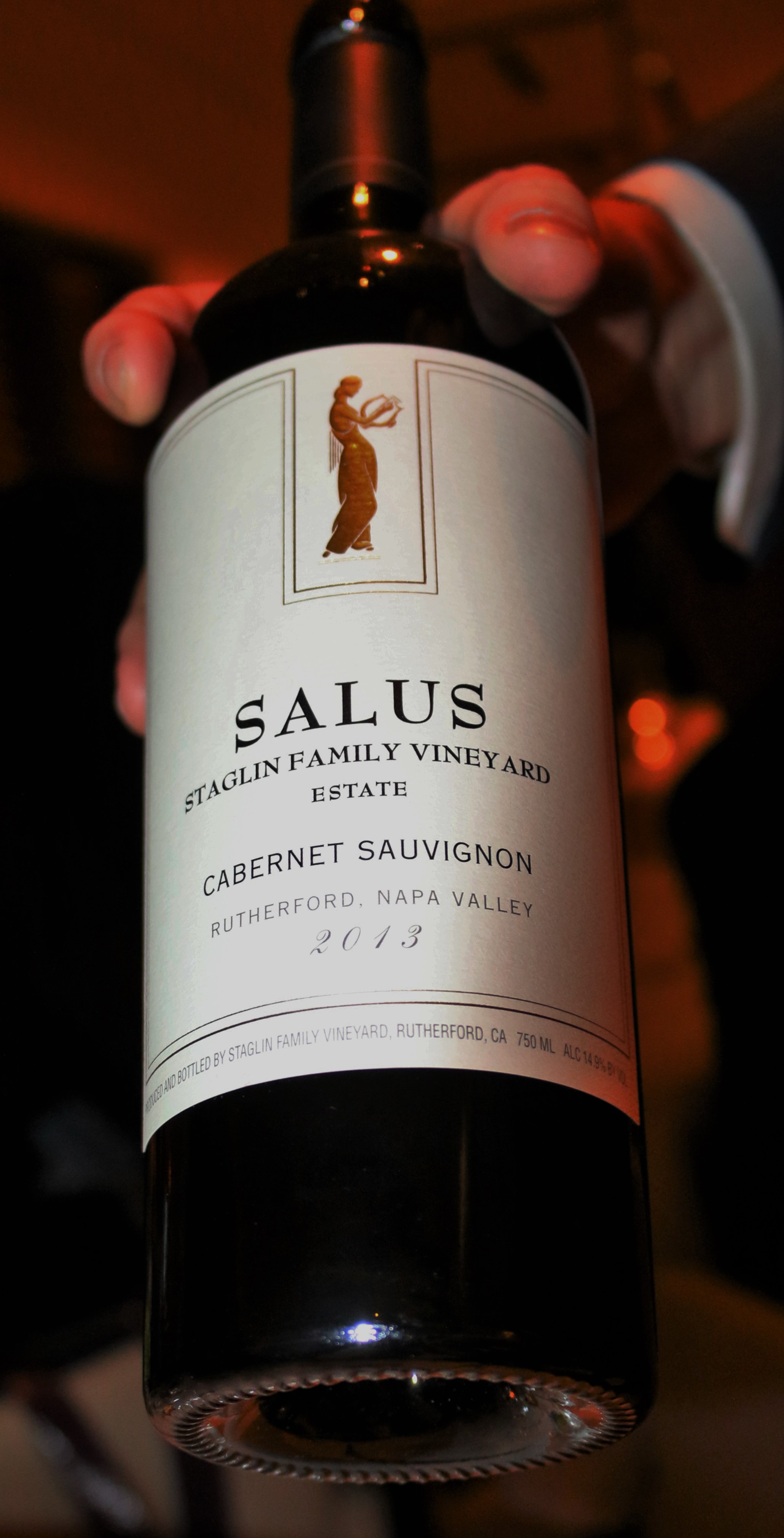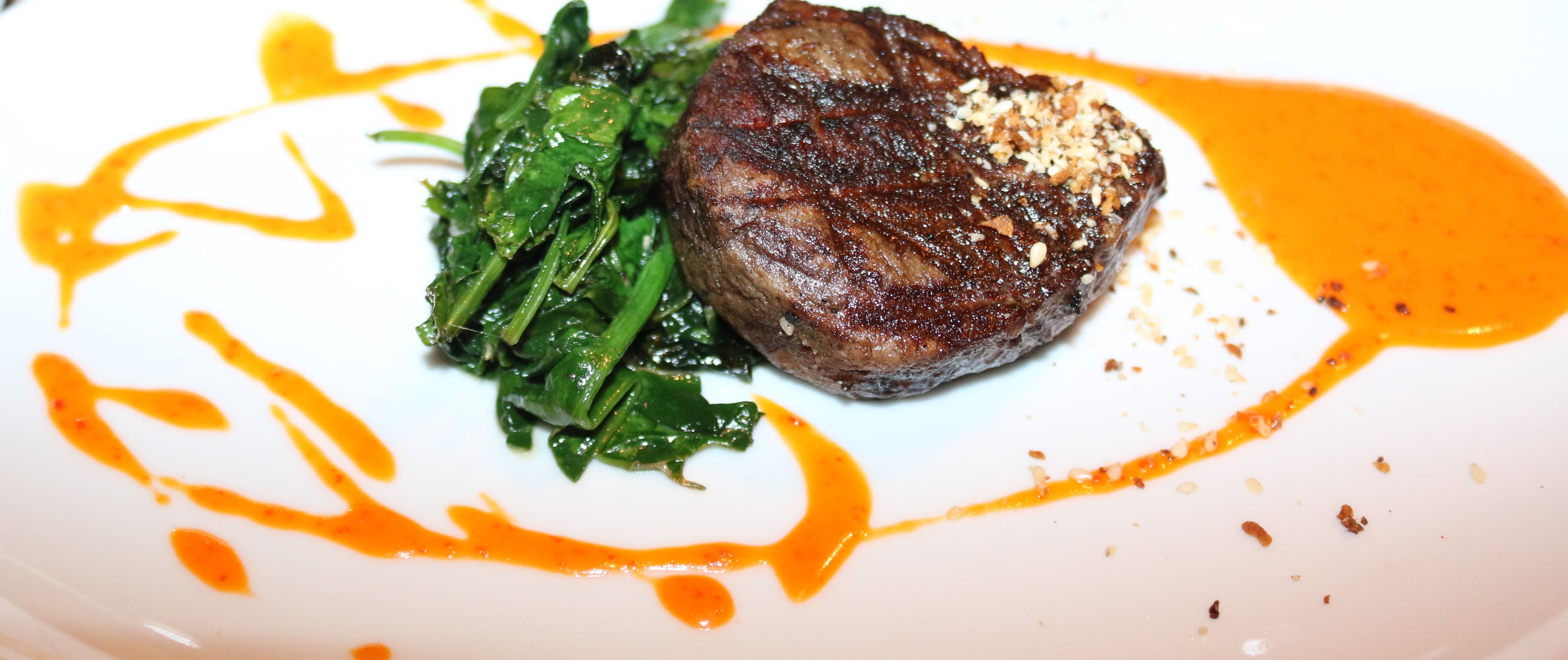 The exquisitely constructed and superb Hibiscus Apple Confit with crème fraiche, green apple sorbet was a sinfully delicious ending paired with 2016 Elio Perrone "Bigaro" Moscato/Brachetto from Piedmont, Italy. The chef also kindly sent a simply beautiful plate of Mignardises (popsugar food) derived from the word mignard which means graceful, pretty and delicate.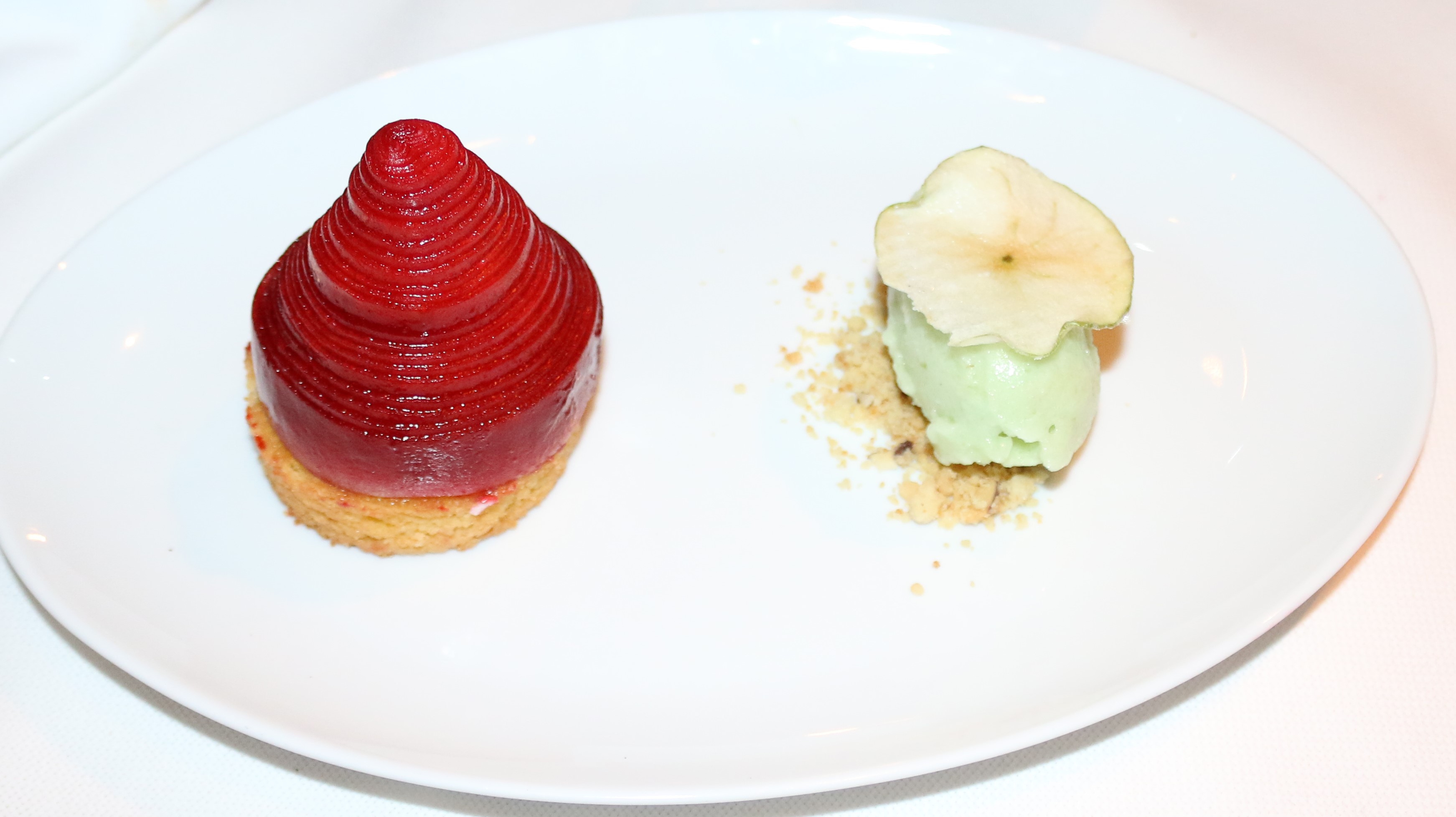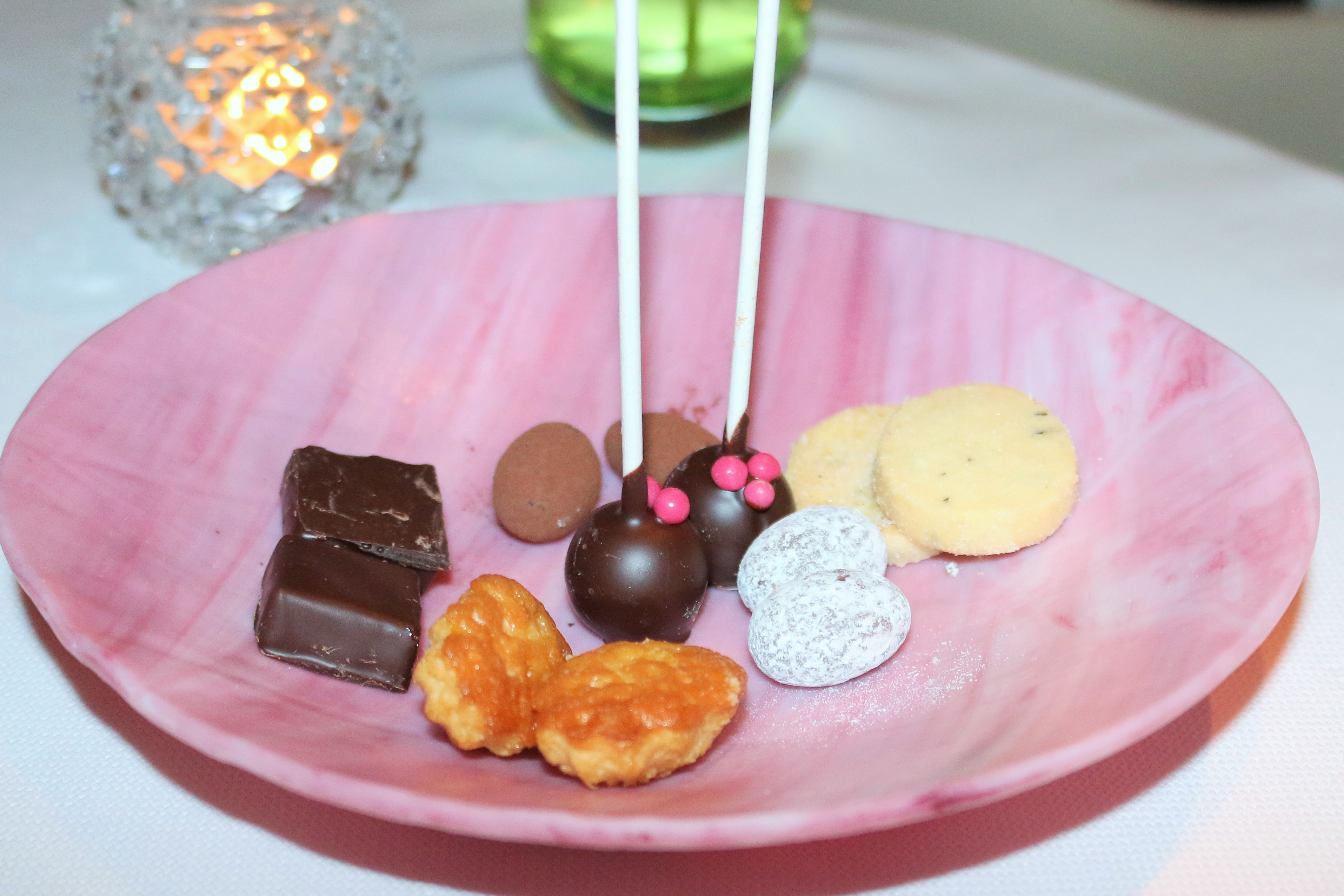 This entire evening of elegant gastronomique is as close as you may get in Los Angeles to the best in Paris. From start to finish you will feel fortunate to find all this food and beverage wonder in the US, however, for Californian's the fusion of their favorite foods and flavors, skillfully synergized with the star chef flair of Vongerichten becomes a dream sequence dining event.
Chef Jean-Georges Vongerichten's culinary innovations and impressive restaurateur skills have given birth to more than two dozen dining establishments, from New York to Paris to Tokyo. Vongerichten grew up on a farm in Alsace, France, where his mother and grandmother taught him to cook and appreciate seasonality. He started his culinary training in France, but it was the time he later spent working and traveling in Asia in the 1980s that proved formative. According to the chef his his first trip to an open-air market in Bangkok was a particularly eye-opening opportunity.
Serving as a protégé to chef Louis Outhier, Vongerichten's career led him to the United States. He first created a stir on New York's dining scene at Lafayette in the Drake Swisshôtel, then struck out on his own with Jojo in 1991. At this French fusion bistro, he pioneered his signature style of cooking with Asian spices, infused oils, vegetable juices and exotic vinaigrettes, while using a minimum of butter, cream and flour. Along with a renowned restaurant in Trump Tower, Chef Jean-Georges has a New York venture that is a French-Thai fusion eatery Vong, which eventually spawned a sister restaurants in London, Hong Kong and Chicago.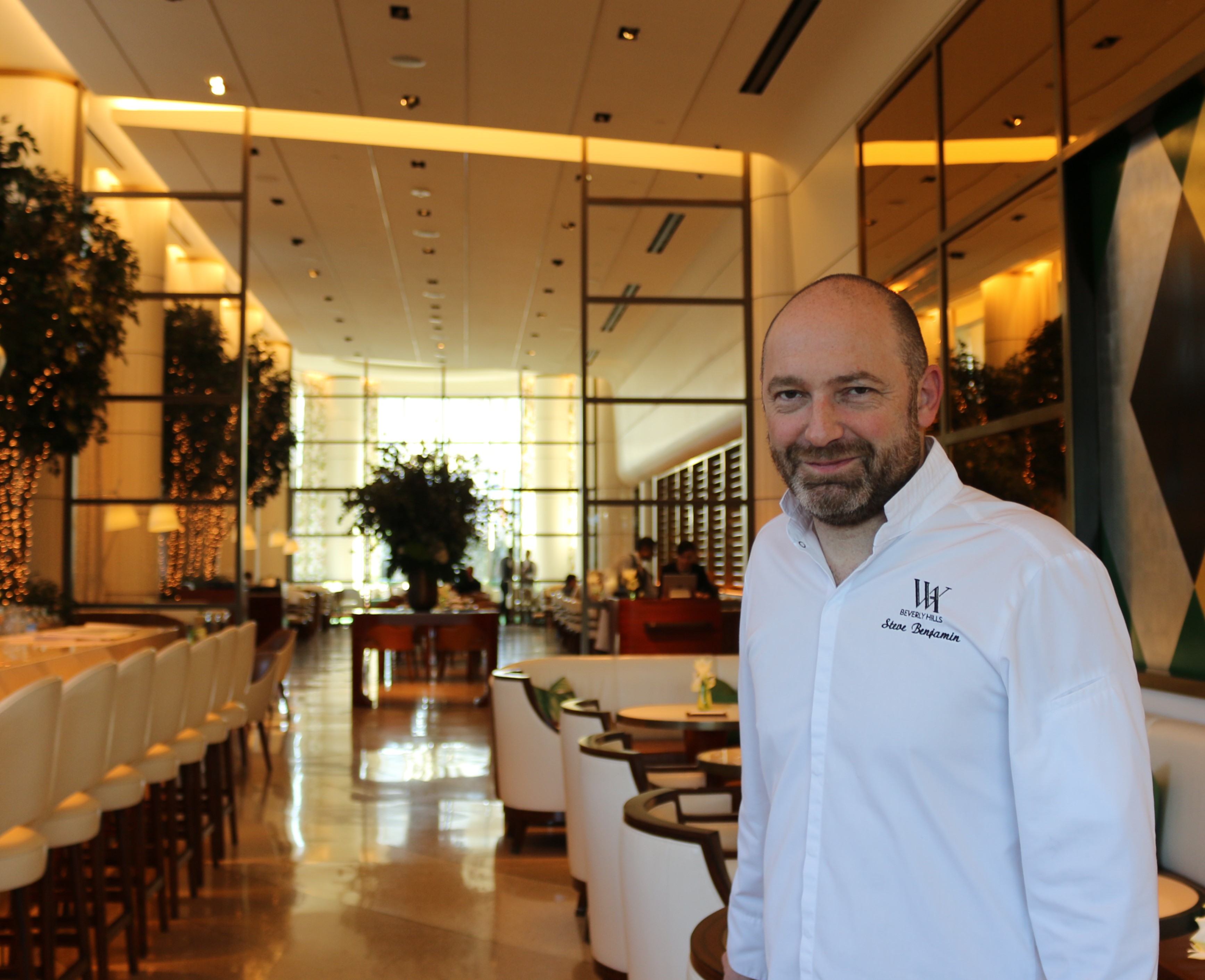 Jean-Georges Executive Chef Steve Benjamin
"I'm excited to have found the perfect partner to make my West Coast debut and bring my culinary passion to one of the world's most prestigious hotel brands," said Vongerichten. "I truly value the opportunity to bring exquisite food and discerning guests together in one place and look forward to becoming a part of the Beverly Hills community, bringing a new inspiring environment to life and having a presence in California for the first time."
Keeping in line with the hotel's unprecedented luxury and authentic hospitality, both the signature Jean-Georges restaurant and unique rooftop poolside dining at Waldorf Astoria Beverly Hills embodies elegance as guests enjoy contemporary fine dining and an array of hand-crafted cocktails. With the unparalleled abundance of California's local, organic treasures- in support of independent farmers and fishmongers- Vongerichten sources and creates a beautiful harmony of seasonal ingredients and artful craft, highlighting the finest flavors in each dish. The indoor and outdoor dining oasis at Waldorf Astoria Beverly Hills sets out to strike a perfect balance between guests' palates and their views of the space. The culinary dream team lead by Jean-Georges includes Chefs Steve Benjamin, Deden Patra and Richard Archuleta.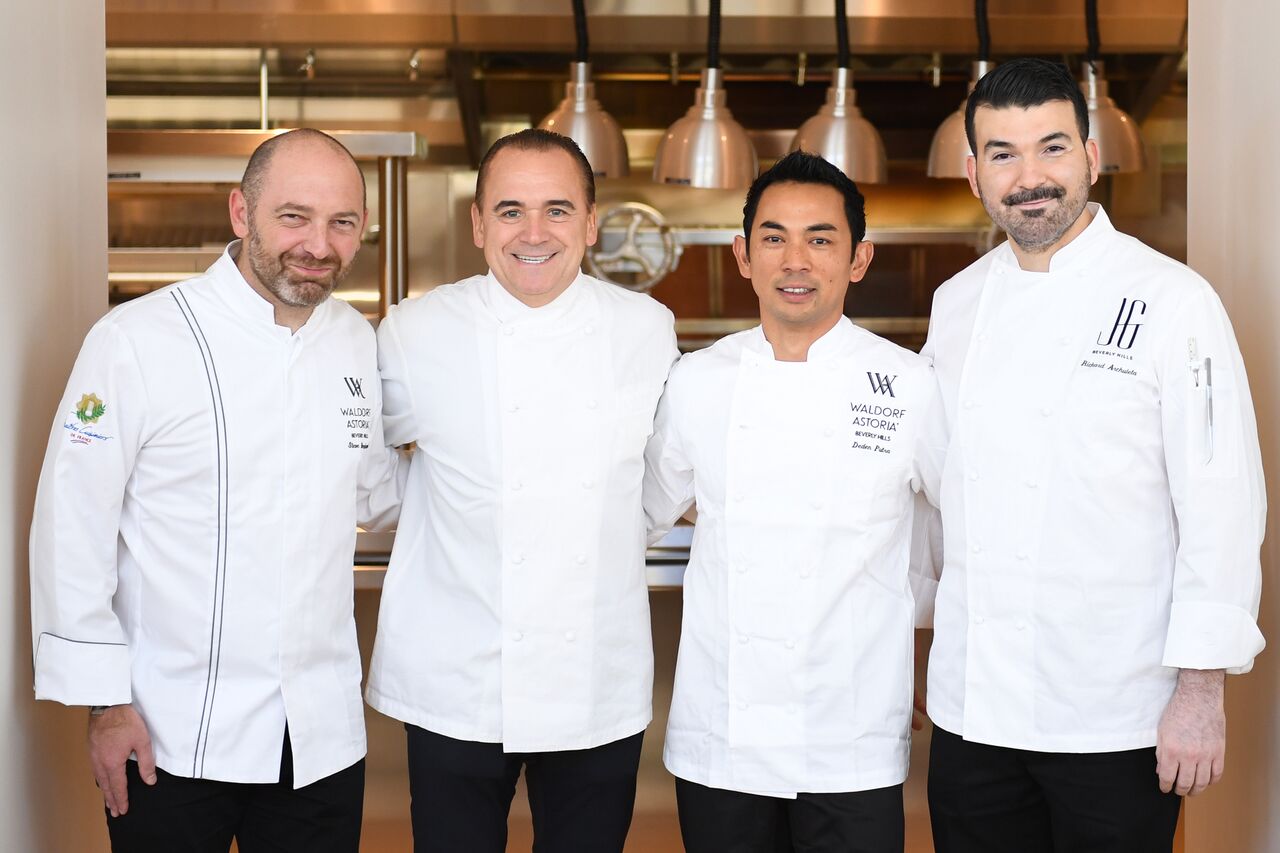 Chefs Steve Benjamin, Jean-Georges, Deden Patra, Richard Archueta
Located adjacent to The Beverly Hilton on the corner of Wilshire and Santa Monica Boulevards, the 12-story, 170-room luxury hotel marks the brand's first new build property on the West Coast- joining the legendary Waldorf Astoria portfolio of 25 landmark destinations. Delivering a combination of luxury and ease that has never existed before and embodying a unique urban oasis, the prestigious hotel brand's debut in Beverly Hills pays homage to Hollywood glamor and the effortless luxury of the California lifestyle.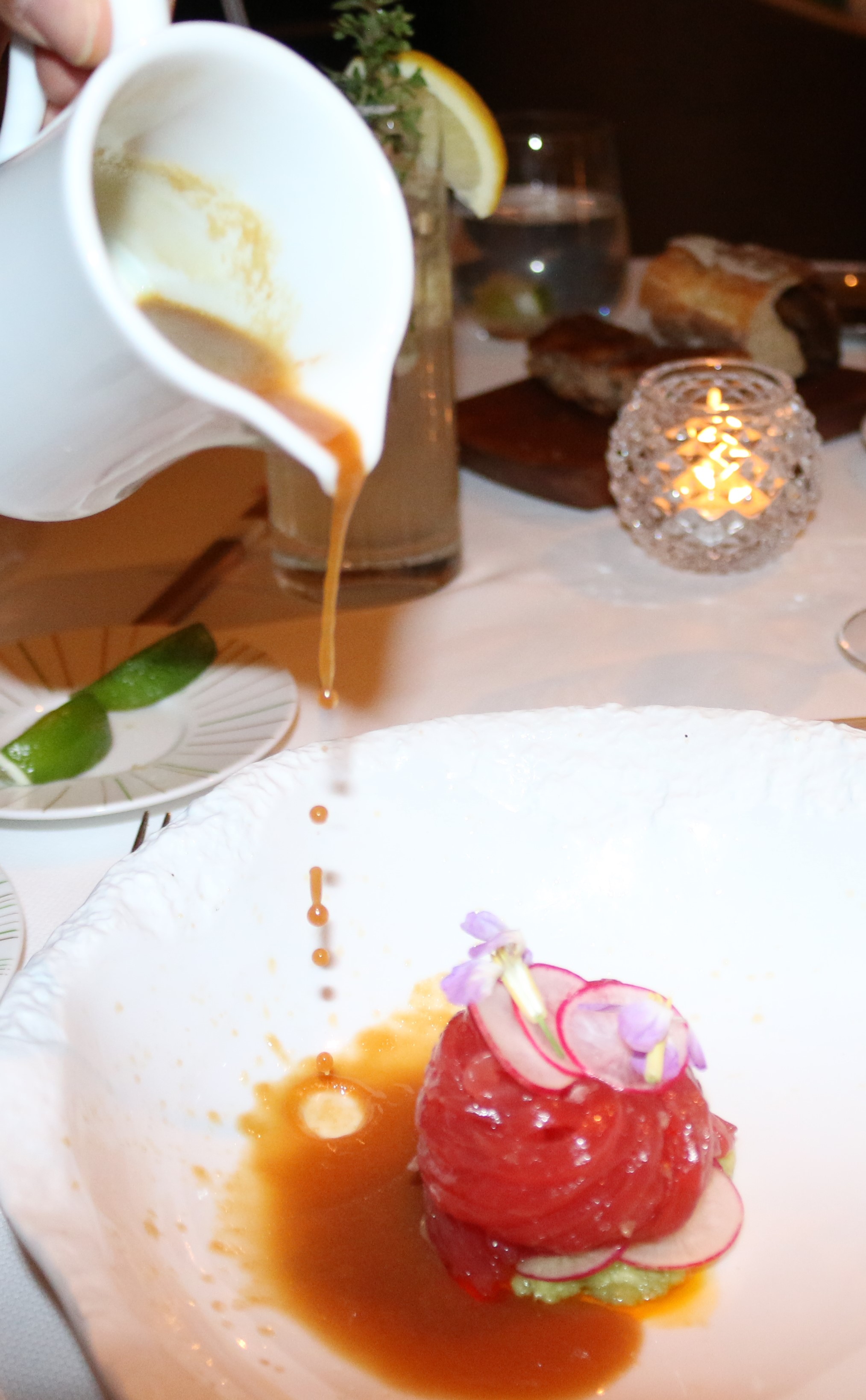 Ahi Tuna Ribbons with Crushed Avocado
"We're thrilled to partner with Chef Jean-Georges, an acclaimed talent in the restaurant industry, to bring true epicurean excellence to Los Angeles," said Luc Delafosse, managing director of Waldorf Astoria Beverly Hills. "We both share a passion and understanding for creative techniques and superb quality in culinary arts and exceptional service, a philosophy that is infused throughout Waldorf Astoria Beverly Hills."
Waldorf Astoria Beverly Hills participate in Hilton HHonors®, the only guest loyalty program where guests who book directly through www.waldorfastoria.com have access to benefits including a Personal Concierge and complimentary Wi-Fi at 25 Waldorf Astoria hotels worldwide.
Waldorf Astoria Beverly Hills
9850 Wilshire Boulevard
Beverly Hills, California 90210
1-800-774-1500
www.waldorfastoriabeverlyhills.com
__________________________________________________________________
Dine and Golf with Legendary Chefs This Fall
Thomas Keller, Jerome Bocuse, and William Bradley headline the 2018 Culinary Masters benefiting Ment'or.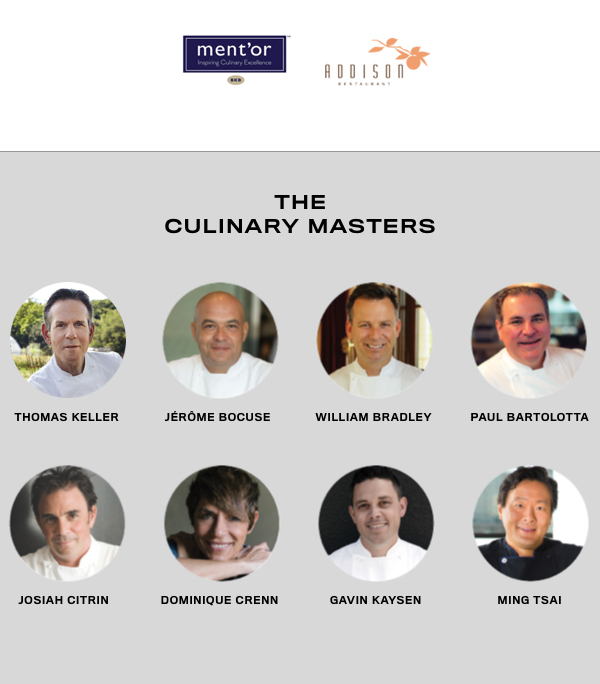 In what has become an annual tradition, this September some of the country's best chefs will gather at a picturesque resort for a couple of days of outstanding dining and golfing—but the best part is you can join them.
This year's Robb Report Culinary Masters—benefiting the Ment'or BKB Foundation—will be headlined by Ment'or founders and culinary icons Thomas Keller and Jérôme Bocuse along with William Bradley, a four-time James Beard Award nominee and the executive chef of Southern California's only five-star and Five Diamond restaurant, Addison.
At the Fairmont Grand Del Mar golf resort and spa in San Diego, those chefs will be joined by two recently announced James Beard Award winners: Dominique Crenn, winner of the Foundation's Best Chef West and the current chef-owner of the Michelin two-star Atelier Crenn in San Francisco; and Gavin Kaysen, winner of Best Chef Midwest and the current chef-owner of Bellecour and Spoon and Stable in Minneapolis. Kaysen's newest restaurant, Bellecour, was named one of our 10 best new restaurants in the country.
Chef Paul Bartolotta, two-time James Beard Award winner and a co-owner of the Bartolotta Restaurants; Josiah Citrin, two-star Michelin chef and owner of Mélisse and Charcoal Venice; and Ming Tsai, James Beard Award–winning chef-owner of Blue Dragon in Boston and the Emmy Award–winning host of PBS's Simply Ming, round out the roster confirmed for the 2018 Culinary Masters.
The weekend kicks off Saturday, September 22, with a gala dinner at Addison, where the eight assembled chefs will team up to create a memorable multicourse meal. The evening's courses will be perfectly paired with world-class wines, and a live and silent auction will follow, with proceeds benefiting Ment'or BKB Foundation—founded by Keller, Bocuse, and Daniel Boulud—which works to inspire culinary excellence in young professionals and preserve the traditions and quality of cuisine in the United States. Last year's Culinary Masters auction raised $200,000, which provided fully paid internships to young cooks and facilitated the selection and training of the most promising young chefs to make up the Bocuse d'Or Team USA. Team USA looks to reclaim the gold medal in January after their history-making performance in 2017, when for the first time ever Team USA took top prize.
On Sunday, chefs and guests will take to the stunning Tom Fazio–designed golf course at the Grand Del Mar's Grand Golf Club for a friendly tournament. Those who prefer to cook rather than chip can partake in a hands-on cooking class with master chef Paul Bartolotta and Urbani Truffles. A casual dinner will round out the day's festivities, with an awards ceremony celebrating the golfers' accomplishments from earlier in the afternoon. The weekend concludes with a brunch Monday morning. Culinary Masters tickets are available now for the whole weekend, with accommodations at the Grand Del Mar included, or for just the gala dinner on Saturday night.
FULL EXPERIENCE $4,900 PER COUPLE
SEPTEMBER 22-24
Saturday-Monday
___________________________________________________________________
La Mamounia, the Arab-Moorish marvel featured in Alfred Hitchcock's The Man Who Knew Too Much, has been entertaining such bigwigs as Winston Churchill and Theodore Roosevelt since 1923. Nearly a century later, a thoughtful revamp by Jacques Garcia ensures the grande dame has lost none of her luster. To maintain that authentic Marrakesh allure, the Paris-based designer sought out craftsmen to weave intricate designs into plaster, hand-cut tiles, and fashion lanterns from scratch.
The 136 rooms and 71 suites, tricked out with features like terraces and sitting rooms, have heady views overlooking the inner courtyard, garden, swimming pool, Koutoubia Mosque, or Atlas Mountains. Luxury is amped up in the signature suites: a hand-painted wood ceiling graces the Baldaquin; the massive bathroom in Al Mamoun has city views. While the Marqueterie oozes art deco glamour, the blue-walled Majorelle is an homage to painter Jacques Majorelle. Set amid the gardens and featuring private swimming pools, the choicest accommodations, however, are undoubtedly the three riads. Those guests who actually emerge from them will find rewards in the form of a 27,000-square-foot spa and restaurants like the acclaimed Le Marocain.
____________________________________________________________________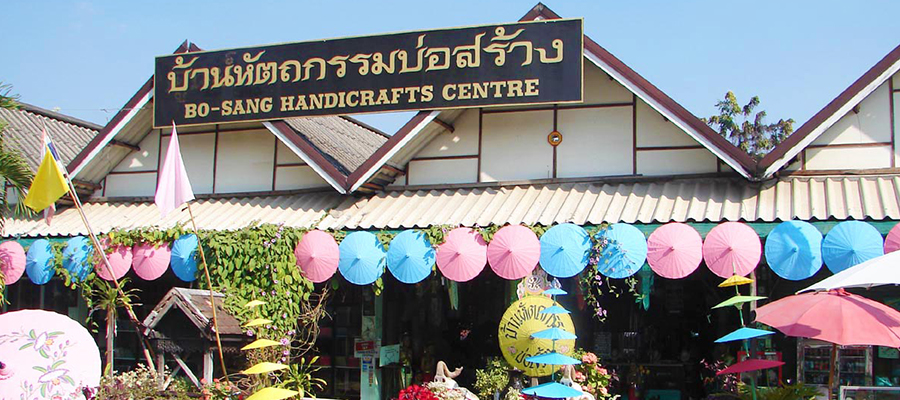 MEMORIES OF BO SANG UMBRELLA VILLAGE CHIANG MAI
By Bonnie Carroll –
Some exotic places you visit while traveling leave impressions in your mind and heart that never fade away. The artists at work, using coveted ancient techniques to create the renowned umbrella's at the umbrella village are one of these visions that keep returning to me whenever I am reminded of Thailand.
A visit to the Bo Sang Umbrella Village, located 8 kilometers east of Chiang Mai, is a pleasant introduction to a collection of talented artisans who make and decorate the world renowned sa paper umbrellas and parasols. This is an art form that has been handed down for centuries, and today their beautiful custom painted designs can be requested for creation as souvenir gifts and trip treasures at a very reasonable price. The entrance to the umbrella-making village, and the ceiling of the center are filled with colorful umbrellas.
The seven-hundred-year old city of Chiang Mai is the hub of Northern Thailand, with a population of 170,000 in the city proper and more than 1 million in the metropolitan area. It offers an abundance of greenery, is historically known as the "Rose of the North," and is sometimes referred to as the "iron lung" of Thailand due to the lush countryside surrounded by mountains, along with the natural beauty of the region. The cosmopolitan growth in the city centers is now attracting an abundance of tourist annually, however, the basic charm of this area that is so rich in history is revered and is being preserved by proud Chiang Mai residents.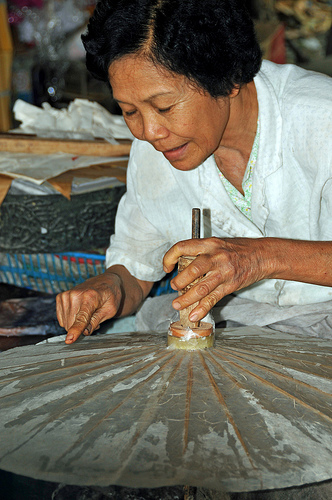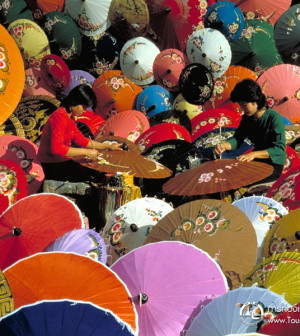 Watching the beginning to end process of the workers at Bo Sang, who create umbrellas, parasols, paper lamps, fans and other artistic gift items, is fascinating. They start with the bamboo struts, and cover them with pasted moist mulberry paper, then they put them out to dry and complete their umbrella or parasol with beautiful artwork. With meticulous precision these artists create designs on umbrellas, parasols or fans. They are pleased do any artwork requested on items brought to them by visitors, such as hats, purses, jackets or t-shirts. The work is done in minutes and dries instantly to last forever.
The shop connected to the Bo Sang is a large handicraft center that sells a huge collection of beautiful gift items. The center will arrange for mailing of your gifts overseas to your home if they are too large to carry on the plane with you. Items for sale include art work, picture frames, silver, fans, lovely lamp shades, wood carvings, patio lights, table mats and more. Items for children include miniature parasol painting kits and small hand carved toys.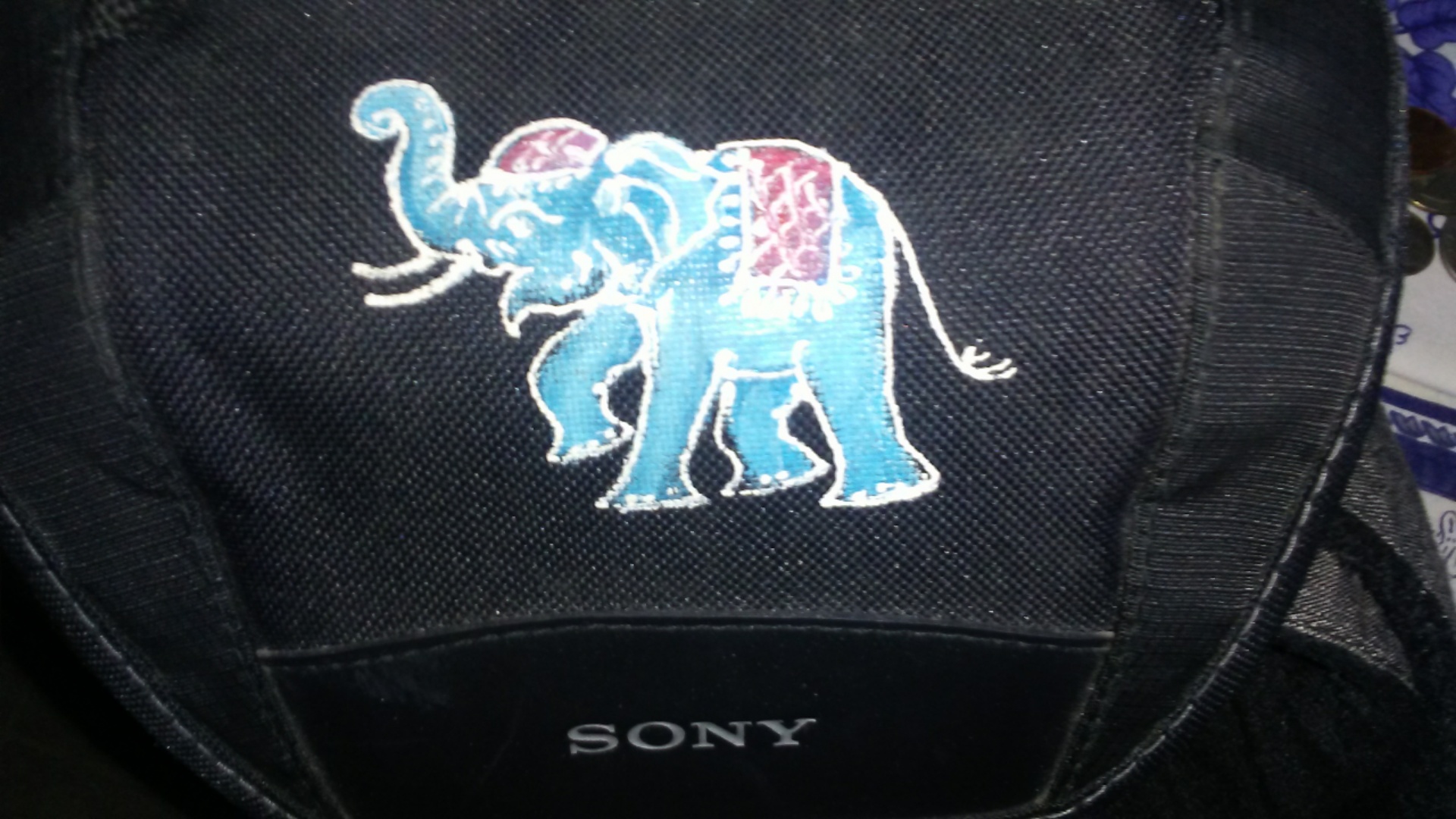 A talented young man, who is perfecting the ancient Chiang Mai Lanna art designs, painted a beautiful blue Lanna elephant on my camera bag. Lanna, which means 1 million rice fields, is a word from the past but is the basic term for a huge resurgence in cultural pride. Lanna culture is a colorful blending of elements from history and is a multi-ethnic expression of Chiang Mai, an historic region of trade along the Silk Road for centuries that has today become an eclectic blending of many cultures.
During the third week in January Bo Sang holds a festival that highlights the works of the local umbrella artisans, and people travel from around the world to attend. The cultural event includes a parade and a competition for the best umbrella, music, food, and a pageant for the most beautiful young woman. This event is on my bucket list and if the 'Travel Gods' are kind perhaps I will return to Chiang Mai to experience this traditional event with my Bo Sang decorated camera bag in hand.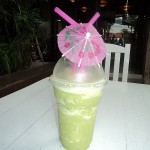 While resting in their outdoor cafe, to wait for my fellow travelers, I discovered a refreshing green tea ice blended beverage made with green tea ice cream. It was not only an ideal hot weather beverage, but was beautifully decorated with a sweet pink paper umbrella. While sipping this lovely pink and green drink I kept thinking surely this cool and healthy cocktail was made to be served at the pool bar in the Beverly Hills Hotel. For additional information on this creative artisan center please visit www.visitchiangmai.com.au/bo-sant.html.
---